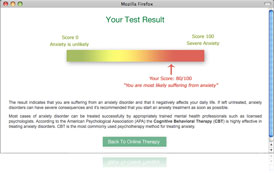 This test will help you find out if you suffer from panic attacks. If needed, you will receive recommendations on how to get help after the test is completed. But first, let us go through some of the symptoms of panic attacks.
Panic Attack Symptoms
Panic attacks are sudden, discrete periods of intense anxiety, mounting physiological arousal, fear, stomach problems and discomfort that are associated with a variety of somatic and cognitive symptoms. The onset of these episodes is typically abrupt and may have no obvious triggers. Although these episodes may appear random, they are a subset of an evolutionary response commonly referred to as 'fight or flight' that occurs out of context. This response floods the body with hormones, particularly epinephrine (adrenaline), that aid in defending oneself from harm.
According to the American Psychological Association, the symptoms of a panic attack commonly last approximately thirty minutes. However, panic attacks can be as short as 15 minutes, while sometimes they may form a cyclical series of episodes lasting for an extended period, sometimes hours. Often those afflicted will experience significant anticipatory anxiety and certain symptoms which persist between attacks, and in situations where attacks have previously occurred, as well as in situations where they feel "trapped", or where escape would be embarrassing. Panic attacks also affect people differently. Experienced sufferers may be able to completely "ride out" a panic attack with little to no obvious external manifestations of their symptoms.
Often when shortness of breath and chest pain are the predominant symptoms, the sufferer mistakes the situation as a heart attack, which results in seeking treatment in an emergency room. The panic attack is distinguished from other forms of anxiety by its intensity and its sudden, episodic nature. Panic attacks are often experienced in conjunction with anxiety disorders and other psychological conditions, although they are not always indicative of a mental disorder.