Online Therapy
That Truly Works
This is not just a quick-fix to make you smile right now. You'll get all the support and tools you need to feel better over the long-term.
FIRST MONTH: 20% Discount!
Our toolbox has been reviewed and approved by the best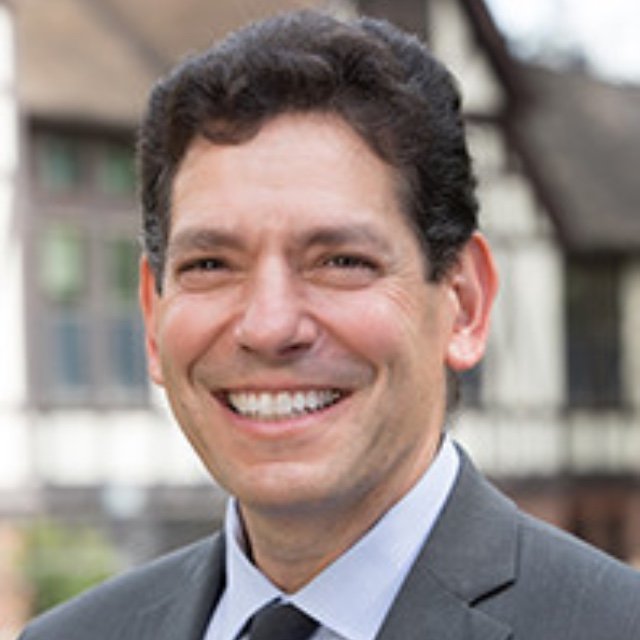 Dr. Steven Gans, MD
Harvard Medical School,
McLean Hospital
It's exciting to be associated with Online-Therapy.com and its mission to bring high quality therapy access throughout the world, to those who might otherwise not be able to obtain necessary emotional support.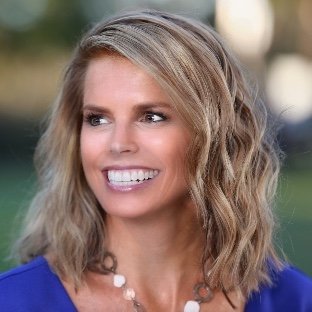 Dr. Elizabeth Lombardo is frequently interviewed by today's top media outlets including; The Today Show, Dr. Oz, The Steve Harvey Show, Fox News, CNN, Forbes, Wall Street Journal, Money Magazine, Health, MSNBC and USA Today.
As frequently seen and recommended on
The most complete online therapy toolbox there is:
Qualified Therapist
Your personal therapist will be by your side - from start to finish. Guiding you to a happier you through the sections, worksheets, live chat and messages. You can do this from wherever you are in the world.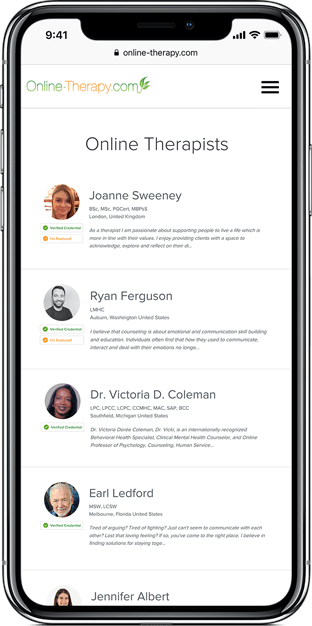 Are you a therapist? Join us today!
Start talking to your therapist today!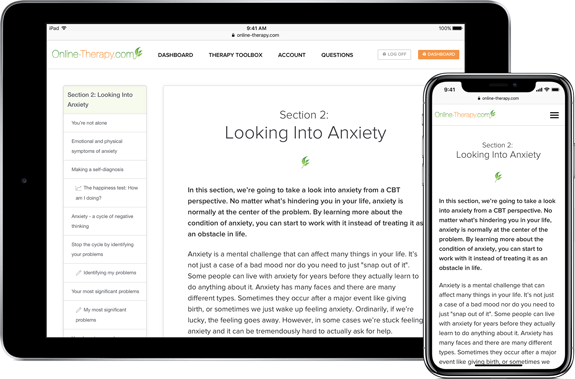 Like chapters in an interactive book!
Sections
Each section is comprised of both reading material and practical hands-on tools. It includes all the information that you need to identify, challenge and overcome your problems.
Worksheets
There are several worksheets in each section. In each worksheet you will answer questions and get valuable hands-on tools and tips from your therapist on a daily basis.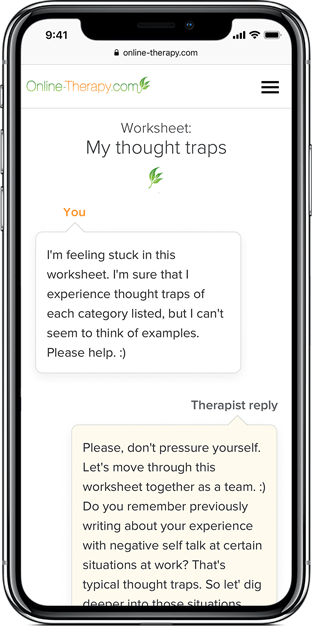 You will get a reply from your therapist within 24 hours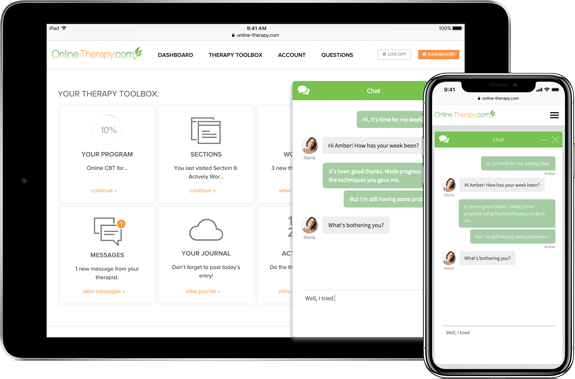 Get instant support and feedback through the chat!
Live Chat
Each week you will have access to 30 minutes of live chat with your therapist. This is a perfect opportunity to get instant guidance and support.
Messaging
In addition to communicating with your therapist through the worksheets and the live chat, you can always send them a message with any questions or thoughts.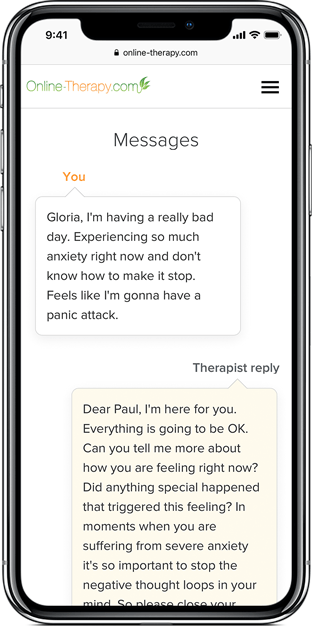 Whatever's on your mind, just send a message!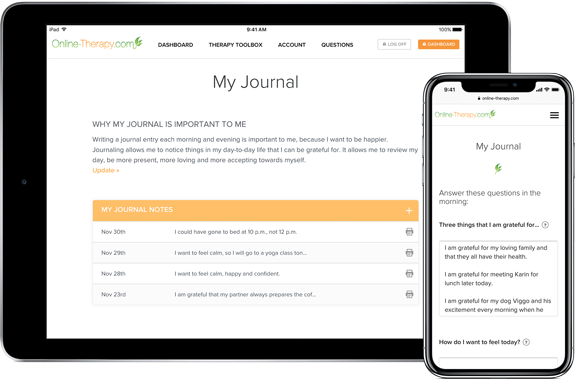 Helps you to start and end your day on a good note!
Journal
This easy-to-use journal helps you start and end your day in a more positive way. You will soon notice a big difference in your attitude towards yourself and life by just writing a few notes each morning and evening.
Activity Plan
This is where you add and schedule the things that will add extra light into your life! The activity plan also serves as a written agreement with yourself. It greatly increases the chances of you carrying out your plans!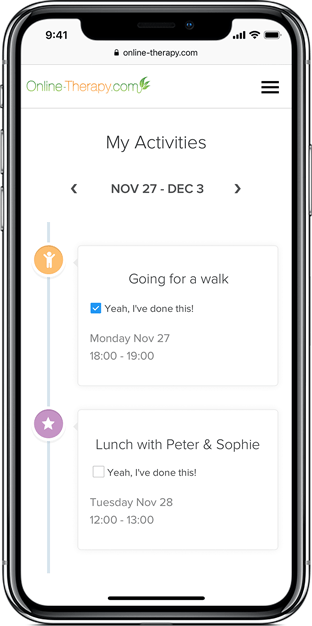 Our happiness philosophy is: do something each day that brings you joy!
YOGA - NEW FEATURE!
This is the latest addition to our "happiness-toolbox"! These simple videos are perfect when you need help coping with your depression, anxiety or stress. They are perfect when you need an instant boost of gratitude and happiness.
We're here to help you get happier NOW!
Your therapist is ready to start the journey with you today. So what are you waiting for?
We've helped thousands getting happier since 2009!
"I'm really being helped by this program and by my therapist, Maggie Sweet. I must thank you sincerely for being here for me. I think enrolling for this therapy has been one of the best things I have ever done." Kim R
Why should I choose Online-Therapy.com?
Complete Toolbox
We're not like other therapy websites! You get all the tools and support you need to be happier - now and in the future.
Top Quality Therapy
Our program is based on proven, well-researched treatments drawn from CBT. Our therapists are highly qualified with a wide range of credentials.
Affordable
Your therapist is here for you whenever needed, Monday-Friday. You pay much less than you would with a face-to-face therapist.
Anonymous & Private
We respect your privacy! There is no risk of exposing yourself face-to-face in the therapist's office or waiting room.
Secure & Confidential
All your information is saved anonymously on our secure server, where only you and your therapist can access it.
Accessible & Time-saving
There is no hassle with traveling or keeping an appointment. You can get help from wherever you are in the world. All you need is a computer, tablet or mobile phone.
Get life-changing support from the comfort of your sofa!
How does it actually work?
1.
Choose your areas of concern to get matched with your therapist.
2.
Choose the subscription plan that best suits your needs, starting at just $31.96/week.
3.
Get instant access to your online therapy program, including sections, worksheets, diary, activity plan and more.
4.
Start communicating with your therapist through worksheets, messages and live chat.
5.
With the help of the tools and the support of your therapist, you will start getting happier, day by day.
It only takes a minute to get started!
Take our quick happiness test!
It only takes a few minutes.
Let's get started and see if we can help you!
Get instant results and recommendations!
A therapy platform based on science
Our online therapy program is based on cognitive behavioral therapy (CBT). CBT has been developed on the idea that your thoughts are what cause your feelings and behaviors, not external stimuli like people, situations and events.
CBT is one of the most commonly used methods for treating mental problems. Studies show that online therapy based on CBT is just as effective as traditional face-to-face therapy.
Any questions? Just ask, we're here to help you!
Are you unsure if we are the right fit for you or do you have any questions about our services?
Join the thousands that have become happier!
Our online therapy service has received an average rating of 4.6 out of 5 stars.
Now it's your turn to get more joy in your life.