Overcome Your Addiction with Online Therapy
There are many different types of addiction, such as addiction to alcohol, cigarettes, drugs, food, sex, medication, the Internet, video games, gambling and/or shopping. An addiction does not just harm you physically, but also emotionally since it often makes you isolate yourself due to the shame and guilt. Your addiction can also cause you many financial and relationship problems in your life.
Many people with an addiction deny – or refuse to acknowledge – that they have a problem. If you feel that you need more and more of the substance/engage more and more in the behavior to get the same amount of pleasure as before and you have tried to quit before without any success, you might have an addiction.
Our addiction therapy is based on cognitive behavioral therapy (CBT). To overcome an addiction, you must first of all be willing to quit. If you have the desire to quit, you will find huge benefits from our online addiction therapy. With the help of your therapist, you will be able to identify the thoughts, feelings and behaviors that trigger and maintain your addiction. You will get insight into risky situations and people to avoid and get tools on how to unlearn your bad habits. You will also learn new healthier skills that will help you to handle difficulties in life and that will enable you to live your life free from your addiction!
Sign up and start getting happier now
Your therapist is ready to start the journey with you today - so what are you waiting for?
Take our test & get instant help
Answer a few questions and get immediate results and recommendations. It only takes a few minutes, so let's get started!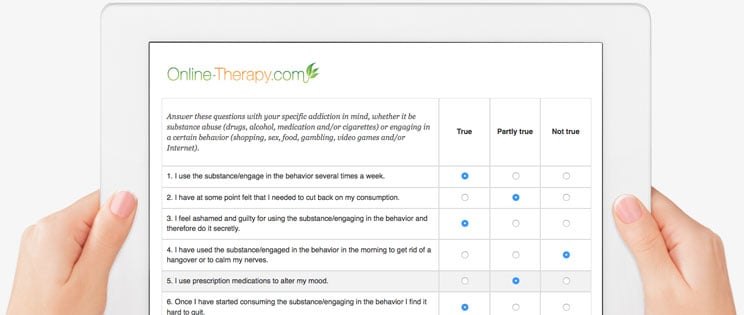 Reviews - Addictions
This program has received 11 reviews and the average rating is 4.3 out of 5 stars.
Rating: [5 out of 5 stars!]
"Already getting so much help in just a few weeks!"
Great! (May 16, 2017)
Rating: [5 out of 5 stars!]
"I have been reluctant to obtain help for my addiction due to the guilt and shame associated with it. This on-line therapy treatment allows me time to think about how situations around me affect my desire to alter my mood. It gives me time to reflect. I highly recommend the program."
Gaining Confidence (March 16, 2017)
Rating: [3 out of 5 stars!]
"This is OK. So far. The chat function needs some work though. I found it difficult to start when I did use it. It didn't seem intuitive.

--> We are about to launch an updated version of our chat, hopefully you will like it!

/ Online-therapy.com Team"
Ehsteve (December 01, 2016)
Rating: [4 out of 5 stars!]
"It has been helpful to be able to share my thoughts without reservations, and it has been helpful obtaining responses and questions to my replies. These have helped me to see things i never thought of before and understand some of behaviour in a more encouraging and positive way. So far I am enjoying the freedom to receive therapy at my own pace and when I am focused and ready to participate. This is freeing."
James (June 23, 2016)
Rating: [4 out of 5 stars!]
"I have found my online therapy to be really useful. It has allowed me to systematically explore my issues around alcohol addiction and get a deeper understanding of the underlying causes. It is not a miracle cure, you have to work at it and be open and honest, but it has led me to focus in on two areas in my life that are the primary drivers in my excessive drinking which gives me something to work on. I feel really positive about the future.

One of the things I like about this approach to therapy is that it is self paced, which means you can approach it at the time in the day that is convenient to you, and also when your mind is in the best place to work with it. Also, as the program is written it has allowed me to be more thoughtful and considered about what I am trying to say. This in itself has helped me to go deeper into my understanding of myself."
GC (October 20, 2014)
Rating: [3 out of 5 stars!]
"I felt at the beginning the therapy was extremely helpful. It helped me to observe my feelings as to why I drank too much. I'm now far more aware of how to control my drinking.

I think because I've now 'got on track' and have started forming a new habit of not drinking, or drinking limited amounts, that I can sort this myself.

I also think the therapist, due to not ever meeting me, probably thought my situation was worse than it was. This isn't the therapist's fault at all, it's just the on line set up.

Having said this, I am glad that I have done this. As I say, the initial 'work' has taught me a lot and I value that."
Cazzywazzy (July 22, 2014)
Rating: [5 out of 5 stars!]
"Excellent dialogue and feedback. It helps that I can communicate with someone for the first time about my issues."
Geana (May 04, 2014)
Rating: [3 out of 5 stars!]
"I'm only about 1/4 way through, so don't yet feel ready to rate it. So far so good though, it's really helping me to

(a) get a better understanding of myself
(b) use that understanding to deal with issues
(c) revisit, due to the structure of the work program

I want to skip the stars til I'm done, so have place it in the middle, this is just because I'm not ready to rate yet."
0 (May 11, 2013)
Rating: [5 out of 5 stars!]
"So far it has been exactly what I needed. I find myself open to new experiences, more spiritual, doing much less overeating and watching TV. Also have been putting that energy toward making my dreams come true. Am once again motivated on my business and moving forward. Thanx!"
Judi (September 22, 2011)
Rating: [5 out of 5 stars!]
"I just had an outstanding chat session with my therapist."
Me (April 23, 2011)
Rating: [5 out of 5 stars!]
"I have been working with Maggie now for almost 3 months, she is amazing at her job, has helped me so much!! A big hug for Maggie from me!!"
Beier (February 15, 2011)
Sign up for online therapy today
Your therapist is ready to start the journey with you today - so what are you waiting for?