Overcome Your Addiction with Online Therapy
There are many different types of addiction, such as addiction to alcohol, cigarettes, drugs, food, sex, medication, the Internet, video games, gambling and/or shopping. An addiction does not just harm you physically, but also emotionally since it often makes you isolate yourself due to the shame and guilt. Your addiction can also cause you many financial and relationship problems in your life.
Many people with an addiction deny – or refuse to acknowledge – that they have a problem. If you feel that you need more and more of the substance/engage more and more in the behavior to get the same amount of pleasure as before and you have tried to quit before without any success, you might have an addiction.
Our addiction therapy is based on cognitive behavioral therapy (CBT). To overcome an addiction, you must first of all be willing to quit. If you have the desire to quit, you will find huge benefits from our online addiction therapy. With the help of your therapist, you will be able to identify the thoughts, feelings and behaviors that trigger and maintain your addiction. You will get insight into risky situations and people to avoid and get tools on how to unlearn your bad habits. You will also learn new healthier skills that will help you to handle difficulties in life and that will enable you to live your life free from your addiction!
Sign up and start getting happier now
Your therapist is ready to start the journey with you today - so what are you waiting for?
RIGHT NOW:

Free therapy due to the coronavirus pandemic

We want to help as many people as possible during these extraordinary times.
Therefore we are offering parts of our online therapy platform for free.

The free access includes our online therapy program with 8 easy-to-follow sections and 25 worksheets, yoga and meditation videos, activity plan, journal, and tests (communicating with a personal therapist is not included).
Take our test & get instant help
Answer a few questions and get immediate results and recommendations. It only takes a few minutes, so let's get started!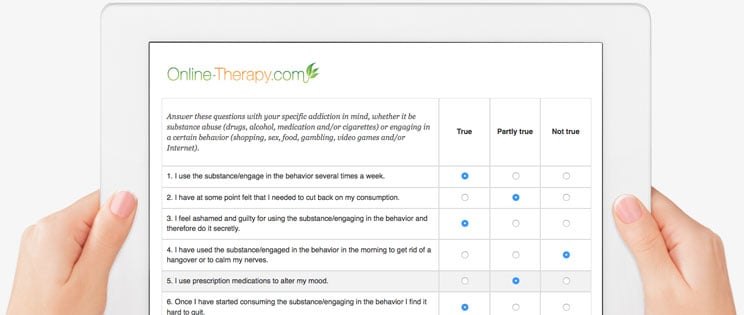 Reviews
Our online therapy services have received 754 reviews and the average rating is 4.6 out of 5 stars.
Rating: [5 out of 5 stars!]
"The program is in-depth, easy to follow and has helped me a lot. My therapist is also very friendly and easy to talk to, offers great insight and support."
Awesome (April 26, 2020)
Rating: [5 out of 5 stars!]
"Having to isolate from my loved ones rely set me off since I am working as a Nurse. This program and talking to my counselor has DRAMATICALLY helped improve my mood, outlook, and how I go about my day."
Helping Me Through This Difficult Time (May 08, 2020)
Rating: [4 out of 5 stars!]
"There was a lot of great information that I learned in this course that I felt I was not learning while attending group sessions here at home. I learned that I wasn't a horrible person because I struggled, and it was nice not feel judged. The only thing I wish is there was more quicker responses when sections were finished."
A Finished Race (March 27, 2020)
Rating: [5 out of 5 stars!]
"This online platform allow me to speak openly without feeling awkward in any way.

The worksheets, videos and therapist feedback all offer structure and a sense of purpose.

Highly recommended."
Ryan (April 27, 2020)
Rating: [4 out of 5 stars!]
"The program is as described; you figure things out as you go along using the worksheets. The good thing is the method can apply to any issue, the bad thing is the method can apply to any issue. I chose the program because I was looking for help for a specific issue. I'm not sure my issue will be resolved but so far it's been beneficial with other things that are going on."
Marinegrl (May 06, 2020)
Rating: [4 out of 5 stars!]
"This is a good program. If you want to remember what you learned, I suggest using One Note or something to take notes on the sections and get screenshots of your worksheets. Also download and save the videos somewhere you've got space. This is a good first step for many people looking to better themselves. I suggest actually penciling most things you want to remember as it is scientifically proven to stick with us more than typing things out. Yoga you can pretty much find anywhere online for what's right for you, so you don't really have to use the resources here unless you really want to."
Julia (March 09, 2020)
Rating: [5 out of 5 stars!]
"helpful"
Bj (May 19, 2020)
Rating: [5 out of 5 stars!]
"I would thoroughly recommend this course. I've only completed the free version so far and it's been a great help. I've done CBT twice before and although effective I've found that I didn't do enough worksheet work and journaling to tie in what I learnt from the face to face sessions. This course has addressed that exact shortcoming - I've written more in this course around my thoughts, feelings and behaviours into the structured CBT worksheets than I did in my last two sets of CBT courses combined. That's one set of 10 sessions and another of 12 sessions, so more than 22 sessions of CBT that cost £80 a session vs a free online course. I'll soon be upgrading to the standard membership so I can introduce a therapist to all my worksheets, journals and comments in all the parts of the course and it will be well worth the money to do that."
It's Been Fantastic!! (April 21, 2020)
Rating: [5 out of 5 stars!]
"Great source of data. Self driven work flow and worksheets allows for easy to confront formula for what can be difficult areas to address. The therapist support helps drive accountability and is a great sounding board."
Commitedtohealing (May 05, 2020)
Rating: [5 out of 5 stars!]
"Good advice and very good videos on self help."
Tara (May 23, 2020)
Sign up for online therapy today
Your therapist is ready to start the journey with you today - so what are you waiting for?