Overcome Your Addiction with Online Therapy
There are many different types of addiction, such as addiction to alcohol, cigarettes, drugs, food, sex, medication, the Internet, video games, gambling and/or shopping. An addiction does not just harm you physically, but also emotionally since it often makes you isolate yourself due to the shame and guilt. Your addiction can also cause you many financial and relationship problems in your life.
Many people with an addiction deny – or refuse to acknowledge – that they have a problem. If you feel that you need more and more of the substance/engage more and more in the behavior to get the same amount of pleasure as before and you have tried to quit before without any success, you might have an addiction.
Our addiction therapy is based on cognitive behavioral therapy (CBT). To overcome an addiction, you must first of all be willing to quit. If you have the desire to quit, you will find huge benefits from our online addiction therapy. With the help of your therapist, you will be able to identify the thoughts, feelings and behaviors that trigger and maintain your addiction. You will get insight into risky situations and people to avoid and get tools on how to unlearn your bad habits. You will also learn new healthier skills that will help you to handle difficulties in life and that will enable you to live your life free from your addiction!
Sign up and start getting happier now
Your therapist is ready to start the journey with you today - so what are you waiting for?
Take our test & get instant help
Answer a few questions and get immediate results and recommendations. It only takes a few minutes, so let's get started!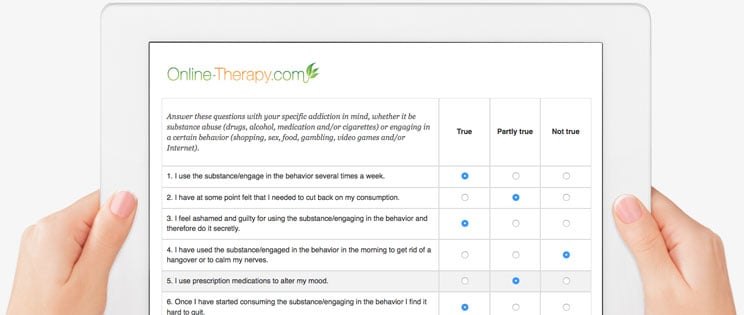 Reviews
Our online therapy services have received 516 reviews and the average rating is 4.6 out of 5 stars.
Rating: [5 out of 5 stars!]
"I stayed with this programme for 10 months and I can highly recommend this form of therapy. The fact that you can work when you want, reread the comments or chats until your really understand gives this an enormous advantage over classic face to face therapy where you can easily forget all of what was said.
Maggie, my therapist, gave me so much help and hope over the past ten months. I will always be grateful to her for that. She helped me out of a black hole. I have been copying out some of the stuff I have written over the months and I can hardly believe the difference. It helps me remember how I was, but I have certainly changed, I can see that. It's wonderful !!"
Less Stressed (February 01, 2019)
Rating: [5 out of 5 stars!]
"I love the service online therapy has provided to me so far. My therapist has helped me a lot and I can see the difference so clearly."
Sweet (March 06, 2019)
Rating: [5 out of 5 stars!]
"Therapist is available when you need them. Great program!"
Rob (January 11, 2019)
Rating: [5 out of 5 stars!]
"I have completed the eight sessions of online cognitive behavior therapy with Maggie Sweet as my therapist. This was my first time with an online therapy. I have given the experience five stars because the program and its format met and exceeded my expectations.
One thing I did not expect was the reciprocal nature of the client/therapist interaction, as far as receiving messages on worksheets that I completed on my own time. In my previous (in person) therapy experiences, I would do my work on my own and meet with my therapist once a week or less. We didn't have much more contact than that. That frequency of service worked for me, so having quick responses to my online work was something I had to adjust to. At first it felt pushy but I used the novelty of the experience to challenge my commitment to my goals in seeking therapy. So, in that way, my experience with Maggie exceeded my expectations.
The online format has so many advantages that the inherent problems seem minimal. One thing I would change is to have a way to easily download worksheets in a .pdf format, or possibly upload them to a cloud storage, if copyright is an issue. Also regarding the internet format, I had one live chat experience that was interrupted by what appeared to be a connectivity issue. I was allowed to make up that session.
I would recommend this service for persons who have the therapeutic needs described in the organization's information."
Client (January 03, 2019)
Rating: [5 out of 5 stars!]
"I find this service very professional and helpful. There's no way I could fit in a traditional face to face therapy in my hectic life.. I like to be able to choose my pace through this healing path. Therapist answers are always emphatic and focus just on what is more relevant .
And Yoga is another very powerful tool!"
Alessandra (January 06, 2019)
Rating: [5 out of 5 stars!]
"Great response time by the therapist. Good advice that is well thought out and personalized."
GG (March 04, 2019)
Rating: [4 out of 5 stars!]
"It's good. I think I signed up for more therapist time than I need, but it's helpful knowing there is someone out there checking in. I find the exercises really helpful and the journal is a game changer. I wish there was an app for my iPhone though."
1st One (March 08, 2019)
Rating: [5 out of 5 stars!]
"Fantastic service."
Good Service (February 22, 2019)
Rating: [4 out of 5 stars!]
"Through grace and support I was able to find a vaccine between my mind and body."
Through Grace (January 08, 2019)
Rating: [5 out of 5 stars!]
"It's great."
Jane (January 29, 2019)
Sign up for online therapy today
Your therapist is ready to start the journey with you today - so what are you waiting for?