Overcome Your Addiction with Online Therapy
There are many different types of addiction, such as addiction to alcohol, cigarettes, drugs, food, sex, medication, the Internet, video games, gambling and/or shopping. An addiction does not just harm you physically, but also emotionally since it often makes you isolate yourself due to the shame and guilt. Your addiction can also cause you many financial and relationship problems in your life.
Many people with an addiction deny – or refuse to acknowledge – that they have a problem. If you feel that you need more and more of the substance/engage more and more in the behavior to get the same amount of pleasure as before and you have tried to quit before without any success, you might have an addiction.
Our addiction therapy is based on cognitive behavioral therapy (CBT). To overcome an addiction, you must first of all be willing to quit. If you have the desire to quit, you will find huge benefits from our online addiction therapy. With the help of your therapist, you will be able to identify the thoughts, feelings and behaviors that trigger and maintain your addiction. You will get insight into risky situations and people to avoid and get tools on how to unlearn your bad habits. You will also learn new healthier skills that will help you to handle difficulties in life and that will enable you to live your life free from your addiction!
Sign up and start getting happier now
Your therapist is ready to start the journey with you today - so what are you waiting for?
Take our test & get instant help
Answer a few questions and get immediate results and recommendations. It only takes a few minutes, so let's get started!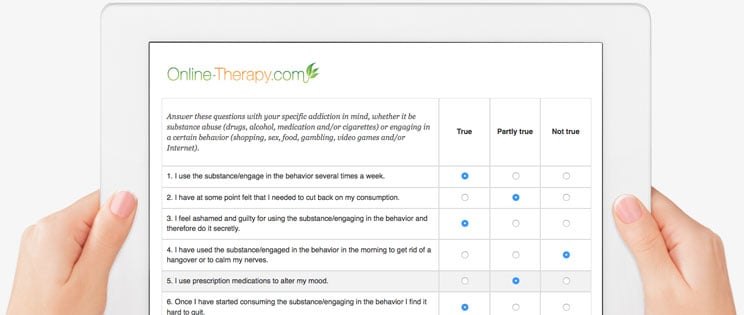 Reviews
Our online therapy services have received 649 reviews and the average rating is 4.6 out of 5 stars.
Rating: [5 out of 5 stars!]
"This program has been, and continues to be, life-changing. Sure, I still have a long way to go, as to managing bipolar mood-swings. However, there has been other areas in which improvement has been beyond my imagination. I now have hope for a happier life."
Anonymous (January 31, 2020)
Rating: [5 out of 5 stars!]
"The sessions have been very helpful and I like I can send a message anytime and get a response."
BBN (February 07, 2020)
Rating: [5 out of 5 stars!]
"My therapist Lisa Neuweg was outstanding. The comments and guidance I received were right to the point and I always got a prompt reply, amazing!

I truly had the help of an expert therapist and this presented great value for money. I condensed the whole programme into 2 weeks (worked hard almost every night), despite this I received daily feedback and ongoing commentary. I was working hard and Lisa was able to keep up with me!

I was a little skeptical at first about doing this online CBT programme but in the end was really pleased and found it well worthwhile. It got to the core of some of my issues and instead of being some 'magic bullet' type approach actually made me face some of the issues I have been struggling with, it was difficult, tough and uncomfortable at times, but has provided me with some good tools and helped me to understand my thought patterns better."
BK (December 18, 2019)
Rating: [5 out of 5 stars!]
"Great!"
Ka (January 26, 2020)
Rating: [5 out of 5 stars!]
"Katrina was wonderful. Always responsive and a great resource."
Cc (December 18, 2019)
Rating: [5 out of 5 stars!]
"Amazing"
Tara (December 04, 2019)
Rating: [4 out of 5 stars!]
"I've only been using this for 2 weeks, but so far I enjoy the information and therapist interaction greatly. The tools are user friendly."
Liz (February 27, 2020)
Rating: [4 out of 5 stars!]
"Still in the middle so hard to review it. Four stars so far for ease of use, and quick responses from the therapist."
Ehhh (February 01, 2020)
Rating: [5 out of 5 stars!]
"I love how structured the worksheets and assignments are! It really works out the problems on hand."
Dawna (December 29, 2019)
Rating: [5 out of 5 stars!]
"I've been using online therapy for a couple of weeks and am extremely satisfied. The worksheets are very helpful and informative and along with the therapist comments, they really help me to be able to see myself from a different perspective. My therapist has been great and her feedback is always very helpful. She always responds quickly. The only improvement I feel online-therapy.com could make would be to have the 1 on 1 session be either over the phone or video chat. A 30 minute text session is too slow to really get into anything too deeply. That being said, I believe the fact that I am getting daily feedback and from my makes up for my what I feel is a sub-par session. I went to traditional therapy many years ago for a different issue and I think online has been better for me to be honest. I would probably rate this 4.5 - 4.8 stars if i could due to the lack of video chat, but I did read they are in the process of implementing such a feature. When they do I will upgrade to 2 sessions a week. For now I don't see a real benefit to doing that.

--> Thank you for your kind review. You are right, both video and audio only chats will be launched soon! /Online-Therapy.com Team"
Andrew D. (February 27, 2020)
Sign up for online therapy today
Your therapist is ready to start the journey with you today - so what are you waiting for?