Overcome Your Addiction with Online Therapy
There are many different types of addiction, such as addiction to alcohol, cigarettes, drugs, food, sex, medication, the Internet, video games, gambling and/or shopping. An addiction does not just harm you physically, but also emotionally since it often makes you isolate yourself due to the shame and guilt. Your addiction can also cause you many financial and relationship problems in your life.
Many people with an addiction deny – or refuse to acknowledge – that they have a problem. If you feel that you need more and more of the substance/engage more and more in the behavior to get the same amount of pleasure as before and you have tried to quit before without any success, you might have an addiction.
Our addiction therapy is based on cognitive behavioral therapy (CBT). To overcome an addiction, you must first of all be willing to quit. If you have the desire to quit, you will find huge benefits from our online addiction therapy. With the help of your therapist, you will be able to identify the thoughts, feelings and behaviors that trigger and maintain your addiction. You will get insight into risky situations and people to avoid and get tools on how to unlearn your bad habits. You will also learn new healthier skills that will help you to handle difficulties in life and that will enable you to live your life free from your addiction!
Sign up and start getting happier now
Your therapist is ready to start the journey with you today - so what are you waiting for?
Take our test & get instant help
Answer a few questions and get immediate results and recommendations. It only takes a few minutes, so let's get started!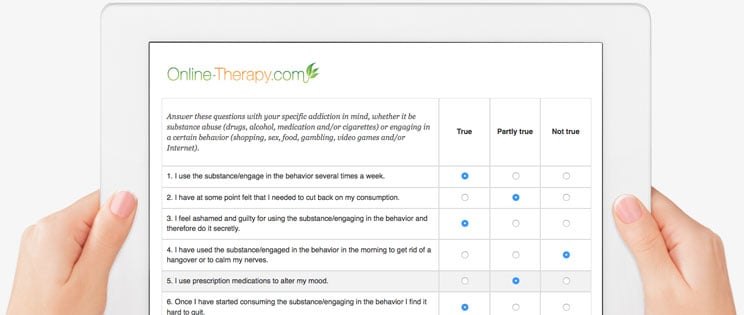 Reviews
Our online therapy services have received 543 reviews and the average rating is 4.6 out of 5 stars.
Rating: [5 out of 5 stars!]
"It helped me to understand that i just need to make things happen faster in my life...the waiting thing is what caused more worry...depression and stress."
Good Stuff But I Think More Info Could Be Put Into The Actual Mini Course (March 26, 2019)
Rating: [5 out of 5 stars!]
"My therapy was successful."
Charrex (May 02, 2019)
Rating: [4 out of 5 stars!]
"This online therapy has been excellent help for me. I only pay the basic amount and it still has been great. The therapist I have is really helpful and helps me day to day with any of my issues. The only thing about it being online is sometimes it's finding that inner strength to make yourself do the work. But on a positive, it means that your activity working on yourself further. Rather then relying on a face to face therapist."
Lucy (May 16, 2019)
Rating: [5 out of 5 stars!]
"Excellent help..."
Dajg (May 01, 2019)
Rating: [3 out of 5 stars!]
"the worksheets are phenomenal! really well done and thought provoking. really helping me break down my thoughts feelings and reactions. My therapist is really smart!"
John (June 11, 2019)
Rating: [5 out of 5 stars!]
"Even my wife has noticed an improvement in the way I react to potential conflicts. I have become more aware of how I react and try more to control my first impulses."
Uncle Dave (May 06, 2019)
Rating: [5 out of 5 stars!]
"I feel like a new person after having taken this class. the therapist was very helpful and I am very thankful that I was able to make a change in my life when I needed it the most. I have thoroughly enjoyed this class and seeing a change in myself when once I felt hopeless now I feel better every day. I am going to move forward in my life and use what I have learned in this class and I am very thankful for everything the therapist has showed me and share with me and I am completely satisfied with the progress that I have made so far."
The Change (June 05, 2019)
Rating: [5 out of 5 stars!]
"Very interesting and exciting because I can do this therapy online."
Jay (May 22, 2019)
Rating: [5 out of 5 stars!]
"I have enjoyed the program up to this point. I have even noticed a slight change after completing the first 3 sections."
So Far So Good (June 19, 2019)
Rating: [5 out of 5 stars!]
"Working with the therapist has been great and very helpful!"
Mike (April 10, 2019)
Sign up for online therapy today
Your therapist is ready to start the journey with you today - so what are you waiting for?