Overcome Your Anxiety with Online Therapy
Feeling anxious from time to time is just normal. But when you can't seem to shake your concerns and your daily life is a constant state of worry and fear, then anxiety has taken an unhealthy grip on your life. In addition to emotional symptoms like always anticipating the worst, feeling restless all the time or having a constant nagging concern, anxiety can also have a lot of physical symptoms including a pounding heart, sweaty palms, feeling sick in your stomach, headaches and feeling tired.
Anxiety is our body's ancient and innate response to stressful situations such as being attacked by an aggressive animal or person. While we can't stop anxiety entirely because it is a natural response, we can take back the control of our lives so that anxiety does not get in the way of daily functioning.
Cognitive behavioral therapy (CBT) can help you overcome anxiety. You see, it is not external events that trigger your anxiety; instead it is how you perceive the events that cause your anxiety. Using our online therapy for anxiety, you'll learn how to identify your negative thinking patterns that cause your anxiety and replace them with more realistic and positive thoughts. CBT will help you learn to identify the physical sensations and feelings when you're anxious. And, more importantly, you will learn coping skills to neutralize this anxiety. Using a technique called systematic desensitization, your therapist will help you to gradually and repeatedly expose yourself to the situations and fears that normally trigger your anxiety. While this may sound scary, research actually shows it helps you take control of your anxiety so that you can improve your quality of life.
Sign up and start getting happier now
Your therapist is ready to start the journey with you today - so what are you waiting for?
Take our test & get instant help
Answer a few questions and get immediate results and recommendations. It only takes a few minutes, so let's get started!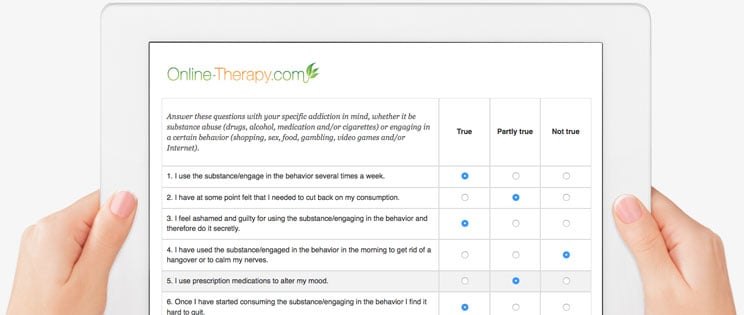 Reviews
Our online therapy services have received 1551 reviews and the average rating is 4.7 out of 5 stars.
Rating: [5 out of 5 stars!]
"Love my therapy ! Finally feeling better after 40 years"
Jm (June 07, 2021)
Rating: [5 out of 5 stars!]
"I have learned a lot from Lena, I have been progressing ever since we started. I am very happy with all their services."
Daniel (June 12, 2021)
Rating: [5 out of 5 stars!]
"Very helpful"
Ghoul (April 05, 2021)
Rating: [5 out of 5 stars!]
"My therapist is wonderful to work with! He is working with me to get to my deeply rooted feelings from past trauma so that I can process what those feelings are and begin to find peace."
Week 4 (May 23, 2021)
Rating: [4 out of 5 stars!]
"I really enjoyed the program. It really helped me think about what I struggle with and ways to make it easier.
My therapist hasn't always been the easiest to get an appointment with, but when we are together she's really helped me.
Last weekend for the first time I felt like ZERO anxiety. Just happiness and obviously lots to do as a busy mom -- but I wasn't worried about it. This week some issues have cropped up and I have felt anxiety but i have tools to help me calm down, and I do feel it abating...."
Hil (April 23, 2021)
Rating: [5 out of 5 stars!]
"Very convenient and confidential. It has been the help I needed."
Tommy (April 12, 2021)
Rating: [4 out of 5 stars!]
"Compared to other online therapy services, this one definitely seems to be one of the better made ones. It's not exactly comparable to in person therapy, but when in-person is not possible I'd definitely recommend giving online-therapy.com a shot."
Amelia (April 22, 2021)
Rating: [5 out of 5 stars!]
"Words are few to show what a therapist Bernadette is.
Firstly she has a big heart, she is a good as e person and she is so friendly 👍
Moreover, what is extremely important to mention is that she understands your inner world, understands your problems and desires and at this point she wants to help and support you in all ways.

I'm lucky I have met Bernadette🙏🙏❤
I suggest to everyone to choose Bernadette as a therapist because you will be satisfied.

All the best to all the staff!"
Llola (May 11, 2021)
Rating: [5 out of 5 stars!]
"Very helpful sessions."
Good Service (April 29, 2021)
Rating: [5 out of 5 stars!]
"David has helped me get a grip on my anger and help clear my mind of exhausting, anxious thoughts during a difficult separation with my wife, I am beginning to feel more positivity now than I have felt in a very long time. The future was looking bleak through my eyes before I signed up, now I am preparing for new beginnings with a happier and better me."
Gary M (April 29, 2021)
Sign up for online therapy today
Your therapist is ready to start the journey with you today - so what are you waiting for?
Have any questions?
Are you unsure of what program to choose or have any questions about our services? Check our FAQ to alleviate any concerns.