Manage Your Bipolar with Online Therapy
While it is common for people to experience mood swings from time to time, bipolar disorder is much more severe. When someone has bipolar disorder (also known as manic depression) their mood shifts from periods of over-excitement and feeling like you're "on fire" (manic episodes) to periods of feeling severely depressed (depressive episodes).
During manic episodes, it's common to have a generally elevated mood, be highly active, experience higher self-esteem and need less sleep. This often alternates with depressive periods where you feel little joy in life, have problems sleeping, gain or lose weight and experience a loss of energy.
While this can be stressful and even debilitating, there is hope. Our therapy for bipolar is based on cognitive behavioral therapy (CBT), which has been shown in research studies to help people with bipolar disorder, often used in conjunction with medication. You see, it is your thoughts that affect your perception of the world, and with bipolar disorder, your brain tends to process information in an inaccurate and distorted way. With the help of your therapist, you will be able to identify and challenge these distorted and negative thought patterns that cause your stress and even harmful behavior. By identifying the situations that trigger your manic and depressive episodes, you will be more aware of when a mood shift is about to happen. And, eventually, you will be able to control your emotions and stress. By discovering new coping and behavioral skills, you will be able to stick to a treatment plan and live a more stable lifestyle, which will reduce the risks of a relapse.
Sign up and start getting happier now
Your therapist is ready to start the journey with you today - so what are you waiting for?
Take our test & get instant help
Answer a few questions and get immediate results and recommendations. It only takes a few minutes, so let's get started!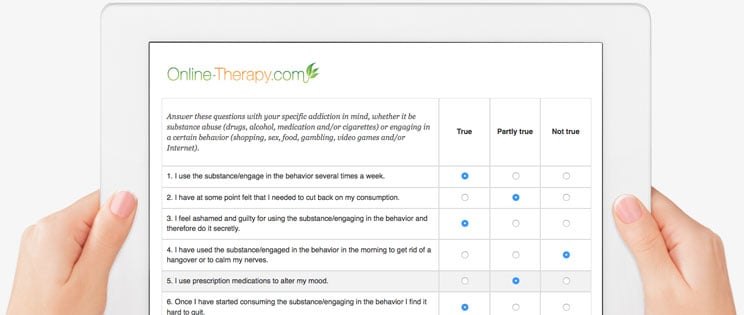 Reviews
Our online therapy services have received 506 reviews and the average rating is 4.6 out of 5 stars.
Rating: [5 out of 5 stars!]
"Fantastic service."
Good Service (February 22, 2019)
Rating: [4 out of 5 stars!]
"It's good but it's a shame that there is no option to get a diagnosis."
MD7 (February 12, 2019)
Rating: [5 out of 5 stars!]
"I find this service very professional and helpful. There's no way I could fit in a traditional face to face therapy in my hectic life.. I like to be able to choose my pace through this healing path. Therapist answers are always emphatic and focus just on what is more relevant .
And Yoga is another very powerful tool!"
Alessandra (January 06, 2019)
Rating: [4 out of 5 stars!]
"Haven't used much but looks promising."
Jd (February 20, 2019)
Rating: [5 out of 5 stars!]
"I have completed the eight sessions of online cognitive behavior therapy with Maggie Sweet as my therapist. This was my first time with an online therapy. I have given the experience five stars because the program and its format met and exceeded my expectations.
One thing I did not expect was the reciprocal nature of the client/therapist interaction, as far as receiving messages on worksheets that I completed on my own time. In my previous (in person) therapy experiences, I would do my work on my own and meet with my therapist once a week or less. We didn't have much more contact than that. That frequency of service worked for me, so having quick responses to my online work was something I had to adjust to. At first it felt pushy but I used the novelty of the experience to challenge my commitment to my goals in seeking therapy. So, in that way, my experience with Maggie exceeded my expectations.
The online format has so many advantages that the inherent problems seem minimal. One thing I would change is to have a way to easily download worksheets in a .pdf format, or possibly upload them to a cloud storage, if copyright is an issue. Also regarding the internet format, I had one live chat experience that was interrupted by what appeared to be a connectivity issue. I was allowed to make up that session.
I would recommend this service for persons who have the therapeutic needs described in the organization's information."
Client (January 03, 2019)
Rating: [3 out of 5 stars!]
"It seems like this site and the tools can be helpful. I just need to dedicate more time to it."
Working On It (January 11, 2019)
Rating: [5 out of 5 stars!]
"Website explained aspects of three choices well."
Sleepy (January 13, 2019)
Rating: [5 out of 5 stars!]
"So far the customer service has been outstanding! There was an issue with my initial registration and the assistance they provided was extremely unexpected. They had one representative work with me until the it was fully resolved. I received emails without any prompting from me. They handled it well, quickly and in a very personable manner."
Light At End Of Tunnel (February 22, 2019)
Rating: [5 out of 5 stars!]
"Love the yoga! It helps me return to a good place."
Jstlou (February 02, 2019)
Rating: [4 out of 5 stars!]
"Each module easy to read and understand. Lots of good resources."
My (January 13, 2019)
Sign up for online therapy today
Your therapist is ready to start the journey with you today - so what are you waiting for?