Manage Your Bipolar with Online Therapy
While it is common for people to experience mood swings from time to time, bipolar disorder is much more severe. When someone has bipolar disorder (also known as manic depression) their mood shifts from periods of over-excitement and feeling like you're "on fire" (manic episodes) to periods of feeling severely depressed (depressive episodes).
During manic episodes, it's common to have a generally elevated mood, be highly active, experience higher self-esteem and need less sleep. This often alternates with depressive periods where you feel little joy in life, have problems sleeping, gain or lose weight and experience a loss of energy.
While this can be stressful and even debilitating, there is hope. Our therapy for bipolar is based on cognitive behavioral therapy (CBT), which has been shown in research studies to help people with bipolar disorder, often used in conjunction with medication. You see, it is your thoughts that affect your perception of the world, and with bipolar disorder, your brain tends to process information in an inaccurate and distorted way. With the help of your therapist, you will be able to identify and challenge these distorted and negative thought patterns that cause your stress and even harmful behavior. By identifying the situations that trigger your manic and depressive episodes, you will be more aware of when a mood shift is about to happen. And, eventually, you will be able to control your emotions and stress. By discovering new coping and behavioral skills, you will be able to stick to a treatment plan and live a more stable lifestyle, which will reduce the risks of a relapse.
Sign up and start getting happier now
Your therapist is ready to start the journey with you today - so what are you waiting for?
Take our test & get instant help
Answer a few questions and get immediate results and recommendations. It only takes a few minutes, so let's get started!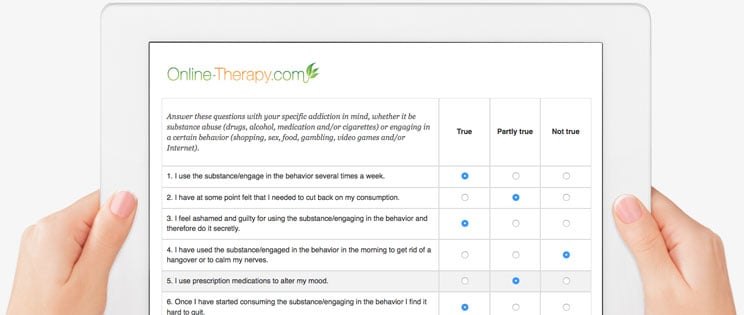 Reviews
Our online therapy services have received 520 reviews and the average rating is 4.6 out of 5 stars.
Rating: [4 out of 5 stars!]
"I find the program very structured and easy to follow. Looking forward to seeing the improvements in myself."
Javi (January 23, 2019)
Rating: [5 out of 5 stars!]
"I would really like to thank Maggie for all the help she has given me past few months, I'm not sure where I would be without her help, those were some pretty difficult times for me and I really appreciate all she has done! I often use the tools I've learned in course to help me cope in certain situations and look forward to using them in the future. I won't hesitate in the future to subscribe to your site in the future if need be.."
CT (February 08, 2019)
Rating: [5 out of 5 stars!]
"Working with the therapist has been great and very helpful!"
Mike (April 10, 2019)
Rating: [5 out of 5 stars!]
"I had my first chat with my Therapist on Wednesday and I found it very beneficial and motivating. I'm liking the service so far, quick responses from my therapist and the material makes me think but not stress."
Review (March 15, 2019)
Rating: [5 out of 5 stars!]
"I love the service online therapy has provided to me so far. My therapist has helped me a lot and I can see the difference so clearly."
Sweet (March 06, 2019)
Rating: [5 out of 5 stars!]
"I love how flexible the online therapy program is. I feel like I am making progress and I highly recommend this program."
Kc (February 11, 2019)
Rating: [5 out of 5 stars!]
"Well, online-therapy.com was able to help me identify the fact that I have been dealing with thought traps sixty-seven percent into the program. The two main thought traps are catastrophic thinking and extreme thinking. The sad thing is that the thinking is relevant to reality. This is why I documented everything. This is why I dialogue everything. This is why I do so via online GPS coordinates attached to smart devices, audio recordings, video surveillance, and research on those who have been wrapped up with derogatory records online.

I am not the same anymore because life is not the same anymore. This world we live in is not like the way I remember during my childhood innocence. It's changed drastically and I have experienced corruption. I experienced trauma and severe degrees of stress in the midst of the corruption. In matter of fact, I was scoring myself out with the Holmes and RaHe Social Readjustment Scale. I was scoring over 700 consistently for a prolonged period of time. Now isn't that alarming?!

Maybe this will all change by moving into the country. Maybe than I can focus on thinking about the birds and the bees in the pine trees. The many seas that this land divides and a garden to provide. Maybe than I will not have to worry about the mafia attempting to conquer and divide. Maybe I'll be able to focus on skinning a deer hide."
67% (February 11, 2019)
Rating: [5 out of 5 stars!]
"It is helping me a lot. Thanks!"
Luke (March 14, 2019)
Rating: [5 out of 5 stars!]
"Fantastic service."
Good Service (February 22, 2019)
Rating: [5 out of 5 stars!]
"Yes very helpful"
Lucy (March 11, 2019)
Sign up for online therapy today
Your therapist is ready to start the journey with you today - so what are you waiting for?