Manage Your Bipolar with Online Therapy
While it is common for people to experience mood swings from time to time, bipolar disorder is much more severe. When someone has bipolar disorder (also known as manic depression) their mood shifts from periods of over-excitement and feeling like you're "on fire" (manic episodes) to periods of feeling severely depressed (depressive episodes).
During manic episodes, it's common to have a generally elevated mood, be highly active, experience higher self-esteem and need less sleep. This often alternates with depressive periods where you feel little joy in life, have problems sleeping, gain or lose weight and experience a loss of energy.
While this can be stressful and even debilitating, there is hope. Our therapy for bipolar is based on cognitive behavioral therapy (CBT), which has been shown in research studies to help people with bipolar disorder, often used in conjunction with medication. You see, it is your thoughts that affect your perception of the world, and with bipolar disorder, your brain tends to process information in an inaccurate and distorted way. With the help of your therapist, you will be able to identify and challenge these distorted and negative thought patterns that cause your stress and even harmful behavior. By identifying the situations that trigger your manic and depressive episodes, you will be more aware of when a mood shift is about to happen. And, eventually, you will be able to control your emotions and stress. By discovering new coping and behavioral skills, you will be able to stick to a treatment plan and live a more stable lifestyle, which will reduce the risks of a relapse.
Sign up and start getting happier now
Your therapist is ready to start the journey with you today - so what are you waiting for?
Take our test & get instant help
Answer a few questions and get immediate results and recommendations. It only takes a few minutes, so let's get started!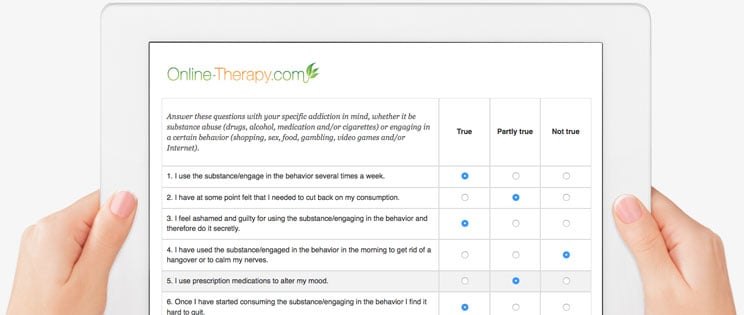 Reviews
Our online therapy services have received 591 reviews and the average rating is 4.6 out of 5 stars.
Rating: [5 out of 5 stars!]
"This is a great system to address my pressing needs. The worksheets help focus my needs while having an expert therapist guide me through the process."
AO (October 25, 2019)
Rating: [5 out of 5 stars!]
"Convenient caring the right amount of blunt while staying showing compassion."
Tasha (November 27, 2019)
Rating: [5 out of 5 stars!]
"I really enjoy the daily interaction with a therapist and find it better to communicate in writing where I can organize my thoughts as opposed to a face to face office visit."
Half Way (November 13, 2019)
Rating: [5 out of 5 stars!]
"Great advise, thanks for being the support I need."
JJ (September 12, 2019)
Rating: [5 out of 5 stars!]
"Iv only been doing it for a couple of weeks but have noticed two major break threw in my thoughts and feelings ... looking forward to learning new information to help make life little easier"
Allenm01 (September 17, 2019)
Rating: [5 out of 5 stars!]
"There is great information and it has really helped me look into myself and identify some issues."
Tigerlillee (October 23, 2019)
Rating: [5 out of 5 stars!]
"I would like to sincerely thank my personal therapist Jacob and Online Therapy for helping me through a very rough time in my life. The therapy exceeded my expectations and has made me see things in a much better frame of mind."
Mike's Review (September 10, 2019)
Rating: [4 out of 5 stars!]
"I find many of these tips and tricks useful and easy. I am hoping they will be something that will continue to help me in the future. The worksheets have been interesting and reflective. The videos are informative and the program is easy to follow. I have had a couple good sessions with my therapist, I wish that the sessions were longer. 30 minutes just isn't long enough to get all the information out. However she has given me some useful tricks for my bag that I can use to help me in times of need."
Anxious And Lonely (November 10, 2019)
Rating: [5 out of 5 stars!]
"I was concerned about online therapy. Heck, I don't even like to shop online. I have almost completed the program and am pleased with my progress and my therapist. Thank you Maggie for your challenges and your insight."
Julie2 (November 22, 2019)
Rating: [5 out of 5 stars!]
"Amazing"
Tara (December 04, 2019)
Sign up for online therapy today
Your therapist is ready to start the journey with you today - so what are you waiting for?