Manage Your Bipolar with Online Therapy
While it is common for people to experience mood swings from time to time, bipolar disorder is much more severe. When someone has bipolar disorder (also known as manic depression) their mood shifts from periods of over-excitement and feeling like you're "on fire" (manic episodes) to periods of feeling severely depressed (depressive episodes).
During manic episodes, it's common to have a generally elevated mood, be highly active, experience higher self-esteem and need less sleep. This often alternates with depressive periods where you feel little joy in life, have problems sleeping, gain or lose weight and experience a loss of energy.
While this can be stressful and even debilitating, there is hope. Our therapy for bipolar is based on cognitive behavioral therapy (CBT), which has been shown in research studies to help people with bipolar disorder, often used in conjunction with medication. You see, it is your thoughts that affect your perception of the world, and with bipolar disorder, your brain tends to process information in an inaccurate and distorted way. With the help of your therapist, you will be able to identify and challenge these distorted and negative thought patterns that cause your stress and even harmful behavior. By identifying the situations that trigger your manic and depressive episodes, you will be more aware of when a mood shift is about to happen. And, eventually, you will be able to control your emotions and stress. By discovering new coping and behavioral skills, you will be able to stick to a treatment plan and live a more stable lifestyle, which will reduce the risks of a relapse.
Sign up and start getting happier now
Your therapist is ready to start the journey with you today - so what are you waiting for?
RIGHT NOW:

Free therapy due to the coronavirus pandemic

We want to help as many people as possible during these extraordinary times.
Therefore we are offering parts of our online therapy platform for free.

The free access includes our online therapy program with 8 easy-to-follow sections and 25 worksheets, yoga and meditation videos, activity plan, journal, and tests (communicating with a personal therapist is not included).
Take our test & get instant help
Answer a few questions and get immediate results and recommendations. It only takes a few minutes, so let's get started!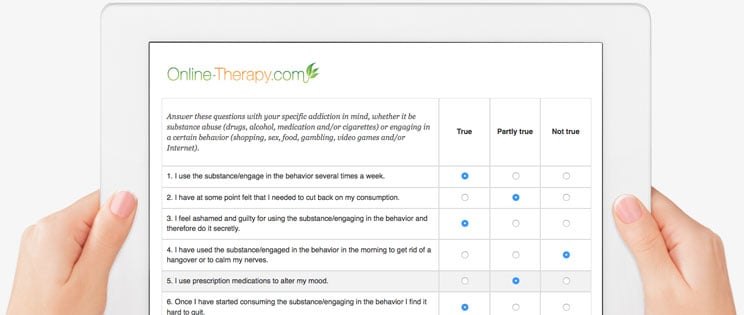 Reviews
Our online therapy services have received 835 reviews and the average rating is 4.6 out of 5 stars.
Rating: [5 out of 5 stars!]
"Lisa has been nothing short of amazing. She's understanding, kind and pinpoints what my issues are and how to overcome the things I'm dealing with and experiencing. She's very compassionate and helpful in changing your mindset and approach to certain situations and life in general. She's one of a kind!"
Melo (June 29, 2020)
Rating: [5 out of 5 stars!]
"The program is in-depth, easy to follow and has helped me a lot. My therapist is also very friendly and easy to talk to, offers great insight and support."
Awesome (April 26, 2020)
Rating: [5 out of 5 stars!]
"Soo much good reading here!"
Bubba (July 03, 2020)
Rating: [4 out of 5 stars!]
"A very useful tool that has help me set off in the right direction."
DaveB (April 15, 2020)
Rating: [5 out of 5 stars!]
"So far so good with just the free therapy sessions."
Bb (May 21, 2020)
Rating: [5 out of 5 stars!]
"So far, I am enjoying this service! The worksheets are a helpful way for me to think about the way I am feeling and sorting through these negative emotions in a productive manner. I also love being able to hear from a licensed therapist who can assist me through my journey of self-improvement."
Aaaaaaaaa (June 23, 2020)
Rating: [5 out of 5 stars!]
"Love this course. I was soo confused and stressed going in. This course unravelled so much in my life and helped me to dig right into where I needed to be to resolve deep issues. My therapist, I won't divulge her name, but want to, is wonderful. She allowed me to express my true real feelings at the time and help me to discover more about myself. In turn, this help me to see what the over overlapping issues are and caused my anxiety and how they inter-relate. I wasn't even going for that but she was able to straighten it out by me doing the work. It was a little overwhelming at first but it all goes together. I hope the next people appreciate all the course has to offer and how much better one can feel if you take the time to do the work."
Pam Saved - Nailed It! (June 15, 2020)
Rating: [4 out of 5 stars!]
"This therapy program definitely helped me in my day to day interactions and greatly lessened my anxiety. As with any online program, the logging in and doing it can sometimes be difficult. I'm not sure if I had notifications turned off, but emails or text reminders would greatly help on the weeks where it would sometimes slip my mind. Definitely stick through the program. The end is the best part, takes more thought but it's where you will start to feel change. I cried from relief as I completed the last worksheets and felt genuinely happy. I do very much hope that all my worksheets can be saved so I can go back and see my progress months from now. Special thanks to Lisa who was very patient and thorough in our interactions :)"
Grateful Go Getter (July 04, 2020)
Rating: [4 out of 5 stars!]
"Using the worksheets and interacting with a therapist has helped me work through some relationship issues and helped by confidence"
Rethinking (May 20, 2020)
Rating: [5 out of 5 stars!]
"Videos and papers are very helpful! Helps to pinpoint where I exactly need help."
Jasmine (May 25, 2020)
Sign up for online therapy today
Your therapist is ready to start the journey with you today - so what are you waiting for?
Have any questions?
Are you unsure of what program to choose or have any questions about our services? Check our FAQ to alleviate any concerns.