Overcome Your GAD with Online Therapy
Feeling agitated and anxious and becoming sad and tired due to pressure and setbacks is just natural. It is something that we all encounter in life. But if you feel that you can seldom or never control your anxiety and fear and that this has had long-term negative effects on your life, then you might be suffering from generalized anxiety disorder (GAD).
GAD is characterized by chronic worrying about basically every aspect of your life, including work, money, health and relationships. This can, in turn, lead to common anxiety symptoms like insomnia, tense muscles, headache, grinding of teeth, excess sweating, dry mouth, rapid heartbeat, stomach problems and a need to urinate more often.
Our therapy for GAD is based on cognitive behavioral therapy (CBT). With the help of CBT and your therapist, you will learn how to identify the negative and irrational thoughts that cause your anxiety and replace them with positive and rational thoughts and behavior patterns. Using this GAD online therapy program you will learn relaxation techniques, problem solving strategies, ways to enhance your self-esteem and overcome your fears. Your therapist will help you to gradually expose yourself to situations that cause your worry, and eventually you will be able to do this feeling less anxious and with a greater sense of mastery. You will learn skills to take control over your worry, so you feel more empowered in life.
Sign up and start getting happier now
Your therapist is ready to start the journey with you today - so what are you waiting for?
Take our test & get instant help
Answer a few questions and get immediate results and recommendations. It only takes a few minutes, so let's get started!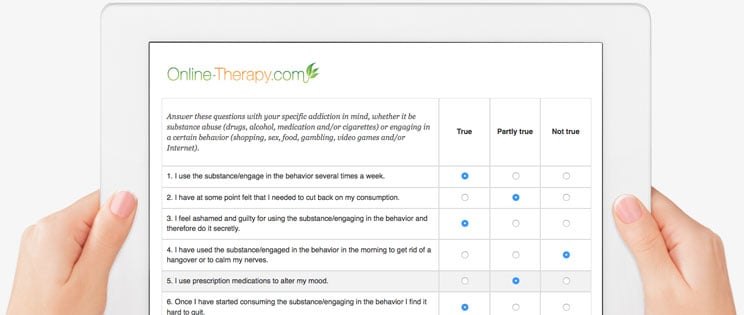 Reviews
Our online therapy services have received 520 reviews and the average rating is 4.6 out of 5 stars.
Rating: [5 out of 5 stars!]
"Great way to get assistance in changing bad habits and embracing my happy!"
Crispy (March 28, 2019)
Rating: [5 out of 5 stars!]
"Awesome, really helped."
Jen (March 22, 2019)
Rating: [5 out of 5 stars!]
"I have found the online therapy to be highly effective, convenient and helpful. I greatly appreciate the personalized comments from my online therapist, which help me navigate the steps and activities. I highly recommend online-therapy.com!"
DubaiGuy (March 05, 2019)
Rating: [5 out of 5 stars!]
"I love the service online therapy has provided to me so far. My therapist has helped me a lot and I can see the difference so clearly."
Sweet (March 06, 2019)
Rating: [5 out of 5 stars!]
"So far the customer service has been outstanding! There was an issue with my initial registration and the assistance they provided was extremely unexpected. They had one representative work with me until the it was fully resolved. I received emails without any prompting from me. They handled it well, quickly and in a very personable manner."
Light At End Of Tunnel (February 22, 2019)
Rating: [5 out of 5 stars!]
"Timely, helpful responses so far."
Kaitlin (January 26, 2019)
Rating: [5 out of 5 stars!]
"This has been amazing so far. My therapist has understood exactly what I've been saying and her guidance has really opened my mind to therapy, which I've never seen success with. I am so happy that I chose online-therapy.com because of all the other features outside of worksheets - the journaling, the consistent contact with my therapist, and just feeling like I have her on my team and we are working (hard work!) towards a common goal of overall health - mind, body, and spirit. I am grateful and I am making progress. It's everything I wanted when I came here."
My First Successful Therapy (February 05, 2019)
Rating: [5 out of 5 stars!]
"I stayed with this programme for 10 months and I can highly recommend this form of therapy. The fact that you can work when you want, reread the comments or chats until your really understand gives this an enormous advantage over classic face to face therapy where you can easily forget all of what was said.
Maggie, my therapist, gave me so much help and hope over the past ten months. I will always be grateful to her for that. She helped me out of a black hole. I have been copying out some of the stuff I have written over the months and I can hardly believe the difference. It helps me remember how I was, but I have certainly changed, I can see that. It's wonderful !!"
Less Stressed (February 01, 2019)
Rating: [4 out of 5 stars!]
"Haven't used much but looks promising."
Jd (February 20, 2019)
Rating: [4 out of 5 stars!]
"It's good. I think I signed up for more therapist time than I need, but it's helpful knowing there is someone out there checking in. I find the exercises really helpful and the journal is a game changer. I wish there was an app for my iPhone though."
1st One (March 08, 2019)
Sign up for online therapy today
Your therapist is ready to start the journey with you today - so what are you waiting for?