Overcome Your Panic Attack with Online Therapy
Panic attacks are characterized by unexpected and repeated episodes of intense fear, accompanied by physical symptoms like rapid heartbeat, chest pains, tingling sensations in your body and difficulties breathing. With these symptoms, it is understandable that you might think you are having a heart attack and seek help at the emergency room.
Usually, it is not possible to predict when or where a panic attack will occur. Panic attacks are not dangerous but they are still extremely unpleasant experiences every time they happen. Some people experience feelings of unreality, depersonalization and fears of losing control or going crazy.
Our therapy for panic attacks is based on cognitive behavioral therapy (CBT). With the help of CBT, you will learn how your body's physical symptoms interact with your negative thinking patterns and behaviors to create and maintain your panic. This will help you to identify and change the distorted thinking and de-dramatize your symptoms and panics. With the guidance of your therapist, you will gradually expose yourself to and remain in situations that usually induce your panic attacks. Eventually you will be able to reverse the downward negative spiral and live your life free of anxiety and panic attacks.
Sign up and start getting happier now
Your therapist is ready to start the journey with you today - so what are you waiting for?
Take our test & get instant help
Answer a few questions and get immediate results and recommendations. It only takes a few minutes, so let's get started!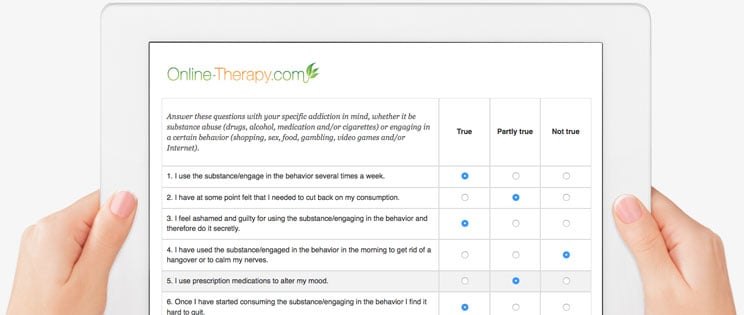 Reviews
Our online therapy services have received 520 reviews and the average rating is 4.6 out of 5 stars.
Rating: [5 out of 5 stars!]
"Awesome, really helped."
Jen (March 22, 2019)
Rating: [5 out of 5 stars!]
"Great response time by the therapist. Good advice that is well thought out and personalized."
GG (March 04, 2019)
Rating: [5 out of 5 stars!]
"I have found the online therapy to be highly effective, convenient and helpful. I greatly appreciate the personalized comments from my online therapist, which help me navigate the steps and activities. I highly recommend online-therapy.com!"
DubaiGuy (March 05, 2019)
Rating: [5 out of 5 stars!]
"Great way to get assistance in changing bad habits and embracing my happy!"
Crispy (March 28, 2019)
Rating: [5 out of 5 stars!]
"Well, online-therapy.com was able to help me identify the fact that I have been dealing with thought traps sixty-seven percent into the program. The two main thought traps are catastrophic thinking and extreme thinking. The sad thing is that the thinking is relevant to reality. This is why I documented everything. This is why I dialogue everything. This is why I do so via online GPS coordinates attached to smart devices, audio recordings, video surveillance, and research on those who have been wrapped up with derogatory records online.

I am not the same anymore because life is not the same anymore. This world we live in is not like the way I remember during my childhood innocence. It's changed drastically and I have experienced corruption. I experienced trauma and severe degrees of stress in the midst of the corruption. In matter of fact, I was scoring myself out with the Holmes and RaHe Social Readjustment Scale. I was scoring over 700 consistently for a prolonged period of time. Now isn't that alarming?!

Maybe this will all change by moving into the country. Maybe than I can focus on thinking about the birds and the bees in the pine trees. The many seas that this land divides and a garden to provide. Maybe than I will not have to worry about the mafia attempting to conquer and divide. Maybe I'll be able to focus on skinning a deer hide."
67% (February 11, 2019)
Rating: [5 out of 5 stars!]
"I really like the format of this program, because I can do my therapy at home in the evenings. I was skeptical at first, but I was in a really bad place in life, and was desperate to try something. I have been in "talk-therapy" in the past with a psychologist or social worker, but this is really different.

The worksheets have been helpful in sorting out my thoughts, and figuring out how to actually make changes in my life, instead of just talking about it. My therapist, Maggie, has been very helpful by helping me realize that if I don't have a plan and take active steps to feel better, then things will just stay the same. Then, ultimately I will just continue down the same path and remain unhappy.

She challenges me by asking tough questions, which helps me see things from a different perspective. I feel encouraged that if I stick with the program, I can break my negative patterns, and live a more balanced life. I have hope that I can use my new skills to repair the damaged relationships in my life. I can learn to reach out to people."
DRH (March 14, 2019)
Rating: [5 out of 5 stars!]
"It is helping me a lot. Thanks!"
Luke (March 14, 2019)
Rating: [4 out of 5 stars!]
"I find the program very structured and easy to follow. Looking forward to seeing the improvements in myself."
Javi (January 23, 2019)
Rating: [5 out of 5 stars!]
"I stayed with this programme for 10 months and I can highly recommend this form of therapy. The fact that you can work when you want, reread the comments or chats until your really understand gives this an enormous advantage over classic face to face therapy where you can easily forget all of what was said.
Maggie, my therapist, gave me so much help and hope over the past ten months. I will always be grateful to her for that. She helped me out of a black hole. I have been copying out some of the stuff I have written over the months and I can hardly believe the difference. It helps me remember how I was, but I have certainly changed, I can see that. It's wonderful !!"
Less Stressed (February 01, 2019)
Rating: [5 out of 5 stars!]
"I had my first chat with my Therapist on Wednesday and I found it very beneficial and motivating. I'm liking the service so far, quick responses from my therapist and the material makes me think but not stress."
Review (March 15, 2019)
Sign up for online therapy today
Your therapist is ready to start the journey with you today - so what are you waiting for?