Overcome Your PTSD with Online Therapy
Post-traumatic stress disorder (PTSD) is an anxiety disorder that some people get after experiencing a threatening and painful event like an accident, sexual abuse, war, bad experience in health care etc.
If you have experienced a traumatic event in your life and are faced with flashbacks of this trauma, memory loss, feeling much more anxious and vigilant compared to before or avoiding things that remind you of the trauma, then you might be suffering from PTSD. Note that these symptoms often appear within a few weeks but it can also take years.
Our therapy for PTSD is based on cognitive behavioral therapy (CBT). With the guidance of your therapist and CBT for PTSD, you will work through the traumatic memories, maybe even visiting situations and/or places that remind you of your trauma. While this might sound painful, it has been proven in numerous research studies to be an effective way to overcome PTSD. This is done under controlled conditions guided by your therapist at a pace that suits you. The result? A dramatic decrease in your anxiety reactions and symptoms, allowing you to live a life free from past traumatic events.
Sign up and start getting happier now
Your therapist is ready to start the journey with you today - so what are you waiting for?
Take our test & get instant help
Answer a few questions and get immediate results and recommendations. It only takes a few minutes, so let's get started!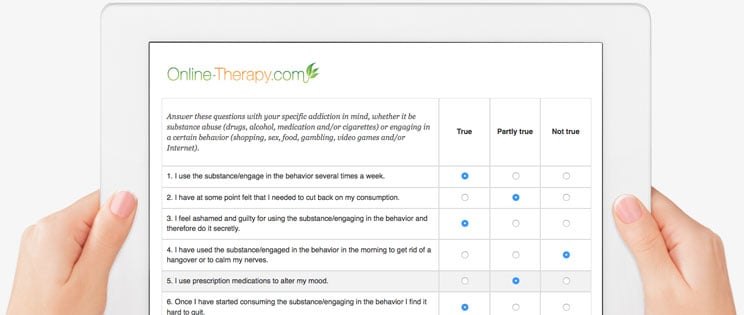 Reviews
Our online therapy services have received 2585 reviews and the average rating is 4.7 out of 5 stars.
Rating: [5 out of 5 stars!]
"This is a nice therapy program. I enjoy being able to have a back-and-forth conversation with my therapist whenever I message her. I also enjoy working on the worksheets and reading through the lessons."
Kendra (February 08, 2023)
Rating: [5 out of 5 stars!]
"When I first began working with Carol, we had a hard time with schedules coinciding and I wasn't sure if this was going to be a good fit. I had already postponed signing up by several months- per usual, waiting until I was in quite a desperate place unfortunately. But I continued to meet with Carol. Her voice is soothing and kind. She had a sense of humor and she very authentic in nature. I appreciated this and it helped establish trust. I continued to struggle with some emotional trauma and relationship challenges, but it was nice talking through this with someone.

Carol's main form of therapy is through hypnosis -I had never gone through hypnosis nor did I understand what it would help with. After we discussed that being in trance is not hokey like the movies portray it, she explained that although talk therapy is good and necessary as we become aware, our subconscious still needs to work through many things- that is where most of our trauma lie, deep within the subconscious.
I'll wrap this up saying that over the last 6 weeks we have worked on digging into the subconscious and those areas I find myself struggling with at present by using hypnosis. It is so therapeutic and relaxing in the moment- but the effects last. I feel relaxed after a session, more at ease & I sleep better. I now believe it is a necessary tool as part of my healing journey-
Carol, thank you for introducing me to this and for walking me through the reality of what it really is and what benefits it can provide. You are awesome!"
Stream (February 17, 2023)
Rating: [5 out of 5 stars!]
"This site has helped me focus on and improve aspects of myself that I would not have otherwise paid attention to and the structure of the program is such that is is easy to follow. The videos and scaffolded worksheets help clarify details that I may struggle with."
Great Program (February 07, 2023)
Rating: [5 out of 5 stars!]
"Excellent service"
Waterford (January 17, 2023)
Rating: [5 out of 5 stars!]
"The worksheets are so good at helping you see your situation in a much clearer way. My therapist, Janet, is very responsive, suportive, insightful and sensitive to the wounds that need healing. I could not be happier with the journey I am taking with Online-Therapy.com. I will be recommending this program to others. Thank you."
DSS (January 18, 2023)
Rating: [5 out of 5 stars!]
"Had good advice lots of times available to make appointments."
M&m (March 23, 2023)
Rating: [5 out of 5 stars!]
"Great so far really liking it"
MAKL (February 09, 2023)
Rating: [5 out of 5 stars!]
"Pleasant experience and super convenient."
T. Perchinske (February 05, 2023)
Rating: [5 out of 5 stars!]
"I love the format with the video course and worksheet to fill in....the Counselor they assigned me after easy initial assessment is spot on...so quick at replying, such useful suggestions made to fit situation...I kept going round and round in circles, no energy to do essential things...then she interrupted this downward spiral with meal prepping idea ..so I used up energy, had less energy to keep just thinking, being more nourished instead of relying on junk ready cookies, crisps etc. I could write down and start applying all the many other suggestions, one at a time. Thank you🌹"
Dragonfly (March 10, 2023)
Rating: [5 out of 5 stars!]
"It has been great, alot of tools and very easy platform to use!! 100% reccommend"
Darren (February 15, 2023)
Sign up for online therapy today
Your therapist is ready to start the journey with you today - so what are you waiting for?
Have any questions?
Are you unsure of what program to choose or have any questions about our services? Check our FAQ to alleviate any concerns.