Overcome Your Social Anxiety with Online Therapy
Feeling shy or nervous about holding a speech or a presentation, are feelings that most of us have experienced in life. But if you constantly fear other people's attention, always feel watched or judged and feel afraid that you will embarrass yourself, then you might be suffering from social anxiety.
People with social anxiety often do everything they can to avoid the situations that make them anxious. Just the thought of a fearful social event can give physical symptoms like tightness in the chest, pounding of the heart, blushing and dizziness.
Social anxiety can have tremendously negative effects on your life, making you miss out on work opportunities and even relationships with friends and partners.
Our therapy for social anxiety is based on cognitive behavioral therapy (CBT). With the help of CBT, you will learn to identify and challenge the automatic negative thoughts that underlie your fear of certain social situations. This might sound intimidating at first, but the key to your well-being is to stop avoiding the social situations that you find fearful. With the guidance of your therapist, you will gradually be exposed to these social situations. By doing so, you will learn how to deal with your fear and eventually you will be able to handle previously fearful situations without anxiety, allowing you to participate in your life, as you are supposed to do!
Sign up and start getting happier now
Your therapist is ready to start the journey with you today - so what are you waiting for?
RIGHT NOW:

Free therapy due to the coronavirus pandemic

We want to help as many people as possible during these extraordinary times.
Therefore we are offering parts of our online therapy platform for free.

The free access includes our online therapy program with 8 easy-to-follow sections and 25 worksheets, yoga and meditation videos, activity plan, journal, and tests (communicating with a personal therapist is not included).
Take our test & get instant help
Answer a few questions and get immediate results and recommendations. It only takes a few minutes, so let's get started!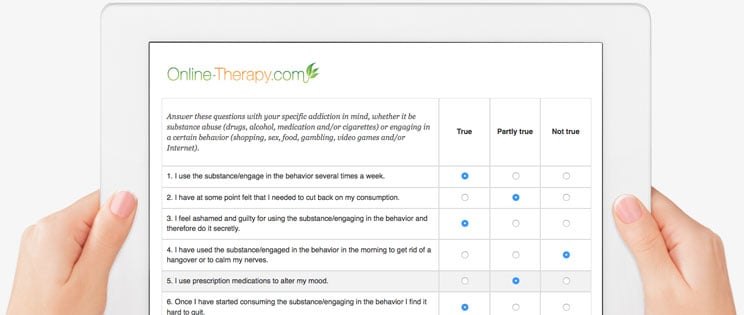 Reviews
Our online therapy services have received 835 reviews and the average rating is 4.6 out of 5 stars.
Rating: [3 out of 5 stars!]
"I just starting out"
Getting There (May 03, 2020)
Rating: [5 out of 5 stars!]
"I have just started, but his service appears to be very helpful."
Jess (May 06, 2020)
Rating: [5 out of 5 stars!]
"This program provided very good information and guidance to restructuring your thought process. My therapist, Raj, provided excellent feedback and gave me a new way of seeing some situations."
Grateful (May 15, 2020)
Rating: [5 out of 5 stars!]
"Online-Therapy.com has been such a great resource for me! I love how I can work on everything at my own pace and schedule. I love how I can finish a worksheet and get feedback from my therapist. I truly feel the therapists on here truly want to help you. Even though I am only a few weeks in I am so grateful I found online-therapy. If anyone is considering trying it I would definitely say go for it!"
JL (May 17, 2020)
Rating: [4 out of 5 stars!]
"Easy read and have helped so much"
My Review (May 28, 2020)
Rating: [5 out of 5 stars!]
"I have found Online Therapy.com to be extremely helpful and it has helped me work on so many different things about my personality that I never would have without their help. I am able to go online and work with my therapist Julie any time of the day and then she gets back with me the same day. I don't have to wait a week to see her (if she was an in person therapist) to talk about something that is really bothering me. I feel connected with my therapist and she is giving me tools to live a better life."
Holly (June 29, 2020)
Rating: [5 out of 5 stars!]
"Love this course. I was soo confused and stressed going in. This course unravelled so much in my life and helped me to dig right into where I needed to be to resolve deep issues. My therapist, I won't divulge her name, but want to, is wonderful. She allowed me to express my true real feelings at the time and help me to discover more about myself. In turn, this help me to see what the over overlapping issues are and caused my anxiety and how they inter-relate. I wasn't even going for that but she was able to straighten it out by me doing the work. It was a little overwhelming at first but it all goes together. I hope the next people appreciate all the course has to offer and how much better one can feel if you take the time to do the work."
Pam Saved - Nailed It! (June 15, 2020)
Rating: [5 out of 5 stars!]
"Good"
Ahb (May 16, 2020)
Rating: [5 out of 5 stars!]
"This has been proving to be a great resource. I like how direct the program is with identifying problematic thoughts, emotions and behaviors. Then you get a back and forth conversation with a therapist that helps identify things that would have otherwise been overlooked.

I'm about a third of the way through the program, but have been taking my time to flesh things out. This definitely is one of those "you get out what you put in" situations. Looking forward to completing the program."
Finding And Fixing My Issues (May 07, 2020)
Rating: [5 out of 5 stars!]
"To the Online-Therapy Team,

This course has been amazing for me. I have been suffering from anger issues and minor depression and PTSD for years. The course took me about 2 weeks to complete but after just the first day I started recognizing my own negative thoughts and behaviors. After the first week I found myself steering my thoughts away from my automatic negative thinking patterns and looking at things objectively.

I think that the layout of this course was also well organized. It made me really look at each piece of the entire process in manageable steps. I was amazed at how quickly I started to notice a difference and am starting to feel like I have more control over my emotions than I ever knew I had.

Thank you for everything!"
Robin (April 16, 2020)
Sign up for online therapy today
Your therapist is ready to start the journey with you today - so what are you waiting for?
Have any questions?
Are you unsure of what program to choose or have any questions about our services? Check our FAQ to alleviate any concerns.