Overcome Your Speech Anxiety with Online Therapy
Picture this: you're standing in front of a crowd on the stage. All of a sudden the palms of your hands start to sweat. You feel anxious, nervous and like the whole world is staring at you and waiting for you to make a mistake. You fear that people will judge you. You fear that people will see you as a weak person who is a failure. Sounds familiar?
Feeling anxious about speaking in public is very common. In fact, most of us experience, at some point in our life, discomfort when speaking in front of a group of people. But if you feel that this fear is limiting you and causing you to miss out on opportunities in social, academic or job sectors, then you might be suffering from speech anxiety.
No matter how long you have experienced this, or what you may have done in the past to overcome it, there is hope! Our therapy for speech anxiety is based on cognitive behavioral therapy (CBT). You see, it is your automatic negative thoughts and perceptions about yourself and others that cause your fear of speaking in front of other people. Our speech anxiety online therapy program will provide you with insightful knowledge about glossophobia (speech anxiety) as well as how to control your anxiety. Your therapist will teach you techniques like cognitive restructuring (changing what you brain says to you), meditation, positive mental visualization and other valuable skills to help you combat your negative thinking. Each time you practice these techniques, you will find it easier to take control of your life and your speech anxiety. You will get useful tips on how to work in a group of people, with the aim of getting you comfortable with making your voice heard in front of others.
Sign up and start getting happier now
Your therapist is ready to start the journey with you today - so what are you waiting for?
Take our test & get instant help
Answer a few questions and get immediate results and recommendations. It only takes a few minutes, so let's get started!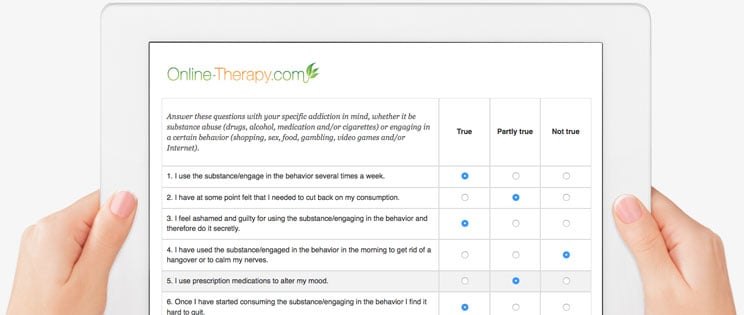 Reviews
Our online therapy services have received 2430 reviews and the average rating is 4.7 out of 5 stars.
Rating: [4 out of 5 stars!]
"This service is easy to use and thorough. The worksheets give you flexible time to think through many aspects of life and the counselor is easy to schedule with."
Georgia Mom (October 17, 2022)
Rating: [5 out of 5 stars!]
"My therapist has been wonderful, tailoring the experience to what is most helpful to me."
Heather (November 17, 2022)
Rating: [5 out of 5 stars!]
"I'm working with an addictions coach and I feel that she cares. She's very responsive. It's not easy to find a therapist you're comfortable with. I'm going to continue working with her."
Patient In NJ (October 03, 2022)
Rating: [4 out of 5 stars!]
"Easy to use, therapist have helped a lot."
Steve (October 05, 2022)
Rating: [5 out of 5 stars!]
"The expertise of my therapist is creating a wonderful level of trust and confidence."
KG (October 10, 2022)
Rating: [5 out of 5 stars!]
"I put off therapy for years, because I struggle talking to my friends about my problems. But Dr. Gates made me feel comfortable from our first session. She is patient and never to pushes me to talk about anything I am not ready to talk about."
Kris10 (September 26, 2022)
Rating: [5 out of 5 stars!]
"Super convenient. Late evening and weekend appointments help me schedule around my work, my children sports ect. I can get the help that I need without adding another stress of how to fit into the all ready crammed workweek. The daily check-in and feedback are so helpful. Even though I only have sessions once a week the messaging aspect makes me feel supported on the other days. Caring therapist that listens and helps you understand the root of your issues."
Rena (November 25, 2022)
Rating: [5 out of 5 stars!]
"The platform is great, and I really appreciate Mary's quick response times. She's been amazing to work with and I highly recommend her."
Dawn (September 12, 2022)
Rating: [5 out of 5 stars!]
"Katro is caring, responsive, she takes the time to really analyze my messages and provide valuable insights. A competent therapist."
A Responsive Therapist (October 23, 2022)
Rating: [5 out of 5 stars!]
"So far, my experience has been nothing but positive. The dialogue with the therapist has been open and honest. I haven't had much time to progress in the program due to a lot of time being spent at work paired with the Thanksgiving holiday, but I am looking forward to diving in deeper.

I appreciate that this option exists, and I give large kudos to the entire team!"
Eric (November 28, 2022)
Sign up for online therapy today
Your therapist is ready to start the journey with you today - so what are you waiting for?
Have any questions?
Are you unsure of what program to choose or have any questions about our services? Check our FAQ to alleviate any concerns.