Overcome Your Unhealthy Stress with Online Therapy
Almost anything can cause stress in one's life. Work, family, kids, friends, school, finances and life-changing events are all stressors that can cause a person to experience elevated stress levels. Although stress is a normal part of your life, overwhelming stress can result in health issues (such as heart disease and gastrointestinal problems), relationship strain, problems at work and even an increased likelihood of depression or anxiety.
Common symptoms of too much stress in your life include problems concentrating, sleep disturbances and eating too little or too much, consistently feeling down or worried and physical problems like headache, rapid heartbeat, pain and aches in your body.
Fortunately, no matter what is happening in your life, you can learn skills to control your stress. Our stress management is based on cognitive behavioral therapy (CBT). With the help of CBT, you will learn to identify and challenge the automatic negative thoughts that, up to this point, have caused you to feel overwhelmed with stress. Your therapist will help you build skills to cope and adapt to life's stressors. You will quickly learn how to better deal with problems and to stay in control of your emotions. The result? Not only will you feel better now, but you will also have these skills to use regardless of what happens in the future.
Sign up and start getting happier now
Your therapist is ready to start the journey with you today - so what are you waiting for?
RIGHT NOW:

Free therapy due to the coronavirus pandemic

We want to help as many people as possible during these extraordinary times.
Therefore we are offering parts of our online therapy platform for free.

The free access includes our online therapy program with 8 easy-to-follow sections and 25 worksheets, yoga and meditation videos, activity plan, journal, and tests (communicating with a personal therapist is not included).
Take our test & get instant help
Answer a few questions and get immediate results and recommendations. It only takes a few minutes, so let's get started!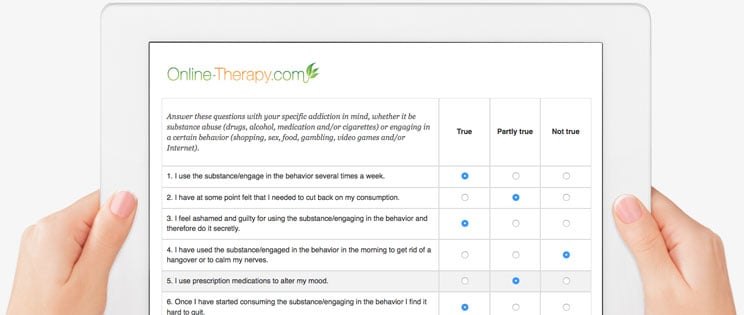 Reviews
Our online therapy services have received 754 reviews and the average rating is 4.6 out of 5 stars.
Rating: [5 out of 5 stars!]
"Love my therapist!!"
Hamsa (April 15, 2020)
Rating: [5 out of 5 stars!]
"My therapist has given me a new way to look at things and challenges me to work extra hard to change that which doesn't work for me in life and within myself. If your ready for hard work and self temper tantrums and real effort, I say go for it. It will lead to great gains in the end. Heartaches In the beginning and more bad. But worth it. Because then it brings in the good. And hopefully your therapist will help you how mine is for me. To have a happy and fulfilling life, and to get all negative - in life and within yourself - OUT."
Dayna (May 18, 2020)
Rating: [5 out of 5 stars!]
"Videos and papers are very helpful! Helps to pinpoint where I exactly need help."
Jasmine (May 25, 2020)
Rating: [5 out of 5 stars!]
"I'm very happy with my therapy"
Beth (May 12, 2020)
Rating: [5 out of 5 stars!]
"Great source of data. Self driven work flow and worksheets allows for easy to confront formula for what can be difficult areas to address. The therapist support helps drive accountability and is a great sounding board."
Commitedtohealing (May 05, 2020)
Rating: [3 out of 5 stars!]
"It's good to bring up the issues so you can see them. It makes it easier to stay on top of corrective actions."
Bob's Review (April 30, 2020)
Rating: [4 out of 5 stars!]
"Finding the process very valuable to go through. Being open and honest with yourself is key to finding what really lies beneath your suffering."
Making Progress (May 10, 2020)
Rating: [5 out of 5 stars!]
"I have learned so much with online-therapy. My counselor has been wonderful and the lessons invaluable. In-person therapy was too expensive, plus the commute not sustainable with my work schedule, so this was really perfect."
Mel (March 02, 2020)
Rating: [5 out of 5 stars!]
"Good"
Ahb (May 16, 2020)
Rating: [5 out of 5 stars!]
"I have been very pleased with online-therapy so far. The therapists are very understanding and easy to talk to. This experience so far has been positive and far easier than I had thought. Thank you!"
Yellow (March 02, 2020)
Sign up for online therapy today
Your therapist is ready to start the journey with you today - so what are you waiting for?