Overcome Your Unhealthy Stress with Online Therapy
Almost anything can cause stress in one's life. Work, family, kids, friends, school, finances and life-changing events are all stressors that can cause a person to experience elevated stress levels. Although stress is a normal part of your life, overwhelming stress can result in health issues (such as heart disease and gastrointestinal problems), relationship strain, problems at work and even an increased likelihood of depression or anxiety.
Common symptoms of too much stress in your life include problems concentrating, sleep disturbances and eating too little or too much, consistently feeling down or worried and physical problems like headache, rapid heartbeat, pain and aches in your body.
Fortunately, no matter what is happening in your life, you can learn skills to control your stress. Our stress management is based on cognitive behavioral therapy (CBT). With the help of CBT, you will learn to identify and challenge the automatic negative thoughts that, up to this point, have caused you to feel overwhelmed with stress. Your therapist will help you build skills to cope and adapt to life's stressors. You will quickly learn how to better deal with problems and to stay in control of your emotions. The result? Not only will you feel better now, but you will also have these skills to use regardless of what happens in the future.
Sign up and start getting happier now
Your therapist is ready to start the journey with you today - so what are you waiting for?
RIGHT NOW:

Free therapy due to the coronavirus pandemic

We want to help as many people as possible during these extraordinary times.
Therefore we are offering parts of our online therapy platform for free.

The free access includes our online therapy program with 8 easy-to-follow sections and 25 worksheets, yoga and meditation videos, activity plan, journal, and tests (communicating with a personal therapist is not included).
Take our test & get instant help
Answer a few questions and get immediate results and recommendations. It only takes a few minutes, so let's get started!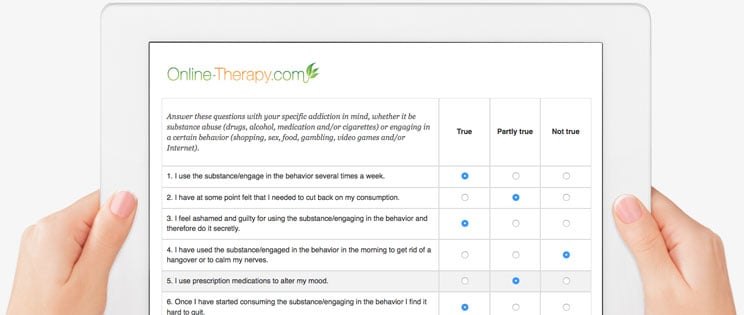 Reviews
Our online therapy services have received 973 reviews and the average rating is 4.6 out of 5 stars.
Rating: [5 out of 5 stars!]
"I like the format and ease of use of this website . My therapists first video
Appt was great and no issues with technical stuff"
First Appt (August 26, 2020)
Rating: [5 out of 5 stars!]
"How valuable has Sofia's counseling/coaching been? Good enough that I offered to pay for my brother-in-law and mother-in-law's counseling, in full, indefinitely.

I've worked with Sofia Schuringa through Online-Therapy.com for less than 1 week. I should have done it years ago. Her lines of questions and thoughtful responses have already provided more value in that short time, than the first month's entire payment.

The curriculum alone is fantastic and would be worth paying for. Sofia's prompt, expert, thoughtful, personable, and caring responses, on top of the curriculum, have already improved my relationship with my wife and I can see how a bit more work on my part, with her continued guidance, will continue my marital improvement and probably the same for every relationship in my life.

Just purchase now and dive in. You won't regret it.

This is my first experience with online therapy of any kind, and my first experience with therapy outside of brief marital counseling as an adult. I've always said that it was useful, and recommended counseling to others when I've seen a need. Never thought it would be useful for me! Wrong. Worth every last penny. Would pay more. Good luck getting rid of me! My wife has her own counselor, too. Also worth every penny and then some.

Best purchase of 2020 by far."
Alex (September 17, 2020)
Rating: [5 out of 5 stars!]
"I have only done the worksheets so far. I am Just getting ready to start the meetings with the counselor. So far I have found the worksheets and lectures very beneficial."
Initial Review (June 29, 2020)
Rating: [5 out of 5 stars!]
"It's been helping me release stress and anxiety daily. Thank you so much for all the great help!"
Danielle (August 03, 2020)
Rating: [5 out of 5 stars!]
"Easy to navigate. I like the fact that I have assignments to choose from rather than just talking for an hour and receiving no tools to apply. Very flexible in terms of resources that fit my needs and budget."
Online Therapy Review (July 13, 2020)
Rating: [5 out of 5 stars!]
"I love the free help! I really use this therapy and its tools everyday."
Candace (August 20, 2020)
Rating: [5 out of 5 stars!]
"Kind, helpful, professional therapist who always replies promptly!"
Really Helpful And Useful. (July 20, 2020)
Rating: [5 out of 5 stars!]
"Very helpful, and great for the price!"
Rytm (July 03, 2020)
Rating: [4 out of 5 stars!]
"I like the lessons. They are helpful and really make me sit and think about things that I never really put that much thought into because I've been so caught up in my anxiety induced thought process. I like that I can really break things down into categories and start analyzing what my thought processes are and how to change those thought processes to better help myself."
Bwitched2003 (August 23, 2020)
Rating: [5 out of 5 stars!]
"I've found the work sheets helpful.
The responses that I've received from Julie have been supportive and helpful."
Lily (July 08, 2020)
Sign up for online therapy today
Your therapist is ready to start the journey with you today - so what are you waiting for?
Have any questions?
Are you unsure of what program to choose or have any questions about our services? Check our FAQ to alleviate any concerns.