Online Therapy Platform for Therapists
Need help to set up your own online therapy business? Our online therapy platform is a fully supported and easy-to-use solution when you as a therapist want to offer therapy to existing and new clients over the Internet. It's an instant front door to your therapy business, that can be up and running within minutes.
After you've added a client to your account, you and your client will get immediate access to the online therapy program. All parts of our program are based on cognitive behavioral therapy (CBT).
You will find information below about:
How do I get clients?
People will find your profile page while searching the Internet, using for example Google. They can also find you when using our "Find a Therapist" service. Your clients will be the people that contact you from your profile page and that pick you as their source of help. You can, of course also use the online therapy platform with existing face-to-face clients that want to try online therapy.
Just add a client to your therapist account and the two of you can start working together within minutes.
Note that the clients that register at online-therapy.com will be taken care of by our in-house therapists, as long as they do not specifically ask to be helped by you.
What are my costs?
The membership monthly fee is all that you pay. There is no fee per-client or other hidden costs. You will always have total control of your expenses when using our services.
The monthly PREMIUM membership fee is only $39.96 for full access to the online therapy platform, including being listed in our therapist directory and having a profile page.
What's my income?
What you decide to charge your clients, is totally up to you. We will never charge your clients anything.
We normally charge our clients $39.95 - $59.95 per week depending on their chosen subscription plan. The required work from our in-house therapists is posting daily feedback (Monday-Friday) on clients' worksheets and one 30 minute chat session per week.
You could use this price and workload with each client as a benchmark, but feel 100% free to adjust this depending on how much effort you put into each client.
As an example: If you have 10 clients that are active, your additional income each month after our fee is $2358.04.
Income
$2398
10 clients * $59.95 * 4 weeks
Cost
$39.96
PREMIUM monthly membership
NET INCOME
$2358.04
How do I get paid?
For your convenience, we have arranged so that your clients can pay you through PayPal directly from your profile page. If you prefer to get paid by your clients in any other way, that is perfectly fine.
Is this a part-time or full-time commitment?
This can be your major source of income or just a supplement to your current job, depending of the number of online clients you get and how much you can work.
Many therapists use our platform as a complement to their existing face-to-face therapy.
How does the free trial work?
For seven days you can explore the online therapy platform for free - both as a therapist and also through the eyes of a client. When the trial period is over, you will automatically be charged on a monthly basis. If you decide that it's not right for you, just cancel your membership with a click on a button.
Can the platform be customized to fit my existing therapy business?
With the UNLIMITED membership both the "look and feel" of the platform and the content (the program including the worksheets) can be tailored to fit the specific needs of your existing therapy business. If you wish to integrate the secure platform on an already existing website, this can be done as well.
Am I qualified to join?
In order to become listed on our website, you need at least one valid credential (license, certificate, diploma/degree or membership) that we can verify.
Need more help before signing up?
Feel free to contact us by email or chat if you have any questions!
What does the online therapy platform include?
This is where the magic happens and what makes our services completely unique! In addition to the directory and profile page, you get a complete platform with all the content, systems and services you need to be able to offer therapy online. The online therapy platform includes:
Evidence-based program with information & tools
The online therapy program consists of eight sections for your clients to read through and includes all the information and tools they need to be able to get better.
Each section is comprised of both reading material and practical hands-on tools like worksheets, an activity plan and a journal.
After you have signed up for a therapist membership, you will get access our program so that you know what type of material your clients are supposed to work their way though.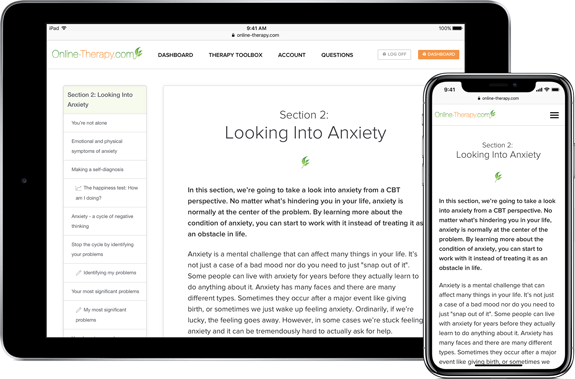 Worksheets where you give your clients feedback
The feedback you give in the worksheets is an important part of your clients' progress. Even though the program itself is standardized, by giving feedback and support through the worksheets (and the chat) you will be able to help you client in a personal and individualized way.
At online-therapy.com, our in-house therapists normally reply to a client within 24 hours Monday-Friday.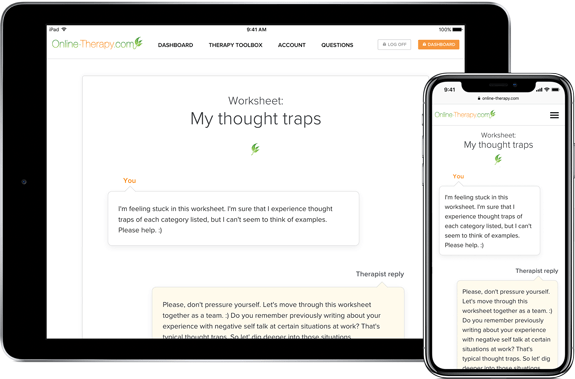 Chat where you can communicate with your clients
Our platform includes secure chat software for you to download and install on your computer (your clients don't need to install anything).
At online-therapy.com, the clients are offered one 30-minute chat session each week with our in-house therapists. As an external therapist, you can use the chat to the extent that it suits you and your clients. You might want to be available for instant support every day of the week or just use it to communicate with your clients through scheduled chat sessions.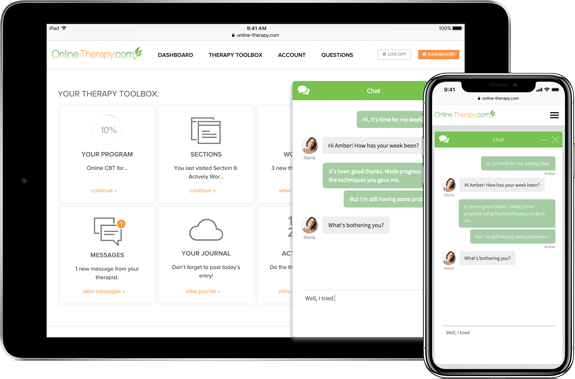 MESSAGES
In addition to communicating with your clients through the worksheets and the live chat, they can always send you a message with any questions or thoughts.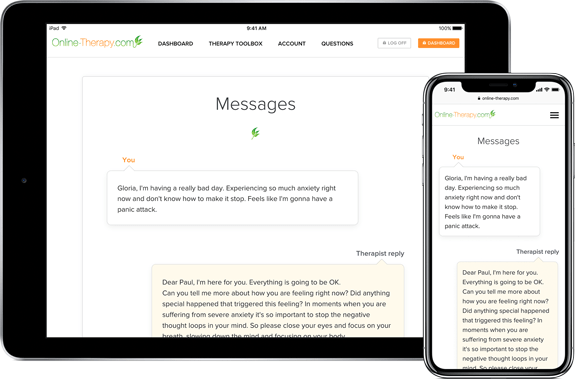 Journal
By starting the day on the right note, it's more likely that you will continue your day with a more positive attitude. That's why we have created an easy-to-use journal for your clients!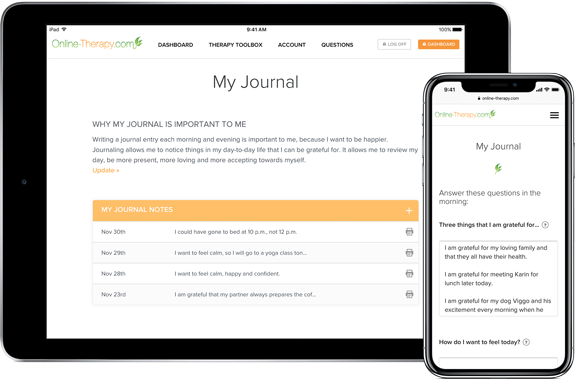 Activity Plan
This is where your clients add and schedule the things that will add extra light into their lifes! The activity plan also serves as a written agreement with yourself and greatly increases the chances of you carrying out your plans!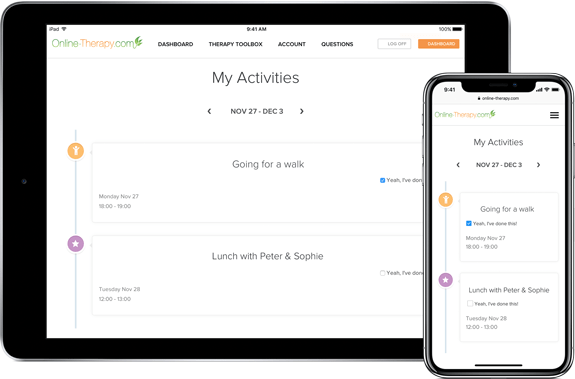 YOGA - NEW FEATURE!
We are very happy to present you with this new feature - yoga and meditation videos! It is the latest addition to our "happiness-toolbox". Our in-house yoga teacher Petra has created a simple yoga tutorial and slow flow videos for beginners.
These videos are perfect for when you need help to cope with your depression, anxiety or stress or when you're feeling low and need an instant boost of gratitude and happiness.
Watch the introduction video and then start exploring the videos. You can watch the ones that meet your specific need.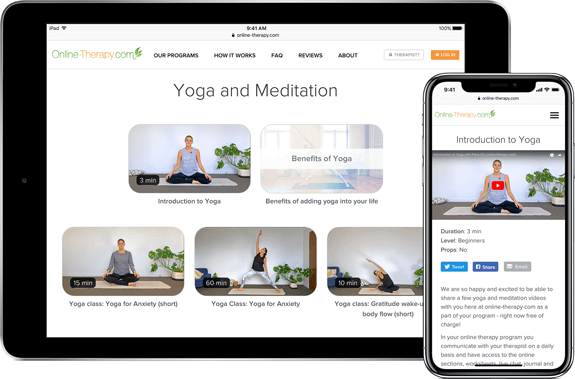 Tests to monitor your clients' improvements
At the beginning of the program, your clients will complete a simple test with questions that will allow him/her to address and evaluate his/her problems.
Later in the program, the test will be used as a reference point so that both you and your clients can see the progress they have actually made.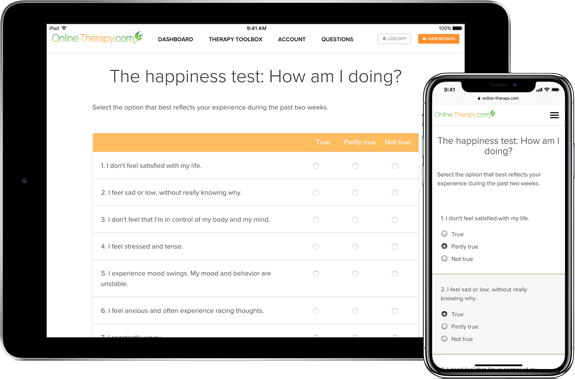 Forum where your clients can meet others in a similar situation
Our forum is a sanctuary where your clients can feel safe to ask questions and communicate anonymously. This does not only include other people going through the same issues as them, but also with our in-house team of therapists.
You can, of course, also communicate with your clients through the forum if you like.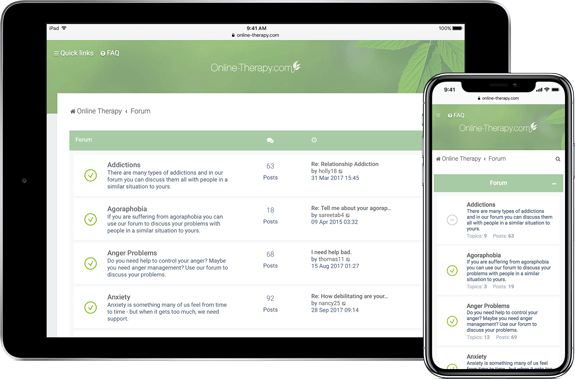 Convenient payment system
For your convenience, we have arranged so that your clients can pay you through PayPal directly from your profile page. If you prefer to get paid by your clients in any other way, that is perfectly fine.
Note that prior to starting a program with a new client, you need to agree with the client how much he/she will pay for your services including other terms and conditions (like refund policy) since this may be different from the standards of the online-therapy.com site.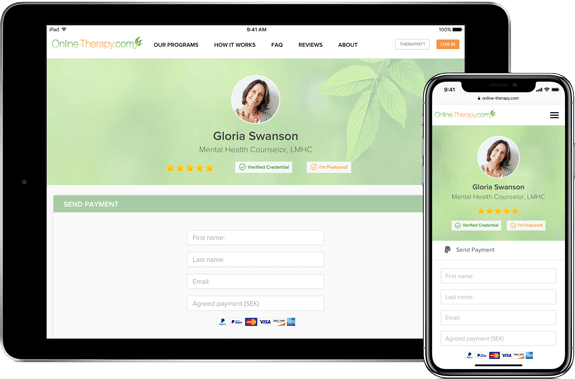 Easy notification system
From your dashboard and email notifications, you can easily see which clients are expecting worksheet feedback from you.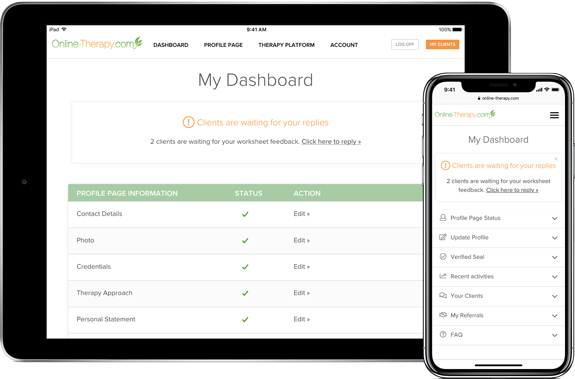 Always confidential, safe and secure
All of your work and interactions with your clients are saved anonymously on our secure server using 128-256-bit SSL encryption, where only you and your client can access it.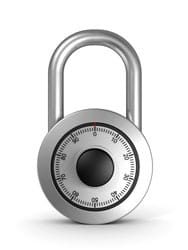 Let us help you grow your online therapy business!
When signing up for a therapist membership, you will get access to a test client so that you can try out the platform, including all the features. So what are you waiting for?