Overcome Your Weight Problems with Online Therapy
Do you ever get frustrated with yourself for knowing what is healthy to eat, but then consuming the exact opposite?
Are you able to start a diet, but have trouble sticking with it?
Have you lost some weight in the past, only to have it come right back (and maybe even more)?
If so, the reason is not that you are weak or destined to be this weight forever. It has to do with how you lose weight.
You see, the first step to effective and long-term weight loss is not to address your eating, but rather to address your mind and why you eat the way you do. Factors that play a role include your self-image, everyday stress and negative emotions and behaviors.
Forget ineffective diets that last a few months. Get into a program where you will engage in using conventional weight loss methods combined with cognitive behavior therapy strategies to guide you out of those negative thinking habits and behavioral patterns that cause your weight problems. This program helps you become aware of why you eat the way you do and what everyday situations trigger you to over-eat or eat the wrong types of food. This will allow you to lose weight, and to keep it off over the long term.
Specifically, our therapy for weight problems is based on cognitive behavioral therapy (CBT). With the help of CBT, you will learn to identify and challenge the automatic negative thoughts that cause your weight problems. Learning how to make permanent changes in your thinking will create permanent changes in your eating. You will be able to identify what situations trigger your unhealthy eating and learn new ways to deal with your emotions – instead of numbing them with food. With the help of your therapist, you will be able to incorporate healthy eating habits into your lifestyle. This will help you to reach your weight loss goal and to maintain your desired weight. You can do this, and we are here to assist you along the way!
Sign up and start getting happier now
Your therapist is ready to start the journey with you today - so what are you waiting for?
Take our test & get instant help
Answer a few questions and get immediate results and recommendations. It only takes a few minutes, so let's get started!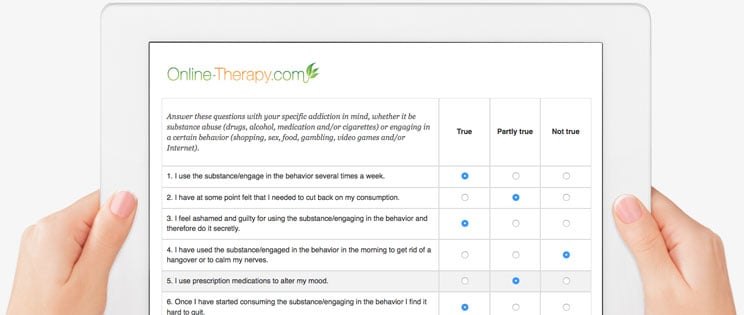 Reviews
Our online therapy services have received 573 reviews and the average rating is 4.6 out of 5 stars.
Rating: [5 out of 5 stars!]
"Iv only been doing it for a couple of weeks but have noticed two major break threw in my thoughts and feelings ... looking forward to learning new information to help make life little easier"
Allenm01 (September 17, 2019)
Rating: [4 out of 5 stars!]
"My experience has only gotten better over time, as my therapist and I have gotten to know each other better my comfort with the system and her ability to help me has greatly increased."
KM (August 01, 2019)
Rating: [5 out of 5 stars!]
"Well this is helping me to be a better person because I talk what happened few months ago whit me and is a great help because I can understand that live is hard and people what is to be what they want and the most important thing I control my self better."
My Experience (August 10, 2019)
Rating: [5 out of 5 stars!]
"Had some helpful advice"
Cool (August 23, 2019)
Rating: [5 out of 5 stars!]
"So far i have noticed a huge improvement."
Jenn (August 15, 2019)
Rating: [5 out of 5 stars!]
"I have really been both surprised and impressed with how much this Online Therapy has helped me. I didn't know what to expect and only enrolled because of the advise of others that I take therapy to show and prove to others that I have changed and am in a new place.
Having said that, I have instead learned so much about myself and have really indeed changed. I have become so much more conscious of my feelings and reactions to stress anger and am much happier for it.
I have also truly enjoyed having discussions with my personal online therapist Jacob and have been extremely impressed with both his knowledge and advise. He made me think about things like I did not before. IN a strange way, although we have never met, I feel like I know him and that he is both a great therapist and friend."
Mike's Review (August 27, 2019)
Rating: [5 out of 5 stars!]
"Going through the worksheets and videos have helped me see the underlying reasons for my distress. Maggie has been great to help me see things in a different way. I'm still new into the therapy so I'm interested to see my progress going forward!"
Optimistic (September 06, 2019)
Rating: [5 out of 5 stars!]
"This program has been beneficial to me.
The videos and worksheets have been especially helpful.

I chose not to have live chats with my therapist, but I feel her written notes and encouragement to me were beneficial. I moved along a lot faster in the program over the course of a full month than the feedback I've gotten. To be fair, I did sessions 6-8 all this weekend, so she hasn't had time to review. I was through session 5 by last weekend and devoted a lot of time to one part of the session and would love to have had comments through as far as I'd completed. My latest feedback at the end of this final week of my month-long subscription is still just through session 2. At least that's all I can find. I have implemented and practiced all the suggestions and and completed all of the exercises except for one that I skipped on purpose. My current subscription expires in two days.

I wish there were a search feature for therapist feedback and maybe there is, but I don't see one. It can be a little tedious going back to each worksheet to find something I want to comment on if I didn't do it initially. I don't care for the Action Plan calendar. It's not user-friendly. I'd like to copy one day's actions to another day without having to start over. It's too time consuming. Some days I do the same things. The Notes app on my phone is a lot easier to use and I can record what I need to do with with audio.

I'm on the list to work with a local CBT specialist in my area. So, I signed up for this program to do in the interim while I was waiting for my first appointment with her. I'm not going to continue with the online program, but I'm grateful for it and for what I've learned and for the fact that it helped me learn about new ways to challenge my thinking and re-channel it to more positive thoughts that bring about better behavior. I will continue to use what I've learned, particularly journaling and re-directing my thinking. I already do yoga and meditate. I recommend giving this program a try if you're not sure. I'd do it again."
Emadgen (October 06, 2019)
Rating: [5 out of 5 stars!]
"This has been very beneficial for me and a great resource to come to every day to ground myself. I have learned a lot about how to deal with my thoughts and emotions in a healthy and positive way and I have seen changes in my day to day life as a result."
Ian (August 22, 2019)
Rating: [5 out of 5 stars!]
"I love that i can work on the worksheets at my own pace and that my therapist reply's quick. Love this whole experience so far!"
Jenn (August 20, 2019)
Sign up for online therapy today
Your therapist is ready to start the journey with you today - so what are you waiting for?