Overcome Your Weight Problems with Online Therapy
Do you ever get frustrated with yourself for knowing what is healthy to eat, but then consuming the exact opposite?
Are you able to start a diet, but have trouble sticking with it?
Have you lost some weight in the past, only to have it come right back (and maybe even more)?
If so, the reason is not that you are weak or destined to be this weight forever. It has to do with how you lose weight.
You see, the first step to effective and long-term weight loss is not to address your eating, but rather to address your mind and why you eat the way you do. Factors that play a role include your self-image, everyday stress and negative emotions and behaviors.
Forget ineffective diets that last a few months. Get into a program where you will engage in using conventional weight loss methods combined with cognitive behavior therapy strategies to guide you out of those negative thinking habits and behavioral patterns that cause your weight problems. This program helps you become aware of why you eat the way you do and what everyday situations trigger you to over-eat or eat the wrong types of food. This will allow you to lose weight, and to keep it off over the long term.
Specifically, our therapy for weight problems is based on cognitive behavioral therapy (CBT). With the help of CBT, you will learn to identify and challenge the automatic negative thoughts that cause your weight problems. Learning how to make permanent changes in your thinking will create permanent changes in your eating. You will be able to identify what situations trigger your unhealthy eating and learn new ways to deal with your emotions – instead of numbing them with food. With the help of your therapist, you will be able to incorporate healthy eating habits into your lifestyle. This will help you to reach your weight loss goal and to maintain your desired weight. You can do this, and we are here to assist you along the way!
Sign up and start getting happier now
Your therapist is ready to start the journey with you today - so what are you waiting for?
Take our test & get instant help
Answer a few questions and get immediate results and recommendations. It only takes a few minutes, so let's get started!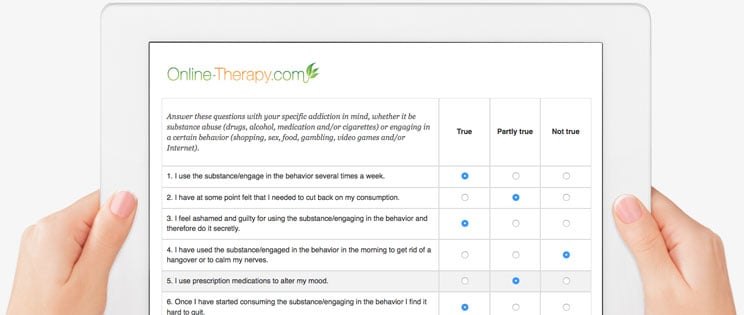 Reviews
Our online therapy services have received 520 reviews and the average rating is 4.6 out of 5 stars.
Rating: [5 out of 5 stars!]
"Well, online-therapy.com was able to help me identify the fact that I have been dealing with thought traps sixty-seven percent into the program. The two main thought traps are catastrophic thinking and extreme thinking. The sad thing is that the thinking is relevant to reality. This is why I documented everything. This is why I dialogue everything. This is why I do so via online GPS coordinates attached to smart devices, audio recordings, video surveillance, and research on those who have been wrapped up with derogatory records online.

I am not the same anymore because life is not the same anymore. This world we live in is not like the way I remember during my childhood innocence. It's changed drastically and I have experienced corruption. I experienced trauma and severe degrees of stress in the midst of the corruption. In matter of fact, I was scoring myself out with the Holmes and RaHe Social Readjustment Scale. I was scoring over 700 consistently for a prolonged period of time. Now isn't that alarming?!

Maybe this will all change by moving into the country. Maybe than I can focus on thinking about the birds and the bees in the pine trees. The many seas that this land divides and a garden to provide. Maybe than I will not have to worry about the mafia attempting to conquer and divide. Maybe I'll be able to focus on skinning a deer hide."
67% (February 11, 2019)
Rating: [5 out of 5 stars!]
"It's great."
Jane (January 29, 2019)
Rating: [5 out of 5 stars!]
"I would really like to thank Maggie for all the help she has given me past few months, I'm not sure where I would be without her help, those were some pretty difficult times for me and I really appreciate all she has done! I often use the tools I've learned in course to help me cope in certain situations and look forward to using them in the future. I won't hesitate in the future to subscribe to your site in the future if need be.."
CT (February 08, 2019)
Rating: [5 out of 5 stars!]
"Fantastic service."
Good Service (February 22, 2019)
Rating: [5 out of 5 stars!]
"Working with the therapist has been great and very helpful!"
Mike (April 10, 2019)
Rating: [4 out of 5 stars!]
"I'm new to this website but so far I've had positive experiences. At the beginning you fill out a lot of (optional) information about yourself so that the therapist can personalise your therapy. The therapist usually responds within a few hours except on weekends and probably faster in different time zones (I'm in Australia). I don't really have any complaints so far apart from the forum being inactive and that there's no forum for eating disorders. I feel like the inactivity on the forum could be easily solved if the website was more popular so I hope more people try online therapy!"
EmoSeth (March 16, 2019)
Rating: [5 out of 5 stars!]
"Love the yoga! It helps me return to a good place."
Jstlou (February 02, 2019)
Rating: [5 out of 5 stars!]
"I stayed with this programme for 10 months and I can highly recommend this form of therapy. The fact that you can work when you want, reread the comments or chats until your really understand gives this an enormous advantage over classic face to face therapy where you can easily forget all of what was said.
Maggie, my therapist, gave me so much help and hope over the past ten months. I will always be grateful to her for that. She helped me out of a black hole. I have been copying out some of the stuff I have written over the months and I can hardly believe the difference. It helps me remember how I was, but I have certainly changed, I can see that. It's wonderful !!"
Less Stressed (February 01, 2019)
Rating: [4 out of 5 stars!]
"I find the program very structured and easy to follow. Looking forward to seeing the improvements in myself."
Javi (January 23, 2019)
Rating: [5 out of 5 stars!]
"Timely, helpful responses so far."
Kaitlin (January 26, 2019)
Sign up for online therapy today
Your therapist is ready to start the journey with you today - so what are you waiting for?