Three ways to expand your practice online
Worldwide Therapist Directory
As a member, you will get listed on one of the biggest and most advanced online therapist directories - no matter where you are located in the world. This means that when a potential client uses search engines like Google to find a professional in your area - your profile page will appear!
A membership is also great for your credibility. We have successfully helped thousands of people since our launch in 2009. By joining us, you will be affiliated with a brand that people trust.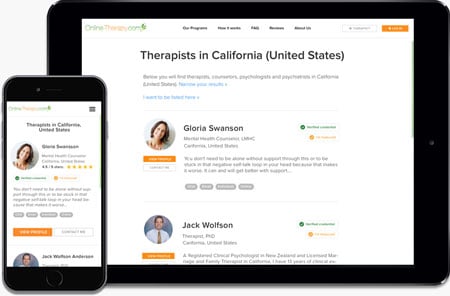 Profile Page
Your profile page is the virtual front-door to your practice, where potential clients find everything they need to safely choose you as their therapist/counselor. Your contact details, work experience, education, expertise areas and therapy philosophy will be presented in a clean and appealing style.
It is also a place that provides current clients with necessary services like smooth payment solutions and appointment scheduling.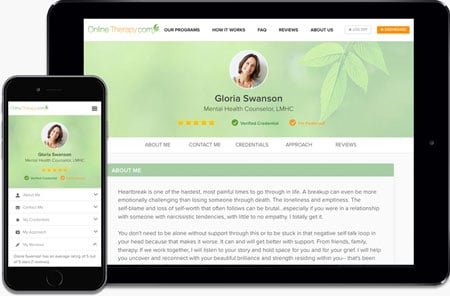 Online Therapy Platform
This is where the magic happens and what makes our services completely unique! In addition to the directory and profile page, you get a complete platform with all the content, systems and services you need to be able to offer therapy online.
This includes 18 therapy-ready programs with hands-on information and tools for your clients, worksheets and chat where you communicate with your clients. And much more »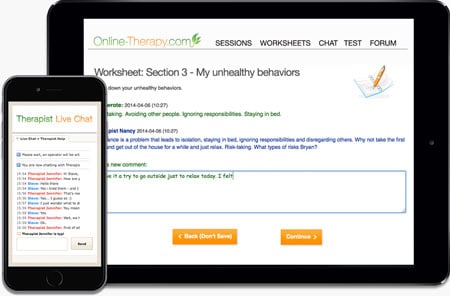 WHY IS ONLINE THERAPY SO GREAT FOR ME?
A whole new way of offering your services
Easy

A fully-supported platform that makes your online therapy business ready to go live within minutes.

Affordable

You pay a small flat fee each month that gives you access to the whole platform.

Flexible

You are your own boss. You fully decide how much you want to work, at what times and with which clients.

Accessible

There is no need to travel to an office. You can help your clients from wherever you are in the world.

Anonymous

Help people that are not comfortable with exposing themselves face-to-face in the waiting room or in a therapist's office.

Safe

All sensitive information about you and your clients is sent using our secure and encrypted servers.

Complement

Perfect as a complement to existing face-to-face sessions or for providing therapy to clients in remote areas.
DOES THIS SUIT MY PRACTICE?
Three different memberships to fit your needs
Basic
A simple solution to get more referrals and clients
DIRECTORY
Standard ranking position in our therapist directory
PROFILE PAGE
Standard content and design
Most Popular!
Premium
Perfect to get more clients and offer therapy online
DIRECTORY
Including "Featured" seal and a higher ranking position
PROFILE PAGE
Standard content and design
THERAPY PLATFORM
Therapy-ready content, tools and services to provide online therapy
10 CLIENTS MAXIMUM
Use the online therapy platform with up to 10 clients
Unlimited
The optimal solution to expand your online therapy business
DIRECTORY
Including "Featured" seal and a higher ranking position
PROFILE PAGE
Customized content and design
THERAPY PLATFORM
Customized content, tools and services to provide online therapy
UNLIMITED CLIENTS
Use the online therapy platform with unlimited number of clients
CUSTOMIZED
The content, tools and services can be customized to fit your needs
Are you missing something? You can always contact us with your request and we will be happy to help.
HOW DOES IT PRACTICALLY WORK?
Frequently Asked Questions
How do I get clients?
People will find your profile page while searching the Internet, using for example Google. They can also find you when using our "Find a Therapist" service. Your clients will be the people that contact you from your profile page and that pick you as their source of help. You can, of course also use the online therapy platform with existing face-to-face clients that want to try online therapy.
Just add a client to your therapist account and the two of you can start working together within minutes.
Note that the clients that register at online-therapy.com will be taken care of by our in-house therapists, as long as they do not specifically ask to be helped by you.
What's included in the online therapy platform?
18 online therapy programs

Worksheets where you communicate with clients

Chat software to safely communicate with clients

Tests to monitor clients' improvements

Forum where your clients can meet others in a similar situation

Convenient payment system

Easy notification system

Always confidential, safe and secure
Is this a part-time or full-time commitment?
This can be your major source of income or just a supplement to your current job, depending of the number of online clients you get and how much you can work.
Many therapists use our platform as a complement to their existing face-to-face therapy.
How does the free trial work?
For seven days you can explore the online therapy platform for free - both as a therapist and also through the eyes of a client. When the trial period is over, you will automatically be charged on a monthly basis. If you decide that it's not right for you, just cancel your membership with a click on a button.
Can the platform be customized to fit my existing therapy business?
With the UNLIMITED membership both the "look and feel" of the platform and the content (the programs including the worksheets) can be tailored to fit the specific needs of your existing therapy business. If you wish to integrate the secure platform on an already existing website, this can be done as well.
What are my costs?
The membership monthly fee is all that you pay. There is no fee per-client or other hidden costs. You will always have total control of your expenses when using our services.
The monthly PREMIUM membership fee is only $49.95 for full access to the online therapy platform, including being listed in our therapist directory and having a profile page.
What's my income?
What you decide to charge your clients, is totally up to you. We will never charge your clients anything.
We normally charge our clients $39.95 - $59.95 per week depending on their chosen subscription plan. The required work from our in-house therapists is posting daily feedback (Monday-Friday) on clients' worksheets and one 30 minute chat session per week.
You could use this price and workload with each client as a benchmark, but feel 100% free to adjust this depending on how much effort you put into each client.
As an example: If you have 10 clients that are active, your additional income each month after our fee is $2348.05.
Income
$2398
10 clients * $59.95 * 4 weeks
Cost
$49.95
PREMIUM monthly membership
NET INCOME
$2348.05
How do I get paid?
For your convenience, we have arranged so that your clients can pay you through PayPal directly from your profile page. If you prefer to get paid by your clients in any other way, that is perfectly fine.
I'm I qualified to join?
In order to become listed on our website, you need at least one valid credential (license, certificate, diploma/degree or membership) that we can verify.
Need more help before signing up?
Visit our how it works page for full details or feel free to contact us by email or chat.
We've helped thousands since 2009
"I'm really being helped by this program and by my therapist, Maggie Sweet. I must thank you sincerely for being here for me. I think enrolling for this therapy has been one of the best things I have done." Kim R
Let us help you grow your online therapy business!
Sign up for a therapist membership now and start getting more clients. It's a quick process - so what are you waiting for?