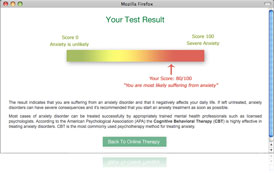 This test will help you find out if you suffer from stress. If needed, you will receive recommendations on how to get help after the test is completed. But first, let us go through some of the symptoms of stress.
Stress Symptoms
Stress affects us all in some way. It is largely healthy, but when it interrupts our lives, it becomes a problem. If someone is overly stressed, they will experience anxiety, nervous tension and in some cases, trauma. It leads to constant worry, which is unhealthy as it leads to physical illnesses. Managing your stress is critical, not only for your mental health, but for your physical health too.
Stress may occur when we struggle with debts, finances, relationships, family matters, daily life and so forth. It is strain we feel mentally and emotionally, or in some cases, physically, when things are not working out as we planned. Anxiety develops from stress when the mind is overworked. It may cause symptoms including elevated blood pressure and depression when stress levels are high.
If stress is not treated and remains constantly high it can lead to health problems down the road. Heart attacks, strokes, depression, anxiety disorders, panic attacks, high-blood pressure and high-cholesterol all occur from untamed stress levels.