Overcome Your Unhealthy Stress with Online Therapy
Almost anything can cause stress in one's life. Work, family, kids, friends, school, finances and life-changing events are all stressors that can cause a person to experience elevated stress levels. Although stress is a normal part of your life, overwhelming stress can result in health issues (such as heart disease and gastrointestinal problems), relationship strain, problems at work and even an increased likelihood of depression or anxiety.
Common symptoms of too much stress in your life include problems concentrating, sleep disturbances and eating too little or too much, consistently feeling down or worried and physical problems like headache, rapid heartbeat, pain and aches in your body.
Fortunately, no matter what is happening in your life, you can learn skills to control your stress. Our stress management is based on cognitive behavioral therapy (CBT). With the help of CBT, you will learn to identify and challenge the automatic negative thoughts that, up to this point, have caused you to feel overwhelmed with stress. Your therapist will help you build skills to cope and adapt to life's stressors. You will quickly learn how to better deal with problems and to stay in control of your emotions. The result? Not only will you feel better now, but you will also have these skills to use regardless of what happens in the future.
Sign up and start getting happier now
Your therapist is ready to start the journey with you today - so what are you waiting for?
Take our test & get instant help
Answer a few questions and get immediate results and recommendations. It only takes a few minutes, so let's get started!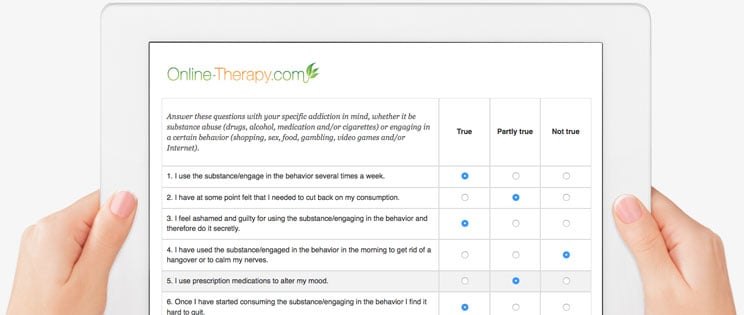 Reviews
Our online therapy services have received 506 reviews and the average rating is 4.6 out of 5 stars.
Rating: [4 out of 5 stars!]
"Haven't used much but looks promising."
Jd (February 20, 2019)
Rating: [5 out of 5 stars!]
"Timely, helpful responses so far."
Kaitlin (January 26, 2019)
Rating: [5 out of 5 stars!]
"Great timing with replies, very comprehensive, easy to read and follow along therapy methods."
Mary (January 07, 2019)
Rating: [4 out of 5 stars!]
"Through grace and support I was able to find a vaccine between my mind and body."
Through Grace (January 08, 2019)
Rating: [4 out of 5 stars!]
"I have only been a member for a couple of weeks, and have only had one therapy session. But it has already been helpful."
Rachna (December 03, 2018)
Rating: [3 out of 5 stars!]
"It seems like this site and the tools can be helpful. I just need to dedicate more time to it."
Working On It (January 11, 2019)
Rating: [5 out of 5 stars!]
"Well, online-therapy.com was able to help me identify the fact that I have been dealing with thought traps sixty-seven percent into the program. The two main thought traps are catastrophic thinking and extreme thinking. The sad thing is that the thinking is relevant to reality. This is why I documented everything. This is why I dialogue everything. This is why I do so via online GPS coordinates attached to smart devices, audio recordings, video surveillance, and research on those who have been wrapped up with derogatory records online.

I am not the same anymore because life is not the same anymore. This world we live in is not like the way I remember during my childhood innocence. It's changed drastically and I have experienced corruption. I experienced trauma and severe degrees of stress in the midst of the corruption. In matter of fact, I was scoring myself out with the Holmes and RaHe Social Readjustment Scale. I was scoring over 700 consistently for a prolonged period of time. Now isn't that alarming?!

Maybe this will all change by moving into the country. Maybe than I can focus on thinking about the birds and the bees in the pine trees. The many seas that this land divides and a garden to provide. Maybe than I will not have to worry about the mafia attempting to conquer and divide. Maybe I'll be able to focus on skinning a deer hide."
67% (February 11, 2019)
Rating: [5 out of 5 stars!]
"Therapist is available when you need them. Great program!"
Rob (January 11, 2019)
Rating: [5 out of 5 stars!]
"I love how flexible the online therapy program is. I feel like I am making progress and I highly recommend this program."
Kc (February 11, 2019)
Rating: [5 out of 5 stars!]
"I find this service very professional and helpful. There's no way I could fit in a traditional face to face therapy in my hectic life.. I like to be able to choose my pace through this healing path. Therapist answers are always emphatic and focus just on what is more relevant .
And Yoga is another very powerful tool!"
Alessandra (January 06, 2019)
Sign up for online therapy today
Your therapist is ready to start the journey with you today - so what are you waiting for?