Overcome Your Unhealthy Stress with Online Therapy
Almost anything can cause stress in one's life. Work, family, kids, friends, school, finances and life-changing events are all stressors that can cause a person to experience elevated stress levels. Although stress is a normal part of your life, overwhelming stress can result in health issues (such as heart disease and gastrointestinal problems), relationship strain, problems at work and even an increased likelihood of depression or anxiety.
Common symptoms of too much stress in your life include problems concentrating, sleep disturbances and eating too little or too much, consistently feeling down or worried and physical problems like headache, rapid heartbeat, pain and aches in your body.
Fortunately, no matter what is happening in your life, you can learn skills to control your stress. Our stress management is based on cognitive behavioral therapy (CBT). With the help of CBT, you will learn to identify and challenge the automatic negative thoughts that, up to this point, have caused you to feel overwhelmed with stress. Your therapist will help you build skills to cope and adapt to life's stressors. You will quickly learn how to better deal with problems and to stay in control of your emotions. The result? Not only will you feel better now, but you will also have these skills to use regardless of what happens in the future.
Sign up and start getting happier now
Your therapist is ready to start the journey with you today - so what are you waiting for?
Take our test & get instant help
Answer a few questions and get immediate results and recommendations. It only takes a few minutes, so let's get started!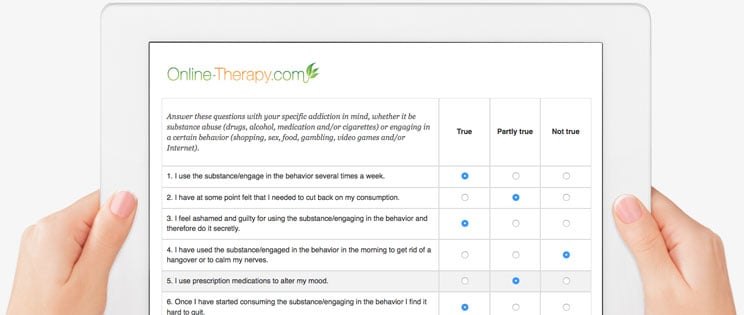 Reviews
Our online therapy services have received 621 reviews and the average rating is 4.6 out of 5 stars.
Rating: [5 out of 5 stars!]
"Excellent, life-changing."
Jc (December 26, 2019)
Rating: [5 out of 5 stars!]
"Katrina was wonderful. Always responsive and a great resource."
Cc (December 18, 2019)
Rating: [5 out of 5 stars!]
"I was concerned about online therapy. Heck, I don't even like to shop online. I have almost completed the program and am pleased with my progress and my therapist. Thank you Maggie for your challenges and your insight."
Julie2 (November 22, 2019)
Rating: [5 out of 5 stars!]
"My therapist Lisa Neuweg was outstanding. The comments and guidance I received were right to the point and I always got a prompt reply, amazing!

I truly had the help of an expert therapist and this presented great value for money. I condensed the whole programme into 2 weeks (worked hard almost every night), despite this I received daily feedback and ongoing commentary. I was working hard and Lisa was able to keep up with me!

I was a little skeptical at first about doing this online CBT programme but in the end was really pleased and found it well worthwhile. It got to the core of some of my issues and instead of being some 'magic bullet' type approach actually made me face some of the issues I have been struggling with, it was difficult, tough and uncomfortable at times, but has provided me with some good tools and helped me to understand my thought patterns better."
BK (December 18, 2019)
Rating: [5 out of 5 stars!]
"So far I have been working through my issues for a couple of weeks and I have already felt a change in being "aware" of my emotions and being able to understand them, instead of just feeling them and having it take over my entire day. That alone has helped me to manage some of the non-logical mood swings I have been having. And I want to say thank you for being someone I can talk to, since the average person would not be able to handle this constant stress on a daily basis. Truly thank you for giving me someone I can talk to. That alone is already making a difference for me. Thank you."
Angel89 (December 02, 2019)
Rating: [5 out of 5 stars!]
"Amazing"
Tara (December 04, 2019)
Rating: [5 out of 5 stars!]
"I really love this program !! It makes you stop and reflect!! It is absolutely helping me !!
Thank you !!"
Yogi (January 11, 2020)
Rating: [4 out of 5 stars!]
"There was a lapse between signing up and really participating because I've been ill (probably acerbated by years of non stop stress). As I'm getting started, I'm realizing the stress level that I have endured over the years and wish this program had existed decades ago."
Just Starting (December 12, 2019)
Rating: [5 out of 5 stars!]
"Online-therapy offers you the most convenient process to challenge the way you think and the way you respond to emotional situations. The tools are practical and the feedback from therapists is insightful. So glad to have this resource available."
Treat Yourself To Some Sanity (December 19, 2019)
Rating: [5 out of 5 stars!]
"I really enjoy the daily interaction with a therapist and find it better to communicate in writing where I can organize my thoughts as opposed to a face to face office visit."
Half Way (November 13, 2019)
Sign up for online therapy today
Your therapist is ready to start the journey with you today - so what are you waiting for?