Overcome Your Unhealthy Stress with Online Therapy
Almost anything can cause stress in one's life. Work, family, kids, friends, school, finances and life-changing events are all stressors that can cause a person to experience elevated stress levels. Although stress is a normal part of your life, overwhelming stress can result in health issues (such as heart disease and gastrointestinal problems), relationship strain, problems at work and even an increased likelihood of depression or anxiety.
Common symptoms of too much stress in your life include problems concentrating, sleep disturbances and eating too little or too much, consistently feeling down or worried and physical problems like headache, rapid heartbeat, pain and aches in your body.
Fortunately, no matter what is happening in your life, you can learn skills to control your stress. Our stress management is based on cognitive behavioral therapy (CBT). With the help of CBT, you will learn to identify and challenge the automatic negative thoughts that, up to this point, have caused you to feel overwhelmed with stress. Your therapist will help you build skills to cope and adapt to life's stressors. You will quickly learn how to better deal with problems and to stay in control of your emotions. The result? Not only will you feel better now, but you will also have these skills to use regardless of what happens in the future.
Sign up and start getting happier now
Your therapist is ready to start the journey with you today - so what are you waiting for?
Take our test & get instant help
Answer a few questions and get immediate results and recommendations. It only takes a few minutes, so let's get started!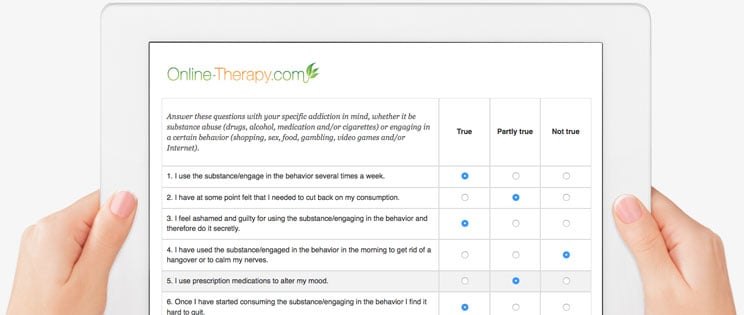 Reviews
Our online therapy services have received 2348 reviews and the average rating is 4.7 out of 5 stars.
Rating: [5 out of 5 stars!]
"Bernadette and the passion that she has for helping people is what helped change my life. I was at a pretty low point when I came here to find a therapist and the entire experience exceeded all of my expectations. Using cognitive behavioral therapy, Bernadette was able to get me from being in bed all day every day to finally living again and finding my smile. I am very grateful and I would highly recommend the service."
Lostandfound (September 12, 2022)
Rating: [5 out of 5 stars!]
"I've been with pretty much every online therapist that is available. I am throughly impressed with online-therapy.com more than any of the others. They really take the time with you so that you can understand what will be accomplished with therapy through worksheets and one on one quality time with your therapist. Highly recommended."
Tina's Review (October 04, 2022)
Rating: [5 out of 5 stars!]
"Very understanding of my needs. I have a very hectic work schedule and my therapist understood completely which made it a lot easier for me to open up and talk about everything. Thank you Jenn!"
Excellent (August 20, 2022)
Rating: [5 out of 5 stars!]
"Authentic treatment, my therapist generally cares about my future. Recommend: YES"
Mjg (July 19, 2022)
Rating: [5 out of 5 stars!]
"This is by far the most effective counseling I've experienced in a very long time. Going on and on about the past is pointless. Unless you change a certain behavior, you're going to just do the same thing again and again. Knowing the whys behind what you do is key. This platform is AWESOME!"
Dakota's Mama (July 12, 2022)
Rating: [4 out of 5 stars!]
"It has been great overall. The scheduling has been tough but other then that it has been good for me."
Review #1 (July 13, 2022)
Rating: [4 out of 5 stars!]
"This service has been extremely helpful in these trying times where I needed someone to validate my feelings."
Eternally Grateful For This Service (October 02, 2022)
Rating: [5 out of 5 stars!]
"So far, I really like the exercise sheets and work given and I am really happy with my therapist and all the feedback. I have already made progress.
I really recommend."
Ed (August 30, 2022)
Rating: [4 out of 5 stars!]
"I did skip two sections. I didn't expect this to be SO in depth right off the bat. It really makes you think and analyze every thought and emotion. A couple of the exercises were uncomfortable, but in a way that is helpful.
My therapist is very good. She's kind and thought provoking. I can tell she really reads all of my answers and explanations."
Challenging (July 25, 2022)
Rating: [4 out of 5 stars!]
"So far really enjoying our therapist! Love the way we can communicate on the worksheets, it's like having mini-session. The only thing that has been a struggle is the scheduling platform."
Mia (July 27, 2022)
Sign up for online therapy today
Your therapist is ready to start the journey with you today - so what are you waiting for?
Have any questions?
Are you unsure of what program to choose or have any questions about our services? Check our FAQ to alleviate any concerns.