Overcome Your Unhealthy Stress with Online Therapy
Almost anything can cause stress in one's life. Work, family, kids, friends, school, finances and life-changing events are all stressors that can cause a person to experience elevated stress levels. Although stress is a normal part of your life, overwhelming stress can result in health issues (such as heart disease and gastrointestinal problems), relationship strain, problems at work and even an increased likelihood of depression or anxiety.
Common symptoms of too much stress in your life include problems concentrating, sleep disturbances and eating too little or too much, consistently feeling down or worried and physical problems like headache, rapid heartbeat, pain and aches in your body.
Fortunately, no matter what is happening in your life, you can learn skills to control your stress. Our stress management is based on cognitive behavioral therapy (CBT). With the help of CBT, you will learn to identify and challenge the automatic negative thoughts that, up to this point, have caused you to feel overwhelmed with stress. Your therapist will help you build skills to cope and adapt to life's stressors. You will quickly learn how to better deal with problems and to stay in control of your emotions. The result? Not only will you feel better now, but you will also have these skills to use regardless of what happens in the future.
Sign up and start getting happier now
Your therapist is ready to start the journey with you today - so what are you waiting for?
Take our test & get instant help
Answer a few questions and get immediate results and recommendations. It only takes a few minutes, so let's get started!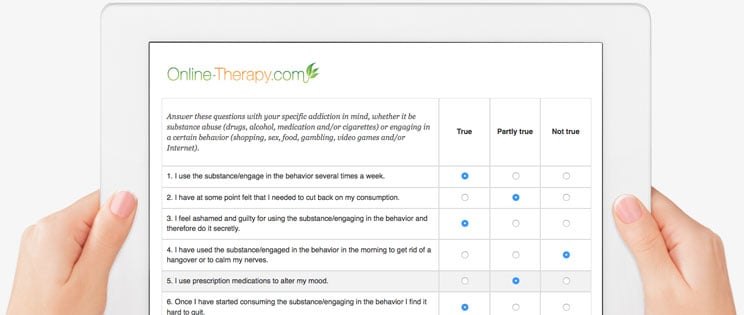 Reviews
Our online therapy services have received 1339 reviews and the average rating is 4.7 out of 5 stars.
Rating: [5 out of 5 stars!]
"easy to use and more than helpful. highly recommend"
Happy Camper (February 25, 2021)
Rating: [5 out of 5 stars!]
"Learning to control my anger and my other feelings. I have a very good therapist who is helping me find my way Home. I am very happy with this program I realize I need to take it slow in order to gain the most out of the course and in order to only need to take the course once I need to work the program not just read the stuff and move on but work the program everyday. And that's the hard part nobody said change was easy."
Stanley (February 09, 2021)
Rating: [4 out of 5 stars!]
"Pros:
Easy
Good feedback
quick responses
knowledgeable staff
great user interface
website is setup well

Cons:
I don't find the worksheets to be helpful
I sometimes forget (adhd) to schedule my video appointments, and usually have trouble finding an appointment, if I do. Which means I don't get to use my video visit for the week."
Nick T (January 15, 2021)
Rating: [5 out of 5 stars!]
"Advice: You have to do the worksheets. You have to do the work in between sessions to get the most out of your sessions. Also, it's important to make a connection with your therapist and, fortunately, I have with mine."
You Get What You Give (December 29, 2020)
Rating: [5 out of 5 stars!]
"I was matched with a fantastic therapist and I'm really getting a lot out of the process"
Worth It (February 07, 2021)
Rating: [4 out of 5 stars!]
"I had a rough start with a therapist I didn't really connect with, but since switching I am feeling really good about it!"
Lu (February 22, 2021)
Rating: [5 out of 5 stars!]
"With the help of Bernadette I was able to power through processing years of trauma and abuse much faster than I would have ever imagined. She made it seem so simple and everything just clicked. You can tell how much she really cares about the people she helps. I will come back to her if I ever need therapy again. Thank you for saving me Bernadette!!"
MonicaB (March 03, 2021)
Rating: [5 out of 5 stars!]
"I really like online therapy! My therapist is amazing. I think it is really important to find a good therapist. I feel we are already making progress. I like that you can both work offline on the worksheets and have a live session once a week. It actually feels better than in-person sessions I had in the past."
Katia (January 02, 2021)
Rating: [5 out of 5 stars!]
"Online-Therapy has allowed me to look at myself and see what I need to do to improve my quality of life. I have worked on decreasing my anxiety, depression, and panic attacks with the help of my therapist Martha. She has been supportive and helpful. I actually feel that journaling and filling out the worksheets have helped when I was reluctant at first. I highly recommend this form of therapy and Martha to anyone seeking help. Thank you!"
Helpful And Realistic Therapy (February 14, 2021)
Rating: [4 out of 5 stars!]
"Simply the act of going through the excercises has made me explore deeper parts of myself than I even expected. I really feel like this is more of a self guided or self led therapy"
Ok (February 28, 2021)
Sign up for online therapy today
Your therapist is ready to start the journey with you today - so what are you waiting for?
Have any questions?
Are you unsure of what program to choose or have any questions about our services? Check our FAQ to alleviate any concerns.