Overcome Your Unhealthy Stress with Online Therapy
Almost anything can cause stress in one's life. Work, family, kids, friends, school, finances and life-changing events are all stressors that can cause a person to experience elevated stress levels. Although stress is a normal part of your life, overwhelming stress can result in health issues (such as heart disease and gastrointestinal problems), relationship strain, problems at work and even an increased likelihood of depression or anxiety.
Common symptoms of too much stress in your life include problems concentrating, sleep disturbances and eating too little or too much, consistently feeling down or worried and physical problems like headache, rapid heartbeat, pain and aches in your body.
Fortunately, no matter what is happening in your life, you can learn skills to control your stress. Our stress management is based on cognitive behavioral therapy (CBT). With the help of CBT, you will learn to identify and challenge the automatic negative thoughts that, up to this point, have caused you to feel overwhelmed with stress. Your therapist will help you build skills to cope and adapt to life's stressors. You will quickly learn how to better deal with problems and to stay in control of your emotions. The result? Not only will you feel better now, but you will also have these skills to use regardless of what happens in the future.
Sign up and start getting happier now
Your therapist is ready to start the journey with you today - so what are you waiting for?
Take our test & get instant help
Answer a few questions and get immediate results and recommendations. It only takes a few minutes, so let's get started!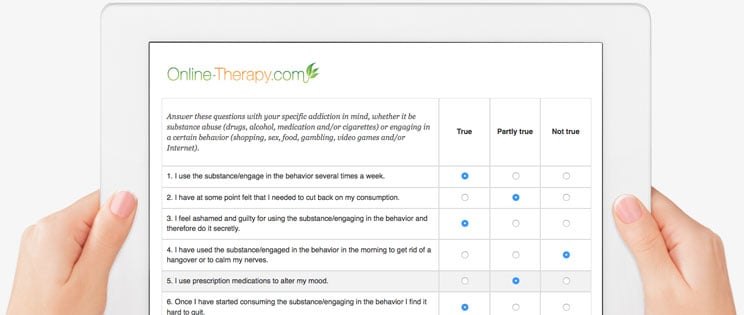 Reviews
Our online therapy services have received 573 reviews and the average rating is 4.6 out of 5 stars.
Rating: [5 out of 5 stars!]
"This program has been beneficial to me.
The videos and worksheets have been especially helpful.

I chose not to have live chats with my therapist, but I feel her written notes and encouragement to me were beneficial. I moved along a lot faster in the program over the course of a full month than the feedback I've gotten. To be fair, I did sessions 6-8 all this weekend, so she hasn't had time to review. I was through session 5 by last weekend and devoted a lot of time to one part of the session and would love to have had comments through as far as I'd completed. My latest feedback at the end of this final week of my month-long subscription is still just through session 2. At least that's all I can find. I have implemented and practiced all the suggestions and and completed all of the exercises except for one that I skipped on purpose. My current subscription expires in two days.

I wish there were a search feature for therapist feedback and maybe there is, but I don't see one. It can be a little tedious going back to each worksheet to find something I want to comment on if I didn't do it initially. I don't care for the Action Plan calendar. It's not user-friendly. I'd like to copy one day's actions to another day without having to start over. It's too time consuming. Some days I do the same things. The Notes app on my phone is a lot easier to use and I can record what I need to do with with audio.

I'm on the list to work with a local CBT specialist in my area. So, I signed up for this program to do in the interim while I was waiting for my first appointment with her. I'm not going to continue with the online program, but I'm grateful for it and for what I've learned and for the fact that it helped me learn about new ways to challenge my thinking and re-channel it to more positive thoughts that bring about better behavior. I will continue to use what I've learned, particularly journaling and re-directing my thinking. I already do yoga and meditate. I recommend giving this program a try if you're not sure. I'd do it again."
Emadgen (October 06, 2019)
Rating: [5 out of 5 stars!]
"Good service"
Simmyw (August 25, 2019)
Rating: [5 out of 5 stars!]
"I would like to sincerely thank my personal therapist Jacob and Online Therapy for helping me through a very rough time in my life. The therapy exceeded my expectations and has made me see things in a much better frame of mind."
Mike's Review (September 10, 2019)
Rating: [5 out of 5 stars!]
"I cannot do formal counseling as my chronic illness makes it difficult to travel. This counseling has helped me because it is easily accessible at any time."
Great When You Are Bed Ridden (September 06, 2019)
Rating: [4 out of 5 stars!]
"So far, so good. I feel slightly better after visiting this site and filling out the work books."
First Review (August 20, 2019)
Rating: [4 out of 5 stars!]
"I have been seeking help, I needed more help than the regular medical doctors were giving me. So far this site has helped me to look deep into myself and try figure out the root of my issues. It is not going to be an easy road, dealing with my emotions and such, but the therapist assigned to me has been gracious and very helpful."
Helpful (August 20, 2019)
Rating: [5 out of 5 stars!]
"I am very happy with online therapy. I feel it has helped me a lot already."
Helpful (August 30, 2019)
Rating: [5 out of 5 stars!]
"In my opinion online therapy is very good because is helping me to be a better person every day."
Online Therapy (August 28, 2019)
Rating: [5 out of 5 stars!]
"Had some helpful advice"
Cool (August 23, 2019)
Rating: [5 out of 5 stars!]
"Going through the worksheets and videos have helped me see the underlying reasons for my distress. Maggie has been great to help me see things in a different way. I'm still new into the therapy so I'm interested to see my progress going forward!"
Optimistic (September 06, 2019)
Sign up for online therapy today
Your therapist is ready to start the journey with you today - so what are you waiting for?