Overcome Your Agoraphobia with Online Therapy
Agoraphobia is an anxiety disorder characterized by irrational fears of public or open spaces. A person suffering from agoraphobia usually has previously had a panic attack in public and, therefore, avoids similar places or situations due to the fear of re-experiencing it.
Common places that are avoided are places that are difficult to easily escape like cinemas, churches, stores and traveling publicly by bus, train or airplane. If you avoid public situations like this due to the fear of having a panic attack and sometimes even isolate yourself at home, you might be suffering from agoraphobia.
If this sounds like you, please know you are not stuck; there are treatments that can help you. Our therapy for agoraphobia is based on cognitive behavioral therapy (CBT). CBT focuses on the negative thinking patterns and behaviors that contribute to your fear of having a panic attack and lead to avoidance. With the help of your therapist, you will slowly be exposed to real-life situations that cause your fear of a panic attack. While this may sound scary, it will be safe and will eventually help you overcome your fears. You will learn how to control your anxiety and to look at your fears in a more realistic light. As you progress through the treatment, the thought or experience of panic will become less petrifying. Eventually you will be able to cope with previously fearful situations so you can take control of your life again.
Sign up and start getting happier now
Your therapist is ready to start the journey with you today - so what are you waiting for?
Take our test & get instant help
Answer a few questions and get immediate results and recommendations. It only takes a few minutes, so let's get started!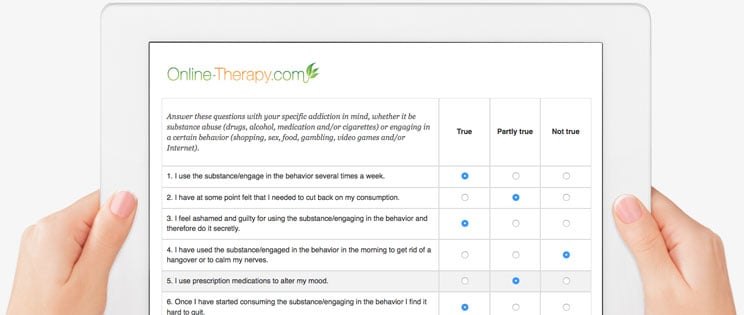 Reviews
Our online therapy services have received 1190 reviews and the average rating is 4.7 out of 5 stars.
Rating: [5 out of 5 stars!]
"Great service. Very helpful and supportive therapists and the website is brilliantly laid out too."
Vk (December 31, 2020)
Rating: [4 out of 5 stars!]
"Good questions to answer for an individual to look at the whole picture surrounding them of what is actually going on with them and others around them."
M.C. (November 07, 2020)
Rating: [4 out of 5 stars!]
"I have tried other online platforms but I like this one a lot better than others. First, I think it's because I have a good therapist. I really enjoy my therapist a lot and feel that she has good insights and I think she will always tell me the truth 100% of the time, even if it's hard to hear. Which I like because I need someone to give me their honest thoughts. Also, I love the CBT worksheets which really help you dig deep into your thoughts, feelings and behaviors. I haven't tried other things like the Yoga yet but I really want to as I feel it compliments well with everything else. This platform really looks into the whole person which is essential to making progress with your mental health."
RM Review (December 08, 2020)
Rating: [5 out of 5 stars!]
"Between meetings with my therapist and the modules containing all the different worksheets, this has been a great resource thus far."
Easy To Use And A Great Resource (December 01, 2020)
Rating: [4 out of 5 stars!]
"A good program all in all. My therapist replies daily to worksheets and has good feedback. I've had a few technical issues with the interface but nothing major. Autosave would be nice :)"
Kmc365 (November 18, 2020)
Rating: [4 out of 5 stars!]
"My therapist is very professional and I enjoy the worksheets and exercises. They are very useful in day-to-day life"
Hobensita (November 10, 2020)
Rating: [5 out of 5 stars!]
"I feel this is helpful. I'm still going through this online. So I still have lots of growing to do. I like how your not alone, there are therapists that communicate and work with you. 👍🏼"
Bunion (January 15, 2021)
Rating: [4 out of 5 stars!]
"I like the platform and the therapist. Everything worked great just a problem with the video and voice chat needs a little work. Over all great option I would recommend this for sure."
Shawn (January 07, 2021)
Rating: [5 out of 5 stars!]
"So far its been going great I like the regularity of the sessions"
First (December 21, 2020)
Rating: [5 out of 5 stars!]
"An awesome set up and the materials on this site is so helpful. I highly recommend it to anyone needing some extra support."
JK (October 28, 2020)
Sign up for online therapy today
Your therapist is ready to start the journey with you today - so what are you waiting for?
Have any questions?
Are you unsure of what program to choose or have any questions about our services? Check our FAQ to alleviate any concerns.