Overcome Your Agoraphobia with Online Therapy
Agoraphobia is an anxiety disorder characterized by irrational fears of public or open spaces. A person suffering from agoraphobia usually has previously had a panic attack in public and, therefore, avoids similar places or situations due to the fear of re-experiencing it.
Common places that are avoided are places that are difficult to easily escape like cinemas, churches, stores and traveling publicly by bus, train or airplane. If you avoid public situations like this due to the fear of having a panic attack and sometimes even isolate yourself at home, you might be suffering from agoraphobia.
If this sounds like you, please know you are not stuck; there are treatments that can help you. Our therapy for agoraphobia is based on cognitive behavioral therapy (CBT). CBT focuses on the negative thinking patterns and behaviors that contribute to your fear of having a panic attack and lead to avoidance. With the help of your therapist, you will slowly be exposed to real-life situations that cause your fear of a panic attack. While this may sound scary, it will be safe and will eventually help you overcome your fears. You will learn how to control your anxiety and to look at your fears in a more realistic light. As you progress through the treatment, the thought or experience of panic will become less petrifying. Eventually you will be able to cope with previously fearful situations so you can take control of your life again.
Sign up and start getting happier now
Your therapist is ready to start the journey with you today - so what are you waiting for?
Take our test & get instant help
Answer a few questions and get immediate results and recommendations. It only takes a few minutes, so let's get started!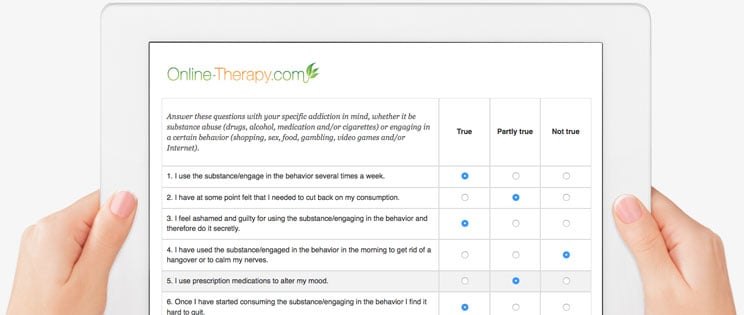 Reviews
Our online therapy services have received 595 reviews and the average rating is 4.6 out of 5 stars.
Rating: [4 out of 5 stars!]
"I've been doing the program for about a month and so far it has helped me out. I am able to actively receive feedback on my day to day habits and thought processes. My therapist asks appropriate questions and provides very helpful and non-judgmental suggestions."
Mr.T (November 30, 2019)
Rating: [5 out of 5 stars!]
"Amazing"
Tara (December 04, 2019)
Rating: [5 out of 5 stars!]
"I've learned so much about myself and how I have been seeing the work in a way that had been quite harmful to my own self-esteem. Being able to see the other side now has allowed me the chance to work towards the person I have always felt I was meant to be. I'm grateful for everything that I've learned from Maggie and for all of the help!"
Dvo (November 06, 2019)
Rating: [5 out of 5 stars!]
"Convenient caring the right amount of blunt while staying showing compassion."
Tasha (November 27, 2019)
Rating: [5 out of 5 stars!]
"So far I have been working through my issues for a couple of weeks and I have already felt a change in being "aware" of my emotions and being able to understand them, instead of just feeling them and having it take over my entire day. That alone has helped me to manage some of the non-logical mood swings I have been having. And I want to say thank you for being someone I can talk to, since the average person would not be able to handle this constant stress on a daily basis. Truly thank you for giving me someone I can talk to. That alone is already making a difference for me. Thank you."
Angel89 (December 02, 2019)
Rating: [5 out of 5 stars!]
"This is a great system to address my pressing needs. The worksheets help focus my needs while having an expert therapist guide me through the process."
AO (October 25, 2019)
Rating: [4 out of 5 stars!]
"I find many of these tips and tricks useful and easy. I am hoping they will be something that will continue to help me in the future. The worksheets have been interesting and reflective. The videos are informative and the program is easy to follow. I have had a couple good sessions with my therapist, I wish that the sessions were longer. 30 minutes just isn't long enough to get all the information out. However she has given me some useful tricks for my bag that I can use to help me in times of need."
Anxious And Lonely (November 10, 2019)
Rating: [5 out of 5 stars!]
"Iv only been doing it for a couple of weeks but have noticed two major break threw in my thoughts and feelings ... looking forward to learning new information to help make life little easier"
Allenm01 (September 17, 2019)
Rating: [5 out of 5 stars!]
"I really enjoy the daily interaction with a therapist and find it better to communicate in writing where I can organize my thoughts as opposed to a face to face office visit."
Half Way (November 13, 2019)
Rating: [5 out of 5 stars!]
"This has been a very personalized experience and productive way to approach therapy. The online format forces me to do the work in thinking through the issues. It also keeps me from trying to get my therapist to "like" me-allowing me to be perhaps a bit more transparent than is comfortable for me in person. All in all, I would highly recommend this platform to anyone needing some help."
Productive And Personalized Online Therapy Service (November 25, 2019)
Sign up for online therapy today
Your therapist is ready to start the journey with you today - so what are you waiting for?