Overcome Your Agoraphobia with Online Therapy
Agoraphobia is an anxiety disorder characterized by irrational fears of public or open spaces. A person suffering from agoraphobia usually has previously had a panic attack in public and, therefore, avoids similar places or situations due to the fear of re-experiencing it.
Common places that are avoided are places that are difficult to easily escape like cinemas, churches, stores and traveling publicly by bus, train or airplane. If you avoid public situations like this due to the fear of having a panic attack and sometimes even isolate yourself at home, you might be suffering from agoraphobia.
If this sounds like you, please know you are not stuck; there are treatments that can help you. Our therapy for agoraphobia is based on cognitive behavioral therapy (CBT). CBT focuses on the negative thinking patterns and behaviors that contribute to your fear of having a panic attack and lead to avoidance. With the help of your therapist, you will slowly be exposed to real-life situations that cause your fear of a panic attack. While this may sound scary, it will be safe and will eventually help you overcome your fears. You will learn how to control your anxiety and to look at your fears in a more realistic light. As you progress through the treatment, the thought or experience of panic will become less petrifying. Eventually you will be able to cope with previously fearful situations so you can take control of your life again.
Sign up and start getting happier now
Your therapist is ready to start the journey with you today - so what are you waiting for?
Take our test & get instant help
Answer a few questions and get immediate results and recommendations. It only takes a few minutes, so let's get started!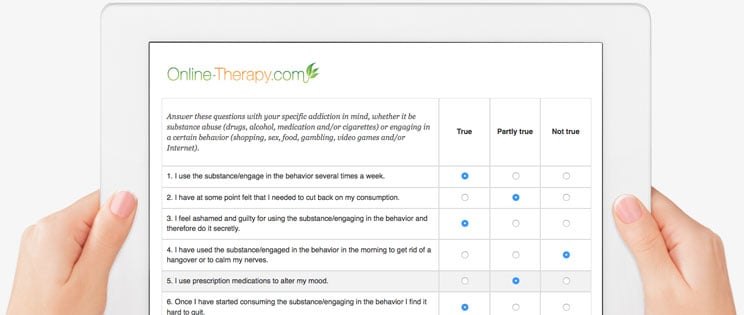 Reviews
Our online therapy services have received 1730 reviews and the average rating is 4.7 out of 5 stars.
Rating: [5 out of 5 stars!]
"So far ok"
Patty (July 26, 2021)
Rating: [5 out of 5 stars!]
"Joyce is so easy to connect with and I feel like she gets me and provides realistic, applicable advice and homework."
Road To Happiness (June 24, 2021)
Rating: [4 out of 5 stars!]
"I am about five months into using Online-Therapy.com and I'm so glad I started the program. I've tried therapy in the past, but I never found someone I really clicked with, and I always craved more guidance/exercises in addition to talking things out. Online-Therapy.com's self-guided worksheets and exercises act as a great supplement to a weekly chat with a therapist, and I've found this combination has really worked for me. I also think it is a great feature that you can switch your therapist if you feel like it's not a good fit--I wasn't completely happy with my first assigned therapist but after reading through other therapists' bios, I chose on my own and have been loving working with her ever since. I am rating the program four-stars because it is pretty expensive (although I'm working with my insurance to see if it's possible to get a small percentage reimbursed) and I've also had some issues with scheduling my weekly chats (the website is very strict about only scheduling four chats per pay period). Overall, I highly recommend trying out Online-Therapy.com and seeing if it works for you!"
Megan (June 24, 2021)
Rating: [5 out of 5 stars!]
"The therapist I had was amazing!! I definitely felt I received the full experience of receiving therapy even in a telehealth setting. The worksheets were also helpful."
Dillik123 (August 04, 2021)
Rating: [5 out of 5 stars!]
"I enjoyed setting goals for myself which are personal only to me. I liked that I had to identify different problems areas and work out a process to meet, achieve, and alleviate that problem.

The focus to be a positive person always was a great reminder there are always ups and downs in our lives. I have learned to be more positive with this class. I have learned to control my anger when speaking to my husband. Use of my tone of voice, speaking softly, not over speaking or talking over each other. Not trying to make him agitated, but controlling the conversation for a positive conversation. It's OK to not agree on everything, but advise him that you do not agree and that's your opinion. I also like the interaction with the therapist thru the computer and thru voice. I did not care for the typing of responses back and forth with the first therapist. The second therapist listed to my responses and provided me with written feedback in the different sections or journal."
Joannie (September 10, 2021)
Rating: [5 out of 5 stars!]
"Because of online therapy, I am feeling stronger and better everyday. It helps so much to know I can reach out at any time and message my therapist. She is supportive and kind and has changed my perspective on the challenges I face."
MelPS (August 14, 2021)
Rating: [4 out of 5 stars!]
"It's good to know that support is available."
Hope (July 06, 2021)
Rating: [5 out of 5 stars!]
"Support is great"
Support (July 08, 2021)
Rating: [5 out of 5 stars!]
"Online-therapy provides a complete platform. The combination of worksheets and live sessions is unique."
Better Than Expected (August 31, 2021)
Rating: [5 out of 5 stars!]
"So far, so good."
Review (September 03, 2021)
Sign up for online therapy today
Your therapist is ready to start the journey with you today - so what are you waiting for?
Have any questions?
Are you unsure of what program to choose or have any questions about our services? Check our FAQ to alleviate any concerns.