Overcome Your Agoraphobia with Online Therapy
Agoraphobia is an anxiety disorder characterized by irrational fears of public or open spaces. A person suffering from agoraphobia usually has previously had a panic attack in public and, therefore, avoids similar places or situations due to the fear of re-experiencing it.
Common places that are avoided are places that are difficult to easily escape like cinemas, churches, stores and traveling publicly by bus, train or airplane. If you avoid public situations like this due to the fear of having a panic attack and sometimes even isolate yourself at home, you might be suffering from agoraphobia.
If this sounds like you, please know you are not stuck; there are treatments that can help you. Our therapy for agoraphobia is based on cognitive behavioral therapy (CBT). CBT focuses on the negative thinking patterns and behaviors that contribute to your fear of having a panic attack and lead to avoidance. With the help of your therapist, you will slowly be exposed to real-life situations that cause your fear of a panic attack. While this may sound scary, it will be safe and will eventually help you overcome your fears. You will learn how to control your anxiety and to look at your fears in a more realistic light. As you progress through the treatment, the thought or experience of panic will become less petrifying. Eventually you will be able to cope with previously fearful situations so you can take control of your life again.
Sign up and start getting happier now
Your therapist is ready to start the journey with you today - so what are you waiting for?
RIGHT NOW:

Free therapy due to the coronavirus pandemic

We want to help as many people as possible during these extraordinary times.
Therefore we are offering parts of our online therapy platform for free.

The free access includes our online therapy program with 8 easy-to-follow sections and 25 worksheets, yoga and meditation videos, activity plan, journal, and tests (communicating with a personal therapist is not included).
Take our test & get instant help
Answer a few questions and get immediate results and recommendations. It only takes a few minutes, so let's get started!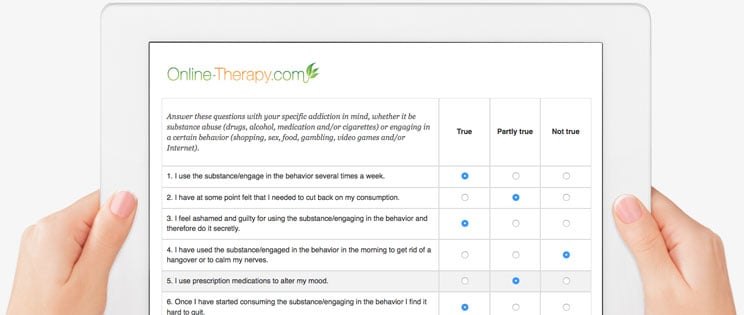 Reviews
Our online therapy services have received 754 reviews and the average rating is 4.6 out of 5 stars.
Rating: [4 out of 5 stars!]
"I like having a therapist to dialogue with and follow up on the worksheets. I do wish there were more worksheets, based on problem or focus area."
Review (March 11, 2020)
Rating: [5 out of 5 stars!]
"I've tried online therapy before and it had always stressed me out and made me feel worse.
But ever since using this site I've actually see the changes in myself. I never feel pressured and I love the worksheets that let me work at my own pace. I also love that I get feedback and I'm able to talk about it"
New Experience (May 14, 2020)
Rating: [4 out of 5 stars!]
"I haven't signed up for live chat sessions yet, so I can't fully review the site, but I love the worksheets and the feedback. It's very helpful."
Worksheets (May 19, 2020)
Rating: [5 out of 5 stars!]
"Good"
Ahb (May 16, 2020)
Rating: [5 out of 5 stars!]
"Quality videos and guided worksheets are clear and structured to allow me to do the work I need to do independently."
SerenityNow (May 11, 2020)
Rating: [5 out of 5 stars!]
"Great program!"
LK (May 03, 2020)
Rating: [5 out of 5 stars!]
"Lisa is an amazing therapist. She has really tailored her approach to my situation, consistently giving me relevant advice. She responds very quickly to messages and worksheet comments, and is upfront about her availabilities and what I can expect in terms of timeframe. While there are a few kinks to work on in terms of the online interface (being able to save live chat transcripts, having access to phone or video chat, some saving issues with the worksheets, etc), the program is very helpful. In order for it to be effective, you definitely need to be ready to put effort and reflection into the worksheets, as well as have targeted areas to work on during live sessions, taking into account and implementing your therapist's advice. Thank you Lisa!"
Em (May 25, 2020)
Rating: [5 out of 5 stars!]
"I would thoroughly recommend this course. I've only completed the free version so far and it's been a great help. I've done CBT twice before and although effective I've found that I didn't do enough worksheet work and journaling to tie in what I learnt from the face to face sessions. This course has addressed that exact shortcoming - I've written more in this course around my thoughts, feelings and behaviours into the structured CBT worksheets than I did in my last two sets of CBT courses combined. That's one set of 10 sessions and another of 12 sessions, so more than 22 sessions of CBT that cost £80 a session vs a free online course. I'll soon be upgrading to the standard membership so I can introduce a therapist to all my worksheets, journals and comments in all the parts of the course and it will be well worth the money to do that."
It's Been Fantastic!! (April 21, 2020)
Rating: [4 out of 5 stars!]
"Great directed questions, helpful!
Only four stars because the UI is a bit frustrating (but I work in IT and web development so I'm quite critical!)"
Bex (April 21, 2020)
Rating: [5 out of 5 stars!]
"This program is great and easy to follow. My mood test score has improved every week. Highly recommend."
Easy To Follow (April 28, 2020)
Sign up for online therapy today
Your therapist is ready to start the journey with you today - so what are you waiting for?