Overcome Your Agoraphobia with Online Therapy
Agoraphobia is an anxiety disorder characterized by irrational fears of public or open spaces. A person suffering from agoraphobia usually has previously had a panic attack in public and, therefore, avoids similar places or situations due to the fear of re-experiencing it.
Common places that are avoided are places that are difficult to easily escape like cinemas, churches, stores and traveling publicly by bus, train or airplane. If you avoid public situations like this due to the fear of having a panic attack and sometimes even isolate yourself at home, you might be suffering from agoraphobia.
If this sounds like you, please know you are not stuck; there are treatments that can help you. Our therapy for agoraphobia is based on cognitive behavioral therapy (CBT). CBT focuses on the negative thinking patterns and behaviors that contribute to your fear of having a panic attack and lead to avoidance. With the help of your therapist, you will slowly be exposed to real-life situations that cause your fear of a panic attack. While this may sound scary, it will be safe and will eventually help you overcome your fears. You will learn how to control your anxiety and to look at your fears in a more realistic light. As you progress through the treatment, the thought or experience of panic will become less petrifying. Eventually you will be able to cope with previously fearful situations so you can take control of your life again.
Sign up and start getting happier now
Your therapist is ready to start the journey with you today - so what are you waiting for?
Take our test & get instant help
Answer a few questions and get immediate results and recommendations. It only takes a few minutes, so let's get started!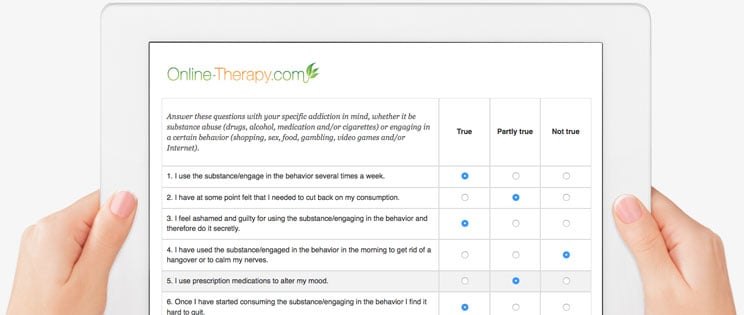 Reviews
Our online therapy services have received 2137 reviews and the average rating is 4.7 out of 5 stars.
Rating: [5 out of 5 stars!]
"li laurent is my therapist.
its my first time to ever talk to a therapist.
she was very direct with her response and quick.
i felt like it was easy for me to open up.
the worksheets help alot. it's life changing.
some things you dont really realize until you write them down and really open up."
The Power Of 3 (May 12, 2022)
Rating: [5 out of 5 stars!]
"The therapy sessions are really great and helpful. But then there are also all the extra worksheets which you can do outside of therapy and that just makes this programme the best."
EKM (May 03, 2022)
Rating: [4 out of 5 stars!]
"Good and reliable"
Nik (March 02, 2022)
Rating: [4 out of 5 stars!]
"Helpful and understanding"
K87 (March 28, 2022)
Rating: [5 out of 5 stars!]
"A am going through a divorce after 25 years and, things are not very good with my work environment. I was very skeptical of online therapy but, there was a six month wait for a therapist where I live. A friend encouraged me to try out online therapy and I am so pleased that I listened. When things get this bad, friends can only help so much before you start to become a burden that starts to destabilize their lives. I knew a trained professional was the only way to get solid guidance and improve the stability in my life without driving my friend away. My experience, so far, has been very positive. Guidance from someone that is trained and has no alliances and no dog in your personal fight has been incredibly helpful to me. My closest friend has noticed so much of a change for the positive in me that, even though I am between projects, on unemployment and fairly low on available funds, he is helping me to afford to stay in this program. It was so important to him, he has gone way out of his way to help. We are only in the beginning stages of this but, it has helped beyond belief just to know that I can speak and message with a trained professional and, that she has my back. Joining online therapy was the best choice that I made in this entire mess!"
Swaggs (May 25, 2022)
Rating: [5 out of 5 stars!]
"I adore my therapist. I love the worksheets and the messaging options. It is super convenient to use and I feel really supported."
Colleen (April 30, 2022)
Rating: [5 out of 5 stars!]
"Very helpful"
Em (March 15, 2022)
Rating: [4 out of 5 stars!]
"The therapy has been very good and Melissa is wonderful. I just struggle to schedule a session each week."
First Review (March 04, 2022)
Rating: [5 out of 5 stars!]
"It's been great being able to go at my own pace!"
Samantha (April 19, 2022)
Rating: [4 out of 5 stars!]
"i actually find it helpful an i was reluctant to think it would help. i havent gotten that far into my therapy due ton a payment issue but that is now resolved band im excited to see the real end result"
Facts (May 10, 2022)
Sign up for online therapy today
Your therapist is ready to start the journey with you today - so what are you waiting for?
Have any questions?
Are you unsure of what program to choose or have any questions about our services? Check our FAQ to alleviate any concerns.