Overcome Your Agoraphobia with Online Therapy
Agoraphobia is an anxiety disorder characterized by irrational fears of public or open spaces. A person suffering from agoraphobia usually has previously had a panic attack in public and, therefore, avoids similar places or situations due to the fear of re-experiencing it.
Common places that are avoided are places that are difficult to easily escape like cinemas, churches, stores and traveling publicly by bus, train or airplane. If you avoid public situations like this due to the fear of having a panic attack and sometimes even isolate yourself at home, you might be suffering from agoraphobia.
If this sounds like you, please know you are not stuck; there are treatments that can help you. Our therapy for agoraphobia is based on cognitive behavioral therapy (CBT). CBT focuses on the negative thinking patterns and behaviors that contribute to your fear of having a panic attack and lead to avoidance. With the help of your therapist, you will slowly be exposed to real-life situations that cause your fear of a panic attack. While this may sound scary, it will be safe and will eventually help you overcome your fears. You will learn how to control your anxiety and to look at your fears in a more realistic light. As you progress through the treatment, the thought or experience of panic will become less petrifying. Eventually you will be able to cope with previously fearful situations so you can take control of your life again.
Sign up and start getting happier now
Your therapist is ready to start the journey with you today - so what are you waiting for?
Take our test & get instant help
Answer a few questions and get immediate results and recommendations. It only takes a few minutes, so let's get started!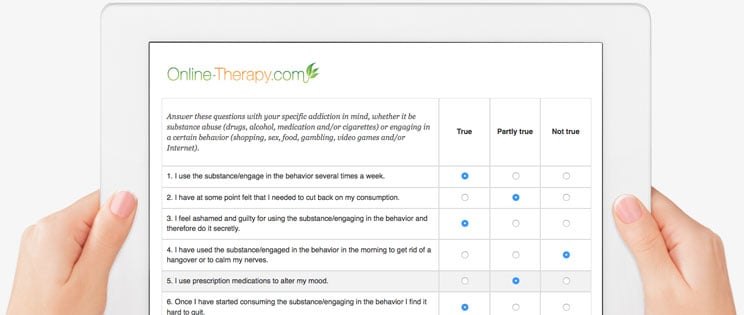 Reviews
Our online therapy services have received 1461 reviews and the average rating is 4.7 out of 5 stars.
Rating: [5 out of 5 stars!]
"This has been a wonderful experience. The schedule is flexible so I can schedule around my chaos. And they found a wonderful fit with my therapist. We share values and she has been a huge help."
Justme (February 10, 2021)
Rating: [4 out of 5 stars!]
"I am loving my therapist and learning so much about myself and how to live with greater peace"
Kari (April 09, 2021)
Rating: [5 out of 5 stars!]
"Awesome service. Really changed my outlook on life and helped me through one of the hardest times in my life."
Jeremy (February 26, 2021)
Rating: [4 out of 5 stars!]
"Developing a routine via the journals and working through the worksheets has been really helpful for developing myself. My therapist has been very helpful and every conversation I take away something valuable"
Guy (March 24, 2021)
Rating: [3 out of 5 stars!]
"Its been good learning about the Emotions and ways to identify them"
First Review (March 03, 2021)
Rating: [5 out of 5 stars!]
"The online worksheets and videos really helped to get me thinking about the ways I am feeling. I like them because a lot of the content I can really relate to and it feels like I finally have a way of understanding what is going on inside my head and a way to put it into words. The live sessions with my therapist have also helped to get me to start thinking about ways I can challenge my negative thoughts and ways to destress."
Nicola (March 01, 2021)
Rating: [4 out of 5 stars!]
"I will proceed by reviewing various aspects that comprise my overall rating:

Therapist (5 stars)
The therapist selection is pretty diverse and there are many great licensed people to choose from. I really get along with mine and they are very understanding. It feels great to talk to someone free of judgment or self-censorship. She also seems dedicated to her work and helping others reach their healthiest, most ideal self. She creates an atmosphere that allows me to open up more than anyone I've encountered in my life, besides a couple people.

Pricing (4 stars)
The pricing isn't too bad, really. Around $200/month for one weekly 30-minute live session is a good deal. As a college student, I do wish they offered some sort of discount because as necessary as this is, I don't know how much longer I can afford it.

Model (3 stars)
The weekly sessions should really be the standard one hour to get the most for your money because that's where this program shines. The worksheets and whatnot are helpful for self-awareness and figuring out where you need the most work, but without someone with a professional degree who can help steer and direct you, it sort of falls flat. The chat session offered with the cheapest option doesn't really do much. The video/voice calls that mimic in-person therapy are far more effective. It is often difficult to schedule appointments weekly at a good time, even if you do it a week in advance.

Value (4 stars)
I think overall this program is definitely worth it if you know you are ready to invest a lot of time, money, and effort into improving yourself, not just wanting to complain about your issues endlessly and hoping to find sympathy or being closed off to talking about deep issues with a therapist. I was both of these things but soon realized what it would take to actually improve my mental health.

Overall: I benefitted from this program, especially during the pandemic when many mental health clinics were closed. The top reasons I would join/stay would be if one is financially able to sacrifice a few hundred a month and if one is okay with video calls as a therapy session model. The worksheets also come in handy for exploring your feelings and understanding why you are having problems and how to change how you think about your life."
Girl (April 22, 2021)
Rating: [5 out of 5 stars!]
"This program really helped me during a very difficult time in my life when I found myself an extremely negative mindset and depressed. It helped me be more objective about my thoughts and gave me practical steps on how to adopt a healthier mindset. I felt very supported my the feedback from my therapist and each day I could feel a slight improvement in my mood. Figuring out my life values gave me long term goals to focus on and to take with me throughout my life."
Sinead (March 21, 2021)
Rating: [5 out of 5 stars!]
"I love how you can do this on your own time and it gives you amazing tools!"
Great! (April 06, 2021)
Rating: [4 out of 5 stars!]
"I really enjoyed the program. It really helped me think about what I struggle with and ways to make it easier.
My therapist hasn't always been the easiest to get an appointment with, but when we are together she's really helped me.
Last weekend for the first time I felt like ZERO anxiety. Just happiness and obviously lots to do as a busy mom -- but I wasn't worried about it. This week some issues have cropped up and I have felt anxiety but i have tools to help me calm down, and I do feel it abating...."
Hil (April 23, 2021)
Sign up for online therapy today
Your therapist is ready to start the journey with you today - so what are you waiting for?
Have any questions?
Are you unsure of what program to choose or have any questions about our services? Check our FAQ to alleviate any concerns.