Overcome Your Agoraphobia with Online Therapy
Agoraphobia is an anxiety disorder characterized by irrational fears of public or open spaces. A person suffering from agoraphobia usually has previously had a panic attack in public and, therefore, avoids similar places or situations due to the fear of re-experiencing it.
Common places that are avoided are places that are difficult to easily escape like cinemas, churches, stores and traveling publicly by bus, train or airplane. If you avoid public situations like this due to the fear of having a panic attack and sometimes even isolate yourself at home, you might be suffering from agoraphobia.
If this sounds like you, please know you are not stuck; there are treatments that can help you. Our therapy for agoraphobia is based on cognitive behavioral therapy (CBT). CBT focuses on the negative thinking patterns and behaviors that contribute to your fear of having a panic attack and lead to avoidance. With the help of your therapist, you will slowly be exposed to real-life situations that cause your fear of a panic attack. While this may sound scary, it will be safe and will eventually help you overcome your fears. You will learn how to control your anxiety and to look at your fears in a more realistic light. As you progress through the treatment, the thought or experience of panic will become less petrifying. Eventually you will be able to cope with previously fearful situations so you can take control of your life again.
Sign up and start getting happier now
Your therapist is ready to start the journey with you today - so what are you waiting for?
Take our test & get instant help
Answer a few questions and get immediate results and recommendations. It only takes a few minutes, so let's get started!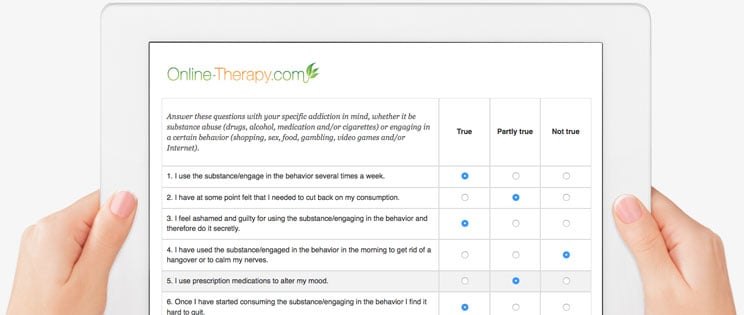 Reviews
Our online therapy services have received 1075 reviews and the average rating is 4.7 out of 5 stars.
Rating: [5 out of 5 stars!]
"Such a great program!"
October 2nd 2020 (October 03, 2020)
Rating: [4 out of 5 stars!]
"Overall I like how structured this program was. I enjoyed the videos and the activities. I thought the thought traps were a great way of seeing how my thoughts work and what is causing these negative thoughts. It also made me aware of how I can change the way I think of things."
New Way Of Thinking (October 14, 2020)
Rating: [4 out of 5 stars!]
"It's going ok"
Cool (September 24, 2020)
Rating: [5 out of 5 stars!]
"I strongly recommend this program.
I like the way it is structured and the different ways you can take the course. I feel i have improved a lot with the free version, worksheets are great and helped me look at my problems from a different angle.

The only inconvenience i had is that i thought i was going to receive written feedback, which i didn't. But i guess its because of the FREE program."
TA DAA! (October 20, 2020)
Rating: [5 out of 5 stars!]
"Therapist was great, knew her stuff. Support team was awesome and I'd recommend them."
Joker (August 31, 2020)
Rating: [5 out of 5 stars!]
"Very convenient and the regular check ins are great."
Sophie (November 15, 2020)
Rating: [5 out of 5 stars!]
"This has been a wonderful experience & I'm learning so much about my emotions & how best to deal with them. My therapist has been a tremendous help in this new journey & I look forward to the end result."
Becca (November 02, 2020)
Rating: [5 out of 5 stars!]
"I particularly like my therapist. She's a great fit for me in both personalities and in her field of expertise. I don't know if someone read my opening information and matched us or it was pure chance, but I'm thankful.

The weekly appointments are super helpful, and the constant feedback on worksheets keeps me motivated to keep pushing myself to get better. In traditional therapy I always found that I would work very hard right after an appointment but my will to continue would subside long before my next appointment; with this program, though, I hardly go 2+ days without accessing my worksheets, picking up assigned readings, or having a video chat. The near-constant contact is helping me to build new, better habits."
Sam (October 15, 2020)
Rating: [5 out of 5 stars!]
"Very well laid out worksheets that your therapist can respond to."
Trent (September 13, 2020)
Rating: [5 out of 5 stars!]
"I really appreciate the fact that I can do the sessions taking my time and that my therapist helps me by giving me the tools so I can challenge a certain thought pattern/behavior."
Laurent (September 21, 2020)
Sign up for online therapy today
Your therapist is ready to start the journey with you today - so what are you waiting for?
Have any questions?
Are you unsure of what program to choose or have any questions about our services? Check our FAQ to alleviate any concerns.