Overcome Your Agoraphobia with Online Therapy
Agoraphobia is an anxiety disorder characterized by irrational fears of public or open spaces. A person suffering from agoraphobia usually has previously had a panic attack in public and, therefore, avoids similar places or situations due to the fear of re-experiencing it.
Common places that are avoided are places that are difficult to easily escape like cinemas, churches, stores and traveling publicly by bus, train or airplane. If you avoid public situations like this due to the fear of having a panic attack and sometimes even isolate yourself at home, you might be suffering from agoraphobia.
If this sounds like you, please know you are not stuck; there are treatments that can help you. Our therapy for agoraphobia is based on cognitive behavioral therapy (CBT). CBT focuses on the negative thinking patterns and behaviors that contribute to your fear of having a panic attack and lead to avoidance. With the help of your therapist, you will slowly be exposed to real-life situations that cause your fear of a panic attack. While this may sound scary, it will be safe and will eventually help you overcome your fears. You will learn how to control your anxiety and to look at your fears in a more realistic light. As you progress through the treatment, the thought or experience of panic will become less petrifying. Eventually you will be able to cope with previously fearful situations so you can take control of your life again.
Sign up and start getting happier now
Your therapist is ready to start the journey with you today - so what are you waiting for?
Take our test & get instant help
Answer a few questions and get immediate results and recommendations. It only takes a few minutes, so let's get started!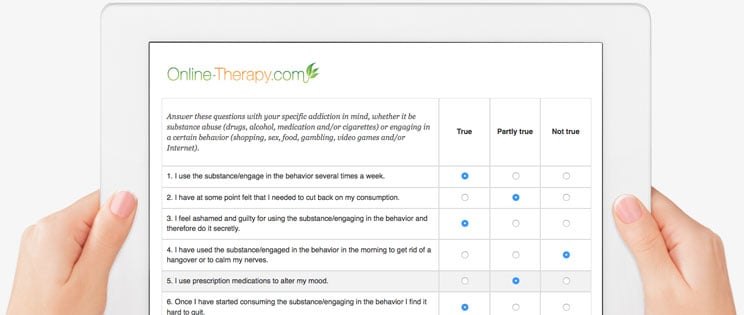 Reviews
Our online therapy services have received 2670 reviews and the average rating is 4.7 out of 5 stars.
Rating: [5 out of 5 stars!]
"This course is very easy to follow. It allows for mulitple different levels of therapist interaction based off how much you want to spend, or however much interaction you want and need. The course has given me tools I use every day to get in control of my emotions. It has shown me ways that I can help myself. It has allowed me to open my mind more to my situations both present and past and allow me to see things about myself or my wife that I could not before. I am very glad I chose this course."
The Guidance Needed To Heal (April 13, 2023)
Rating: [5 out of 5 stars!]
"👍"
Sar (May 01, 2023)
Rating: [5 out of 5 stars!]
"Amazing service at your finger tips! I love being able to do sessions from the comfort of my home. I start the session feeling relaxed and in control and the therapists are incredible!"
Lana (March 24, 2023)
Rating: [5 out of 5 stars!]
"I was incredibly nervous starting therapy but found a lot of comfort in my therapist. The additional features like worksheets are helpful, and I'm able to schedule on my own time."
A Welcoming Start (April 18, 2023)
Rating: [5 out of 5 stars!]
"If you are ready to do the work this is a strong resource. It had a profound impact on my life in a short time."
Belief (May 27, 2023)
Rating: [5 out of 5 stars!]
"Online-therapy has been great because it gave me the option for twice per week sessions, a service that is hard to find! I have had a fantastic experience so far!"
Emily (March 28, 2023)
Rating: [5 out of 5 stars!]
"I love my therapist danielle she has been so kind and helpful. She has helped cope with alot in a short period of time."
Melissa (April 10, 2023)
Rating: [5 out of 5 stars!]
"My therapist has been a true Angel. I am overcoming my anger issues and anxiety problems… I have also better my relationship with my wife and even got her into therapy as well. I give you 5 stars for the great job you guys are doing. Thanks for all the help. I appreciate you guys. Much respect"
Grumpy (April 21, 2023)
Rating: [4 out of 5 stars!]
"This was my first time doing therapy., I like how easy and accessible it is and am glad I gave it a try."
E.B. (March 09, 2023)
Rating: [5 out of 5 stars!]
"Shawn is a wonderful therapist! She has helped my partner and I become a stronger couple, but she has also helped us grow so much individually! We are better communicators and listeners now. Shawn has helped us to understand each other better and has given us practical tips so we can get through conflict as team. I have applied much of her advice to life situations outside of our relationship too. Shawn is warm, caring, honest, and professional. She is everything I was looking for in a therapist!"
Kelly (April 10, 2023)
Sign up for online therapy today
Your therapist is ready to start the journey with you today - so what are you waiting for?
Have any questions?
Are you unsure of what program to choose or have any questions about our services? Check our FAQ to alleviate any concerns.