Overcome Your Agoraphobia with Online Therapy
Agoraphobia is an anxiety disorder characterized by irrational fears of public or open spaces. A person suffering from agoraphobia usually has previously had a panic attack in public and, therefore, avoids similar places or situations due to the fear of re-experiencing it.
Common places that are avoided are places that are difficult to easily escape like cinemas, churches, stores and traveling publicly by bus, train or airplane. If you avoid public situations like this due to the fear of having a panic attack and sometimes even isolate yourself at home, you might be suffering from agoraphobia.
If this sounds like you, please know you are not stuck; there are treatments that can help you. Our therapy for agoraphobia is based on cognitive behavioral therapy (CBT). CBT focuses on the negative thinking patterns and behaviors that contribute to your fear of having a panic attack and lead to avoidance. With the help of your therapist, you will slowly be exposed to real-life situations that cause your fear of a panic attack. While this may sound scary, it will be safe and will eventually help you overcome your fears. You will learn how to control your anxiety and to look at your fears in a more realistic light. As you progress through the treatment, the thought or experience of panic will become less petrifying. Eventually you will be able to cope with previously fearful situations so you can take control of your life again.
Sign up and start getting happier now
Your therapist is ready to start the journey with you today - so what are you waiting for?
Take our test & get instant help
Answer a few questions and get immediate results and recommendations. It only takes a few minutes, so let's get started!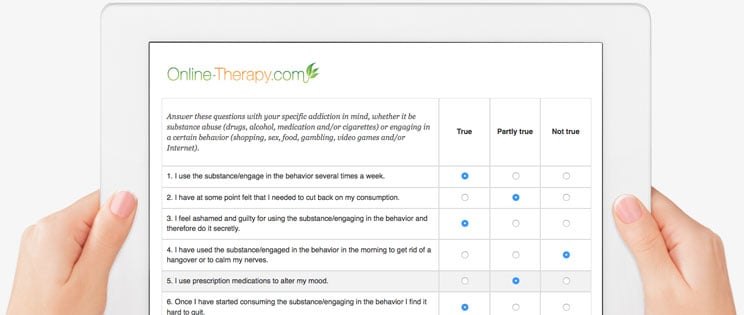 Reviews
Our online therapy services have received 520 reviews and the average rating is 4.6 out of 5 stars.
Rating: [5 out of 5 stars!]
"Great way to get assistance in changing bad habits and embracing my happy!"
Crispy (March 28, 2019)
Rating: [5 out of 5 stars!]
"Love the yoga! It helps me return to a good place."
Jstlou (February 02, 2019)
Rating: [5 out of 5 stars!]
"I would really like to thank Maggie for all the help she has given me past few months, I'm not sure where I would be without her help, those were some pretty difficult times for me and I really appreciate all she has done! I often use the tools I've learned in course to help me cope in certain situations and look forward to using them in the future. I won't hesitate in the future to subscribe to your site in the future if need be.."
CT (February 08, 2019)
Rating: [5 out of 5 stars!]
"I stayed with this programme for 10 months and I can highly recommend this form of therapy. The fact that you can work when you want, reread the comments or chats until your really understand gives this an enormous advantage over classic face to face therapy where you can easily forget all of what was said.
Maggie, my therapist, gave me so much help and hope over the past ten months. I will always be grateful to her for that. She helped me out of a black hole. I have been copying out some of the stuff I have written over the months and I can hardly believe the difference. It helps me remember how I was, but I have certainly changed, I can see that. It's wonderful !!"
Less Stressed (February 01, 2019)
Rating: [5 out of 5 stars!]
"I had my first chat with my Therapist on Wednesday and I found it very beneficial and motivating. I'm liking the service so far, quick responses from my therapist and the material makes me think but not stress."
Review (March 15, 2019)
Rating: [5 out of 5 stars!]
"So far the customer service has been outstanding! There was an issue with my initial registration and the assistance they provided was extremely unexpected. They had one representative work with me until the it was fully resolved. I received emails without any prompting from me. They handled it well, quickly and in a very personable manner."
Light At End Of Tunnel (February 22, 2019)
Rating: [4 out of 5 stars!]
"I find the program very structured and easy to follow. Looking forward to seeing the improvements in myself."
Javi (January 23, 2019)
Rating: [5 out of 5 stars!]
"I love the service online therapy has provided to me so far. My therapist has helped me a lot and I can see the difference so clearly."
Sweet (March 06, 2019)
Rating: [5 out of 5 stars!]
"It's great."
Jane (January 29, 2019)
Rating: [5 out of 5 stars!]
"Awesome, really helped."
Jen (March 22, 2019)
Sign up for online therapy today
Your therapist is ready to start the journey with you today - so what are you waiting for?