Overcome Your Agoraphobia with Online Therapy
Agoraphobia is an anxiety disorder characterized by irrational fears of public or open spaces. A person suffering from agoraphobia usually has previously had a panic attack in public and, therefore, avoids similar places or situations due to the fear of re-experiencing it.
Common places that are avoided are places that are difficult to easily escape like cinemas, churches, stores and traveling publicly by bus, train or airplane. If you avoid public situations like this due to the fear of having a panic attack and sometimes even isolate yourself at home, you might be suffering from agoraphobia.
If this sounds like you, please know you are not stuck; there are treatments that can help you. Our therapy for agoraphobia is based on cognitive behavioral therapy (CBT). CBT focuses on the negative thinking patterns and behaviors that contribute to your fear of having a panic attack and lead to avoidance. With the help of your therapist, you will slowly be exposed to real-life situations that cause your fear of a panic attack. While this may sound scary, it will be safe and will eventually help you overcome your fears. You will learn how to control your anxiety and to look at your fears in a more realistic light. As you progress through the treatment, the thought or experience of panic will become less petrifying. Eventually you will be able to cope with previously fearful situations so you can take control of your life again.
Sign up and start getting happier now
Your therapist is ready to start the journey with you today - so what are you waiting for?
Take our test & get instant help
Answer a few questions and get immediate results and recommendations. It only takes a few minutes, so let's get started!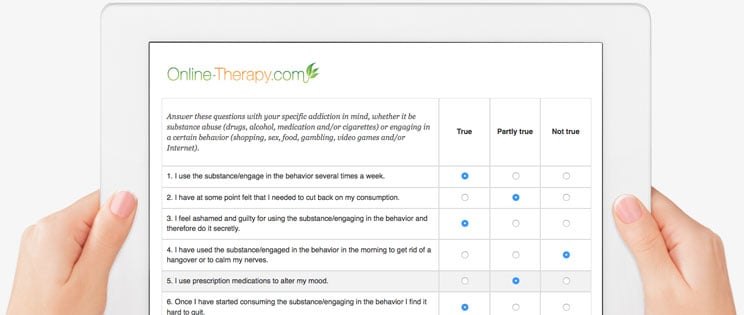 Reviews
Our online therapy services have received 2430 reviews and the average rating is 4.7 out of 5 stars.
Rating: [5 out of 5 stars!]
"Would recommend this app for cognitive behavior therapy. Really love the chat function and the worksheets."
Brittany (October 09, 2022)
Rating: [5 out of 5 stars!]
"I am thoroughly enjoying this process. My Therapist is excellent and professional in all respects. I look forward to each session."
Oldsalt66 (September 25, 2022)
Rating: [5 out of 5 stars!]
"This was just what I needed! A terrific therapist (Dr. Cannady), some insightful homework, and tools that I can take into my daily routine to improve my mental health. I highly recommend!"
Great! (October 10, 2022)
Rating: [5 out of 5 stars!]
"Although I was sceptical a bit at the beginning, I must admit that after couple of months I can see improvements I made in my everyday life with the help of my assigned therapist. She made me see or question things I overlooked, came up with useful suggestions, appreciated when I shared my recent small success. She's always full of understanding, brings calm energy to the table, I feel I can trust her and she won't judge me. I'm glad I decided to take this path and can't wait for more results in the future."
Francis (November 15, 2022)
Rating: [5 out of 5 stars!]
"The worksheets help me focus on progress and changes I can make, and my therapist helps me explore it even more."
Amy (September 13, 2022)
Rating: [5 out of 5 stars!]
"I was matched with a very good therapist and the dashboard is simple to use and user-friendly"
Joe (September 22, 2022)
Rating: [5 out of 5 stars!]
"This is my second site and second therapist on this site. It really takes making a connection with someone you trust and has the skills to help you improve."
Hopeful (November 18, 2022)
Rating: [5 out of 5 stars!]
"the check in process was very smooth and easy. i thought i could pay weekly, so when i realized it was a month at once, i had to wait a few weeks. All my info was saved."
Mitzi (September 14, 2022)
Rating: [5 out of 5 stars!]
"Only my second week but I feel much better knowing I have your help. Your methods are very good. Doing the worksheets helped me understand why I feel like I do. thank you."
Jeff (October 12, 2022)
Rating: [5 out of 5 stars!]
"I'm glad to be addressing my anxieties, and glad to be using the solution-based CBT method. I did years of (very helpful) talk therapy when I was a young adult, but at this point I know what my issues are and appreciate dealing with them specifically. My therapist is responsive and has a sense of humor, which I appreciate."
I'm Glad To Be Doing This (November 01, 2022)
Sign up for online therapy today
Your therapist is ready to start the journey with you today - so what are you waiting for?
Have any questions?
Are you unsure of what program to choose or have any questions about our services? Check our FAQ to alleviate any concerns.