Overcome Your Agoraphobia with Online Therapy
Agoraphobia is an anxiety disorder characterized by irrational fears of public or open spaces. A person suffering from agoraphobia usually has previously had a panic attack in public and, therefore, avoids similar places or situations due to the fear of re-experiencing it.
Common places that are avoided are places that are difficult to easily escape like cinemas, churches, stores and traveling publicly by bus, train or airplane. If you avoid public situations like this due to the fear of having a panic attack and sometimes even isolate yourself at home, you might be suffering from agoraphobia.
If this sounds like you, please know you are not stuck; there are treatments that can help you. Our therapy for agoraphobia is based on cognitive behavioral therapy (CBT). CBT focuses on the negative thinking patterns and behaviors that contribute to your fear of having a panic attack and lead to avoidance. With the help of your therapist, you will slowly be exposed to real-life situations that cause your fear of a panic attack. While this may sound scary, it will be safe and will eventually help you overcome your fears. You will learn how to control your anxiety and to look at your fears in a more realistic light. As you progress through the treatment, the thought or experience of panic will become less petrifying. Eventually you will be able to cope with previously fearful situations so you can take control of your life again.
Sign up and start getting happier now
Your therapist is ready to start the journey with you today - so what are you waiting for?
Take our test & get instant help
Answer a few questions and get immediate results and recommendations. It only takes a few minutes, so let's get started!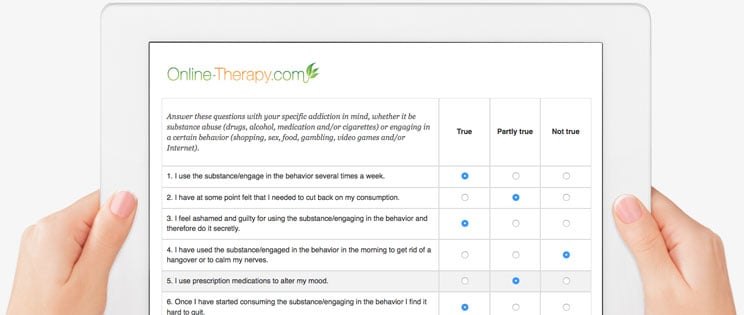 Reviews
Our online therapy services have received 2585 reviews and the average rating is 4.7 out of 5 stars.
Rating: [5 out of 5 stars!]
"Dr Gates met all my expectations. Not sure how it happened, but I have let go of some of my problems and worries that I was carrying around. Still got some work to do but, I'm headed in the right direction."
Super (March 24, 2023)
Rating: [5 out of 5 stars!]
"Worksheets are very helpful. By writing and expressing my thoughts, feelings and emotions, I find more of those hidden in me."
YM (February 21, 2023)
Rating: [5 out of 5 stars!]
"I came to Online-Therapy.com a depressed, angry person.

I'm not that person anymore. I'm not saying that I'm completely cured - but I feel better about myself than I've done for a long long time, I have a structure in place to help me when life gets overwhelming - and that's all because of the program."
Changes (January 10, 2023)
Rating: [4 out of 5 stars!]
"This was my first time doing therapy., I like how easy and accessible it is and am glad I gave it a try."
E.B. (March 09, 2023)
Rating: [5 out of 5 stars!]
"I realized how amazing your services are from my first session with my therapist. My therapist is so experienced. From only one session, she not only got to the root of some of my ongoing problems but she also gave possible solutions for my problems. Her insight was spot on especially since she did not know me fully and was able to help me from my first session."
Queen (February 10, 2023)
Rating: [5 out of 5 stars!]
"I feel very good about myself since having someone to bounce things off of. Self diagnosis is the worst and the need to vent about your problems is invaluable. I find myself being more confident in my opinion even after a few weeks of letting things out on paper with my therapist. It is very liberating. I know my problems are probably minor compared to some but they are my inner demons and it feels good to let them out."
Dk612 (February 04, 2023)
Rating: [5 out of 5 stars!]
"I really like this program and it has been very beneficial so far."
Martino (January 10, 2023)
Rating: [5 out of 5 stars!]
"It's been amazing using this website. My therapist has been super helpful and it's super convenient that I can do it anytime I want. Really glad I don't have to see anybody in person but I love having the option to video chat if I want to. I recommend this to all my friends and family who want to start therapy."
Lexi (March 14, 2023)
Rating: [5 out of 5 stars!]
"my first therapist I would rate a 2 star. but my new one is a 5 star."
After My First Therapist (February 14, 2023)
Rating: [5 out of 5 stars!]
"She is an amazing therapist. She helps me realize I need to learn how to reject others and understand more my emotional needs!"
Shirley (February 28, 2023)
Sign up for online therapy today
Your therapist is ready to start the journey with you today - so what are you waiting for?
Have any questions?
Are you unsure of what program to choose or have any questions about our services? Check our FAQ to alleviate any concerns.