Overcome Anger Problems with Online Therapy
Do you lash out verbally when someone cuts you off in traffic or does your blood pressure go through the roof when something does not go your way? Feeling angry is a perfectly normal and healthy instinct. However, when anger is excessive or uncontrollable, it becomes destructive and can lead to problems at work, in your relationships and in your overall life.
When you are uncontrollably angry, it is normal to say and do things you do not really mean but the impulse to react is too strong at that moment. When your anger gets out of control, the consequences can be very serious. There are no limits to what it will lead to for yourself and others.
Our anger management is based on cognitive behavioral therapy (CBT). To get in control of your anger, you must challenge the thoughts and behaviors that cause the anger. With the guidance of your therapist, you will be able to identify your personal triggers that make you angry with yourself or others and you will learn how to react in proportion to these triggers. You will be able to respond to your anger in a totally different way, by just letting go of the anger or acting in a different and more harmonious way. With the help of CBT, you will learn to accept and forgive and develop self-control over your thoughts and actions so that you can live life without excessive and uncontrollable anger.
Sign up and start getting happier now
Your therapist is ready to start the journey with you today - so what are you waiting for?
RIGHT NOW:

Free therapy due to the coronavirus pandemic

We want to help as many people as possible during these extraordinary times.
Therefore we are offering parts of our online therapy platform for free.

The free access includes our online therapy program with 8 easy-to-follow sections and 25 worksheets, yoga and meditation videos, activity plan, journal, and tests (communicating with a personal therapist is not included).
Take our test & get instant help
Answer a few questions and get immediate results and recommendations. It only takes a few minutes, so let's get started!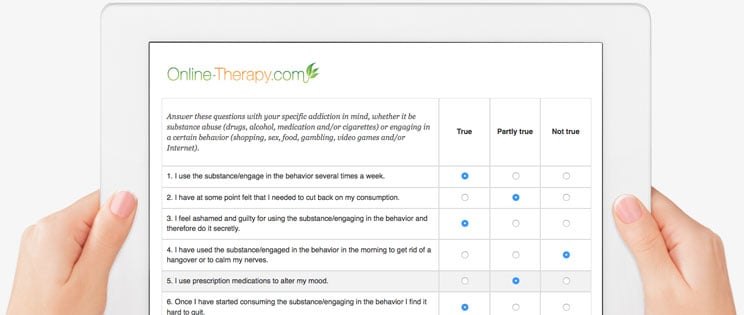 Reviews
Our online therapy services have received 833 reviews and the average rating is 4.6 out of 5 stars.
Rating: [5 out of 5 stars!]
"Excellent service, very efficient."
Sundance (June 05, 2020)
Rating: [5 out of 5 stars!]
"I am very happy with everything I've experienced so far, especially the feedback my therapist has given me. I love how easy the program is to follow and getting personal feedback on each of the worksheets has been so helpful. It's a lot of hard work but I'm convinced that it will all be well worth it in the end!"
Katie Rose (April 17, 2020)
Rating: [3 out of 5 stars!]
"I just starting out"
Getting There (May 03, 2020)
Rating: [5 out of 5 stars!]
"I think your programs are awesome I'd been working with your worksheets and its really helpful. I'd been managing my emotions in a better way"
The Procrastinator (June 26, 2020)
Rating: [4 out of 5 stars!]
"Happy with it so far"
June (June 15, 2020)
Rating: [5 out of 5 stars!]
"Online-Therapy.com has been such a great resource for me! I love how I can work on everything at my own pace and schedule. I love how I can finish a worksheet and get feedback from my therapist. I truly feel the therapists on here truly want to help you. Even though I am only a few weeks in I am so grateful I found online-therapy. If anyone is considering trying it I would definitely say go for it!"
JL (May 17, 2020)
Rating: [5 out of 5 stars!]
"This has been proving to be a great resource. I like how direct the program is with identifying problematic thoughts, emotions and behaviors. Then you get a back and forth conversation with a therapist that helps identify things that would have otherwise been overlooked.

I'm about a third of the way through the program, but have been taking my time to flesh things out. This definitely is one of those "you get out what you put in" situations. Looking forward to completing the program."
Finding And Fixing My Issues (May 07, 2020)
Rating: [5 out of 5 stars!]
"I love this"
Mads (April 27, 2020)
Rating: [5 out of 5 stars!]
"Great source of data. Self driven work flow and worksheets allows for easy to confront formula for what can be difficult areas to address. The therapist support helps drive accountability and is a great sounding board."
Commitedtohealing (May 05, 2020)
Rating: [5 out of 5 stars!]
"I just started. Looking forward to my mental heath journey."
Charmain (July 02, 2020)
Sign up for online therapy today
Your therapist is ready to start the journey with you today - so what are you waiting for?
Have any questions?
Are you unsure of what program to choose or have any questions about our services? Check our FAQ to alleviate any concerns.