Overcome Anger Problems with Online Therapy
Do you lash out verbally when someone cuts you off in traffic or does your blood pressure go through the roof when something does not go your way? Feeling angry is a perfectly normal and healthy instinct. However, when anger is excessive or uncontrollable, it becomes destructive and can lead to problems at work, in your relationships and in your overall life.
When you are uncontrollably angry, it is normal to say and do things you do not really mean but the impulse to react is too strong at that moment. When your anger gets out of control, the consequences can be very serious. There are no limits to what it will lead to for yourself and others.
Our anger management is based on cognitive behavioral therapy (CBT). To get in control of your anger, you must challenge the thoughts and behaviors that cause the anger. With the guidance of your therapist, you will be able to identify your personal triggers that make you angry with yourself or others and you will learn how to react in proportion to these triggers. You will be able to respond to your anger in a totally different way, by just letting go of the anger or acting in a different and more harmonious way. With the help of CBT, you will learn to accept and forgive and develop self-control over your thoughts and actions so that you can live life without excessive and uncontrollable anger.
Sign up and start getting happier now
Your therapist is ready to start the journey with you today - so what are you waiting for?
Take our test & get instant help
Answer a few questions and get immediate results and recommendations. It only takes a few minutes, so let's get started!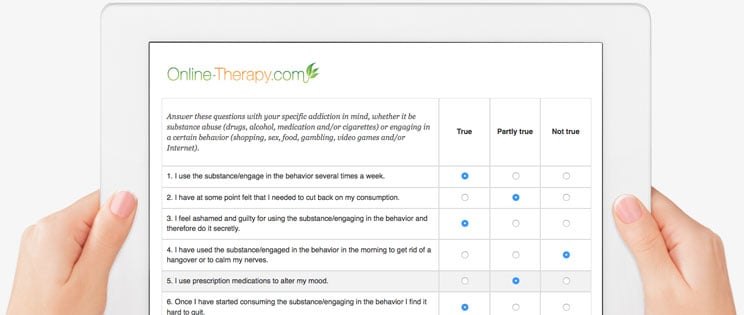 Reviews
Our online therapy services have received 533 reviews and the average rating is 4.6 out of 5 stars.
Rating: [4 out of 5 stars!]
"This online therapy has been excellent help for me. I only pay the basic amount and it still has been great. The therapist I have is really helpful and helps me day to day with any of my issues. The only thing about it being online is sometimes it's finding that inner strength to make yourself do the work. But on a positive, it means that your activity working on yourself further. Rather then relying on a face to face therapist."
Lucy (May 16, 2019)
Rating: [5 out of 5 stars!]
"Very interesting and exciting because I can do this therapy online."
Jay (May 22, 2019)
Rating: [5 out of 5 stars!]
"Online Therapy has really helped me to study myself and get to the root of my problems and problematic thinking. It now feels more natural to question myself, investigate where a certain compulsion is coming from, and react differently to it! I'm appreciating the freedom it's given me to begin to make healthier choices."
Jasmine (May 16, 2019)
Rating: [5 out of 5 stars!]
"I really like the format of this program, because I can do my therapy at home in the evenings. I was skeptical at first, but I was in a really bad place in life, and was desperate to try something. I have been in "talk-therapy" in the past with a psychologist or social worker, but this is really different.

The worksheets have been helpful in sorting out my thoughts, and figuring out how to actually make changes in my life, instead of just talking about it. My therapist, Maggie, has been very helpful by helping me realize that if I don't have a plan and take active steps to feel better, then things will just stay the same. Then, ultimately I will just continue down the same path and remain unhappy.

She challenges me by asking tough questions, which helps me see things from a different perspective. I feel encouraged that if I stick with the program, I can break my negative patterns, and live a more balanced life. I have hope that I can use my new skills to repair the damaged relationships in my life. I can learn to reach out to people."
DRH (March 14, 2019)
Rating: [4 out of 5 stars!]
"Easy platform to use, prompt replies. Recommended."
JJ (May 02, 2019)
Rating: [4 out of 5 stars!]
"I'm new to this website but so far I've had positive experiences. At the beginning you fill out a lot of (optional) information about yourself so that the therapist can personalise your therapy. The therapist usually responds within a few hours except on weekends and probably faster in different time zones (I'm in Australia). I don't really have any complaints so far apart from the forum being inactive and that there's no forum for eating disorders. I feel like the inactivity on the forum could be easily solved if the website was more popular so I hope more people try online therapy!"
EmoSeth (March 16, 2019)
Rating: [5 out of 5 stars!]
"My therapist always replies in a timely matter and has offered great advice to me. Love how convenient online therapy is and how I can do it at my own pace!"
SA (May 18, 2019)
Rating: [5 out of 5 stars!]
"Great response time by the therapist. Good advice that is well thought out and personalized."
GG (March 04, 2019)
Rating: [5 out of 5 stars!]
"Awesome, really helped."
Jen (March 22, 2019)
Rating: [4 out of 5 stars!]
"Progressing well so far"
SPDer (May 16, 2019)
Sign up for online therapy today
Your therapist is ready to start the journey with you today - so what are you waiting for?