Overcome Anger Problems with Online Therapy
Do you lash out verbally when someone cuts you off in traffic or does your blood pressure go through the roof when something does not go your way? Feeling angry is a perfectly normal and healthy instinct. However, when anger is excessive or uncontrollable, it becomes destructive and can lead to problems at work, in your relationships and in your overall life.
When you are uncontrollably angry, it is normal to say and do things you do not really mean but the impulse to react is too strong at that moment. When your anger gets out of control, the consequences can be very serious. There are no limits to what it will lead to for yourself and others.
Our anger management is based on cognitive behavioral therapy (CBT). To get in control of your anger, you must challenge the thoughts and behaviors that cause the anger. With the guidance of your therapist, you will be able to identify your personal triggers that make you angry with yourself or others and you will learn how to react in proportion to these triggers. You will be able to respond to your anger in a totally different way, by just letting go of the anger or acting in a different and more harmonious way. With the help of CBT, you will learn to accept and forgive and develop self-control over your thoughts and actions so that you can live life without excessive and uncontrollable anger.
Sign up and start getting happier now
Your therapist is ready to start the journey with you today - so what are you waiting for?
Take our test & get instant help
Answer a few questions and get immediate results and recommendations. It only takes a few minutes, so let's get started!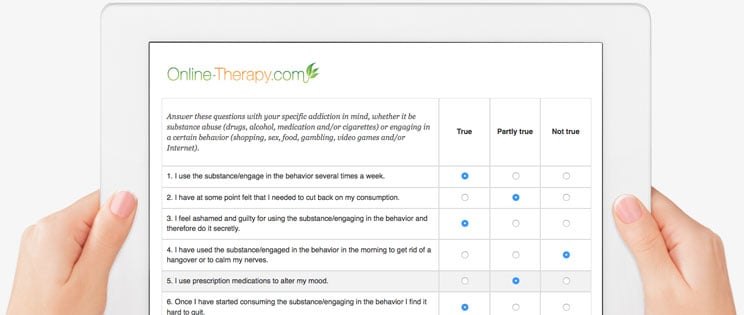 Reviews
Our online therapy services have received 2169 reviews and the average rating is 4.7 out of 5 stars.
Rating: [5 out of 5 stars!]
"Wery helpful therapist whit intelligent advices ! Brett Maletic"
Go Go (May 20, 2022)
Rating: [4 out of 5 stars!]
"Clear replys"
No (May 03, 2022)
Rating: [5 out of 5 stars!]
"A am going through a divorce after 25 years and, things are not very good with my work environment. I was very skeptical of online therapy but, there was a six month wait for a therapist where I live. A friend encouraged me to try out online therapy and I am so pleased that I listened. When things get this bad, friends can only help so much before you start to become a burden that starts to destabilize their lives. I knew a trained professional was the only way to get solid guidance and improve the stability in my life without driving my friend away. My experience, so far, has been very positive. Guidance from someone that is trained and has no alliances and no dog in your personal fight has been incredibly helpful to me. My closest friend has noticed so much of a change for the positive in me that, even though I am between projects, on unemployment and fairly low on available funds, he is helping me to afford to stay in this program. It was so important to him, he has gone way out of his way to help. We are only in the beginning stages of this but, it has helped beyond belief just to know that I can speak and message with a trained professional and, that she has my back. Joining online therapy was the best choice that I made in this entire mess!"
Swaggs (May 25, 2022)
Rating: [5 out of 5 stars!]
"The content is very accessible and hands-on. This feels like it is hitting the sweet spot for me in the balance between getting guidance and putting in my own effort. I no longer feel uncertain between sessions as I did with traditional talk therapy."
Sunny (April 01, 2022)
Rating: [5 out of 5 stars!]
"Things have been going well and my therapist is understanding"
Great (June 16, 2022)
Rating: [5 out of 5 stars!]
"Awesome Experience, so much better than traditional therapy! The worksheets really add a dimension that I've never experienced before and help you as well as your therapist better understand yourself!"
Love Online-Therapy.com, So Convenient! (March 29, 2022)
Rating: [5 out of 5 stars!]
"The worksheets and video sessions have helped me a lot in understanding myself and how to deal with my emotions."
Review (June 03, 2022)
Rating: [4 out of 5 stars!]
"i actually find it helpful an i was reluctant to think it would help. i havent gotten that far into my therapy due ton a payment issue but that is now resolved band im excited to see the real end result"
Facts (May 10, 2022)
Rating: [5 out of 5 stars!]
"I was matched with a very good therapist from the start. I'm very happy. Sometimes all the tools are a little funky but they got the most important thing right: very good one on one with a good therapist"
Impressed (June 14, 2022)
Rating: [4 out of 5 stars!]
"Very effective and gets to the root of the cause"
Angelface (June 18, 2022)
Sign up for online therapy today
Your therapist is ready to start the journey with you today - so what are you waiting for?
Have any questions?
Are you unsure of what program to choose or have any questions about our services? Check our FAQ to alleviate any concerns.