Overcome Anger Problems with Online Therapy
Do you lash out verbally when someone cuts you off in traffic or does your blood pressure go through the roof when something does not go your way? Feeling angry is a perfectly normal and healthy instinct. However, when anger is excessive or uncontrollable, it becomes destructive and can lead to problems at work, in your relationships and in your overall life.
When you are uncontrollably angry, it is normal to say and do things you do not really mean but the impulse to react is too strong at that moment. When your anger gets out of control, the consequences can be very serious. There are no limits to what it will lead to for yourself and others.
Our anger management is based on cognitive behavioral therapy (CBT). To get in control of your anger, you must challenge the thoughts and behaviors that cause the anger. With the guidance of your therapist, you will be able to identify your personal triggers that make you angry with yourself or others and you will learn how to react in proportion to these triggers. You will be able to respond to your anger in a totally different way, by just letting go of the anger or acting in a different and more harmonious way. With the help of CBT, you will learn to accept and forgive and develop self-control over your thoughts and actions so that you can live life without excessive and uncontrollable anger.
Sign up and start getting happier now
Your therapist is ready to start the journey with you today - so what are you waiting for?
Take our test & get instant help
Answer a few questions and get immediate results and recommendations. It only takes a few minutes, so let's get started!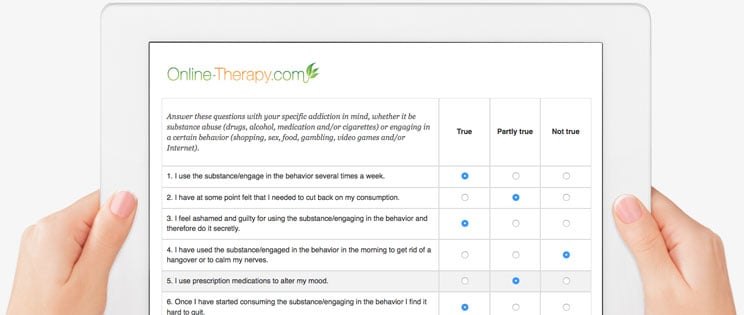 Reviews
Our online therapy services have received 2898 reviews and the average rating is 4.7 out of 5 stars.
Rating: [5 out of 5 stars!]
"This program really highlighted some things that I need to work on in my life and I am all over it full speed ahead! I appreciate all of the knowledge that I have consumed! Again I am a person who does deep research, but this program taught me alot about myself & where I need to get better! Thank you to all & Dr. Cleveland!! Highly appreciated!"
Superb (September 20, 2023)
Rating: [5 out of 5 stars!]
"I have been using Online-Therapy.com for a month with a basic subscription and am quite happy with the therapist I'm working with. There are multiple worksheets that you're assigned to help you work through issues and my therapist always provides helpful feedback and suggestions. Even with the basic subscription, I feel like I'm getting more from this format than I have with therapy sessions in the past."
NP (July 12, 2023)
Rating: [4 out of 5 stars!]
"I was in a terrible place when I decided to seek therapy. I noticed a change just a few days after the beginning stages of the program. Maggie with support has been amazing! My first therapist was very kind, just not a right fit for me personally. It was very easy to change."
Meg (September 15, 2023)
Rating: [5 out of 5 stars!]
"easy to follow, simple design that loads fast"
Al (August 03, 2023)
Rating: [4 out of 5 stars!]
"Overall is good. I need to do my homework and in the therapy less on weight and food intake and more on therapy."
Chrissie (July 26, 2023)
Rating: [5 out of 5 stars!]
"Easy to use, understanding and helpful therapist and affordable. I recommend this platform."
Very Enjoyable (August 31, 2023)
Rating: [5 out of 5 stars!]
"I cannot begin to thank these online therapy services + my therapist enough for this support! I truly appreciate each session, and because of them, have been able to be there for myself in a gentle or more compassionate way throughout my days. I always look forward to the next session & the continuous work through independent practices that are supportive of me as I evolve in my life. The support in between session is equally as strong, and I wish to offer so much gratitude to those aspects of these services as well!"
Growth (September 19, 2023)
Rating: [5 out of 5 stars!]
"Enjoying maling my way through the materials and worksheets. It really does challenge thinking. This along with sessions are super helpful"
Great Material And Super Flexible (August 18, 2023)
Rating: [4 out of 5 stars!]
"Yes we are pleased, it's working! A miracle! Belinda knows how to guide us gently in the right direction
The private message system is a little cumbersome through the worksheet"
F+R1 (July 26, 2023)
Rating: [4 out of 5 stars!]
"I sought out a therapist via Online-Therapy for depression and anxiety.
Here are the pros and cons of my experience with Online-Therapy:

Pros:
- I was able to meet with my therapist from anywhere due to the convenience of appointments via phone or computer. It saved me a lot of time and was more comfortable for me to open up while in the comfort of home.
- The worksheets were easy to understand and fill out.
- My therapist provided me with plenty tools to help me through my issues, many which I hadnt known about myself.

Cons:
- It was difficult to schedule weekly times to meet with my therapist because the times listed on Online-Therapy were not all they had to offer. So instead of me booking a time, my therapist scheduled me in. However, they would often forget despite "promising", and I had to take the initative to remind them to schedule an appointment."
Carla M. (July 21, 2023)
Sign up for online therapy today
Your therapist is ready to start the journey with you today - so what are you waiting for?
Have any questions?
Are you unsure of what program to choose or have any questions about our services? Check our FAQ to alleviate any concerns.