Overcome Anger Problems with Online Therapy
Do you lash out verbally when someone cuts you off in traffic or does your blood pressure go through the roof when something does not go your way? Feeling angry is a perfectly normal and healthy instinct. However, when anger is excessive or uncontrollable, it becomes destructive and can lead to problems at work, in your relationships and in your overall life.
When you are uncontrollably angry, it is normal to say and do things you do not really mean but the impulse to react is too strong at that moment. When your anger gets out of control, the consequences can be very serious. There are no limits to what it will lead to for yourself and others.
Our anger management is based on cognitive behavioral therapy (CBT). To get in control of your anger, you must challenge the thoughts and behaviors that cause the anger. With the guidance of your therapist, you will be able to identify your personal triggers that make you angry with yourself or others and you will learn how to react in proportion to these triggers. You will be able to respond to your anger in a totally different way, by just letting go of the anger or acting in a different and more harmonious way. With the help of CBT, you will learn to accept and forgive and develop self-control over your thoughts and actions so that you can live life without excessive and uncontrollable anger.
Sign up and start getting happier now
Your therapist is ready to start the journey with you today - so what are you waiting for?
Take our test & get instant help
Answer a few questions and get immediate results and recommendations. It only takes a few minutes, so let's get started!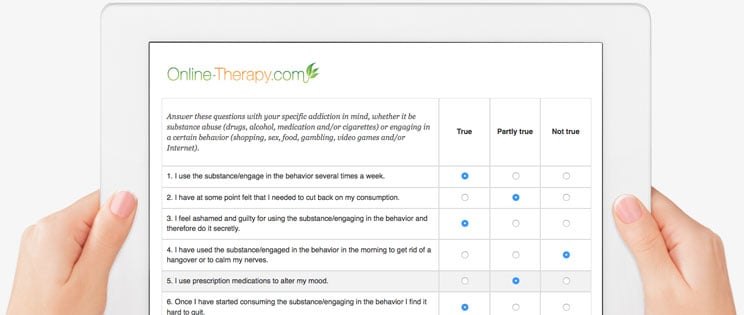 Reviews
Our online therapy services have received 2348 reviews and the average rating is 4.7 out of 5 stars.
Rating: [5 out of 5 stars!]
"I'm really glad I found this site. My therapist is responsive, thorough and very helpful."
Great Service (July 27, 2022)
Rating: [5 out of 5 stars!]
"Tommorow may never come, goals may never be reached if time doesn't happen, So we have to make it happen now, so that even if our goals are too far and cant ever seem to be reached, we can enjoy the things that matter to use most that give us the most value in our lives by making time for what matters to us most without having to wait for long term goals first. we can make the time to be happy and have peace and the love in our lives to meet our goals at the same time without feeling overwhelmed and never seeming to reach those goals.
the goals and the values are one in the same if they are in harmony and one gives them equal amount of time, because one cannot be without the other. This course has helped me re organize my values and priorities and given my life value by helping me see things I needed too. Life is a journey of learning and re learning, this course is part of that gift, and that gift of information gives you the time you need to value what matters most without giving up."
Love Peace And Happiness Now (September 23, 2022)
Rating: [5 out of 5 stars!]
"Very satisfied"
Happy Customer (August 31, 2022)
Rating: [5 out of 5 stars!]
"Very impressed with the setup of the course and the thoughtfulness of the guiding therapists. Bernadette is incredibly insightful and easy to open up to so far."
Andrew (September 19, 2022)
Rating: [5 out of 5 stars!]
"Best therapy I have ever gotten!"
Georgia (October 05, 2022)
Rating: [4 out of 5 stars!]
"Get ready to cry. As a H&W coach myself I found this valuable for me to stay in my coaching mindset and address my own mental monsters; so I don't spread them onto any clients. I will definitely be referring clients here, if they desire a more therapeutic approach."
Bearly Coaching (August 15, 2022)
Rating: [5 out of 5 stars!]
"Wonderful resource for those who claim they don't have "time" for therapy or to work on themselves. This tool not only connects you with a professional who helps you break down your patterns and your problems, but it also forces you to self reflect in a useful way. If we know what the patterns are, we can more easily learn to break them and improve on ourselves and our lives."
Delphine (July 08, 2022)
Rating: [5 out of 5 stars!]
"I enjoy the (worksheets) writing aspects of counseling. I process my emotions best by writing so this is just what I needed. I honestly love it! 💜😃
My therapist is so sweet and kind. Just relevant words of encouragement. Its always helpful and informative. Not preachy like most. I appreciate that."
Marion Is WONDERFUL! (July 22, 2022)
Rating: [5 out of 5 stars!]
"I am so thankful to have found this online program. It has the flexibility I need for my busy schedule and allows me to work at my own pace. I find it very beneficial to have worksheets / homework in conjunction with actual therapy sessions so that lifelong skills can be developed."
KS (October 05, 2022)
Rating: [5 out of 5 stars!]
"It's easy to use, the interface is easy to get around, schedule sessions etc. I also appreciate the reminders"
Some Guy Who Knows What's Good (September 27, 2022)
Sign up for online therapy today
Your therapist is ready to start the journey with you today - so what are you waiting for?
Have any questions?
Are you unsure of what program to choose or have any questions about our services? Check our FAQ to alleviate any concerns.