Overcome Anger Problems with Online Therapy
Do you lash out verbally when someone cuts you off in traffic or does your blood pressure go through the roof when something does not go your way? Feeling angry is a perfectly normal and healthy instinct. However, when anger is excessive or uncontrollable, it becomes destructive and can lead to problems at work, in your relationships and in your overall life.
When you are uncontrollably angry, it is normal to say and do things you do not really mean but the impulse to react is too strong at that moment. When your anger gets out of control, the consequences can be very serious. There are no limits to what it will lead to for yourself and others.
Our anger management is based on cognitive behavioral therapy (CBT). To get in control of your anger, you must challenge the thoughts and behaviors that cause the anger. With the guidance of your therapist, you will be able to identify your personal triggers that make you angry with yourself or others and you will learn how to react in proportion to these triggers. You will be able to respond to your anger in a totally different way, by just letting go of the anger or acting in a different and more harmonious way. With the help of CBT, you will learn to accept and forgive and develop self-control over your thoughts and actions so that you can live life without excessive and uncontrollable anger.
Sign up and start getting happier now
Your therapist is ready to start the journey with you today - so what are you waiting for?
Take our test & get instant help
Answer a few questions and get immediate results and recommendations. It only takes a few minutes, so let's get started!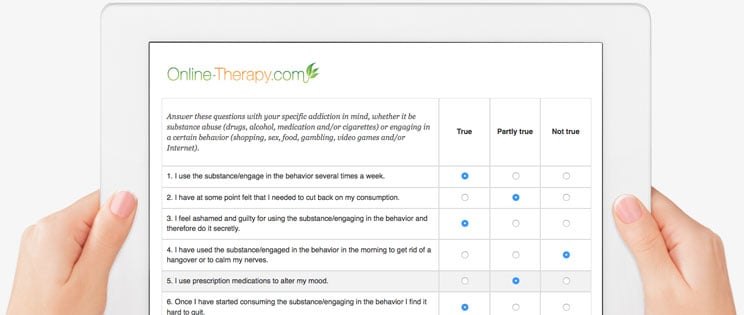 Reviews
Our online therapy services have received 649 reviews and the average rating is 4.6 out of 5 stars.
Rating: [5 out of 5 stars!]
"My therapist Lisa Neuweg was outstanding. The comments and guidance I received were right to the point and I always got a prompt reply, amazing!

I truly had the help of an expert therapist and this presented great value for money. I condensed the whole programme into 2 weeks (worked hard almost every night), despite this I received daily feedback and ongoing commentary. I was working hard and Lisa was able to keep up with me!

I was a little skeptical at first about doing this online CBT programme but in the end was really pleased and found it well worthwhile. It got to the core of some of my issues and instead of being some 'magic bullet' type approach actually made me face some of the issues I have been struggling with, it was difficult, tough and uncomfortable at times, but has provided me with some good tools and helped me to understand my thought patterns better."
BK (December 18, 2019)
Rating: [5 out of 5 stars!]
"I began using online-therapy as a convenient way to access CBT tools and support.

Couldn't be happier. Very helpful counsellor feedback is such a bonus. Has help me to reform thinking."
A Coach In Your Pocket (December 19, 2019)
Rating: [5 out of 5 stars!]
"Finding this course really helpful and feeling a lot better in myself!"
Nik (February 21, 2020)
Rating: [5 out of 5 stars!]
"The sessions have been very helpful and I like I can send a message anytime and get a response."
BBN (February 07, 2020)
Rating: [4 out of 5 stars!]
"I've been doing the program for about a month and so far it has helped me out. I am able to actively receive feedback on my day to day habits and thought processes. My therapist asks appropriate questions and provides very helpful and non-judgmental suggestions."
Mr.T (November 30, 2019)
Rating: [5 out of 5 stars!]
"I am so happy that I found this. It's truly opened my eyes to seeing a bright future."
D. (January 10, 2020)
Rating: [5 out of 5 stars!]
"The information and tools are great. I believe this program can change my life, but you have to do the work. You will get out what you put in."
KAE (February 06, 2020)
Rating: [5 out of 5 stars!]
"I can break my issues down to pieces and understand what's need to be better."
Nir (December 28, 2019)
Rating: [5 out of 5 stars!]
"Good program. At first it seemed a bit light, but its focused on what matters and unfolded well. I'd like to see better organization around the thought traps. It seems they could be bucketed into broader types like 'perceptions' and then given more attention on how to address those as a 'class' of traps. Katrina did a great job. Very caring."
CJ (February 14, 2020)
Rating: [5 out of 5 stars!]
"This Online Therapy has been the most supportive and helpful experience I've had with changing my mindset and becoming happier. Great support, can use it anytime and anywhere you want, great design, uplifting videos.. really good! Am really impressed with it and this would be my go to if I'll struggle with something in the future again. Thanks again!"
Lou (December 26, 2019)
Sign up for online therapy today
Your therapist is ready to start the journey with you today - so what are you waiting for?