Overcome Anger Problems with Online Therapy
Do you lash out verbally when someone cuts you off in traffic or does your blood pressure go through the roof when something does not go your way? Feeling angry is a perfectly normal and healthy instinct. However, when anger is excessive or uncontrollable, it becomes destructive and can lead to problems at work, in your relationships and in your overall life.
When you are uncontrollably angry, it is normal to say and do things you do not really mean but the impulse to react is too strong at that moment. When your anger gets out of control, the consequences can be very serious. There are no limits to what it will lead to for yourself and others.
Our anger management is based on cognitive behavioral therapy (CBT). To get in control of your anger, you must challenge the thoughts and behaviors that cause the anger. With the guidance of your therapist, you will be able to identify your personal triggers that make you angry with yourself or others and you will learn how to react in proportion to these triggers. You will be able to respond to your anger in a totally different way, by just letting go of the anger or acting in a different and more harmonious way. With the help of CBT, you will learn to accept and forgive and develop self-control over your thoughts and actions so that you can live life without excessive and uncontrollable anger.
Sign up and start getting happier now
Your therapist is ready to start the journey with you today - so what are you waiting for?
Take our test & get instant help
Answer a few questions and get immediate results and recommendations. It only takes a few minutes, so let's get started!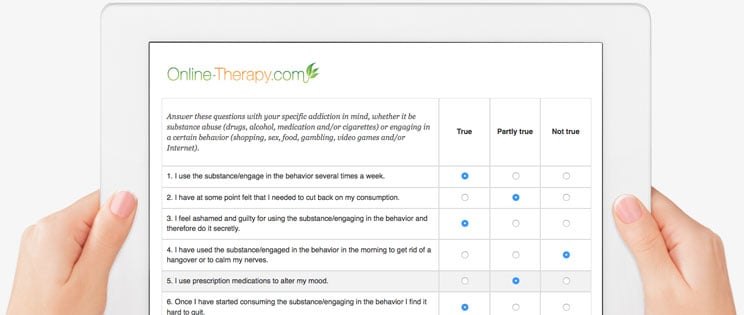 Reviews
Our online therapy services have received 1958 reviews and the average rating is 4.7 out of 5 stars.
Rating: [4 out of 5 stars!]
"It's hard finding the right therapist, so I'm really glad there is the option to choose and switch if you don't vibe with your current one. That being said, I have been getting a lot out of this experience and my therapist is usually spot on, as well as friendly, compassionate, and approachable. The price tag is worth the service, and it's the best you will find considering the prices of traditional therapy. Wish I had known about this site a long time ago."
Kayt (November 12, 2021)
Rating: [5 out of 5 stars!]
"I have used a few online therapy programs and this one is by far the best one for me. I enjoy the structure of the worksheets while simultaneously working through my unstructured life chaos directly through live sessions and 24 hour messaging. The worksheets have really put where I am at in my process into perspective and through focusing on unbiased help separate from my family and life, I have been able to recognize where I am and where others begin. The clarity I have gained this year on what my core traumas are and the facilitation my therapist offers me on my navigation of this ever changing landscape has really been a blessing."
Clarity (November 22, 2021)
Rating: [5 out of 5 stars!]
"Service is affordable and very resourceful. Recommend for those ready to start their healing journey!"
Review 1 (November 15, 2021)
Rating: [5 out of 5 stars!]
"Very good so far..."
Farhad (November 05, 2021)
Rating: [5 out of 5 stars!]
"I have found online-therapy.com to be very helpful on my journey to a happier, healthier life. The format is well developed, easy to follow, and I found it a most encouraging and enlightening environment in which to do the work that needs to be done.

The professionals provided are superior, accessible , friendly and clearly highly qualified. If, for any reason, the initial "match" isn't right, one can easily and immediately change to a different doctor or specialist. The format allows for a self determined pace and, depending upon the level of service, your professional is virtually always available for support and feedback.

In addition, we have access to a growing library of videos and insightful articles from members of the organizations leadership, therapists and guest professionals. Maybe the best part of this approach is that you and your doctor are creating an organic, linear written and annotated journal of your progress. This serves both as a discussion platform and a personal handbook for future reference.

The pricing is fair, competitive and significantly less expensive than traditional in office therapy. It is also much more convenient without all the other ancillary costs of travel and time to and from offices, etc. In fact, I have found that you can customize therapy interactions with your therapist in ways that fit your particular availability. This is both convenient and reassuring as needs can crop up at a variety of unscheduled times.

I work with Dr. Caroline Norman. She is an outstanding professional who seems able to get to the heart of the matter quickly and very effectively with great advice and formidable support. I always leave our sessions with a lot to think about and work on, but also with a renewed sense of hope and direction. Sometimes thats what you need the most.

I'm grateful for this resource and I highly recommend it to anyone in search of support in these very challenging times. In that regard, I recommend it to everyone I meet. Wishing all who read this far the best of health and happiness in the future."
Jersey Joe (January 04, 2022)
Rating: [5 out of 5 stars!]
"Great resource and love my therapist."
JB (January 19, 2022)
Rating: [5 out of 5 stars!]
"I've been working with Lisa since Spring of 2020 and I am incredibly grateful to her. I've been in an out of therapy a lot throughout my life, and I finally feel like I'm making progress and I've found something that works. I've seen some outcomes from therapy I didn't expect."
Kirsten (November 13, 2021)
Rating: [4 out of 5 stars!]
"I am quite satisfied with my therapist. Very knowledgeable and helpful."
Don (December 17, 2021)
Rating: [5 out of 5 stars!]
"I love this method of therapy. I hated being forced to go to in-person therapy so this is the perfect middle ground for me."
Walk Before You Can Run (December 12, 2021)
Rating: [5 out of 5 stars!]
"I would recommend this method of private therapy , work at your own pace with quick reply's from therapist"
Very Good (December 15, 2021)
Sign up for online therapy today
Your therapist is ready to start the journey with you today - so what are you waiting for?
Have any questions?
Are you unsure of what program to choose or have any questions about our services? Check our FAQ to alleviate any concerns.