Overcome Anger Problems with Online Therapy
Do you lash out verbally when someone cuts you off in traffic or does your blood pressure go through the roof when something does not go your way? Feeling angry is a perfectly normal and healthy instinct. However, when anger is excessive or uncontrollable, it becomes destructive and can lead to problems at work, in your relationships and in your overall life.
When you are uncontrollably angry, it is normal to say and do things you do not really mean but the impulse to react is too strong at that moment. When your anger gets out of control, the consequences can be very serious. There are no limits to what it will lead to for yourself and others.
Our anger management is based on cognitive behavioral therapy (CBT). To get in control of your anger, you must challenge the thoughts and behaviors that cause the anger. With the guidance of your therapist, you will be able to identify your personal triggers that make you angry with yourself or others and you will learn how to react in proportion to these triggers. You will be able to respond to your anger in a totally different way, by just letting go of the anger or acting in a different and more harmonious way. With the help of CBT, you will learn to accept and forgive and develop self-control over your thoughts and actions so that you can live life without excessive and uncontrollable anger.
Sign up and start getting happier now
Your therapist is ready to start the journey with you today - so what are you waiting for?
Take our test & get instant help
Answer a few questions and get immediate results and recommendations. It only takes a few minutes, so let's get started!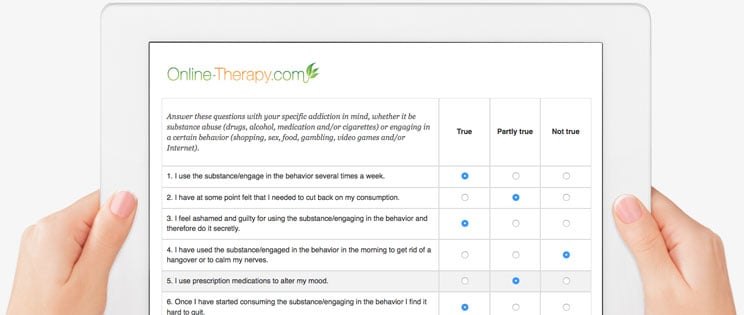 Reviews - Anger
This program has received 25 reviews and the average rating is 4.6 out of 5 stars.
Rating: [5 out of 5 stars!]
"The course is thoughtful and insightful. My therapist has offered measured very helpful advice. It is a tremendous value for the price, and the anonymity is a real plus as compared to going to a councellor's office. Additionally, you can do it when convenient and on the fly. The ability to copy/paste materials and comments allows for one to make his or her own notes to review later.

I'm very impressed."
DC (May 18, 2017)
Rating: [5 out of 5 stars!]
"I didn't really think I'd get this much out of an online program. To be honest, I thought the "live chat" was a phone call. Haha! Probably a silly mistake on my part but even without the phone call I'm surprised how much it has helped me so far. I've come to a realization about my behavior and I'm growing. Now I know what I need to work on. Maggie goes straight to the point and I like that. I get more out of therapy that way even if its hard to swallow sometimes. Big changes ahead! Woohoo!"
Jessica (May 04, 2017)
Rating: [4 out of 5 stars!]
"Reading over some of the questions in here, is important for all people to view and should go through the process. I think weather or not you have issues, its important to be able to take on a tasks good or bad with the same approach.

Thank you for this session."
CR (April 28, 2017)
Rating: [5 out of 5 stars!]
"Best help ever. Thanks so much."
Betterperson. (April 27, 2017)
Rating: [4 out of 5 stars!]
"A good service, although it would be great if the appointments were done over Skype."
Plo (January 12, 2017)
Rating: [5 out of 5 stars!]
"I am not very far in the process so far, but looking on the website encouraged me that this would be a positive-feeling thing to do, which is saying quite a lot.
I have not chatted with my therapist yet, but feel optimistic and confident about doing so soon."
So Far (January 07, 2017)
Rating: [5 out of 5 stars!]
"This therapy has done wonders to help me feel better about myself."
Jay (November 13, 2016)
Rating: [5 out of 5 stars!]
"I love everything so far! Very engaging and useful."
Awesome (October 10, 2016)
Rating: [3 out of 5 stars!]
"I have not yet met with a therapist. However, I think that the worksheets are excellent. It goes through a lot of detailed information directly relevant to the problems related to your life, and can be very helpful.

I am excited about doing online therapy, because I think that it might be more useful than seeing a therapist in person. The most important part is doing the homework, and having some accountability, in my opinion. For me, online-therapy.com seems to be the way to go."
Smapti (June 06, 2016)
Rating: [4 out of 5 stars!]
"Since I have started my therapy, my life has changed dramatically. I feel real self confidence; feel like a man, real strength, less angry, deal with problems instantly, quick decisions, give others compassion, challenge others decisively, less anxiety, self belief.

There is lots more and i do not long for value outside myself now because I have real value from my core. It is life changing and gives purpose and real meaning to life. Self realisation, understanding nature of problems and understanding genuine forgiveness and healing and release of dark pain. This is all the to my brilliant therapist . Thank you so much so far."
Vinnie (May 26, 2016)
Rating: [4 out of 5 stars!]
"I have found the whole experience to be very good, I would simply like that new members received more guidance or feedback about the way everything works, in my case, I wasn't fully aware that I had the right to have 1 chat per week so maybe working more on assuring the newcomer understands how everything works."
REVIEWER1 (May 16, 2016)
Rating: [5 out of 5 stars!]
"My therapist is quite brilliant and superbly pro-active. We've only been working together a short time, but I feel that we are making really good progress. I've been to see counsellors before a while back and they weren't a patch on you."
Thankful (September 01, 2015)
Rating: [4 out of 5 stars!]
"Maggie my therapist was great in every aspect. She really knew how to address my issues and the most logical approach for me to address them. In a nut shell she has given me the tools I need to overcome my anxiety. I didn't have the opportunity to finish the last few cases studies but I already feel a new man in regards to handling and processing and controlling my anger. I hope to come back to work on some more self awareness CBT online work shops but not before doing my 10 day silent Vipassana meditation retreat in April. Life is good. Ananapa!"
Oliv (January 30, 2015)
Rating: [4 out of 5 stars!]
"I am finding it very helpful if at times challenging. I find the language used by therapists is different I am married to a therapist and at times the meaning of phrases can occasionally lead to misunderstanding. I find the approach fine because I'm an engineer, problems are identified and solved which is similar.

The key thing is making the necessary changes I believe to a large extent the changes required have been identified but I still need work through some of the underlying issues.

In some ways it is harder doing it online than face to face, certainly a lot more writing but I actually think that is probably a good thing.

I hope that by the end I will be able to control my anger a lot better than I can now and hopefully not get so angry as I will have a better understanding of why I am becoming angry."
Neil P. (September 24, 2013)
Rating: [5 out of 5 stars!]
"Finding your therapy to be very helpful. I'm finding it has opened a new reality in myself, opening a new chapter in my life. I'm learning to open up to the ones i love more, learning patients, as i move on to different chapters of your course.

Would like more time with my therapist Maggie Sweet, but timing is not the best, she starts at 10 pm Australia time when that's bed time for me, I normally get up at 5.30 AM, but she writes me sometimes so it works out that way.

Thanks for helping Murray"
MURRAY DARLINGTON (July 08, 2013)
Rating: [5 out of 5 stars!]
"Yes, this type of therapy is great. I can do it when time is available and my therapist Maggie Sweet is a very good facilitator and mentor asking all the correct questions for my progress to being free of the controlling personality where my anger stems from. I have over come a lot of the past issues myself from hard work, perseverance, desire and the teachings of other counsellors/ mentors."
ALLAN STALLAN (June 27, 2013)
Rating: [3 out of 5 stars!]
"The program has been very helpful although I thought some contacts with the counselor could be done in real time. Sometimes it is necessary to bring up doubts and comments that later are forgotten.
Also, when the comments from the counselor come later, the impact is not the same but the program definitely covers the basic problems and issues in anger management."
Marco (January 28, 2013)
Rating: [5 out of 5 stars!]
"My therapist has been outstanding to work with. As I mentioned to her at the beginning, I have a masters degree in counseling and I did not have high expectations for this process, which is essentially instant messaging rather than face-to-face therapy.

However, thanks in large part to her outstanding work, i believe that we have made significant progress with my issues and I am feeling much more confident that my issues will be, if not completely resolved, significantly improved by the time my eight weeks are complete. And this is despite the fact that I can only do sessions twice a week because of time commitments."
Nolan (August 27, 2012)
Rating: [4 out of 5 stars!]
"I like the program. I travel for a living and I am not in one place long enough to establish a personal contact. My therapist is wonderful and it gives real-time feedback and advice - it is the strongest part of the program for me, I can talk to a person.

Overall the program has helped me and I would do it again. Thanks, Ed."
Edward (August 05, 2012)
Rating: [5 out of 5 stars!]
"My experience with online therapy has been positive. I have managed to achieve all of my goals and I am confident that I can maintain them long term.

While doing the program you need to make sure that you do all of the work and put in a decent effort. I have found that if you put forth action you will reap the rewards and trust me it is worth it! I haven't seen this version of me for many many years and i like her!

Thank-you so much for all your help and i can honestly say that i am a happier more confident person. You have really shown me how destructive my thought patterns can be."
Helped (February 28, 2012)
Sign up for online therapy today
Your therapist is ready to start the journey with you today - so what are you waiting for?