Overcome Your Anxiety with Online Therapy
Feeling anxious from time to time is just normal. But when you can't seem to shake your concerns and your daily life is a constant state of worry and fear, then anxiety has taken an unhealthy grip on your life. In addition to emotional symptoms like always anticipating the worst, feeling restless all the time or having a constant nagging concern, anxiety can also have a lot of physical symptoms including a pounding heart, sweaty palms, feeling sick in your stomach, headaches and feeling tired.
Anxiety is our body's ancient and innate response to stressful situations such as being attacked by an aggressive animal or person. While we can't stop anxiety entirely because it is a natural response, we can take back the control of our lives so that anxiety does not get in the way of daily functioning.
Cognitive behavioral therapy (CBT) can help you overcome anxiety. You see, it is not external events that trigger your anxiety; instead it is how you perceive the events that cause your anxiety. Using our online therapy for anxiety, you'll learn how to identify your negative thinking patterns that cause your anxiety and replace them with more realistic and positive thoughts. CBT will help you learn to identify the physical sensations and feelings when you're anxious. And, more importantly, you will learn coping skills to neutralize this anxiety. Using a technique called systematic desensitization, your therapist will help you to gradually and repeatedly expose yourself to the situations and fears that normally trigger your anxiety. While this may sound scary, research actually shows it helps you take control of your anxiety so that you can improve your quality of life.
Sign up and start getting happier now
Your therapist is ready to start the journey with you today - so what are you waiting for?
RIGHT NOW:

Free therapy due to the coronavirus pandemic

We want to help as many people as possible during these extraordinary times.
Therefore we are offering parts of our online therapy platform for free.

The free access includes our online therapy program with 8 easy-to-follow sections and 25 worksheets, yoga and meditation videos, activity plan, journal, and tests (communicating with a personal therapist is not included).
Take our test & get instant help
Answer a few questions and get immediate results and recommendations. It only takes a few minutes, so let's get started!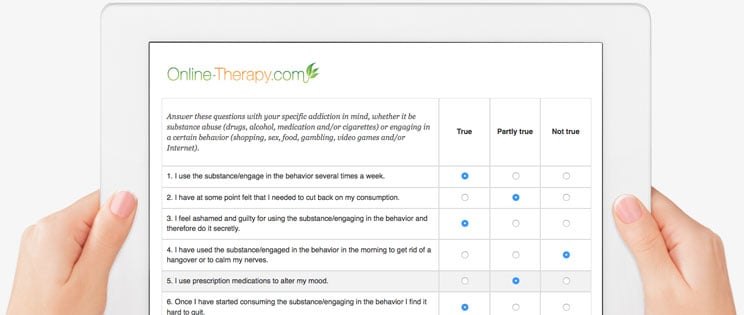 Reviews
Our online therapy services have received 1035 reviews and the average rating is 4.7 out of 5 stars.
Rating: [4 out of 5 stars!]
"Platform is easy to use and access. It is also quick to load. Therapist replies are usually quick."
Oct2020 (October 19, 2020)
Rating: [5 out of 5 stars!]
"I am learning and growing so much thanks to Katrina B. Love this program."
Katrina (August 10, 2020)
Rating: [5 out of 5 stars!]
"If you are honest in your worksheets answers this program will open doors to your inner self. You can find your balance and your place of peace. You can be strong and loving at the same time. This program is a beginning of a new way to perceive your life and living it with joy. Life is a state of mind that you should let only you and God control."
Jr Woodstone (October 19, 2020)
Rating: [5 out of 5 stars!]
"Great service"
Annie1 (July 29, 2020)
Rating: [5 out of 5 stars!]
"great communication"
Love It (September 15, 2020)
Rating: [5 out of 5 stars!]
"I really like the way therapy is organized on this website. I was looking for a way to be certain that my therapy would be focused on CBT as I knew it was the most empirically supported treatment modality and that is how I found this service.
The course which includes lessons and worksheets provides a basis the therapeutic process is built on. However, I am very happy to say that my therapist, Chelsea Schuringa, is very engaging and helpful so I am very much benefitting from both the course and the more traditional video sessions and communication via messages. It turns out the two aspects that are uniquely combined on this website work excellent together."
Storyteller (October 18, 2020)
Rating: [5 out of 5 stars!]
"David Aronson and the Online Therapy program has been a great help throughout my difficult mental journey. In just a months period, I have noticed a significant change in the way I think and act. Already excited to get into my second month of therapy. Only way to make a real difference in your life, is to take that first step forward. Thank you so much!"
Christian O. (September 03, 2020)
Rating: [5 out of 5 stars!]
"I started out with the no-cost option (just the online material) and was impressed. The online material is very well structured. Going through the worksheets provides really helpful guidance. I was impressed enough that I added the counselor feedback and chat options, and I am glad that I did. Regular communication with a counselor is a really beneficial addition! I was feeling terribly stressed and overwhelmed, and this program has definitely helped me to sort things out."
Abby S (October 11, 2020)
Rating: [5 out of 5 stars!]
"I strongly recommend this program.
I like the way it is structured and the different ways you can take the course. I feel i have improved a lot with the free version, worksheets are great and helped me look at my problems from a different angle.

The only inconvenience i had is that i thought i was going to receive written feedback, which i didn't. But i guess its because of the FREE program."
TA DAA! (October 20, 2020)
Rating: [4 out of 5 stars!]
"Online therapy has been an amazing experience for me. I was unable to broach the topic of my OCD thoughts with a therapist in person. Using technology allowed me to overcome that fear. Currently, I am working with a OCD specialist. After some ERP treatment, I will return to this website for more therapy."
Vicky L (August 16, 2020)
Sign up for online therapy today
Your therapist is ready to start the journey with you today - so what are you waiting for?
Have any questions?
Are you unsure of what program to choose or have any questions about our services? Check our FAQ to alleviate any concerns.