Overcome Your Anxiety with Online Therapy
Feeling anxious from time to time is just normal. But when you can't seem to shake your concerns and your daily life is a constant state of worry and fear, then anxiety has taken an unhealthy grip on your life. In addition to emotional symptoms like always anticipating the worst, feeling restless all the time or having a constant nagging concern, anxiety can also have a lot of physical symptoms including a pounding heart, sweaty palms, feeling sick in your stomach, headaches and feeling tired.
Anxiety is our body's ancient and innate response to stressful situations such as being attacked by an aggressive animal or person. While we can't stop anxiety entirely because it is a natural response, we can take back the control of our lives so that anxiety does not get in the way of daily functioning.
Cognitive behavioral therapy (CBT) can help you overcome anxiety. You see, it is not external events that trigger your anxiety; instead it is how you perceive the events that cause your anxiety. Using our online therapy for anxiety, you'll learn how to identify your negative thinking patterns that cause your anxiety and replace them with more realistic and positive thoughts. CBT will help you learn to identify the physical sensations and feelings when you're anxious. And, more importantly, you will learn coping skills to neutralize this anxiety. Using a technique called systematic desensitization, your therapist will help you to gradually and repeatedly expose yourself to the situations and fears that normally trigger your anxiety. While this may sound scary, research actually shows it helps you take control of your anxiety so that you can improve your quality of life.
Sign up and start getting happier now
Your therapist is ready to start the journey with you today - so what are you waiting for?
Take our test & get instant help
Answer a few questions and get immediate results and recommendations. It only takes a few minutes, so let's get started!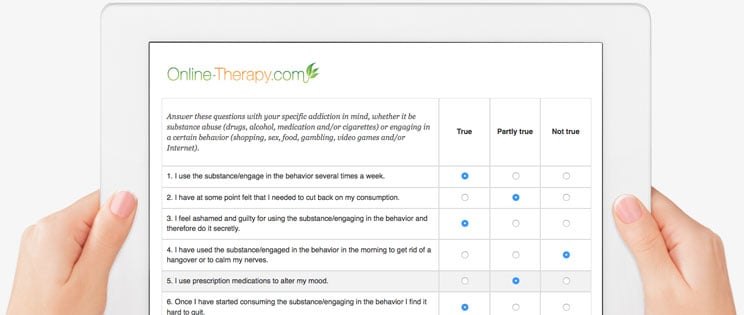 Reviews
Our online therapy services have received 649 reviews and the average rating is 4.6 out of 5 stars.
Rating: [5 out of 5 stars!]
"I have found this service great. i have been able to work at my own pace and the regular feedback from my therapist has kept me focused. i would recommend this course to anybody needing it. It has certainly helped me."
Lu Lu (December 10, 2019)
Rating: [5 out of 5 stars!]
"My therapist Lisa Neuweg was outstanding. The comments and guidance I received were right to the point and I always got a prompt reply, amazing!

I truly had the help of an expert therapist and this presented great value for money. I condensed the whole programme into 2 weeks (worked hard almost every night), despite this I received daily feedback and ongoing commentary. I was working hard and Lisa was able to keep up with me!

I was a little skeptical at first about doing this online CBT programme but in the end was really pleased and found it well worthwhile. It got to the core of some of my issues and instead of being some 'magic bullet' type approach actually made me face some of the issues I have been struggling with, it was difficult, tough and uncomfortable at times, but has provided me with some good tools and helped me to understand my thought patterns better."
BK (December 18, 2019)
Rating: [5 out of 5 stars!]
"So far I have been working through my issues for a couple of weeks and I have already felt a change in being "aware" of my emotions and being able to understand them, instead of just feeling them and having it take over my entire day. That alone has helped me to manage some of the non-logical mood swings I have been having. And I want to say thank you for being someone I can talk to, since the average person would not be able to handle this constant stress on a daily basis. Truly thank you for giving me someone I can talk to. That alone is already making a difference for me. Thank you."
Angel89 (December 02, 2019)
Rating: [4 out of 5 stars!]
"So far so good!"
Joe (January 28, 2020)
Rating: [5 out of 5 stars!]
"This Online Therapy has been the most supportive and helpful experience I've had with changing my mindset and becoming happier. Great support, can use it anytime and anywhere you want, great design, uplifting videos.. really good! Am really impressed with it and this would be my go to if I'll struggle with something in the future again. Thanks again!"
Lou (December 26, 2019)
Rating: [5 out of 5 stars!]
"This is very in depth and helpful. Have already referred a friend."
Great! (February 14, 2020)
Rating: [4 out of 5 stars!]
"Responsive therapists. Definitely a good option while traveling or not able to get face to face with someone."
Son (February 06, 2020)
Rating: [5 out of 5 stars!]
"Finding this course really helpful and feeling a lot better in myself!"
Nik (February 21, 2020)
Rating: [4 out of 5 stars!]
"I've only been using this for 2 weeks, but so far I enjoy the information and therapist interaction greatly. The tools are user friendly."
Liz (February 27, 2020)
Rating: [4 out of 5 stars!]
"Still in the middle so hard to review it. Four stars so far for ease of use, and quick responses from the therapist."
Ehhh (February 01, 2020)
Sign up for online therapy today
Your therapist is ready to start the journey with you today - so what are you waiting for?