Overcome Your Anxiety with Online Therapy
Feeling anxious from time to time is just normal. But when you can't seem to shake your concerns and your daily life is a constant state of worry and fear, then anxiety has taken an unhealthy grip on your life. In addition to emotional symptoms like always anticipating the worst, feeling restless all the time or having a constant nagging concern, anxiety can also have a lot of physical symptoms including a pounding heart, sweaty palms, feeling sick in your stomach, headaches and feeling tired.
Anxiety is our body's ancient and innate response to stressful situations such as being attacked by an aggressive animal or person. While we can't stop anxiety entirely because it is a natural response, we can take back the control of our lives so that anxiety does not get in the way of daily functioning.
Cognitive behavioral therapy (CBT) can help you overcome anxiety. You see, it is not external events that trigger your anxiety; instead it is how you perceive the events that cause your anxiety. Using our online therapy for anxiety, you'll learn how to identify your negative thinking patterns that cause your anxiety and replace them with more realistic and positive thoughts. CBT will help you learn to identify the physical sensations and feelings when you're anxious. And, more importantly, you will learn coping skills to neutralize this anxiety. Using a technique called systematic desensitization, your therapist will help you to gradually and repeatedly expose yourself to the situations and fears that normally trigger your anxiety. While this may sound scary, research actually shows it helps you take control of your anxiety so that you can improve your quality of life.
Sign up and start getting happier now
Your therapist is ready to start the journey with you today - so what are you waiting for?
Take our test & get instant help
Answer a few questions and get immediate results and recommendations. It only takes a few minutes, so let's get started!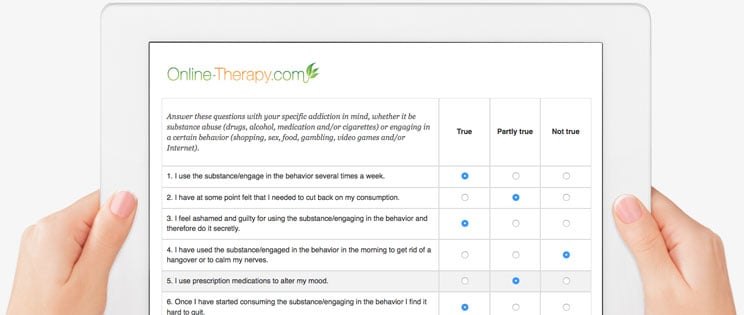 Reviews
Our online therapy services have received 669 reviews and the average rating is 4.6 out of 5 stars.
Rating: [5 out of 5 stars!]
"I really love this program !! It makes you stop and reflect!! It is absolutely helping me !!
Thank you !!"
Yogi (January 11, 2020)
Rating: [4 out of 5 stars!]
"Responsive therapists. Definitely a good option while traveling or not able to get face to face with someone."
Son (February 06, 2020)
Rating: [4 out of 5 stars!]
"So far the program has been immersive and detailed. The therapy sessions are extremely helpful for discussing, in detail, what you've been working on."
Joseph (March 09, 2020)
Rating: [5 out of 5 stars!]
"I've done face to face and video therapy before but this is completely different. Having the ability to work at my own pace made it so easy for me to communicate when I was ready to. And writing out my answers was so much easier than trying to talk about them. The worksheets truly did help me to see how negative my thinking was. My therapist was so great. During the weekly live chats, it was so easy to talk to her, since she had been replying to all my messages on the worksheets. She really got to know me more than I ever thought she would. I feel so much more confident now about what I need to do on a daily basis in order to feel happier."
Changed My Life (March 17, 2020)
Rating: [4 out of 5 stars!]
"I have really been enjoying the journaling aspect of the program. My therapist has been really responsive on all of my worksheets so I've been able to go at a productive pace."
Mandi's Review (February 07, 2020)
Rating: [5 out of 5 stars!]
"I love the services provided by online-therapy. The sections and worksheets are very thorough and are based on results-based CBT. My therapist is wonderful and is great at challenging my unhealthy thoughts and behaviours and helping me to come up with creative ways to replace those behaviours with healthier ones.

The extras like the journal and yoga are very helpful as well. I never run out of ways to work on myself with this site. I'm so thankful this exists because it is so much more convenient than physically going to a therapist and there are so many bonuses this site offers. I'd recommend this to anyone seeking help who is dedicated to doing the work to bring more happiness into their life."
Anonymous (January 09, 2020)
Rating: [4 out of 5 stars!]
"It's a nice way to reflect on your behaviors. Thank you guys"
Ashley (March 06, 2020)
Rating: [5 out of 5 stars!]
"I think the services have been great. The responses are really quick and helpful. They make me think and understand my feelings more than I ever have. I love the support that I receive from my therapist too and knowing I can rely on them."
EKH (January 03, 2020)
Rating: [5 out of 5 stars!]
"I have learned so much with online-therapy. My counselor has been wonderful and the lessons invaluable. In-person therapy was too expensive, plus the commute not sustainable with my work schedule, so this was really perfect."
Mel (March 02, 2020)
Rating: [5 out of 5 stars!]
"Absolutely amazing service! So convenient, worksheets are just Godsend, plus convenient chats with a therapist, Maggie is the best! Definitely recommend to everyone!"
Elena (January 21, 2020)
Sign up for online therapy today
Your therapist is ready to start the journey with you today - so what are you waiting for?