Overcome Your Anxiety with Online Therapy
Feeling anxious from time to time is just normal. But when you can't seem to shake your concerns and your daily life is a constant state of worry and fear, then anxiety has taken an unhealthy grip on your life. In addition to emotional symptoms like always anticipating the worst, feeling restless all the time or having a constant nagging concern, anxiety can also have a lot of physical symptoms including a pounding heart, sweaty palms, feeling sick in your stomach, headaches and feeling tired.
Anxiety is our body's ancient and innate response to stressful situations such as being attacked by an aggressive animal or person. While we can't stop anxiety entirely because it is a natural response, we can take back the control of our lives so that anxiety does not get in the way of daily functioning.
Cognitive behavioral therapy (CBT) can help you overcome anxiety. You see, it is not external events that trigger your anxiety; instead it is how you perceive the events that cause your anxiety. Using our online therapy for anxiety, you'll learn how to identify your negative thinking patterns that cause your anxiety and replace them with more realistic and positive thoughts. CBT will help you learn to identify the physical sensations and feelings when you're anxious. And, more importantly, you will learn coping skills to neutralize this anxiety. Using a technique called systematic desensitization, your therapist will help you to gradually and repeatedly expose yourself to the situations and fears that normally trigger your anxiety. While this may sound scary, research actually shows it helps you take control of your anxiety so that you can improve your quality of life.
Sign up and start getting happier now
Your therapist is ready to start the journey with you today - so what are you waiting for?
Take our test & get instant help
Answer a few questions and get immediate results and recommendations. It only takes a few minutes, so let's get started!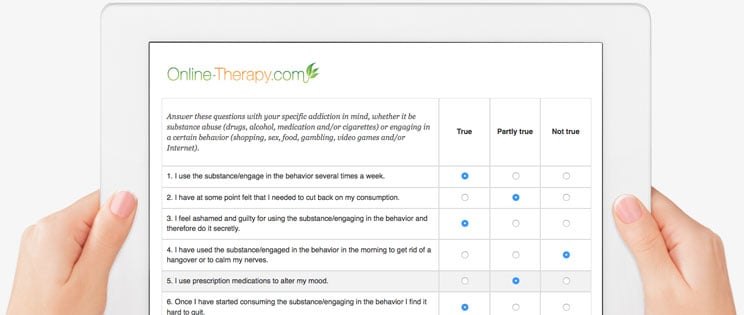 Reviews
Our online therapy services have received 520 reviews and the average rating is 4.6 out of 5 stars.
Rating: [5 out of 5 stars!]
"It helped me to understand that i just need to make things happen faster in my life...the waiting thing is what caused more worry...depression and stress."
Good Stuff But I Think More Info Could Be Put Into The Actual Mini Course (March 26, 2019)
Rating: [5 out of 5 stars!]
"This has been amazing so far. My therapist has understood exactly what I've been saying and her guidance has really opened my mind to therapy, which I've never seen success with. I am so happy that I chose online-therapy.com because of all the other features outside of worksheets - the journaling, the consistent contact with my therapist, and just feeling like I have her on my team and we are working (hard work!) towards a common goal of overall health - mind, body, and spirit. I am grateful and I am making progress. It's everything I wanted when I came here."
My First Successful Therapy (February 05, 2019)
Rating: [5 out of 5 stars!]
"I really like the format of this program, because I can do my therapy at home in the evenings. I was skeptical at first, but I was in a really bad place in life, and was desperate to try something. I have been in "talk-therapy" in the past with a psychologist or social worker, but this is really different.

The worksheets have been helpful in sorting out my thoughts, and figuring out how to actually make changes in my life, instead of just talking about it. My therapist, Maggie, has been very helpful by helping me realize that if I don't have a plan and take active steps to feel better, then things will just stay the same. Then, ultimately I will just continue down the same path and remain unhappy.

She challenges me by asking tough questions, which helps me see things from a different perspective. I feel encouraged that if I stick with the program, I can break my negative patterns, and live a more balanced life. I have hope that I can use my new skills to repair the damaged relationships in my life. I can learn to reach out to people."
DRH (March 14, 2019)
Rating: [5 out of 5 stars!]
"Fantastic service."
Good Service (February 22, 2019)
Rating: [5 out of 5 stars!]
"I have found the online therapy to be highly effective, convenient and helpful. I greatly appreciate the personalized comments from my online therapist, which help me navigate the steps and activities. I highly recommend online-therapy.com!"
DubaiGuy (March 05, 2019)
Rating: [5 out of 5 stars!]
"It is helping me a lot. Thanks!"
Luke (March 14, 2019)
Rating: [4 out of 5 stars!]
"I'm new to this website but so far I've had positive experiences. At the beginning you fill out a lot of (optional) information about yourself so that the therapist can personalise your therapy. The therapist usually responds within a few hours except on weekends and probably faster in different time zones (I'm in Australia). I don't really have any complaints so far apart from the forum being inactive and that there's no forum for eating disorders. I feel like the inactivity on the forum could be easily solved if the website was more popular so I hope more people try online therapy!"
EmoSeth (March 16, 2019)
Rating: [5 out of 5 stars!]
"Awesome, really helped."
Jen (March 22, 2019)
Rating: [5 out of 5 stars!]
"I love the service online therapy has provided to me so far. My therapist has helped me a lot and I can see the difference so clearly."
Sweet (March 06, 2019)
Rating: [4 out of 5 stars!]
"It's good. I think I signed up for more therapist time than I need, but it's helpful knowing there is someone out there checking in. I find the exercises really helpful and the journal is a game changer. I wish there was an app for my iPhone though."
1st One (March 08, 2019)
Sign up for online therapy today
Your therapist is ready to start the journey with you today - so what are you waiting for?