Overcome Your Anxiety with Online Therapy
Feeling anxious from time to time is just normal. But when you can't seem to shake your concerns and your daily life is a constant state of worry and fear, then anxiety has taken an unhealthy grip on your life. In addition to emotional symptoms like always anticipating the worst, feeling restless all the time or having a constant nagging concern, anxiety can also have a lot of physical symptoms including a pounding heart, sweaty palms, feeling sick in your stomach, headaches and feeling tired.
Anxiety is our body's ancient and innate response to stressful situations such as being attacked by an aggressive animal or person. While we can't stop anxiety entirely because it is a natural response, we can take back the control of our lives so that anxiety does not get in the way of daily functioning.
Cognitive behavioral therapy (CBT) can help you overcome anxiety. You see, it is not external events that trigger your anxiety; instead it is how you perceive the events that cause your anxiety. Using our online therapy for anxiety, you'll learn how to identify your negative thinking patterns that cause your anxiety and replace them with more realistic and positive thoughts. CBT will help you learn to identify the physical sensations and feelings when you're anxious. And, more importantly, you will learn coping skills to neutralize this anxiety. Using a technique called systematic desensitization, your therapist will help you to gradually and repeatedly expose yourself to the situations and fears that normally trigger your anxiety. While this may sound scary, research actually shows it helps you take control of your anxiety so that you can improve your quality of life.
Sign up and start getting happier now
Your therapist is ready to start the journey with you today - so what are you waiting for?
Take our test & get instant help
Answer a few questions and get immediate results and recommendations. It only takes a few minutes, so let's get started!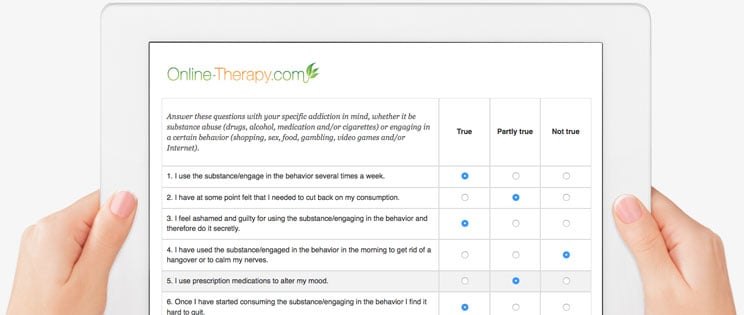 Reviews
Our online therapy services have received 1337 reviews and the average rating is 4.7 out of 5 stars.
Rating: [5 out of 5 stars!]
"A wonderful resource!"
Moonie (February 02, 2021)
Rating: [5 out of 5 stars!]
"I like it so far. Martha is very easy to talk to."
Therapy Review (February 19, 2021)
Rating: [5 out of 5 stars!]
"Doing CBT therapy and having weekly/bi weekly appointments with my therapist has turned my managing with anxiety around within 3 months - im a little shocked by how much it's helped me to learn how to cope and own what I do and dont have control of

if you're on the fence do yourself a favor and jump into it"
Eilamatan (February 11, 2021)
Rating: [5 out of 5 stars!]
"so far the therapist has been very kind and helpful"
Good (February 16, 2021)
Rating: [5 out of 5 stars!]
"I'm enjoying this therapy course and the fact I can go at my own pase is much better for me. Especially as its Christmas and so much going off with myself personally."
Jodie2686 (December 22, 2020)
Rating: [5 out of 5 stars!]
"My experience has been great"
Bri (February 18, 2021)
Rating: [5 out of 5 stars!]
"Originally, I came here because I was just looking for an online therapist to talk to, but when I found this site, I realized it's a whole platform with research-based information you can learn about in your own time. I'm actually more excited about learning from the worksheets and exercises. But having someone to talk to is just a bonus. And I also love that it also comes with yoga videos. I may be experiencing a placebo effect, but I'm feeling happier already just after 3 weeks of finding this service! Haha"
Great Platform (February 26, 2021)
Rating: [5 out of 5 stars!]
"Having sessions along with the sheets is really helping me make changes. I'm now a massive fan of CBT and am reading and watching loads of stuff on it. I like these worksheets, they are quite detailed which helps the process. Thanks guys!"
Kat (December 18, 2020)
Rating: [5 out of 5 stars!]
"I have worked with a few therapist and have always found them unstructured conversations that have left me more frustrated. I prefer structure and evidence-based approaches and in my first session with Lance, I felt my brain physically shift into a balanced way of operating. Lance has a way of mobilising the English language that motivates me to be intentional with embedding the everyday small changes in my life for long-term success."
Adnan (December 13, 2020)
Rating: [4 out of 5 stars!]
"I enjoy my Video sessions and the time Martha dedicated in helping me. Every time, when one session ended, I am always looking forward to the next one. She is so nice and professional. She leads me through my worksheets and encourages me to face my problems. So far, I am untangled the burdens on my shoulders gradually one by one with Martha's advice. I can see in the near future, I'll be totally free."
Enjoy (December 22, 2020)
Sign up for online therapy today
Your therapist is ready to start the journey with you today - so what are you waiting for?
Have any questions?
Are you unsure of what program to choose or have any questions about our services? Check our FAQ to alleviate any concerns.