Overcome Your Anxiety with Online Therapy
Feeling anxious from time to time is just normal. But when you can't seem to shake your concerns and your daily life is a constant state of worry and fear, then anxiety has taken an unhealthy grip on your life. In addition to emotional symptoms like always anticipating the worst, feeling restless all the time or having a constant nagging concern, anxiety can also have a lot of physical symptoms including a pounding heart, sweaty palms, feeling sick in your stomach, headaches and feeling tired.
Anxiety is our body's ancient and innate response to stressful situations such as being attacked by an aggressive animal or person. While we can't stop anxiety entirely because it is a natural response, we can take back the control of our lives so that anxiety does not get in the way of daily functioning.
Cognitive behavioral therapy (CBT) can help you overcome anxiety. You see, it is not external events that trigger your anxiety; instead it is how you perceive the events that cause your anxiety. Using our online therapy for anxiety, you'll learn how to identify your negative thinking patterns that cause your anxiety and replace them with more realistic and positive thoughts. CBT will help you learn to identify the physical sensations and feelings when you're anxious. And, more importantly, you will learn coping skills to neutralize this anxiety. Using a technique called systematic desensitization, your therapist will help you to gradually and repeatedly expose yourself to the situations and fears that normally trigger your anxiety. While this may sound scary, research actually shows it helps you take control of your anxiety so that you can improve your quality of life.
Sign up and start getting happier now
Your therapist is ready to start the journey with you today - so what are you waiting for?
Take our test & get instant help
Answer a few questions and get immediate results and recommendations. It only takes a few minutes, so let's get started!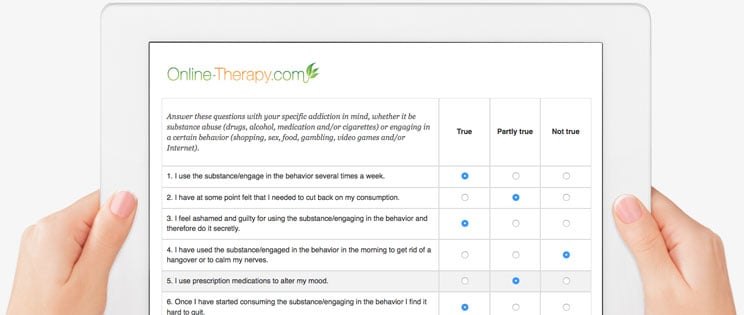 Reviews
Our online therapy services have received 1627 reviews and the average rating is 4.7 out of 5 stars.
Rating: [5 out of 5 stars!]
"It helps"
Danny (July 06, 2021)
Rating: [5 out of 5 stars!]
"This program helped so much! I was able to do it on my own schedule which had been a significant barrier to in-person therapy in the past. After years of suffering I now feel like I understand what I need to do to help myself. I also understand it's a practice and so is always a work in progress. I also know what to do should I experience an exacerbation in the future. Cannot recommend this evidence-based program enough!"
Elizabeth (July 11, 2021)
Rating: [3 out of 5 stars!]
"It's adequate at the lowest paying end, all the same formula of cbt is used and can help the motivated ones."
Good (June 29, 2021)
Rating: [5 out of 5 stars!]
"Its pretty nice"
Jo (June 26, 2021)
Rating: [4 out of 5 stars!]
"Great service, with easy access and support. Highly recommend"
LK (July 26, 2021)
Rating: [4 out of 5 stars!]
"I am about five months into using Online-Therapy.com and I'm so glad I started the program. I've tried therapy in the past, but I never found someone I really clicked with, and I always craved more guidance/exercises in addition to talking things out. Online-Therapy.com's self-guided worksheets and exercises act as a great supplement to a weekly chat with a therapist, and I've found this combination has really worked for me. I also think it is a great feature that you can switch your therapist if you feel like it's not a good fit--I wasn't completely happy with my first assigned therapist but after reading through other therapists' bios, I chose on my own and have been loving working with her ever since. I am rating the program four-stars because it is pretty expensive (although I'm working with my insurance to see if it's possible to get a small percentage reimbursed) and I've also had some issues with scheduling my weekly chats (the website is very strict about only scheduling four chats per pay period). Overall, I highly recommend trying out Online-Therapy.com and seeing if it works for you!"
Megan (June 24, 2021)
Rating: [5 out of 5 stars!]
"CBT and Online-Therapy has been a great help to me. It's helped me put my thoughts into perspective and helped me improve my life."
Online-Therapy.com Works! (July 03, 2021)
Rating: [4 out of 5 stars!]
"Being able to do daily worksheets is very helpful and keeps me on track."
Dave42 (June 09, 2021)
Rating: [5 out of 5 stars!]
"Perfect service for me. With my depression I have a very hard time committing to stuff like counseling, but with this service I don't feel as pressured, and I can do it at home which makes a huge difference for me. Great service, it has helped me go from suicidal to just a normal level of depression. Thank you Lynn!"
Depressed Guy #666 (June 02, 2021)
Rating: [5 out of 5 stars!]
"Good"
Youssef (May 08, 2021)
Sign up for online therapy today
Your therapist is ready to start the journey with you today - so what are you waiting for?
Have any questions?
Are you unsure of what program to choose or have any questions about our services? Check our FAQ to alleviate any concerns.