Overcome Your Anxiety with Online Therapy
Feeling anxious from time to time is just normal. But when you can't seem to shake your concerns and your daily life is a constant state of worry and fear, then anxiety has taken an unhealthy grip on your life. In addition to emotional symptoms like always anticipating the worst, feeling restless all the time or having a constant nagging concern, anxiety can also have a lot of physical symptoms including a pounding heart, sweaty palms, feeling sick in your stomach, headaches and feeling tired.
Anxiety is our body's ancient and innate response to stressful situations such as being attacked by an aggressive animal or person. While we can't stop anxiety entirely because it is a natural response, we can take back the control of our lives so that anxiety does not get in the way of daily functioning.
Cognitive behavioral therapy (CBT) can help you overcome anxiety. You see, it is not external events that trigger your anxiety; instead it is how you perceive the events that cause your anxiety. Using our online therapy for anxiety, you'll learn how to identify your negative thinking patterns that cause your anxiety and replace them with more realistic and positive thoughts. CBT will help you learn to identify the physical sensations and feelings when you're anxious. And, more importantly, you will learn coping skills to neutralize this anxiety. Using a technique called systematic desensitization, your therapist will help you to gradually and repeatedly expose yourself to the situations and fears that normally trigger your anxiety. While this may sound scary, research actually shows it helps you take control of your anxiety so that you can improve your quality of life.
Sign up and start getting happier now
Your therapist is ready to start the journey with you today - so what are you waiting for?
Take our test & get instant help
Answer a few questions and get immediate results and recommendations. It only takes a few minutes, so let's get started!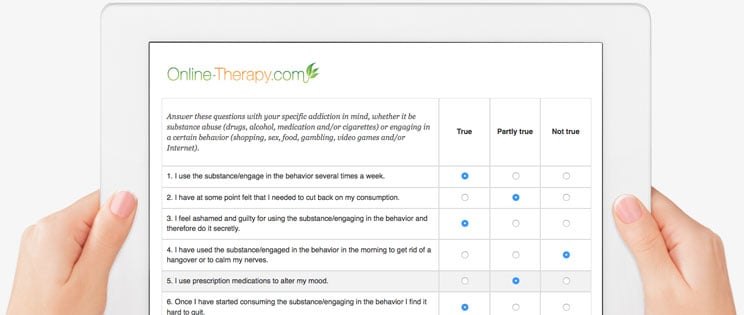 Reviews
Our online therapy services have received 2348 reviews and the average rating is 4.7 out of 5 stars.
Rating: [5 out of 5 stars!]
"Online Therapy, and my therapist in particular (Li Laurent) have been an amazing help. When I first joined this site, I was in one of the lowest points of my life and I knew if I didn't get help, I wasn't going to make it.
One of the best decisions I ever made. Online-Therapy.com's CBT approach is so much more helpful than I could have imagined, I've been to in-person counselling and it was not for me, this alternative was exactly what I needed and I could work through the worksheets at my own pace, and select a plan within my own budget. Even if you're struggling financially, trust me it's a worthy investment. What you learn and the help you receive can change your life around so that you can actually deal with your problems and redirect your life in the direction you want.
A thousand thank you's!"
Kayt (July 26, 2022)
Rating: [5 out of 5 stars!]
"I have found this program extremely helpful and would recommend it to anyone. We all have cobwebs in our brains that need to be untangled, and this program is a great way to pursue that goal. It is especially good for busy people who don't have the time or ability to travel to appointments in person but could use someone to talk to."
An American In Europe (September 02, 2022)
Rating: [5 out of 5 stars!]
"Working with Delphani has helped me heal my view of myself a great deal. My self confidence has dramatically increased within a short time. She is very understanding, truthful and most of all empowering. :)"
Angel M (August 30, 2022)
Rating: [5 out of 5 stars!]
"My therapist has been responsive, kind and with some great ideas for how to look at things differently or how to focus. I'm finding the combination of the course and the personal communication really helpful and supportive in my life."
Liz (July 29, 2022)
Rating: [5 out of 5 stars!]
"I loved the online worksheets & journalling, It really helped me pinpoint certain things & beliefs holding me back. My therapist has been so caring, reassuring & supportive, especially with quick responses on the private chat."
Bell (August 31, 2022)
Rating: [4 out of 5 stars!]
"The therapist that was assigned to me was very helpful. Overall, my experience with the service is a 7 out of 10."
Peaches (August 05, 2022)
Rating: [5 out of 5 stars!]
"Excellent counselor. Very patient and understanding. He knew my case inside and out on our first meeting"
D'Artagnan (August 02, 2022)
Rating: [5 out of 5 stars!]
"Very good, better than what I thought"
Jay (October 01, 2022)
Rating: [5 out of 5 stars!]
"I'm still new to CBT, but I'm finding it pretty useful. The worksheets are a great help!"
SaBear (August 29, 2022)
Rating: [5 out of 5 stars!]
"My therapist is doing what she can to help me and I can usually get in touch with her even on the weekends"
Awesome (August 31, 2022)
Sign up for online therapy today
Your therapist is ready to start the journey with you today - so what are you waiting for?
Have any questions?
Are you unsure of what program to choose or have any questions about our services? Check our FAQ to alleviate any concerns.