Overcome Your Anxiety with Online Therapy
Feeling anxious from time to time is just normal. But when you can't seem to shake your concerns and your daily life is a constant state of worry and fear, then anxiety has taken an unhealthy grip of your life. Except for emotional symptoms like always anticipating the worst, feeling restless all the time or having a constant nagging concern, anxiety can also have a lot of physical symptoms: a pounding heart, sweaty palms, feeling sick in your stomach, headaches and feeling tired are just some of these symptoms.
Anxiety is our body's ancient and innate response to stressful situations like being attacked by an aggressive animal or person. So while we can't conquer anxiety entirely since it is a natural response, we can take back the control of our lives so that anxiety does not get in the way of daily functioning.
Our therapy for anxiety is based on cognitive behavioral therapy (CBT). It's not external events that trigger your anxiety; instead it's how you feel and perceive the events that cause your anxiety. Using our online therapy for anxiety you'll learn how to identify your negative thinking patterns that cause your anxiety and replace them with realistic and more positive thoughts. CBT will help you learn to recognize when you're anxious and how this feels emotionally and physically, but more importantly your will learn coping skills to neutralize this anxiety. Your therapist will help you to gradually and repeatedly expose yourself to the situations and fears that normally trigger your anxiety. Eventually you will be able to go through these events without experiencing the anxiety that up to this point has limited your quality of life.
Sign up and start getting happier now
Your therapist is ready to start the journey with you today - so what are you waiting for?
Take our test & get instant help
Answer a few questions and get immediate result and recommendations. It only takes a few minutes, so let's get started!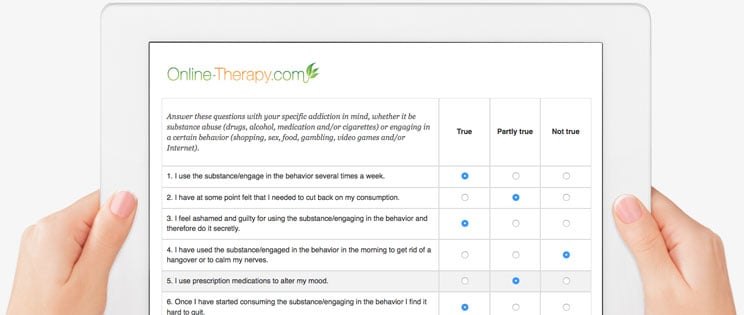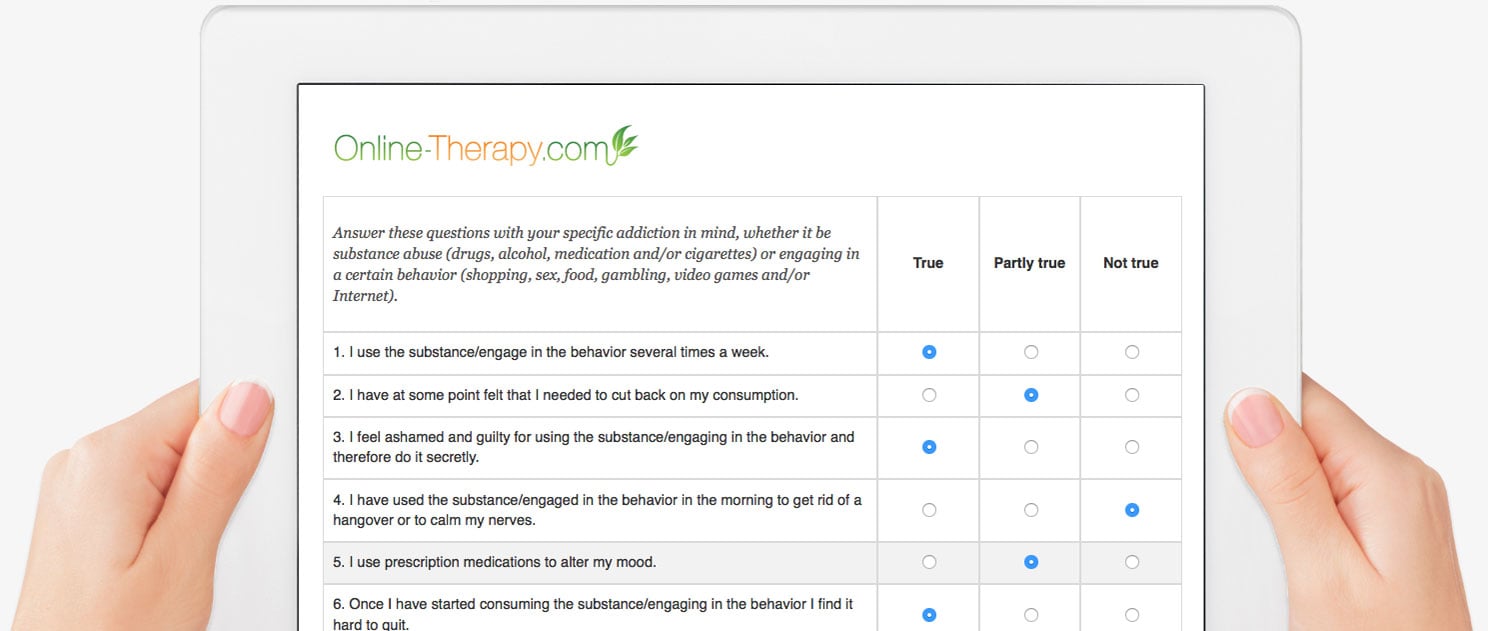 Reviews - Anxiety
This program has received 83 reviews and the average rating is 4.5 out of 5 stars.
Rating: [5 out of 5 stars!]
"I feel like I got more from online therapy than I did one on one."
Chelse02 (April 14, 2017)
Rating: [5 out of 5 stars!]
"Therapist Maggie, is kind, caring and very patient. I felt at ease instantly with her. She can relate to the issues you are having and makes you feel that you are not alone and that you can easy overcome them. I take much comfort from her words.. Its only my 2nd week but I'm very happy with the service!"
EMMAx (April 12, 2017)
Rating: [5 out of 5 stars!]
"Great program, I feel very empowered!"
Lizzy (April 04, 2017)
Rating: [4 out of 5 stars!]
"I've been very pleased with how the online therapy works and at the very fast and helpful responses from my therapist."
Very Happy (March 28, 2017)
Rating: [5 out of 5 stars!]
"Always there when you need them. Such a support and amazing advice. Thank you online therapy."
Jcb (March 21, 2017)
Rating: [5 out of 5 stars!]
"I've only started this therapy a few weeks ago but so far it's helped me a lot :)"
SodaPop (March 16, 2017)
Rating: [4 out of 5 stars!]
"Its been good so far."
Shayde (March 14, 2017)
Rating: [3 out of 5 stars!]
"Interesting approach. Touches some key elements to improving my health."
Charlie (March 03, 2017)
Rating: [4 out of 5 stars!]
"I have found this website easy to use. There is a friendly and welcoming tone to the whole thing. The information is pertinent and useful and the work sheets challenging but "doable". I have had contact from my therapist but no actual therapy session so I can't comment on that yet. I feel that it is good value for money."
Revs1 (February 26, 2017)
Rating: [5 out of 5 stars!]
"Absolutely amazing, I love my therapist!"
Amazing (February 26, 2017)
Rating: [3 out of 5 stars!]
"Only subscribed very recently so it's early days yet. I've been slowly working through the worksheets for my program and I'm finding them very useful. They are really helping me consider my situation from a different perspective and encouraging me to really look inward. I haven't had any proper contact with my therapist yet so that's the reason for the 3 stars at this stage."
STS (February 21, 2017)
Rating: [5 out of 5 stars!]
"I'm giving this program 5 stars just for being available on-line. Off and on through the years I have thought I should do CBT but I never felt comfortable asking about it so I am grateful to have an opportunity to "change the way I think ". Here is my chance to get rid of my "stinkn thinkn"!!!"
Carla (January 16, 2017)
Rating: [5 out of 5 stars!]
"Excellent program! My anxiety has improved significantly in only one month."
Joe (December 26, 2016)
Rating: [5 out of 5 stars!]
"I haven't been using this service for long, so far though its been amazing, you really feel like you have someone who can help you with out the awkwardness of sitting in an office. If you aren't sure about this, I can tell you its already started to help me massively."
Jess (December 24, 2016)
Rating: [5 out of 5 stars!]
"It's very convenient and I am able to do this in my own time and at my own pace. The therapist is great at getting back to me. Highly recommended for people with busy lives and tight funds."
Mel (December 17, 2016)
Rating: [5 out of 5 stars!]
"The help I have received has been very helpful. She has been nothing but kind and understanding. I wish that have done more work but is not your fault."
Review #1 (December 07, 2016)
Rating: [5 out of 5 stars!]
"So far this program seems easy to use and fairly simple. Hopefully it will work - and I think it will, as I really just need some structure to break some bad cycles that I've let myself get trapped in. I like the structure and I see the potential of it working."
MexiEm (November 29, 2016)
Rating: [4 out of 5 stars!]
"Good. Users forum not well used which is s shame.

--> We are working on new ways to encourage our members to use the forum even more. It's great to get support from friends on a forum!

/ Online-Therapy.com Team"
Sharon (November 21, 2016)
Rating: [5 out of 5 stars!]
"I am very satisfied with my therapist's service which helped me to learn new techiques and so reduced my general anxiety considerably. Highly recommended this online therapy service . Maggy is a great therapist, very personal caring and sincere in her work with clients. Thanks for helping me to recover from my GAD."
Dil (November 15, 2016)
Rating: [4 out of 5 stars!]
"It's early days -- and I've been slow in getting started -- but thus far I am impressed with how well this online CBT is set up and how smoothly it works. My therapist is very prompt with her feedback, which I appreciate. Maybe I'll be as prompt at my end soon ;-)"
Aubrey (November 10, 2016)
Rating: [4 out of 5 stars!]
"I am really happy with how this service us helping me to face and change my negative thoughts and behaviour. The counsellor makes contact every week day, sometimes with general advice and sometimes with specific response related to my worksheets. The worksheets are proving to be a very useful way of getting to the bottom of my behaviour and are giving me the focus to make positive changes. I'm looking forward to my first live chat and being able to access the worksheets and written sessions at my own convenience, what ever time of day is something that really works for me."
Tessa (November 07, 2016)
Rating: [4 out of 5 stars!]
"The online therapy experience has been extremely helpful. I love that you are able to start immediately and can touch base with my therapist on the limited open time I have without making an appointment has been exactly what I needed at this time in my life."
H. (November 04, 2016)
Rating: [4 out of 5 stars!]
"The feedback from the Therapist is very helpful and constructive."
Teammega (October 11, 2016)
Rating: [5 out of 5 stars!]
"I love that this therapy is online as I live in a country where CBT is not available. After joining I quickly received answers from my therapist and it gives me hope of recovery after having tried many things to fight my panic attacks. I do hope that this therapy will help me get rid of my negative thought and that anxiety vicious circle. It's easy to make an appointment and the worksheets are very well done. Thank you."
Pimpa (October 10, 2016)
Rating: [4 out of 5 stars!]
"So much easier than going in to see someone and love how you can set your own pace.
Also, it is much more affordable."
Woody (August 12, 2016)
Rating: [3 out of 5 stars!]
"I had been doing the CBT stuff daily for a number of weeks up til about 5/9/2016 and then I just stopped. I think that CBT is perhaps easier or more valuable for issues like 'people hate me' or 'I am afraid of doing 'x' My problem is that I seem to go through cycles of depression triggered by anxiety with the bottom line being 'wow, is this what I have to look forward to?' Take today for example. I am self employed, its sunday, I have nothing I have to do, I have no debt, so nothing really to worry about, and yet I wake up with a bunch of anxiety. Fortunately I have medication to help with it, but while I think this training can help, I don't think its going to help me in this situation. I have restarted now 6/19/2016 to see if I can at least go through the rest of the program to see how far it can take me. I feel like a significant portion of my problem is how I am 'wired'. When I was on anti-depressants before, which I unfortunately stopped and can't seem to restart without feeling worse, I would not have felt a need for this program. I am 57 now and I think this is part of the change of aging and so now need to try new things, this being one of them. What the program has helped me with is seeing that its not just my thoughts, but that there is more to it."
I Don't Know (June 19, 2016)
Rating: [4 out of 5 stars!]
"Great advice, great exercises to do and you feel you can ask anything or talk about anything that may be troubling you, but always bear in mind, once you have this great info, its up to YOU to use it!"
Wicked (June 17, 2016)
Rating: [4 out of 5 stars!]
"The feedback is regular which is fantastic! I also find the 30 minute chats helpful, although I wish they could be longer. My therapist is very kind and helpful."
REVIEW (May 16, 2016)
Rating: [4 out of 5 stars!]
"Overall very good."
Nick G (May 14, 2016)
Rating: [4 out of 5 stars!]
"I had a good experience last time. Recent issues has made me want to reach out again"
Be (March 10, 2016)
Rating: [4 out of 5 stars!]
"So far it's pretty good and I'm impressed with the information. I thought I knew a lot about CBT but I'm learning new things, as well as about myself and bad habits of thinking I have gotten into.

It would be a little easier if the forms didn't open in new windows, however. The other parts of the site are designed very well, in particular the description of my therapist.

It's very innovative, thorough, and professional."
Me? (January 25, 2016)
Rating: [4 out of 5 stars!]
"I have found my therapist to be understanding and given me food for thought. Hopefully I will learn to cope with my anxiety & learn to live with it."
JackieW (January 16, 2016)
Rating: [4 out of 5 stars!]
"Very good, very insightful. I like the fact that there are daily reports and to me its like journaling so you can really say what is on your mind."
Nike (December 31, 2015)
Rating: [5 out of 5 stars!]
"I thought it was excellent and a very good value. Easy and convenient to use. My only problem was myself. Like many things in life I started off being disciplined but over time used it less.

I would recommend your service to anyone and I may be back."
John B (October 30, 2015)
Rating: [5 out of 5 stars!]
"I was very impressed with the anxiety on line therapy course. The therapists were very kind, understanding and professional. I really enjoyed the structure of the sessions and and the ability to work through the workbooks at my leisure. I will definitely be recommending the course to others."
KBS (August 29, 2015)
Rating: [5 out of 5 stars!]
"Amazing program and I've gained some useful knowledge and practices on how to better handle my anxiety. The only reason I'm stopping is that I've finished the lessons and worksheets and have decided to try face-to-face therapy."
Liz (August 27, 2015)
Rating: [4 out of 5 stars!]
"Online therapy was helpful. I canceled because I wasn't taking the time to do it. I liked the worksheets the best and the reading of the material the least. I haven't yet had an online chat due to a couple schedule mishaps but I would like to do one before my subscription ends. I think it's a good value. Regular therapy is so costly and time consuming in terms of going, doing, etc. Also, you can do therapy when you are in the mood for it. With in-person therapy, you aren't always in the right frame of mind."
Paula (August 12, 2015)
Rating: [3 out of 5 stars!]
"I thought the program was very good and there were many techniques that the therapist gave me that I thought were useful. I do however think that when you are delving into the past and brining up painful memories that it is hard to deal with them quickly. If the segments were 2 weeks for the same price that may have been more beneficial to me. I thought that overall the program was beneficial to me and I will reflect back on some of my worksheets in the future.

I might try the program again in a couple of months just as a refresher course.

I did ask the therapist at the beginning of my sessions if we could have a chat but she informed me that I needed to make an appointment. For best result, I think that she should have reminded me to do so continuously during the 6 weeks that I was enrolled."
Nad (July 31, 2015)
Rating: [5 out of 5 stars!]
"I really benefited from this program. I liked the worksheets and found the therapist comments helpful. I already feel less anxiety and am continually working on myself."
Catsup35 (June 23, 2015)
Rating: [5 out of 5 stars!]
"Never having done anything like this before (never had the need to), I was not entirely sure that online therapy would suit me because I am anything but a computer buff and actually spend as little time on my laptop as possible. However I knew it would be easier than face to face counseling, making appointments etc - and so it has proved.

Firstly, the initial test and the whole programme showed me that my anxiety was of a pretty mild form and I found it quite hard to relate to the conditions/emotions/thoughts suggested as examples in the sessions and worksheets.

Using the worksheets to talk over the problem with my personal therapist was, for me, the key to the process. In fact, if it had not been personal I have some doubts as to whether I would have completed the programme! Undoubtedly, acknowledging that I had a bit of a problem and being able to talk it through has been a great help and at the moment I seem to be in a much better state and very much more in control of negative thoughts etc.

Initially, I thought the 8 sessions were going to be a bit demanding - largely because of the above mentioned dislike of the computer! - but as I got into it I found it less demanding, but I also discovered that I did not really need to go into some of the deeper aspects of the programme.

I doubt that I am fully free of occasional anxiety, but I know how to cope now.

Many thanks for your help."
Chris H. (May 06, 2015)
Rating: [3 out of 5 stars!]
"I'm about halfway through the program...
So far I believe this program has really helped with my irrational thinking. I definitely have made some improvements. However I'm not as far as I would like to be yet..."
Pooh (August 06, 2014)
Rating: [5 out of 5 stars!]
"My therapist Sareeta, is an amazing person with access to a vast knowledge base including alternative therapies... I have found her to be kind, understanding, & thoroughly supportive of my particular situation... I have been able to progress through complex issues through the compassion and patience that she has shown me... The worksheets & counseling input have helped me in discovering where I am at that moment and in rereading and reworking the worksheets has help me progress through tough moments... My gratitude is for both the therapist and the online programs for their ability to assist us through our hardships... I am eternally grateful that I have found this support at my very own doorstep... Rating 110%... Beyond excellence!!!"
GC67 (April 07, 2014)
Rating: [5 out of 5 stars!]
"Fabulous program!"
Debbie (January 23, 2014)
Rating: [4 out of 5 stars!]
"I believe the on-line therapy program is useful... So far it has helped me understand my emotions and resulting behavior, it has helped me look for changes/solutions for negative thoughts/behavior and the reply comments and encouragement has been satisfying. I look forward to proceeding with the rest of the therapy plans/sessions and then having this therapy process available to review and draw from whenever I may need to in the future."
Pcr (January 22, 2014)
Rating: [5 out of 5 stars!]
"Yes, I have made progress with my therapist while completing the worksheets and communicating with her. The steps also seem to be very helpful. Look forward to completing the program and feeling like a normal person once again. I also like the online therapy for time management and privacy."
Alan (December 09, 2013)
Rating: [5 out of 5 stars!]
"So far, so good. I am about to being the mid-point of the 8 week session. I have found my therapist, Maggie Sweet's insights and techniques to be beneficial on what I believe is my road to recovery from anxiety and hopefully cure from repeat episodes in the future."
Jim (October 20, 2013)
Rating: [5 out of 5 stars!]
"Worksheets:
The questions they ask are excellent and organization and content wise they are excellent. But I think they could be better formatted so that they are easier to use:

I think these would be much easier to use if they were in a chart or simple spreadsheet format. It's also difficult to flip back to look at example while in the middle of a worksheet - so if you don't quite understand a question , you may want to look at the example. but in order to do so you have to press continue and go all the way around the circuit.

Then if you want to change something that you've written, once you've pressed 'continue ' there's no way to amend previous text. Sometimes it's really just a case of wanting to correct a typo or grammatical mistake, or clarify a sentence by rephrasing. Sometimes I find I've answered a question and then think that I'd rather class that answer under a later question but because I've pressed 'continue' I can't do that. I realize that this system captures stream of consciousness well but I think it would be helpful for organizing one's thoughts to have the tools to be able to compose and edit answers more fully.

Another thing : I would like to be able to fill in worksheet more than once to deal with different issues but I don't like the way that the worksheet files each answer under each question - it would be better if one could answer a batch of questions and keep these together on a single page. Then if you want to explore a different issue you can have a fresh, blank worksheet in the same format so that these explorations can be batched together.

Personal online therapist: Brilliant- I haven't used the chat facility but I find my therapist's comments really insightful and that makes up for all my complaints about the worksheets! The feedback really has opened new ways of thinking and already I'm seeing some quite big changes in my life. I like the fact there's one therapist who gets to know you. I also like that the connection is through type as opposed to through skype, face to face or telephone because it means that I read the comments in my own voice and they somehow seem less 'other'.

Sessions : I'm only on session 3 ( or maybe 4 - can't remember) but thoughts so far: Good. I'm finding these very useful."
Violet4b (June 16, 2013)
Rating: [5 out of 5 stars!]
"I've found the courses really useful in terms of daily feedback, which allowed me to process the information and comment in my own time, unlike conventional therapy where you would only have a session once a week.

I feel, although the process was intense at times, I had the weekends to take a breather, whilst working in the week, to get to some really deep rooted issues.

I'd recommend the process to anyone having difficulties and will definitely be revisiting should I need help in the future."
Rachel Fletcher (June 14, 2013)
Rating: [4 out of 5 stars!]
"Thank you for this service, I have found it really helpful. Especially given my lifestyle involving alot of travel and uncertainty. I feel that my therapist gives me great, real things that I can implement and I am already seeing a change.

Thank you"
Natalie (May 24, 2013)
Rating: [4 out of 5 stars!]
"I have been very happy working with my therapist Maggie. I understand much more about the way I think and the impact this has on my feelings and the physical symptoms they cause. I know I need to work on it to improve how I feel and hopefully recover my joy of life. It is down to me in the end but I couldn't have started to feel better without the advice and encouragement I have received."
Sandie (April 24, 2013)
Rating: [4 out of 5 stars!]
"So far I have found the therapy sessions very helpful. I have a long way to go but I am making small steps, thanks to online-therapy."
Mike (April 04, 2013)
Rating: [5 out of 5 stars!]
"I enjoy the chats with my counsellor. When I am having bad days I feel better after a chat. She gives me great advise of how to overcome my depression. She is also caring and I trust talking to her about my depression. I enjoy the worksheets because I can write down my thoughts and get great feedback. My experience has been great."
Good (January 21, 2013)
Rating: [5 out of 5 stars!]
"I would like to thank my therapist. She has been so helpful to me. I have trouble with trusting but I feel I can open up to her and tell what is bothering me. She does not judge me and she is a caring compassionate person.

When I first started therapy I thought I would never feel good again about my life but this has given me hope that I will get better. I have managed to talk about problems I had buried deep inside for a long time. I have had depression, anxiety, panic attack and stress for almost 2 years now because of an injury from work and I have gone to a counsellor for a short term but I have never felt as confident as I do now."
T.s. (January 11, 2013)
Rating: [4 out of 5 stars!]
"I think the service is excellent. My therapist Maggie reads my worksheets only hours after I have completed them and writes insightful comments. I like the fact that everything is also on-line on my phone so I can access it from my workplace."
Katey N (November 14, 2012)
Rating: [5 out of 5 stars!]
"I have been to a face to face therapist in the past, I felt very uncomfortable and nervous. It was not only very expensive, it felt cold and not personal. On-line therapy is so unique, you can be in the comfort of your home or on the laptop at your office, anywhere. You can be completely honest and comfortable in writing your thoughts, without the someone staring at you.

This therapy program has given me the freedom to do it on my time and efforts. My therapist Maggie Sweet--- was kind, understanding, compassionate and well educated. This program far exceeded my expectations! It changed my thought process in a positive way, to help me understand and cope with my anxiety. I would recommend it to everyone.... Thank you."
Kirstin (September 11, 2012)
Rating: [4 out of 5 stars!]
"The structure of the online therapy program is clear, well laid out and it can be done at your own leisure. The weekly sessions with the therapist help to consolidate what you have worked through and to talk about anything that is on your mind."
Chica (May 01, 2012)
Rating: [5 out of 5 stars!]
"Very good therapist and effective sessions."
Haris (April 29, 2012)
Rating: [5 out of 5 stars!]
"I have just finished the program for managing Anxiety and I feel like I can take on all the challenges in my life. My therapist was very informative and supportive with our frequent chats about all the issues related to my situation. She was always available when I needed her, and the best part is that I didn't have to ever leave home.

This type of therapy works great! I have used face to face counselling before and this is even better, quicker and more efficient! She gave me so many new tools for helping me realize that I am in control of my thoughts and emotions, and they do work if you use them!

Thanks for all your strategies, kind words, and very personal attention!."
Lynn (March 01, 2012)
Rating: [3 out of 5 stars!]
"It's good but I think it takes more than 8 weeks."
Denise (February 26, 2012)
Rating: [5 out of 5 stars!]
"It's been unbelievably helpful. CBT is exactly what I needed."
Joseph (February 09, 2012)
Rating: [5 out of 5 stars!]
"I had anxiety disorder, and my assigned therapist was Sareeta. She took her time to develop a good rapport with me. I was very comfortable from the beginning. She kept asking all kinds of questions to judge my personality. She was very patient through out the therapy. I spoke to her almost 4 hours every week. She did not just give me worksheets to fill. She spoke to me to personally and understood me very well before she decided to design the best form of therapy.

After filling the worksheets then she spoke to me and told me how to address each and every way of thinking . She changed the way i thought. She told me various ways as to how to get rid of fear and anxiety . How to be positive and different exercises to make sure there is not relapse.

I am very happy to get such good results in a very short time. I did the therapy and the results very truly amazing. I am totally satisfied with the therapy i got and i feel its money well spent. I am now gaining control of my life again after almost 5 years. I am totally indebted to Sareeta for her efforts.

The best part is its all can be done from home which makes it very easy for people with panic disorder. I like to thank https://www.online-therapy.com for providing the expertise of the best therapists out there to people all over the world. I like thank Carl who made this possible as well as the dedication and patience of the chosen therapists for their services."
Paul (December 20, 2011)
Rating: [4 out of 5 stars!]
"I haven't finished the course yet so I can't really comment at length, but so far I have found this course very useful. I live in Rwanda so finding a counselor here who is familiar with CBT is not an option."
Rowan (September 21, 2011)
Rating: [4 out of 5 stars!]
"I like the worksheets and the speed of response is good. I think that you should have a longer therapy period for long time sufferers like myself, as you say yourself it takes a long time to change? I will be using your services for over a year."
Scott Martin (July 07, 2011)
Rating: [5 out of 5 stars!]
"I feel this is very comfortable and impressive."
Cody (June 12, 2011)
Rating: [5 out of 5 stars!]
"So far so good. I am having some frustrating moments but I do understand that it will take some practice to change my frame of mind. It's one of the hardest things I've ever had to do. A true test of character.

I love the worksheets, especially the feedback. Maggie is great and always quick to respond and reassure. She is patient and it seems her techniques are endless. I really look forward to filling out the worksheets every week and trying new ways to combat my anxiety and negative thinking.

It's incredibly useful to have my own therapist online because it's a source of comfort. It's nice to know that for most of the day if I need her she is right there to support me and get me back on track.

I am about halfway through the 8 sessions and I really like them so far. It's like tackling a new problem every week. It's a very slow process, but I am trying."
Chelsie D. (June 10, 2011)
Rating: [4 out of 5 stars!]
"Information was good and quick. Thanks. Looking forward to see what happens next."
Positive Experince (June 06, 2011)
Rating: [5 out of 5 stars!]
"I am strongly satisfied with the help i got from the chat with a therapist and i can gladly recommend it to anyone i know. keep up the good work its because of services like this that keep the community alive!

Thank you the online-therapy.com team.

/Busi"
Busi (June 04, 2011)
Rating: [5 out of 5 stars!]
"If your team is full of people like Maggie, I'm sure this will be a step in the right direction."
S G (March 23, 2011)
Rating: [5 out of 5 stars!]
"I spoke with Ken tonight and he was great! He had alot of insight into what the problem was right off and gave me some great links to go to. Great job Ken!"
Max Summy (March 01, 2011)
Rating: [4 out of 5 stars!]
"It's very easy to do if you are motivated."
Pax (January 21, 2011)
Rating: [4 out of 5 stars!]
"Helpful. Very caring. I just don't have patience sometimes, I want to fix things in one day. I have a million thoughts, just need to prioritize and only say what is important and beneficial."
Danny (January 12, 2011)
Rating: [5 out of 5 stars!]
"I have enjoyed this course very much and found it very helpful. Thank you for your kindness, support and encouragement.

I wish you a very happy and peaceful Christmas, with every good wish for the New Year."
M O F (December 21, 2010)
Rating: [5 out of 5 stars!]
"I am so grateful for this service... I was having a really rough day today, and talking with my therapist always makes me feel better. She knows how to be understanding without feeding into my self-pity, and she knows just what to say to make me think more positively. She never fails to spend the time with me that I need to work through what I'm dealing with. I love the support and straight-talk!!"
K S (December 13, 2010)
Rating: [5 out of 5 stars!]
"My therapist (Maggie) is a star! Just to let you know I think this is a wonderful program and I have recommended this to friends, not sure if we have anything like it over here but this is very professional and works!

Many thanks, Brenda."
Brenda (December 03, 2010)
Rating: [5 out of 5 stars!]
"Do you like the worksheets?
I think the worksheets are very well laid out and very helpful.

Do you find it useful to have your own personal therapist?
Yes, very much so. Maggie my therapist is very encouraging and helpful

Do you like the 8 sessions?
Yes, I feel they advance from explaining what the problems could be to offering solutions. They are good."
Maureen O Flaherty (November 28, 2010)
Rating: [4 out of 5 stars!]
"So far I feel I am starting to identify my problems etc and it is getting me to think in a different way. I always look forward to the therapist comments its what makes this work. I've only half way through so don't know if 8 sessions is enough."
Shane (November 08, 2010)
Rating: [5 out of 5 stars!]
"Things have actually been quite better and my anxiety is greatly diminished. The therapy was well worth it and you have been kind. I made copies of all my completed workbooks.

Thank you for your help."
Anonymous (August 16, 2010)
Rating: [5 out of 5 stars!]
"When I first came through to you for help I really didn't know what to expect and didn't have very high expectations.

I cannot believe the results my therapist Maggie has had with me - its brilliant.

The worksheets are difficult but good because they bring out the underlying cause if you answer them honestly and they help to get the problem to the fore. The way they guide you through to an alternative way of thinking is brilliant and has certainly had a dramatic affect on me - particularly when combined with the contact from Maggie.

For me, it was imperative to have a therapist available because I could not get the results on my own - I tried. Maggie has done a really good job with me and taught me an awful lot.

The 8 sessions is good - although I feel it would be fair to let folks know that the first 2 or 3 will be got through fairly quickly. When it comes to the actual worksheets etc it gets more difficult, resulting in a better affect.

Was it worth the money - well, when you consider that my doctor didn't know what to do for me and I was not able to get any assistance that I could afford, it was definitely worth the money - and I seriously would like to make a further contribution when I can afford it in the not too distant future. I cannot believe the results because I now think I understand what my problem is and how it comes about.

I cant thank you guys enough for the help I have received - especially Maggie she's Magical"
John (June 04, 2010)
Rating: [5 out of 5 stars!]
"I clearly see your point in the feedback I receive in my worksheets. Just hoping I can remember not to take things so personally.

Please continue to give me your good advice. I find that I am feeling less stressed and hostile just reading what you write - it makes me think, offering a distraction.

Thank you!"
Rosy (May 24, 2010)
Rating: [5 out of 5 stars!]
"I cant tell you what a relief it is to feel like I have someone who knows what they are talking about on my side at last!!!

Its always the same - if I want or need help I always have to find it myself cos the people here who should be providing it couldn't be bothered. I am so pleased I didn't ignore it and not follow it up - I was sorting out spam and unsolicited emails, and was not going to do anything else with yours, but changed my mind, thats the best thing I could have ever done.

Thank you so much."
JackF (May 20, 2010)
Rating: [5 out of 5 stars!]
"Hey, me again. Was just thinking, you should have a little rating part where people can rate how good they think the website is or you advice. Mine would be a 5 star rating to you!! Take care.

(Note: Mail received from one of our clients)"
Anonymous (February 09, 2010)
Rating: [5 out of 5 stars!]
"Having suffered for years with anxiety, I knew I needed to do something. To be honest, I had my doubts this program would work. It seemed so simple and my problem seemed so complex. I'd suffered that way for years. But I quickly saw progress when I started to follow the easy steps in this anxiety proram.

I'm not over my problems yet, but by following this friendly, supportive program, I know I'll get there. It feels like I have a friend holding my hand every step of the way."
Jacqueline (September 01, 2009)
Rating: [4 out of 5 stars!]
"Your online anxiety therapy gave me back my life. For years I was afraid of so many things. I didn't want to leave the house. I didn't want to be around people. I just didn't have a normal life. By following the step-by-step program I learned to control my fears and find happiness.

To anyone who thinks they can't get over their fears anxieties – I know they can. I did it with this program."
Billy_h (August 12, 2009)
Sign up for online therapy today
Your therapist is ready to start the journey with you today - so what are you waiting for?