Overcome Your Anxiety with Online Therapy
Feeling anxious from time to time is just normal. But when you can't seem to shake your concerns and your daily life is a constant state of worry and fear, then anxiety has taken an unhealthy grip on your life. In addition to emotional symptoms like always anticipating the worst, feeling restless all the time or having a constant nagging concern, anxiety can also have a lot of physical symptoms including a pounding heart, sweaty palms, feeling sick in your stomach, headaches and feeling tired.
Anxiety is our body's ancient and innate response to stressful situations such as being attacked by an aggressive animal or person. While we can't stop anxiety entirely because it is a natural response, we can take back the control of our lives so that anxiety does not get in the way of daily functioning.
Cognitive behavioral therapy (CBT) can help you overcome anxiety. You see, it is not external events that trigger your anxiety; instead it is how you perceive the events that cause your anxiety. Using our online therapy for anxiety, you'll learn how to identify your negative thinking patterns that cause your anxiety and replace them with more realistic and positive thoughts. CBT will help you learn to identify the physical sensations and feelings when you're anxious. And, more importantly, you will learn coping skills to neutralize this anxiety. Using a technique called systematic desensitization, your therapist will help you to gradually and repeatedly expose yourself to the situations and fears that normally trigger your anxiety. While this may sound scary, research actually shows it helps you take control of your anxiety so that you can improve your quality of life.
Sign up and start getting happier now
Your therapist is ready to start the journey with you today - so what are you waiting for?
Take our test & get instant help
Answer a few questions and get immediate results and recommendations. It only takes a few minutes, so let's get started!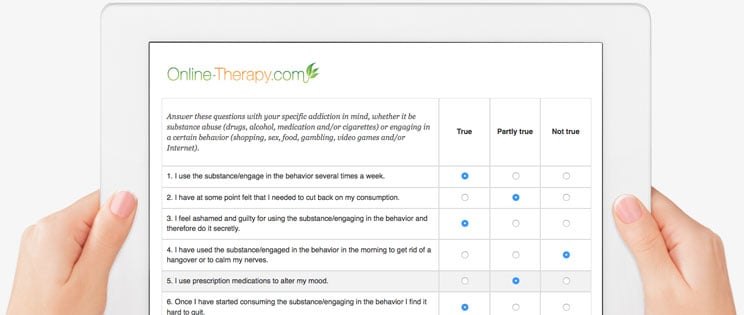 Reviews
Our online therapy services have received 1551 reviews and the average rating is 4.7 out of 5 stars.
Rating: [5 out of 5 stars!]
"It's been very helpful so far...I think I will get out of it as much as I put in, but my therapist has been responsive and I feel like we are touching upon some key issues that I am already seeing improvement in."
So Far So Good (May 02, 2021)
Rating: [4 out of 5 stars!]
"I will proceed by reviewing various aspects that comprise my overall rating:

Therapist (5 stars)
The therapist selection is pretty diverse and there are many great licensed people to choose from. I really get along with mine and they are very understanding. It feels great to talk to someone free of judgment or self-censorship. She also seems dedicated to her work and helping others reach their healthiest, most ideal self. She creates an atmosphere that allows me to open up more than anyone I've encountered in my life, besides a couple people.

Pricing (4 stars)
The pricing isn't too bad, really. Around $200/month for one weekly 30-minute live session is a good deal. As a college student, I do wish they offered some sort of discount because as necessary as this is, I don't know how much longer I can afford it.

Model (3 stars)
The weekly sessions should really be the standard one hour to get the most for your money because that's where this program shines. The worksheets and whatnot are helpful for self-awareness and figuring out where you need the most work, but without someone with a professional degree who can help steer and direct you, it sort of falls flat. The chat session offered with the cheapest option doesn't really do much. The video/voice calls that mimic in-person therapy are far more effective. It is often difficult to schedule appointments weekly at a good time, even if you do it a week in advance.

Value (4 stars)
I think overall this program is definitely worth it if you know you are ready to invest a lot of time, money, and effort into improving yourself, not just wanting to complain about your issues endlessly and hoping to find sympathy or being closed off to talking about deep issues with a therapist. I was both of these things but soon realized what it would take to actually improve my mental health.

Overall: I benefitted from this program, especially during the pandemic when many mental health clinics were closed. The top reasons I would join/stay would be if one is financially able to sacrifice a few hundred a month and if one is okay with video calls as a therapy session model. The worksheets also come in handy for exploring your feelings and understanding why you are having problems and how to change how you think about your life."
Girl (April 22, 2021)
Rating: [5 out of 5 stars!]
"The exercises present (leaving aside for now the wonderful therapist I have) are really, and truly helpful. Writing out things allows you to identify your problems in a coherent manner, and then work towards solutions. They have helped me immensely in the last three or so weeks of the program. I like that the worksheets are self-paced, and have explanations.

This brings me to the therapist: the one I have is absolutely wonderful. She listens to my problems, and responds at the pace that I am comfortable at. The fact that I can message her throughout the week, and receive replies on my worksheets is encouraging.

Overall, I have found this website, and its program, very helpful. I think the project is a useful one."
Ajab (May 27, 2021)
Rating: [5 out of 5 stars!]
"This has been a great service. I have had a few therapists and all have been kind, accommodating and very helpful at keeping me on track"
Vik (May 12, 2021)
Rating: [5 out of 5 stars!]
"Got the best advise from my therapist"
Twaters (June 12, 2021)
Rating: [5 out of 5 stars!]
"The self-directed modules (reading; worksheets; journal) are all optional but greatly useful, especially between meetings with the therapist. The ability to do this remote is wonderful. I also appreciate that the site is mobile-friendly and does not require a separate app."
Remote Therapy Is Wonderful (April 26, 2021)
Rating: [4 out of 5 stars!]
"Great, I really like the combination of the worksheets and the live session!"
Hilly (March 30, 2021)
Rating: [5 out of 5 stars!]
"In just a few weeks the worksheets have helped me to recognize some of my harmful thought processes and behaviors. Looking forward to learning more as the weeks go by!"
Addy (June 04, 2021)
Rating: [5 out of 5 stars!]
"CBT is the best approach for therapy. It helps you focus and breakdown each element to better yourself."
Rhe (May 28, 2021)
Rating: [5 out of 5 stars!]
"Would recommond to other"
Zach (May 16, 2021)
Sign up for online therapy today
Your therapist is ready to start the journey with you today - so what are you waiting for?
Have any questions?
Are you unsure of what program to choose or have any questions about our services? Check our FAQ to alleviate any concerns.