Manage Your Bipolar with Online Therapy
While it is common for people to experience mood swings from time to time, bipolar disorder is much more severe. When someone has bipolar disorder (also known as manic depression) their mood shifts from periods of over-excitement and feeling like you're "on fire" (manic episodes) to periods of feeling severely depressed (depressive episodes).
During manic episodes, it's common to have a generally elevated mood, be highly active, experience higher self-esteem and need less sleep. This often alternates with depressive periods where you feel little joy in life, have problems sleeping, gain or lose weight and experience a loss of energy.
While this can be stressful and even debilitating, there is hope. Our therapy for bipolar is based on cognitive behavioral therapy (CBT), which has been shown in research studies to help people with bipolar disorder, often used in conjunction with medication. You see, it is your thoughts that affect your perception of the world, and with bipolar disorder, your brain tends to process information in an inaccurate and distorted way. With the help of your therapist, you will be able to identify and challenge these distorted and negative thought patterns that cause your stress and even harmful behavior. By identifying the situations that trigger your manic and depressive episodes, you will be more aware of when a mood shift is about to happen. And, eventually, you will be able to control your emotions and stress. By discovering new coping and behavioral skills, you will be able to stick to a treatment plan and live a more stable lifestyle, which will reduce the risks of a relapse.
Sign up and start getting happier now
Your therapist is ready to start the journey with you today - so what are you waiting for?
Take our test & get instant help
Answer a few questions and get immediate results and recommendations. It only takes a few minutes, so let's get started!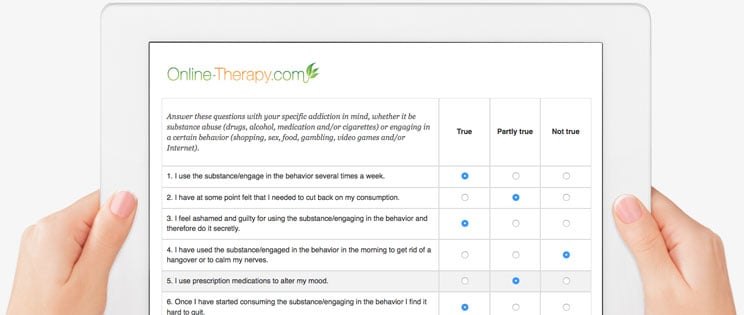 Reviews
Our online therapy services have received 573 reviews and the average rating is 4.6 out of 5 stars.
Rating: [5 out of 5 stars!]
"I've had an excellent experience with online-therapy.com so far. My therapist is really kind and understanding of my situation and tries her best to help. I love the services I've been provided so far, the only unfortunate part is that there is currently no mobile app."
Jd (August 10, 2019)
Rating: [5 out of 5 stars!]
"This has been very beneficial for me and a great resource to come to every day to ground myself. I have learned a lot about how to deal with my thoughts and emotions in a healthy and positive way and I have seen changes in my day to day life as a result."
Ian (August 22, 2019)
Rating: [4 out of 5 stars!]
"I have been seeking help, I needed more help than the regular medical doctors were giving me. So far this site has helped me to look deep into myself and try figure out the root of my issues. It is not going to be an easy road, dealing with my emotions and such, but the therapist assigned to me has been gracious and very helpful."
Helpful (August 20, 2019)
Rating: [5 out of 5 stars!]
"I would like to sincerely thank my personal therapist Jacob and Online Therapy for helping me through a very rough time in my life. The therapy exceeded my expectations and has made me see things in a much better frame of mind."
Mike's Review (September 10, 2019)
Rating: [5 out of 5 stars!]
"So far i have noticed a huge improvement."
Jenn (August 15, 2019)
Rating: [5 out of 5 stars!]
"I have really been both surprised and impressed with how much this Online Therapy has helped me. I didn't know what to expect and only enrolled because of the advise of others that I take therapy to show and prove to others that I have changed and am in a new place.
Having said that, I have instead learned so much about myself and have really indeed changed. I have become so much more conscious of my feelings and reactions to stress anger and am much happier for it.
I have also truly enjoyed having discussions with my personal online therapist Jacob and have been extremely impressed with both his knowledge and advise. He made me think about things like I did not before. IN a strange way, although we have never met, I feel like I know him and that he is both a great therapist and friend."
Mike's Review (August 27, 2019)
Rating: [5 out of 5 stars!]
"Great advise, thanks for being the support I need."
JJ (September 12, 2019)
Rating: [5 out of 5 stars!]
"I cannot do formal counseling as my chronic illness makes it difficult to travel. This counseling has helped me because it is easily accessible at any time."
Great When You Are Bed Ridden (September 06, 2019)
Rating: [5 out of 5 stars!]
"I am very happy with online therapy. I feel it has helped me a lot already."
Helpful (August 30, 2019)
Rating: [5 out of 5 stars!]
"In my opinion online therapy is very good because is helping me to be a better person every day."
Online Therapy (August 28, 2019)
Sign up for online therapy today
Your therapist is ready to start the journey with you today - so what are you waiting for?