Manage Your Bipolar with Online Therapy
While it is common for people to experience mood swings from time to time, bipolar disorder is much more severe. When someone has bipolar disorder (also known as manic depression) their mood shifts from periods of over-excitement and feeling like you're "on fire" (manic episodes) to periods of feeling severely depressed (depressive episodes).
During manic episodes, it's common to have a generally elevated mood, be highly active, experience higher self-esteem and need less sleep. This often alternates with depressive periods where you feel little joy in life, have problems sleeping, gain or lose weight and experience a loss of energy.
While this can be stressful and even debilitating, there is hope. Our therapy for bipolar is based on cognitive behavioral therapy (CBT), which has been shown in research studies to help people with bipolar disorder, often used in conjunction with medication. You see, it is your thoughts that affect your perception of the world, and with bipolar disorder, your brain tends to process information in an inaccurate and distorted way. With the help of your therapist, you will be able to identify and challenge these distorted and negative thought patterns that cause your stress and even harmful behavior. By identifying the situations that trigger your manic and depressive episodes, you will be more aware of when a mood shift is about to happen. And, eventually, you will be able to control your emotions and stress. By discovering new coping and behavioral skills, you will be able to stick to a treatment plan and live a more stable lifestyle, which will reduce the risks of a relapse.
Sign up and start getting happier now
Your therapist is ready to start the journey with you today - so what are you waiting for?
Take our test & get instant help
Answer a few questions and get immediate results and recommendations. It only takes a few minutes, so let's get started!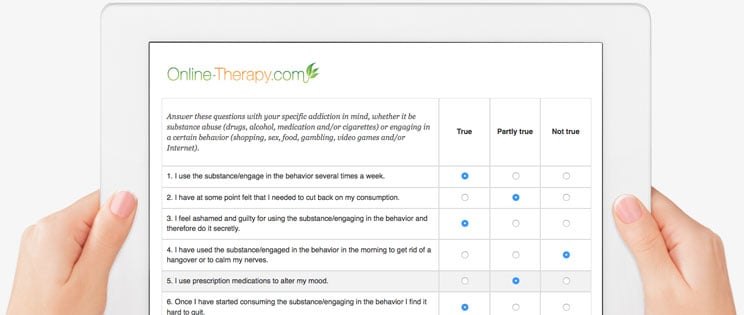 Reviews
Our online therapy services have received 1950 reviews and the average rating is 4.7 out of 5 stars.
Rating: [5 out of 5 stars!]
"The worksheets are very insightful! The feedback on your worksheets is a great resource. I found the layout easy to navigate and the calls with a therapist helpful. I think it is important to note that it is still up to you to use it. There are not many prompts and it can feel like a low pressure commitment - other than the payment. So you may want to set additional reminders to schedule appointments or set time to work on the worksheets. But the resources are clearly laid out and very well made."
Great Resources For Those Who Will Use Them (December 14, 2021)
Rating: [5 out of 5 stars!]
"I'm grateful and glad I had someone else to speak to and really help me put things back into perspective for me."
Sm (October 26, 2021)
Rating: [4 out of 5 stars!]
"Love it! Like the mix of worksheets and virtual meetings. My therapist has really helped me to see my issues with a different perspective."
JC (November 16, 2021)
Rating: [5 out of 5 stars!]
"I have been working with Melissa for a few months now and she has been so helpful, not just during out sessions but between them as well. I am able to message her and receive thorough responses between sessions. She has provided so many great external resources for me to look into. I am so thankful for her calming presence as I work thru some big life changes."
Macky (November 01, 2021)
Rating: [5 out of 5 stars!]
"I really like my therapist. I've tried several other online services and he's the best so far!"
So Far So Good (December 02, 2021)
Rating: [5 out of 5 stars!]
"Have not been active the last two weeks due to private reasons but I am overall very satisfied with the sheets and my therapist."
Philipp (December 15, 2021)
Rating: [5 out of 5 stars!]
"What I love the most about Online-Therapy is the responsive therapist I've been assigned too. The worksheets are great. However, knowing that someone really is working with you is truly a relief. Thank you so very much for the support!"
Humble2000 (November 09, 2021)
Rating: [5 out of 5 stars!]
"I love the set up of this program and the way it works. And I really love my therapist Lynn. So happy with this option for therapy right now."
Liz (October 19, 2021)
Rating: [5 out of 5 stars!]
"This has been a positive experience! Online Therapy removed the barriers to getting help."
Brianom (December 20, 2021)
Rating: [5 out of 5 stars!]
"I am truly grateful for this program. The worksheets helped me to make so many discoveries about myself and my past behaviors, which in turn helped me to make tremendous progress.

I would also like to wholeheartedly thank Bernadette Eze for her guidance and support during this journey. I was going through something very difficult last year, and her words of encouragement and guidance helped me to complete a very difficult task. I could not have done this without her support. I am forever indebted. Thank you."
LightK (January 04, 2022)
Sign up for online therapy today
Your therapist is ready to start the journey with you today - so what are you waiting for?
Have any questions?
Are you unsure of what program to choose or have any questions about our services? Check our FAQ to alleviate any concerns.