Manage Your Bipolar with Online Therapy
While it is common for people to experience mood swings from time to time, bipolar disorder is much more severe. When someone has bipolar disorder (also known as manic depression) their mood shifts from periods of over-excitement and feeling like you're "on fire" (manic episodes) to periods of feeling severely depressed (depressive episodes).
During manic episodes, it's common to have a generally elevated mood, be highly active, experience higher self-esteem and need less sleep. This often alternates with depressive periods where you feel little joy in life, have problems sleeping, gain or lose weight and experience a loss of energy.
While this can be stressful and even debilitating, there is hope. Our therapy for bipolar is based on cognitive behavioral therapy (CBT), which has been shown in research studies to help people with bipolar disorder, often used in conjunction with medication. You see, it is your thoughts that affect your perception of the world, and with bipolar disorder, your brain tends to process information in an inaccurate and distorted way. With the help of your therapist, you will be able to identify and challenge these distorted and negative thought patterns that cause your stress and even harmful behavior. By identifying the situations that trigger your manic and depressive episodes, you will be more aware of when a mood shift is about to happen. And, eventually, you will be able to control your emotions and stress. By discovering new coping and behavioral skills, you will be able to stick to a treatment plan and live a more stable lifestyle, which will reduce the risks of a relapse.
Sign up and start getting happier now
Your therapist is ready to start the journey with you today - so what are you waiting for?
Take our test & get instant help
Answer a few questions and get immediate results and recommendations. It only takes a few minutes, so let's get started!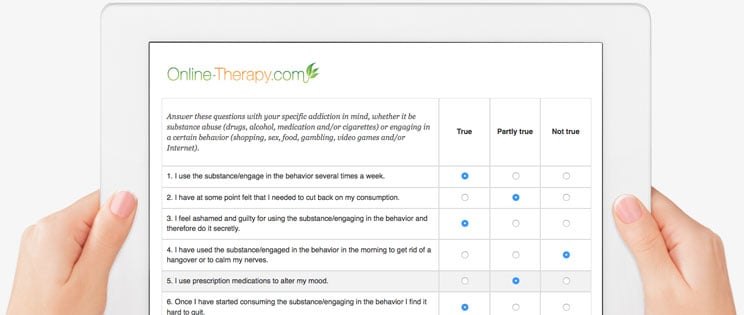 Reviews
Our online therapy services have received 2137 reviews and the average rating is 4.7 out of 5 stars.
Rating: [5 out of 5 stars!]
"It has been great for me to assess habits that have been adding stress to my life."
MD (March 12, 2022)
Rating: [5 out of 5 stars!]
"I really like that there is access to therapists globally. It makes you feel like this network of help is much bigger than your struggles and you're going to be okay. They have a lot of tools and a different approach which I appreciate."
Vee (May 03, 2022)
Rating: [5 out of 5 stars!]
"The program is very well designed with a great mix of worksheets and webinars to get you started. The therapist has short bits of helpful feedback for nearly everything that is submitted and the 1-on-1 sessions really bring all the therapy together."
Practical And Effective (May 17, 2022)
Rating: [5 out of 5 stars!]
"Dr. Paula Ehrmantraut was extremely helpful and definitely helped me get through my situation. She was very supportive and understanding and would definitely recommend. 5 stars"
Dr. Paula Ehrmantraut (April 06, 2022)
Rating: [5 out of 5 stars!]
"we finally matched with a great therapist and it has been so helpful to have weekly checkins that hold us accountable."
Krishna (May 26, 2022)
Rating: [4 out of 5 stars!]
"Everything is going quite as well as I had hoped"
Justme (February 28, 2022)
Rating: [5 out of 5 stars!]
"So far I've been using this program for about 3 weeks and I am already feel like I am on a better path! My therapist is amazing, very approachable, and understanding of my situation. I enjoy being able to work through these worksheets at my own pace without feeling overwhelmed. Would definitely recommend this program."
NL (April 04, 2022)
Rating: [5 out of 5 stars!]
"I have been doing so much better in realizing behavior and fixing it. My therapist, Kimberly, is great at responding, fizzle out tough situations, and make me feel more like me in a healthy way."
AJ (May 27, 2022)
Rating: [5 out of 5 stars!]
"I was always reluctant to seek any kind of help with my depression and anxiety but I am so thankful to God that I did this. It has truly led to an incredible transformation. Every day that I have applied these lessons and new ways of thinking I feel more and more like myself. Things are not 100% better but they are certainly looking better and that's a wonderful place to be."
Mich (April 06, 2022)
Rating: [5 out of 5 stars!]
"I have been with Vanessa for a while now. Vanessa helped me through a very difficult time. She not only listened to what I was saying she also helped with practical tips which were really useful at that time. I have since kept theses tips up in everyday life.

Since now the difficult time as passed I have remained with Vanessa for therapy once a week which has helped me out so much and added so much to my everyday life. I have also found the website very helpful . I would not hesitate recommending Vanessa to other people she has all the right skills and more to offer."
Hello (April 08, 2022)
Sign up for online therapy today
Your therapist is ready to start the journey with you today - so what are you waiting for?
Have any questions?
Are you unsure of what program to choose or have any questions about our services? Check our FAQ to alleviate any concerns.