Manage Your Bipolar with Online Therapy
While it is common for people to experience mood swings from time to time, bipolar disorder is much more severe. When someone has bipolar disorder (also known as manic depression) their mood shifts from periods of over-excitement and feeling like you're "on fire" (manic episodes) to periods of feeling severely depressed (depressive episodes).
During manic episodes, it's common to have a generally elevated mood, be highly active, experience higher self-esteem and need less sleep. This often alternates with depressive periods where you feel little joy in life, have problems sleeping, gain or lose weight and experience a loss of energy.
While this can be stressful and even debilitating, there is hope. Our therapy for bipolar is based on cognitive behavioral therapy (CBT), which has been shown in research studies to help people with bipolar disorder, often used in conjunction with medication. You see, it is your thoughts that affect your perception of the world, and with bipolar disorder, your brain tends to process information in an inaccurate and distorted way. With the help of your therapist, you will be able to identify and challenge these distorted and negative thought patterns that cause your stress and even harmful behavior. By identifying the situations that trigger your manic and depressive episodes, you will be more aware of when a mood shift is about to happen. And, eventually, you will be able to control your emotions and stress. By discovering new coping and behavioral skills, you will be able to stick to a treatment plan and live a more stable lifestyle, which will reduce the risks of a relapse.
Sign up and start getting happier now
Your therapist is ready to start the journey with you today - so what are you waiting for?
Take our test & get instant help
Answer a few questions and get immediate results and recommendations. It only takes a few minutes, so let's get started!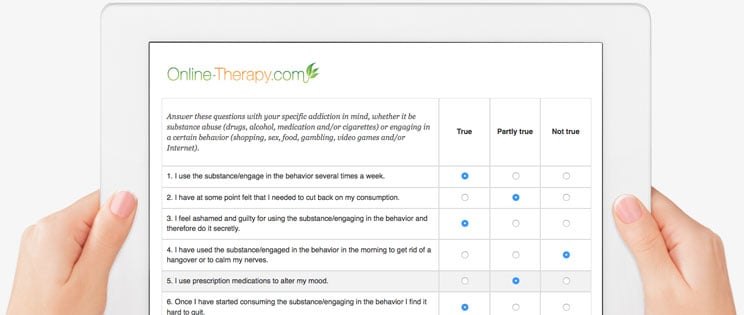 Reviews
Our online therapy services have received 2348 reviews and the average rating is 4.7 out of 5 stars.
Rating: [5 out of 5 stars!]
"I feel a better sense of hope"
Sm (September 11, 2022)
Rating: [5 out of 5 stars!]
"Top notch service, very helpful & easy platform"
Kevin (August 29, 2022)
Rating: [5 out of 5 stars!]
"They did a great job with site layout for those who need it. You can right click for dark screen mode which works great and the therapists are good too :)"
Ry (September 12, 2022)
Rating: [5 out of 5 stars!]
"Extremely helpful"
Review (August 25, 2022)
Rating: [5 out of 5 stars!]
"I have really felt the benefit of having someone to talk to on a weekly basis and who I can check in with via messages throughout the week. The worksheets are a great addition and provide that bit of deeper understanding to my anxiety. A great service!"
Jacquie (July 18, 2022)
Rating: [5 out of 5 stars!]
"Tommorow may never come, goals may never be reached if time doesn't happen, So we have to make it happen now, so that even if our goals are too far and cant ever seem to be reached, we can enjoy the things that matter to use most that give us the most value in our lives by making time for what matters to us most without having to wait for long term goals first. we can make the time to be happy and have peace and the love in our lives to meet our goals at the same time without feeling overwhelmed and never seeming to reach those goals.
the goals and the values are one in the same if they are in harmony and one gives them equal amount of time, because one cannot be without the other. This course has helped me re organize my values and priorities and given my life value by helping me see things I needed too. Life is a journey of learning and re learning, this course is part of that gift, and that gift of information gives you the time you need to value what matters most without giving up."
Love Peace And Happiness Now (September 23, 2022)
Rating: [5 out of 5 stars!]
"There are lots of tools that are always available even when your therapist is not. My therapist is also incredible, which has helped me really move forward in life."
Great! (July 21, 2022)
Rating: [5 out of 5 stars!]
"I put off therapy for years, because I struggle talking to my friends about my problems. But Dr. Gates made me feel comfortable from our first session. She is patient and never to pushes me to talk about anything I am not ready to talk about."
Kris10 (September 26, 2022)
Rating: [5 out of 5 stars!]
"the therapy offered here is offering me a little bit of better management which is what i really need."
Luis (August 14, 2022)
Rating: [5 out of 5 stars!]
"So far everything has been really helpful!"
Double M (September 18, 2022)
Sign up for online therapy today
Your therapist is ready to start the journey with you today - so what are you waiting for?
Have any questions?
Are you unsure of what program to choose or have any questions about our services? Check our FAQ to alleviate any concerns.