Manage Your Bipolar with Online Therapy
Suffering from bipolar disorder (manic depression) is much more than just feeling happy sometimes and sad sometimes. These are all mood swings which we all experience from time to time. When you are bipolar, your mood shifts from periods of over-excitement and feeling like you're "on fire" (manic episodes) to periods of feeling severely depressed (depressive episodes).
During manic episodes, it's common to have a generally elevated mood, be highly active, experience higher self-esteem and need less sleep. This often alternates with depressive periods where you feel little joy in life, have problems sleeping, gain or lose weight and experience a loss of energy.
Our therapy for bipolar is based on cognitive behavioral therapy (CBT). CBT is a great alternative to medication or when you don't respond to the medication as hoped. It's your thoughts that affect your perception of the world and when you are bipolar it's your distorted thoughts that lead to your faulty and problematic perceptions of reality. With the help of your therapist, you will be able to identify and challenge these distorted and negative thought patterns that cause your exaggerated and even harmful behavior. By identifying the situations that trigger your manic and depressive episodes. You will be more aware of when a mood shift is about to happen and you'll eventually be able to control your emotions and stress. By learning new coping and behavioral skills, you will be able to stick to a treatment plan and live a more stable lifestyle, which will reduce the risks of a relapse.
Sign up and start getting happier now
Your therapist is ready to start the journey with you today - so what are you waiting for?
Take our test & get instant help
Answer a few questions and get immediate results and recommendations. It only takes a few minutes, so let's get started!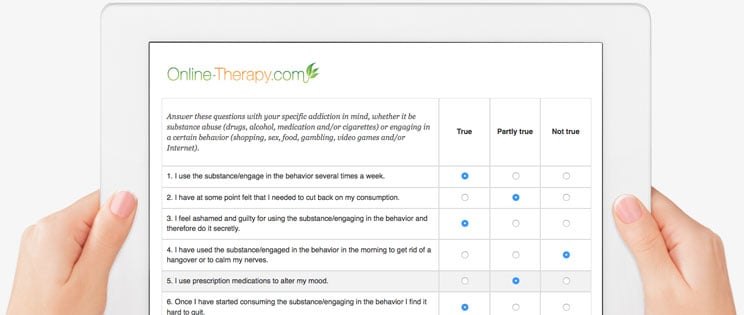 Reviews - Bipolar
This program has received 13 reviews and the average rating is 4.5 out of 5 stars.
Rating: [5 out of 5 stars!]
"I like that there are worksheets. I learn better when I can read something. This program has helped me get out of bed more often and get stuff done!"
Kari (March 04, 2017)
Rating: [5 out of 5 stars!]
"This program has been life-changing for me.
When I started I was depressed and irritable: having unpredictable mood-swings from constant crying to "explosions" of anger almost daily. My therapist Maggie Sweet taught me how to change my thinking and thus changing my feelings and actions. The results have been nothing short of a miracle: I feel happy, enjoying life, working on my responsibilities. Therapist Sweet is excellent!"
PJ (December 02, 2016)
Rating: [3 out of 5 stars!]
"My therapist has been pretty good at keeping me on point and calling me out when I'm not doing things that I should be doing. The only complaint that I have is sometimes during our live sessions there are issues and we get disconnected. Then it's difficult to get back online with her."
Ginger42 (September 15, 2016)
Rating: [4 out of 5 stars!]
"I have not done much yet but seems to be very well put together"
Bobt (August 18, 2016)
Rating: [4 out of 5 stars!]
"Very easy to use."
Bipolarelder (April 19, 2016)
Rating: [5 out of 5 stars!]
"This program is the best thing that happened to me (except for my husband and kids of course)! It has changed my life and helps me change unwanted thoughts and behavior into a more optimistic and constructive way of dealing with things. Both the sessions, worksheets and chats are some amazing tools, that I can really use. Thank you so much for making this program. I never thought I could change my life so much, and be the master of my emotions and the bipolar disease I have, instead of just letting the feelings decide, how my life turns out."
Freja (August 19, 2014)
Rating: [5 out of 5 stars!]
"The "Online Therapy" was a fabulous experience for me and came at just the right time in my life. My therapist was sensitive to my needs and always gave me encouragement and words of wisdom to help me through my day. She therapist was always there when I needed her and was quick to review my worksheets and provide me with feedback.

I would recommend this to anyone!

It's great that you don't even have to leave your home or make an appointment or have to get dressed up to participate!

It was truly a positive and helpful therapy."
Karen (August 04, 2012)
Rating: [5 out of 5 stars!]
"I feel this is big help for me!"
Terrence Byrom (April 30, 2011)
Rating: [5 out of 5 stars!]
"I am very satisfied with your response and answers. Many thanks. Josephine"
Josephine (March 02, 2011)
Rating: [4 out of 5 stars!]
"These first 2 weeks of the program have given me some hope."
Hope (January 05, 2011)
Rating: [5 out of 5 stars!]
"I wouldn't mind taking a course again this Fall. I really enjoyed my sessions with you, but at the end I became to busy and was unable to focus on the last 4 worksheets...so I cheated myself.

I would need to devote more of my time and this would be more likely this Fall. Thanks again for a wonderful experience and growth! I appreciated your time and advice.."
Anonymous (August 16, 2010)
Rating: [5 out of 5 stars!]
"I like the worksheets... I'm still a little confused on how to use them....
I'm looking forward to the chat. My time is mountain time and I need to figure out pacific time with my time.

I'm grateful for the emails from my therapist!! I know someone is listening to me and seems to understand me.
this means a lot to me... Thank You."
Karen (June 15, 2010)
Rating: [4 out of 5 stars!]
"I got diagnosed with bipolar a few years ago and went to a therapist but didn't feel any difference. This online thing is better - here can get support whenever I want (well at least they are online most of the time).

But I have understood this takes time... Any way, I guess I just wanted to say thank you for the work you've done so far."
Grants (March 30, 2010)
Sign up for online therapy today
Your therapist is ready to start the journey with you today - so what are you waiting for?