Manage Your Bipolar with Online Therapy
While it is common for people to experience mood swings from time to time, bipolar disorder is much more severe. When someone has bipolar disorder (also known as manic depression) their mood shifts from periods of over-excitement and feeling like you're "on fire" (manic episodes) to periods of feeling severely depressed (depressive episodes).
During manic episodes, it's common to have a generally elevated mood, be highly active, experience higher self-esteem and need less sleep. This often alternates with depressive periods where you feel little joy in life, have problems sleeping, gain or lose weight and experience a loss of energy.
While this can be stressful and even debilitating, there is hope. Our therapy for bipolar is based on cognitive behavioral therapy (CBT), which has been shown in research studies to help people with bipolar disorder, often used in conjunction with medication. You see, it is your thoughts that affect your perception of the world, and with bipolar disorder, your brain tends to process information in an inaccurate and distorted way. With the help of your therapist, you will be able to identify and challenge these distorted and negative thought patterns that cause your stress and even harmful behavior. By identifying the situations that trigger your manic and depressive episodes, you will be more aware of when a mood shift is about to happen. And, eventually, you will be able to control your emotions and stress. By discovering new coping and behavioral skills, you will be able to stick to a treatment plan and live a more stable lifestyle, which will reduce the risks of a relapse.
Sign up and start getting happier now
Your therapist is ready to start the journey with you today - so what are you waiting for?
Take our test & get instant help
Answer a few questions and get immediate results and recommendations. It only takes a few minutes, so let's get started!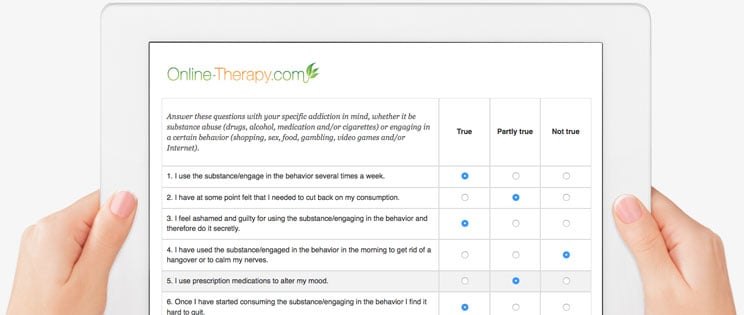 Reviews
Our online therapy services have received 591 reviews and the average rating is 4.6 out of 5 stars.
Rating: [4 out of 5 stars!]
"Just started the program and so far it has been pretty informative."
Meg (November 06, 2019)
Rating: [5 out of 5 stars!]
"Great advise, thanks for being the support I need."
JJ (September 12, 2019)
Rating: [5 out of 5 stars!]
"I would like to sincerely thank my personal therapist Jacob and Online Therapy for helping me through a very rough time in my life. The therapy exceeded my expectations and has made me see things in a much better frame of mind."
Mike's Review (September 10, 2019)
Rating: [5 out of 5 stars!]
"Its easy to navigate, easy to understand and works well."
Si (October 31, 2019)
Rating: [5 out of 5 stars!]
"This program has been beneficial to me.
The videos and worksheets have been especially helpful.

I chose not to have live chats with my therapist, but I feel her written notes and encouragement to me were beneficial. I moved along a lot faster in the program over the course of a full month than the feedback I've gotten. To be fair, I did sessions 6-8 all this weekend, so she hasn't had time to review. I was through session 5 by last weekend and devoted a lot of time to one part of the session and would love to have had comments through as far as I'd completed. My latest feedback at the end of this final week of my month-long subscription is still just through session 2. At least that's all I can find. I have implemented and practiced all the suggestions and and completed all of the exercises except for one that I skipped on purpose. My current subscription expires in two days.

I wish there were a search feature for therapist feedback and maybe there is, but I don't see one. It can be a little tedious going back to each worksheet to find something I want to comment on if I didn't do it initially. I don't care for the Action Plan calendar. It's not user-friendly. I'd like to copy one day's actions to another day without having to start over. It's too time consuming. Some days I do the same things. The Notes app on my phone is a lot easier to use and I can record what I need to do with with audio.

I'm on the list to work with a local CBT specialist in my area. So, I signed up for this program to do in the interim while I was waiting for my first appointment with her. I'm not going to continue with the online program, but I'm grateful for it and for what I've learned and for the fact that it helped me learn about new ways to challenge my thinking and re-channel it to more positive thoughts that bring about better behavior. I will continue to use what I've learned, particularly journaling and re-directing my thinking. I already do yoga and meditate. I recommend giving this program a try if you're not sure. I'd do it again."
Emadgen (October 06, 2019)
Rating: [5 out of 5 stars!]
"I really enjoy the daily interaction with a therapist and find it better to communicate in writing where I can organize my thoughts as opposed to a face to face office visit."
Half Way (November 13, 2019)
Rating: [5 out of 5 stars!]
"Iv only been doing it for a couple of weeks but have noticed two major break threw in my thoughts and feelings ... looking forward to learning new information to help make life little easier"
Allenm01 (September 17, 2019)
Rating: [5 out of 5 stars!]
"Amazing"
Tara (December 04, 2019)
Rating: [4 out of 5 stars!]
"Timely help and recommended by a friend. I am very grateful to my therapist on online therapy."
Ta (November 12, 2019)
Rating: [5 out of 5 stars!]
"I feel better having someone to talk about things with and help me get through the week. I work a lot and cant afford time off to go to appointments etc, and having this at hand 24/7 is so much better in my opinion than a once a week session. I would highly recommend this to anyone with a busy schedule."
Geomatics89 (November 12, 2019)
Sign up for online therapy today
Your therapist is ready to start the journey with you today - so what are you waiting for?