Manage Your Bipolar with Online Therapy
While it is common for people to experience mood swings from time to time, bipolar disorder is much more severe. When someone has bipolar disorder (also known as manic depression) their mood shifts from periods of over-excitement and feeling like you're "on fire" (manic episodes) to periods of feeling severely depressed (depressive episodes).
During manic episodes, it's common to have a generally elevated mood, be highly active, experience higher self-esteem and need less sleep. This often alternates with depressive periods where you feel little joy in life, have problems sleeping, gain or lose weight and experience a loss of energy.
While this can be stressful and even debilitating, there is hope. Our therapy for bipolar is based on cognitive behavioral therapy (CBT), which has been shown in research studies to help people with bipolar disorder, often used in conjunction with medication. You see, it is your thoughts that affect your perception of the world, and with bipolar disorder, your brain tends to process information in an inaccurate and distorted way. With the help of your therapist, you will be able to identify and challenge these distorted and negative thought patterns that cause your stress and even harmful behavior. By identifying the situations that trigger your manic and depressive episodes, you will be more aware of when a mood shift is about to happen. And, eventually, you will be able to control your emotions and stress. By discovering new coping and behavioral skills, you will be able to stick to a treatment plan and live a more stable lifestyle, which will reduce the risks of a relapse.
Sign up and start getting happier now
Your therapist is ready to start the journey with you today - so what are you waiting for?
RIGHT NOW:

Free therapy due to the coronavirus pandemic

We want to help as many people as possible during these extraordinary times.
Therefore we are offering parts of our online therapy platform for free.

The free access includes our online therapy program with 8 easy-to-follow sections and 25 worksheets, yoga and meditation videos, activity plan, journal, and tests (communicating with a personal therapist is not included).
Take our test & get instant help
Answer a few questions and get immediate results and recommendations. It only takes a few minutes, so let's get started!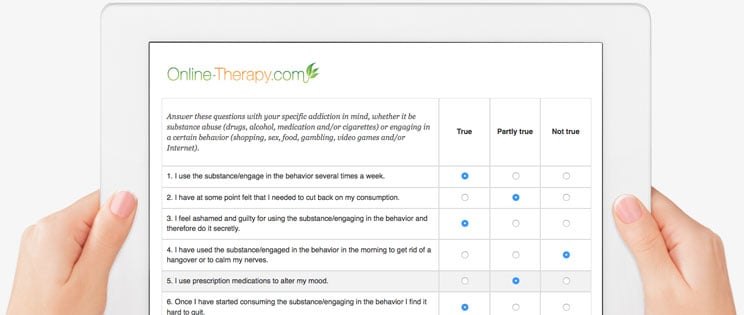 Reviews
Our online therapy services have received 1075 reviews and the average rating is 4.7 out of 5 stars.
Rating: [5 out of 5 stars!]
"Great support at a time when things are really tough. Life gets hard and having a place to get things straight in your head is very important to surviving in this difficult world."
LDMJ (November 17, 2020)
Rating: [4 out of 5 stars!]
"So far my therapist has been great. It's me that needs to amp it up and do the work more."
DJ (October 10, 2020)
Rating: [5 out of 5 stars!]
"Thank you so much this online program helped me in so many ways"
Desi (September 02, 2020)
Rating: [5 out of 5 stars!]
"I'm grateful for this concept. The combination of CBT worksheets and a real therapist has been helping me a lot... and it has only been nearly a month! I've been re-examining my thoughts and actively choosing the ones more beneficial for me. No, I'm not perfect. I still have a long way to go, but I'm very grateful for where I have gotten to now."
Jade (September 28, 2020)
Rating: [5 out of 5 stars!]
"David Aronson and the Online Therapy program has been a great help throughout my difficult mental journey. In just a months period, I have noticed a significant change in the way I think and act. Already excited to get into my second month of therapy. Only way to make a real difference in your life, is to take that first step forward. Thank you so much!"
Christian O. (September 03, 2020)
Rating: [5 out of 5 stars!]
"I am very pleased with the service Online-Therapy.com has provided me so far. The videos and worksheets help me to be organized with my thoughts and help me see where I am at, and my therapist, Elaina Gardner, is responding daily to my questions/comments which is nice. I am looking forward to my first video call with Elaina next week! I only wish I could have had a video call a little earlier.... but Elaina was already booked up all this week."
Pleased. (November 13, 2020)
Rating: [5 out of 5 stars!]
"Prompt, excellent feedback!"
Gray (October 05, 2020)
Rating: [5 out of 5 stars!]
"Chelsea is an amazing counselor! I'm learning a lot and I feel like each week I am growing! I like having worksheets and feed back!"
RJ (October 29, 2020)
Rating: [5 out of 5 stars!]
"Thus far, this experience has been helpful!"
Ali (October 05, 2020)
Rating: [3 out of 5 stars!]
"The therapy sessions are great, so are the worksheets. I really like my therapist and we get on great. I have only given the service 3 stars because there is really very limited time available to book 1:1 sessions. Also the service offering is very ridged. I'd prefer only to have 1:1 video sessions, in order to get those I have to pay for other services I don't really use. Such a shame as I have a great relationship with my therapist."
Daveh (October 12, 2020)
Sign up for online therapy today
Your therapist is ready to start the journey with you today - so what are you waiting for?
Have any questions?
Are you unsure of what program to choose or have any questions about our services? Check our FAQ to alleviate any concerns.