Manage Your Bipolar with Online Therapy
While it is common for people to experience mood swings from time to time, bipolar disorder is much more severe. When someone has bipolar disorder (also known as manic depression) their mood shifts from periods of over-excitement and feeling like you're "on fire" (manic episodes) to periods of feeling severely depressed (depressive episodes).
During manic episodes, it's common to have a generally elevated mood, be highly active, experience higher self-esteem and need less sleep. This often alternates with depressive periods where you feel little joy in life, have problems sleeping, gain or lose weight and experience a loss of energy.
While this can be stressful and even debilitating, there is hope. Our therapy for bipolar is based on cognitive behavioral therapy (CBT), which has been shown in research studies to help people with bipolar disorder, often used in conjunction with medication. You see, it is your thoughts that affect your perception of the world, and with bipolar disorder, your brain tends to process information in an inaccurate and distorted way. With the help of your therapist, you will be able to identify and challenge these distorted and negative thought patterns that cause your stress and even harmful behavior. By identifying the situations that trigger your manic and depressive episodes, you will be more aware of when a mood shift is about to happen. And, eventually, you will be able to control your emotions and stress. By discovering new coping and behavioral skills, you will be able to stick to a treatment plan and live a more stable lifestyle, which will reduce the risks of a relapse.
Sign up and start getting happier now
Your therapist is ready to start the journey with you today - so what are you waiting for?
Take our test & get instant help
Answer a few questions and get immediate results and recommendations. It only takes a few minutes, so let's get started!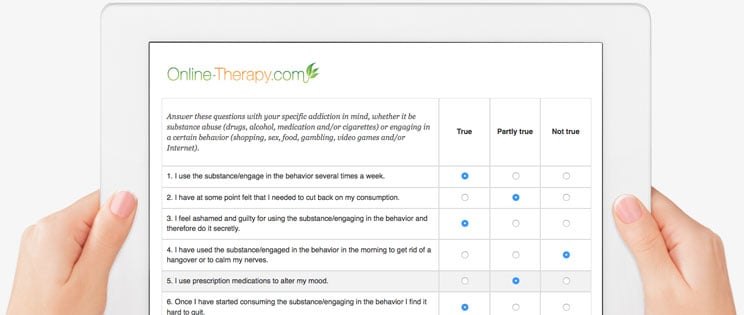 Reviews
Our online therapy services have received 2670 reviews and the average rating is 4.7 out of 5 stars.
Rating: [5 out of 5 stars!]
"I was so skeptical about therapy via online but knew I needed to do something. I almost canceled my subscription before I even started, thinking I was just wasting my money, but I was very wrong. I did my due diligence in filling out my worksheets and made a virtual appointment not knowing who my therapist would be. I prayed that God would place me with someone I already felt I knew and could be completely vulnerable with and He answered my prayer. Not only did I feel like I had known Marie for years upon meeting her the first session but she was able to take the most overwhelming feelings I have ever felt and make me feel very normal in feeling them. Marie was also able to take my debilitating anxiety and bring it down so quickly with just a few simple tools. She replies to my worksheets and makes me feel like her complete priority. It truly feels like I am talking with a friend. Needless to say, I am SO incredibly grateful I didn't cancel and look forward to every meeting with her."
Healing (March 17, 2023)
Rating: [5 out of 5 stars!]
"It has been a pleasant surprise, therapist is in contact daily, very personable and helpful."
Marcy (March 01, 2023)
Rating: [5 out of 5 stars!]
"The therapist is wonderful!"
Rascal36 (April 16, 2023)
Rating: [5 out of 5 stars!]
"I'm just starting out with online therapy. I've had a handful of in-person sessions and the results are nothing to be desired. So far I like how the therapist sends messages and that there is work to do outside of the session. I chose this route to more accountable for my actions and success."
Just Starting Out (May 05, 2023)
Rating: [5 out of 5 stars!]
"I'm using OnlineTherapy for couples' counselling, very satisfied so far, the texting option is really convenient."
Bitsey Bloom (May 08, 2023)
Rating: [5 out of 5 stars!]
"good services"
Fafa (April 19, 2023)
Rating: [5 out of 5 stars!]
"Great site and therapists"
Meg (May 16, 2023)
Rating: [5 out of 5 stars!]
"I love the format with the video course and worksheet to fill in....the Counselor they assigned me after easy initial assessment is spot on...so quick at replying, such useful suggestions made to fit situation...I kept going round and round in circles, no energy to do essential things...then she interrupted this downward spiral with meal prepping idea ..so I used up energy, had less energy to keep just thinking, being more nourished instead of relying on junk ready cookies, crisps etc. I could write down and start applying all the many other suggestions, one at a time. Thank you🌹"
Dragonfly (March 10, 2023)
Rating: [5 out of 5 stars!]
"As most adults with job, spouse, kids, etc., I struggle with finding the time to get a good nights sleep let alone time to talk and evaluate my life. Online Therapy allows for that discussion to happen on my terms fitting into my schedule.

The conversation has been really enlightening so far and looking forward to continuing this journey."
Time Well Spent (April 03, 2023)
Rating: [5 out of 5 stars!]
"I like the website layout and the ability to move through the sections. It took me a little bit to get comfortable with it, but my therapist has been great and I feel like this is helping me work through things I didn't even know I needed to work through. It is self paced and how fast you move through the sections is up to you."
Ro (March 25, 2023)
Sign up for online therapy today
Your therapist is ready to start the journey with you today - so what are you waiting for?
Have any questions?
Are you unsure of what program to choose or have any questions about our services? Check our FAQ to alleviate any concerns.