Manage Your Bipolar with Online Therapy
While it is common for people to experience mood swings from time to time, bipolar disorder is much more severe. When someone has bipolar disorder (also known as manic depression) their mood shifts from periods of over-excitement and feeling like you're "on fire" (manic episodes) to periods of feeling severely depressed (depressive episodes).
During manic episodes, it's common to have a generally elevated mood, be highly active, experience higher self-esteem and need less sleep. This often alternates with depressive periods where you feel little joy in life, have problems sleeping, gain or lose weight and experience a loss of energy.
While this can be stressful and even debilitating, there is hope. Our therapy for bipolar is based on cognitive behavioral therapy (CBT), which has been shown in research studies to help people with bipolar disorder, often used in conjunction with medication. You see, it is your thoughts that affect your perception of the world, and with bipolar disorder, your brain tends to process information in an inaccurate and distorted way. With the help of your therapist, you will be able to identify and challenge these distorted and negative thought patterns that cause your stress and even harmful behavior. By identifying the situations that trigger your manic and depressive episodes, you will be more aware of when a mood shift is about to happen. And, eventually, you will be able to control your emotions and stress. By discovering new coping and behavioral skills, you will be able to stick to a treatment plan and live a more stable lifestyle, which will reduce the risks of a relapse.
Sign up and start getting happier now
Your therapist is ready to start the journey with you today - so what are you waiting for?
Take our test & get instant help
Answer a few questions and get immediate results and recommendations. It only takes a few minutes, so let's get started!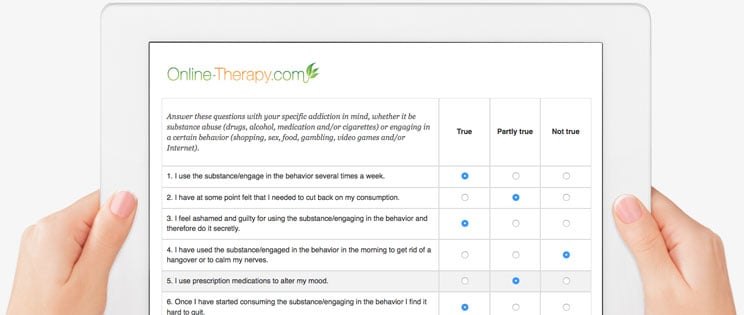 Reviews
Our online therapy services have received 1197 reviews and the average rating is 4.7 out of 5 stars.
Rating: [5 out of 5 stars!]
"I have loved online therapy. I am a very closed person and being able to get the help I need from the privacy of my own home, has been the best option for my needs. My therapist has walked with me through dark moments and has helped me get to a better place."
Mel (January 15, 2021)
Rating: [5 out of 5 stars!]
"Such an enlightening and empowering program. I feel like I've been given tangible tools to help me change behaviors that do not serve me well, and magnify those that enrich my life."
May (December 18, 2020)
Rating: [5 out of 5 stars!]
"I am very pleased with the progress I have made on this program. I feel much more in control of my reactions and my husband has noticed the change in my demeanor. Thank you for the help I needed in an easy to access program"
Portland Gram (November 12, 2020)
Rating: [5 out of 5 stars!]
"There is such a profound difference in the "getting to know you" section and how I feel at the end. It's very encouraging. I can't believe how unhappy I was. My relationships are better. Better than marriage counseling or any other therapy for sure."
Marisa (December 29, 2020)
Rating: [5 out of 5 stars!]
"I have worked with a few therapist and have always found them unstructured conversations that have left me more frustrated. I prefer structure and evidence-based approaches and in my first session with Lance, I felt my brain physically shift into a balanced way of operating. Lance has a way of mobilising the English language that motivates me to be intentional with embedding the everyday small changes in my life for long-term success."
Adnan (December 13, 2020)
Rating: [5 out of 5 stars!]
"Great and professional care. This program has been highly helpful to me and my loved ones see a huge difference in me."
Jade Elizabeth (November 24, 2020)
Rating: [5 out of 5 stars!]
"The best of an online course, text therapy, and weekly meetings with your personal therapist! I'm so impressed. This platform has helped me more than in office meetings, app/text therapy, group therapy, group memberships, or anything else combined."
Meeska (November 28, 2020)
Rating: [5 out of 5 stars!]
"It was a great help"
Himani Kher (November 20, 2020)
Rating: [5 out of 5 stars!]
"very good i feel as though i've improved so much when i started this therapy"
Bridget (December 28, 2020)
Rating: [5 out of 5 stars!]
"Enjoying the process so far. All the extra tools and worksheets are helpful."
JB (December 28, 2020)
Sign up for online therapy today
Your therapist is ready to start the journey with you today - so what are you waiting for?
Have any questions?
Are you unsure of what program to choose or have any questions about our services? Check our FAQ to alleviate any concerns.