Manage Your Bipolar with Online Therapy
While it is common for people to experience mood swings from time to time, bipolar disorder is much more severe. When someone has bipolar disorder (also known as manic depression) their mood shifts from periods of over-excitement and feeling like you're "on fire" (manic episodes) to periods of feeling severely depressed (depressive episodes).
During manic episodes, it's common to have a generally elevated mood, be highly active, experience higher self-esteem and need less sleep. This often alternates with depressive periods where you feel little joy in life, have problems sleeping, gain or lose weight and experience a loss of energy.
While this can be stressful and even debilitating, there is hope. Our therapy for bipolar is based on cognitive behavioral therapy (CBT), which has been shown in research studies to help people with bipolar disorder, often used in conjunction with medication. You see, it is your thoughts that affect your perception of the world, and with bipolar disorder, your brain tends to process information in an inaccurate and distorted way. With the help of your therapist, you will be able to identify and challenge these distorted and negative thought patterns that cause your stress and even harmful behavior. By identifying the situations that trigger your manic and depressive episodes, you will be more aware of when a mood shift is about to happen. And, eventually, you will be able to control your emotions and stress. By discovering new coping and behavioral skills, you will be able to stick to a treatment plan and live a more stable lifestyle, which will reduce the risks of a relapse.
Sign up and start getting happier now
Your therapist is ready to start the journey with you today - so what are you waiting for?
Take our test & get instant help
Answer a few questions and get immediate results and recommendations. It only takes a few minutes, so let's get started!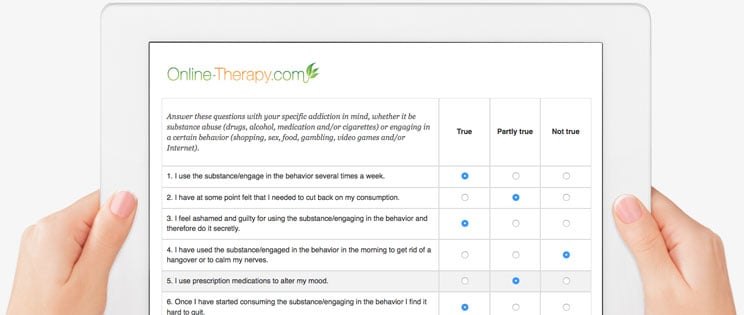 Reviews
Our online therapy services have received 621 reviews and the average rating is 4.6 out of 5 stars.
Rating: [5 out of 5 stars!]
"Convenient caring the right amount of blunt while staying showing compassion."
Tasha (November 27, 2019)
Rating: [4 out of 5 stars!]
"I get quick responses from the online therapist and definitely makes me think differently."
Tabanca (December 12, 2019)
Rating: [4 out of 5 stars!]
"I've been doing the program for about a month and so far it has helped me out. I am able to actively receive feedback on my day to day habits and thought processes. My therapist asks appropriate questions and provides very helpful and non-judgmental suggestions."
Mr.T (November 30, 2019)
Rating: [4 out of 5 stars!]
"I have been very happy with the quick response and thoughtful questions."
DavidRat (December 17, 2019)
Rating: [5 out of 5 stars!]
"I've only been using this service for a few weeks, but I really like the format! I'm a busy university student, and having something that really works with my time and my energy levels is awesome. I also like being able to refer back to what I've written and what my therapist has said, as I find that sometimes the high emotional intensity of in-person therapy wipes my memory of what we talked about!"
CB (January 08, 2020)
Rating: [5 out of 5 stars!]
"This has been a positive experience. The process has given me information to examine and new insights into behaviors of mine that are hurtful and not helpful. I look forward to making more progress each day."
Int Designer (December 05, 2019)
Rating: [5 out of 5 stars!]
"I really enjoy the daily interaction with a therapist and find it better to communicate in writing where I can organize my thoughts as opposed to a face to face office visit."
Half Way (November 13, 2019)
Rating: [5 out of 5 stars!]
"Very helpful, but it's somewhat expensive. You have to have self discipline and determination to change every day for it to work. I like it a lot. The worksheets are extremely helpful. They keep me positive and focused."
ScoobySnackCake (January 16, 2020)
Rating: [4 out of 5 stars!]
"I haven't finished the programme so can only speak for what I've done so far. But so far it's becoming helpful and making me question and improve my thought patterns. And it's helping me feel more positive and compassionate to others and myself."
Reviewer (January 19, 2020)
Rating: [5 out of 5 stars!]
"This Online Therapy has been the most supportive and helpful experience I've had with changing my mindset and becoming happier. Great support, can use it anytime and anywhere you want, great design, uplifting videos.. really good! Am really impressed with it and this would be my go to if I'll struggle with something in the future again. Thanks again!"
Lou (December 26, 2019)
Sign up for online therapy today
Your therapist is ready to start the journey with you today - so what are you waiting for?