Overcome Your GAD with Online Therapy
Feeling agitated and anxious and becoming sad and tired due to pressure and setbacks is just natural. It is something that we all encounter in life. But if you feel that you can seldom or never control your anxiety and fear and that this has had long-term negative effects on your life, then you might be suffering from generalized anxiety disorder (GAD).
GAD is characterized by chronic worrying about basically every aspect of your life, including work, money, health and relationships. This can, in turn, lead to common anxiety symptoms like insomnia, tense muscles, headache, grinding of teeth, excess sweating, dry mouth, rapid heartbeat, stomach problems and a need to urinate more often.
Our therapy for GAD is based on cognitive behavioral therapy (CBT). With the help of CBT and your therapist, you will learn how to identify the negative and irrational thoughts that cause your anxiety and replace them with positive and rational thoughts and behavior patterns. Using this GAD online therapy program you will learn relaxation techniques, problem solving strategies, ways to enhance your self-esteem and overcome your fears. Your therapist will help you to gradually expose yourself to situations that cause your worry, and eventually you will be able to do this feeling less anxious and with a greater sense of mastery. You will learn skills to take control over your worry, so you feel more empowered in life.
Sign up and start getting happier now
Your therapist is ready to start the journey with you today - so what are you waiting for?
Take our test & get instant help
Answer a few questions and get immediate results and recommendations. It only takes a few minutes, so let's get started!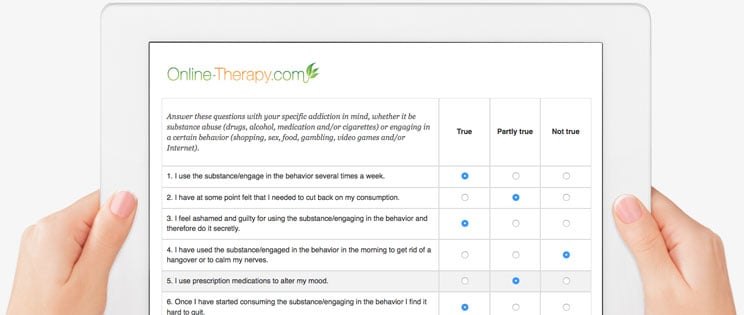 Reviews
Our online therapy services have received 2898 reviews and the average rating is 4.7 out of 5 stars.
Rating: [5 out of 5 stars!]
"So friendly."
Smudge (July 26, 2023)
Rating: [5 out of 5 stars!]
"Online-therapy.com has been incredible. The therapist I was originally matched with didn't work out and I got to pick my new therapist. I have been working with her for seven months and my quality of life has improved so much. She is professional, knowledgeable, and overall so incredible. I love the principles of this program and the accessibility. I never made much progress with in person therapy, but I am on track for a much happier future now that I am getting the help I need at a time and pace that fits into my schedule!"
LS (July 22, 2023)
Rating: [5 out of 5 stars!]
"Very attentive and caring! Really glad I chose to go through with this."
Bubbles (August 02, 2023)
Rating: [5 out of 5 stars!]
"I love this website as it makes couples counseling so much easier to access for everyone. The providers are all extremely professional and after just a short amount of time my partner and I already have tangible progress."
Accessibility (July 25, 2023)
Rating: [5 out of 5 stars!]
"I've enjoyed my experience with online-therapy so much. The therapist I was matched with has been incredible and has truly been helping me so much. I've loved the programme and all the worksheets, its kept me on track with working on myself throughout the week as opposed to just in the weekly live session. I would recommend this programme a thousand times over! Very grateful to have found this."
Rio (August 20, 2023)
Rating: [5 out of 5 stars!]
"The site has a great choice of resources to help understand and reflect on your mental health- would highly recommend!"
Bryony (September 28, 2023)
Rating: [5 out of 5 stars!]
"I find this program more participative and collaborative than traditional therapy. It does require you to show up in different ways, but it's a great method when you commit to it."
Collaborative (September 25, 2023)
Rating: [4 out of 5 stars!]
"incredibly convenient and modern way to access therapy"
Mary (August 29, 2023)
Rating: [5 out of 5 stars!]
"Bernadette is amazing, and I'm very grateful for her support."
AK (July 08, 2023)
Rating: [5 out of 5 stars!]
"This program really highlighted some things that I need to work on in my life and I am all over it full speed ahead! I appreciate all of the knowledge that I have consumed! Again I am a person who does deep research, but this program taught me alot about myself & where I need to get better! Thank you to all & Dr. Cleveland!! Highly appreciated!"
Superb (September 20, 2023)
Sign up for online therapy today
Your therapist is ready to start the journey with you today - so what are you waiting for?
Have any questions?
Are you unsure of what program to choose or have any questions about our services? Check our FAQ to alleviate any concerns.