Overcome Your GAD with Online Therapy
Feeling agitated and anxious and becoming sad and tired due to pressure and setbacks is just natural. It is something that we all encounter in life. But if you feel that you can seldom or never control your anxiety and fear and that this has had long-term negative effects on your life, then you might be suffering from generalized anxiety disorder (GAD).
When suffering from GAD it is common to experience chronic worrying about basically every aspect of your life, including work, money, health and relationships. This can, in turn, lead to common anxiety symptoms like tense muscles, headache, grinding of teeth, excess sweating, dry mouth, rapid heartbeat, stomach problems and a need to urinate more often.
Our therapy for GAD is based on cognitive behavioral therapy (CBT). With the help of CBT and your therapist, you will learn how to identify the negative and irrational thoughts that cause your anxiety and replace them with positive and rational thoughts and behavior patterns. This GAD online therapy program will educate you in self-control and relaxation techniques, including how to control impulses, build self-esteem and overcome your fear of failure. Your therapist will help you to gradually expose yourself to situations that cause your anxiety and eventually you will be able to do this without feeling anxious at all. You will be able to recognize your body's responses to fearful situations and come to learn that these physical symptoms are not harmful. Eventually they will go away, along with your anxiety.
Sign up and start getting happier now
Your therapist is ready to start the journey with you today - so what are you waiting for?
Take our test & get instant help
Answer a few questions and get immediate results and recommendations. It only takes a few minutes, so let's get started!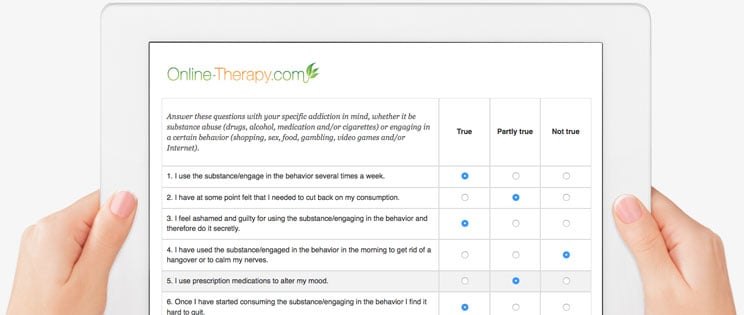 Reviews - Generalized Anxiety Disorder
This program has received 7 reviews and the average rating is 4.7 out of 5 stars.
Rating: [4 out of 5 stars!]
"Decently easy to use interface. High quality website. Clear instructions."
Ben (September 07, 2017)
Rating: [4 out of 5 stars!]
"I'm a little too new to review so far but I love the way that the worksheets are and think that it's a pretty helpful service."
Ellesangel (March 13, 2017)
Rating: [5 out of 5 stars!]
"The service I experienced has been brilliant!

My therapist, Maggie Sweet, has been absolutely inspirational. I was in a very dark place when I first subscribed, and gently, over a period of many weeks, Maggie has taught me how to cope on a daily basis. The role play we did was particularly helpful and has enabled me to "move on". Something I would never have believed possible.

I am now reducing my antidepressants and am coping extremely well.

I would certainly recommend the Online Therapy to anyone!"
Reet (January 30, 2015)
Rating: [5 out of 5 stars!]
"I have been using the Online-Therapy service for several weeks now and have found it invaluable.

It suits my style of communication and my personal therapist, Maggie Sweet, has a supportive and encouraging persona.

I feel I have improved significantly since my nervous breakdown in March/April this year and Maggie has gradually given me back my confidence, and latterly, empowered me. There is still a little way to go, but I am convinced she will help me achieve my goal of improved mental health."
Reetpetite (August 23, 2014)
Rating: [5 out of 5 stars!]
"I have found the therapy extremely helpful. That's why I have signed up for another set of sessions."
Reetpetite (June 22, 2014)
Rating: [5 out of 5 stars!]
"So far I have found the service excellent. The advice has been wonderful, enlightening and already I feel more in control of my life.

The "Live Chats" are really helpful. But more than that is the ability to "comment" in worksheets knowing that your therapist will respond very quickly.

I would highly recommend this service to anyone."
Reetpetite (May 10, 2014)
Rating: [5 out of 5 stars!]
"I really enjoy and like the process of On-line therapy. It has benefited me tremendously, I was almost completely home-bound due to anxiety. Now, I'm going out enjoying life (without medication). Still use my therapists (Maggie Sweet) advice daily."
Kirstin (October 14, 2012)
Sign up for online therapy today
Your therapist is ready to start the journey with you today - so what are you waiting for?