Overcome Your GAD with Online Therapy
Feeling agitated and anxious and becoming sad and tired due to pressure and setbacks is just natural. It is something that we all encounter in life. But if you feel that you can seldom or never control your anxiety and fear and that this has had long-term negative effects on your life, then you might be suffering from generalized anxiety disorder (GAD).
GAD is characterized by chronic worrying about basically every aspect of your life, including work, money, health and relationships. This can, in turn, lead to common anxiety symptoms like insomnia, tense muscles, headache, grinding of teeth, excess sweating, dry mouth, rapid heartbeat, stomach problems and a need to urinate more often.
Our therapy for GAD is based on cognitive behavioral therapy (CBT). With the help of CBT and your therapist, you will learn how to identify the negative and irrational thoughts that cause your anxiety and replace them with positive and rational thoughts and behavior patterns. Using this GAD online therapy program you will learn relaxation techniques, problem solving strategies, ways to enhance your self-esteem and overcome your fears. Your therapist will help you to gradually expose yourself to situations that cause your worry, and eventually you will be able to do this feeling less anxious and with a greater sense of mastery. You will learn skills to take control over your worry, so you feel more empowered in life.
Sign up and start getting happier now
Your therapist is ready to start the journey with you today - so what are you waiting for?
Take our test & get instant help
Answer a few questions and get immediate results and recommendations. It only takes a few minutes, so let's get started!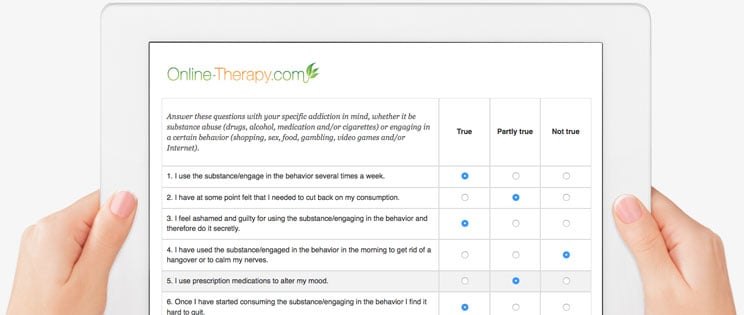 Reviews
Our online therapy services have received 1743 reviews and the average rating is 4.7 out of 5 stars.
Rating: [5 out of 5 stars!]
"I enjoyed setting goals for myself which are personal only to me. I liked that I had to identify different problems areas and work out a process to meet, achieve, and alleviate that problem.

The focus to be a positive person always was a great reminder there are always ups and downs in our lives. I have learned to be more positive with this class. I have learned to control my anger when speaking to my husband. Use of my tone of voice, speaking softly, not over speaking or talking over each other. Not trying to make him agitated, but controlling the conversation for a positive conversation. It's OK to not agree on everything, but advise him that you do not agree and that's your opinion. I also like the interaction with the therapist thru the computer and thru voice. I did not care for the typing of responses back and forth with the first therapist. The second therapist listed to my responses and provided me with written feedback in the different sections or journal."
Joannie (September 10, 2021)
Rating: [3 out of 5 stars!]
"Good process"
Chic (July 28, 2021)
Rating: [5 out of 5 stars!]
"I like the design and the user friendly interface. Having access 24/7 is great and the responses from the counselor have all been helpful and prompt.

Particularly for people in remote locations (ice road truckers, say) this website could be particularly helpful."
Well Designed, Great Counselor (August 12, 2021)
Rating: [5 out of 5 stars!]
"Very helpful info for getting my life under control!"
Al (August 13, 2021)
Rating: [5 out of 5 stars!]
"So far helpful."
Kay (September 02, 2021)
Rating: [4 out of 5 stars!]
"Love how the videos and worksheets give users a way to organize feelings. Also grateful for the flexibility of switching therapists."
Renae (June 29, 2021)
Rating: [5 out of 5 stars!]
"I love the journal feature! At first I didn't like the idea of writing in my personal journal and in this one, but the simple prompts are helping me focus on the parts of my day that I can truly learn from, which wouldn't happen if I only wrote in my regular journal."
RRO (September 18, 2021)
Rating: [5 out of 5 stars!]
"The therapist I had was amazing!! I definitely felt I received the full experience of receiving therapy even in a telehealth setting. The worksheets were also helpful."
Dillik123 (August 04, 2021)
Rating: [5 out of 5 stars!]
"I've only been doing online therapy for a few weeks but so far it's been amazing, convenient and very helpful and easy to get into. Love it."
Ange (September 24, 2021)
Rating: [5 out of 5 stars!]
"The process to get started is very quick and easy."
Jamie S. (August 13, 2021)
Sign up for online therapy today
Your therapist is ready to start the journey with you today - so what are you waiting for?
Have any questions?
Are you unsure of what program to choose or have any questions about our services? Check our FAQ to alleviate any concerns.