Overcome Your GAD with Online Therapy
Feeling agitated and anxious and becoming sad and tired due to pressure and setbacks is just natural. It is something that we all encounter in life. But if you feel that you can seldom or never control your anxiety and fear and that this has had long-term negative effects on your life, then you might be suffering from generalized anxiety disorder (GAD).
GAD is characterized by chronic worrying about basically every aspect of your life, including work, money, health and relationships. This can, in turn, lead to common anxiety symptoms like insomnia, tense muscles, headache, grinding of teeth, excess sweating, dry mouth, rapid heartbeat, stomach problems and a need to urinate more often.
Our therapy for GAD is based on cognitive behavioral therapy (CBT). With the help of CBT and your therapist, you will learn how to identify the negative and irrational thoughts that cause your anxiety and replace them with positive and rational thoughts and behavior patterns. Using this GAD online therapy program you will learn relaxation techniques, problem solving strategies, ways to enhance your self-esteem and overcome your fears. Your therapist will help you to gradually expose yourself to situations that cause your worry, and eventually you will be able to do this feeling less anxious and with a greater sense of mastery. You will learn skills to take control over your worry, so you feel more empowered in life.
Sign up and start getting happier now
Your therapist is ready to start the journey with you today - so what are you waiting for?
RIGHT NOW:

Free therapy due to the coronavirus pandemic

We want to help as many people as possible during these extraordinary times.
Therefore we are offering parts of our online therapy platform for free.

The free access includes our online therapy program with 8 easy-to-follow sections and 25 worksheets, yoga and meditation videos, activity plan, journal, and tests (communicating with a personal therapist is not included).
Take our test & get instant help
Answer a few questions and get immediate results and recommendations. It only takes a few minutes, so let's get started!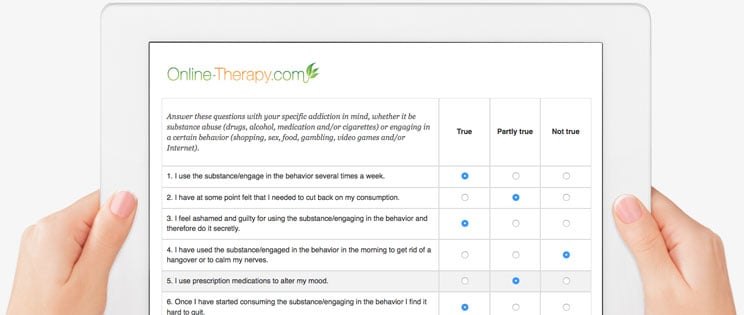 Reviews
Our online therapy services have received 1040 reviews and the average rating is 4.7 out of 5 stars.
Rating: [5 out of 5 stars!]
"So far the worksheets have been very helpful with identifying my toxic behaviors and their triggers. My therapist has been so attentive and truly seems to care about her clients and the significance of "face to face" (virtual) therapy. I have been learning to implement healthier, positive behaviors with the help of this program!"
Liv (October 21, 2020)
Rating: [5 out of 5 stars!]
"Having my personal therapist to talk to weekly and go over my worksheets has been extremely valuable in helping me see my patterns and addressing them. The videos and worksheets have been a great balance of challenging and manageable. I would recommend this service to a friend."
MD (August 05, 2020)
Rating: [5 out of 5 stars!]
"Great therapist so far. Pricey but a great set up"
Jules (September 15, 2020)
Rating: [5 out of 5 stars!]
"This online course has showed my some outline that I never would've thought of unless I came to the course and I appreciate the time and effort put into it. I feel lighter and have a clearer picture on what to do moving forward with my life and past experiences."
Pg (September 29, 2020)
Rating: [5 out of 5 stars!]
"Quick reply's and informative"
🐝 (August 10, 2020)
Rating: [5 out of 5 stars!]
"Very skeptical as had one to one therapy before and thought on line couldn't help. All I can say is I wish I had only ever done online. I have had a drink problem for years and since starting the course have not touched one drop of alcohol. I can remember last night, lost weight and feel alive for the first time in 50 years"
Nearly Fixed (August 03, 2020)
Rating: [5 out of 5 stars!]
"So far Maggie has answered all my questions."
Joy (August 18, 2020)
Rating: [5 out of 5 stars!]
"This service has literally changed my life in less than a month! I have enjoyed working with my therapist who has guided me and supported me through some really rough days, asked me guided questions, and given me practical advice about how to better achieve my personal goals. I never knew I could feel so happy, and I'm only just getting started. Thank you, Online-Therapy.com!"
Tarah From Old Fashioned AF (July 31, 2020)
Rating: [5 out of 5 stars!]
"Thank you so much this real helped me alot"
Desi (July 30, 2020)
Rating: [4 out of 5 stars!]
"So far my therapist has been great. It's me that needs to amp it up and do the work more."
DJ (October 10, 2020)
Sign up for online therapy today
Your therapist is ready to start the journey with you today - so what are you waiting for?
Have any questions?
Are you unsure of what program to choose or have any questions about our services? Check our FAQ to alleviate any concerns.