Overcome Your GAD with Online Therapy
Feeling agitated and anxious and becoming sad and tired due to pressure and setbacks is just natural. It is something that we all encounter in life. But if you feel that you can seldom or never control your anxiety and fear and that this has had long-term negative effects on your life, then you might be suffering from generalized anxiety disorder (GAD).
GAD is characterized by chronic worrying about basically every aspect of your life, including work, money, health and relationships. This can, in turn, lead to common anxiety symptoms like insomnia, tense muscles, headache, grinding of teeth, excess sweating, dry mouth, rapid heartbeat, stomach problems and a need to urinate more often.
Our therapy for GAD is based on cognitive behavioral therapy (CBT). With the help of CBT and your therapist, you will learn how to identify the negative and irrational thoughts that cause your anxiety and replace them with positive and rational thoughts and behavior patterns. Using this GAD online therapy program you will learn relaxation techniques, problem solving strategies, ways to enhance your self-esteem and overcome your fears. Your therapist will help you to gradually expose yourself to situations that cause your worry, and eventually you will be able to do this feeling less anxious and with a greater sense of mastery. You will learn skills to take control over your worry, so you feel more empowered in life.
Sign up and start getting happier now
Your therapist is ready to start the journey with you today - so what are you waiting for?
Take our test & get instant help
Answer a few questions and get immediate results and recommendations. It only takes a few minutes, so let's get started!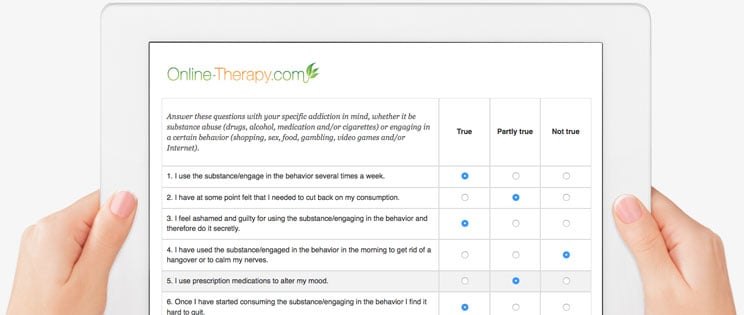 Reviews
Our online therapy services have received 2670 reviews and the average rating is 4.7 out of 5 stars.
Rating: [5 out of 5 stars!]
"I find the worksheets very thought provoking which is helping me to identify why react the way that I do. I love the journaling and have just started to utilize the yoga and mediation sections. This program is helping to keep me on track when I don't have other resources available. I love being able access theses services 24/7, it is helping me a lot!"
Adrkjoey (May 09, 2023)
Rating: [5 out of 5 stars!]
"I hear from the therapist almost every day, a great way to keep the committment going. The worksheets are well-designed and useful. I felt I made good progress in the first 2 weeks."
Kathy (April 01, 2023)
Rating: [5 out of 5 stars!]
"A convenient and cost effective therapy option!"
Meg (April 16, 2023)
Rating: [5 out of 5 stars!]
"I love the format with the video course and worksheet to fill in....the Counselor they assigned me after easy initial assessment is spot on...so quick at replying, such useful suggestions made to fit situation...I kept going round and round in circles, no energy to do essential things...then she interrupted this downward spiral with meal prepping idea ..so I used up energy, had less energy to keep just thinking, being more nourished instead of relying on junk ready cookies, crisps etc. I could write down and start applying all the many other suggestions, one at a time. Thank you🌹"
Dragonfly (March 10, 2023)
Rating: [5 out of 5 stars!]
"This course is very easy to follow. It allows for mulitple different levels of therapist interaction based off how much you want to spend, or however much interaction you want and need. The course has given me tools I use every day to get in control of my emotions. It has shown me ways that I can help myself. It has allowed me to open my mind more to my situations both present and past and allow me to see things about myself or my wife that I could not before. I am very glad I chose this course."
The Guidance Needed To Heal (April 13, 2023)
Rating: [5 out of 5 stars!]
"good services"
Fafa (April 19, 2023)
Rating: [5 out of 5 stars!]
"My therapist is really good. There are so many tools on this site to help deal with mental health issues. The site is generally easy to use."
Paleo (March 20, 2023)
Rating: [5 out of 5 stars!]
"Great therapy offered. I could never ask for better help."
Luis (May 21, 2023)
Rating: [4 out of 5 stars!]
"So far my experience with the sections has been so helpful, the real time feedback from my therapist makes the experience much more active than I'm used to for therapy and the same goes for our sessions. I really appreciate the active role my therapist takes in helping me get better and try things out."
Very Helpful! (May 07, 2023)
Rating: [4 out of 5 stars!]
"Actually applying the steps has definitely helped me the most. It was really helpful to do the worksheets so I could figure out what needed to be changed in my life. I have seen some improvement over the month that I have been doing the lessons. Some of the information was sub-par but some of it was really good. I would recommend Online-Therapy to those who don't have a severe mental illness, but who are just struggling with some anxiety and/or depression."
The Worksheets Were Helpful (April 21, 2023)
Sign up for online therapy today
Your therapist is ready to start the journey with you today - so what are you waiting for?
Have any questions?
Are you unsure of what program to choose or have any questions about our services? Check our FAQ to alleviate any concerns.