Overcome Your GAD with Online Therapy
Feeling agitated and anxious and becoming sad and tired due to pressure and setbacks is just natural. It is something that we all encounter in life. But if you feel that you can seldom or never control your anxiety and fear and that this has had long-term negative effects on your life, then you might be suffering from generalized anxiety disorder (GAD).
GAD is characterized by chronic worrying about basically every aspect of your life, including work, money, health and relationships. This can, in turn, lead to common anxiety symptoms like insomnia, tense muscles, headache, grinding of teeth, excess sweating, dry mouth, rapid heartbeat, stomach problems and a need to urinate more often.
Our therapy for GAD is based on cognitive behavioral therapy (CBT). With the help of CBT and your therapist, you will learn how to identify the negative and irrational thoughts that cause your anxiety and replace them with positive and rational thoughts and behavior patterns. Using this GAD online therapy program you will learn relaxation techniques, problem solving strategies, ways to enhance your self-esteem and overcome your fears. Your therapist will help you to gradually expose yourself to situations that cause your worry, and eventually you will be able to do this feeling less anxious and with a greater sense of mastery. You will learn skills to take control over your worry, so you feel more empowered in life.
Sign up and start getting happier now
Your therapist is ready to start the journey with you today - so what are you waiting for?
Take our test & get instant help
Answer a few questions and get immediate results and recommendations. It only takes a few minutes, so let's get started!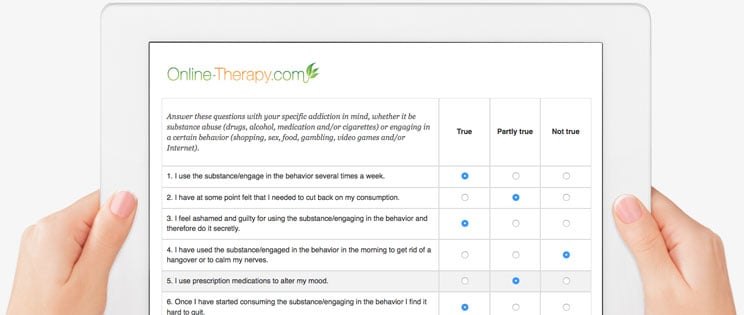 Reviews
Our online therapy services have received 1197 reviews and the average rating is 4.7 out of 5 stars.
Rating: [5 out of 5 stars!]
"Such an enlightening and empowering program. I feel like I've been given tangible tools to help me change behaviors that do not serve me well, and magnify those that enrich my life."
May (December 18, 2020)
Rating: [5 out of 5 stars!]
"Positive experience so far!"
Lele (December 16, 2020)
Rating: [5 out of 5 stars!]
"My therapist is lovely and very understanding. I look forward to her messages every day."
Julie (January 09, 2021)
Rating: [5 out of 5 stars!]
"My therapist is very observant and professional."
TS (November 13, 2020)
Rating: [5 out of 5 stars!]
"I find this tech supported therapy and it's content, a best fit and a well designed nudge for improving my my own self with my own reflection -tge content is absolutely well designed and the therapists are very professional, kind and understanding"
Enterprising (November 14, 2020)
Rating: [5 out of 5 stars!]
"Keeps me engaged all day everyday"
Lunxz (January 04, 2021)
Rating: [5 out of 5 stars!]
"Working through this program has showed me a new perspective where I should not be too hard on myself but also evaluate from an outside perspective. It allowed me to work with my therapist at a rate that gave me time to think and reflect and give the best answers I could through the worksheets.

Thank you!"
Thank You! (November 28, 2020)
Rating: [5 out of 5 stars!]
"My experience with this program is amazing! It took me a month to go through it and my symptoms have diminished greatly. Even more importantly, I have learned techniques that I can continue to apply throughout my life. I am very grateful to Elizabeth Lombardo and the rest of the team, and especially to my therapist, Chelsea Schuringa for her dedicated and enthusiastic approach to therapy."
Storyteller (October 29, 2020)
Rating: [5 out of 5 stars!]
"I prefer online therapy because I become too anxious in person and can't seem to focus as deeply as I need to. I also enjoy having daily responses and being able to type out my feelings to my therapist knowing she'll see it the next day or even later on that same day. Behavioral therapy is so much deeper than talk therapy alone, it dives into EXACTLY what thought processes are driving your negative behavior and then your therapist helps you to move past and cope in a healthy way. I find I'm very comfortable being honest and open with my therapist and have felt so welcomed and accepted by her. I really can't think of any therapy service that offers the extensive library of resources for patients while charging only $240 a month for the standard plan."
Lizzie (December 30, 2020)
Rating: [5 out of 5 stars!]
"I really like online therapy! My therapist is amazing. I think it is really important to find a good therapist. I feel we are already making progress. I like that you can both work offline on the worksheets and have a live session once a week. It actually feels better than in-person sessions I had in the past."
Katia (January 02, 2021)
Sign up for online therapy today
Your therapist is ready to start the journey with you today - so what are you waiting for?
Have any questions?
Are you unsure of what program to choose or have any questions about our services? Check our FAQ to alleviate any concerns.