Overcome Your OCD with Online Therapy
Most of us have, at some time, felt uncertain about leaving the iron or the stove on and some have even gone home to check. This type of behavior is just normal and doesn't cause any damage or harm in one's life. However, if you have intrusive "what if" thoughts, and your need to perform these behaviors on a regular basis and they interfere with your daily life, then you might be suffering from OCD (obsessive-compulsive disorder).
OCD is a condition marked by irrational beliefs (obsessions) and rituals (compulsions). The obsessions are recurrent, unwanted thoughts that are difficult or impossible for you to ignore and cause you anxiety. By performing repetitive, ritualized compulsions, you (temporarily) ease your anxiety. It may, for example, be that you often wash your hands very thoroughly, or check all the locks in your home. You may feel like you "have" to do these rituals. These thoughts and behaviors most likely take up a lot of your time and energy, causing you significant stress which can cause tension in your relationships and other aspects of your life.
Luckily there is hope, even if you have tried to stop your compulsions before and it has not been as successful as you would like. Our therapy for OCD is based on cognitive behavioral therapy (CBT). With the help of CBT and your therapist, you will identify what triggers your OCD. You will learn how to face your obsessions and find ways to refrain from ritualizing. Eventually you will be able to face these triggers without the need to perform your normal rituals (like washing your hands several times in a row or checking the lights numerous times). You will discover how to replace these negative thoughts with more realistic ones. Eventually you will be in charge of the thoughts and behaviors that previously have been fueling your OCD, so that you can live life free from obsessions and compulsions.
Sign up and start getting happier now
Your therapist is ready to start the journey with you today - so what are you waiting for?
Take our test & get instant help
Answer a few questions and get immediate results and recommendations. It only takes a few minutes, so let's get started!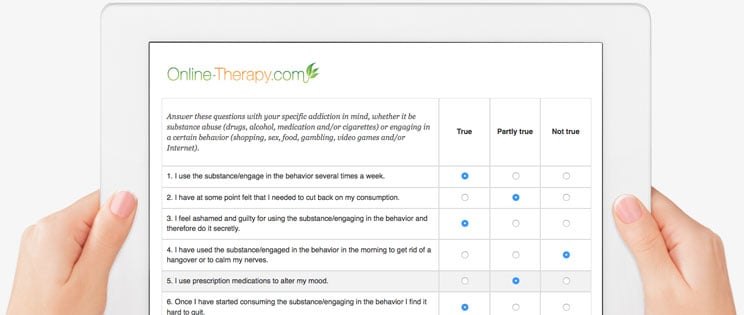 Reviews
Our online therapy services have received 1190 reviews and the average rating is 4.7 out of 5 stars.
Rating: [5 out of 5 stars!]
"Fantastic advice. Altered my mindset about daily tasks."
Kris (January 12, 2021)
Rating: [5 out of 5 stars!]
"The best part is that there is daily communication through messages. The weekly sessions are great but the daily communication, which lets me sit back and read over what my therapist wrote twice, and be able to give my responses some deep thought, that's where it's at."
Best Therapy Option (December 09, 2020)
Rating: [5 out of 5 stars!]
"Wonderful support and responses!"
Amanda (November 16, 2020)
Rating: [5 out of 5 stars!]
"I have found this site very useful, it has helped me understand reasons behind my feelings and how thoughts and behaviours interact with each other. It has helped me identify what areas i need to work on, advice from therapists has been helpful also."
Dudley Don (October 20, 2020)
Rating: [5 out of 5 stars!]
"Great counselor!"
Family Counseling (December 01, 2020)
Rating: [5 out of 5 stars!]
"I strongly recommend this program.
I like the way it is structured and the different ways you can take the course. I feel i have improved a lot with the free version, worksheets are great and helped me look at my problems from a different angle.

The only inconvenience i had is that i thought i was going to receive written feedback, which i didn't. But i guess its because of the FREE program."
TA DAA! (October 20, 2020)
Rating: [5 out of 5 stars!]
"This service is really great.
I am really getting the help that I need."
Aliela (December 24, 2020)
Rating: [5 out of 5 stars!]
"Like the videos and worksheets for the program. They help you think about your behavior in a different way. Like the personalized communication and video chats with my therapist. I have recommended Online-therapy.com to others. Great program overall! 👍🏽"
Online-therapy Client (December 07, 2020)
Rating: [4 out of 5 stars!]
"I was a person who didn't respect therapy because of insecurity reasons. Due to a irresponsible situation I was required to do counseling. Ignorance was bliss, denial was content, failure was my only path. All that changed, therapy is a wonderful tool, if only i wasn't so closed minded and started sooner, hindsight is 20-20, yes cliche. I'm on a journey to a clean and heathy lifestyle. All the help and support i credit to Chelsea. Thank You for helping me get my smile back."
Brad C. (November 17, 2020)
Rating: [5 out of 5 stars!]
"Very helpful and always there when you need them"
Amazing (November 23, 2020)
Sign up for online therapy today
Your therapist is ready to start the journey with you today - so what are you waiting for?
Have any questions?
Are you unsure of what program to choose or have any questions about our services? Check our FAQ to alleviate any concerns.