Overcome Your OCD with Online Therapy
Most of us have, at some time, felt uncertain about leaving the iron or the stove on and some have even gone home to check. This type of behavior is just normal and doesn't cause any damage or harm in one's life. However, if you have intrusive "what if" thoughts, and your need to perform these behaviors on a regular basis and they interfere with your daily life, then you might be suffering from OCD (obsessive-compulsive disorder).
OCD is a condition marked by irrational beliefs (obsessions) and rituals (compulsions). The obsessions are recurrent, unwanted thoughts that are difficult or impossible for you to ignore and cause you anxiety. By performing repetitive, ritualized compulsions, you (temporarily) ease your anxiety. It may, for example, be that you often wash your hands very thoroughly, or check all the locks in your home. You may feel like you "have" to do these rituals. These thoughts and behaviors most likely take up a lot of your time and energy, causing you significant stress which can cause tension in your relationships and other aspects of your life.
Luckily there is hope, even if you have tried to stop your compulsions before and it has not been as successful as you would like. Our therapy for OCD is based on cognitive behavioral therapy (CBT). With the help of CBT and your therapist, you will identify what triggers your OCD. You will learn how to face your obsessions and find ways to refrain from ritualizing. Eventually you will be able to face these triggers without the need to perform your normal rituals (like washing your hands several times in a row or checking the lights numerous times). You will discover how to replace these negative thoughts with more realistic ones. Eventually you will be in charge of the thoughts and behaviors that previously have been fueling your OCD, so that you can live life free from obsessions and compulsions.
Sign up and start getting happier now
Your therapist is ready to start the journey with you today - so what are you waiting for?
Take our test & get instant help
Answer a few questions and get immediate results and recommendations. It only takes a few minutes, so let's get started!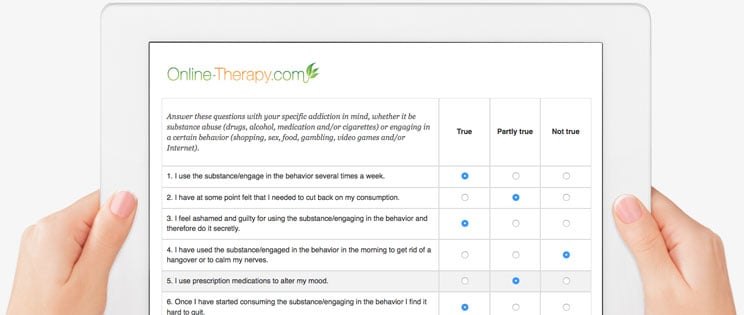 Reviews
Our online therapy services have received 1730 reviews and the average rating is 4.7 out of 5 stars.
Rating: [5 out of 5 stars!]
"I am really enjoying this program. I get to talk to my therapist everyday, and I am learning so much daily. This program is not easy, it makes you work hard, and it makes you think about how you have behaved in the past, and how you want to behave in the future. I would definitely recommend this program to my friends and family."
Christy (September 08, 2021)
Rating: [5 out of 5 stars!]
"The option to be able to do things at my own pace with my busy schedule has been nice. Also, having worksheets and dedicated small things to sit down and work on have been extremely helpful to me and motivates me to want to sit and reflect on what I need to work on as opposed to traditional routes where everything is a verbal session once a week and it's up to you to remember what needs to be worked on."
Brandon (August 11, 2021)
Rating: [4 out of 5 stars!]
"I love how I can choose my own therapist and how they show you the therapists skills"
Amazing (August 01, 2021)
Rating: [4 out of 5 stars!]
"I have been putting this off for months but I'm finally here. The platform is easy to use so far. Looking forward to getting started."
First Time (September 09, 2021)
Rating: [4 out of 5 stars!]
"I did have to switch therapists early on but this program has been super beneficial thus far, despite that."
Love (September 01, 2021)
Rating: [5 out of 5 stars!]
"It helps"
Danny (July 06, 2021)
Rating: [5 out of 5 stars!]
"Great online resources that I can use anytime I have in my schedule and I like the therapist feedback via messages."
PY (July 15, 2021)
Rating: [5 out of 5 stars!]
"I would say that I enjoy the service. I haven't put the time in necessary at this point but the counselor has been very responsive and asks great questions that provide great insight. The format is great and makes me think about what I can do to improve. It's laid out very well."
First Review (July 14, 2021)
Rating: [5 out of 5 stars!]
"I have only been using this site for a couple of weeks but in that short time I have already learned so much about myself and have started the process of growing! I love how my therapist leaves good feed back on my worksheets and gives me resources to help me learn more about myself."
Corgi Lover (August 05, 2021)
Rating: [5 out of 5 stars!]
"Responsive and helpful!"
Excellent (July 26, 2021)
Sign up for online therapy today
Your therapist is ready to start the journey with you today - so what are you waiting for?
Have any questions?
Are you unsure of what program to choose or have any questions about our services? Check our FAQ to alleviate any concerns.