Overcome Your OCD with Online Therapy
Most of us have, at some time, felt uncertain about leaving the iron or the stove on and some have even gone home to check. This type of behavior is just normal and doesn't cause any damage or harm in one's life. However, if you have intrusive "what if" thoughts, and your need to perform these behaviors on a regular basis and they interfere with your daily life, then you might be suffering from OCD (obsessive-compulsive disorder).
OCD is a condition marked by irrational beliefs (obsessions) and rituals (compulsions). The obsessions are recurrent, unwanted thoughts that are difficult or impossible for you to ignore and cause you anxiety. By performing repetitive, ritualized compulsions, you (temporarily) ease your anxiety. It may, for example, be that you often wash your hands very thoroughly, or check all the locks in your home. You may feel like you "have" to do these rituals. These thoughts and behaviors most likely take up a lot of your time and energy, causing you significant stress which can cause tension in your relationships and other aspects of your life.
Luckily there is hope, even if you have tried to stop your compulsions before and it has not been as successful as you would like. Our therapy for OCD is based on cognitive behavioral therapy (CBT). With the help of CBT and your therapist, you will identify what triggers your OCD. You will learn how to face your obsessions and find ways to refrain from ritualizing. Eventually you will be able to face these triggers without the need to perform your normal rituals (like washing your hands several times in a row or checking the lights numerous times). You will discover how to replace these negative thoughts with more realistic ones. Eventually you will be in charge of the thoughts and behaviors that previously have been fueling your OCD, so that you can live life free from obsessions and compulsions.
Sign up and start getting happier now
Your therapist is ready to start the journey with you today - so what are you waiting for?
RIGHT NOW:

Free therapy due to the coronavirus pandemic

We want to help as many people as possible during these extraordinary times.
Therefore we are offering parts of our online therapy platform for free.

The free access includes our online therapy program with 8 easy-to-follow sections and 25 worksheets, yoga and meditation videos, activity plan, journal, and tests (communicating with a personal therapist is not included).
Take our test & get instant help
Answer a few questions and get immediate results and recommendations. It only takes a few minutes, so let's get started!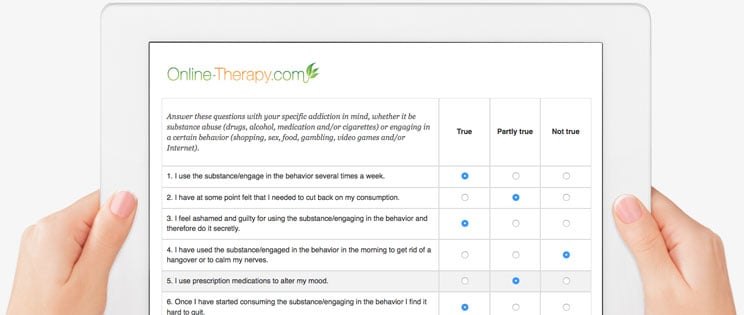 Reviews
Our online therapy services have received 973 reviews and the average rating is 4.6 out of 5 stars.
Rating: [5 out of 5 stars!]
"I am happy with this online program, As for me it very very useful and practical."
Geroge (July 10, 2020)
Rating: [5 out of 5 stars!]
"This program is astounding. It does a great job of walking you through CBT and it helped that it was on paper, for someone like me who has a hard time focusing on their thoughts. I have tried in person counseling many times which was not as helpful for me. I really notice a difference in the way I think now and other's around me notice too. If you are up for putting in the work and completing the worksheets honestly, this program will be so helpful!"
K's Review (July 08, 2020)
Rating: [5 out of 5 stars!]
"I found this website so helpful and it has definitely made me think in a more positive way!"
Ciara101 (August 04, 2020)
Rating: [5 out of 5 stars!]
"Very helpful, professional staff!"
ShuPe (August 10, 2020)
Rating: [5 out of 5 stars!]
"Great therapist so far. Pricey but a great set up"
Jules (September 15, 2020)
Rating: [5 out of 5 stars!]
"Great service"
Annie1 (July 29, 2020)
Rating: [4 out of 5 stars!]
"I've communicated with my therapist online and have appreciated her feedback. I have my first session with her coming up so we'll see how it goes."
Good Feedback (August 03, 2020)
Rating: [5 out of 5 stars!]
"Excellent"
Milli (July 18, 2020)
Rating: [5 out of 5 stars!]
"Having my personal therapist to talk to weekly and go over my worksheets has been extremely valuable in helping me see my patterns and addressing them. The videos and worksheets have been a great balance of challenging and manageable. I would recommend this service to a friend."
MD (August 05, 2020)
Rating: [5 out of 5 stars!]
"wonderful"
Lena (August 04, 2020)
Sign up for online therapy today
Your therapist is ready to start the journey with you today - so what are you waiting for?
Have any questions?
Are you unsure of what program to choose or have any questions about our services? Check our FAQ to alleviate any concerns.