Overcome Your OCD with Online Therapy
Most of us have at some time felt uncertain about leaving the iron or the stove on and some have even gone home to check. This type of behavior is just normal and doesn't cause any damage or harm in one's life. However, if you have "what if" thoughts and need to have control occurs on a regular basis and interferes with your daily life, then you might be suffering from OCD (obsessive-compulsive disorder).
OCD is a condition marked by irrational beliefs (obsessions) and rituals (compulsions). The obsessions are recurrent, unwanted thoughts that are difficult or impossible for you to ignore and cause you anxiety. By performing repetitive, ritualized compulsions, you ease your anxiety. It may, for example, be that you wash your hands very thoroughly and often, or check all the locks in your home.
Our therapy for OCD is based on cognitive behavioral therapy (CBT). With the help of CBT and your therapist, you will identify what triggers your OCD. You will learn how you can reduce your obsessions by exposing you to these triggers and challenging them. Eventually you will be able to face these triggers without the need to perform your normal rituals (like washing your hands several times in a row or checking the lights numerous times). You will identify the fears that are linked to your OCD and learn to know that these fears are not realistic. You will be taught to replace these negative thoughts with more realistic ones. Eventually you will be in charge of the thoughts and behaviors that previously have been nurturing your OCD, so that you can live life free from obsessions and compulsions.
Sign up and start getting happier now
Your therapist is ready to start the journey with you today - so what are you waiting for?
Take our test & get instant help
Answer a few questions and get immediate results and recommendations. It only takes a few minutes, so let's get started!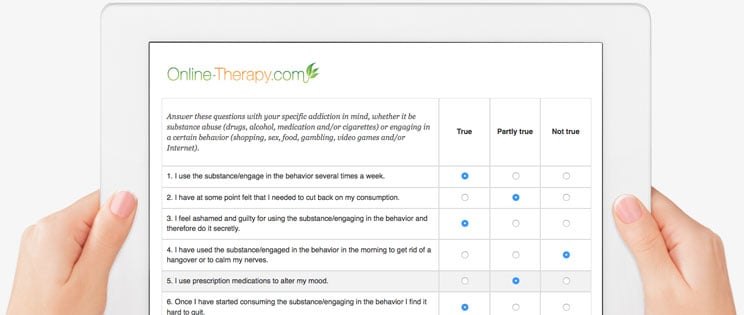 Reviews - Obsessive-Compulsive Disorder (OCD)
This program has received 11 reviews and the average rating is 4.5 out of 5 stars.
Rating: [5 out of 5 stars!]
"This has been a powerful transformative experience. I am already getting the results I want after a month. Maggie is a fantastic therapist, full of resources, support and is just excellent. I can highly recommend this. I have tried many different kinds of therapies and this one works."
Vida (August 14, 2017)
Rating: [4 out of 5 stars!]
"Overall not bad. Exactly what you would expect for online therapy. The chaf service is effective and the worksheets allow you to progress at your own pace."
Denny (August 22, 2016)
Rating: [5 out of 5 stars!]
"This therapy has helped me so much, I never thought I would find such an incredible therapist as Maggie Sweet. Her insights, knowledge, empathy, honesty, helped me to overcome so many fears in such a small amount of time. She empowered me and helped me gain back trust in my self.

The way this program is designed; the sessions, worksheets and chat sessions, work wonderful because I had time to reflect on my own writing to later have a talk about it with my therapist.

I totally recommend this program. Thank you Maggie!"
Ale (July 03, 2013)
Rating: [5 out of 5 stars!]
"I to date have found the online-therapy.com programme very helpful.

I am extremely happy with my therapist Maggie sweet and wouldn't change anything so far.

Yours etc
Tina"
Tina Murray (June 14, 2013)
Rating: [5 out of 5 stars!]
"Hi, I have been working with my therapist (Maggie) now for 4 months, I am so glad I found this website & Maggie, she has inspired me, given me strength & fight to NEVER GIVE UP...NO MATTER WHAT!! I have been to different therapists over the years but not one has really given me guidance & support I have received from Maggie with open arms & total understanding of my disorder OCD.

A BIG THANK YOU & HUG FOR YOU MAGGIE!!"
Me (September 02, 2011)
Rating: [4 out of 5 stars!]
"I spoke to Sareeta about my daughter's OCD. She gave me the encouragement I needed to know there is a way out of this, and the confidence to sign up for on-line therapy for my daughter."
Carey (April 29, 2011)
Rating: [2 out of 5 stars!]
"Yes I got to know very useful info. My 8 weeks program is now ended and I want to re-sign up but I can't afford the Therapy fees."
Steverson (March 18, 2011)
Rating: [5 out of 5 stars!]
"I have been working with this program and my therapist Maggie now for almost 3 months, she is amazing at her job, has helped me so much!! A big hug for Maggie from me!!"
Scott (January 18, 2011)
Rating: [5 out of 5 stars!]
"You are the best, you know that!?

Since I started my sessions here my rituals have dramatically been reduced, and in two weeks I was free from rituals! I cannot tell you that I don't want to fall into my rituals but what I am telling you is that I am taught how to overpass them and how to manage my obsessive thoughts and my compulsive behavioirs.
At this right moment I am going in the third week of therapy and I am dealing with my fears, imaginations and traumas, exploring myself in order to find the root of my disorder.

The best thing during the therapy on-line is the fact that the process of empathy is working amazing! In traditional sessions the therapist may do his/her head up and down without words, but in this therapy on-line the therapist is feeding us with plenty of emotions and feelings in order to be able to explore ourselves.

I really enjoy having Maggie as my therapist...
If I lived in US I was going to come and find you. Do you know something? If I ever come to US I am going to come and find you for one traditional session.

By the way, I am going to recommend you to others."
Anonymous (September 08, 2010)
Rating: [5 out of 5 stars!]
"Well, I am working here with CBT and with my therapist and I think that this therapy is really AMAZING!....

I would like all you to notice that when I was welcomed to this website I had severe symptoms, including many many many many rituals that were causing me discounts in my daily life...!

In one week I was able to manage my OCD symptoms!... I was able to identify my fears and to work with them.. Actually I am still working with them and with all my rituals...
Now two weeks after therapy my rituals are 0% and the results of OCD had dropped from 60/100 "most likely to have OCD" to 40/100 "minor OCD"...

I still need to fall into my rituals because I am used to do my rituals here and many years, but I am not...! I thought that I could never succeeded but I've started to have small targets and to succeed them..

Hey guys, my therapist here sais "Whoo hooooo" when I succeed to my small goals, so lets all take this "Whoo hoooo" and make it personal by taking strength to master our symptoms and to take our life backs!

We worth it!!!!!

LETS ALL SUCCEED

LOOOVVVVEEEE u all brothers..."
Abrahams3 (September 03, 2010)
Rating: [5 out of 5 stars!]
"Hi guys, I have to say that it really is worth it. I have just been working through it for a few weeks now, and you get great feedback and it really feels like I have seen a therapist. There really is nothing to lose. Good luck to you all."
Kevinr (March 30, 2010)
Sign up for online therapy today
Your therapist is ready to start the journey with you today - so what are you waiting for?