Overcome Your OCD with Online Therapy
Most of us have, at some time, felt uncertain about leaving the iron or the stove on and some have even gone home to check. This type of behavior is just normal and doesn't cause any damage or harm in one's life. However, if you have intrusive "what if" thoughts, and your need to perform these behaviors on a regular basis and they interfere with your daily life, then you might be suffering from OCD (obsessive-compulsive disorder).
OCD is a condition marked by irrational beliefs (obsessions) and rituals (compulsions). The obsessions are recurrent, unwanted thoughts that are difficult or impossible for you to ignore and cause you anxiety. By performing repetitive, ritualized compulsions, you (temporarily) ease your anxiety. It may, for example, be that you often wash your hands very thoroughly, or check all the locks in your home. You may feel like you "have" to do these rituals. These thoughts and behaviors most likely take up a lot of your time and energy, causing you significant stress which can cause tension in your relationships and other aspects of your life.
Luckily there is hope, even if you have tried to stop your compulsions before and it has not been as successful as you would like. Our therapy for OCD is based on cognitive behavioral therapy (CBT). With the help of CBT and your therapist, you will identify what triggers your OCD. You will learn how to face your obsessions and find ways to refrain from ritualizing. Eventually you will be able to face these triggers without the need to perform your normal rituals (like washing your hands several times in a row or checking the lights numerous times). You will discover how to replace these negative thoughts with more realistic ones. Eventually you will be in charge of the thoughts and behaviors that previously have been fueling your OCD, so that you can live life free from obsessions and compulsions.
Sign up and start getting happier now
Your therapist is ready to start the journey with you today - so what are you waiting for?
Take our test & get instant help
Answer a few questions and get immediate results and recommendations. It only takes a few minutes, so let's get started!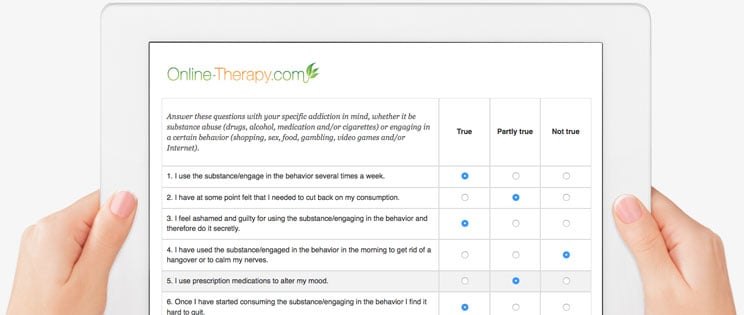 Reviews
Our online therapy services have received 491 reviews and the average rating is 4.6 out of 5 stars.
Rating: [4 out of 5 stars!]
"I have only been a member for a couple of weeks, and have only had one therapy session. But it has already been helpful."
Rachna (December 03, 2018)
Rating: [4 out of 5 stars!]
"The therapist is very quick in responding with comments to the workbook entries. I've found some very valuable advice and insight from the short time I've been here."
AC (January 14, 2019)
Rating: [5 out of 5 stars!]
"I'm still getting used to all the tools, have just been on it for a week. I love that there are so many different parts to it: the yoga, the journal, the worksheets, as well as the therapist chats. Looking forward to my progress."
HJB (November 12, 2018)
Rating: [4 out of 5 stars!]
"Pretty good so far."
Good So Far (November 11, 2018)
Rating: [5 out of 5 stars!]
"I have completed the eight sessions of online cognitive behavior therapy with Maggie Sweet as my therapist. This was my first time with an online therapy. I have given the experience five stars because the program and its format met and exceeded my expectations.
One thing I did not expect was the reciprocal nature of the client/therapist interaction, as far as receiving messages on worksheets that I completed on my own time. In my previous (in person) therapy experiences, I would do my work on my own and meet with my therapist once a week or less. We didn't have much more contact than that. That frequency of service worked for me, so having quick responses to my online work was something I had to adjust to. At first it felt pushy but I used the novelty of the experience to challenge my commitment to my goals in seeking therapy. So, in that way, my experience with Maggie exceeded my expectations.
The online format has so many advantages that the inherent problems seem minimal. One thing I would change is to have a way to easily download worksheets in a .pdf format, or possibly upload them to a cloud storage, if copyright is an issue. Also regarding the internet format, I had one live chat experience that was interrupted by what appeared to be a connectivity issue. I was allowed to make up that session.
I would recommend this service for persons who have the therapeutic needs described in the organization's information."
Client (January 03, 2019)
Rating: [5 out of 5 stars!]
"My therapist is very kind and sincere and reaches out to me a lot. I like that i can get therapy at home. I just started and am excited to see how this can help."
Natrat (November 14, 2018)
Rating: [4 out of 5 stars!]
"👍👍👍"
Pat (November 08, 2018)
Rating: [5 out of 5 stars!]
"Website explained aspects of three choices well."
Sleepy (January 13, 2019)
Rating: [3 out of 5 stars!]
"I have enjoyed having therapy at my own pace."
SG (December 16, 2018)
Rating: [4 out of 5 stars!]
"Each module easy to read and understand. Lots of good resources."
My (January 13, 2019)
Sign up for online therapy today
Your therapist is ready to start the journey with you today - so what are you waiting for?