Overcome Your OCD with Online Therapy
Most of us have, at some time, felt uncertain about leaving the iron or the stove on and some have even gone home to check. This type of behavior is just normal and doesn't cause any damage or harm in one's life. However, if you have intrusive "what if" thoughts, and your need to perform these behaviors on a regular basis and they interfere with your daily life, then you might be suffering from OCD (obsessive-compulsive disorder).
OCD is a condition marked by irrational beliefs (obsessions) and rituals (compulsions). The obsessions are recurrent, unwanted thoughts that are difficult or impossible for you to ignore and cause you anxiety. By performing repetitive, ritualized compulsions, you (temporarily) ease your anxiety. It may, for example, be that you often wash your hands very thoroughly, or check all the locks in your home. You may feel like you "have" to do these rituals. These thoughts and behaviors most likely take up a lot of your time and energy, causing you significant stress which can cause tension in your relationships and other aspects of your life.
Luckily there is hope, even if you have tried to stop your compulsions before and it has not been as successful as you would like. Our therapy for OCD is based on cognitive behavioral therapy (CBT). With the help of CBT and your therapist, you will identify what triggers your OCD. You will learn how to face your obsessions and find ways to refrain from ritualizing. Eventually you will be able to face these triggers without the need to perform your normal rituals (like washing your hands several times in a row or checking the lights numerous times). You will discover how to replace these negative thoughts with more realistic ones. Eventually you will be in charge of the thoughts and behaviors that previously have been fueling your OCD, so that you can live life free from obsessions and compulsions.
Sign up and start getting happier now
Your therapist is ready to start the journey with you today - so what are you waiting for?
Take our test & get instant help
Answer a few questions and get immediate results and recommendations. It only takes a few minutes, so let's get started!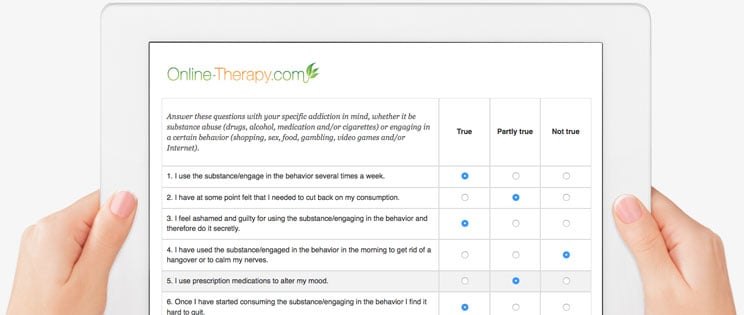 Reviews
Our online therapy services have received 1401 reviews and the average rating is 4.7 out of 5 stars.
Rating: [5 out of 5 stars!]
"Jenn is wonderful to work with and has been a great support through my therapy process! I would definitely recommend her!"
REL (March 16, 2021)
Rating: [5 out of 5 stars!]
"I find this online therapy program to be very beneficial, full of good information and a good value"
Very Beneficial (February 11, 2021)
Rating: [5 out of 5 stars!]
"Therapist is great listener and have been given great advice on how to deal with my focused problems as well as insight as to how they generate. The exercises and assignments are great tools to use and learn from."
Amanda (February 16, 2021)
Rating: [5 out of 5 stars!]
"At just two weeks into Online-Therapy, I'm feeling I made the perfect choice to receive support and guidance to improve my life."
Hoosier Girl (March 05, 2021)
Rating: [5 out of 5 stars!]
"Have had two sessions with Dr. Eric so far. He has been engaged, prepared and helpful."
JA (March 04, 2021)
Rating: [5 out of 5 stars!]
"Awesome! I noticed a difference day 1 I started."
Koalapanda81 (January 17, 2021)
Rating: [5 out of 5 stars!]
"I started this journey after years of talking and thinking about it. I am so happy that it did. I have had many reflections that might seem obvious to some but they were not to me. I am still a work in progress, but have so many new tools to help me get where I want to be.
I couldn't be happier with the program."
CM (February 25, 2021)
Rating: [4 out of 5 stars!]
"I really like the videos and online therapist interaction features. I do think that some of the worksheets are bit generic and may not address specific needs of a person."
Tom (February 14, 2021)
Rating: [5 out of 5 stars!]
"The best therapy I have ever received from anyone. Truly helping me learn to work through my trauma and move forward with life."
Rachael (March 13, 2021)
Rating: [5 out of 5 stars!]
"Learning to control my anger and my other feelings. I have a very good therapist who is helping me find my way Home. I am very happy with this program I realize I need to take it slow in order to gain the most out of the course and in order to only need to take the course once I need to work the program not just read the stuff and move on but work the program everyday. And that's the hard part nobody said change was easy."
Stanley (February 09, 2021)
Sign up for online therapy today
Your therapist is ready to start the journey with you today - so what are you waiting for?
Have any questions?
Are you unsure of what program to choose or have any questions about our services? Check our FAQ to alleviate any concerns.