Overcome Your OCD with Online Therapy
Most of us have, at some time, felt uncertain about leaving the iron or the stove on and some have even gone home to check. This type of behavior is just normal and doesn't cause any damage or harm in one's life. However, if you have intrusive "what if" thoughts, and your need to perform these behaviors on a regular basis and they interfere with your daily life, then you might be suffering from OCD (obsessive-compulsive disorder).
OCD is a condition marked by irrational beliefs (obsessions) and rituals (compulsions). The obsessions are recurrent, unwanted thoughts that are difficult or impossible for you to ignore and cause you anxiety. By performing repetitive, ritualized compulsions, you (temporarily) ease your anxiety. It may, for example, be that you often wash your hands very thoroughly, or check all the locks in your home. You may feel like you "have" to do these rituals. These thoughts and behaviors most likely take up a lot of your time and energy, causing you significant stress which can cause tension in your relationships and other aspects of your life.
Luckily there is hope, even if you have tried to stop your compulsions before and it has not been as successful as you would like. Our therapy for OCD is based on cognitive behavioral therapy (CBT). With the help of CBT and your therapist, you will identify what triggers your OCD. You will learn how to face your obsessions and find ways to refrain from ritualizing. Eventually you will be able to face these triggers without the need to perform your normal rituals (like washing your hands several times in a row or checking the lights numerous times). You will discover how to replace these negative thoughts with more realistic ones. Eventually you will be in charge of the thoughts and behaviors that previously have been fueling your OCD, so that you can live life free from obsessions and compulsions.
Sign up and start getting happier now
Your therapist is ready to start the journey with you today - so what are you waiting for?
Take our test & get instant help
Answer a few questions and get immediate results and recommendations. It only takes a few minutes, so let's get started!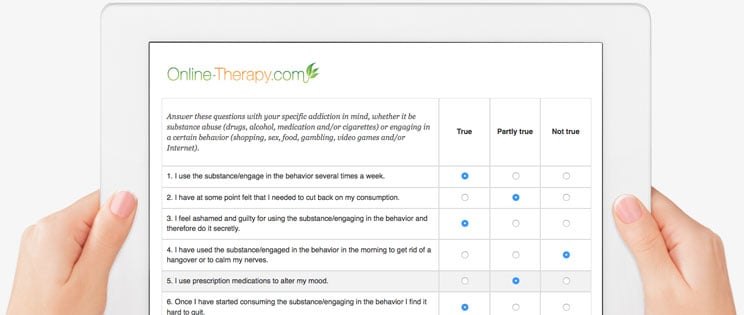 Reviews
Our online therapy services have received 533 reviews and the average rating is 4.6 out of 5 stars.
Rating: [5 out of 5 stars!]
"Excellent help..."
Dajg (May 01, 2019)
Rating: [5 out of 5 stars!]
"Very interesting and exciting because I can do this therapy online."
Jay (May 22, 2019)
Rating: [4 out of 5 stars!]
"I'm new to this website but so far I've had positive experiences. At the beginning you fill out a lot of (optional) information about yourself so that the therapist can personalise your therapy. The therapist usually responds within a few hours except on weekends and probably faster in different time zones (I'm in Australia). I don't really have any complaints so far apart from the forum being inactive and that there's no forum for eating disorders. I feel like the inactivity on the forum could be easily solved if the website was more popular so I hope more people try online therapy!"
EmoSeth (March 16, 2019)
Rating: [5 out of 5 stars!]
"Awesome, really helped."
Jen (March 22, 2019)
Rating: [5 out of 5 stars!]
"I started this about one month ago. The material is well written and easy to respond to. m
The therapist responds to my entries promptly and refers me to additional resources.
I like working at my own pace.
Thank you"
Getting Better (May 12, 2019)
Rating: [5 out of 5 stars!]
"I really like the format of this program, because I can do my therapy at home in the evenings. I was skeptical at first, but I was in a really bad place in life, and was desperate to try something. I have been in "talk-therapy" in the past with a psychologist or social worker, but this is really different.

The worksheets have been helpful in sorting out my thoughts, and figuring out how to actually make changes in my life, instead of just talking about it. My therapist, Maggie, has been very helpful by helping me realize that if I don't have a plan and take active steps to feel better, then things will just stay the same. Then, ultimately I will just continue down the same path and remain unhappy.

She challenges me by asking tough questions, which helps me see things from a different perspective. I feel encouraged that if I stick with the program, I can break my negative patterns, and live a more balanced life. I have hope that I can use my new skills to repair the damaged relationships in my life. I can learn to reach out to people."
DRH (March 14, 2019)
Rating: [5 out of 5 stars!]
"It helped me to understand that i just need to make things happen faster in my life...the waiting thing is what caused more worry...depression and stress."
Good Stuff But I Think More Info Could Be Put Into The Actual Mini Course (March 26, 2019)
Rating: [5 out of 5 stars!]
"I love the service online therapy has provided to me so far. My therapist has helped me a lot and I can see the difference so clearly."
Sweet (March 06, 2019)
Rating: [4 out of 5 stars!]
"This online therapy has been excellent help for me. I only pay the basic amount and it still has been great. The therapist I have is really helpful and helps me day to day with any of my issues. The only thing about it being online is sometimes it's finding that inner strength to make yourself do the work. But on a positive, it means that your activity working on yourself further. Rather then relying on a face to face therapist."
Lucy (May 16, 2019)
Rating: [4 out of 5 stars!]
"My therapist has been helpful and respond in a short period of time with helpful suggestions to my concerns."
BDS (May 15, 2019)
Sign up for online therapy today
Your therapist is ready to start the journey with you today - so what are you waiting for?