Overcome Your OCD with Online Therapy
Most of us have, at some time, felt uncertain about leaving the iron or the stove on and some have even gone home to check. This type of behavior is just normal and doesn't cause any damage or harm in one's life. However, if you have intrusive "what if" thoughts, and your need to perform these behaviors on a regular basis and they interfere with your daily life, then you might be suffering from OCD (obsessive-compulsive disorder).
OCD is a condition marked by irrational beliefs (obsessions) and rituals (compulsions). The obsessions are recurrent, unwanted thoughts that are difficult or impossible for you to ignore and cause you anxiety. By performing repetitive, ritualized compulsions, you (temporarily) ease your anxiety. It may, for example, be that you often wash your hands very thoroughly, or check all the locks in your home. You may feel like you "have" to do these rituals. These thoughts and behaviors most likely take up a lot of your time and energy, causing you significant stress which can cause tension in your relationships and other aspects of your life.
Luckily there is hope, even if you have tried to stop your compulsions before and it has not been as successful as you would like. Our therapy for OCD is based on cognitive behavioral therapy (CBT). With the help of CBT and your therapist, you will identify what triggers your OCD. You will learn how to face your obsessions and find ways to refrain from ritualizing. Eventually you will be able to face these triggers without the need to perform your normal rituals (like washing your hands several times in a row or checking the lights numerous times). You will discover how to replace these negative thoughts with more realistic ones. Eventually you will be in charge of the thoughts and behaviors that previously have been fueling your OCD, so that you can live life free from obsessions and compulsions.
Sign up and start getting happier now
Your therapist is ready to start the journey with you today - so what are you waiting for?
Take our test & get instant help
Answer a few questions and get immediate results and recommendations. It only takes a few minutes, so let's get started!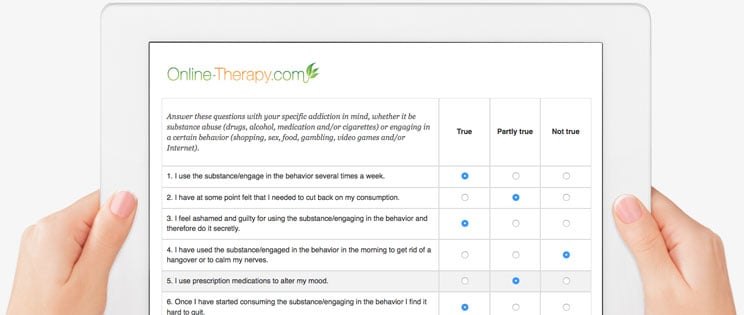 Reviews
Our online therapy services have received 2510 reviews and the average rating is 4.7 out of 5 stars.
Rating: [5 out of 5 stars!]
"Although I was sceptical a bit at the beginning, I must admit that after couple of months I can see improvements I made in my everyday life with the help of my assigned therapist. She made me see or question things I overlooked, came up with useful suggestions, appreciated when I shared my recent small success. She's always full of understanding, brings calm energy to the table, I feel I can trust her and she won't judge me. I'm glad I decided to take this path and can't wait for more results in the future."
Francis (November 15, 2022)
Rating: [5 out of 5 stars!]
"I came to Online-Therapy.com a depressed, angry person.

I'm not that person anymore. I'm not saying that I'm completely cured - but I feel better about myself than I've done for a long long time, I have a structure in place to help me when life gets overwhelming - and that's all because of the program."
Changes (January 10, 2023)
Rating: [4 out of 5 stars!]
"Great"
Sat (November 30, 2022)
Rating: [5 out of 5 stars!]
"Amazing service! I would recommend Jennifer to anyone that will listen. She's a beautiful person who cares about your individual goals and needs. Provides the perfect safe space for anyone whos worried about being judged and lets you speak and work on things at your own pace. For anyone needing help or support but are reluctant to reach out, i would 100% recommend."
Lana (November 17, 2022)
Rating: [5 out of 5 stars!]
"I'm beyond grateful for finding Vanessa to be my therapist! It's taken me over 5 years to take this step and it is perfect timing with a therapist who is patient, kind and caring. I look forward to our sessions weekly and happy to be supported as I dig through my stuff."
Right Place, Right Time (November 30, 2022)
Rating: [5 out of 5 stars!]
"I think this service has been very helpful. Our therapist, Reva, was AMAZING in helping us work through our concerns. She is also pretty quickly responsive to our messages, which is impressive. My only feedback would be that an APP would be very useful for this platform,"
1st Review (January 31, 2023)
Rating: [5 out of 5 stars!]
"This program has been very helpful already, and I feel like I have just begun.
Not only have the worksheets been extremely useful as writing prompts to help me think about my own thought processes and come up with solutions on my own, my therapist has also been very helpful in guiding me into directions that I may otherwise have not thought of. I am hoping that these tools I am learning will lead me in success with what I wish to acheive."
Kim (January 25, 2023)
Rating: [4 out of 5 stars!]
"This has really helped me so much. The format is convenient, the therapist is very helpful, and I am grateful for the service."
Saved My Life (February 02, 2023)
Rating: [4 out of 5 stars!]
"I didn't really want to start counseling via text and it was frustrating at first bc I never felt like anyone was there. It was like I was talking to a robot. The little chat bubbles didn't display until I had waited what seemed forever for a response. I have been meeting weekly for about 3 months and it gets easier. I am starting to feel like I have a relationship with my therapist. It's taken longer than I expected, but it's more authentic than other therapists in the past. I would highly recommend."
Ellie Ann (January 19, 2023)
Rating: [4 out of 5 stars!]
"So far this platform and my therapist seem much better than a previous platform I was on. This therapist actually seems to have clinical knowledge vs just asking me how something makes me feel repeatedly."
First (January 17, 2023)
Sign up for online therapy today
Your therapist is ready to start the journey with you today - so what are you waiting for?
Have any questions?
Are you unsure of what program to choose or have any questions about our services? Check our FAQ to alleviate any concerns.