Overcome Your OCD with Online Therapy
Most of us have, at some time, felt uncertain about leaving the iron or the stove on and some have even gone home to check. This type of behavior is just normal and doesn't cause any damage or harm in one's life. However, if you have intrusive "what if" thoughts, and your need to perform these behaviors on a regular basis and they interfere with your daily life, then you might be suffering from OCD (obsessive-compulsive disorder).
OCD is a condition marked by irrational beliefs (obsessions) and rituals (compulsions). The obsessions are recurrent, unwanted thoughts that are difficult or impossible for you to ignore and cause you anxiety. By performing repetitive, ritualized compulsions, you (temporarily) ease your anxiety. It may, for example, be that you often wash your hands very thoroughly, or check all the locks in your home. You may feel like you "have" to do these rituals. These thoughts and behaviors most likely take up a lot of your time and energy, causing you significant stress which can cause tension in your relationships and other aspects of your life.
Luckily there is hope, even if you have tried to stop your compulsions before and it has not been as successful as you would like. Our therapy for OCD is based on cognitive behavioral therapy (CBT). With the help of CBT and your therapist, you will identify what triggers your OCD. You will learn how to face your obsessions and find ways to refrain from ritualizing. Eventually you will be able to face these triggers without the need to perform your normal rituals (like washing your hands several times in a row or checking the lights numerous times). You will discover how to replace these negative thoughts with more realistic ones. Eventually you will be in charge of the thoughts and behaviors that previously have been fueling your OCD, so that you can live life free from obsessions and compulsions.
Sign up and start getting happier now
Your therapist is ready to start the journey with you today - so what are you waiting for?
Take our test & get instant help
Answer a few questions and get immediate results and recommendations. It only takes a few minutes, so let's get started!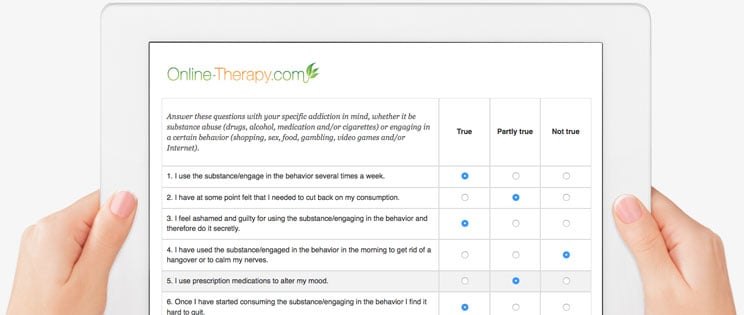 Reviews
Our online therapy services have received 2179 reviews and the average rating is 4.7 out of 5 stars.
Rating: [5 out of 5 stars!]
"This program is very hands-on for me and has helped me more than traditional talk therapy has. I don't feel lost between sessions anymore, and I have a better idea of what exactly to do to in order to help myself. The therapy sessions too have been very helpful. Empathetic and personable yet pushing me to think harder, try different things, and teaching me to recognize what I've done right, my therapist is great."
Gemma (April 16, 2022)
Rating: [5 out of 5 stars!]
"I started my program at the beginning of the year, and I can definitely see a change in myself thanks to this experience. My therapist, Bernadette Eze, was very helpful and guided me through my journey. I am very grateful for her and the entire experience."
Amazing Experience (April 02, 2022)
Rating: [5 out of 5 stars!]
"The worksheets and one-on-one connection with a skilled therapist has been a wonderful experience. I wasn't sure about this type of therapy (online only) going in, but it's been extremely valuable and I've even had the opportunity to discuss my thoughts in a way that has been very helpful for me!"
ACBTFan (May 04, 2022)
Rating: [5 out of 5 stars!]
"I adore my therapist. I love the worksheets and the messaging options. It is super convenient to use and I feel really supported."
Colleen (April 30, 2022)
Rating: [4 out of 5 stars!]
"I really like my therapist, your website made a perfect match. I also like worksheets that make me reflect and dig deeper in my feelings. Yoga classes are great, everyone should do them. The only thing is the clunky website, hard to answer next to my therapist's questions and we didn't have video on our 1st session. For now, I am happy I join and I am looking forward to feeling better. Thanks."
Sarah (June 16, 2022)
Rating: [5 out of 5 stars!]
"we finally matched with a great therapist and it has been so helpful to have weekly checkins that hold us accountable."
Krishna (May 26, 2022)
Rating: [5 out of 5 stars!]
"The counselor is sincerely very caring and I trust her. Before I started this online therapy I stopped using the other services because they were not reliable. I use this online therapy for a few months already because she is very meticulous. I really appreciate it. Thanks to it I can sleep much better and it has made a huge difference in my life. Thank you very much."
Aya (May 18, 2022)
Rating: [4 out of 5 stars!]
"i actually find it helpful an i was reluctant to think it would help. i havent gotten that far into my therapy due ton a payment issue but that is now resolved band im excited to see the real end result"
Facts (May 10, 2022)
Rating: [5 out of 5 stars!]
"I've gotten amazing help and my councilor is fantastic."
Charles (June 14, 2022)
Rating: [5 out of 5 stars!]
"The content is very accessible and hands-on. This feels like it is hitting the sweet spot for me in the balance between getting guidance and putting in my own effort. I no longer feel uncertain between sessions as I did with traditional talk therapy."
Sunny (April 01, 2022)
Sign up for online therapy today
Your therapist is ready to start the journey with you today - so what are you waiting for?
Have any questions?
Are you unsure of what program to choose or have any questions about our services? Check our FAQ to alleviate any concerns.