Overcome Your OCD with Online Therapy
Most of us have, at some time, felt uncertain about leaving the iron or the stove on and some have even gone home to check. This type of behavior is just normal and doesn't cause any damage or harm in one's life. However, if you have intrusive "what if" thoughts, and your need to perform these behaviors on a regular basis and they interfere with your daily life, then you might be suffering from OCD (obsessive-compulsive disorder).
OCD is a condition marked by irrational beliefs (obsessions) and rituals (compulsions). The obsessions are recurrent, unwanted thoughts that are difficult or impossible for you to ignore and cause you anxiety. By performing repetitive, ritualized compulsions, you (temporarily) ease your anxiety. It may, for example, be that you often wash your hands very thoroughly, or check all the locks in your home. You may feel like you "have" to do these rituals. These thoughts and behaviors most likely take up a lot of your time and energy, causing you significant stress which can cause tension in your relationships and other aspects of your life.
Luckily there is hope, even if you have tried to stop your compulsions before and it has not been as successful as you would like. Our therapy for OCD is based on cognitive behavioral therapy (CBT). With the help of CBT and your therapist, you will identify what triggers your OCD. You will learn how to face your obsessions and find ways to refrain from ritualizing. Eventually you will be able to face these triggers without the need to perform your normal rituals (like washing your hands several times in a row or checking the lights numerous times). You will discover how to replace these negative thoughts with more realistic ones. Eventually you will be in charge of the thoughts and behaviors that previously have been fueling your OCD, so that you can live life free from obsessions and compulsions.
Sign up and start getting happier now
Your therapist is ready to start the journey with you today - so what are you waiting for?
Take our test & get instant help
Answer a few questions and get immediate results and recommendations. It only takes a few minutes, so let's get started!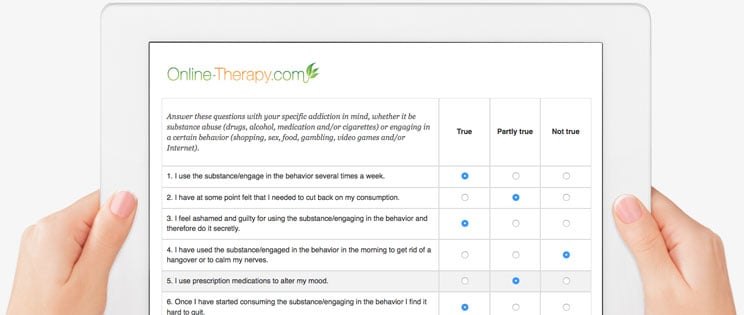 Reviews
Our online therapy services have received 2670 reviews and the average rating is 4.7 out of 5 stars.
Rating: [5 out of 5 stars!]
"I'm just starting out with online therapy. I've had a handful of in-person sessions and the results are nothing to be desired. So far I like how the therapist sends messages and that there is work to do outside of the session. I chose this route to more accountable for my actions and success."
Just Starting Out (May 05, 2023)
Rating: [5 out of 5 stars!]
"My therapist is really good. There are so many tools on this site to help deal with mental health issues. The site is generally easy to use."
Paleo (March 20, 2023)
Rating: [5 out of 5 stars!]
"In the beginning I was skeptical about online therapy, but now I can appreciate the help you can get remotely especially when you travel for a career."
Nick (May 09, 2023)
Rating: [5 out of 5 stars!]
"A convenient and cost effective therapy option!"
Meg (April 16, 2023)
Rating: [4 out of 5 stars!]
"Appreciate the service."
Back To Work (May 15, 2023)
Rating: [5 out of 5 stars!]
"Great site and therapists"
Meg (May 16, 2023)
Rating: [5 out of 5 stars!]
"I am happy with the connection between me and my therapist; it makes it easier to delve deeper into the psychology of my issues.
Also, the platform is easy to navigate and I appreciate the work sheets etc."
My Review (April 17, 2023)
Rating: [5 out of 5 stars!]
"If you are ready to do the work this is a strong resource. It had a profound impact on my life in a short time."
Belief (May 27, 2023)
Rating: [5 out of 5 stars!]
"Thank you for the great therapist who I got to chose on Online-Therapy. She was focused and patient and extremely aware of where I needed to go and how to get me there. I would recommend Tara-Jean to anyone who needs some guidance, a listening ear or the full therapy experience."
CBT Worked For ME (March 31, 2023)
Rating: [5 out of 5 stars!]
"A great program and guideline to follow being able to go at my own pace. Everything made more and more sense the further along in the program I went. With the help of my therapist and the worksheets, my anxiety has gone from 10 to a 5 in three weeks and feeling I have more control of my day to day life."
Ash (March 21, 2023)
Sign up for online therapy today
Your therapist is ready to start the journey with you today - so what are you waiting for?
Have any questions?
Are you unsure of what program to choose or have any questions about our services? Check our FAQ to alleviate any concerns.