Overcome Your Panic Attack with Online Therapy
Panic attacks are characterized by unexpected and repeated episodes of intense fear, accompanied by physical symptoms like rapid heartbeat, chest pains, tingling sensations in your body and difficulties breathing. With these symptoms, it is understandable that you might think you are having a heart attack and seek help at the emergency room.
Usually, it is not possible to predict when or where a panic attack will occur. Panic attacks are not dangerous but they are still extremely unpleasant experiences every time they happen. Some people experience feelings of unreality, depersonalization and fears of losing control or going crazy.
Our therapy for panic attacks is based on cognitive behavioral therapy (CBT). With the help of CBT, you will learn how your body's physical symptoms interact with your negative thinking patterns and behaviors to create and maintain your panic. This will help you to identify and change the distorted thinking and de-dramatize your symptoms and panics. With the guidance of your therapist, you will gradually expose yourself to and remain in situations that usually induce your panic attacks. Eventually you will be able to reverse the downward negative spiral and live your life free of anxiety and panic attacks.
Sign up and start getting happier now
Your therapist is ready to start the journey with you today - so what are you waiting for?
Take our test & get instant help
Answer a few questions and get immediate results and recommendations. It only takes a few minutes, so let's get started!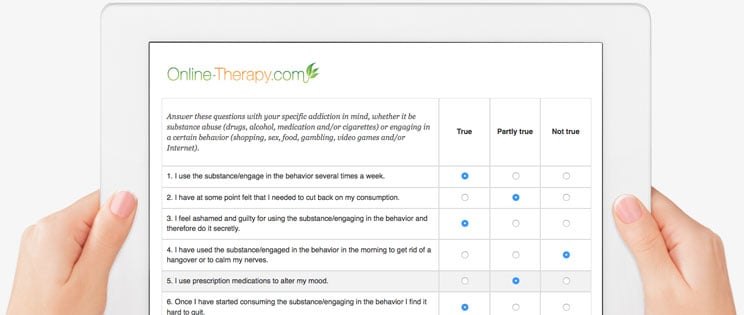 Reviews
Our online therapy services have received 533 reviews and the average rating is 4.6 out of 5 stars.
Rating: [4 out of 5 stars!]
"It's good. I think I signed up for more therapist time than I need, but it's helpful knowing there is someone out there checking in. I find the exercises really helpful and the journal is a game changer. I wish there was an app for my iPhone though."
1st One (March 08, 2019)
Rating: [5 out of 5 stars!]
"I had my first chat with my Therapist on Wednesday and I found it very beneficial and motivating. I'm liking the service so far, quick responses from my therapist and the material makes me think but not stress."
Review (March 15, 2019)
Rating: [5 out of 5 stars!]
"Great response time by the therapist. Good advice that is well thought out and personalized."
GG (March 04, 2019)
Rating: [5 out of 5 stars!]
"I really like the format of this program, because I can do my therapy at home in the evenings. I was skeptical at first, but I was in a really bad place in life, and was desperate to try something. I have been in "talk-therapy" in the past with a psychologist or social worker, but this is really different.

The worksheets have been helpful in sorting out my thoughts, and figuring out how to actually make changes in my life, instead of just talking about it. My therapist, Maggie, has been very helpful by helping me realize that if I don't have a plan and take active steps to feel better, then things will just stay the same. Then, ultimately I will just continue down the same path and remain unhappy.

She challenges me by asking tough questions, which helps me see things from a different perspective. I feel encouraged that if I stick with the program, I can break my negative patterns, and live a more balanced life. I have hope that I can use my new skills to repair the damaged relationships in my life. I can learn to reach out to people."
DRH (March 14, 2019)
Rating: [5 out of 5 stars!]
"It is helping me a lot. Thanks!"
Luke (March 14, 2019)
Rating: [5 out of 5 stars!]
"I love the service online therapy has provided to me so far. My therapist has helped me a lot and I can see the difference so clearly."
Sweet (March 06, 2019)
Rating: [5 out of 5 stars!]
"My therapy was successful."
Charrex (May 02, 2019)
Rating: [5 out of 5 stars!]
"Online Therapy has really helped me to study myself and get to the root of my problems and problematic thinking. It now feels more natural to question myself, investigate where a certain compulsion is coming from, and react differently to it! I'm appreciating the freedom it's given me to begin to make healthier choices."
Jasmine (May 16, 2019)
Rating: [5 out of 5 stars!]
"Working with the therapist has been great and very helpful!"
Mike (April 10, 2019)
Rating: [5 out of 5 stars!]
"It helped me to understand that i just need to make things happen faster in my life...the waiting thing is what caused more worry...depression and stress."
Good Stuff But I Think More Info Could Be Put Into The Actual Mini Course (March 26, 2019)
Sign up for online therapy today
Your therapist is ready to start the journey with you today - so what are you waiting for?