Overcome Your Panic Attack with Online Therapy
Panic attacks are characterized by unexpected and repeated episodes of intense fear, accompanied by physical symptoms like rapid heartbeat, chest pains, tingling sensations in your body and difficulties breathing. With these symptoms, it is understandable that you might think you are having a heart attack and seek help at the emergency room.
Usually, it is not possible to predict when or where a panic attack will occur. Panic attacks are not dangerous but they are still extremely unpleasant experiences every time they happen. Some people experience feelings of unreality, depersonalization and fears of losing control or going crazy.
Our therapy for panic attacks is based on cognitive behavioral therapy (CBT). With the help of CBT, you will learn how your body's physical symptoms interact with your negative thinking patterns and behaviors to create and maintain your panic. This will help you to identify and change the distorted thinking and de-dramatize your symptoms and panics. With the guidance of your therapist, you will gradually expose yourself to and remain in situations that usually induce your panic attacks. Eventually you will be able to reverse the downward negative spiral and live your life free of anxiety and panic attacks.
Sign up and start getting happier now
Your therapist is ready to start the journey with you today - so what are you waiting for?
RIGHT NOW:

Free therapy due to the coronavirus pandemic

We want to help as many people as possible during these extraordinary times.
Therefore we are offering parts of our online therapy platform for free.

The free access includes our online therapy program with 8 easy-to-follow sections and 25 worksheets, yoga and meditation videos, activity plan, journal, and tests (communicating with a personal therapist is not included).
Take our test & get instant help
Answer a few questions and get immediate results and recommendations. It only takes a few minutes, so let's get started!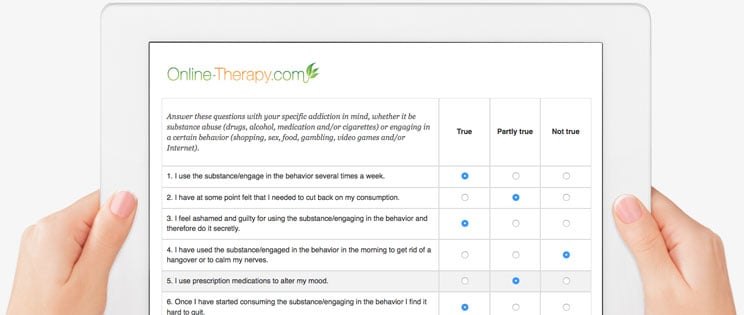 Reviews
Our online therapy services have received 1040 reviews and the average rating is 4.7 out of 5 stars.
Rating: [5 out of 5 stars!]
"Excellent service! Making huge progress with your professional counsellor!"
Everythingwillbeok (September 22, 2020)
Rating: [4 out of 5 stars!]
"The services are outstanding, the set of of worksheets and follow-up from therapist has shown quite effective in my case. Pity that the connection doesn't always work properly. Overall, it's a real tailored service and it products results."
P.O. (August 17, 2020)
Rating: [5 out of 5 stars!]
"I like how this is all at my own pace. They are willing to pause for lifes hiccups. Its easy to understand and follow along."
Av8rchk (August 10, 2020)
Rating: [3 out of 5 stars!]
"In the few days that I have used this site I have found it helpful. My therapist is helping me breakdown my thoughts and helping me discover the innate behaviors that have been troubling me. I look forward to continue my journey and feel better with online-therapy."
Maanvi (September 15, 2020)
Rating: [5 out of 5 stars!]
"Since I started, I have certainly focused on my issues more. I feel improvement is ahead!"
Getting There (September 04, 2020)
Rating: [5 out of 5 stars!]
"The information and the guidance I've received so far have been very helpful. You can move through the material at your own pace and really focus on those areas which you most need for your personal situation. I would highly recommend this service to others in need."
Tommy Mac (August 04, 2020)
Rating: [5 out of 5 stars!]
"An awesome set up and the materials on this site is so helpful. I highly recommend it to anyone needing some extra support."
JK (October 28, 2020)
Rating: [5 out of 5 stars!]
"I am using this service as a starting point - before starting my new therapist (in-network, insurance paid) which took about a month to schedule. I never took talk therapy seriously in the past. But, my On line therapist is awesome. I have made a lot of progress in a short time and I am feeling much better. I am seriously considering continuing online therapy and paying out of pocket."
Jlkennedyjr (September 30, 2020)
Rating: [5 out of 5 stars!]
"I really like the way therapy is organized on this website. I was looking for a way to be certain that my therapy would be focused on CBT as I knew it was the most empirically supported treatment modality and that is how I found this service.
The course which includes lessons and worksheets provides a basis the therapeutic process is built on. However, I am very happy to say that my therapist, Chelsea Schuringa, is very engaging and helpful so I am very much benefitting from both the course and the more traditional video sessions and communication via messages. It turns out the two aspects that are uniquely combined on this website work excellent together."
Storyteller (October 18, 2020)
Rating: [5 out of 5 stars!]
"Chelsea is an amazing counselor! I'm learning a lot and I feel like each week I am growing! I like having worksheets and feed back!"
RJ (October 29, 2020)
Sign up for online therapy today
Your therapist is ready to start the journey with you today - so what are you waiting for?
Have any questions?
Are you unsure of what program to choose or have any questions about our services? Check our FAQ to alleviate any concerns.