Overcome Your Panic Attack with Online Therapy
Panic attacks are characterized by unexpected and repeated episodes of intense fear, accompanied by physical symptoms like rapid heartbeat, chest pains, tingling sensations in your body and difficulties breathing. With these symptoms, it is understandable that you might think you are having a heart attack and seek help at the emergency room.
Usually, it is not possible to predict when or where a panic attack will occur. Panic attacks are not dangerous but they are still extremely unpleasant experiences every time they happen. Some people experience feelings of unreality, depersonalization and feelings of losing control or going crazy.
Our therapy for panic attacks is based on cognitive behavioral therapy (CBT). With the help of CBT, you will learn how your body's physical symptoms interact with your negative thinking patterns and behaviors to create and maintain your panic. This will help you to identify and change the distorted thinking and de-dramatize your symptoms and panics. With the guidance of your therapist, you will gradually expose yourself to and remain in situations that usually induce your panic attacks. Eventually you will be able to reverse the downward negative spiral and live your life free of anxiety and panic attacks.
Sign up and start getting happier now
Your therapist is ready to start the journey with you today - so what are you waiting for?
Take our test & get instant help
Answer a few questions and get immediate results and recommendations. It only takes a few minutes, so let's get started!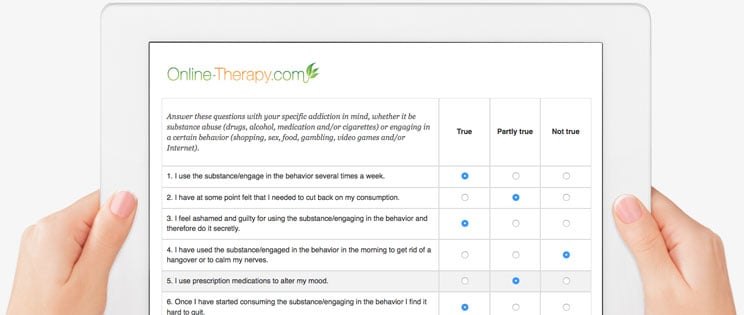 Reviews - Panic Attack
This program has received 14 reviews and the average rating is 4.9 out of 5 stars.
Rating: [4 out of 5 stars!]
"Overall for someone like me who wants to get to the bottom of things quickly and find results even quicker the system was great. Maggie was a straight shooter and helped me to understand what causes these attacks, even when at times I felt I was just answering questions (going through the process/motions, rather than individualising it to me and my circumstances). Maggie gave me an understanding into how to overcome or minimise these reactions with some of the tools given.

Limitation are that there can be misunderstandings or different interruption on questions asked. Time delays with working hours and international time frames also causes limitations. But this service was good to work with at your own pace (fast or slow)."
Vj (May 12, 2013)
Rating: [5 out of 5 stars!]
"An excellent program that has been very useful. The feedback from my therapist has been very helpful. I would recommend the program to anyone suffering from panic attacks."
Thankful (November 03, 2012)
Rating: [5 out of 5 stars!]
"I have been impressed with the therapy. Always a quick response giving useful comments and advice."
Kelly Palmer (October 01, 2012)
Rating: [5 out of 5 stars!]
"I live in the north east of Scotland and there is no provision for CBT locally. Having an online course means that I am able to get therapy. Self help books are good but not the same as having a therapist work with you. I am finding the course useful. It is well structured and easy to keep up with."
Bill (September 10, 2012)
Rating: [5 out of 5 stars!]
"I have to deal with the public a lot in my job and panic attacks were making that impossible. I would sweat, feel faint and be unable to breathe. I often thought I'd die. I was about to give up my job when someone suggested I try to find help online. I found this site, with the panic attack therapy. I didn't think it would work but I wanted to keep my job so I had nothing to lose from trying. That was a few weeks ago.

Now I know I had everything to gain! I followed the program at my own pace, doing the simple exercises and reading and re-reading all the advice. Something clicked in my brain and now panic attacks are a thing of the past for me. I just hope it will not come back but it feels really good for now. It's such a relief."
Julianne (September 02, 2012)
Rating: [5 out of 5 stars!]
"My therapist has been very helpful in giving me the CBT tools I need to assess situations and respond more logically. Thanks."
Nelly L (May 12, 2011)
Rating: [5 out of 5 stars!]
"It was really good too hear from somebody that doesn't know me and has gave me the courage to work on my problems. Thanks for your help Sandra"
Sandra (March 23, 2011)
Rating: [5 out of 5 stars!]
"Thank you so much for putting together the panic attack program. I had tried so many other things, even other online programs and still I was getting panic attacks at least once every week. Having followed your program, I now know how other programs went wrong; they just didn't get to the bottom of my problem, so I still thought and reacted in the same way, so my panic attacks returned.

Now, with your online panic attack treatment, I go about things in such a different way. Your program learned me that I feel what I think. It took some sessions to understand how to change my thoughts - but it worked. Now, I haven't had a panic attack in 3 months - feels like a minor miracle."
NelsonL (September 01, 2009)
Rating: [5 out of 5 stars!]
"Panic attacks once ruled my life. I started avoiding situations because I knew I was going to panic. My world was getting smaller and smaller. Then, reading online one day, I found the panic attack therapy program. Slowly, with the program, I learned to control my panic and to take control of my life again. I would recommend this program to anyone who has a problem with panic attacks. The advice is friendly and easy to follow and found the community very supportive."
Christopher T (August 07, 2009)
Rating: [4 out of 5 stars!]
"This is a comprehensive and easy course to follow and is highly recommended. My extreme anxiety was gone in a matter of days. The panic attacks took a little longer, but within two month I was more or less back to normal. This is serious material sold over the Internet with really good results. I'm so thankful!"
J. F. (August 03, 2009)
Rating: [5 out of 5 stars!]
"My panic attacks usually come on very suddenly and the height of the symptoms occur about 10 minutes after they begin. The Panic attacks can happen anywhere, and at any time.

I have suffered with panic attacks for 15 years and all the counseling, medication and books I have purchased within the 15 years just masked the fear, never eliminated it for good. But with this method it's different.

I think why it works is because this program makes you understand exactly what's happening and why it's happening. When you get control over the situation you get control over the anxiety attacks. Best regards and thank you so much for developing this program."
Vikki P (June 13, 2009)
Rating: [5 out of 5 stars!]
"My first panic attack came after a long period of intensive activities. Suddenly It felt as if I couldn't breathe and my heart was palpitating. I felt faint, I felt dizzy and I totally panicked and actually thought I was going to die.

My panic attacks then came back maybe once a month and I felt I had to do something to stop this terrible feeling so I tried a lot of online stuff - but discovered this is all I needed.

What I think made this program so good is that I now understand what is happening to me and what I can do to stop it. As a matter of fact - the trick you learn in the beginning of the program really works!"
Kearns (May 23, 2009)
Rating: [5 out of 5 stars!]
"Hi my name is Michel and I'm from Australia. A few months ago, I thought my life was over. Living with anxiety and agoraphobia was ruining my life and I didn't know how I was going to recover.

I then tried this online program. I was very skeptical about this purchase because of the price, but I thought if it worked, it would be well worth it. After one month,

I started going out more and feeling so much better about myself. It was definitely worth it and I would highly recommend this to anyone suffering from anxiety, agoraphobia, social phobia, OCD and more."
Mich_H (May 10, 2009)
Rating: [5 out of 5 stars!]
"I cannot speak highly enough of the online panic attack program. I've suffered with anxiety for years and I learnt a lot from the program about my own anxiety and what caused it.

The program basically shows you how retrain your brain and explains that panic attacks and anxiety are just a bad mental habit, not a disease. I can now control my anxiety and the program has really changed my life. You might not believe this but give it a try - you can always get your money back, so not much downside!"
Gerald F (April 17, 2009)
Sign up for online therapy today
Your therapist is ready to start the journey with you today - so what are you waiting for?