Overcome Your Panic Attack with Online Therapy
Panic attacks are characterized by unexpected and repeated episodes of intense fear, accompanied by physical symptoms like rapid heartbeat, chest pains, tingling sensations in your body and difficulties breathing. With these symptoms, it is understandable that you might think you are having a heart attack and seek help at the emergency room.
Usually, it is not possible to predict when or where a panic attack will occur. Panic attacks are not dangerous but they are still extremely unpleasant experiences every time they happen. Some people experience feelings of unreality, depersonalization and fears of losing control or going crazy.
Our therapy for panic attacks is based on cognitive behavioral therapy (CBT). With the help of CBT, you will learn how your body's physical symptoms interact with your negative thinking patterns and behaviors to create and maintain your panic. This will help you to identify and change the distorted thinking and de-dramatize your symptoms and panics. With the guidance of your therapist, you will gradually expose yourself to and remain in situations that usually induce your panic attacks. Eventually you will be able to reverse the downward negative spiral and live your life free of anxiety and panic attacks.
Sign up and start getting happier now
Your therapist is ready to start the journey with you today - so what are you waiting for?
Take our test & get instant help
Answer a few questions and get immediate results and recommendations. It only takes a few minutes, so let's get started!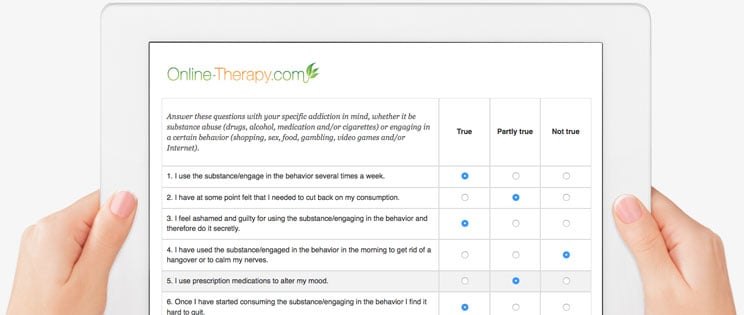 Reviews
Our online therapy services have received 619 reviews and the average rating is 4.6 out of 5 stars.
Rating: [5 out of 5 stars!]
"I've only been using this service for a few weeks, but I really like the format! I'm a busy university student, and having something that really works with my time and my energy levels is awesome. I also like being able to refer back to what I've written and what my therapist has said, as I find that sometimes the high emotional intensity of in-person therapy wipes my memory of what we talked about!"
CB (January 08, 2020)
Rating: [4 out of 5 stars!]
"There was a lapse between signing up and really participating because I've been ill (probably acerbated by years of non stop stress). As I'm getting started, I'm realizing the stress level that I have endured over the years and wish this program had existed decades ago."
Just Starting (December 12, 2019)
Rating: [4 out of 5 stars!]
"I haven't finished the programme so can only speak for what I've done so far. But so far it's becoming helpful and making me question and improve my thought patterns. And it's helping me feel more positive and compassionate to others and myself."
Reviewer (January 19, 2020)
Rating: [4 out of 5 stars!]
"I find many of these tips and tricks useful and easy. I am hoping they will be something that will continue to help me in the future. The worksheets have been interesting and reflective. The videos are informative and the program is easy to follow. I have had a couple good sessions with my therapist, I wish that the sessions were longer. 30 minutes just isn't long enough to get all the information out. However she has given me some useful tricks for my bag that I can use to help me in times of need."
Anxious And Lonely (November 10, 2019)
Rating: [5 out of 5 stars!]
"I feel better having someone to talk about things with and help me get through the week. I work a lot and cant afford time off to go to appointments etc, and having this at hand 24/7 is so much better in my opinion than a once a week session. I would highly recommend this to anyone with a busy schedule."
Geomatics89 (November 12, 2019)
Rating: [4 out of 5 stars!]
"I have been very happy with the quick response and thoughtful questions."
DavidRat (December 17, 2019)
Rating: [5 out of 5 stars!]
"So far I have been working through my issues for a couple of weeks and I have already felt a change in being "aware" of my emotions and being able to understand them, instead of just feeling them and having it take over my entire day. That alone has helped me to manage some of the non-logical mood swings I have been having. And I want to say thank you for being someone I can talk to, since the average person would not be able to handle this constant stress on a daily basis. Truly thank you for giving me someone I can talk to. That alone is already making a difference for me. Thank you."
Angel89 (December 02, 2019)
Rating: [5 out of 5 stars!]
"Its easy to navigate, easy to understand and works well."
Si (October 31, 2019)
Rating: [5 out of 5 stars!]
"I think the services have been great. The responses are really quick and helpful. They make me think and understand my feelings more than I ever have. I love the support that I receive from my therapist too and knowing I can rely on them."
EKH (January 03, 2020)
Rating: [5 out of 5 stars!]
"Convenient caring the right amount of blunt while staying showing compassion."
Tasha (November 27, 2019)
Sign up for online therapy today
Your therapist is ready to start the journey with you today - so what are you waiting for?