Overcome Your PTSD with Online Therapy
Post-traumatic stress disorder (PTSD) is an anxiety disorder that some people get after experiencing a threatening and painful event like an accident, sexual abuse, war, bad experience in health care etc.
If you have experienced a traumatic event in your life and are faced with flashbacks of this trauma, memory loss, feeling much more anxious and vigilant compared to before or avoiding things that remind you of the trauma, then you might be suffering from PTSD. Note that these symptoms often appear within a few weeks but it can also take years.
Our therapy for PTSD is based on cognitive behavioral therapy (CBT). With the guidance of your therapist and CBT for PTSD, you will re-live the traumatic memories and visit places and situations that remind you of your trauma. This might sound painful, but it's the key in overcoming your PTSD. This is done under controlled conditions guided by your therapist at a pace that suits you and will dramatically decrease your anxiety reactions and symptoms, allowing you to live a life free from past traumatic events.
Sign up and start getting happier now
Your therapist is ready to start the journey with you today - so what are you waiting for?
Take our test & get instant help
Answer a few questions and get immediate results and recommendations. It only takes a few minutes, so let's get started!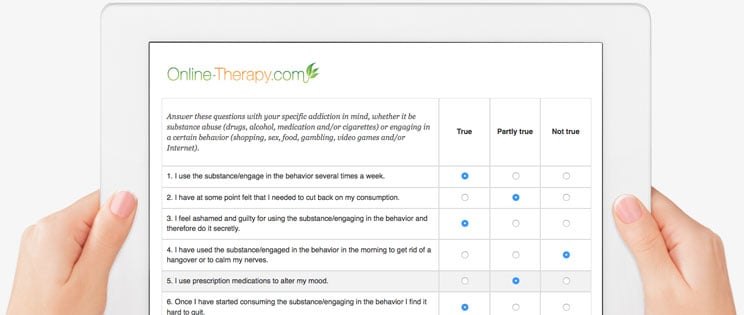 Reviews - PTSD (Post-Traumatic Stress Disorder)
This program has received 16 reviews and the average rating is 4.7 out of 5 stars.
Rating: [5 out of 5 stars!]
"So far I find the service helpful and informative. It has only been a week but I am looking forward to my first one on one session."
Kemsters (June 08, 2017)
Rating: [4 out of 5 stars!]
"I've found it helpful!"
Gaga (December 16, 2016)
Rating: [4 out of 5 stars!]
"I like the anonymity of working on line. It was especially useful at the start of therapy when I needed plenty of time to take some very small steps. I am happy with the therapists feedback and suggestions. I have already noticed some good progress and I am starting to feel back in control of myself again."
JS1 (March 01, 2016)
Rating: [4 out of 5 stars!]
"The worksheets are good sessions, session 2 "Change negative inner beliefs to something positive" I didn't quiet get, but maybe it's not time. Once the worksheets are filled out what's there to talk about? Maybe this would work better on someone who didn't have such a complicated past, many different areas of trauma. CPTSD is just that, complicated/complex. My therapist is very nice and seems well versed and my progress is no reflection on her. This is a good program and would benefit many people. The cost is reasonable and may be a good alternative to some. Many people, on the other forums, are looking for something online because of being housebound by physical or mental issues, or lack of qualified therapist in the area, etc. Or as I used it, in between sessions, when you need to talk to someone. I would say this is one of the better online sites."
Trace (September 05, 2015)
Rating: [4 out of 5 stars!]
"I find the techniques given to overcome PTSD useful. The worksheets and the therapist's comments also provide useful insight into my thoughts, and how I can change them for the better. The chat session allows me to truly understand what I can do specifically to combat my problems, and I find that it has a positive impact on me. Of course, it takes a long time to overcome PTSD, not just an 8-week session, but the techniques given here will help tremendously if one was to truly apply them."
ND (November 01, 2013)
Rating: [5 out of 5 stars!]
"Thank you for the helpful competence of the counsellor I have. She has provided me with support and insight into myself. I continue to work with her to continue to understand my self and how the choices I made in the past reflect my life today.
I find that the questions provide one with a starting pint for examining one's issues. When one re-enrolls in the program, if we continue from where we were, we run out of questions to work on - perhaps shifting over to a different section would be helpful so we can look at other things that may be contributing to our self-understanding. Cross-over the categories, perhaps and carry on from there?
Thank you."
Carol (December 13, 2012)
Rating: [5 out of 5 stars!]
"My Experience with Online-Therapy.com: Everything I was doing in life just wasn't enough to make me happy. I was just so sad. I isolated myself from my friends. Romantic relationships were sparse, short-lived, and ended badly. I struggled with bad feelings about myself, and I increasingly fought off thoughts of suicide. I knew of one particular event in my life that had long-lasting effects on me. It was a violent and traumatic attack I experienced twenty years ago.

I sought help online. I stumbled across Online-Therapy.com and took the questionnaire for Post-Traumatic Stress Disorder. I answered yes to nearly every symptom listed in the questionnaire. I felt as though I was taking a chance when I paid for the services. I was afraid the questionnaire was designed to lead anyone to seek counseling services, but I really needed help. I was desperate. I was losing my life.

After I signed up for the services, I was assigned a therapist. In a matter of hours, Maggie Sweet was in touch with me through e-mail and through Online-Therapy.com's website. She introduced herself and informed me that she had also recovered from traumatic events in her life. She also gave me an assignment. I answered a series of open-ended questions about my past experiences, my current situation, and why I was seeking help. Maggie used my answers to assess my situation. She returned her assessment to me expeditiously. Upon reading her assessment, I was very relieved to see that she understood what I was going through. Her assessment made it clear to me that I was going to receive the help I needed.
Our first session occurred soon after the initial assessment. After some greetings, Maggie jumped into a desensitization exercise with me. The exercise brought up undesirable reactions. I was experiencing feelings of fear and anxiety through an interaction online as though I was physically present in a situation. The first night was tough. I was crying. I was confused, and I was angry. I didn't realize what the point of the exercise was until later.

After that first night, and after subsequent sessions, I just continued to follow the instructions that Maggie gave me. I began to recognize the difference between myself and how I reacted during exercises. As I continued with the therapy, as it was instructed to me, I started to understand how to separate myself from my past experiences. The bad feelings I held against myself for the bad things that happened in my life were only shaping me because I allowed them to affect me. Maggie is an engineer of self-awareness. She showed me how to look at the therapy sessions and separate myself from my reactions and translate that into use for everyday situations.

The big breakthrough came in either the second or third week when Maggie taught me how to let go of the bad feelings that I separated from myself. These feelings weren't me. They were negative forces in my life that I allowed in my life. At one time, for whatever reason, I wanted to feel badly about myself. Feeling bad about myself served a purpose or some purposes. I can't even imagine why anymore. Bad feelings just aren't a part of who I am. After separating myself from bad feelings, declaring who I am, and throwing the bad affects away, I quite consciously, on many occasions, threw my hands away from my chest. I spent a couple of weeks doing this on a rather regular basis.

I have never been a happier man. I've never know freedom like I know freedom now. I've never had a healthier state of mind, and it only keeps getting better. Occasionally, things from the past still pop up. Sometimes things that I've already let go come back, and sometimes things that I newly realize come up. However, I have this amazing new power to declare myself to be the way I want to be and let everything else go. I have a system that's like a tool for living my life the way I want to live it... which is happy.
Maggie, I am grateful for your involvement in my life. I'm grateful for your decision to help people that suffered the way we have. I'm grateful for your transcendence and the power you possess to teach others to shine bright. You are a great soul. Thank you.

If there is anything in this letter than can be of use to you, Maggie, or Online- Therapy.com, please feel free to use it. I willingly and gladly give full release of this document, with no alteration, to anyone that it may help and in any form that help may manifest itself.

With much love to Maggie and great appreciation to the creator(s) of Online- Therapy.com and any support staff involved, thank you.

Sincerely,

Paul"
Paul (June 04, 2012)
Rating: [5 out of 5 stars!]
"I like the program. My therapist Maggie is intuitive and smart. I appreciate her incisive comments. I have found writing down my concerns have helped to calm them and Maggie's responses have been great.

I haven't tried the live chat but I don't know if it will suit me as I have little time to schedule things outside of work, home etc. It suits me to write when o get a chance."
Julie (December 30, 2011)
Rating: [5 out of 5 stars!]
"Overall I think your services are brilliant! I like:

- The concept: It would be difficult for me personally to take face to face therapy because of the practicality having the nearest therapist 2 hours drive away. That would mean pretty much a whole day gone. Also the planning ahead can be a problem. Finally, I would find it very hard to face classic therapy; this is a great way to ease into it.

- The 8 weeks program: It's nice to step into it for a fixed period of time, it's overseeable and structured. It reassures that you are not going to drag things out to get more money.

- The sessions: At first glance seem short (compared to self-help books) but are concise and good to follow. They do give plenty of points to read back and remember so there's plenty in it while still short enough not to be put-off. Perhaps real-life examples could help.

- The worksheets: Are really good. They are deceptively simple and give the impression that it's all too easy. But then the comments come in and add incredible value. It's great to be able to really think about the subject, get feedback and then digest the feedback again, having it there to re-visit. This is my main source of therapy so far. Really good!

- The online therapist: Absolutely brilliant! It's what convinced me to sign up! Just a click and I could discuss which program would suit me and I could get a sense of the kind of service you give. Also, compared to classic therapy it's really reassuring to have the sign up there saying when the counselor is online. No need for appointments and waiting another week, if she there I can get help. No words for it really...

Perhaps some people would like if the chat were over Skype so they could really talk and perhaps see the therapist? I myself would (for now) not go for that but it might help assure people that you are really there in person instead of a computer program.

- The website: Looks nice and clean but not clinical, overall a gentle but productive layout.

Overall I'm truly happy I signed up; I wouldn't have done any other form of therapy (and I do need it!). I'm very impressed with the level of personal attention given, hats off! The absolutely great thing is that it's really flexible time-wise. Whenever it suits me I can do the worksheets or check if a therapist is available, which is just so brilliant. Also, the feeling of being slightly distant really works for me, wouldn't really feel safe otherwise.

After starting, at first it seems there's not much information given, too little work to be done etc. It nearly feels too simple. But after getting the first feedbacks is when the value becomes clear.

Thank you for all your work."
Chris (June 22, 2011)
Rating: [5 out of 5 stars!]
"The most helpful thing to me is the therapist! Sareeta is wonderful and is trying so hard to give me all the expertise she has acquired. It is very effective. She addressed my two most pressing issues first...crying excessively and insomnia. She has some wonderful ideas!

The worksheets are fine and I can see the necessity... It helps the therapists, too.

I have been in the program for 2 weeks, but got off to a rocky start. The last 3 days have been very productive and helpful. I feel hopeful and more confident that I can get this disorder under control.

Thank you for the program!"
Barbara (May 28, 2011)
Rating: [5 out of 5 stars!]
"I am receiving valuable help from Sareeta! She is amazing! I am grateful I stayed with Online-Therapy!! It really does work with a therapist that fits my personality and background!"
Nan (May 24, 2011)
Rating: [5 out of 5 stars!]
"Very good. Satisfied."
-- (March 29, 2011)
Rating: [5 out of 5 stars!]
"Therapist Maggie did a wonderful job."
Cynthia (January 09, 2011)
Rating: [5 out of 5 stars!]
"I don't no if you realise but you are truly turning my life around, & I thank you for that."
Me (August 24, 2010)
Rating: [5 out of 5 stars!]
"I didn't even no I had PTSD, it has only been since doing on line therapy, that i have been told this is what is going on.

It has been 3 weeks since starting this, & i am beginning to see light at the end of the tunnel, it is a slow process, but hey I'm 54 & loosing my Dad at 16, my Mother last year & my Dearest Dearest friend, of over 30 years.

That this On Line Therapy has told me what has happened & how I have suppressed so many emotions & feelings.

So slowly dealing with it all.

Have you every read the book Tuesday with Moray, its brilliant & really helped me, so maybe you could give that a go.

There will be light at the end of the tunnel just be kinder to yourself.

xxx take care"
Janeto2 (August 20, 2010)
Rating: [4 out of 5 stars!]
"I just want to thank you for listening to me and helping me manage to live a normal life after my traumatic event. Would be even better if you were online all weekends and holidays as well :)"
Desirée (March 30, 2010)
Sign up for online therapy today
Your therapist is ready to start the journey with you today - so what are you waiting for?