Overcome Your PTSD with Online Therapy
Post-traumatic stress disorder (PTSD) is an anxiety disorder that some people get after experiencing a threatening and painful event like an accident, sexual abuse, war, bad experience in health care etc.
If you have experienced a traumatic event in your life and are faced with flashbacks of this trauma, memory loss, feeling much more anxious and vigilant compared to before or avoiding things that remind you of the trauma, then you might be suffering from PTSD. Note that these symptoms often appear within a few weeks but it can also take years.
Our therapy for PTSD is based on cognitive behavioral therapy (CBT). With the guidance of your therapist and CBT for PTSD, you will work through the traumatic memories, maybe even visiting situations and/or places that remind you of your trauma. While this might sound painful, it has been proven in numerous research studies to be an effective way to overcome PTSD. This is done under controlled conditions guided by your therapist at a pace that suits you. The result? A dramatic decrease in your anxiety reactions and symptoms, allowing you to live a life free from past traumatic events.
Sign up and start getting happier now
Your therapist is ready to start the journey with you today - so what are you waiting for?
Take our test & get instant help
Answer a few questions and get immediate results and recommendations. It only takes a few minutes, so let's get started!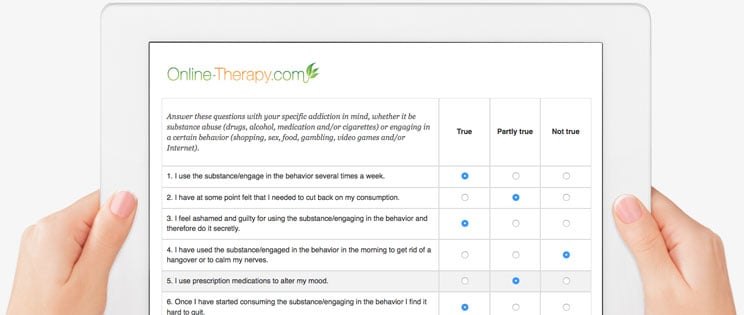 Reviews
Our online therapy services have received 621 reviews and the average rating is 4.6 out of 5 stars.
Rating: [5 out of 5 stars!]
"Online-therapy offers you the most convenient process to challenge the way you think and the way you respond to emotional situations. The tools are practical and the feedback from therapists is insightful. So glad to have this resource available."
Treat Yourself To Some Sanity (December 19, 2019)
Rating: [5 out of 5 stars!]
"Wonderful program! Having someone to talk to that doesn't cost you an arm and a leg."
Angel89 (December 10, 2019)
Rating: [5 out of 5 stars!]
"I have found this service great. i have been able to work at my own pace and the regular feedback from my therapist has kept me focused. i would recommend this course to anybody needing it. It has certainly helped me."
Lu Lu (December 10, 2019)
Rating: [5 out of 5 stars!]
"Convenient caring the right amount of blunt while staying showing compassion."
Tasha (November 27, 2019)
Rating: [4 out of 5 stars!]
"I find many of these tips and tricks useful and easy. I am hoping they will be something that will continue to help me in the future. The worksheets have been interesting and reflective. The videos are informative and the program is easy to follow. I have had a couple good sessions with my therapist, I wish that the sessions were longer. 30 minutes just isn't long enough to get all the information out. However she has given me some useful tricks for my bag that I can use to help me in times of need."
Anxious And Lonely (November 10, 2019)
Rating: [4 out of 5 stars!]
"There was a lapse between signing up and really participating because I've been ill (probably acerbated by years of non stop stress). As I'm getting started, I'm realizing the stress level that I have endured over the years and wish this program had existed decades ago."
Just Starting (December 12, 2019)
Rating: [5 out of 5 stars!]
"My therapist Lisa Neuweg was outstanding. The comments and guidance I received were right to the point and I always got a prompt reply, amazing!

I truly had the help of an expert therapist and this presented great value for money. I condensed the whole programme into 2 weeks (worked hard almost every night), despite this I received daily feedback and ongoing commentary. I was working hard and Lisa was able to keep up with me!

I was a little skeptical at first about doing this online CBT programme but in the end was really pleased and found it well worthwhile. It got to the core of some of my issues and instead of being some 'magic bullet' type approach actually made me face some of the issues I have been struggling with, it was difficult, tough and uncomfortable at times, but has provided me with some good tools and helped me to understand my thought patterns better."
BK (December 18, 2019)
Rating: [5 out of 5 stars!]
"Absolutely amazing service! So convenient, worksheets are just Godsend, plus convenient chats with a therapist, Maggie is the best! Definitely recommend to everyone!"
Elena (January 21, 2020)
Rating: [5 out of 5 stars!]
"I love the services provided by online-therapy. The sections and worksheets are very thorough and are based on results-based CBT. My therapist is wonderful and is great at challenging my unhealthy thoughts and behaviours and helping me to come up with creative ways to replace those behaviours with healthier ones.

The extras like the journal and yoga are very helpful as well. I never run out of ways to work on myself with this site. I'm so thankful this exists because it is so much more convenient than physically going to a therapist and there are so many bonuses this site offers. I'd recommend this to anyone seeking help who is dedicated to doing the work to bring more happiness into their life."
Anonymous (January 09, 2020)
Rating: [5 out of 5 stars!]
"I can break my issues down to pieces and understand what's need to be better."
Nir (December 28, 2019)
Sign up for online therapy today
Your therapist is ready to start the journey with you today - so what are you waiting for?