Overcome Your PTSD with Online Therapy
Post-traumatic stress disorder (PTSD) is an anxiety disorder that some people get after experiencing a threatening and painful event like an accident, sexual abuse, war, bad experience in health care etc.
If you have experienced a traumatic event in your life and are faced with flashbacks of this trauma, memory loss, feeling much more anxious and vigilant compared to before or avoiding things that remind you of the trauma, then you might be suffering from PTSD. Note that these symptoms often appear within a few weeks but it can also take years.
Our therapy for PTSD is based on cognitive behavioral therapy (CBT). With the guidance of your therapist and CBT for PTSD, you will work through the traumatic memories, maybe even visiting situations and/or places that remind you of your trauma. While this might sound painful, it has been proven in numerous research studies to be an effective way to overcome PTSD. This is done under controlled conditions guided by your therapist at a pace that suits you. The result? A dramatic decrease in your anxiety reactions and symptoms, allowing you to live a life free from past traumatic events.
Sign up and start getting happier now
Your therapist is ready to start the journey with you today - so what are you waiting for?
Take our test & get instant help
Answer a few questions and get immediate results and recommendations. It only takes a few minutes, so let's get started!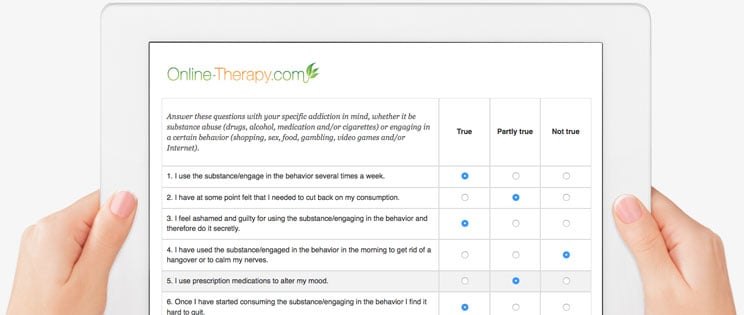 Reviews
Our online therapy services have received 669 reviews and the average rating is 4.6 out of 5 stars.
Rating: [5 out of 5 stars!]
"I have had major depressive disorder and anxiety for all my life. Prescription treatments have helped but let me with a feeling of powerlessness.

This course, which in the end is quite quick gave me results within two weeks. I feel significantly better. Having tools that I can use to improve my ways of thinking and experiencing the world is quite phenomenal.

Also, the work Lisa Neuweg, my online therapist did with me was pivotal in clarifying doubts and adapting generic tools to my needs."
Made A Big, Quick Difference. (February 06, 2020)
Rating: [5 out of 5 stars!]
"It has been a great experience for me so far. The CBT approach is very helpful and I feel as if I am already seeing results!"
VMG (March 20, 2020)
Rating: [5 out of 5 stars!]
"I love the services provided by online-therapy. The sections and worksheets are very thorough and are based on results-based CBT. My therapist is wonderful and is great at challenging my unhealthy thoughts and behaviours and helping me to come up with creative ways to replace those behaviours with healthier ones.

The extras like the journal and yoga are very helpful as well. I never run out of ways to work on myself with this site. I'm so thankful this exists because it is so much more convenient than physically going to a therapist and there are so many bonuses this site offers. I'd recommend this to anyone seeking help who is dedicated to doing the work to bring more happiness into their life."
Anonymous (January 09, 2020)
Rating: [4 out of 5 stars!]
"I have really been enjoying the journaling aspect of the program. My therapist has been really responsive on all of my worksheets so I've been able to go at a productive pace."
Mandi's Review (February 07, 2020)
Rating: [5 out of 5 stars!]
"This experience and my therapist were VERY helpful. The prompt replies were also thoughtful and the suggestions all very realistic."
Allen (February 22, 2020)
Rating: [4 out of 5 stars!]
"So far the information is informative and my therapist is very responsive."
TS (January 25, 2020)
Rating: [5 out of 5 stars!]
"very good"
Cool Lad (March 17, 2020)
Rating: [4 out of 5 stars!]
"This is a good program. If you want to remember what you learned, I suggest using One Note or something to take notes on the sections and get screenshots of your worksheets. Also download and save the videos somewhere you've got space. This is a good first step for many people looking to better themselves. I suggest actually penciling most things you want to remember as it is scientifically proven to stick with us more than typing things out. Yoga you can pretty much find anywhere online for what's right for you, so you don't really have to use the resources here unless you really want to."
Julia (March 09, 2020)
Rating: [5 out of 5 stars!]
"I really love this program !! It makes you stop and reflect!! It is absolutely helping me !!
Thank you !!"
Yogi (January 11, 2020)
Rating: [5 out of 5 stars!]
"Fine"
Begin (January 03, 2020)
Sign up for online therapy today
Your therapist is ready to start the journey with you today - so what are you waiting for?