Overcome Your PTSD with Online Therapy
Post-traumatic stress disorder (PTSD) is an anxiety disorder that some people get after experiencing a threatening and painful event like an accident, sexual abuse, war, bad experience in health care etc.
If you have experienced a traumatic event in your life and are faced with flashbacks of this trauma, memory loss, feeling much more anxious and vigilant compared to before or avoiding things that remind you of the trauma, then you might be suffering from PTSD. Note that these symptoms often appear within a few weeks but it can also take years.
Our therapy for PTSD is based on cognitive behavioral therapy (CBT). With the guidance of your therapist and CBT for PTSD, you will work through the traumatic memories, maybe even visiting situations and/or places that remind you of your trauma. While this might sound painful, it has been proven in numerous research studies to be an effective way to overcome PTSD. This is done under controlled conditions guided by your therapist at a pace that suits you. The result? A dramatic decrease in your anxiety reactions and symptoms, allowing you to live a life free from past traumatic events.
Sign up and start getting happier now
Your therapist is ready to start the journey with you today - so what are you waiting for?
Take our test & get instant help
Answer a few questions and get immediate results and recommendations. It only takes a few minutes, so let's get started!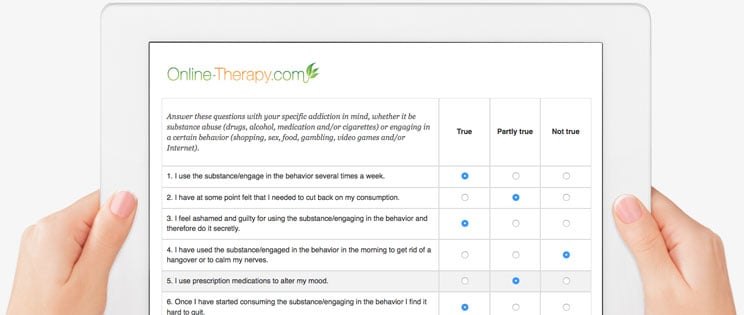 Reviews
Our online therapy services have received 2179 reviews and the average rating is 4.7 out of 5 stars.
Rating: [5 out of 5 stars!]
"I adore my therapist. I love the worksheets and the messaging options. It is super convenient to use and I feel really supported."
Colleen (April 30, 2022)
Rating: [5 out of 5 stars!]
"It's been great being able to go at my own pace!"
Samantha (April 19, 2022)
Rating: [5 out of 5 stars!]
"Very helpful. Easily accessed. Great program. Love the ability to message between video sessions when life events happen."
Katrina (June 09, 2022)
Rating: [4 out of 5 stars!]
"always answers"
Pauly (June 08, 2022)
Rating: [5 out of 5 stars!]
"I've gotten amazing help and my councilor is fantastic."
Charles (June 14, 2022)
Rating: [5 out of 5 stars!]
"I was a little nervous at first to just take the jump and try this program but it's day one and I'm already feeling like I'm going to learn and grow and be better for it."
Happy (April 12, 2022)
Rating: [5 out of 5 stars!]
"The comparison page for therapist was extremely helpful for me finding whom I think is best. The overall information page was very clear."
Bri (June 02, 2022)
Rating: [5 out of 5 stars!]
"A am going through a divorce after 25 years and, things are not very good with my work environment. I was very skeptical of online therapy but, there was a six month wait for a therapist where I live. A friend encouraged me to try out online therapy and I am so pleased that I listened. When things get this bad, friends can only help so much before you start to become a burden that starts to destabilize their lives. I knew a trained professional was the only way to get solid guidance and improve the stability in my life without driving my friend away. My experience, so far, has been very positive. Guidance from someone that is trained and has no alliances and no dog in your personal fight has been incredibly helpful to me. My closest friend has noticed so much of a change for the positive in me that, even though I am between projects, on unemployment and fairly low on available funds, he is helping me to afford to stay in this program. It was so important to him, he has gone way out of his way to help. We are only in the beginning stages of this but, it has helped beyond belief just to know that I can speak and message with a trained professional and, that she has my back. Joining online therapy was the best choice that I made in this entire mess!"
Swaggs (May 25, 2022)
Rating: [4 out of 5 stars!]
"Clear replys"
No (May 03, 2022)
Rating: [5 out of 5 stars!]
"I love this site. I was going through some really rough things and fears that I never thought I'd be able to conquer, but with online therapy this website has helped me beyond any other therapist I've seen in my past. I feel like I am finally getting to the root of my issues and my therapist is so kind! I am so glad this site exists. THANK YOU!"
Purgatori (May 15, 2022)
Sign up for online therapy today
Your therapist is ready to start the journey with you today - so what are you waiting for?
Have any questions?
Are you unsure of what program to choose or have any questions about our services? Check our FAQ to alleviate any concerns.