Overcome Your Social Anxiety with Online Therapy
Feeling shy or nervous about holding a speech or a presentation, are feelings that most of us have experienced in life. But if you constantly fear other people's attention, always feel watched or judged and feel afraid that you will embarrass yourself, then you might be suffering from social anxiety.
People with social anxiety often do everything they can to avoid the situations that make them anxious. Just the thought of a fearful social event can give physical symptoms like tightness in the chest, pounding of the heart, blushing and dizziness.
Social anxiety can have tremendously negative effects on your life, making you miss out on work opportunities and even relationships with friends and partners.
Our therapy for social anxiety is based on cognitive behavioral therapy (CBT). With the help of CBT, you will learn to identify and challenge the automatic negative thoughts that underlie your fear of certain social situations. This might sound intimidating at first, but the key to your well-being is to stop avoiding the social situations that you find fearful. With the guidance of your therapist, you will gradually be exposed to these social situations. By doing so, you will learn how to deal with your fear and eventually you will be able to handle previously fearful situations without anxiety, allowing you to participate in your life, as you are supposed to do!
Sign up and start getting happier now
Your therapist is ready to start the journey with you today - so what are you waiting for?
Take our test & get instant help
Answer a few questions and get immediate results and recommendations. It only takes a few minutes, so let's get started!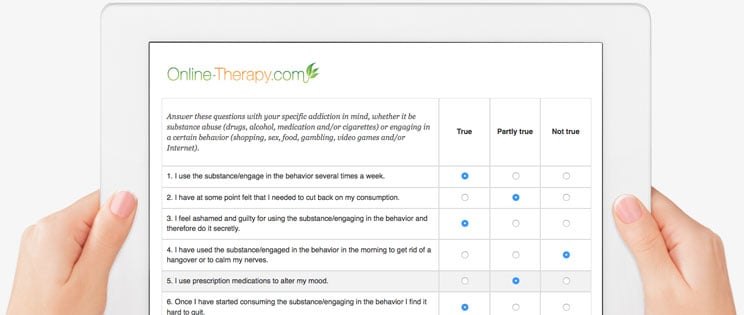 Reviews
Our online therapy services have received 572 reviews and the average rating is 4.6 out of 5 stars.
Rating: [5 out of 5 stars!]
"Well this is helping me to be a better person because I talk what happened few months ago whit me and is a great help because I can understand that live is hard and people what is to be what they want and the most important thing I control my self better."
My Experience (August 10, 2019)
Rating: [5 out of 5 stars!]
"Therapy has really helped me."
JHunt (June 25, 2019)
Rating: [5 out of 5 stars!]
"Iv only been doing it for a couple of weeks but have noticed two major break threw in my thoughts and feelings ... looking forward to learning new information to help make life little easier"
Allenm01 (September 17, 2019)
Rating: [4 out of 5 stars!]
"Yes it helped! Thank you."
MS (July 10, 2019)
Rating: [5 out of 5 stars!]
"Good service"
Simmyw (August 25, 2019)
Rating: [5 out of 5 stars!]
"I cannot do formal counseling as my chronic illness makes it difficult to travel. This counseling has helped me because it is easily accessible at any time."
Great When You Are Bed Ridden (September 06, 2019)
Rating: [4 out of 5 stars!]
"I have been seeking help, I needed more help than the regular medical doctors were giving me. So far this site has helped me to look deep into myself and try figure out the root of my issues. It is not going to be an easy road, dealing with my emotions and such, but the therapist assigned to me has been gracious and very helpful."
Helpful (August 20, 2019)
Rating: [5 out of 5 stars!]
"I have really been both surprised and impressed with how much this Online Therapy has helped me. I didn't know what to expect and only enrolled because of the advise of others that I take therapy to show and prove to others that I have changed and am in a new place.
Having said that, I have instead learned so much about myself and have really indeed changed. I have become so much more conscious of my feelings and reactions to stress anger and am much happier for it.
I have also truly enjoyed having discussions with my personal online therapist Jacob and have been extremely impressed with both his knowledge and advise. He made me think about things like I did not before. IN a strange way, although we have never met, I feel like I know him and that he is both a great therapist and friend."
Mike's Review (August 27, 2019)
Rating: [5 out of 5 stars!]
"I would like to sincerely thank my personal therapist Jacob and Online Therapy for helping me through a very rough time in my life. The therapy exceeded my expectations and has made me see things in a much better frame of mind."
Mike's Review (September 10, 2019)
Rating: [5 out of 5 stars!]
"I've had an excellent experience with online-therapy.com so far. My therapist is really kind and understanding of my situation and tries her best to help. I love the services I've been provided so far, the only unfortunate part is that there is currently no mobile app."
Jd (August 10, 2019)
Sign up for online therapy today
Your therapist is ready to start the journey with you today - so what are you waiting for?