Overcome Your Social Anxiety with Online Therapy
Feeling shy or nervous about holding a speech or a presentation, are feelings that most of us have experienced in life. But if you constantly fear other people's attention, always feel watched or judged and feel afraid that you will embarrass yourself, then you might be suffering from social anxiety.
People with social anxiety often do everything they can to avoid the situations that make them anxious. Just the thought of a fearful social event can give physical symptoms like tightness in the chest, pounding of the heart, blushing and dizziness.
Social anxiety can have tremendously negative effects on your life, making you miss out on work opportunities and even relationships with friends and partners.
Our therapy for social anxiety is based on cognitive behavioral therapy (CBT). With the help of CBT, you will learn to identify and challenge the automatic negative thoughts that underlie your fear of certain social situations. This might sound intimidating at first, but the key to your well-being is to stop avoiding the social situations that you find fearful. With the guidance of your therapist, you will gradually be exposed to these social situations. By doing so, you will learn how to deal with your fear and eventually you will be able to handle previously fearful situations without anxiety, allowing you to participate in your life, as you are supposed to do!
Sign up and start getting happier now
Your therapist is ready to start the journey with you today - so what are you waiting for?
Take our test & get instant help
Answer a few questions and get immediate results and recommendations. It only takes a few minutes, so let's get started!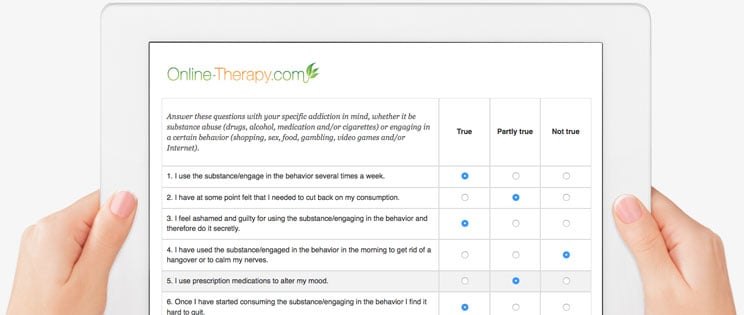 Reviews
Our online therapy services have received 550 reviews and the average rating is 4.6 out of 5 stars.
Rating: [5 out of 5 stars!]
"I feel like a new person after having taken this class. the therapist was very helpful and I am very thankful that I was able to make a change in my life when I needed it the most. I have thoroughly enjoyed this class and seeing a change in myself when once I felt hopeless now I feel better every day. I am going to move forward in my life and use what I have learned in this class and I am very thankful for everything the therapist has showed me and share with me and I am completely satisfied with the progress that I have made so far."
The Change (June 05, 2019)
Rating: [5 out of 5 stars!]
"Very interesting and exciting because I can do this therapy online."
Jay (May 22, 2019)
Rating: [5 out of 5 stars!]
"My therapy was successful."
Charrex (May 02, 2019)
Rating: [5 out of 5 stars!]
"This site has been very helpful!"
Davemc (June 16, 2019)
Rating: [5 out of 5 stars!]
"My therapist always replies in a timely matter and has offered great advice to me. Love how convenient online therapy is and how I can do it at my own pace!"
SA (May 18, 2019)
Rating: [5 out of 5 stars!]
"I have enjoyed the program up to this point. I have even noticed a slight change after completing the first 3 sections."
So Far So Good (June 19, 2019)
Rating: [5 out of 5 stars!]
"Maggie has been very supportive"
Supportive (May 09, 2019)
Rating: [3 out of 5 stars!]
"the worksheets are phenomenal! really well done and thought provoking. really helping me break down my thoughts feelings and reactions. My therapist is really smart!"
John (June 11, 2019)
Rating: [4 out of 5 stars!]
"This online therapy has been excellent help for me. I only pay the basic amount and it still has been great. The therapist I have is really helpful and helps me day to day with any of my issues. The only thing about it being online is sometimes it's finding that inner strength to make yourself do the work. But on a positive, it means that your activity working on yourself further. Rather then relying on a face to face therapist."
Lucy (May 16, 2019)
Rating: [5 out of 5 stars!]
"Online therapy has been a great way for me to connect with myself. I feel comfortable and love being able to choose when I can work on myself."
Anna S (June 10, 2019)
Sign up for online therapy today
Your therapist is ready to start the journey with you today - so what are you waiting for?