Overcome Your Social Anxiety with Online Therapy
Feeling shy or nervous about holding a speech or a presentation, are feelings that most of us have experienced in life. But if you constantly fear other people's attention, always feel watched or judged and feel afraid that you will embarrass yourself, then you might be suffering from social anxiety.
People with social anxiety often do everything they can to avoid the situations that make them anxious. Just the thought of a fearful social event can give physical symptoms like tightness in the chest, pounding of the heart, blushing and dizziness.
Social anxiety can have tremendously negative effects on your life, making you miss out on work opportunities and even relationships with friends and partners.
Our therapy for social anxiety is based on cognitive behavioral therapy (CBT). With the help of CBT, you will learn to identify and challenge the automatic negative thoughts that underlie your fear of certain social situations. This might sound intimidating at first, but the key to your well-being is to stop avoiding the social situations that you find fearful. With the guidance of your therapist, you will gradually be exposed to these social situations. By doing so, you will learn how to deal with your fear and eventually you will be able to handle previously fearful situations without anxiety, allowing you to participate in your life, as you are supposed to do!
Sign up and start getting happier now
Your therapist is ready to start the journey with you today - so what are you waiting for?
Take our test & get instant help
Answer a few questions and get immediate results and recommendations. It only takes a few minutes, so let's get started!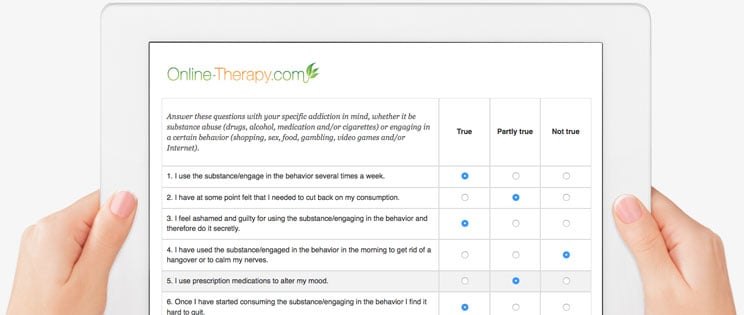 Reviews
Our online therapy services have received 2670 reviews and the average rating is 4.7 out of 5 stars.
Rating: [5 out of 5 stars!]
"I like the website layout and the ability to move through the sections. It took me a little bit to get comfortable with it, but my therapist has been great and I feel like this is helping me work through things I didn't even know I needed to work through. It is self paced and how fast you move through the sections is up to you."
Ro (March 25, 2023)
Rating: [5 out of 5 stars!]
"Great therapy offered. I could never ask for better help."
Luis (May 21, 2023)
Rating: [5 out of 5 stars!]
"It has been a pleasant surprise, therapist is in contact daily, very personable and helpful."
Marcy (March 01, 2023)
Rating: [5 out of 5 stars!]
"I've only had a few sessions so far but I genuinely feel like I'm improving"
Lubna (March 14, 2023)
Rating: [5 out of 5 stars!]
"This platform is helping me take control of my own therapy by giving me a workbook to work through with my therapist. It fits my learning style and I prefer this platform to others I've used online for multiple years. Thank you guys!"
Just What I Needed (April 26, 2023)
Rating: [5 out of 5 stars!]
"Dr Gates met all my expectations. Not sure how it happened, but I have let go of some of my problems and worries that I was carrying around. Still got some work to do but, I'm headed in the right direction."
Super (March 24, 2023)
Rating: [5 out of 5 stars!]
"It is a great therapy website! I found an amazing therapist and it really helps me, not to mention the videos of yoga, it really does amazing changes in you body and how you feel about yourself, and your anxiety you have disappears like it's never been there. I can only reccommend it, take the first step to heal you."
Adrienn (April 20, 2023)
Rating: [5 out of 5 stars!]
"Online Therapy has been very helpful in giving me the tools that I need in order to improve my mental health and give me a brighter tomorrow. I also appreciate talking with my therapist and always felt a sense of calm and hope after each session. I greatly appreciated this program and hope to continue using all that I have learned to truly live the life I want to live."
Lys (March 07, 2023)
Rating: [5 out of 5 stars!]
"My experience so far has been very helpful.
I like that I can message at any time and go back over what me and my therapist have discussed."
Helpful (February 28, 2023)
Rating: [5 out of 5 stars!]
"Sometimes we don't notice how powerful our mind can be and how negative thoughts affect our feelings and behaviors. This CBT program changed my mind, which in turn changed how I feel and behave. I would recommend anyone to go through this program. We all have problems and stress and this CBT information, when put into practice can be life changing. Thanks!"
Powerful (March 07, 2023)
Sign up for online therapy today
Your therapist is ready to start the journey with you today - so what are you waiting for?
Have any questions?
Are you unsure of what program to choose or have any questions about our services? Check our FAQ to alleviate any concerns.