Overcome Your Social Anxiety with Online Therapy
Feeling shy or nervous about holding a speech or a presentation, are feelings that most of us have experienced in life. But if you constantly fear other people's attention, always feel watched or judged and feel afraid that you will embarrass yourself, then you might be suffering from social anxiety.
People with social anxiety often do everything they can to avoid the situations that make them anxious. Just the thought of a fearful social event can give physical symptoms like tightness in the chest, pounding of the heart, blushing and dizziness.
Social anxiety can have tremendously negative effects on your life, making you miss out on work opportunities and even relationships with friends and partners.
Our therapy for social anxiety is based on cognitive behavioral therapy (CBT). With the help of CBT, you will learn to identify and challenge the automatic negative thoughts that underlie your fear of certain social situations. This might sound intimidating at first, but the key to your well-being is to stop avoiding the social situations that you find fearful. With the guidance of your therapist, you will gradually be exposed to these social situations. By doing so, you will learn how to deal with your fear and eventually you will be able to handle previously fearful situations without anxiety, allowing you to participate in your life, as you are supposed to do!
Sign up and start getting happier now
Your therapist is ready to start the journey with you today - so what are you waiting for?
Take our test & get instant help
Answer a few questions and get immediate results and recommendations. It only takes a few minutes, so let's get started!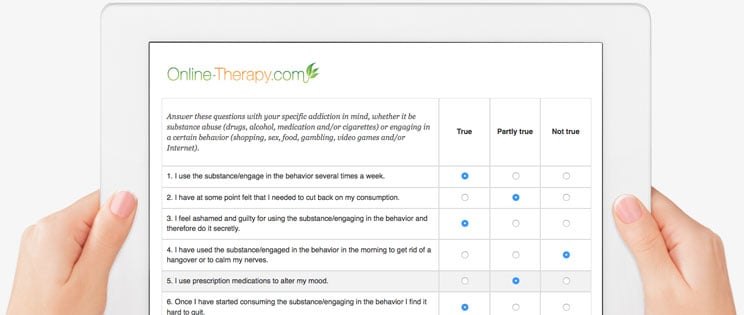 Reviews
Our online therapy services have received 1958 reviews and the average rating is 4.7 out of 5 stars.
Rating: [5 out of 5 stars!]
"I like that I have access to worksheets and journals all the time and that my therapist can answer. She gives me thoughts and insights I had not come to in regular in person therapy"
Rob (January 10, 2022)
Rating: [5 out of 5 stars!]
"I have been working with Melissa for a few months now and she has been so helpful, not just during out sessions but between them as well. I am able to message her and receive thorough responses between sessions. She has provided so many great external resources for me to look into. I am so thankful for her calming presence as I work thru some big life changes."
Macky (November 01, 2021)
Rating: [4 out of 5 stars!]
"I wish I could afford more of the services offered but I do feel the benefit of the package I'm in. It provides me the ability to focus on myself with guidance and move in a good direction every day."
Jmama (November 28, 2021)
Rating: [5 out of 5 stars!]
"Vanessa is a joy to work with. I feel like she completely understands the issues I'm having and is 100% on my side. She's the first therapist I have had that has recognized that there are underlying issues that need to be addressed from my past before I can truly move forward. I feel like I was meant to do this at this time."
Review 1 (November 14, 2021)
Rating: [5 out of 5 stars!]
"I enjoy working with the therapist Bernadette. She has helped me so much in so little time. I like this program as there's worksheets and feedback. CBT is very effective for my conditions and more helpful than talk therapy. Thank you."
Happyglow (January 19, 2022)
Rating: [5 out of 5 stars!]
"Online Therapy is a wonderful resource for Anxiety. I have made great progress thanks to my amazing therapist Vera. The worksheets are helpful in identifying issues, and my therapist gives me the tools to work on those issues. I am so grateful to have Vera as my therapist."
Marie (November 26, 2021)
Rating: [5 out of 5 stars!]
"I have utilized many different resources available for anger management and this has so far been the best. The workbooks are very helpful tools and to have the therapist comment on my answers to the questions really creates an efficient system of getting to the root of things and the convenient access makes it easy to commit to."
Jee (January 06, 2022)
Rating: [5 out of 5 stars!]
"Great program so far, the worksheets are helpful and the ability to reach therapists is a wonderful feature!"
Helpful (December 06, 2021)
Rating: [5 out of 5 stars!]
"This works so well for people who don't have insurance or the time to go sit down with an in person therapist. As long as you keep up with it and give serious responses you will get good returns."
Corbin (December 26, 2021)
Rating: [5 out of 5 stars!]
"Very accommodating and caring responses."
Stephen (January 03, 2022)
Sign up for online therapy today
Your therapist is ready to start the journey with you today - so what are you waiting for?
Have any questions?
Are you unsure of what program to choose or have any questions about our services? Check our FAQ to alleviate any concerns.