Overcome Your Social Anxiety with Online Therapy
Feeling shy or nervous about holding a speech or a presentation, are feelings that most of us have experienced in life. But if you constantly fear other people's attention, always feel watched or judged and feel afraid that you will embarrass yourself, then you might be suffering from social anxiety.
People with social anxiety often do everything they can to avoid the situations that make them anxious. Just the thought of a fearful social event can give physical symptoms like tightness in the chest, pounding of the heart, blushing and dizziness.
Social anxiety can have tremendously negative effects on your life, making you miss out on work opportunities and even relationships with friends and partners.
Our therapy for social anxiety is based on cognitive behavioral therapy (CBT). With the help of CBT, you will learn to identify and challenge the automatic negative thoughts that underlie your fear of certain social situations. This might sound intimidating at first, but the key to your well-being is to stop avoiding the social situations that you find fearful. With the guidance of your therapist, you will gradually be exposed to these social situations. By doing so, you will learn how to deal with your fear and eventually you will be able to handle previously fearful situations without anxiety, allowing you to participate in your life, as you are supposed to do!
Sign up and start getting happier now
Your therapist is ready to start the journey with you today - so what are you waiting for?
RIGHT NOW:

Free therapy due to the coronavirus pandemic

We want to help as many people as possible during these extraordinary times.
Therefore we are offering parts of our online therapy platform for free.

The free access includes our online therapy program with 8 easy-to-follow sections and 25 worksheets, yoga and meditation videos, activity plan, journal, and tests (communicating with a personal therapist is not included).
Take our test & get instant help
Answer a few questions and get immediate results and recommendations. It only takes a few minutes, so let's get started!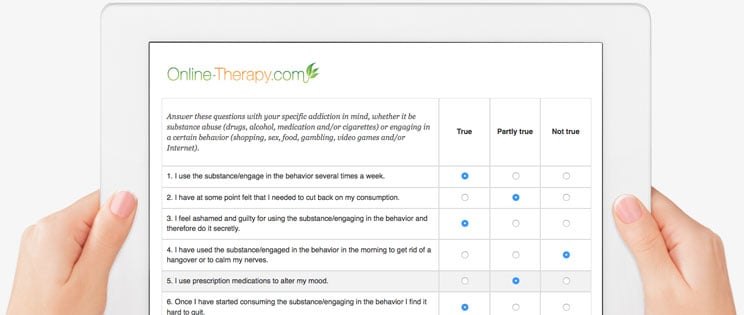 Reviews
Our online therapy services have received 1040 reviews and the average rating is 4.7 out of 5 stars.
Rating: [5 out of 5 stars!]
"Therapist was great, knew her stuff. Support team was awesome and I'd recommend them."
Joker (August 31, 2020)
Rating: [5 out of 5 stars!]
"The plan that I have, seems to be more for self realization. Being honest in the worksheets, helps you see and acknowledge your problems with a fresh perspective. My therapist answers back daily, if not, every other day. Ive only been using these services for a few weeks, but I am more aware of my issues, and working towards a change for the better."
Great (September 21, 2020)
Rating: [4 out of 5 stars!]
"Overall I like how structured this program was. I enjoyed the videos and the activities. I thought the thought traps were a great way of seeing how my thoughts work and what is causing these negative thoughts. It also made me aware of how I can change the way I think of things."
New Way Of Thinking (October 14, 2020)
Rating: [4 out of 5 stars!]
"I feel like I can connect with my Therapist, in this past month and a half I have been able to share a lot of my fears with her and there is no judgement only encouragement. I love the concept of worksheets it allows for self mood tracking. I also journal my thoughts for my therapist to read."
Online-therapy-review (August 11, 2020)
Rating: [5 out of 5 stars!]
"I love the free help! I really use this therapy and its tools everyday."
Candace (August 20, 2020)
Rating: [5 out of 5 stars!]
"The service is helpful because it provides many reminders about completing exercises and staying in touch with my therapist."
Helpful Reminders (August 16, 2020)
Rating: [5 out of 5 stars!]
"I found this website so helpful and it has definitely made me think in a more positive way!"
Ciara101 (August 04, 2020)
Rating: [5 out of 5 stars!]
"I've really enjoyed this therapy site so far. It's easy to use and they found a therapist that specializes in my care. I like being able to do therapy at home for the fraction of the cost of in-person appointments."
JA (August 02, 2020)
Rating: [5 out of 5 stars!]
"I'm so grateful that I found this Online-Therapy Program. Each section has taught me the tools to use to help me overcome my problems.

As listed in my intro...I suffer from many different problems. Problems that I have been trying to cope with and understand for a very long time now but have never had the ability to overcome them.

Each section helped me work towards the next. In the end... I completed the program feeling so optimistic and proud of myself. I haven't felt this way about myself for so long now. Prior to the program I was just spiraling down hill with one problem and challenge after another. I had a difficult time sorting things out and learning to focus on one thing at a time. Well the truth is that I didn't realize how crucial it is to work with one situation at a time. I kept looking at everything at one time and it became so overwhelming that I felt like giving up.

I feel proud now of who I am. I know I'm a good person that deserves great things in life. Unfortunately in the past I used my energy and time only dwelling on the bad things. My energy was being drained to the point I felt no return and I felt helpless. I no longer believed in myself and each challenge I had to face only confirmed my life's prospective that I wasn't meant to have a happy life.

Now I have found the spirit that I have been lacking for most of my life. I'm amazed at the outcome of this program. I would have never imagined that I would come this far from an online therapy program. But I have, I can honestly say I truly have.

I would like to give my therapist, Katrina a huge thank you for making this happen for me. Katrina continued to give me the guidance needed to move forward and grow. She is very caring, understanding and her guidance has changed me in so many positive ways. I was fortunate to have her as my therapist. Her feedback always gave me hope and taught me how to view things that I was unable to. I couldn't see beyond the bad no matter how hard I tried. My focus was always on the bad things. After each section, she had me seeing things in a different light. One that I have now captured and understand. I will always continue to remember all that she has taught me and how she has made me feel better about myself.

I went from hopeless to hopeful. I'm always looking back at the previous sections and reviewing them to see why and how I have changed

Thank you Katrina. You will always be my cyber angel!

Lisa Ann"
Lisa Ann (October 28, 2020)
Rating: [5 out of 5 stars!]
"I am loving this therapy site. Your therapist interacts via comments and questions on worksheets you do (at your own pace) and the pricing is very fair for appointments."
Engaging (August 17, 2020)
Sign up for online therapy today
Your therapist is ready to start the journey with you today - so what are you waiting for?
Have any questions?
Are you unsure of what program to choose or have any questions about our services? Check our FAQ to alleviate any concerns.