Overcome Your Social Anxiety with Online Therapy
Feeling shy or nervous about holding a speech or a presentation, are feelings that most of us have experienced in life. But if you constantly fear other people's attention, always feel watched or judged and feel afraid that you will embarrass yourself, then you might be suffering from social anxiety.
People with social anxiety often do everything they can to avoid the situations that make them anxious. Just the thought of a fearful social event can give physical symptoms like tightness in the chest, pounding of the heart, blushing and dizziness.
Social anxiety can have tremendously negative effects on your life, making you miss out on work opportunities and even relationships with friends and partners.
Our therapy for social anxiety is based on cognitive behavioral therapy (CBT). With the help of CBT, you will learn to identify and challenge the automatic negative thoughts that underlie your fear of certain social situations. This might sound intimidating at first, but the key to your well-being is to stop avoiding the social situations that you find fearful. With the guidance of your therapist, you will gradually be exposed to these social situations. By doing so, you will learn how to deal with your fear and eventually you will be able to handle previously fearful situations without anxiety, allowing you to participate in your life, as you are supposed to do!
Sign up and start getting happier now
Your therapist is ready to start the journey with you today - so what are you waiting for?
Take our test & get instant help
Answer a few questions and get immediate results and recommendations. It only takes a few minutes, so let's get started!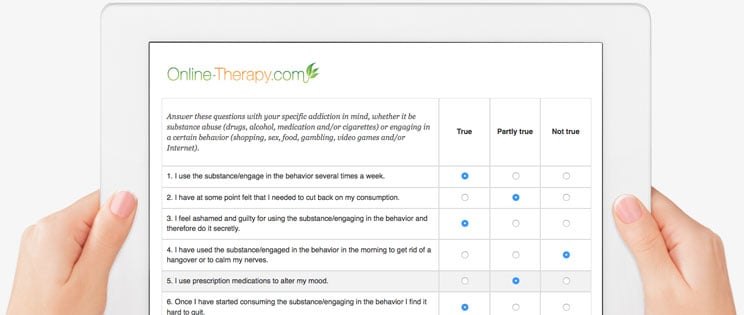 Reviews
Our online therapy services have received 2348 reviews and the average rating is 4.7 out of 5 stars.
Rating: [5 out of 5 stars!]
"I like how easy it is to schedule sessions and the fact there is homework."
D$$$ (July 31, 2022)
Rating: [5 out of 5 stars!]
"The program was great! My therapist listened well to all of my problems and offered great solutions to change my way of thinking and get me going on the right path. Of course it takes a lot of personal effort too but my confidence has gone up and anxiety has gone down in about a month. I would recommend this to a friend."
Andy (September 03, 2022)
Rating: [5 out of 5 stars!]
"Online-Therapy has been fast, quick, and life changing after one day. Got matched with a therapist within an hour and we started interacting immediatly. Its only been a few days. I really see promising results coming my way soon. Thanks"
KR (August 18, 2022)
Rating: [5 out of 5 stars!]
"Found a great therapist, really enjoy the video conference option for therapy. It makes life so convenient to get help without leaving my house"
Jordan (August 23, 2022)
Rating: [4 out of 5 stars!]
"I was skeptical at first- love the tools but was unsure of how the live sessions would go. I am happy to report that my experience has been GREAT I thought that this would be a short term jumpstart for my healing journey but I see this as a longer term fit now because my therapist is outstanding and I am thrilled to have someone who is very capable and qualified guiding me through this process. The only downside so far has been occasional limited availability for live sessions- understandable but one week there was a cancellation and no options for a rebooking that week."
April Ruth (July 12, 2022)
Rating: [5 out of 5 stars!]
"I had to switch my therapist after about one week. Once I switched I really enjoyed using this type of therapy. My therapist is extremely helpful and the worksheets make me think. It is nice to be able to participate when time permits for me. I would highly recommend to people curious about online therapy."
Easy To Use (October 04, 2022)
Rating: [5 out of 5 stars!]
"Top notch service, very helpful & easy platform"
Kevin (August 29, 2022)
Rating: [5 out of 5 stars!]
"There are lots of tools that are always available even when your therapist is not. My therapist is also incredible, which has helped me really move forward in life."
Great! (July 21, 2022)
Rating: [4 out of 5 stars!]
"I am finding the worksheets very helpful in working thru different scenarios. I am very in tune to my triggers, etc. however I have always struggled with how to "correct" my thought patterns. The worksheets and my therapist are helping with this! Very hopeful!!"
MyReview (July 13, 2022)
Rating: [4 out of 5 stars!]
"This service has been extremely helpful in these trying times where I needed someone to validate my feelings."
Eternally Grateful For This Service (October 02, 2022)
Sign up for online therapy today
Your therapist is ready to start the journey with you today - so what are you waiting for?
Have any questions?
Are you unsure of what program to choose or have any questions about our services? Check our FAQ to alleviate any concerns.