Overcome Your Social Anxiety with Online Therapy
Feeling shy or nervous about holding a speech or a presentation, are feelings that most of us have experienced in life. But if you constantly fear other people's attention, always feel watched or judged and feel afraid that you will embarrass yourself, then you might be suffering from social anxiety.
People with social anxiety often do everything they can to avoid the situations that make them anxious. Just the thought of a fearful social event can give physical symptoms like tightness in the chest, pounding of the heart, blushing and dizziness.
Social anxiety can have tremendously negative effects on your life, making you miss out on work opportunities and even relationships with friends and partners.
Our therapy for social anxiety is based on cognitive behavioral therapy (CBT). With the help of CBT, you will learn to identify and challenge the automatic negative thoughts that underlie your fear of certain social situations. This might sound intimidating at first, but the key to your well-being is to stop avoiding the social situations that you find fearful. With the guidance of your therapist, you will gradually be exposed to these social situations. By doing so, you will learn how to deal with your fear and eventually you will be able to handle previously fearful situations without anxiety, allowing you to participate in your life, as you are supposed to do!
Sign up and start getting happier now
Your therapist is ready to start the journey with you today - so what are you waiting for?
Take our test & get instant help
Answer a few questions and get immediate results and recommendations. It only takes a few minutes, so let's get started!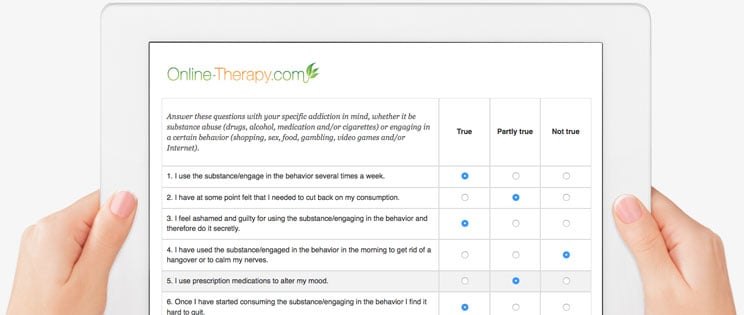 Reviews - Social Anxiety
This program has received 20 reviews and the average rating is 4.7 out of 5 stars.
Rating: [5 out of 5 stars!]
"I really found it helpful to talk to someone and get things off my chest. My therapist gave me some great techniques to help me overcome my phobia and her inspiring words and responses to my issues helped me realise things aren't as bad as they seem and I can control the way I feel and react in situations. I feel much better and highly recommend this service."
LM (March 27, 2017)
Rating: [5 out of 5 stars!]
"Are prompt in addressing your concerns. When I ran into an urgent issue they were there to assist no matter what time it was. Their level of concern has earned my trust and their commitment is reputable."
Great Response Time (December 01, 2016)
Rating: [4 out of 5 stars!]
"So far I've been really pleased with the program. At the moment I've just started my second round with the program, and I feel it has been helpful. Even though I still have a tendency to get anxious in certain social situations and have had some backlashes, I feel that it has become better.
I notice that I tend not to think, appraise social situations so negative. I've noticed that I think different, and don't think people are rejecting of me... So that is a good change."
Anonymous (September 02, 2014)
Rating: [4 out of 5 stars!]
"Yes, so far, I found it really useful - both the description in the 8 sessions and the worksheets, with therapist comments... Especially some of comments from the therapist I found really helpful, they were sort of pinpointing of things I haven't thought about before, and made me see things in a different light! I am by no means "cured", but it has been a good start - so far, so good. It is good to have someone you can confide your thoughts to..."
Woman_39 (June 30, 2014)
Rating: [4 out of 5 stars!]
"Good program. Very helpful."
Karen King (June 25, 2014)
Rating: [5 out of 5 stars!]
"The course is very helpful and half way I have noticed a significant positive shift in thinking. My therapist is very supportive, wise and very prompt in replying."
David (May 15, 2014)
Rating: [5 out of 5 stars!]
"Useful information and prompt feedback and responses."
0 (February 25, 2014)
Rating: [5 out of 5 stars!]
"I've only been using the program for 2 1/2 weeks, but I've already noticed an improvement with my social anxiety. The sessions are wonderful, along with the worksheets. My therapist is above all the best with the program. She is quick to answer my worksheets every morning and thorough in our live chats. It's going to take time to get the negative thoughts out of my head, but she's helping me tremendously. I would recommend the programs to anyone who is suffering from an anxiety of phobia."
Heather (June 26, 2013)
Rating: [4 out of 5 stars!]
"I am very grateful for this. I would not have had the "power" to go to a therapist on my own and being able to reach out to someone, has helped me tremendously. I still have a way to go but I feel better about myself....so thank you."
0 (April 28, 2013)
Rating: [5 out of 5 stars!]
"Thank you so very much for the wonderful liberation and amazing freedom you have given me for overcoming the intense struggle of social anxiety! I now have gained a wonderfully active social life as a result of your helping me to overcome those issues. I now feel totally fearless when talking to people and it now feels like a totally comfortable and natural thing to me. You helped me tremendously by giving me new techniques of thinking and different approaches to socializing through a new perspective!

I now have a close circle of friends at my school that I'm a part of and I have many other people who I'm friendly with and talk to a lot as well. I'm so excited that I now have plans for homecoming as going in a big group together!! I text a lot and hang out with my friends on the weekends. I'm pretty much returned to my normal, calm state now! I feel confident when talking to other people and like we are equally connecting now! Thanks to my therapist Maggie for this wonderful gift that has impacted my life in so many incredible ways that I couldn't have even imagined possible before! Much Love & Gratitude!"
Earlene (October 03, 2012)
Rating: [5 out of 5 stars!]
"I just wanted to say even though because of time constraints I can't come online every day, that I have noticed a HUGE difference in my negative thoughts when around other people. They used to be automatic and constant, but now I am often interacting with other people and afterwards I realize that I had NO negative thoughts. This is making such a big difference, thank you so much."
Thanks (May 17, 2012)
Rating: [5 out of 5 stars!]
"I am fortunate to have discovered Online-Therapy.com as I had experienced some difficulties that reminded me that I have not overcome some deeply ingrained behaviours.

I was too shy or proud to consult my GP for a referral, but I had considered consulting a personal trainer or a naturopath or psychologist who could spend some time with me to get to the bottom of my problem.

I have had counselling in the past but was never really sure why problems developed, i.e. apprehension around other people
My problem now is much clearer and most definitely springs from a kind of shyness which has developed over time to avoidance and dread of being around other people.

So when I found the Website things fell into place and at last I am now pretty sure that I know what the problem is and why I have suffered for so many years.

I thought that I was suffering with either a developmental disorder, or a schizoid personality at one stage but now I realise that I have simply adapted myself to faulty thinking and bad habits that have given me a phobia of social interaction.

So to cut a long story short I have hit pay dirt and know that I must challenge those thoughts and feelings and behaviours and turn the tanker around before it's too late.

I am happy with the format of the course yet I have not utilised the on-line chat.

The course has set me on a path of finding out as much as I can by setting up Word pages as diaries. The steps of the Worksheets provide reassuring structure and are a great help in learning to be aware of faulty thinking while practising healthy social interaction
I feel genuinely more relaxed and more open to my surroundings in the knowledge that there is much to gain and not much more left to lose.

Thanks sincerely

Jennifer"
Jennifer (June 20, 2011)
Rating: [5 out of 5 stars!]
"Very professional and supportive service. Felt safe to express myself and feel understood and not judged."
No Name (June 01, 2011)
Rating: [5 out of 5 stars!]
"No words can convey what my guru, Sareeta, has done to help and lift me. Today was a day of profound insight and learning!"
Thanks! (May 27, 2011)
Rating: [5 out of 5 stars!]
"I have found the staff to be kind and understanding, and I would certainly recommend the course to others who need help."
Peter (April 02, 2011)
Rating: [4 out of 5 stars!]
"I am so glad I tried this program. I feel that I have really grown in the last couple of months. Thanks so much!!!"
Dana (February 26, 2010)
Rating: [4 out of 5 stars!]
"I realized that I have social phobia couple months ago. I thought it was just a normal shyness, but then I found that I have been suffering from social phobia. I found that a best treatment is Cognitive Behavioral Therapy, but I found difficulties to start this treatment, because of difficulties in English. I'll start looking for an expert in my country, Indonesia to help me using CBT."
Heni Maryati (November 12, 2009)
Rating: [5 out of 5 stars!]
"Hi. My name is James and I have suffered from Social Phobia for years. I started to follow the social phobia therapy about 3 weeks ago and already the difference in how I feel has been so big that I wanted to write and thank you. I've found the course easy, interesting and even fun to follow. You have a great bunch of people here who really know their stuff. I know I can get rid of my social phobia for good with this program."
James (September 15, 2009)
Rating: [5 out of 5 stars!]
"I don't have the words to say how glad I am that I followed the social phobia online program. I have literally learned a new way to think about things, with the step by step program that was so easy to follow. Now, when I feel myself slipping back into my old way of fearful thinking, I re-read the program and it's like a breath of fresh air. It helps me see things clearly again. No I don't need to be afraid in social situations anymore. Thanks!"
Harvick (August 10, 2009)
Rating: [5 out of 5 stars!]
"When I look back to this time 3 months ago, I don't recognize myself. I used to be so shy and timid. Social situations terrified me. But now I can handle them and I'm even beginning to enjoy them."
Ericka G (June 12, 2009)
Sign up for online therapy today
Your therapist is ready to start the journey with you today - so what are you waiting for?