Overcome Your Speech Anxiety with Online Therapy
Picture this: you're standing in front of a crowd on the stage. All of a sudden the palms of your hands start to sweat. You feel anxious, nervous and like the whole world is staring at you and waiting for you to make a mistake. You fear that people will judge you. You fear that people will see you as a weak person who is a failure. Sounds familiar?
Feeling anxious about speaking in public is very common. In fact, most of us experience, at some point in our life, discomfort when speaking in front of a group of people. But if you feel that this fear is limiting you and causing you to miss out on opportunities in social, academic or job sectors, then you might be suffering from speech anxiety.
No matter how long you have experienced this, or what you may have done in the past to overcome it, there is hope! Our therapy for speech anxiety is based on cognitive behavioral therapy (CBT). You see, it is your automatic negative thoughts and perceptions about yourself and others that cause your fear of speaking in front of other people. Our speech anxiety online therapy program will provide you with insightful knowledge about glossophobia (speech anxiety) as well as how to control your anxiety. Your therapist will teach you techniques like cognitive restructuring (changing what you brain says to you), meditation, positive mental visualization and other valuable skills to help you combat your negative thinking. Each time you practice these techniques, you will find it easier to take control of your life and your speech anxiety. You will get useful tips on how to work in a group of people, with the aim of getting you comfortable with making your voice heard in front of others.
Sign up and start getting happier now
Your therapist is ready to start the journey with you today - so what are you waiting for?
Take our test & get instant help
Answer a few questions and get immediate results and recommendations. It only takes a few minutes, so let's get started!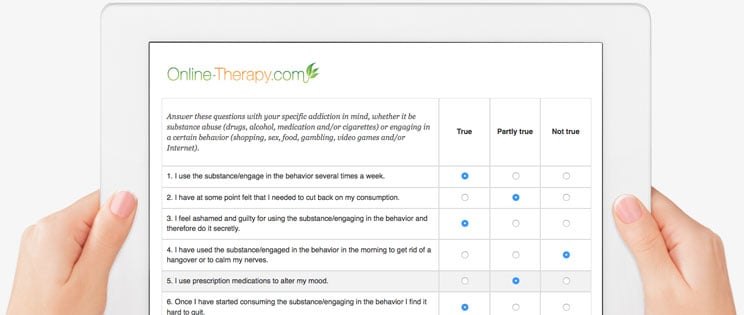 Reviews
Our online therapy services have received 1401 reviews and the average rating is 4.7 out of 5 stars.
Rating: [4 out of 5 stars!]
"Good website"
Bruce Lee (March 13, 2021)
Rating: [5 out of 5 stars!]
"I think that online therapy has worked great for me and my schedule. Also, the therapist did a wonderful job helping me overcome this tough time of my life."
Awesome Therapy (February 07, 2021)
Rating: [5 out of 5 stars!]
"Very helpful"
Ghoul (April 05, 2021)
Rating: [4 out of 5 stars!]
"Finding it helpful. 30 minutes a week does a lot more for me than I thought it would!"
Van (March 09, 2021)
Rating: [5 out of 5 stars!]
"Excellent service, my therapist is really helpful."
Anon (February 24, 2021)
Rating: [5 out of 5 stars!]
"In just my first week - and prior to my initial appointment with my therapist, Lance - he had me to a release exercise. I've been in therapy before but I'd never done this before. I was amazed at how well it worked! Since I completed the exercise, my mind hasn't gone back to the places where I left my "trauma bricks". I'm so proud of myself for jumping over my first hurdle in therapy. I can't thank Lance enough! This service is a treasure. As a nurse, I don't have the time I need to go to a physical therapist's office once/twice a week the way I know I need to. Having the freedom and ability to reach out to my therapist whenever I need to at any time of day is one of the best technological advances I've had the pleasure of witnessing to date. I will never stop recommending this fantastic service!"
Elle (April 09, 2021)
Rating: [5 out of 5 stars!]
"Very helpful, easy to use"
AD (February 25, 2021)
Rating: [5 out of 5 stars!]
"Taking this CBT program has been a huge positive learning experience for me. It clarified a lot of the issues that I had been dealing with, and helped me realize that many of the problems I had been encountering are common among many people. The program helped me break down my issues and gave me a new framework to understand my issues, and to better deal with them. The videos and worksheets were reassuring and very informative.

I am also very grateful for my assigned therapist. He was excellent to speak to because his direct approach taught me new things, calmed me down, challenged me and also reinforced behaviours and actions that I had done well. I was curious to see how comfortable I'd be speaking to a therapist over video instead of in-person. And I realized that video chats aren't a hurdle at all, and is, in fact, very convenient and effective."
I've Learned A Lot; I Am Grateful (March 23, 2021)
Rating: [5 out of 5 stars!]
"awesome service"
Bob (March 29, 2021)
Rating: [5 out of 5 stars!]
"My therapist has been incredibly helpful, empathetic, and enthusiastic about our work together. She handles my concerns without questioning their validity and that makes me feel more heard than I've felt with most of my other therapists. Our work together is going to be life-changing and I'm excited to continue!"
Wonderful Service (February 23, 2021)
Sign up for online therapy today
Your therapist is ready to start the journey with you today - so what are you waiting for?
Have any questions?
Are you unsure of what program to choose or have any questions about our services? Check our FAQ to alleviate any concerns.