Overcome Your Speech Anxiety with Online Therapy
Picture it: you're standing in front of a crowd on the stage. All of a sudden the palms of your hands start to sweat. You feel anxious, nervous and like the whole world is staring at you and waiting for you to make a mistake. You fear that people will judge you. You fear that people will see you as a weak person who is a failure. Sounds familiar?
Feeling anxious about speaking in public is very common. Actually most of us experience, at some point in our life, discomfort when speaking in front of a group of people. But if you feel that this fear is limiting you and causing you to miss out on opportunities in social, academic or job sectors, then you might be suffering from speech anxiety.
Our therapy for speech anxiety is based on cognitive behavioral therapy (CBT). It's your automatic negative thoughts and perceptions about yourself and others that cause your fear of speaking in front of other people. This speech anxiety online therapy program will provide you with insightful knowledge about glossophobia (speech anxiety). Just knowing more about it, will make you more relaxed and more in control of your anxiety. Your therapist will teach you techniques like self-talk and meditation and valuable skills on how to combat negative thinking by creating positive mental images and visualization. Each time you practice these techniques, you will find it easier to take control of your life and your speech anxiety. You will get useful tips on how to work in a group of people, with the aim of getting you comfortable with making your voice heard in front of others.
Sign up and start getting happier now
Your therapist is ready to start the journey with you today - so what are you waiting for?
Take our test & get instant help
Answer a few questions and get immediate results and recommendations. It only takes a few minutes, so let's get started!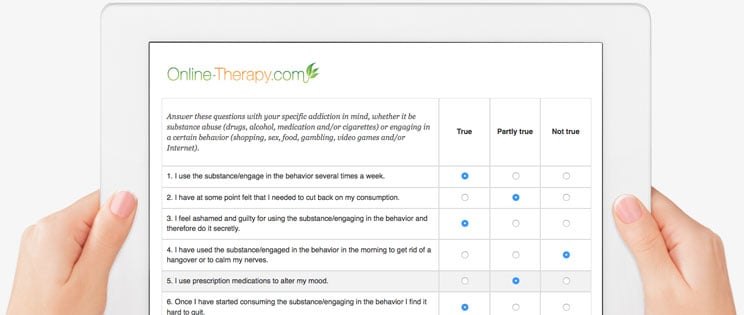 Reviews - Speech Anxiety
This program has received 2 reviews and the average rating is 4.5 out of 5 stars.
Rating: [5 out of 5 stars!]
"Great support and encouragement, this CBT program is helping me divert my attention from my frustrations."
Pauline H (April 04, 2011)
Rating: [4 out of 5 stars!]
"Hi all, I have tried this course and finally managed to not become a nervous wreck as soon as I need to introduce myself in my new class etc. I still get a bit nervous when I have a big presentation though, but I feel more "normal" now..."
Gogo (March 30, 2010)
Sign up for online therapy today
Your therapist is ready to start the journey with you today - so what are you waiting for?