Overcome Your Speech Anxiety with Online Therapy
Picture this: you're standing in front of a crowd on the stage. All of a sudden the palms of your hands start to sweat. You feel anxious, nervous and like the whole world is staring at you and waiting for you to make a mistake. You fear that people will judge you. You fear that people will see you as a weak person who is a failure. Sounds familiar?
Feeling anxious about speaking in public is very common. In fact, most of us experience, at some point in our life, discomfort when speaking in front of a group of people. But if you feel that this fear is limiting you and causing you to miss out on opportunities in social, academic or job sectors, then you might be suffering from speech anxiety.
No matter how long you have experienced this, or what you may have done in the past to overcome it, there is hope! Our therapy for speech anxiety is based on cognitive behavioral therapy (CBT). You see, it is your automatic negative thoughts and perceptions about yourself and others that cause your fear of speaking in front of other people. Our speech anxiety online therapy program will provide you with insightful knowledge about glossophobia (speech anxiety) as well as how to control your anxiety. Your therapist will teach you techniques like cognitive restructuring (changing what you brain says to you), meditation, positive mental visualization and other valuable skills to help you combat your negative thinking. Each time you practice these techniques, you will find it easier to take control of your life and your speech anxiety. You will get useful tips on how to work in a group of people, with the aim of getting you comfortable with making your voice heard in front of others.
Sign up and start getting happier now
Your therapist is ready to start the journey with you today - so what are you waiting for?
Take our test & get instant help
Answer a few questions and get immediate results and recommendations. It only takes a few minutes, so let's get started!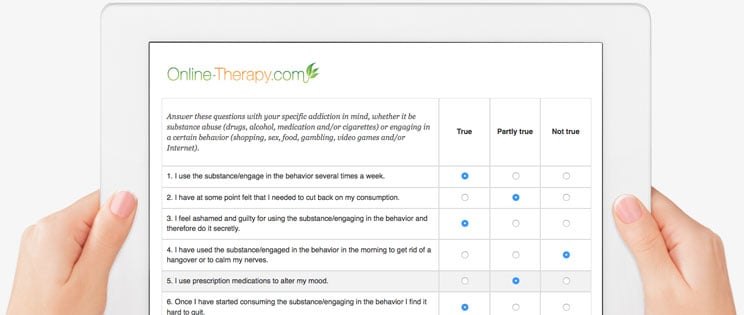 Reviews
Our online therapy services have received 1075 reviews and the average rating is 4.7 out of 5 stars.
Rating: [5 out of 5 stars!]
"How valuable has Sofia's counseling/coaching been? Good enough that I offered to pay for my brother-in-law and mother-in-law's counseling, in full, indefinitely.

I've worked with Sofia Schuringa through Online-Therapy.com for less than 1 week. I should have done it years ago. Her lines of questions and thoughtful responses have already provided more value in that short time, than the first month's entire payment.

The curriculum alone is fantastic and would be worth paying for. Sofia's prompt, expert, thoughtful, personable, and caring responses, on top of the curriculum, have already improved my relationship with my wife and I can see how a bit more work on my part, with her continued guidance, will continue my marital improvement and probably the same for every relationship in my life.

Just purchase now and dive in. You won't regret it.

This is my first experience with online therapy of any kind, and my first experience with therapy outside of brief marital counseling as an adult. I've always said that it was useful, and recommended counseling to others when I've seen a need. Never thought it would be useful for me! Wrong. Worth every last penny. Would pay more. Good luck getting rid of me! My wife has her own counselor, too. Also worth every penny and then some.

Best purchase of 2020 by far."
Alex (September 17, 2020)
Rating: [4 out of 5 stars!]
"I like having someone that checks in with me and comments on my worksheets throughout the week."
Helpful (September 05, 2020)
Rating: [4 out of 5 stars!]
"So far so good. Im already starting to understand some of my coping mechanisms."
Pepe (October 27, 2020)
Rating: [5 out of 5 stars!]
"I have had a good experience and have benefited from the sections and worksheets so far.
Great and and prompt feedback.
Unfortunately I still need to find the motivation to be more committed to working on getting online to complete the worksheets in a timely matter.
That's just about me still struggles with not being motivated due to depression. But with that said, I am well aware of how each sections has helped me.
Guess it's one day at a time.
I'll get there, I know I will.
Thank you"
Lisa Ann (September 29, 2020)
Rating: [5 out of 5 stars!]
"Since I started, I have certainly focused on my issues more. I feel improvement is ahead!"
Getting There (September 04, 2020)
Rating: [5 out of 5 stars!]
"Wonderful support and responses!"
Amanda (November 16, 2020)
Rating: [5 out of 5 stars!]
"My therapist Chelsea has been so supportive and I am seeing great progress. She always checks in on me if I haven't messaged for a few days to see how things are going. I enjoyed completing the worksheets, it helped me think of things I hadn't thought of before. I've finished them now but still have the support of my therapist which is really great when I need someone to rant to or just talk things through with."
Lau X (November 23, 2020)
Rating: [4 out of 5 stars!]
"A good program all in all. My therapist replies daily to worksheets and has good feedback. I've had a few technical issues with the interface but nothing major. Autosave would be nice :)"
Kmc365 (November 18, 2020)
Rating: [5 out of 5 stars!]
"Has been a very helpful experience in my life so far. My therapist has been very knowledgeable and great at being there when needed."
Chris (August 24, 2020)
Rating: [5 out of 5 stars!]
"So helpful and getting more out of it than I thought I would"
K H (September 27, 2020)
Sign up for online therapy today
Your therapist is ready to start the journey with you today - so what are you waiting for?
Have any questions?
Are you unsure of what program to choose or have any questions about our services? Check our FAQ to alleviate any concerns.