Overcome Your Speech Anxiety with Online Therapy
Picture this: you're standing in front of a crowd on the stage. All of a sudden the palms of your hands start to sweat. You feel anxious, nervous and like the whole world is staring at you and waiting for you to make a mistake. You fear that people will judge you. You fear that people will see you as a weak person who is a failure. Sounds familiar?
Feeling anxious about speaking in public is very common. In fact, most of us experience, at some point in our life, discomfort when speaking in front of a group of people. But if you feel that this fear is limiting you and causing you to miss out on opportunities in social, academic or job sectors, then you might be suffering from speech anxiety.
No matter how long you have experienced this, or what you may have done in the past to overcome it, there is hope! Our therapy for speech anxiety is based on cognitive behavioral therapy (CBT). You see, it is your automatic negative thoughts and perceptions about yourself and others that cause your fear of speaking in front of other people. Our speech anxiety online therapy program will provide you with insightful knowledge about glossophobia (speech anxiety) as well as how to control your anxiety. Your therapist will teach you techniques like cognitive restructuring (changing what you brain says to you), meditation, positive mental visualization and other valuable skills to help you combat your negative thinking. Each time you practice these techniques, you will find it easier to take control of your life and your speech anxiety. You will get useful tips on how to work in a group of people, with the aim of getting you comfortable with making your voice heard in front of others.
Sign up and start getting happier now
Your therapist is ready to start the journey with you today - so what are you waiting for?
Take our test & get instant help
Answer a few questions and get immediate results and recommendations. It only takes a few minutes, so let's get started!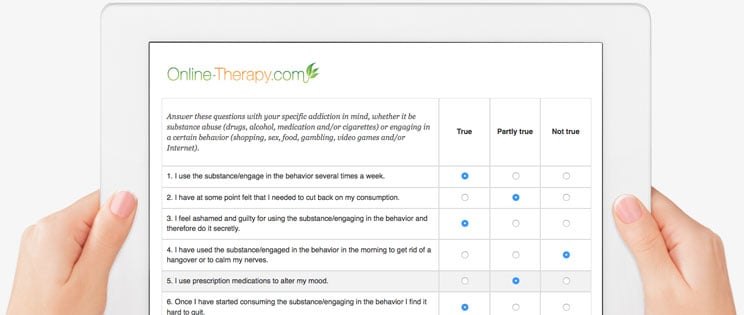 Reviews
Our online therapy services have received 1862 reviews and the average rating is 4.7 out of 5 stars.
Rating: [5 out of 5 stars!]
"The course has helped me be more aware of the family dynamics I live within, my contribution to those dynamics, and my power, greater than I thought, to change them and improve my mental health within them. I'm learning how, concretely, to set boundaries and reduce anxiety and feelings of helplessness/hopelessness. It's as if I'm getting some psychological vitamins and minerals I've long needed."
Eye-opener (September 03, 2021)
Rating: [5 out of 5 stars!]
"I have been working with this platform for roughly two weeks now only, and to be honest I didn't feel my initial therapist connected with me enough, until I changed therapist and chose Delphine, she is awesome, with every message I can feel she cares, she goes into depth and detail and finds the source of the emotions I'm feeling, I've only had one video session with her this far and I feel so comfortable to open up to her that I've decided to upgrade my plan to be able to have two video sessions a week as suppose to one. Delphine is definitely an asset to this platform.

Thank you Delphine"
I Needed This And Still Do! (November 18, 2021)
Rating: [4 out of 5 stars!]
"Being online lets me do therapy at my own speed. It gives me time to think."
Linda (September 29, 2021)
Rating: [5 out of 5 stars!]
"Service is affordable and very resourceful. Recommend for those ready to start their healing journey!"
Review 1 (November 15, 2021)
Rating: [5 out of 5 stars!]
"Just the fact that you have to answer questions about your feelings, thoughts and emotions really helps.
The questions are spot on and really help to give you an understanding, clarity with what is going on in your head.
I like all the extra help too - videos, explanations, yoga, journal etc.
I think CBT is really good for my kind of problems.
This online therapy programme so far has been well worth the investment in time and money for me. I think it is going to help me far more than any other therapy I have done.
Thank you"
Alli (September 24, 2021)
Rating: [5 out of 5 stars!]
"I have used a few online therapy programs and this one is by far the best one for me. I enjoy the structure of the worksheets while simultaneously working through my unstructured life chaos directly through live sessions and 24 hour messaging. The worksheets have really put where I am at in my process into perspective and through focusing on unbiased help separate from my family and life, I have been able to recognize where I am and where others begin. The clarity I have gained this year on what my core traumas are and the facilitation my therapist offers me on my navigation of this ever changing landscape has really been a blessing."
Clarity (November 22, 2021)
Rating: [5 out of 5 stars!]
"So far I'm finding a lot of value in the platform. My therapist is very communicative and has been giving me some great advice and guidance."
Steph (October 04, 2021)
Rating: [5 out of 5 stars!]
"Dr. Vicki is wonderful. I feel I have a more than qualified therapist who is helping me with many areas of my life and helping me manage them in a healthier way."
Great Website With Great Counselors (September 22, 2021)
Rating: [5 out of 5 stars!]
"Best online therapy service by far! Lots of information available for you to work through alone and live sessions to support that work."
Mamaneedshelp (September 07, 2021)
Rating: [5 out of 5 stars!]
"I did my homework! Plus it's a BRILLIANT design that helps you express yourself and develop self-awareness rapidly! With multimidia to organize your thoughts and priorities your goals either with worksheets, journal, planner, video, audio, text messaging or email! There's nothing else like it!

You matter! Hang on. Seek relief. And you do not have to do this alone. This is the only online counseling that matters."
The MOST Affordable (November 27, 2021)
Sign up for online therapy today
Your therapist is ready to start the journey with you today - so what are you waiting for?
Have any questions?
Are you unsure of what program to choose or have any questions about our services? Check our FAQ to alleviate any concerns.