Overcome Your Speech Anxiety with Online Therapy
Picture this: you're standing in front of a crowd on the stage. All of a sudden the palms of your hands start to sweat. You feel anxious, nervous and like the whole world is staring at you and waiting for you to make a mistake. You fear that people will judge you. You fear that people will see you as a weak person who is a failure. Sounds familiar?
Feeling anxious about speaking in public is very common. In fact, most of us experience, at some point in our life, discomfort when speaking in front of a group of people. But if you feel that this fear is limiting you and causing you to miss out on opportunities in social, academic or job sectors, then you might be suffering from speech anxiety.
No matter how long you have experienced this, or what you may have done in the past to overcome it, there is hope! Our therapy for speech anxiety is based on cognitive behavioral therapy (CBT). You see, it is your automatic negative thoughts and perceptions about yourself and others that cause your fear of speaking in front of other people. Our speech anxiety online therapy program will provide you with insightful knowledge about glossophobia (speech anxiety) as well as how to control your anxiety. Your therapist will teach you techniques like cognitive restructuring (changing what you brain says to you), meditation, positive mental visualization and other valuable skills to help you combat your negative thinking. Each time you practice these techniques, you will find it easier to take control of your life and your speech anxiety. You will get useful tips on how to work in a group of people, with the aim of getting you comfortable with making your voice heard in front of others.
Sign up and start getting happier now
Your therapist is ready to start the journey with you today - so what are you waiting for?
Take our test & get instant help
Answer a few questions and get immediate results and recommendations. It only takes a few minutes, so let's get started!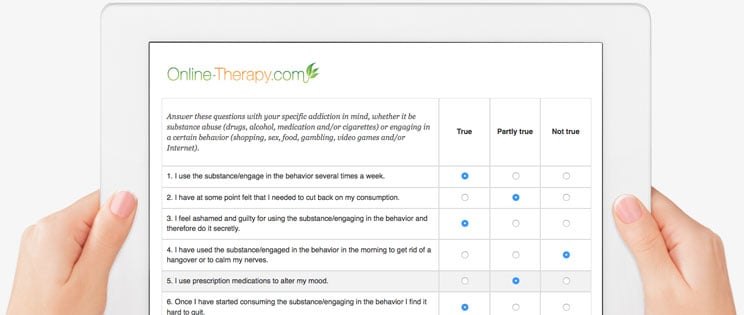 Reviews
Our online therapy services have received 2137 reviews and the average rating is 4.7 out of 5 stars.
Rating: [5 out of 5 stars!]
"The worksheets were really helpful. My therapist was even able to send me a few things to really put what we were talking about in perspective. I am not perfect, but on the road to a better person because of this program."
Jess (March 02, 2022)
Rating: [5 out of 5 stars!]
"I don't have enough good things to say about this program. Even the little I've completed has helped me reflect on myself and reach my goals of having peace 🕊️"
Grateful (May 12, 2022)
Rating: [5 out of 5 stars!]
"Dr Vicki is amazing"
New (March 19, 2022)
Rating: [5 out of 5 stars!]
"The therapist that is currently working with me is actually working with me. She is very helpful and encouraging."
Newclient (May 10, 2022)
Rating: [5 out of 5 stars!]
"The program is very well designed with a great mix of worksheets and webinars to get you started. The therapist has short bits of helpful feedback for nearly everything that is submitted and the 1-on-1 sessions really bring all the therapy together."
Practical And Effective (May 17, 2022)
Rating: [5 out of 5 stars!]
"I truly don't think I would be here right now if it wasn't for Li. She has wonderful insight and incredible patience. I have a lot of baggage and that's putting it mildly. She has allowed me to go at my own pace which has helped me and kept me in therapy. Pushing helps, but pushing too hard doesn't. She knows the difference. She's very frank and at first that took me off guard but then I realized that this is a good thing. I wish I found her years ago...."
NY (May 16, 2022)
Rating: [4 out of 5 stars!]
"After using this site for around 2 months now, I can 100% recommend it to anyone trying to get better, I like that it feels like constant support with the ability to message, do worksheets and have live sessions with the therapist. I have felt a change in my mentality since the first session and I feel even when my anxiety can increase, I feel supported and able to get out of the rut sooner."
Elle (April 08, 2022)
Rating: [5 out of 5 stars!]
"Happy with my therapist, it helped a lot."
First (April 02, 2022)
Rating: [5 out of 5 stars!]
"I was matched with the perfect therapist for me! She's very helpful and honest with me."
Great Therapists! (March 03, 2022)
Rating: [5 out of 5 stars!]
"I really like that there is access to therapists globally. It makes you feel like this network of help is much bigger than your struggles and you're going to be okay. They have a lot of tools and a different approach which I appreciate."
Vee (May 03, 2022)
Sign up for online therapy today
Your therapist is ready to start the journey with you today - so what are you waiting for?
Have any questions?
Are you unsure of what program to choose or have any questions about our services? Check our FAQ to alleviate any concerns.