Overcome Your Speech Anxiety with Online Therapy
Picture this: you're standing in front of a crowd on the stage. All of a sudden the palms of your hands start to sweat. You feel anxious, nervous and like the whole world is staring at you and waiting for you to make a mistake. You fear that people will judge you. You fear that people will see you as a weak person who is a failure. Sounds familiar?
Feeling anxious about speaking in public is very common. In fact, most of us experience, at some point in our life, discomfort when speaking in front of a group of people. But if you feel that this fear is limiting you and causing you to miss out on opportunities in social, academic or job sectors, then you might be suffering from speech anxiety.
No matter how long you have experienced this, or what you may have done in the past to overcome it, there is hope! Our therapy for speech anxiety is based on cognitive behavioral therapy (CBT). You see, it is your automatic negative thoughts and perceptions about yourself and others that cause your fear of speaking in front of other people. Our speech anxiety online therapy program will provide you with insightful knowledge about glossophobia (speech anxiety) as well as how to control your anxiety. Your therapist will teach you techniques like cognitive restructuring (changing what you brain says to you), meditation, positive mental visualization and other valuable skills to help you combat your negative thinking. Each time you practice these techniques, you will find it easier to take control of your life and your speech anxiety. You will get useful tips on how to work in a group of people, with the aim of getting you comfortable with making your voice heard in front of others.
Sign up and start getting happier now
Your therapist is ready to start the journey with you today - so what are you waiting for?
Take our test & get instant help
Answer a few questions and get immediate results and recommendations. It only takes a few minutes, so let's get started!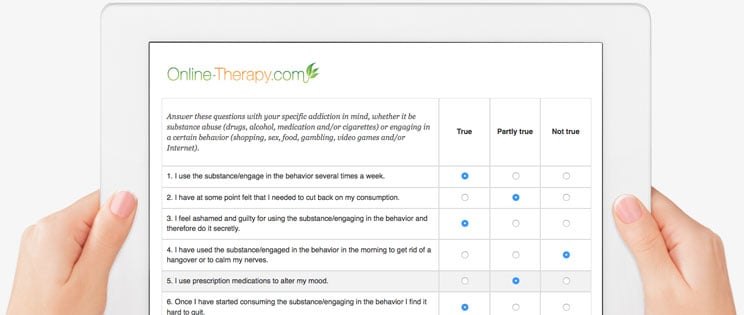 Reviews
Our online therapy services have received 582 reviews and the average rating is 4.6 out of 5 stars.
Rating: [5 out of 5 stars!]
"Had some helpful advice"
Cool (August 23, 2019)
Rating: [5 out of 5 stars!]
"I feel better having someone to talk about things with and help me get through the week. I work a lot and cant afford time off to go to appointments etc, and having this at hand 24/7 is so much better in my opinion than a once a week session. I would highly recommend this to anyone with a busy schedule."
Geomatics89 (November 12, 2019)
Rating: [5 out of 5 stars!]
"This is a great system to address my pressing needs. The worksheets help focus my needs while having an expert therapist guide me through the process."
AO (October 25, 2019)
Rating: [5 out of 5 stars!]
"I have really been both surprised and impressed with how much this Online Therapy has helped me. I didn't know what to expect and only enrolled because of the advise of others that I take therapy to show and prove to others that I have changed and am in a new place.
Having said that, I have instead learned so much about myself and have really indeed changed. I have become so much more conscious of my feelings and reactions to stress anger and am much happier for it.
I have also truly enjoyed having discussions with my personal online therapist Jacob and have been extremely impressed with both his knowledge and advise. He made me think about things like I did not before. IN a strange way, although we have never met, I feel like I know him and that he is both a great therapist and friend."
Mike's Review (August 27, 2019)
Rating: [5 out of 5 stars!]
"Good service"
Simmyw (August 25, 2019)
Rating: [5 out of 5 stars!]
"Awesome"
PN (August 26, 2019)
Rating: [5 out of 5 stars!]
"I would like to sincerely thank my personal therapist Jacob and Online Therapy for helping me through a very rough time in my life. The therapy exceeded my expectations and has made me see things in a much better frame of mind."
Mike's Review (September 10, 2019)
Rating: [5 out of 5 stars!]
"I cannot do formal counseling as my chronic illness makes it difficult to travel. This counseling has helped me because it is easily accessible at any time."
Great When You Are Bed Ridden (September 06, 2019)
Rating: [5 out of 5 stars!]
"In my opinion online therapy is very good because is helping me to be a better person every day."
Online Therapy (August 28, 2019)
Rating: [4 out of 5 stars!]
"I find many of these tips and tricks useful and easy. I am hoping they will be something that will continue to help me in the future. The worksheets have been interesting and reflective. The videos are informative and the program is easy to follow. I have had a couple good sessions with my therapist, I wish that the sessions were longer. 30 minutes just isn't long enough to get all the information out. However she has given me some useful tricks for my bag that I can use to help me in times of need."
Anxious And Lonely (November 10, 2019)
Sign up for online therapy today
Your therapist is ready to start the journey with you today - so what are you waiting for?