Overcome Your Speech Anxiety with Online Therapy
Picture this: you're standing in front of a crowd on the stage. All of a sudden the palms of your hands start to sweat. You feel anxious, nervous and like the whole world is staring at you and waiting for you to make a mistake. You fear that people will judge you. You fear that people will see you as a weak person who is a failure. Sounds familiar?
Feeling anxious about speaking in public is very common. In fact, most of us experience, at some point in our life, discomfort when speaking in front of a group of people. But if you feel that this fear is limiting you and causing you to miss out on opportunities in social, academic or job sectors, then you might be suffering from speech anxiety.
No matter how long you have experienced this, or what you may have done in the past to overcome it, there is hope! Our therapy for speech anxiety is based on cognitive behavioral therapy (CBT). You see, it is your automatic negative thoughts and perceptions about yourself and others that cause your fear of speaking in front of other people. Our speech anxiety online therapy program will provide you with insightful knowledge about glossophobia (speech anxiety) as well as how to control your anxiety. Your therapist will teach you techniques like cognitive restructuring (changing what you brain says to you), meditation, positive mental visualization and other valuable skills to help you combat your negative thinking. Each time you practice these techniques, you will find it easier to take control of your life and your speech anxiety. You will get useful tips on how to work in a group of people, with the aim of getting you comfortable with making your voice heard in front of others.
Sign up and start getting happier now
Your therapist is ready to start the journey with you today - so what are you waiting for?
Take our test & get instant help
Answer a few questions and get immediate results and recommendations. It only takes a few minutes, so let's get started!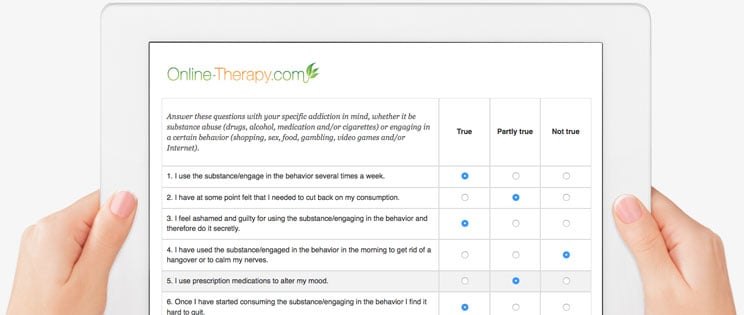 Reviews
Our online therapy services have received 1338 reviews and the average rating is 4.7 out of 5 stars.
Rating: [5 out of 5 stars!]
"My personal experience has been wonderful. I only wish that this could be covered by insurance. My therapist has been very insightful and helpful. And I've seen improvement in alot of aspects of my life."
Dom (December 14, 2020)
Rating: [5 out of 5 stars!]
"Being able to decide on which therapist to start with on Online-Therapy was a perfect feature. I have found the setup useful and helpful to start."
Rj (January 21, 2021)
Rating: [4 out of 5 stars!]
"Seems Ok so far, finding a little difficult to stay motivated to complete the worksheets. The information is helpful, but general. For mild or moderate issues, this is a good starting point, but people with more severe problems may need more support than this program can offer."
Annie (February 11, 2021)
Rating: [5 out of 5 stars!]
"The Site so far is easy to use and comprehend. I would recommend this site to some in need."
Adam Shapiro (February 11, 2021)
Rating: [4 out of 5 stars!]
"Really helping out with nailing down the problematic thought that are not helping me progress in my life. It was difficult to find the right fit, but once I did—I'm so glad I started and didn't give up on self care."
NRB (January 19, 2021)
Rating: [5 out of 5 stars!]
"So far everything is going smoothly"
Angie (March 01, 2021)
Rating: [4 out of 5 stars!]
"I like the concept of online therapy. Initially it was hard to understand the flow with my therapist but we are getting there. I don't love that everything is online. I really wish there was an app and ways to print worksheet because I like to write and not type. Having to sign on and only receive notifications by email is annoying. I like my therapist a lot though. She legit!"
Rae (February 06, 2021)
Rating: [4 out of 5 stars!]
"I'm glad to have the interaction with my therapist. I wish there were copies of different worksheets, and ways to update them as you go along."
Molly (February 18, 2021)
Rating: [4 out of 5 stars!]
"Great service! Not only do you get help from your own therapist but there are a ton of worksheets to work through to not only get to the root of the problem, but to be able to recognize trends.
Very helpful! In some ways it's actually better than in-person because you can ingest the information in a different way, as well as express yourself more thoroughly."
Acai (February 10, 2021)
Rating: [5 out of 5 stars!]
"I am very happy with my experience, I think it is really helping me to feel a lot better."
MJ (March 02, 2021)
Sign up for online therapy today
Your therapist is ready to start the journey with you today - so what are you waiting for?
Have any questions?
Are you unsure of what program to choose or have any questions about our services? Check our FAQ to alleviate any concerns.