Overcome Your Speech Anxiety with Online Therapy
Picture this: you're standing in front of a crowd on the stage. All of a sudden the palms of your hands start to sweat. You feel anxious, nervous and like the whole world is staring at you and waiting for you to make a mistake. You fear that people will judge you. You fear that people will see you as a weak person who is a failure. Sounds familiar?
Feeling anxious about speaking in public is very common. In fact, most of us experience, at some point in our life, discomfort when speaking in front of a group of people. But if you feel that this fear is limiting you and causing you to miss out on opportunities in social, academic or job sectors, then you might be suffering from speech anxiety.
No matter how long you have experienced this, or what you may have done in the past to overcome it, there is hope! Our therapy for speech anxiety is based on cognitive behavioral therapy (CBT). You see, it is your automatic negative thoughts and perceptions about yourself and others that cause your fear of speaking in front of other people. Our speech anxiety online therapy program will provide you with insightful knowledge about glossophobia (speech anxiety) as well as how to control your anxiety. Your therapist will teach you techniques like cognitive restructuring (changing what you brain says to you), meditation, positive mental visualization and other valuable skills to help you combat your negative thinking. Each time you practice these techniques, you will find it easier to take control of your life and your speech anxiety. You will get useful tips on how to work in a group of people, with the aim of getting you comfortable with making your voice heard in front of others.
Sign up and start getting happier now
Your therapist is ready to start the journey with you today - so what are you waiting for?
Take our test & get instant help
Answer a few questions and get immediate results and recommendations. It only takes a few minutes, so let's get started!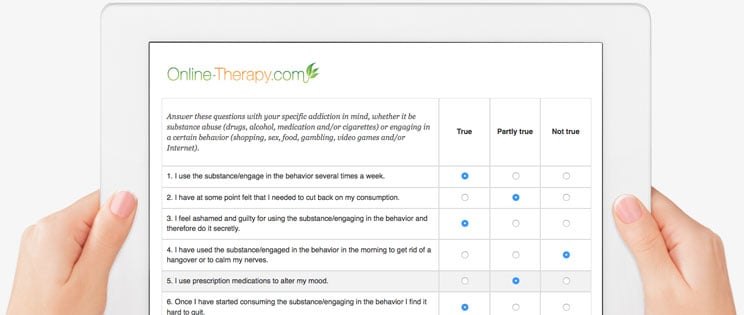 Reviews
Our online therapy services have received 2348 reviews and the average rating is 4.7 out of 5 stars.
Rating: [5 out of 5 stars!]
"Have tried several online therapy sites and have been umimpressed by the quality of therapists. Signed up for online-therapy with little expectation but thought I'd try. My therapist so far has been awesome and I am looking forward to therapy with her for a long time!"
Nick (September 06, 2022)
Rating: [5 out of 5 stars!]
"Catherine is awesome. She is very intuitive and kind. She has helped me feel better about my feelings in just the first month."
Andy (August 25, 2022)
Rating: [5 out of 5 stars!]
"This is an amazing option for those of us who have difficulty finding and getting to a therapist in person...highly recommended!"
Working On Me (August 10, 2022)
Rating: [5 out of 5 stars!]
"I am new to therapy and was not sure how helpful it would be. My therapist is very good. Easy to talk to and seems to know when to ask a question."
Steve (August 05, 2022)
Rating: [4 out of 5 stars!]
"This service has been extremely helpful in these trying times where I needed someone to validate my feelings."
Eternally Grateful For This Service (October 02, 2022)
Rating: [5 out of 5 stars!]
"Very happy with my service Soo far. My therapist has been very nice and helped me realize things in a deeper view."
Annypa (August 15, 2022)
Rating: [4 out of 5 stars!]
"I was skeptical at first- love the tools but was unsure of how the live sessions would go. I am happy to report that my experience has been GREAT I thought that this would be a short term jumpstart for my healing journey but I see this as a longer term fit now because my therapist is outstanding and I am thrilled to have someone who is very capable and qualified guiding me through this process. The only downside so far has been occasional limited availability for live sessions- understandable but one week there was a cancellation and no options for a rebooking that week."
April Ruth (July 12, 2022)
Rating: [5 out of 5 stars!]
"very helpful"
Leo (October 05, 2022)
Rating: [5 out of 5 stars!]
"Online-Therapy is a great platform and my therapist Li Laurent is absolutely amazing. I love her approach and she speak with me clearly, she tells me the truth even if it can be hard and this is really helping me.
I made progress in less than two weeks, my anxiety is GONE and I'm already moving forward on dealing with other issues. I didn't think this could br possible or that it would take a long time.
I'm glad I picked this platform."
Chris (September 04, 2022)
Rating: [4 out of 5 stars!]
"Get ready to cry. As a H&W coach myself I found this valuable for me to stay in my coaching mindset and address my own mental monsters; so I don't spread them onto any clients. I will definitely be referring clients here, if they desire a more therapeutic approach."
Bearly Coaching (August 15, 2022)
Sign up for online therapy today
Your therapist is ready to start the journey with you today - so what are you waiting for?
Have any questions?
Are you unsure of what program to choose or have any questions about our services? Check our FAQ to alleviate any concerns.