Overcome Your Speech Anxiety with Online Therapy
Picture this: you're standing in front of a crowd on the stage. All of a sudden the palms of your hands start to sweat. You feel anxious, nervous and like the whole world is staring at you and waiting for you to make a mistake. You fear that people will judge you. You fear that people will see you as a weak person who is a failure. Sounds familiar?
Feeling anxious about speaking in public is very common. In fact, most of us experience, at some point in our life, discomfort when speaking in front of a group of people. But if you feel that this fear is limiting you and causing you to miss out on opportunities in social, academic or job sectors, then you might be suffering from speech anxiety.
No matter how long you have experienced this, or what you may have done in the past to overcome it, there is hope! Our therapy for speech anxiety is based on cognitive behavioral therapy (CBT). You see, it is your automatic negative thoughts and perceptions about yourself and others that cause your fear of speaking in front of other people. Our speech anxiety online therapy program will provide you with insightful knowledge about glossophobia (speech anxiety) as well as how to control your anxiety. Your therapist will teach you techniques like cognitive restructuring (changing what you brain says to you), meditation, positive mental visualization and other valuable skills to help you combat your negative thinking. Each time you practice these techniques, you will find it easier to take control of your life and your speech anxiety. You will get useful tips on how to work in a group of people, with the aim of getting you comfortable with making your voice heard in front of others.
Sign up and start getting happier now
Your therapist is ready to start the journey with you today - so what are you waiting for?
RIGHT NOW:

Free therapy due to the coronavirus pandemic

We want to help as many people as possible during these extraordinary times.
Therefore we are offering parts of our online therapy platform for free.

The free access includes our online therapy program with 8 easy-to-follow sections and 25 worksheets, yoga and meditation videos, activity plan, journal, and tests (communicating with a personal therapist is not included).
Take our test & get instant help
Answer a few questions and get immediate results and recommendations. It only takes a few minutes, so let's get started!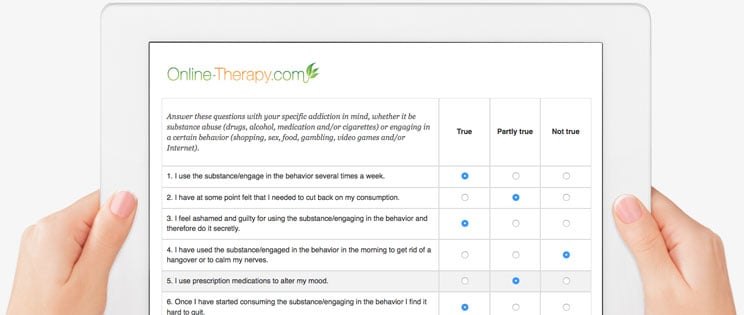 Reviews
Our online therapy services have received 973 reviews and the average rating is 4.6 out of 5 stars.
Rating: [5 out of 5 stars!]
"Before taking this online course, I was very skeptical about therapy and I had an incorrect view of what it entails. After going through the 8 sections by myself, I found it to be eye-opening and a great resource for self-reflection. It really helped me to put things into perspective. I am now going to try and get feedback from a therapist so I can receive more objective feedback in order to improve and live a happier life. Thanks for helping me get started on the right foot!"
Insightful (June 29, 2020)
Rating: [5 out of 5 stars!]
"I tried to put into my life what I learned in the program and have found it has helped so much. It is a matter of being committed and working the program even on days when you don't feel like it which I was also able to overcome the feeling of being guilty if I didn't work or do an entry in my journal. I taught my self it was OK to miss a day. I now feel confident that I can manage my anger/temper in the future.
Thanks so much for this program"
Bb (July 16, 2020)
Rating: [5 out of 5 stars!]
"great worksheets"
Cali2020 (July 10, 2020)
Rating: [4 out of 5 stars!]
"This is new but its helping"
Garrett (September 03, 2020)
Rating: [5 out of 5 stars!]
"My therapist's comments have really got me thinking about my situation and how to take actions to improve it"
Tim (August 17, 2020)
Rating: [5 out of 5 stars!]
"this is helping me so much, and I've tried a lot of online therapies. Thank you."
Dii (July 27, 2020)
Rating: [5 out of 5 stars!]
"It has been a very helpful system; the therapist is caring and professional."
Vk (July 17, 2020)
Rating: [5 out of 5 stars!]
"Outstanding"
Paulo (August 03, 2020)
Rating: [5 out of 5 stars!]
"amazing experience, I just started to improve the day I started and find it really soothing to watch myself improving and it's a inevitable experience I want to know myself more throughout this course, and remove almost all of my negative mindset that I've made up somehow growing up, Watching people and some by the own perspective based thinking which I believe can improve through facing the thoughts, acknowleding them and hence removing the pattern."
Wise And Easy (July 08, 2020)
Rating: [5 out of 5 stars!]
"Very helpful, professional staff!"
ShuPe (August 10, 2020)
Sign up for online therapy today
Your therapist is ready to start the journey with you today - so what are you waiting for?
Have any questions?
Are you unsure of what program to choose or have any questions about our services? Check our FAQ to alleviate any concerns.