Overcome Your Unhealthy Stress with Online Therapy
Almost anything can cause stress in one's life. Work, family, kids, friends, school, finances and life-changing events are all stressors that can cause a person to experience elevated stress levels. Although stress is a normal part of your life, overwhelming stress can result in health issues (such as heart disease and gastrointestinal problems), relationship strain, problems at work and even an increased likelihood of depression or anxiety.
Common symptoms of too much stress in your life include problems concentrating, sleep disturbances and eating too little or too much, consistently feeling down or worried and physical problems like headache, rapid heartbeat, pain and aches in your body.
Fortunately, no matter what is happening in your life, you can learn skills to control your stress. Our stress management is based on cognitive behavioral therapy (CBT). With the help of CBT, you will learn to identify and challenge the automatic negative thoughts that, up to this point, have caused you to feel overwhelmed with stress. Your therapist will help you build skills to cope and adapt to life's stressors. You will quickly learn how to better deal with problems and to stay in control of your emotions. The result? Not only will you feel better now, but you will also have these skills to use regardless of what happens in the future.
Sign up and start getting happier now
Your therapist is ready to start the journey with you today - so what are you waiting for?
Take our test & get instant help
Answer a few questions and get immediate results and recommendations. It only takes a few minutes, so let's get started!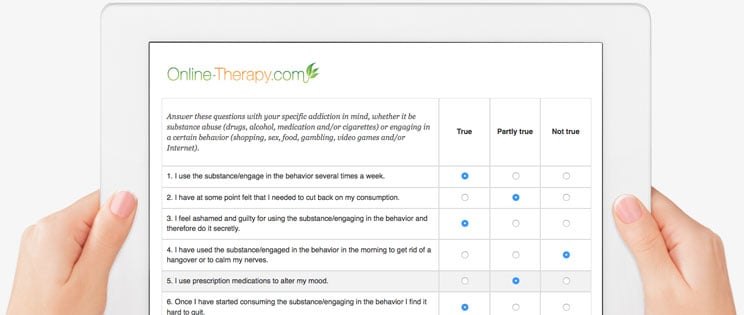 Reviews
Our online therapy services have received 2493 reviews and the average rating is 4.7 out of 5 stars.
Rating: [5 out of 5 stars!]
"I like the program over all. It is very helpful and allows me to do this at my own pace."
First Experiance (December 22, 2022)
Rating: [5 out of 5 stars!]
"So far so good, liking what it had to offer so far"
So Far So Good (December 02, 2022)
Rating: [5 out of 5 stars!]
"Although I was sceptical a bit at the beginning, I must admit that after couple of months I can see improvements I made in my everyday life with the help of my assigned therapist. She made me see or question things I overlooked, came up with useful suggestions, appreciated when I shared my recent small success. She's always full of understanding, brings calm energy to the table, I feel I can trust her and she won't judge me. I'm glad I decided to take this path and can't wait for more results in the future."
Francis (November 15, 2022)
Rating: [5 out of 5 stars!]
"I'm really just getting started but I have learned a lot about myself already on this journey. I'm glad to have the help."
John (December 27, 2022)
Rating: [5 out of 5 stars!]
"The sessions are going great, I've clicked really well with Janet as she has plenty of life experience that I can relate to which has helped me feel extremely relaxed when talking to her. This has helped me to open up and tell her how I feel without making me feel uncomfortable."
Janet Linton (November 03, 2022)
Rating: [5 out of 5 stars!]
"Just amazing!"
Tasfia (December 13, 2022)
Rating: [5 out of 5 stars!]
"This program is amazing and my therapist was fantastic. With her help I was able to learn more about my mental health, learn how to change negative thoughts into positive ones, manage my anger, see things from a more positive perspective, and forgive myself and others. I highly recommend this program!!!!"
At Long Last (January 05, 2023)
Rating: [4 out of 5 stars!]
"I didn't really want to start counseling via text and it was frustrating at first bc I never felt like anyone was there. It was like I was talking to a robot. The little chat bubbles didn't display until I had waited what seemed forever for a response. I have been meeting weekly for about 3 months and it gets easier. I am starting to feel like I have a relationship with my therapist. It's taken longer than I expected, but it's more authentic than other therapists in the past. I would highly recommend."
Ellie Ann (January 19, 2023)
Rating: [5 out of 5 stars!]
"I love the tools on top of the therapy session. It feels personalized and like I am able to go at my own pace."
Katy (December 08, 2022)
Rating: [5 out of 5 stars!]
"I found this platform to be user-friendly, beneficial, and in general, a great asset. However, by the far the most important component to the success of my therapy thus far is my therapist Zalman Nelson. I allowed the online-therapy system to choose my therapist for me, and it was a home run. Zalman is a consummate professional and a perfect match for me. I wouldn't have grown as much as I have these last three months without his steady guidance."
Zalman Nelson Exceeded Expectations (November 12, 2022)
Sign up for online therapy today
Your therapist is ready to start the journey with you today - so what are you waiting for?
Have any questions?
Are you unsure of what program to choose or have any questions about our services? Check our FAQ to alleviate any concerns.