Overcome Your Weight Problems with Online Therapy
Do you ever get frustrated with yourself for knowing what is healthy to eat, but then consuming the exact opposite?
Are you able to start a diet, but have trouble sticking with it?
Have you lost some weight in the past, only to have it come right back (and maybe even more)?
If so, the reason is not that you are weak or destined to be this weight forever. It has to do with how you lose weight.
You see, the first step to effective and long-term weight loss is not to address your eating, but rather to address your mind and why you eat the way you do. Factors that play a role include your self-image, everyday stress and negative emotions and behaviors.
Forget ineffective diets that last a few months. Get into a program where you will engage in using conventional weight loss methods combined with cognitive behavior therapy strategies to guide you out of those negative thinking habits and behavioral patterns that cause your weight problems. This program helps you become aware of why you eat the way you do and what everyday situations trigger you to over-eat or eat the wrong types of food. This will allow you to lose weight, and to keep it off over the long term.
Specifically, our therapy for weight problems is based on cognitive behavioral therapy (CBT). With the help of CBT, you will learn to identify and challenge the automatic negative thoughts that cause your weight problems. Learning how to make permanent changes in your thinking will create permanent changes in your eating. You will be able to identify what situations trigger your unhealthy eating and learn new ways to deal with your emotions – instead of numbing them with food. With the help of your therapist, you will be able to incorporate healthy eating habits into your lifestyle. This will help you to reach your weight loss goal and to maintain your desired weight. You can do this, and we are here to assist you along the way!
Sign up and start getting happier now
Your therapist is ready to start the journey with you today - so what are you waiting for?
Take our test & get instant help
Answer a few questions and get immediate results and recommendations. It only takes a few minutes, so let's get started!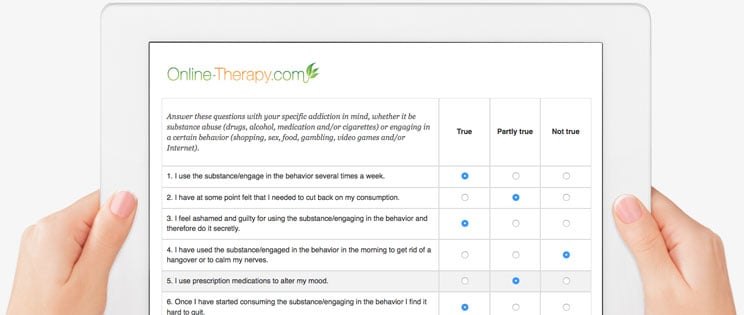 Reviews
Our online therapy services have received 2670 reviews and the average rating is 4.7 out of 5 stars.
Rating: [5 out of 5 stars!]
"As most adults with job, spouse, kids, etc., I struggle with finding the time to get a good nights sleep let alone time to talk and evaluate my life. Online Therapy allows for that discussion to happen on my terms fitting into my schedule.

The conversation has been really enlightening so far and looking forward to continuing this journey."
Time Well Spent (April 03, 2023)
Rating: [5 out of 5 stars!]
"I found the online therapy platform to be very helpful. Although it is online, you still feel a personal connection
My therapist Kimberly was great! From the beginning she was honest and encouraging. She asked questions that helped provoke thoughts so I could get the most of the work sheets and the CBT experience. Highly recommend!
Thank you so much!!!"
Great Experience (March 30, 2023)
Rating: [5 out of 5 stars!]
"Shawn has been sooo helpful. I was initially pretty intimidated by the idea of therapy but she made it so easy and comfortable right from the start. We now have the tools to work together and communicate effectively. I would recommend her for anyone in need. 10 out of 10 experience."
Marco (April 10, 2023)
Rating: [4 out of 5 stars!]
"Things are going pretty well. I decided to change providers and the admin made this very easy. Feeling hopeful about the work I am doing with the therapist."
Rainbow (March 18, 2023)
Rating: [4 out of 5 stars!]
"This was my first time doing therapy., I like how easy and accessible it is and am glad I gave it a try."
E.B. (March 09, 2023)
Rating: [4 out of 5 stars!]
"Good experience so far has helped."
George (May 16, 2023)
Rating: [5 out of 5 stars!]
"I have tried in person therapy and virtual therapy previously with little success. Shawn has made such a difference in my life. She's a great therapist and online-therapy.com was an answer to my prayers."
Bcn3evans (March 09, 2023)
Rating: [4 out of 5 stars!]
"Telemental health is so helpful for those who are living away from home and need a therapist to support them."
Kay (May 20, 2023)
Rating: [4 out of 5 stars!]
"It has given me insight into how I have been functioning in the past and suggestions for how I can improve"
Ben (March 27, 2023)
Rating: [5 out of 5 stars!]
"My experience so far has been very helpful.
I like that I can message at any time and go back over what me and my therapist have discussed."
Helpful (February 28, 2023)
Sign up for online therapy today
Your therapist is ready to start the journey with you today - so what are you waiting for?
Have any questions?
Are you unsure of what program to choose or have any questions about our services? Check our FAQ to alleviate any concerns.