Overcome Your Weight Problems with Online Therapy
There are so many advantages when getting help using online therapy compared to traditional face-to-face therapy. It's more affordable, accessible, anonymous and time saving to just name a few. Right now you pay as little as $29.95 per week for full access to:
Your own qualified therapist; communicate daily via worksheets + access to chat

Evidence-based online therapy program

Easy-to-follow information & tools in each section

Forum to get help from others

Tests to see your progress
Do I suffer from weight problems?
"Why do I eat wrong when I know how to eat right? Why can I never keep the new weight even though I am motivated in the beginning?" Sound familiar? This is because being overweight in the first place is not about food but instead about why you eat the way you do which is caused by your self-image, everyday stress and negative emotions and behaviors.
Forget ineffective diets that last a few months. Get into a program where you will engage in using conventional weight loss methods combined with cognitive behavior therapy strategies to guide you out of those negative thinking habits and behavioral patterns that cause your weight problems. This program helps you become aware of why you eat the way you do and what everyday situations trigger you to over-eat or eat the wrong types of food so that you can lose weight, and keep it off – long term.
Our therapy for weight problems is based on cognitive behavioral therapy (CBT). With the help of online CBT you will learn to identify and challenge the automatic negative thoughts that cause your weight problems. Learning how to make permanent changes in your thinking will make permanent changes in your eating. You will be able to identify what situations trigger your unhealthy eating and learn new ways to deal with your emotions – instead of numbing them with food. With the help of your therapist you will be able to incorporate healthy eating habits into your lifestyle so that you can reach your weight loss goal and keep to your desired weight.
Take our test to see if you could benefit from our online therapy. All you need to do is answering a few questions and you will instantly get our recommendations on how to proceed towards a happier you. It only takes a few minutes – so what are you waiting for!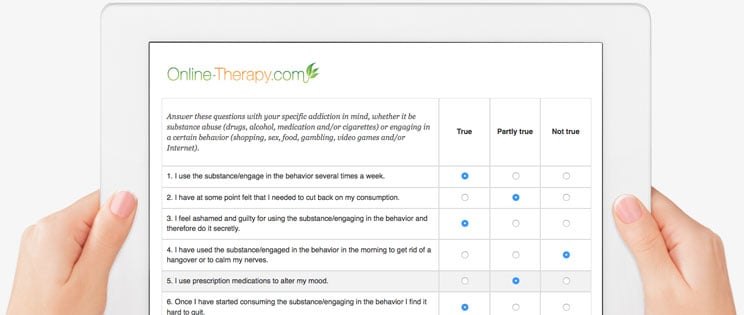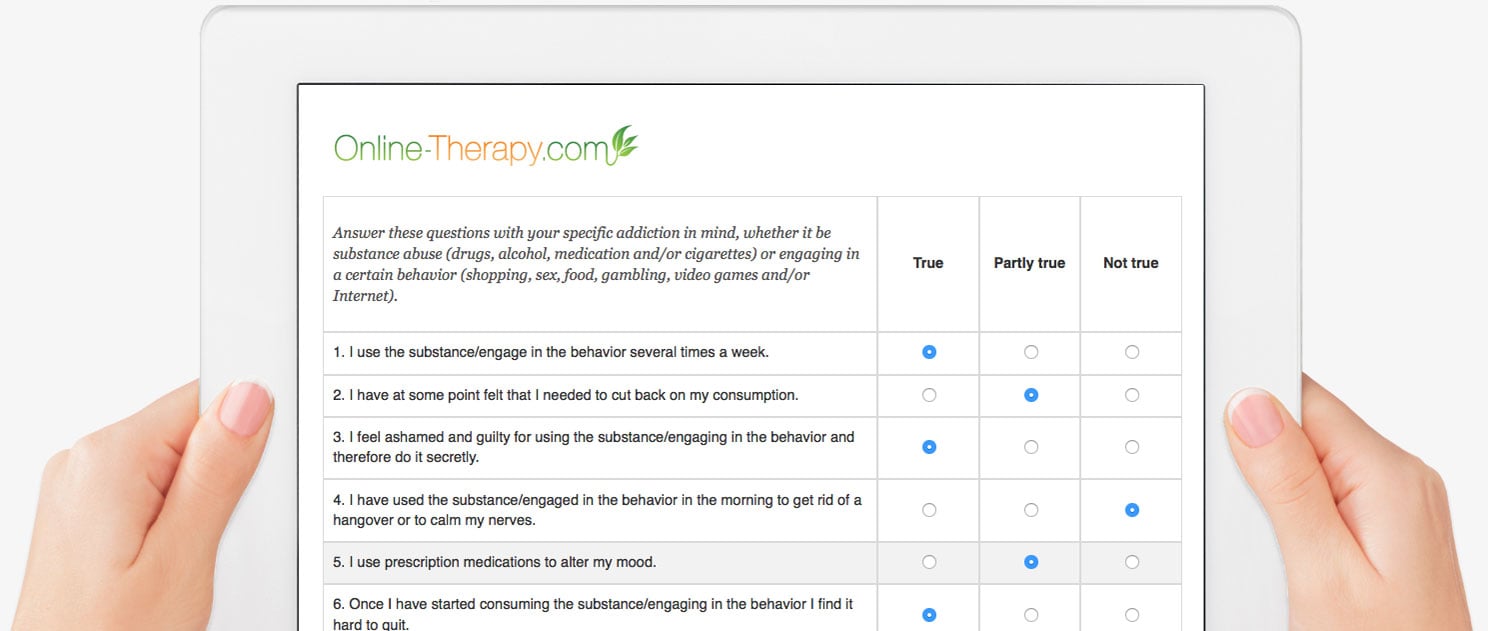 Reviews - Weight Loss
This program has received 6 reviews and the average rating is 4.7 out of 5 stars.
Rating: [5 out of 5 stars!]
"I love the thoroughness and thought, and the practical suggestions."
Cyn (January 08, 2017)
Rating: [4 out of 5 stars!]
"Mixed bag, didn't lose weight at first, but did receive lots of useful information. Sometimes therapist was spot-on in understanding my issues."
Midleygedman (February 04, 2016)
Rating: [5 out of 5 stars!]
"I was very happy with the week of therapy I had."
Ana (February 04, 2015)
Rating: [4 out of 5 stars!]
"I'm only a few weeks into the program and my opinion is mostly favorable. The worksheets have prompted some serious thought about why I overeat and encouraged me to plan better meals. The therapist has been straightforward and has made helpful suggestions about how to change my thinking about how I handle food and my emotions."
BkGal (July 04, 2011)
Rating: [5 out of 5 stars!]
"Perfect feedback. Very quick as well. Good job"
Cathy T. (June 09, 2011)
Rating: [5 out of 5 stars!]
"This is very painful, but I know it is necessary. It's is good for me!"
Anonymous (April 15, 2011)
Sign up for online therapy today
Your therapist is ready to start the journey with you today - so what are you waiting for?