Overcome Your Weight Problems with Online Therapy
Do you ever get frustrated with yourself for knowing what is healthy to eat, but then consuming the exact opposite?
Are you able to start a diet, but have trouble sticking with it?
Have you lost some weight in the past, only to have it come right back (and maybe even more)?
If so, the reason is not that you are weak or destined to be this weight forever. It has to do with how you lose weight.
You see, the first step to effective and long-term weight loss is not to address your eating, but rather to address your mind and why you eat the way you do. Factors that play a role include your self-image, everyday stress and negative emotions and behaviors.
Forget ineffective diets that last a few months. Get into a program where you will engage in using conventional weight loss methods combined with cognitive behavior therapy strategies to guide you out of those negative thinking habits and behavioral patterns that cause your weight problems. This program helps you become aware of why you eat the way you do and what everyday situations trigger you to over-eat or eat the wrong types of food. This will allow you to lose weight, and to keep it off over the long term.
Specifically, our therapy for weight problems is based on cognitive behavioral therapy (CBT). With the help of CBT, you will learn to identify and challenge the automatic negative thoughts that cause your weight problems. Learning how to make permanent changes in your thinking will create permanent changes in your eating. You will be able to identify what situations trigger your unhealthy eating and learn new ways to deal with your emotions – instead of numbing them with food. With the help of your therapist, you will be able to incorporate healthy eating habits into your lifestyle. This will help you to reach your weight loss goal and to maintain your desired weight. You can do this, and we are here to assist you along the way!
Sign up and start getting happier now
Your therapist is ready to start the journey with you today - so what are you waiting for?
RIGHT NOW:

Free therapy due to the coronavirus pandemic

We want to help as many people as possible during these extraordinary times.
Therefore we are offering parts of our online therapy platform for free.

The free access includes our online therapy program with 8 easy-to-follow sections and 25 worksheets, yoga and meditation videos, activity plan, journal, and tests (communicating with a personal therapist is not included).
Take our test & get instant help
Answer a few questions and get immediate results and recommendations. It only takes a few minutes, so let's get started!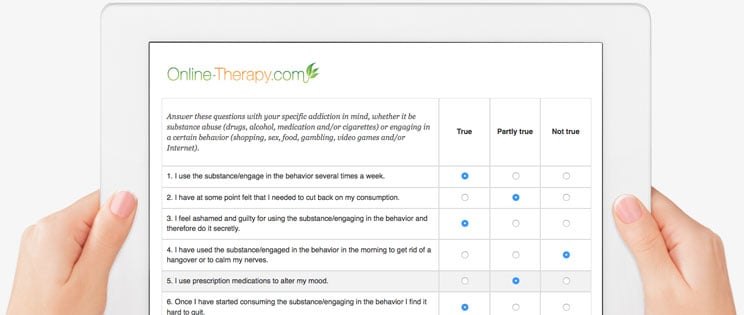 Reviews
Our online therapy services have received 909 reviews and the average rating is 4.6 out of 5 stars.
Rating: [4 out of 5 stars!]
"This program has been very helpful. The worksheets were a great way to think through and process my problems without judging myself. Would highly recommend."
Great Program! (June 01, 2020)
Rating: [5 out of 5 stars!]
"Online-Therapy.com has been such a great resource for me! I love how I can work on everything at my own pace and schedule. I love how I can finish a worksheet and get feedback from my therapist. I truly feel the therapists on here truly want to help you. Even though I am only a few weeks in I am so grateful I found online-therapy. If anyone is considering trying it I would definitely say go for it!"
JL (May 17, 2020)
Rating: [5 out of 5 stars!]
"So far this experience has been wonderful. I loved the videos and the worksheets. They really made me think about my thoughts with clarity. I love the journaling. It's working wonders. My therapist is more like a check-in guide. I don't feel like we are really following through with CBT as it is usually practiced, but this mix is fine with me!"
Ant (July 27, 2020)
Rating: [5 out of 5 stars!]
"I love this site. It's a great resource for preparing for therapy and getting free help during COVID19"
Katie (July 10, 2020)
Rating: [5 out of 5 stars!]
"Very helpful"
Lily (June 15, 2020)
Rating: [5 out of 5 stars!]
"This has been nothing short of great! The format is amazing and so is my therapist! Love this platform!"
Kc (July 06, 2020)
Rating: [4 out of 5 stars!]
"Short but effective"
Review (May 16, 2020)
Rating: [4 out of 5 stars!]
"Using the worksheets and interacting with a therapist has helped me work through some relationship issues and helped by confidence"
Rethinking (May 20, 2020)
Rating: [5 out of 5 stars!]
"amazing experience, I just started to improve the day I started and find it really soothing to watch myself improving and it's a inevitable experience I want to know myself more throughout this course, and remove almost all of my negative mindset that I've made up somehow growing up, Watching people and some by the own perspective based thinking which I believe can improve through facing the thoughts, acknowleding them and hence removing the pattern."
Wise And Easy (July 08, 2020)
Rating: [5 out of 5 stars!]
"Easy to navigate. I like the fact that I have assignments to choose from rather than just talking for an hour and receiving no tools to apply. Very flexible in terms of resources that fit my needs and budget."
Online Therapy Review (July 13, 2020)
Sign up for online therapy today
Your therapist is ready to start the journey with you today - so what are you waiting for?
Have any questions?
Are you unsure of what program to choose or have any questions about our services? Check our FAQ to alleviate any concerns.