Overcome Your Weight Problems with Online Therapy
Do you ever get frustrated with yourself for knowing what is healthy to eat, but then consuming the exact opposite?
Are you able to start a diet, but have trouble sticking with it?
Have you lost some weight in the past, only to have it come right back (and maybe even more)?
If so, the reason is not that you are weak or destined to be this weight forever. It has to do with how you lose weight.
You see, the first step to effective and long-term weight loss is not to address your eating, but rather to address your mind and why you eat the way you do. Factors that play a role include your self-image, everyday stress and negative emotions and behaviors.
Forget ineffective diets that last a few months. Get into a program where you will engage in using conventional weight loss methods combined with cognitive behavior therapy strategies to guide you out of those negative thinking habits and behavioral patterns that cause your weight problems. This program helps you become aware of why you eat the way you do and what everyday situations trigger you to over-eat or eat the wrong types of food. This will allow you to lose weight, and to keep it off over the long term.
Specifically, our therapy for weight problems is based on cognitive behavioral therapy (CBT). With the help of CBT, you will learn to identify and challenge the automatic negative thoughts that cause your weight problems. Learning how to make permanent changes in your thinking will create permanent changes in your eating. You will be able to identify what situations trigger your unhealthy eating and learn new ways to deal with your emotions – instead of numbing them with food. With the help of your therapist, you will be able to incorporate healthy eating habits into your lifestyle. This will help you to reach your weight loss goal and to maintain your desired weight. You can do this, and we are here to assist you along the way!
Sign up and start getting happier now
Your therapist is ready to start the journey with you today - so what are you waiting for?
Take our test & get instant help
Answer a few questions and get immediate results and recommendations. It only takes a few minutes, so let's get started!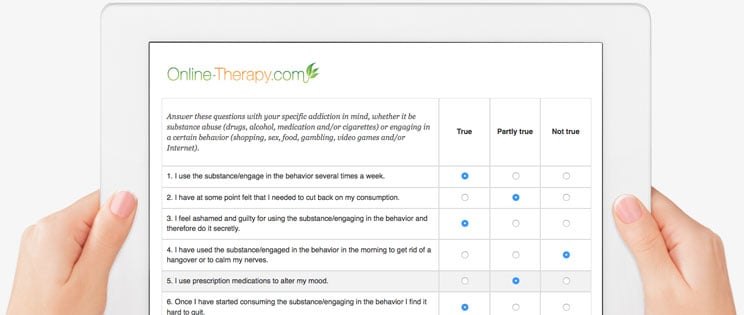 Reviews
Our online therapy services have received 1958 reviews and the average rating is 4.7 out of 5 stars.
Rating: [5 out of 5 stars!]
"I have been in therapy for years; I have done in person as well as online. I have a hard time saying my issues out loud, so in person I have struggle with. When I found online therapy, I finally felt comfortable being able to write out my issues, it gives me time to think what I want to say and how I want to say it. Then after I get a respond, I have time to really reflect on the comments and suggestions. It only been a month but I already, seen improvement in the way I view life. I know therapy is not an overnight fix, and I have a long way to go. However, I feel my therapist really listens, give me feedback, and it is on my time at my own home where I feel safe. The videos and worksheets really were a nice start to help me recognize where I needed help and support, and gives the therapist some insight on your thinking patterns."
Life Learning (November 24, 2021)
Rating: [5 out of 5 stars!]
"Vanessa is a joy to work with. I feel like she completely understands the issues I'm having and is 100% on my side. She's the first therapist I have had that has recognized that there are underlying issues that need to be addressed from my past before I can truly move forward. I feel like I was meant to do this at this time."
Review 1 (November 14, 2021)
Rating: [5 out of 5 stars!]
"My therapist gives me incredibly actionable, effective, and insightful feedback."
Beth (January 16, 2022)
Rating: [5 out of 5 stars!]
"I have received very valuable insights from my therapist. In addition, The materials, the support videos and the yoga have been really helpful with some issues that I have been experiencing."
Pedro (October 27, 2021)
Rating: [4 out of 5 stars!]
"This was a good start to when you're stuck or feel suffocated in that moment and can't reach for the physical help or that individual therapy is a struggle to look for.
This was easy to sign up for, start, and having your first conversation with your assigned therapist! I chose video chats which are tremendously helpful in the initial phases when there was dire need.
I was not able to keep up to it, but it would be ideal to try to do at least half or one full section per week to feel like you're moving forward.
It's worth spending more time on some parts of the worksheet so that you get some depth into your essence! It's different when you see things written out in front of you as opposed to saying it in your head.
There were technical difficulties couple of times with the schedule video calls due to which I missed out on the weekly session which was frustrating, but other than that the program is easy, simple, to the point, and good start to push you to continuing some form of therapy on your own.
What you write can be used as a guide to for your own to do's in future.
Some parts of the worksheet may need more discussion and it'd be helpful to work on the worksheets ahead of time to then come around to ask/discuss things with the assigned therapist!
Use the 'activity plan' to dedicate time for yourself to work on the sections!"
Helpful In Time Of Need (December 29, 2021)
Rating: [5 out of 5 stars!]
"Compared to another similar program i tried, i like that this one has more structure and resources with the worksheets and reading materials. It makes me feel like I'm making progress and getting real feedback even between video sessions, without the impetuous being on me to think of what to write in the chat with the therapist. Only been a few weeks but so far so good."
Enjoying The Resources And Structure (December 28, 2021)
Rating: [5 out of 5 stars!]
"I have been doing this CBT for 2 weeks and I already feel so much better about myself and my situation. It has shown me that my past does not determine my future"
Natalie (November 03, 2021)
Rating: [5 out of 5 stars!]
"I have tried several online therapy options, as well as virtual therapy. This is by far the best experience I've had! The worksheets are very helpful and have pushed me to reflect on a lot of things that I haven't. I love the feedback I've gotten from my therapist so far and her response times are quick."
AlyK (December 20, 2021)
Rating: [5 out of 5 stars!]
"Great program. I really enjoyed it and I believe it is getting me turned in the right direction."
NA (December 05, 2021)
Rating: [5 out of 5 stars!]
"Great program and very nice/friendly/helpful therapist. It helped me identify the underlying cause of my problem and equipped me with the tools to combat it and start to feel like my normal self again. Highly recommend."
TJ's Review (January 11, 2022)
Sign up for online therapy today
Your therapist is ready to start the journey with you today - so what are you waiting for?
Have any questions?
Are you unsure of what program to choose or have any questions about our services? Check our FAQ to alleviate any concerns.