Overcome Your Weight Problems with Online Therapy
Do you ever get frustrated with yourself for knowing what is healthy to eat, but then consuming the exact opposite?
Are you able to start a diet, but have trouble sticking with it?
Have you lost some weight in the past, only to have it come right back (and maybe even more)?
If so, the reason is not that you are weak or destined to be this weight forever. It has to do with how you lose weight.
You see, the first step to effective and long-term weight loss is not to address your eating, but rather to address your mind and why you eat the way you do. Factors that play a role include your self-image, everyday stress and negative emotions and behaviors.
Forget ineffective diets that last a few months. Get into a program where you will engage in using conventional weight loss methods combined with cognitive behavior therapy strategies to guide you out of those negative thinking habits and behavioral patterns that cause your weight problems. This program helps you become aware of why you eat the way you do and what everyday situations trigger you to over-eat or eat the wrong types of food. This will allow you to lose weight, and to keep it off over the long term.
Specifically, our therapy for weight problems is based on cognitive behavioral therapy (CBT). With the help of CBT, you will learn to identify and challenge the automatic negative thoughts that cause your weight problems. Learning how to make permanent changes in your thinking will create permanent changes in your eating. You will be able to identify what situations trigger your unhealthy eating and learn new ways to deal with your emotions – instead of numbing them with food. With the help of your therapist, you will be able to incorporate healthy eating habits into your lifestyle. This will help you to reach your weight loss goal and to maintain your desired weight. You can do this, and we are here to assist you along the way!
Sign up and start getting happier now
Your therapist is ready to start the journey with you today - so what are you waiting for?
Take our test & get instant help
Answer a few questions and get immediate results and recommendations. It only takes a few minutes, so let's get started!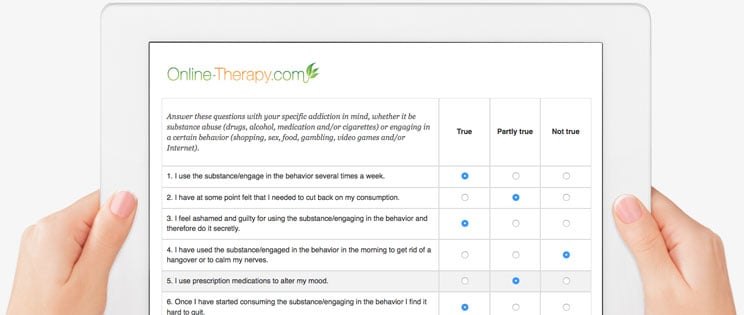 Reviews
Our online therapy services have received 1627 reviews and the average rating is 4.7 out of 5 stars.
Rating: [5 out of 5 stars!]
"My therapist has been great! I like having an outlet to think through what's going on."
EM (May 20, 2021)
Rating: [5 out of 5 stars!]
"Love my therapy ! Finally feeling better after 40 years"
Jm (June 07, 2021)
Rating: [4 out of 5 stars!]
"I am about five months into using Online-Therapy.com and I'm so glad I started the program. I've tried therapy in the past, but I never found someone I really clicked with, and I always craved more guidance/exercises in addition to talking things out. Online-Therapy.com's self-guided worksheets and exercises act as a great supplement to a weekly chat with a therapist, and I've found this combination has really worked for me. I also think it is a great feature that you can switch your therapist if you feel like it's not a good fit--I wasn't completely happy with my first assigned therapist but after reading through other therapists' bios, I chose on my own and have been loving working with her ever since. I am rating the program four-stars because it is pretty expensive (although I'm working with my insurance to see if it's possible to get a small percentage reimbursed) and I've also had some issues with scheduling my weekly chats (the website is very strict about only scheduling four chats per pay period). Overall, I highly recommend trying out Online-Therapy.com and seeing if it works for you!"
Megan (June 24, 2021)
Rating: [3 out of 5 stars!]
"I like how you walk through the steps at your own pace. It's helpful to have a visual of everything written down because I'm such a visual learner. Definitely have made improvements, but you have to be pretty self disciplined to carve out time to work on therapy stuff. My therapist does a live chat for the live sessions. It seems inefficient compared to calling, but I can see how it could be good for me to focus on one thing a week instead of talking about multiple things and not implementing any new strategies. Still worth a shot, I like the convenience of not going in person."
Live Chats Are Different But Worth A Shot (May 25, 2021)
Rating: [4 out of 5 stars!]
"So far I am happy with the level of therapy I have received on the site. However, As an unemployed individual I find the cost to be a little too much. Nonetheless, speaking to someone twice a week has been beneficial."
Str8dog (May 11, 2021)
Rating: [5 out of 5 stars!]
"Words are few to show what a therapist Bernadette is.
Firstly she has a big heart, she is a good as e person and she is so friendly 👍
Moreover, what is extremely important to mention is that she understands your inner world, understands your problems and desires and at this point she wants to help and support you in all ways.

I'm lucky I have met Bernadette🙏🙏❤
I suggest to everyone to choose Bernadette as a therapist because you will be satisfied.

All the best to all the staff!"
Llola (May 11, 2021)
Rating: [5 out of 5 stars!]
"I would say that I enjoy the service. I haven't put the time in necessary at this point but the counselor has been very responsive and asks great questions that provide great insight. The format is great and makes me think about what I can do to improve. It's laid out very well."
First Review (July 14, 2021)
Rating: [5 out of 5 stars!]
"Love this program it's so helpful and gives so many tools to use!"
Charlotte (July 21, 2021)
Rating: [5 out of 5 stars!]
"Very helpful, thank you"
KO (May 01, 2021)
Rating: [4 out of 5 stars!]
"I haven't tried everything yet and I'm trying to figure out how this course will help me. The basic package, I thought it would include the video chat as well but found out I needed the upgraded one (standard?) anyways, I right better than I speak. I can talk but words don't come out as much as I write."
Superman (July 20, 2021)
Sign up for online therapy today
Your therapist is ready to start the journey with you today - so what are you waiting for?
Have any questions?
Are you unsure of what program to choose or have any questions about our services? Check our FAQ to alleviate any concerns.