Overcome Your Weight Problems with Online Therapy
Do you ever get frustrated with yourself for knowing what is healthy to eat, but then consuming the exact opposite?
Are you able to start a diet, but have trouble sticking with it?
Have you lost some weight in the past, only to have it come right back (and maybe even more)?
If so, the reason is not that you are weak or destined to be this weight forever. It has to do with how you lose weight.
You see, the first step to effective and long-term weight loss is not to address your eating, but rather to address your mind and why you eat the way you do. Factors that play a role include your self-image, everyday stress and negative emotions and behaviors.
Forget ineffective diets that last a few months. Get into a program where you will engage in using conventional weight loss methods combined with cognitive behavior therapy strategies to guide you out of those negative thinking habits and behavioral patterns that cause your weight problems. This program helps you become aware of why you eat the way you do and what everyday situations trigger you to over-eat or eat the wrong types of food. This will allow you to lose weight, and to keep it off over the long term.
Specifically, our therapy for weight problems is based on cognitive behavioral therapy (CBT). With the help of CBT, you will learn to identify and challenge the automatic negative thoughts that cause your weight problems. Learning how to make permanent changes in your thinking will create permanent changes in your eating. You will be able to identify what situations trigger your unhealthy eating and learn new ways to deal with your emotions – instead of numbing them with food. With the help of your therapist, you will be able to incorporate healthy eating habits into your lifestyle. This will help you to reach your weight loss goal and to maintain your desired weight. You can do this, and we are here to assist you along the way!
Sign up and start getting happier now
Your therapist is ready to start the journey with you today - so what are you waiting for?
RIGHT NOW:

Free therapy due to the coronavirus pandemic

We want to help as many people as possible during these extraordinary times.
Therefore we are offering parts of our online therapy platform for free.

The free access includes our online therapy program with 8 easy-to-follow sections and 25 worksheets, yoga and meditation videos, activity plan, journal, and tests (communicating with a personal therapist is not included).
Take our test & get instant help
Answer a few questions and get immediate results and recommendations. It only takes a few minutes, so let's get started!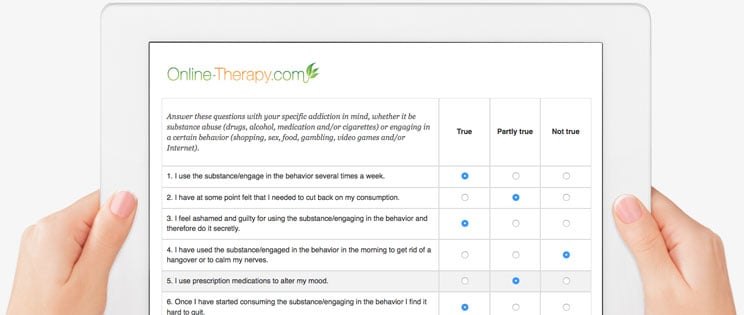 Reviews
Our online therapy services have received 754 reviews and the average rating is 4.6 out of 5 stars.
Rating: [4 out of 5 stars!]
"The highpoint of the therapy is the advise and engagement with my therapist. It has been very useful in my daily life and I am seeing immediate improvement in my life."
Pepe (May 11, 2020)
Rating: [4 out of 5 stars!]
"Love all the tools and my therapist. One thing to look at would be having phone consultations."
Big Bull (April 18, 2020)
Rating: [4 out of 5 stars!]
"I have enjoyed the worksheets and the notes I receive back from my therapist. I also enjoy the yoga workouts."
AD (April 21, 2020)
Rating: [5 out of 5 stars!]
"Interesting approach. I've been able to identify issues I never touched in before in traditional therapy."
Sondra (April 26, 2020)
Rating: [5 out of 5 stars!]
"Excellent direction, really helps you take action right away!"
Dandan247 (April 03, 2020)
Rating: [5 out of 5 stars!]
"Great program!"
LK (May 03, 2020)
Rating: [5 out of 5 stars!]
"Quality videos and guided worksheets are clear and structured to allow me to do the work I need to do independently."
SerenityNow (May 11, 2020)
Rating: [5 out of 5 stars!]
"The online therapy is really helping me. It's helped me learn things about myself that I didn't realize until I started exploring it. Writing it all down and communicating with the therapist, as well as the online courses, have helped my whole attitude for the better, and most of all, my wife has noticed and is happier :)"
Very Helpful! (May 15, 2020)
Rating: [5 out of 5 stars!]
"I've done face to face and video therapy before but this is completely different. Having the ability to work at my own pace made it so easy for me to communicate when I was ready to. And writing out my answers was so much easier than trying to talk about them. The worksheets truly did help me to see how negative my thinking was. My therapist was so great. During the weekly live chats, it was so easy to talk to her, since she had been replying to all my messages on the worksheets. She really got to know me more than I ever thought she would. I feel so much more confident now about what I need to do on a daily basis in order to feel happier."
Changed My Life (March 17, 2020)
Rating: [5 out of 5 stars!]
"To the Online-Therapy Team,

This course has been amazing for me. I have been suffering from anger issues and minor depression and PTSD for years. The course took me about 2 weeks to complete but after just the first day I started recognizing my own negative thoughts and behaviors. After the first week I found myself steering my thoughts away from my automatic negative thinking patterns and looking at things objectively.

I think that the layout of this course was also well organized. It made me really look at each piece of the entire process in manageable steps. I was amazed at how quickly I started to notice a difference and am starting to feel like I have more control over my emotions than I ever knew I had.

Thank you for everything!"
Robin (April 16, 2020)
Sign up for online therapy today
Your therapist is ready to start the journey with you today - so what are you waiting for?