Overcome Your Weight Problems with Online Therapy
Do you ever get frustrated with yourself for knowing what is healthy to eat, but then consuming the exact opposite?
Are you able to start a diet, but have trouble sticking with it?
Have you lost some weight in the past, only to have it come right back (and maybe even more)?
If so, the reason is not that you are weak or destined to be this weight forever. It has to do with how you lose weight.
You see, the first step to effective and long-term weight loss is not to address your eating, but rather to address your mind and why you eat the way you do. Factors that play a role include your self-image, everyday stress and negative emotions and behaviors.
Forget ineffective diets that last a few months. Get into a program where you will engage in using conventional weight loss methods combined with cognitive behavior therapy strategies to guide you out of those negative thinking habits and behavioral patterns that cause your weight problems. This program helps you become aware of why you eat the way you do and what everyday situations trigger you to over-eat or eat the wrong types of food. This will allow you to lose weight, and to keep it off over the long term.
Specifically, our therapy for weight problems is based on cognitive behavioral therapy (CBT). With the help of CBT, you will learn to identify and challenge the automatic negative thoughts that cause your weight problems. Learning how to make permanent changes in your thinking will create permanent changes in your eating. You will be able to identify what situations trigger your unhealthy eating and learn new ways to deal with your emotions – instead of numbing them with food. With the help of your therapist, you will be able to incorporate healthy eating habits into your lifestyle. This will help you to reach your weight loss goal and to maintain your desired weight. You can do this, and we are here to assist you along the way!
Sign up and start getting happier now
Your therapist is ready to start the journey with you today - so what are you waiting for?
Take our test & get instant help
Answer a few questions and get immediate results and recommendations. It only takes a few minutes, so let's get started!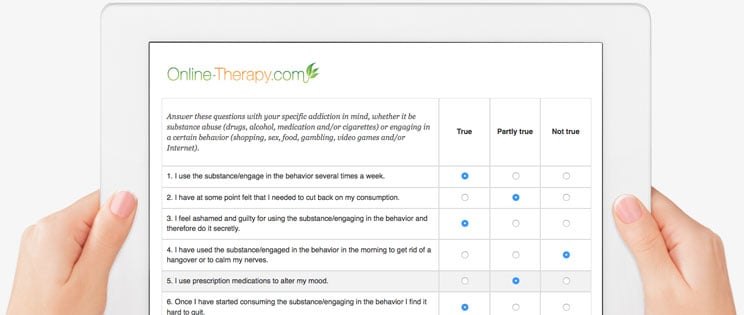 Reviews
Our online therapy services have received 2491 reviews and the average rating is 4.7 out of 5 stars.
Rating: [5 out of 5 stars!]
"I looked this up a while ago & walked away. I still need the help talking with someone about some hard stuff. The therapist assigned to me is still in the system & I'm moving forward this time. My well-being is worth it."
Stream (December 16, 2022)
Rating: [5 out of 5 stars!]
"It's aight"
Hollis (January 16, 2023)
Rating: [5 out of 5 stars!]
"I have thorouhly enjoyed the worksheets, it feels like a more involved regiment"
Selina Dionne Slotter (November 14, 2022)
Rating: [4 out of 5 stars!]
"I have a valuable experience with my counselor Ms. Seraphin. She has provided with good advice."
RobfP11222 (November 02, 2022)
Rating: [5 out of 5 stars!]
"I felt heard and valued and given useful perspectives and tools to understand and cope with my situation better. I immediately began to feel relieved once connecting with the therapist through text and video sessions. My confidence, quality of life, and my relationship with myself increased with this online support."
Caring And Attentive Service (November 24, 2022)
Rating: [5 out of 5 stars!]
"Helpful"
Pipes (January 02, 2023)
Rating: [5 out of 5 stars!]
"10/10 getting all the help I need"
Ricky (January 11, 2023)
Rating: [5 out of 5 stars!]
"Very happy so far"
Happy (October 30, 2022)
Rating: [5 out of 5 stars!]
"Online Therapy has helped greatly with my stress, depression, and anxiety in a short amount of time. Marie is a wonderful therapist - thoughtful, timely responses, and a great wealth of information. I am so grateful to have taken the leap to start therapy. It has been so worth it!"
Kat (November 20, 2022)
Rating: [4 out of 5 stars!]
"I didn't really want to start counseling via text and it was frustrating at first bc I never felt like anyone was there. It was like I was talking to a robot. The little chat bubbles didn't display until I had waited what seemed forever for a response. I have been meeting weekly for about 3 months and it gets easier. I am starting to feel like I have a relationship with my therapist. It's taken longer than I expected, but it's more authentic than other therapists in the past. I would highly recommend."
Ellie Ann (January 19, 2023)
Sign up for online therapy today
Your therapist is ready to start the journey with you today - so what are you waiting for?
Have any questions?
Are you unsure of what program to choose or have any questions about our services? Check our FAQ to alleviate any concerns.