Overcome Your Weight Problems with Online Therapy
Do you ever get frustrated with yourself for knowing what is healthy to eat, but then consuming the exact opposite?
Are you able to start a diet, but have trouble sticking with it?
Have you lost some weight in the past, only to have it come right back (and maybe even more)?
If so, the reason is not that you are weak or destined to be this weight forever. It has to do with how you lose weight.
You see, the first step to effective and long-term weight loss is not to address your eating, but rather to address your mind and why you eat the way you do. Factors that play a role include your self-image, everyday stress and negative emotions and behaviors.
Forget ineffective diets that last a few months. Get into a program where you will engage in using conventional weight loss methods combined with cognitive behavior therapy strategies to guide you out of those negative thinking habits and behavioral patterns that cause your weight problems. This program helps you become aware of why you eat the way you do and what everyday situations trigger you to over-eat or eat the wrong types of food. This will allow you to lose weight, and to keep it off over the long term.
Specifically, our therapy for weight problems is based on cognitive behavioral therapy (CBT). With the help of CBT, you will learn to identify and challenge the automatic negative thoughts that cause your weight problems. Learning how to make permanent changes in your thinking will create permanent changes in your eating. You will be able to identify what situations trigger your unhealthy eating and learn new ways to deal with your emotions – instead of numbing them with food. With the help of your therapist, you will be able to incorporate healthy eating habits into your lifestyle. This will help you to reach your weight loss goal and to maintain your desired weight. You can do this, and we are here to assist you along the way!
Sign up and start getting happier now
Your therapist is ready to start the journey with you today - so what are you waiting for?
Take our test & get instant help
Answer a few questions and get immediate results and recommendations. It only takes a few minutes, so let's get started!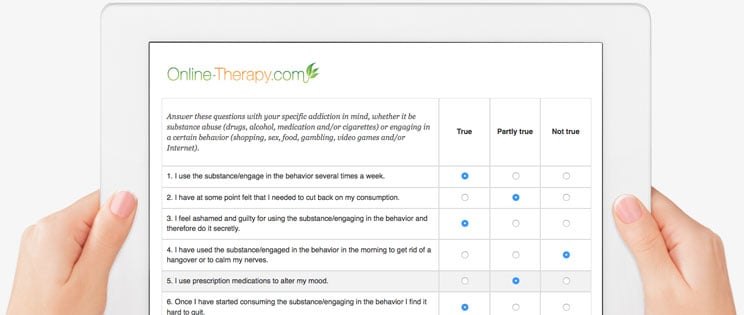 Reviews
Our online therapy services have received 2670 reviews and the average rating is 4.7 out of 5 stars.
Rating: [5 out of 5 stars!]
"Very helpful"
Sandie (May 02, 2023)
Rating: [5 out of 5 stars!]
"Great therapy offered. I could never ask for better help."
Luis (May 21, 2023)
Rating: [4 out of 5 stars!]
"Good experience so far has helped."
George (May 16, 2023)
Rating: [5 out of 5 stars!]
"It's been amazing using this website. My therapist has been super helpful and it's super convenient that I can do it anytime I want. Really glad I don't have to see anybody in person but I love having the option to video chat if I want to. I recommend this to all my friends and family who want to start therapy."
Lexi (March 14, 2023)
Rating: [3 out of 5 stars!]
"This is my first therapy experience and I went with the basic plan due to financial reasons. However, even with this plan I found the worksheets and sections to be extremely helpful. My therapist has responded to a few of my worksheets but not my direct messages. It may be due to my basic plan, I don't get the immediate responses (even though it's advertised that my therapist will responded within 24 hours of the work week). Nonetheless, my overall experience has made a big difference in the past 2 weeks and I am so grateful. It feels nice to be heard and guided through my situations. I plan on continuing my journey with this online therapy program and same therapist. Thanks so much to Dr. Cannady for helping me get this far."
Jaylene (April 03, 2023)
Rating: [5 out of 5 stars!]
"It has been a pleasant surprise, therapist is in contact daily, very personable and helpful."
Marcy (March 01, 2023)
Rating: [4 out of 5 stars!]
"This was my first time doing therapy., I like how easy and accessible it is and am glad I gave it a try."
E.B. (March 09, 2023)
Rating: [5 out of 5 stars!]
"We had to wait a week for our first appointment but once therapy started my son liked his therapist and found him very kind and responsive. Customer service is by email and takes a day or two but is responsive. Good value and quality."
New To This (May 29, 2023)
Rating: [5 out of 5 stars!]
"So far so good"
Cryst (April 06, 2023)
Rating: [5 out of 5 stars!]
"I absolutely recommend this therapy it's an amazing tool and has helped me so much in so many ways! Shout out to Dr. Vicky she's amazing"
Shannon (March 25, 2023)
Sign up for online therapy today
Your therapist is ready to start the journey with you today - so what are you waiting for?
Have any questions?
Are you unsure of what program to choose or have any questions about our services? Check our FAQ to alleviate any concerns.