Overcome Anger Problems with Online Therapy
Do you lash out verbally when someone cuts you off in traffic or does your blood pressure go through the roof when something does not go your way? Feeling angry is a perfectly normal and healthy instinct. However, when anger is excessive or uncontrollable, it becomes destructive and can lead to problems at work, in your relationships and in your overall life.
When you are uncontrollably angry, it is normal to say and do things you do not really mean but the impulse to react is too strong at that moment. When your anger gets out of control, the consequences can be very serious. There are no limits to what it will lead to for yourself and others.
Our anger management is based on cognitive behavioral therapy (CBT). To get in control of your anger, you must challenge the thoughts and behaviors that cause the anger. With the guidance of your therapist, you will be able to identify your personal triggers that make you angry with yourself or others and you will learn how to react in proportion to these triggers. You will be able to respond to your anger in a totally different way, by just letting go of the anger or acting in a different and more harmonious way. With the help of CBT, you will learn to accept and forgive and develop self-control over your thoughts and actions so that you can live life without excessive and uncontrollable anger.
Sign up and start getting happier now
Your therapist is ready to start the journey with you today - so what are you waiting for?
Take our test & get instant help
Answer a few questions and get immediate results and recommendations. It only takes a few minutes, so let's get started!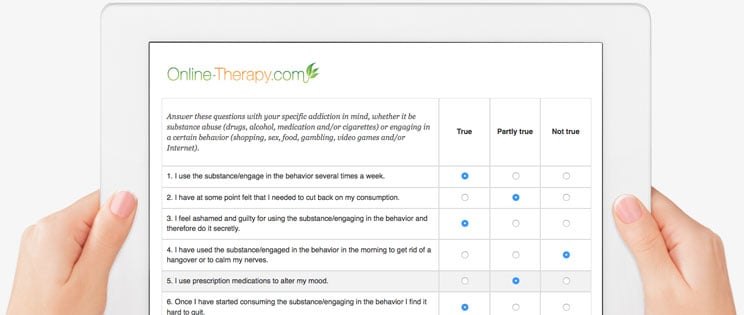 Reviews
Our online therapy services have received 2670 reviews and the average rating is 4.7 out of 5 stars.
Rating: [4 out of 5 stars!]
"Actually applying the steps has definitely helped me the most. It was really helpful to do the worksheets so I could figure out what needed to be changed in my life. I have seen some improvement over the month that I have been doing the lessons. Some of the information was sub-par but some of it was really good. I would recommend Online-Therapy to those who don't have a severe mental illness, but who are just struggling with some anxiety and/or depression."
The Worksheets Were Helpful (April 21, 2023)
Rating: [5 out of 5 stars!]
"Shawn has been sooo helpful. I was initially pretty intimidated by the idea of therapy but she made it so easy and comfortable right from the start. We now have the tools to work together and communicate effectively. I would recommend her for anyone in need. 10 out of 10 experience."
Marco (April 10, 2023)
Rating: [5 out of 5 stars!]
"I'm using OnlineTherapy for couples' counselling, very satisfied so far, the texting option is really convenient."
Bitsey Bloom (May 08, 2023)
Rating: [5 out of 5 stars!]
"Online-Therapy is great! The info about CBT is presented clearly in the format of your choice. Worksheets are ideally placed to exercise and incorporate new learnings. The Journal and Activity Plan provide a good template for starting new habits. The yoga intro was great as a (re-)introduction to a lazy, anxious mind and stiff muscles. Meditation and mindfulness are their own journeys and this program supported my efforts. The ability to work at my own pace from wherever was critical for me. Best of all was the dedicated therapist, who provided support, feedback, insight, redirection, and the benefit of her experience.
My life changed while I was engaged with this program, in part due to outside events, but I now have the tools and understandings to continue changing and to unchain me from my soul's dark night."
Wonderful! (March 28, 2023)
Rating: [4 out of 5 stars!]
"Impressive"
Pre10urme (April 15, 2023)
Rating: [5 out of 5 stars!]
"Sometimes it really does help just to talk with someone, to work through tough situations or how to handle tough emotions. As an emotional and passionate person, online-therapy has been great to help me understand how to process situations, and approach them in a calm way. Self-help cannot never be underestimated. Also having this on a my-schedule setup has helped a lot with a wife and two young kids."
Struggling Dad / Husband (May 09, 2023)
Rating: [5 out of 5 stars!]
"The feedback I have gotten on worksheets has been amazing. We are working as a team to conquer the issues I have."
Jenni (May 10, 2023)
Rating: [5 out of 5 stars!]
"I highly recommend this program! I have had a wonderful, knowledgeable, professional, caring, engaged therapist who very effectively moved with me through the worksheets and sessions. I am very pleased and will be back in the future any time I need some help. I find the worksheets extremely helpful and as I went through them, the answers came easier and got longer. It really helps you to process thoughts thoroughly. Excellent experience that I was very nervous about starting!"
Marcy (March 16, 2023)
Rating: [5 out of 5 stars!]
"I loved their organized system on Online Therapy.com. They know how to deal with the patient, which helps them to be mentally clear and happy. I am satisfied with their great service. _3

Thank you"
GK (May 14, 2023)
Rating: [5 out of 5 stars!]
"I am really happy with my therapist and the resources they provide so I can improve myself."
Juan Navarro (March 30, 2023)
Sign up for online therapy today
Your therapist is ready to start the journey with you today - so what are you waiting for?
Have any questions?
Are you unsure of what program to choose or have any questions about our services? Check our FAQ to alleviate any concerns.