Overcome Your Depression with Online Therapy
Do you have feelings of sadness and hopelessness, problems sleeping or are you experiencing a loss of energy and interest in daily activities? Feeling sad or having mood swings are just normal reactions to the ups and downs of life that everybody experiences. But if emptiness, worthlessness and helplessness have taken hold of your life and will not go away, you may be suffering from depression.
Most often, depression interferes with one's daily life and causes distress for both you and those who care about you. It makes it tough to function and enjoy your day-to-day life. You can no longer work, study, eat, sleep and enjoy life like you once did. Some even experience depression that is like living in "a black hole".
Our therapy for depression is based on cognitive behavioral therapy (CBT). It's your automatic dysfunctional thinking that perpetuates your depression. It keeps you in a downwards spiral of negative thoughts about yourself and the world around you. With the guidance of our online therapy program for depression and your therapist, you will learn that these negative thoughts are not reality. Rather, they are dysfunctional beliefs about your self and your life, and are something that can be replaced with more realistic and healthier ways of thinking. Using CBT you will learn coping strategies, so that you eventually will be able to face previously feared situations without getting anxious or feeling depressed. The focus of the therapy is not on the past and what caused your depression symptoms. Your therapist will work on making you feel better about yourself, here and now - and in the future.
Sign up and start getting happier now
Your therapist is ready to start the journey with you today - so what are you waiting for?
RIGHT NOW:

Free therapy due to the coronavirus pandemic

We want to help as many people as possible during these extraordinary times.
Therefore we are offering parts of our online therapy platform for free.

The free access includes our online therapy program with 8 easy-to-follow sections and 25 worksheets, yoga and meditation videos, activity plan, journal, and tests (communicating with a personal therapist is not included).
Take our test & get instant help
Answer a few questions and get immediate results and recommendations. It only takes a few minutes, so let's get started!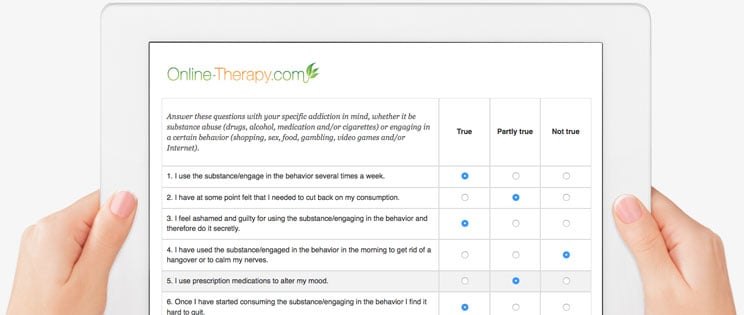 Reviews
Our online therapy services have received 1075 reviews and the average rating is 4.7 out of 5 stars.
Rating: [5 out of 5 stars!]
"I really like the way therapy is organized on this website. I was looking for a way to be certain that my therapy would be focused on CBT as I knew it was the most empirically supported treatment modality and that is how I found this service.
The course which includes lessons and worksheets provides a basis the therapeutic process is built on. However, I am very happy to say that my therapist, Chelsea Schuringa, is very engaging and helpful so I am very much benefitting from both the course and the more traditional video sessions and communication via messages. It turns out the two aspects that are uniquely combined on this website work excellent together."
Storyteller (October 18, 2020)
Rating: [4 out of 5 stars!]
"Overall I like how structured this program was. I enjoyed the videos and the activities. I thought the thought traps were a great way of seeing how my thoughts work and what is causing these negative thoughts. It also made me aware of how I can change the way I think of things."
New Way Of Thinking (October 14, 2020)
Rating: [5 out of 5 stars!]
"So helpful and getting more out of it than I thought I would"
K H (September 27, 2020)
Rating: [5 out of 5 stars!]
"Great support at a time when things are really tough. Life gets hard and having a place to get things straight in your head is very important to surviving in this difficult world."
LDMJ (November 17, 2020)
Rating: [5 out of 5 stars!]
"This online course has showed my some outline that I never would've thought of unless I came to the course and I appreciate the time and effort put into it. I feel lighter and have a clearer picture on what to do moving forward with my life and past experiences."
Pg (September 29, 2020)
Rating: [5 out of 5 stars!]
"How valuable has Sofia's counseling/coaching been? Good enough that I offered to pay for my brother-in-law and mother-in-law's counseling, in full, indefinitely.

I've worked with Sofia Schuringa through Online-Therapy.com for less than 1 week. I should have done it years ago. Her lines of questions and thoughtful responses have already provided more value in that short time, than the first month's entire payment.

The curriculum alone is fantastic and would be worth paying for. Sofia's prompt, expert, thoughtful, personable, and caring responses, on top of the curriculum, have already improved my relationship with my wife and I can see how a bit more work on my part, with her continued guidance, will continue my marital improvement and probably the same for every relationship in my life.

Just purchase now and dive in. You won't regret it.

This is my first experience with online therapy of any kind, and my first experience with therapy outside of brief marital counseling as an adult. I've always said that it was useful, and recommended counseling to others when I've seen a need. Never thought it would be useful for me! Wrong. Worth every last penny. Would pay more. Good luck getting rid of me! My wife has her own counselor, too. Also worth every penny and then some.

Best purchase of 2020 by far."
Alex (September 17, 2020)
Rating: [5 out of 5 stars!]
"David shows up On time each week with helpful tips and exercises to combat my old ways of thinking."
Strike Gold (September 08, 2020)
Rating: [5 out of 5 stars!]
"i was not very optimistic when i began my online therapy. However after several weeks of writing about my issues i started to see a a pattern in my behavior. talking weekly with my therapist has helped me. i don't always agree with what he has to say but maybe it's because i don't want to hear it. the important thing is i have more calm."
FJJ (October 01, 2020)
Rating: [3 out of 5 stars!]
"In the few days that I have used this site I have found it helpful. My therapist is helping me breakdown my thoughts and helping me discover the innate behaviors that have been troubling me. I look forward to continue my journey and feel better with online-therapy."
Maanvi (September 15, 2020)
Rating: [5 out of 5 stars!]
"So far so good. I'm really new to this so I'm just getting the hang of it."
Kim (October 30, 2020)
Sign up for online therapy today
Your therapist is ready to start the journey with you today - so what are you waiting for?
Have any questions?
Are you unsure of what program to choose or have any questions about our services? Check our FAQ to alleviate any concerns.