Overcome Your Depression with Online Therapy
Do you have feelings of sadness and hopelessness, problems sleeping or experiencing loss of energy and interest in daily activities? Feeling sad or having mood swings are just normal reactions to the ups and downs of life that everybody experiences. But if emptiness, worthlessness and helplessness have taken hold of your life and will not go away, you may be suffering from depression.
Most often, depression interferes with one's daily life and causes distress for both you and those who care about you, making it tough to function and enjoy your day-to-day life. You can no longer work, study, eat, sleep and enjoy life like you once did. Some even experiences depression like living in "a black hole".
Our therapy for depression is based on cognitive behavioral therapy (CBT). It's your automatic dysfunctional thinking that causes your depression, keeping you in a downwards spiral of degrading thoughts about yourself and the world around you. With the guidance of our online therapy program for depression and your therapist you will learn that these negative thoughts are not reality. Instead it's a dysfunctional perception of your life and something that can be replaced with more realistic and healthier ways of thinking. Using CBT you will learn coping strategies so that you eventually will be able to face previously feared situation without getting anxious or feeling depressed. The focus of the therapy is not on the past and what caused your depression symptoms. Instead your therapist will work on making you feel better about yourself, here and now - and in the future.
Sign up and start getting happier now
Your therapist is ready to start the journey with you today - so what are you waiting for?
Take our test & get instant help
Answer a few questions and get immediate result and recommendations. It only takes a few minutes, so let's get started!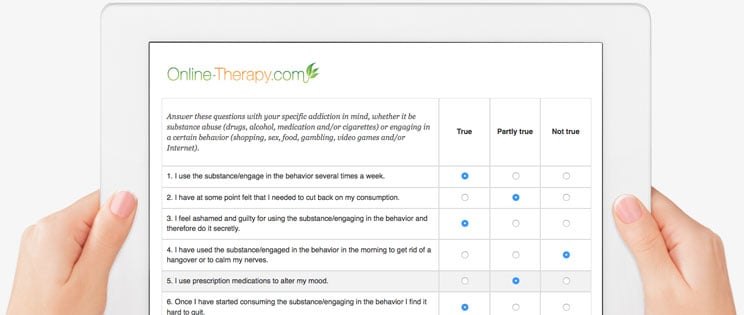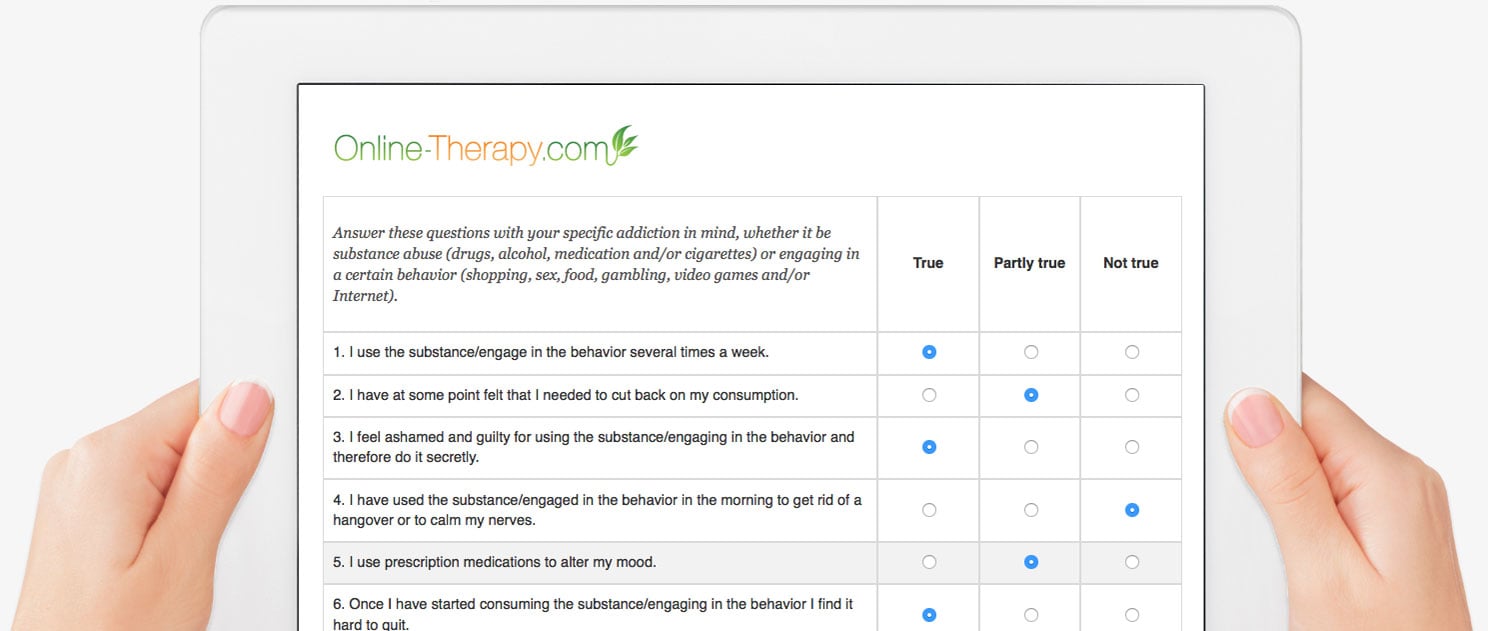 Reviews - Depression
This program has received 70 reviews and the average rating is 4.6 out of 5 stars.
Rating: [4 out of 5 stars!]
"My interaction on this site reinforces my opinion that therapy is only as good as the participant. I am not really committed to this therapy. However, the tools and advice seems to be adequate. I would like more follow up from my therapist, though."
Newbie (April 14, 2017)
Rating: [5 out of 5 stars!]
"I'm really happy I took the leap of faith to try this service. I feel Maggie is able to focus me in a kind, safe way.
I have felt absolutely stuck for a long long time. In a short time I feel less stuck. I look forward to her getting her emails."
Margie (April 12, 2017)
Rating: [5 out of 5 stars!]
"Love the service, love that its here when I need it, I can go at my own pace."
Brian (March 28, 2017)
Rating: [5 out of 5 stars!]
"Very helpful as an adjunct to my formal therapy. My therapist I thought was very helpful."
Izzy (March 08, 2017)
Rating: [4 out of 5 stars!]
"I am happy so far, regular comments from my therapist and easy to work through the sections"
Goody (February 28, 2017)
Rating: [5 out of 5 stars!]
"The format works well for me this far."
Mark (January 23, 2017)
Rating: [5 out of 5 stars!]
"I was skeptic at first but so far it's been great! So glad I decided to do online therapy."
Hem (January 16, 2017)
Rating: [5 out of 5 stars!]
"Maggie is very helpful so far and very happy with our conversations, I find it very helpful and I think I will benefit well from the advice and worksheets that we are doing. Looking forward to a new me...."
Teabag (January 12, 2017)
Rating: [5 out of 5 stars!]
"Excellent service so far."
Leanne (December 29, 2016)
Rating: [4 out of 5 stars!]
"The proof is in the pudding: I'm feeling better and more hopeful about the future."
Still Crazy (August 29, 2016)
Rating: [4 out of 5 stars!]
"So far, service seems thorough with worksheet I have completed."
Cass (July 26, 2016)
Rating: [4 out of 5 stars!]
"I cannot fault the wisdom of the observations and comments I am getting from my therapist Maggie Sweet. She seems to me to be excellently qualified for the task she's carrying out and she is always sympathetic and understanding. Against that, sometimes - stress JUST SOMETIMES - some of the suggestions for active participation (which I totally support in principle) run up against certain practical obstacles."
Much Support Vs Practical Obstacles (June 29, 2016)
Rating: [4 out of 5 stars!]
"What a fantastic concept and great program. The program is manageable and takes you through things one bit at a time."
Tom (June 14, 2016)
Rating: [4 out of 5 stars!]
"Only just over a week into this but so far very quick response and relevant material. For me this is much better than trying to do the same thing alone."
Bluechuby (May 23, 2016)
Rating: [3 out of 5 stars!]
"Very good."
Loz (May 03, 2016)
Rating: [4 out of 5 stars!]
"Fast response, great feedback, very helpful!"
Brian (March 16, 2016)
Rating: [4 out of 5 stars!]
"The online therapy really helped put a issue I was facing into perspective. Although it's an issue I still find confronting, the online therapy has given me tips, tricks and lessons which I can always use to find perspective again. I found doing the daily tasks very helpful as I could come back to it at any time of the day. I definitely do it again if the future calls for it."
Mandy (November 01, 2015)
Rating: [5 out of 5 stars!]
"I enjoyed the positive comments from my therapist Maggie Sweet. The worksheets and the sessions helped a lot. I would recommend this program to anyone.

Thank you, Maggie.

Chris Collins"
Chris C (August 20, 2014)
Rating: [4 out of 5 stars!]
"The program is helpful. Having the therapist weigh in on your worksheet is good. Having a chat session online is also good.
Thank you."
Anonymous (April 14, 2014)
Rating: [4 out of 5 stars!]
"This self-help programme has been very useful for me. It is structured in a way that helps us analize our feelings and thinking. It shows another and more productive way of thinking. It is positive and reinforce our sense of worth. I worked very happily through the worksheets. The sessions are simple to understand and the therapist comments are valuable tools. Good job! Thank you."
Emanuela (March 06, 2014)
Rating: [3 out of 5 stars!]
"The experience was across the board helpful to me."
Susan (February 28, 2014)
Rating: [5 out of 5 stars!]
"Sincerely thank you for everything therapist Maggie, means the world to me. I guarantee therapy would not have had the same effect or outcome if I had not found you.

Literally life changing. I know I have work to do and many things to learn but I feel confident in the road ahead. I'm sure there will be bumps in the road, but not life ending or anywhere close to that.

Thank you for everything!"
Cherly (January 21, 2014)
Rating: [5 out of 5 stars!]
"Maggie has been an angel and has truly opened my eyes by being patient, caring, and all around a lovely person. I appreciate her wisdom and experience. Can't imagine another therapist would have had the same influence on me. Can't say thank you enough!!"
Sheryl (December 04, 2013)
Rating: [5 out of 5 stars!]
"My therapist Maggie is wonderful and understanding. Very patient and allows me to work through things at my own pace, never rushes me. Very grateful I found her!!!"
Sheryl (October 25, 2013)
Rating: [5 out of 5 stars!]
"This is a very good program. I don't have to go anywhere to see a therapist. I just switch on my computer. My therapist is doing a really good job and we chat when it is convenient for me. I am really grateful because due to the time difference, it might not always be easy for her. The discussions give me a lot of insight and her comments are there, written for me to see and revise later. This helps a lot. I can go through them over and over again. A big thank you."
Anastasia (September 06, 2013)
Rating: [3 out of 5 stars!]
"I had an emergency and did not get to do the program at all that I paid for. Is there a chance I could still do it? Thanks!

Online-Therapy.com reply: Yes, no problems Deborah. We've added 8 extra weeks of full access to your account!"
Deborah (July 26, 2013)
Rating: [5 out of 5 stars!]
"My therapist is Maggie Sweet - she is excellent, friendly, helpful and I cannot speak too highly of her."
Steve Davies (June 27, 2013)
Rating: [4 out of 5 stars!]
"Hi, The therapy has been excellent for me personally. My therapist Maggie has been great with email and worksheets. She has been straight with me and if I have said something she does not agree with, she will tell me as well as also agreeing when I've said correct things.

Still have a month to go and I'm sure I will keep up with the course as well as re-joining again when the 8 weeks have expired.

Been great help to me and I'm getting out of the hole I had dug myself in to."
JP (March 25, 2013)
Rating: [5 out of 5 stars!]
"Well the good news is that I am doing very well, and have lots of good things happening. I want to thank my therapist for being there at a time when my world got dark. I trust you will be there if I ever want to resume sessions of some form.

I learned a lot from CBT, mostly to look at my thoughts and see how they build my life, positively or negatively. I wish you all the best in your work and life Maggie."
K.I. (February 05, 2013)
Rating: [4 out of 5 stars!]
"Well, It is hard to say. The feedback has been positive and I can see how the plan can work if I follow it."
Grace McCullum (January 12, 2013)
Rating: [5 out of 5 stars!]
"I like the worksheets and I like the 8 weeks of counselling. My therapist is so nice and she is helping me overcome my problems. I like having the opportunity to be able to chat online with her. She is a very caring and sweet. I would recommend this internet therapy to anyone. I really think my counsellor is doing an excellent job and I am finally getting the help I need. Thank you for setting me up with a counsellor that cares. I would rate your program more than good. It is excellent."
Maryyoung (December 26, 2012)
Rating: [5 out of 5 stars!]
"You have taught me well and got me out of my depression. Everything is now great, I broke up with my boyfriend and moved back to Canada, where I belong. You helped me see the world in bright colors and you helped me see the world more clearer.

I appreciate the time you worked with me. Everything is so wonderful and I'm going to get my sister into this program. Thank you for all your help. Your Friend Karen."
Karen (December 04, 2012)
Rating: [5 out of 5 stars!]
"I 'm very happy with my online therapy program. I like the worksheets and I like that my therapist can give her opinion about what I am doing wrong and she shares with me how to overcome my depression. She gives me lots of feedback. My therapist is very caring and I feel comfortable talking to her. She does not judge me. I feel honored that there is an online therapy to help me and I would recommend this highly. Thank you."
Mary (October 31, 2012)
Rating: [4 out of 5 stars!]
"The work sheets are excellent. The worksheets really make you contemplate on what's actually bothering You.
It would be 10 stars if the live used webcam chat."
Blueberry (October 20, 2012)
Rating: [4 out of 5 stars!]
"I found the therapy to be effective for me. At the beginning, I took the test for depression and scored 93/100 for depression. By the time I was complete, my score dropped to 7/100. It worked for me!"
Smicklos (October 05, 2012)
Rating: [5 out of 5 stars!]
"I didn't know what to expect when I started this course but find the worksheets give me something to work on and talking to my Therapist seems very real as though she is just in another room- I can see that it will take some time to change my mindset but feel I am making progress- I had thought of going to a Therapist a friend recommended but I would have had to travel quite a way every visit so feel doing it online I can do things in my own time. Of course it would be nice to meet my therapist as i have told her quite a bit about myself but I feel it works sharing things online. I am really planning on getting things right and being positive again- so thank you for your help at On Line Therapy"
Maggie (July 26, 2012)
Rating: [5 out of 5 stars!]
"I feel much better, constantly. Much much better. I believe I have learned to think in a different way. To understand my thoughts, to be able to challenge unrealistic ones and to have control over my behaviour, feelings and thoughts. I have learned that I can manage my life to a large extend. THANK YOU."
Elise (June 04, 2012)
Rating: [5 out of 5 stars!]
"I like the worksheets and my therapist is good at answering in a timely manner. Having the therapist online is very helpful. She helps you to move thru to the next session.

Thus far I like the sessions, but I'm worried that I will not complete them in time. However, the online therapy does keep one focused and the sense of succeeding completion of the sessions will be great."
Rc Matheson (May 28, 2012)
Rating: [5 out of 5 stars!]
"My name is John Rudkin, I am just 66 years old and I have worked in education all my adult life. I have also experienced bouts of depression, anxiety and emotional crises at stages since my mid-twenties.

I am resident in the UK and because of issues within the National Health Service I ran out of "local Health Centre Treatment" ages ago. I have paid for various therapists over the years, but have never found processes to hold onto and go forward with. Consequently I have lived and worked with a shadow of relapse like an "old dog" in the shadows.

In my final year of work something occurred and I tipped into extremely anxious paranoia. For the first time in my work in Further Education I had to go sick for 6 months and retire from that point.

College paid for some CBT, but obviously I had to wait to get on the programme and it ceased with retirement. I really wasn't ready to be without support but tried to muddle-on, until I knew I was just fooling myself. I came across this on-line offering and decided I would try it.

Maggie Sweet identified herself as my on-line therapist and with my only concerns being my lack of IT skill I embarked on the programme. The process for me is terrific, because I can revisit what I've written and what Maggie has suggested or questioned in my own time. Nothing is lost or forgotten.

Face to face can sometimes be affected by body language, running late, lousy drive to the therapist centre or whatever. This process is so much more accessible.

Maggie was always real though. I felt a warm empathetic person who really cared. This could easily be downloading standardised response, by a bored employee in wherever, but it isn't. Of course some stuff is standardised but the therapist is selecting, commenting and metaphorically holding me, the client.

I got some stuff wrong because of my IT ignorance. Like trying a Skype link, but the written communication more than compensated for that. Maggie made me feel trusted, accepted and cared about in a purposeful way. Sympathy's fine, but healing needs guidance. Trust is paramount if the client is able to accept guidance and questioning as not judgemental.

We all in theses moments of crisis are on the alert for rejection, so the therapist has a delicate path to tread. I count myself very lucky that I decided to try this process and blessed that I got Maggie to work with. For the first time I have a printed-off resource that I can revisit when I need.

I've really confronted my drinking and my wife and I are certain that we do not continue to be slaves to booze. The money saved would buy a decent holiday!

I have a more reasoned take on the last crisis at work and how destructive my "self-blame" fall-back position has been.

I am much more realistic about the fact that we make mistakes, but above all I have the whole process printed as my "well-being" resource.

Maggie has got me here. I know I had to work at it, but Maggie's humanity was the glue that held it all together.

I'm a lucky man."
John (May 02, 2012)
Rating: [5 out of 5 stars!]
"The program has been very helpful for me. I already feel better and think in a more clear way. Specific and clear information and step by step exercises in worksheets make it a practical process for changing behavior and thinking patterns. The help of my therapist Maggie Sweet is very valuable. Thank you."
Eftychis Eftychiou (April 27, 2012)
Rating: [4 out of 5 stars!]
"Do you like the worksheets?
Yes, I think the worksheets are well design to help oneself analyse their thoughts and problems.

Do you find it useful to have your own personal therapist online?
Yes, very helpful. I believe the therapist has to know you as a person and your specific problems in order to help you progress. My therapist Maggie is helping me find and realise my problems and where I can improve. I believe it will be a life changing for me.

Do you like the 8 sessions?
Yeah, it's well written, easy to follow and very precise. A lot of sentences/ideas are worth to thinking."
Eva (February 09, 2012)
Rating: [4 out of 5 stars!]
"Hi, I chose on-line because of cost-factor and limitations of National Health service (UK).
I do find that as someone with rather poor IT skills, I could have done with more guidance/hand-holding to access & complete worksheets.

8 sessions seems reasonable, but I worry that my lack of technological aptitude could cause pressures for me.

Having a therapist on-line is brilliant......as is the whole concept.

I'm 65 and I have tried various forms of therapy. I like this because I can really concentrate my thoughts through writing, and I feel less stigmatised (if that makes sense). When I first sort help it was usually a bus ride to an out of town large Victorian Building and that certainly reinforced feelings of 'separateness'.

So I'm OK but proscribed by my slowness with my Lap-top.

I'd certainly unhesitatingly recommend others to try this approach."
John Rudkin (January 24, 2012)
Rating: [5 out of 5 stars!]
"Maggie is my therapist and I have found this service to be excellent. It is ideal for me because I have small children and I work full time and do not have time to visit a therapist. Maggie is understanding and has made see things much more clearly, she has definitely shown me how my thought processes can be harmful to myself and loved ones. With my therapists assistance I have come so far in such a short time. I feel empowered again."
Ils (January 23, 2012)
Rating: [5 out of 5 stars!]
"Yes, I am finding the on line therapy very helpful and useful. I enjoy being able to do it at my own pace and at home. The format of worksheets makes it thorough so that all issues are covered and categorically dealt with as they would if it were face to face in person.

I am actually pleasantly surprized at how helpful it is as we have not been on line very long and I am not the most computer literate person there is! I think the feedback is very good and personalized and have a lot of respect for the therapist's comments. They make me feel she is giving real attention to my specific worries and making me think carefully about my worries.

It does not in any way feel like a set program or format, even though I recognize that similar problems may present time and time again. I endeavor to work my way through the program, even though there will obviously be the holiday break. I usually work the worksheets Monday to Friday then stop for the weekend. I find this pace best as it gives me time to reflect until Monday."
Susan Moran (December 19, 2011)
Rating: [5 out of 5 stars!]
"I have suffered depression for many years and even had medication to treat this, but nothing seemed to help long term and I did not want too end up an addict. Yet looking at my life I had no obvious reason to be depressed: debt free, owned our home, a husband who loved me, good job and good health YET I WAS STILL DEPRESSED. WHY?

My name is Cherie and I live in Perth, West Australia. Apart from being a housewife I also work so spare time is rare. To even get a doctors appointment to fit in with my busy schedule is hard so when my Medical Doctor recommended https://www.online-therapy.com as a reputable course to assist me with depression through councelling I liked the idea, something I could do in my own time and 100% private, good thing is I did not need to look anyone in the eye and admit my problems as I was ashamed. Even though I thought I probably do not need this course , but I wanted an answer to my question WHY?

I decided to sign on and then I met Maggie Sweet who would be my councellor. Who is this person Maggie? After reading Maggies' background I felt confident I was in good hands but I still felt a little uneasy. As I started the course, Maggie gently guided me through the worksheets, sessions and started communicating with me over the chat, emails and comments in the worksheet pages. Maggie asked me questions, made comments on my feedback and without realising the councelling had already begun. WOW, how does this person know me so well?

Because I wanted the truth and to be free of depression Maggie guided me to the ROOT of the problem and where the depression started (which was from my childhood approx 40 years ago). Maggie encouraged me to be honest that if I was angry to let it out. She stood by with compassion as I cried, she supported all of my feelings but also helped me see the whole picture. Maggie was honest with me, even when I didn't want to face the truth Maggie helped me to see it in a very caring manner. When I hurt she was there for me and other times when I needed Maggie to be firm she was. So as I progressed through the course I very quickly learnt Maggie is someone I cannot see but I can trust, Maggie is someone I call a genuine real person.

So, I accepted Maggies guidance, support and believed what she said and today because of Maggie I am a new person, FREE FROM DEPRESSION and for the first time I am excited about life and each day it brings. Using the tools Maggie taught me helps me to remain positive and see things much clearer. YES, I CAN BE POSITIVE in a negative world and that black whole of depression no longer beckons me.

Regards,
Cherie"
Cherie (August 01, 2011)
Rating: [5 out of 5 stars!]
"I do feel the worksheets are extremely helpful. I find that I really have to dig and think through my answers to the questions on the worksheets. This is the whole point... to make us really look truthfully at the root issues. The worksheets really help us probe for the real issues.

Although I haven't used the online therapist very often, I know how important it is to know that a therapist is right there when I really need one. Or if I get "stuck" there is someone that can help me out right now, right on the spot. That is really comforting.

It is taking more much more than the initial 8 weeks. I think it all depends on the individual, how broad their problems extend, etc. 8 weeks is great for some. Others, like myself may need more time which is great to have that option."
Pujaandloka (June 14, 2011)
Rating: [5 out of 5 stars!]
"I especially appreciate that you are here to listen to me. I guess you know that much of what I have said is not known to anyone else. It's hard to keep some things bottled up. And it's confusing to know where to start with fixing oneself up from what I would consider to be the brink of a nervous breakdown. So THANK YOU ever so much."
Susie (June 02, 2011)
Rating: [5 out of 5 stars!]
"This has helped me today so much that i am now able to stay on track.

I am so lucky to have come across the online therapy, i have been trying to change my thought processes and this is changing my life. i have a structure to work through and then i have the opportunity to reflect and then seek help. I am truly blessed. Thank you"
Rene (May 23, 2011)
Rating: [5 out of 5 stars!]
"Yes I do like the online therapy. It can be done at my convenience and the 8 week course is long enough to really think about it. Also I like that I can go back to answered questions and add to them. The worksheets are a good idea because you can put down all your thoughts.

I would recommend it. I am feeling a lot better and part of that is due to doing this course."
Sandra (May 18, 2011)
Rating: [5 out of 5 stars!]
"My therapist is wonderful, insightful and kind. I couldn't have made it through the last few weeks without her help. Angels really do exist..."
Just Me (May 17, 2011)
Rating: [4 out of 5 stars!]
"I heard about you through word of mouth. In general I think this service is valuable., For people that may have trouble facing anyone or admitting to anyone he needs help this could be ideal.

Chat: Great - it is almost like having a face to face talk.

Worksheets: Initially a little confusing but did not take long to understand.

8 Sessions: as I am only up to 4 and I am hoping that all the stuff we have unrevealed will be addressed by the end."
Cherie (May 04, 2011)
Rating: [5 out of 5 stars!]
"Excellent service, thanks it has given me some peace of mind and hope."
Kelleher (March 11, 2011)
Rating: [5 out of 5 stars!]
"The online therapy is working for me. I think that is it a great tool with a lot of valuable information. Having the online therapist really does feel like I have a personal therapist. She has provided me with useful resources and tools to apply to my everyday life. She has also helped me through a couple of really tight spots.

Another highly valuable aspect is that fact that I can work through this therapy at my own pace. I have taken advantage of the discounted extensions and really appreciate that option!"
Tammy (January 26, 2011)
Rating: [4 out of 5 stars!]
"My therapist was so kind and understanding. Although I feel very depressed she also could see how anxious I was, and so quickly. Psychotherapists amaze me at how... how... spot on they can be and so fast. I certainly feel anxious now. But

I am so pleased I found this website of yours. Bye and thank you very much."
Laura (January 06, 2011)
Rating: [5 out of 5 stars!]
"As stupid as this sounds, your program brought me to tears. Your offer to take something off my plate was so kind. I am really burned out as a caregiver right now and felt without hope.

I read that online therapy was effective, but the person in charge of the study told me it was unavailable to the public. Then I stumbled onto your site and you. Thank you - God Bless."
Diane (January 04, 2011)
Rating: [5 out of 5 stars!]
"I am doing much better now, thanks to you. Happy New Year!!"
Sue (December 31, 2010)
Rating: [5 out of 5 stars!]
"I'm impressed with the efficiency and legitimacy of this site. And you have been very honest with a heart. Thank u."
T N (December 17, 2010)
Rating: [5 out of 5 stars!]
"I really like the experience of the on-line therapy program. I have only been enrolled for two weeks, so I'm not sure how things will turn out yet, but it has been very helpful so far.

The worksheets have been very thought-provoking, and have really made me work hard to understand what issues are contributing to my depression and how my faulty thinking is preventing me from living the happy life that I desire. I have been working with my therapist, Maggie, and she has been absolutely wonderful! Even though we have never met in person, I feel that she really understands what I'm going through and has been an amazing support for me.

It's great that I get feedback on the worksheets every day. It really helps to get that immediate validation or advice on what I'm worrying about or working through. Maggie has been a great source of helpful information and techniques.

I wish there were webcam sessions, where maybe once a week or so I could talk directly with Maggie, but until that's available, talking with her through the worksheets, email and live chat is very helpful."
Kim (October 28, 2010)
Rating: [5 out of 5 stars!]
"I've been really trying to deal with my problems more effectively the last couple of days thanks to this course.

Deep breaths and your words in my head telling me that I need to be there to show my kids how to behave are helping already.

Thank you!!"
Sarah (October 22, 2010)
Rating: [5 out of 5 stars!]
"The eight sessions where helpful. Having on line therapist was very helpful.

I have also recommended this to a person that has a niece & daughter with depression. I am sure they would get a lot out of this therapy."
Janet Ott (August 15, 2010)
Rating: [5 out of 5 stars!]
"I have been doing this for now 3 weeks.
I have found this helpful, as it has diagnosed a lot of my problems.
I find the worksheets easy to follow.
The feed back from Maggie, is challenging & makes me stop & think about my life in.
I find this convenient, as I can do at own time & place.
The cost is excellent & now look forward to continuing"
Janet Ott (August 15, 2010)
Rating: [5 out of 5 stars!]
"I've taken some time to review my therapist notes and work on me and some of the things she suggested. I've been feeling pretty happy, less anxious. I've accepted and am accepting some of the things that I can't change. I feel as though I've come to peace with a few things. I've talked a lot with my friends and family about everything. I've been a cup of over flowing emotion. The release has made me feel much better. Thanks."
Anonymous (August 09, 2010)
Rating: [5 out of 5 stars!]
"Hi, my name is Erica and online-therapy.com is the best. Maggie ia the BEST therapist every she is so sweet she helps me out when I'm sad."
Erica (March 10, 2010)
Rating: [5 out of 5 stars!]
"I believe that the programme has brought me back to feeling good again. I have found it very helpful in raising my mood and making me start to engage with people and tasks again. I am very pleased by the results so far."
Paul (March 08, 2010)
Rating: [5 out of 5 stars!]
"...If i have any concerns i like to chat with you again. you are a very good therapist - helping me with my depression."
Live Support (February 17, 2010)
Rating: [5 out of 5 stars!]
"I feel better since I begin this live chat session with therapist Maggie."
Progress (February 09, 2010)
Rating: [5 out of 5 stars!]
"Thank you so much. You have done more for me than what the land-base psychiatrists has done for me in the past 5-years."
*L* (February 09, 2010)
Rating: [5 out of 5 stars!]
"My depression made me so desperate that there were times I didn't want to carry on. My mother suggested I try the online depression program because I had tried so many other therapies without success. I didn't believe in it at first. Why should this work when nothing else had? But within weeks I felt happier. My depression lifted and I learned a new way to look at life and my problems. I learned to think differently and It's all thanks to the online cognitive treatment I found here."
Angie (September 15, 2009)
Rating: [4 out of 5 stars!]
"I have suffered from depression for years, ever since my teens. I thought I'd never know what it was like to live without the black cloud hanging over me. Then a friend suggested I try this depression program. I have never looked back. I have my bad days, still, but this website gave me the tools I need to get over the rough times so that my depression no longer lasts for so long. Thank you for showing me the way to find happiness!"
Ellen (August 27, 2009)
Rating: [5 out of 5 stars!]
"This is a comprehensive and easy course to follow and is highly recommended. With the step-by-step treatment, my depression was gone in a matter of weeks. The panic attacks took a little longer, but within two month I was more or less back to normal. This is serious material sold over the Internet with really good results. I'm so thankful."
Rosemary (August 24, 2009)
Sign up for online therapy today
Your therapist is ready to start the journey with you today - so what are you waiting for?