Overcome Your Depression with Online Therapy
Do you have feelings of sadness and hopelessness, problems sleeping or are you experiencing a loss of energy and interest in daily activities? Feeling sad or having mood swings are just normal reactions to the ups and downs of life that everybody experiences. But if emptiness, worthlessness and helplessness have taken hold of your life and will not go away, you may be suffering from depression.
Most often, depression interferes with one's daily life and causes distress for both you and those who care about you. It makes it tough to function and enjoy your day-to-day life. You can no longer work, study, eat, sleep and enjoy life like you once did. Some even experience depression that is like living in "a black hole".
Our therapy for depression is based on cognitive behavioral therapy (CBT). It's your automatic dysfunctional thinking that perpetuates your depression. It keeps you in a downwards spiral of negative thoughts about yourself and the world around you. With the guidance of our online therapy program for depression and your therapist, you will learn that these negative thoughts are not reality. Rather, they are dysfunctional beliefs about your self and your life, and are something that can be replaced with more realistic and healthier ways of thinking. Using CBT you will learn coping strategies, so that you eventually will be able to face previously feared situations without getting anxious or feeling depressed. The focus of the therapy is not on the past and what caused your depression symptoms. Your therapist will work on making you feel better about yourself, here and now - and in the future.
Sign up and start getting happier now
Your therapist is ready to start the journey with you today - so what are you waiting for?
RIGHT NOW:

Free therapy due to the coronavirus pandemic

We want to help as many people as possible during these extraordinary times.
Therefore we are offering parts of our online therapy platform for free.

The free access includes our online therapy program with 8 easy-to-follow sections and 25 worksheets, yoga and meditation videos, activity plan, journal, and tests (communicating with a personal therapist is not included).
Take our test & get instant help
Answer a few questions and get immediate results and recommendations. It only takes a few minutes, so let's get started!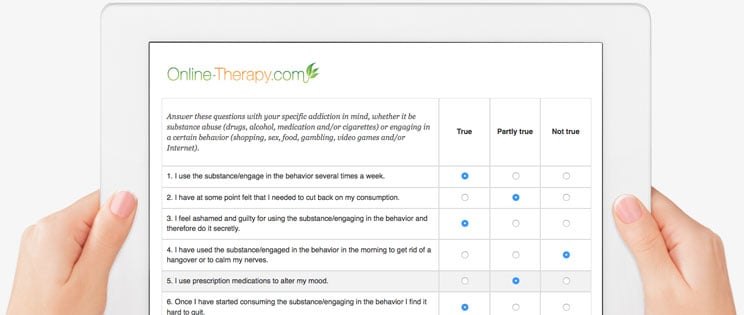 Reviews
Our online therapy services have received 973 reviews and the average rating is 4.6 out of 5 stars.
Rating: [5 out of 5 stars!]
"The Online Therapy is really helpful , i love it."
Casper (July 22, 2020)
Rating: [4 out of 5 stars!]
"I feel like I can connect with my Therapist, in this past month and a half I have been able to share a lot of my fears with her and there is no judgement only encouragement. I love the concept of worksheets it allows for self mood tracking. I also journal my thoughts for my therapist to read."
Online-therapy-review (August 11, 2020)
Rating: [5 out of 5 stars!]
"My therapist is great I actually feel like I am listened to and have an outlet for my emotions in a positive environment and I get positive constructive criticism on things I have an issue with."
Jezzy (September 08, 2020)
Rating: [4 out of 5 stars!]
"Definitely has helped me. Very convenient. I would recommend."
Initial Review (September 06, 2020)
Rating: [5 out of 5 stars!]
"I think your programs are awesome I'd been working with your worksheets and its really helpful. I'd been managing my emotions in a better way"
The Procrastinator (June 26, 2020)
Rating: [5 out of 5 stars!]
"It's been working wonders for me so far!"
Online Therapy (July 23, 2020)
Rating: [5 out of 5 stars!]
"You guys are awesome i was able to reflect and find real strategies for life"
Joker (July 07, 2020)
Rating: [4 out of 5 stars!]
"I have only been doing this program for a couple of weeks, but I find the worksheets and especially the feedback from my therapist very helpful. I plan to continue with it."
Helpful So Far (July 08, 2020)
Rating: [5 out of 5 stars!]
"Excellent"
Milli (July 18, 2020)
Rating: [5 out of 5 stars!]
"Therapy is a jewel and I am glad that I took the time to sign up and go forward with this. The worksheets were helpful and my assigned Therapist was also great. She was attentive and encouraging. As life is a journey, I am grateful for the tools I was able to learn and apply, this was very timely in my life."
Vee (September 12, 2020)
Sign up for online therapy today
Your therapist is ready to start the journey with you today - so what are you waiting for?
Have any questions?
Are you unsure of what program to choose or have any questions about our services? Check our FAQ to alleviate any concerns.