Overcome Your Depression with Online Therapy
Do you have feelings of sadness and hopelessness, problems sleeping or are you experiencing a loss of energy and interest in daily activities? Feeling sad or having mood swings are just normal reactions to the ups and downs of life that everybody experiences. But if emptiness, worthlessness and helplessness have taken hold of your life and will not go away, you may be suffering from depression.
Most often, depression interferes with one's daily life and causes distress for both you and those who care about you. It makes it tough to function and enjoy your day-to-day life. You can no longer work, study, eat, sleep and enjoy life like you once did. Some even experience depression that is like living in "a black hole".
Our therapy for depression is based on cognitive behavioral therapy (CBT). It's your automatic dysfunctional thinking that perpetuates your depression. It keeps you in a downwards spiral of negative thoughts about yourself and the world around you. With the guidance of our online therapy program for depression and your therapist, you will learn that these negative thoughts are not reality. Rather, they are dysfunctional beliefs about your self and your life, and are something that can be replaced with more realistic and healthier ways of thinking. Using CBT you will learn coping strategies, so that you eventually will be able to face previously feared situations without getting anxious or feeling depressed. The focus of the therapy is not on the past and what caused your depression symptoms. Your therapist will work on making you feel better about yourself, here and now - and in the future.
Sign up and start getting happier now
Your therapist is ready to start the journey with you today - so what are you waiting for?
Take our test & get instant help
Answer a few questions and get immediate results and recommendations. It only takes a few minutes, so let's get started!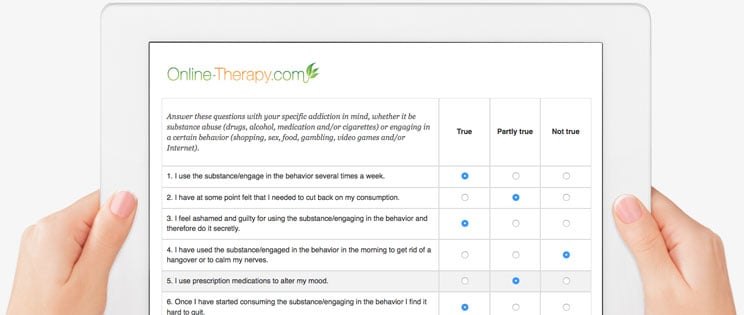 Reviews
Our online therapy services have received 621 reviews and the average rating is 4.6 out of 5 stars.
Rating: [4 out of 5 stars!]
"I haven't finished the programme so can only speak for what I've done so far. But so far it's becoming helpful and making me question and improve my thought patterns. And it's helping me feel more positive and compassionate to others and myself."
Reviewer (January 19, 2020)
Rating: [4 out of 5 stars!]
"Timely help and recommended by a friend. I am very grateful to my therapist on online therapy."
Ta (November 12, 2019)
Rating: [4 out of 5 stars!]
"I get quick responses from the online therapist and definitely makes me think differently."
Tabanca (December 12, 2019)
Rating: [4 out of 5 stars!]
"I have been very happy with the quick response and thoughtful questions."
DavidRat (December 17, 2019)
Rating: [4 out of 5 stars!]
"I've been doing the program for about a month and so far it has helped me out. I am able to actively receive feedback on my day to day habits and thought processes. My therapist asks appropriate questions and provides very helpful and non-judgmental suggestions."
Mr.T (November 30, 2019)
Rating: [4 out of 5 stars!]
"The structured approach to confronting challenging thought patterns is incredibly helpful and the therapist feedback provides clarity and important insights. I've known about CBT for a long time and I am so glad I signed up for this program. It really shows you how you are causing components of your suffering and shows you step by step how to change your thinking."
SC (January 06, 2020)
Rating: [5 out of 5 stars!]
"This program is a fantastic modern day approach to therapy. As a millennial with an extremely tenacious schedule, it is convenient to be able to access this at all times.

I was a little skeptical about doing this online at first, but the course, my personal therapist, the worksheets, and the journal have really made a night and day change in the way I approach my thoughts and behavior."
Wasn't Expecting That (January 22, 2020)
Rating: [5 out of 5 stars!]
"This has been a very personalized experience and productive way to approach therapy. The online format forces me to do the work in thinking through the issues. It also keeps me from trying to get my therapist to "like" me-allowing me to be perhaps a bit more transparent than is comfortable for me in person. All in all, I would highly recommend this platform to anyone needing some help."
Productive And Personalized Online Therapy Service (November 25, 2019)
Rating: [5 out of 5 stars!]
"I am so happy that I found this. It's truly opened my eyes to seeing a bright future."
D. (January 10, 2020)
Rating: [5 out of 5 stars!]
"I feel better having someone to talk about things with and help me get through the week. I work a lot and cant afford time off to go to appointments etc, and having this at hand 24/7 is so much better in my opinion than a once a week session. I would highly recommend this to anyone with a busy schedule."
Geomatics89 (November 12, 2019)
Sign up for online therapy today
Your therapist is ready to start the journey with you today - so what are you waiting for?