Overcome Your Depression with Online Therapy
Do you have feelings of sadness and hopelessness, problems sleeping or are you experiencing a loss of energy and interest in daily activities? Feeling sad or having mood swings are just normal reactions to the ups and downs of life that everybody experiences. But if emptiness, worthlessness and helplessness have taken hold of your life and will not go away, you may be suffering from depression.
Most often, depression interferes with one's daily life and causes distress for both you and those who care about you. It makes it tough to function and enjoy your day-to-day life. You can no longer work, study, eat, sleep and enjoy life like you once did. Some even experience depression that is like living in "a black hole".
Our therapy for depression is based on cognitive behavioral therapy (CBT). It's your automatic dysfunctional thinking that perpetuates your depression. It keeps you in a downwards spiral of negative thoughts about yourself and the world around you. With the guidance of our online therapy program for depression and your therapist, you will learn that these negative thoughts are not reality. Rather, they are dysfunctional beliefs about your self and your life, and are something that can be replaced with more realistic and healthier ways of thinking. Using CBT you will learn coping strategies, so that you eventually will be able to face previously feared situations without getting anxious or feeling depressed. The focus of the therapy is not on the past and what caused your depression symptoms. Your therapist will work on making you feel better about yourself, here and now - and in the future.
Sign up and start getting happier now
Your therapist is ready to start the journey with you today - so what are you waiting for?
Take our test & get instant help
Answer a few questions and get immediate results and recommendations. It only takes a few minutes, so let's get started!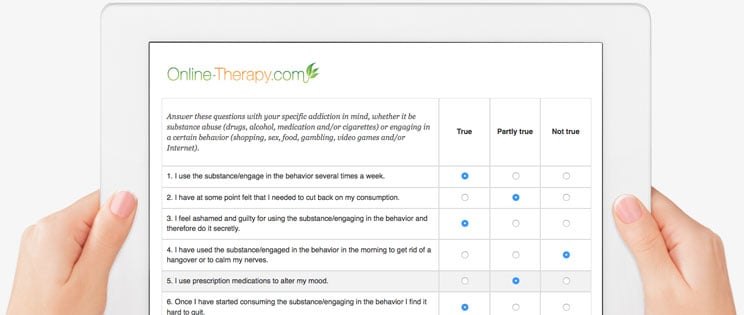 Reviews
Our online therapy services have received 556 reviews and the average rating is 4.6 out of 5 stars.
Rating: [5 out of 5 stars!]
"I love that i can work on the worksheets at my own pace and that my therapist reply's quick. Love this whole experience so far!"
Jenn (August 20, 2019)
Rating: [5 out of 5 stars!]
"I appreciate the availability of care. Sometimes just putting my thoughts into writing and knowing someone is on the other end is extremely comforting to me."
Michelle (May 31, 2019)
Rating: [5 out of 5 stars!]
"Well this is helping me to be a better person because I talk what happened few months ago whit me and is a great help because I can understand that live is hard and people what is to be what they want and the most important thing I control my self better."
My Experience (August 10, 2019)
Rating: [5 out of 5 stars!]
"I feel like a new person after having taken this class. the therapist was very helpful and I am very thankful that I was able to make a change in my life when I needed it the most. I have thoroughly enjoyed this class and seeing a change in myself when once I felt hopeless now I feel better every day. I am going to move forward in my life and use what I have learned in this class and I am very thankful for everything the therapist has showed me and share with me and I am completely satisfied with the progress that I have made so far."
The Change (June 05, 2019)
Rating: [5 out of 5 stars!]
"I came to this therapy at a time in my life when I was feeling intensely alone, and my ex husband had just committed suicide. I am extremely grateful for the support Maggie has given me and I have moved back to my hometown and turned my world around, so that I am now content and creative. The online forum was the perfect choice for me."
Contented (June 30, 2019)
Rating: [4 out of 5 stars!]
"Very helpful"
Dave (June 27, 2019)
Rating: [5 out of 5 stars!]
"I've had an excellent experience with online-therapy.com so far. My therapist is really kind and understanding of my situation and tries her best to help. I love the services I've been provided so far, the only unfortunate part is that there is currently no mobile app."
Jd (August 10, 2019)
Rating: [5 out of 5 stars!]
"The program was rewarding. It got me to think through my situations and then ways to work through the uncomfortable times."
Nate (June 24, 2019)
Rating: [5 out of 5 stars!]
"Online therapy has been a great way for me to connect with myself. I feel comfortable and love being able to choose when I can work on myself."
Anna S (June 10, 2019)
Rating: [5 out of 5 stars!]
"I have had an exceptional experience. Got exactly what I needed. I was able to focus on my areas of concern and really benefited from the expertise of my therapist."
Support (July 08, 2019)
Sign up for online therapy today
Your therapist is ready to start the journey with you today - so what are you waiting for?