Overcome Your Depression with Online Therapy
Do you have feelings of sadness and hopelessness, problems sleeping or are you experiencing a loss of energy and interest in daily activities? Feeling sad or having mood swings are just normal reactions to the ups and downs of life that everybody experiences. But if emptiness, worthlessness and helplessness have taken hold of your life and will not go away, you may be suffering from depression.
Most often, depression interferes with one's daily life and causes distress for both you and those who care about you. It makes it tough to function and enjoy your day-to-day life. You can no longer work, study, eat, sleep and enjoy life like you once did. Some even experience depression that is like living in "a black hole".
Our therapy for depression is based on cognitive behavioral therapy (CBT). It's your automatic dysfunctional thinking that perpetuates your depression. It keeps you in a downwards spiral of negative thoughts about yourself and the world around you. With the guidance of our online therapy program for depression and your therapist, you will learn that these negative thoughts are not reality. Rather, they are dysfunctional beliefs about your self and your life, and are something that can be replaced with more realistic and healthier ways of thinking. Using CBT you will learn coping strategies, so that you eventually will be able to face previously feared situations without getting anxious or feeling depressed. The focus of the therapy is not on the past and what caused your depression symptoms. Your therapist will work on making you feel better about yourself, here and now - and in the future.
Sign up and start getting happier now
Your therapist is ready to start the journey with you today - so what are you waiting for?
Take our test & get instant help
Answer a few questions and get immediate results and recommendations. It only takes a few minutes, so let's get started!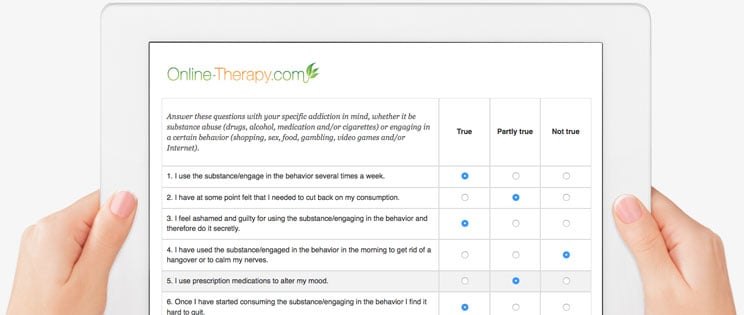 Reviews
Our online therapy services have received 520 reviews and the average rating is 4.6 out of 5 stars.
Rating: [5 out of 5 stars!]
"It's great."
Jane (January 29, 2019)
Rating: [5 out of 5 stars!]
"Timely, helpful responses so far."
Kaitlin (January 26, 2019)
Rating: [4 out of 5 stars!]
"So far I am into just one week of the program. Have been impressed by the diligence shown by my therapist and the quality of her responses."
Gyrkin (March 04, 2019)
Rating: [5 out of 5 stars!]
"I love the service online therapy has provided to me so far. My therapist has helped me a lot and I can see the difference so clearly."
Sweet (March 06, 2019)
Rating: [5 out of 5 stars!]
"This has been amazing so far. My therapist has understood exactly what I've been saying and her guidance has really opened my mind to therapy, which I've never seen success with. I am so happy that I chose online-therapy.com because of all the other features outside of worksheets - the journaling, the consistent contact with my therapist, and just feeling like I have her on my team and we are working (hard work!) towards a common goal of overall health - mind, body, and spirit. I am grateful and I am making progress. It's everything I wanted when I came here."
My First Successful Therapy (February 05, 2019)
Rating: [5 out of 5 stars!]
"Awesome, really helped."
Jen (March 22, 2019)
Rating: [5 out of 5 stars!]
"Great response time by the therapist. Good advice that is well thought out and personalized."
GG (March 04, 2019)
Rating: [5 out of 5 stars!]
"Well, online-therapy.com was able to help me identify the fact that I have been dealing with thought traps sixty-seven percent into the program. The two main thought traps are catastrophic thinking and extreme thinking. The sad thing is that the thinking is relevant to reality. This is why I documented everything. This is why I dialogue everything. This is why I do so via online GPS coordinates attached to smart devices, audio recordings, video surveillance, and research on those who have been wrapped up with derogatory records online.

I am not the same anymore because life is not the same anymore. This world we live in is not like the way I remember during my childhood innocence. It's changed drastically and I have experienced corruption. I experienced trauma and severe degrees of stress in the midst of the corruption. In matter of fact, I was scoring myself out with the Holmes and RaHe Social Readjustment Scale. I was scoring over 700 consistently for a prolonged period of time. Now isn't that alarming?!

Maybe this will all change by moving into the country. Maybe than I can focus on thinking about the birds and the bees in the pine trees. The many seas that this land divides and a garden to provide. Maybe than I will not have to worry about the mafia attempting to conquer and divide. Maybe I'll be able to focus on skinning a deer hide."
67% (February 11, 2019)
Rating: [5 out of 5 stars!]
"Yes very helpful"
Lucy (March 11, 2019)
Rating: [5 out of 5 stars!]
"Working with the therapist has been great and very helpful!"
Mike (April 10, 2019)
Sign up for online therapy today
Your therapist is ready to start the journey with you today - so what are you waiting for?