Overcome Your Depression with Online Therapy
Do you have feelings of sadness and hopelessness, problems sleeping or are you experiencing a loss of energy and interest in daily activities? Feeling sad or having mood swings are just normal reactions to the ups and downs of life that everybody experiences. But if emptiness, worthlessness and helplessness have taken hold of your life and will not go away, you may be suffering from depression.
Most often, depression interferes with one's daily life and causes distress for both you and those who care about you. It makes it tough to function and enjoy your day-to-day life. You can no longer work, study, eat, sleep and enjoy life like you once did. Some even experience depression that is like living in "a black hole".
Our therapy for depression is based on cognitive behavioral therapy (CBT). It's your automatic dysfunctional thinking that perpetuates your depression. It keeps you in a downwards spiral of negative thoughts about yourself and the world around you. With the guidance of our online therapy program for depression and your therapist, you will learn that these negative thoughts are not reality. Rather, they are dysfunctional beliefs about your self and your life, and are something that can be replaced with more realistic and healthier ways of thinking. Using CBT you will learn coping strategies, so that you eventually will be able to face previously feared situations without getting anxious or feeling depressed. The focus of the therapy is not on the past and what caused your depression symptoms. Your therapist will work on making you feel better about yourself, here and now - and in the future.
Sign up and start getting happier now
Your therapist is ready to start the journey with you today - so what are you waiting for?
RIGHT NOW:

Free therapy due to the coronavirus pandemic

We want to help as many people as possible during these extraordinary times.
Therefore we are offering parts of our online therapy platform for free.

The free access includes our online therapy program with 8 easy-to-follow sections and 25 worksheets, yoga and meditation videos, activity plan, journal, and tests (communicating with a personal therapist is not included).
Take our test & get instant help
Answer a few questions and get immediate results and recommendations. It only takes a few minutes, so let's get started!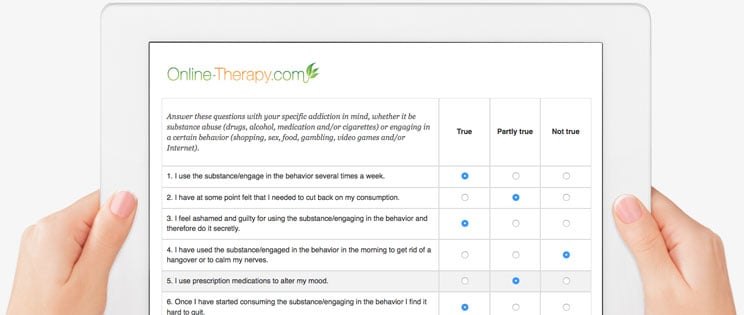 Reviews
Our online therapy services have received 973 reviews and the average rating is 4.6 out of 5 stars.
Rating: [4 out of 5 stars!]
"I feel like I can connect with my Therapist, in this past month and a half I have been able to share a lot of my fears with her and there is no judgement only encouragement. I love the concept of worksheets it allows for self mood tracking. I also journal my thoughts for my therapist to read."
Online-therapy-review (August 11, 2020)
Rating: [5 out of 5 stars!]
"David Aronson and the Online Therapy program has been a great help throughout my difficult mental journey. In just a months period, I have noticed a significant change in the way I think and act. Already excited to get into my second month of therapy. Only way to make a real difference in your life, is to take that first step forward. Thank you so much!"
Christian O. (September 03, 2020)
Rating: [4 out of 5 stars!]
"My experience has been eye-opening. My counselor is clear, concise and helpful."
Ct (June 30, 2020)
Rating: [5 out of 5 stars!]
"Best therapy I've tried"
Woody (June 20, 2020)
Rating: [5 out of 5 stars!]
"Why didn't I do this earlier? Those were the words I said to my wife after 3 weeks of online-therapy.com. This service gives me everything I need to maintain my goal to a happier and less care free life. Word of advice, it only works when you do. Having said that, every worksheet and session is like to putting money in the bank. Five stars."
Mouse (September 03, 2020)
Rating: [5 out of 5 stars!]
"So far the content has been very useful and helpful. It seems well structured to support understanding and development of insight. I plan to keep using this service."
DR (July 17, 2020)
Rating: [5 out of 5 stars!]
"I am happy with this online program, As for me it very very useful and practical."
Geroge (July 10, 2020)
Rating: [4 out of 5 stars!]
"The overall process is quite streamlined. The worksheets and the weekly chat with the therapist does help reinforce any bad thought patterns that you might've developed. I'm early in my journey but looking forward to it.
PS - There was a hiccup in the video chat couple times. Bandwidth issues. That is the reason I reduce a star. If the pattern persists, it's quite annoying."
Month 1 Review (September 17, 2020)
Rating: [5 out of 5 stars!]
"Quite helpful."
Joe (August 14, 2020)
Rating: [5 out of 5 stars!]
"Easy to navigate. I like the fact that I have assignments to choose from rather than just talking for an hour and receiving no tools to apply. Very flexible in terms of resources that fit my needs and budget."
Online Therapy Review (July 13, 2020)
Sign up for online therapy today
Your therapist is ready to start the journey with you today - so what are you waiting for?
Have any questions?
Are you unsure of what program to choose or have any questions about our services? Check our FAQ to alleviate any concerns.