Overcome Your Insomnia with Online Therapy
Insomnia is the most common sleep disorder. If you are experiencing difficulty in falling asleep or maintaining a good night's sleep, or suffer many waking periods during the night, then you might be suffering from insomnia.
Many people suffer from insomnia at some point in their life, due to stress in their work or private life. However, if you experience a lack of enough recuperative sleep for long periods of time, this will most definitely lead to a reduced quality of life during your waking hours. Emotional problems may develop, including irritability and anxiety and you will likely experience cognitive difficulties.
Our therapy for insomnia is based on cognitive behavioral therapy (CBT). With the help of this insomnia online therapy program and your therapist, you will be able to identify thoughts and behaviors that negatively affect your sleeping patterns and replace them with better ones that will improve your sleep. Compared to sleeping pills that have unpleasant side effects, you will actually deal with the problems that cause your sleeping struggles (such as problems at work, in your relationship or stress about money). This will allow you to improve your sleep quality over the long-term. Your therapist will teach you how to deal with the negative thoughts that keep you awake at night. You will also learn relaxation techniques and new bedtime routines that will definitely improve your chances of getting a good night's sleep.
Sign up and start getting happier now
Your therapist is ready to start the journey with you today - so what are you waiting for?
Take our test & get instant help
Answer a few questions and get immediate results and recommendations. It only takes a few minutes, so let's get started!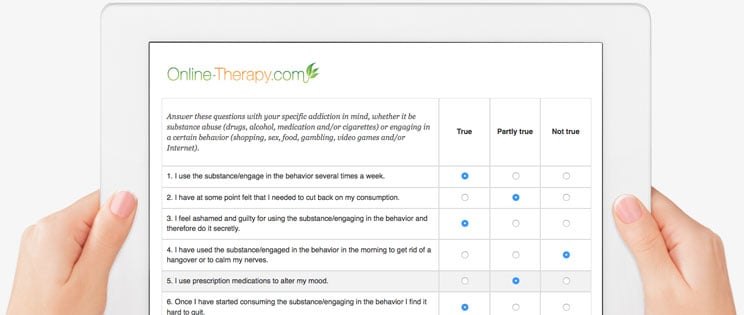 Reviews
Our online therapy services have received 2670 reviews and the average rating is 4.7 out of 5 stars.
Rating: [3 out of 5 stars!]
"This is my first therapy experience and I went with the basic plan due to financial reasons. However, even with this plan I found the worksheets and sections to be extremely helpful. My therapist has responded to a few of my worksheets but not my direct messages. It may be due to my basic plan, I don't get the immediate responses (even though it's advertised that my therapist will responded within 24 hours of the work week). Nonetheless, my overall experience has made a big difference in the past 2 weeks and I am so grateful. It feels nice to be heard and guided through my situations. I plan on continuing my journey with this online therapy program and same therapist. Thanks so much to Dr. Cannady for helping me get this far."
Jaylene (April 03, 2023)
Rating: [5 out of 5 stars!]
"Pam has been amazing. She has changed my life for the better."
Kate (May 17, 2023)
Rating: [4 out of 5 stars!]
"Telemental health is so helpful for those who are living away from home and need a therapist to support them."
Kay (May 20, 2023)
Rating: [5 out of 5 stars!]
"Great therapy offered. I could never ask for better help."
Luis (May 21, 2023)
Rating: [5 out of 5 stars!]
"I was so skeptical about therapy via online but knew I needed to do something. I almost canceled my subscription before I even started, thinking I was just wasting my money, but I was very wrong. I did my due diligence in filling out my worksheets and made a virtual appointment not knowing who my therapist would be. I prayed that God would place me with someone I already felt I knew and could be completely vulnerable with and He answered my prayer. Not only did I feel like I had known Marie for years upon meeting her the first session but she was able to take the most overwhelming feelings I have ever felt and make me feel very normal in feeling them. Marie was also able to take my debilitating anxiety and bring it down so quickly with just a few simple tools. She replies to my worksheets and makes me feel like her complete priority. It truly feels like I am talking with a friend. Needless to say, I am SO incredibly grateful I didn't cancel and look forward to every meeting with her."
Healing (March 17, 2023)
Rating: [5 out of 5 stars!]
"It is a great therapy website! I found an amazing therapist and it really helps me, not to mention the videos of yoga, it really does amazing changes in you body and how you feel about yourself, and your anxiety you have disappears like it's never been there. I can only reccommend it, take the first step to heal you."
Adrienn (April 20, 2023)
Rating: [4 out of 5 stars!]
"Good experience so far has helped."
George (May 16, 2023)
Rating: [5 out of 5 stars!]
"Great service, messaging feature helps on daily basis and as well as weekly calls."
Gavin (May 05, 2023)
Rating: [5 out of 5 stars!]
"So far I'm quite pleased with this type of therapy. It is convenient, and having it all in writing is very helpful for me. In a "live" therapy session I'm often feeling a bit stressed and have a hard time saying what I mean and recalling what was discussed.
I really like my current therapist Cynthia Gogan. She is kind, brings up good points and is very responsive. I feel like I'm getting somewhere already."
Sunnywindow (March 24, 2023)
Rating: [5 out of 5 stars!]
"I feel very comfortable with my therapy so far! I'm optimistic for a real change in my life."
Pat (March 18, 2023)
Sign up for online therapy today
Your therapist is ready to start the journey with you today - so what are you waiting for?
Have any questions?
Are you unsure of what program to choose or have any questions about our services? Check our FAQ to alleviate any concerns.