Overcome Your Insomnia with Online Therapy
Insomnia is the most common sleep disorder. If you are experiencing difficulty in falling asleep or maintaining a good night's sleep, or suffer many waking periods during the night, then you might be suffering from insomnia.
Many people suffer from insomnia at some point in their life, due to stress in their work or private life. However, if you experience a lack of enough recuperative sleep for long periods of time, this will most definitely lead to a reduced quality of life during your waking hours. Emotional problems may develop, including irritability and anxiety and you will likely experience cognitive difficulties.
Our therapy for insomnia is based on cognitive behavioral therapy (CBT). With the help of this insomnia online therapy program and your therapist, you will be able to identify thoughts and behaviors that negatively affect your sleeping patterns and replace them with better ones that will improve your sleep. Compared to sleeping pills that have unpleasant side effects, you will actually deal with the problems that cause your sleeping struggles (such as problems at work, in your relationship or stress about money). This will allow you to improve your sleep quality over the long-term. Your therapist will teach you how to deal with the negative thoughts that keep you awake at night. You will also learn relaxation techniques and new bedtime routines that will definitely improve your chances of getting a good night's sleep.
Sign up and start getting happier now
Your therapist is ready to start the journey with you today - so what are you waiting for?
Take our test & get instant help
Answer a few questions and get immediate results and recommendations. It only takes a few minutes, so let's get started!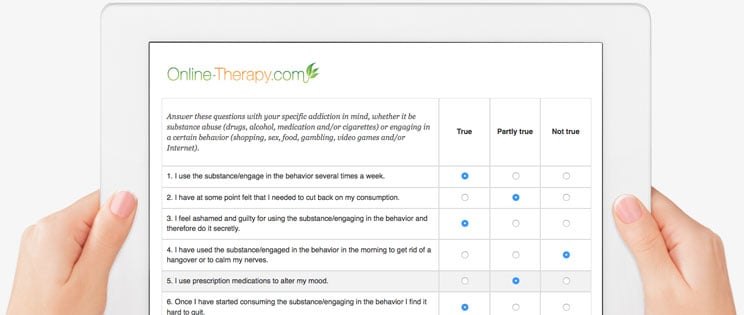 Reviews
Our online therapy services have received 550 reviews and the average rating is 4.6 out of 5 stars.
Rating: [3 out of 5 stars!]
"the worksheets are phenomenal! really well done and thought provoking. really helping me break down my thoughts feelings and reactions. My therapist is really smart!"
John (June 11, 2019)
Rating: [5 out of 5 stars!]
"I feel like a new person after having taken this class. the therapist was very helpful and I am very thankful that I was able to make a change in my life when I needed it the most. I have thoroughly enjoyed this class and seeing a change in myself when once I felt hopeless now I feel better every day. I am going to move forward in my life and use what I have learned in this class and I am very thankful for everything the therapist has showed me and share with me and I am completely satisfied with the progress that I have made so far."
The Change (June 05, 2019)
Rating: [5 out of 5 stars!]
"I appreciate the availability of care. Sometimes just putting my thoughts into writing and knowing someone is on the other end is extremely comforting to me."
Michelle (May 31, 2019)
Rating: [5 out of 5 stars!]
"Very interesting and exciting because I can do this therapy online."
Jay (May 22, 2019)
Rating: [4 out of 5 stars!]
"My therapist has been helpful and respond in a short period of time with helpful suggestions to my concerns."
BDS (May 15, 2019)
Rating: [5 out of 5 stars!]
"I started this about one month ago. The material is well written and easy to respond to. m
The therapist responds to my entries promptly and refers me to additional resources.
I like working at my own pace.
Thank you"
Getting Better (May 12, 2019)
Rating: [4 out of 5 stars!]
"I am new at this style of therapy and especially online is different. At first it seemed confusing but a few weeks into it I am getting the hang of it. Its making more sense and is helping me, but you have to do the work, for it to work for you."
Lyla (June 18, 2019)
Rating: [5 out of 5 stars!]
"Maggie has been very supportive"
Supportive (May 09, 2019)
Rating: [5 out of 5 stars!]
"Even my wife has noticed an improvement in the way I react to potential conflicts. I have become more aware of how I react and try more to control my first impulses."
Uncle Dave (May 06, 2019)
Rating: [5 out of 5 stars!]
"Online Therapy has really helped me to study myself and get to the root of my problems and problematic thinking. It now feels more natural to question myself, investigate where a certain compulsion is coming from, and react differently to it! I'm appreciating the freedom it's given me to begin to make healthier choices."
Jasmine (May 16, 2019)
Sign up for online therapy today
Your therapist is ready to start the journey with you today - so what are you waiting for?