Overcome Your Insomnia with Online Therapy
Insomnia is the most common sleep disorder. If you are experiencing difficulty in falling asleep or maintaining a good night's sleep, or suffer many waking periods during the night, then you might be suffering from insomnia.
Many people suffer from insomnia at some point in their life, due to stress in their work or private life. However, if you experience a lack of enough recuperative sleep for long periods of time, this will most definitely lead to a reduced quality of life during your waking hours. Emotional problems may develop, including irritability and anxiety and you will likely experience cognitive difficulties.
Our therapy for insomnia is based on cognitive behavioral therapy (CBT). With the help of this insomnia online therapy program and your therapist, you will be able to identify thoughts and behaviors that negatively affect your sleeping patterns and replace them with better ones that will improve your sleep. Compared to sleeping pills that have unpleasant side effects, you will actually deal with the problems that cause your sleeping struggles (such as problems at work, in your relationship or stress about money). This will allow you to improve your sleep quality over the long-term. Your therapist will teach you how to deal with the negative thoughts that keep you awake at night. You will also learn relaxation techniques and new bedtime routines that will definitely improve your chances of getting a good night's sleep.
Sign up and start getting happier now
Your therapist is ready to start the journey with you today - so what are you waiting for?
Take our test & get instant help
Answer a few questions and get immediate results and recommendations. It only takes a few minutes, so let's get started!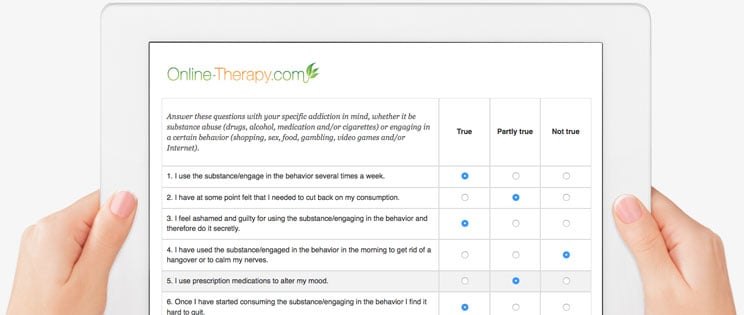 Reviews
Our online therapy services have received 1401 reviews and the average rating is 4.7 out of 5 stars.
Rating: [4 out of 5 stars!]
"Great"
Me (February 18, 2021)
Rating: [5 out of 5 stars!]
"This program really helped me during a very difficult time in my life when I found myself an extremely negative mindset and depressed. It helped me be more objective about my thoughts and gave me practical steps on how to adopt a healthier mindset. I felt very supported my the feedback from my therapist and each day I could feel a slight improvement in my mood. Figuring out my life values gave me long term goals to focus on and to take with me throughout my life."
Sinead (March 21, 2021)
Rating: [4 out of 5 stars!]
"So far the worksheets, journal and yoga have been good. The therapist I have is a bit slow to respond but seems to be concerned and listening. I will continue as I do find his suggestions so far to be helping."
Somewhat Helpful (January 29, 2021)
Rating: [5 out of 5 stars!]
"In just my first week - and prior to my initial appointment with my therapist, Lance - he had me to a release exercise. I've been in therapy before but I'd never done this before. I was amazed at how well it worked! Since I completed the exercise, my mind hasn't gone back to the places where I left my "trauma bricks". I'm so proud of myself for jumping over my first hurdle in therapy. I can't thank Lance enough! This service is a treasure. As a nurse, I don't have the time I need to go to a physical therapist's office once/twice a week the way I know I need to. Having the freedom and ability to reach out to my therapist whenever I need to at any time of day is one of the best technological advances I've had the pleasure of witnessing to date. I will never stop recommending this fantastic service!"
Elle (April 09, 2021)
Rating: [4 out of 5 stars!]
"I have tried other therapy platforms and decided to stick with onlline-therapy because having a structure in place gives me hope. I enjoy filling out the worksheets and learning all about myself from watching the CBT videos that are available. I like that my therapist checks my work and leaves a comment for me to see her feedback. I also like the accountability I get from my therapist because she reminds me to fill out the worksheets if I take too long. The only downside is that the weekly calls I get with my therapist is only 30 mins. It would be much more helpful to have a 45 mins session (at the very least). Overall, I have high hopes from this platform and I look forward to being a different person by the end of the year."
Natalieclaredotcom (January 19, 2021)
Rating: [4 out of 5 stars!]
"I had a rough start with a therapist I didn't really connect with, but since switching I am feeling really good about it!"
Lu (February 22, 2021)
Rating: [5 out of 5 stars!]
"The online worksheets and videos really helped to get me thinking about the ways I am feeling. I like them because a lot of the content I can really relate to and it feels like I finally have a way of understanding what is going on inside my head and a way to put it into words. The live sessions with my therapist have also helped to get me to start thinking about ways I can challenge my negative thoughts and ways to destress."
Nicola (March 01, 2021)
Rating: [5 out of 5 stars!]
"At just two weeks into Online-Therapy, I'm feeling I made the perfect choice to receive support and guidance to improve my life."
Hoosier Girl (March 05, 2021)
Rating: [5 out of 5 stars!]
"My therapist has been incredibly helpful, empathetic, and enthusiastic about our work together. She handles my concerns without questioning their validity and that makes me feel more heard than I've felt with most of my other therapists. Our work together is going to be life-changing and I'm excited to continue!"
Wonderful Service (February 23, 2021)
Rating: [4 out of 5 stars!]
"I really like the videos and online therapist interaction features. I do think that some of the worksheets are bit generic and may not address specific needs of a person."
Tom (February 14, 2021)
Sign up for online therapy today
Your therapist is ready to start the journey with you today - so what are you waiting for?
Have any questions?
Are you unsure of what program to choose or have any questions about our services? Check our FAQ to alleviate any concerns.