Overcome Your Insomnia with Online Therapy
Insomnia is the most common sleep disorder. If you are experiencing difficulty in falling asleep or maintaining a good night's sleep, or suffer many waking periods during the night, then you might be suffering from insomnia.
Many people suffer from insomnia at some point in their life, due to stress in their work or private life. However, if you experience a lack of enough recuperative sleep for long periods of time, this will most definitely lead to a reduced quality of life during your waking hours. Emotional problems may develop, including irritability and anxiety and you will likely experience cognitive difficulties.
Our therapy for insomnia is based on cognitive behavioral therapy (CBT). With the help of this insomnia online therapy program and your therapist, you will be able to identify thoughts and behaviors that negatively affect your sleeping patterns and replace them with better ones that will improve your sleep. Compared to sleeping pills that have unpleasant side effects, you will actually deal with the problems that cause your sleeping struggles (such as problems at work, in your relationship or stress about money). This will allow you to improve your sleep quality over the long-term. Your therapist will teach you how to deal with the negative thoughts that keep you awake at night. You will also learn relaxation techniques and new bedtime routines that will definitely improve your chances of getting a good night's sleep.
Sign up and start getting happier now
Your therapist is ready to start the journey with you today - so what are you waiting for?
Take our test & get instant help
Answer a few questions and get immediate results and recommendations. It only takes a few minutes, so let's get started!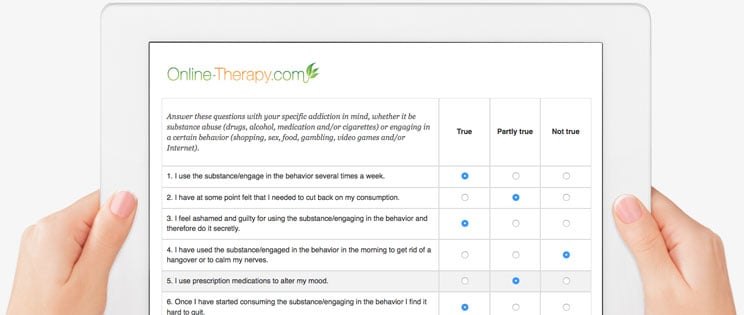 Reviews
Our online therapy services have received 573 reviews and the average rating is 4.6 out of 5 stars.
Rating: [5 out of 5 stars!]
"In my opinion online therapy is very good because is helping me to be a better person every day."
Online Therapy (August 28, 2019)
Rating: [5 out of 5 stars!]
"I have really been both surprised and impressed with how much this Online Therapy has helped me. I didn't know what to expect and only enrolled because of the advise of others that I take therapy to show and prove to others that I have changed and am in a new place.
Having said that, I have instead learned so much about myself and have really indeed changed. I have become so much more conscious of my feelings and reactions to stress anger and am much happier for it.
I have also truly enjoyed having discussions with my personal online therapist Jacob and have been extremely impressed with both his knowledge and advise. He made me think about things like I did not before. IN a strange way, although we have never met, I feel like I know him and that he is both a great therapist and friend."
Mike's Review (August 27, 2019)
Rating: [5 out of 5 stars!]
"Good service"
Simmyw (August 25, 2019)
Rating: [5 out of 5 stars!]
"Awesome"
PN (August 26, 2019)
Rating: [5 out of 5 stars!]
"I would like to sincerely thank my personal therapist Jacob and Online Therapy for helping me through a very rough time in my life. The therapy exceeded my expectations and has made me see things in a much better frame of mind."
Mike's Review (September 10, 2019)
Rating: [4 out of 5 stars!]
"It was helpful"
Rahul (September 05, 2019)
Rating: [5 out of 5 stars!]
"I've had an excellent experience with online-therapy.com so far. My therapist is really kind and understanding of my situation and tries her best to help. I love the services I've been provided so far, the only unfortunate part is that there is currently no mobile app."
Jd (August 10, 2019)
Rating: [4 out of 5 stars!]
"My experience has only gotten better over time, as my therapist and I have gotten to know each other better my comfort with the system and her ability to help me has greatly increased."
KM (August 01, 2019)
Rating: [5 out of 5 stars!]
"This has been very beneficial for me and a great resource to come to every day to ground myself. I have learned a lot about how to deal with my thoughts and emotions in a healthy and positive way and I have seen changes in my day to day life as a result."
Ian (August 22, 2019)
Rating: [5 out of 5 stars!]
"Going through the worksheets and videos have helped me see the underlying reasons for my distress. Maggie has been great to help me see things in a different way. I'm still new into the therapy so I'm interested to see my progress going forward!"
Optimistic (September 06, 2019)
Sign up for online therapy today
Your therapist is ready to start the journey with you today - so what are you waiting for?