Overcome Your Insomnia with Online Therapy
Insomnia is the most common sleep disorder. If you are experiencing difficulty in falling asleep or maintaining a good night's sleep, or suffer many waking periods during the night, then you might be suffering from insomnia.
Many people suffer from insomnia at some point in their life, due to stress in their work or private life. However, if you experience a lack of enough recuperative sleep for long periods of time, this will most definitely lead to a reduced quality of life during your waking hours. Emotional problems may develop, including irritability and anxiety and you will likely experience cognitive difficulties.
Our therapy for insomnia is based on cognitive behavioral therapy (CBT). With the help of this insomnia online therapy program and your therapist, you will be able to identify thoughts and behaviors that negatively affect your sleeping patterns and replace them with better ones that will improve your sleep. Compared to sleeping pills that have unpleasant side effects, you will actually deal with the problems that cause your sleeping struggles (such as problems at work, in your relationship or stress about money). This will allow you to improve your sleep quality over the long-term. Your therapist will teach you how to deal with the negative thoughts that keep you awake at night. You will also learn relaxation techniques and new bedtime routines that will definitely improve your chances of getting a good night's sleep.
Sign up and start getting happier now
Your therapist is ready to start the journey with you today - so what are you waiting for?
Take our test & get instant help
Answer a few questions and get immediate results and recommendations. It only takes a few minutes, so let's get started!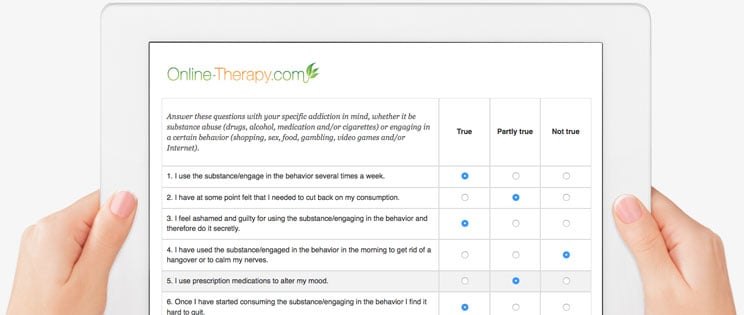 Reviews
Our online therapy services have received 669 reviews and the average rating is 4.6 out of 5 stars.
Rating: [5 out of 5 stars!]
"Fine"
Begin (January 03, 2020)
Rating: [5 out of 5 stars!]
"Fine"
Myreview (March 11, 2020)
Rating: [5 out of 5 stars!]
"I am so happy that I found this. It's truly opened my eyes to seeing a bright future."
D. (January 10, 2020)
Rating: [5 out of 5 stars!]
"This program has been, and continues to be, life-changing. Sure, I still have a long way to go, as to managing bipolar mood-swings. However, there has been other areas in which improvement has been beyond my imagination. I now have hope for a happier life."
Anonymous (January 31, 2020)
Rating: [5 out of 5 stars!]
"My therapist has been very helpful so far and I feel like I'm steadily progressing toward fixing my issues."
Gabriel R. (February 09, 2020)
Rating: [5 out of 5 stars!]
"Good program. At first it seemed a bit light, but its focused on what matters and unfolded well. I'd like to see better organization around the thought traps. It seems they could be bucketed into broader types like 'perceptions' and then given more attention on how to address those as a 'class' of traps. Katrina did a great job. Very caring."
CJ (February 14, 2020)
Rating: [5 out of 5 stars!]
"Very helpful, but it's somewhat expensive. You have to have self discipline and determination to change every day for it to work. I like it a lot. The worksheets are extremely helpful. They keep me positive and focused."
ScoobySnackCake (January 16, 2020)
Rating: [5 out of 5 stars!]
"I have had major depressive disorder and anxiety for all my life. Prescription treatments have helped but let me with a feeling of powerlessness.

This course, which in the end is quite quick gave me results within two weeks. I feel significantly better. Having tools that I can use to improve my ways of thinking and experiencing the world is quite phenomenal.

Also, the work Lisa Neuweg, my online therapist did with me was pivotal in clarifying doubts and adapting generic tools to my needs."
Made A Big, Quick Difference. (February 06, 2020)
Rating: [4 out of 5 stars!]
"Responsive therapists. Definitely a good option while traveling or not able to get face to face with someone."
Son (February 06, 2020)
Rating: [5 out of 5 stars!]
"I love the services provided by online-therapy. The sections and worksheets are very thorough and are based on results-based CBT. My therapist is wonderful and is great at challenging my unhealthy thoughts and behaviours and helping me to come up with creative ways to replace those behaviours with healthier ones.

The extras like the journal and yoga are very helpful as well. I never run out of ways to work on myself with this site. I'm so thankful this exists because it is so much more convenient than physically going to a therapist and there are so many bonuses this site offers. I'd recommend this to anyone seeking help who is dedicated to doing the work to bring more happiness into their life."
Anonymous (January 09, 2020)
Sign up for online therapy today
Your therapist is ready to start the journey with you today - so what are you waiting for?