Overcome Your Insomnia with Online Therapy
Insomnia is the most common sleep disorder. If you are experiencing difficulty in falling asleep or maintaining a good night's sleep, or suffer many waking periods during the night, then you might be suffering from insomnia.
Many people suffer from insomnia at some point in their life, due to stress in their work or private life. However, if you experience a lack of enough recuperative sleep for long periods of time, this will most definitely lead to a reduced quality of life during your waking hours. Emotional problems may develop, including irritability and anxiety and you will likely experience cognitive difficulties.
Our therapy for insomnia is based on cognitive behavioral therapy (CBT). With the help of this insomnia online therapy program and your therapist, you will be able to identify thoughts and behaviors that negatively affect your sleeping patterns and replace them with better ones that will improve your sleep. Compared to sleeping pills that have unpleasant side effects, you will actually deal with the problems that cause your sleeping struggles (such as problems at work, in your relationship or stress about money). This will allow you to improve your sleep quality over the long-term. Your therapist will teach you how to deal with the negative thoughts that keep you awake at night. You will also learn relaxation techniques and new bedtime routines that will definitely improve your chances of getting a good night's sleep.
Sign up and start getting happier now
Your therapist is ready to start the journey with you today - so what are you waiting for?
Take our test & get instant help
Answer a few questions and get immediate results and recommendations. It only takes a few minutes, so let's get started!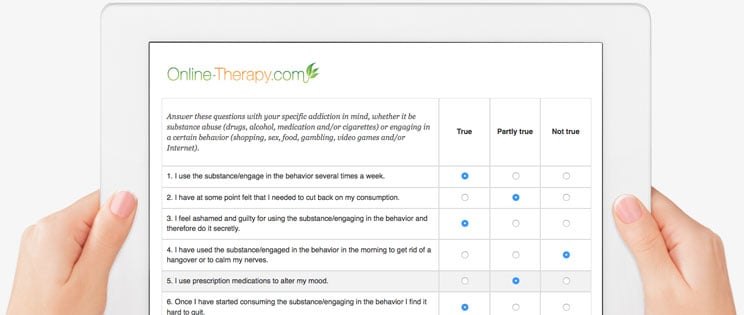 Reviews
Our online therapy services have received 1075 reviews and the average rating is 4.7 out of 5 stars.
Rating: [5 out of 5 stars!]
"Great Job"
Bb (November 13, 2020)
Rating: [4 out of 5 stars!]
"The best part is the daily communication. Love the all around approach to well being through Journaling, yoga, along with the worksheets and live sessions."
Highly Recommend (November 09, 2020)
Rating: [5 out of 5 stars!]
"I am a busy professional and I don't have time to go to an office for therapy. This is an effective and efficient format for me and I bet lots of others too."
I Like The Steps And Progression (September 15, 2020)
Rating: [5 out of 5 stars!]
"I am using this service as a starting point - before starting my new therapist (in-network, insurance paid) which took about a month to schedule. I never took talk therapy seriously in the past. But, my On line therapist is awesome. I have made a lot of progress in a short time and I am feeling much better. I am seriously considering continuing online therapy and paying out of pocket."
Jlkennedyjr (September 30, 2020)
Rating: [4 out of 5 stars!]
"The best therapy process I've found. The educational components are excellent and immediately applicable to my life. I started a subscription that included a weekly session with a therapist, but didn't find value from the therapist. I've since changed my subscription that does not include a therapist. I'm very pleased with the value I get from online-therapy.com."
Jim C. (October 03, 2020)
Rating: [5 out of 5 stars!]
"Julia asks the right questions in a non judgmental way that makes me think and hits the nail on the head."
Day By Day (August 25, 2020)
Rating: [5 out of 5 stars!]
"I'm so grateful that I found this Online-Therapy Program. Each section has taught me the tools to use to help me overcome my problems.

As listed in my intro...I suffer from many different problems. Problems that I have been trying to cope with and understand for a very long time now but have never had the ability to overcome them.

Each section helped me work towards the next. In the end... I completed the program feeling so optimistic and proud of myself. I haven't felt this way about myself for so long now. Prior to the program I was just spiraling down hill with one problem and challenge after another. I had a difficult time sorting things out and learning to focus on one thing at a time. Well the truth is that I didn't realize how crucial it is to work with one situation at a time. I kept looking at everything at one time and it became so overwhelming that I felt like giving up.

I feel proud now of who I am. I know I'm a good person that deserves great things in life. Unfortunately in the past I used my energy and time only dwelling on the bad things. My energy was being drained to the point I felt no return and I felt helpless. I no longer believed in myself and each challenge I had to face only confirmed my life's prospective that I wasn't meant to have a happy life.

Now I have found the spirit that I have been lacking for most of my life. I'm amazed at the outcome of this program. I would have never imagined that I would come this far from an online therapy program. But I have, I can honestly say I truly have.

I would like to give my therapist, Katrina a huge thank you for making this happen for me. Katrina continued to give me the guidance needed to move forward and grow. She is very caring, understanding and her guidance has changed me in so many positive ways. I was fortunate to have her as my therapist. Her feedback always gave me hope and taught me how to view things that I was unable to. I couldn't see beyond the bad no matter how hard I tried. My focus was always on the bad things. After each section, she had me seeing things in a different light. One that I have now captured and understand. I will always continue to remember all that she has taught me and how she has made me feel better about myself.

I went from hopeless to hopeful. I'm always looking back at the previous sections and reviewing them to see why and how I have changed

Thank you Katrina. You will always be my cyber angel!

Lisa Ann"
Lisa Ann (October 28, 2020)
Rating: [5 out of 5 stars!]
"I enjoy this site a lot. Very quick to respond and the electronic journal is nice. My therapist is extremely Nice and amazing at listening !"
BCS (October 07, 2020)
Rating: [5 out of 5 stars!]
"David is fantastic. Great therapist. program was very helpful during my divorce"
Great Program And Therapist (October 01, 2020)
Rating: [5 out of 5 stars!]
"If you are honest in your worksheets answers this program will open doors to your inner self. You can find your balance and your place of peace. You can be strong and loving at the same time. This program is a beginning of a new way to perceive your life and living it with joy. Life is a state of mind that you should let only you and God control."
Jr Woodstone (October 19, 2020)
Sign up for online therapy today
Your therapist is ready to start the journey with you today - so what are you waiting for?
Have any questions?
Are you unsure of what program to choose or have any questions about our services? Check our FAQ to alleviate any concerns.