Overcome Your Insomnia with Online Therapy
Insomnia, or sleeplessness, is the most common sleep disorder. If you are experiencing difficulty in falling asleep or maintaining a good night's sleep and suffer many long waking periods during the night, then you might be suffering from insomnia.
Many people suffer from insomnia at some point in their life, due to stress in their work or private life. However, if you experience a lack of enough recuperative sleep for long periods of time, this will most definitely lead to a reduced life quality during your waking hours of the day. Emotional problems develop, including irritability, anxiousness and nervousness and you will most definitely experience difficulty in your concentration and memory.
Our therapy for insomnia is based on cognitive behavioral therapy (CBT). With the help of this insomnia online therapy program and your therapist, you will be able to identify thoughts and behaviors that negatively affect your sleeping patterns and replace them with better ones that will improve your sleep. Compared to sleeping pills that have unpleasant side effects, you will actually deal with the problems that cause your sleeping problems. This will allow you to improve your sleep quality over the long-term. These might be problems at work, in your relationship or stress about money. Your therapist will teach you how to deal with the negative thoughts that keep you awake at night. You will also learn relaxation techniques and new bedtime routines that will definitely improve your chances of getting a good night's sleep.
Sign up and start getting happier now
Your therapist is ready to start the journey with you today - so what are you waiting for?
Take our test & get instant help
Answer a few questions and get immediate results and recommendations. It only takes a few minutes, so let's get started!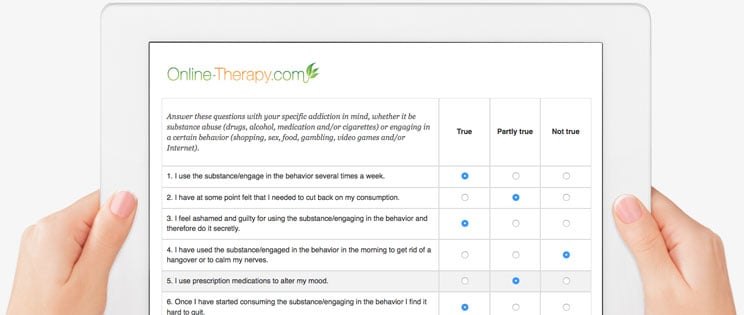 Reviews - Insomnia
This program has received 7 reviews and the average rating is 4.7 out of 5 stars.
Rating: [5 out of 5 stars!]
"Exactly as I hoped it would be."
Kar (April 02, 2017)
Rating: [4 out of 5 stars!]
"I can't say that I gave it enough of a chance to really comment on the quality of the program. I jumped in and started only the first session when i realized that I just wasn't ready. In order to be successful with the program, I have to want to do it and (at least at this point) I'm simply not there yet.

From my short experience with the program, I would say it was good. I received prompt, personalized feedback with a clear expectation that the process was up to me to complete. In other words, success in the program was up to me. Expectations were very clear."
Lisa (April 23, 2015)
Rating: [5 out of 5 stars!]
"So far I found the program very useful. My therapist listens to me and gives sound advice. I feel I have more progress to make yet, but am definitely on the right track."
Michael Dunlop (January 17, 2013)
Rating: [5 out of 5 stars!]
"I would rate the online therapy as helpful. I have not completed the program, but am making progress. I would suggest some way to get into the program once started without going through all of the initial information. Short cuts to what you actually wish to do.

I especially like the chat. But it has all been helpful. I like the self-paced schedule. Overall, very good experience. My doctor actually recommended it and I was skeptical but pleasantly surprised. Thank you."
Lisa (November 05, 2012)
Rating: [5 out of 5 stars!]
"A great session today. This program has helped my insomnia significantly, and has helped me be able to manage my tears… Two things that I have struggled with most over the last 4 years! I look forward to more healing in the weeks ahead! I am so grateful to be in this program. My therapist is really good at her work! She has a very kind and caring heart, too."
Betsey (June 15, 2012)
Rating: [4 out of 5 stars!]
"Thanks so much it was relaxing but I hope I will be able to make a change."
Buggs (March 12, 2011)
Rating: [5 out of 5 stars!]
"This was very helpful. Thanks for everything."
Dennis (January 10, 2011)
Sign up for online therapy today
Your therapist is ready to start the journey with you today - so what are you waiting for?