Overcome Your Insomnia with Online Therapy
Insomnia is the most common sleep disorder. If you are experiencing difficulty in falling asleep or maintaining a good night's sleep, or suffer many waking periods during the night, then you might be suffering from insomnia.
Many people suffer from insomnia at some point in their life, due to stress in their work or private life. However, if you experience a lack of enough recuperative sleep for long periods of time, this will most definitely lead to a reduced quality of life during your waking hours. Emotional problems may develop, including irritability and anxiety and you will likely experience cognitive difficulties.
Our therapy for insomnia is based on cognitive behavioral therapy (CBT). With the help of this insomnia online therapy program and your therapist, you will be able to identify thoughts and behaviors that negatively affect your sleeping patterns and replace them with better ones that will improve your sleep. Compared to sleeping pills that have unpleasant side effects, you will actually deal with the problems that cause your sleeping struggles (such as problems at work, in your relationship or stress about money). This will allow you to improve your sleep quality over the long-term. Your therapist will teach you how to deal with the negative thoughts that keep you awake at night. You will also learn relaxation techniques and new bedtime routines that will definitely improve your chances of getting a good night's sleep.
Sign up and start getting happier now
Your therapist is ready to start the journey with you today - so what are you waiting for?
Take our test & get instant help
Answer a few questions and get immediate results and recommendations. It only takes a few minutes, so let's get started!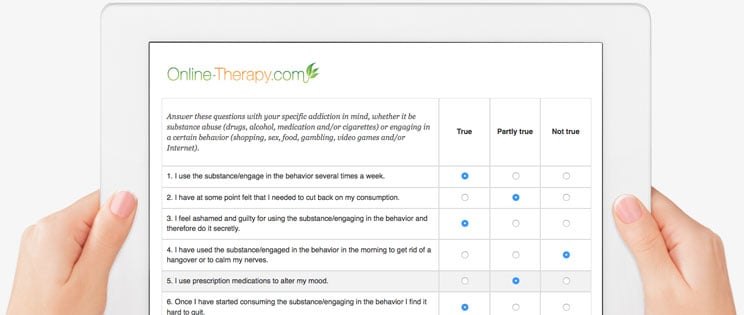 Reviews
Our online therapy services have received 1862 reviews and the average rating is 4.7 out of 5 stars.
Rating: [5 out of 5 stars!]
"The course has helped me be more aware of the family dynamics I live within, my contribution to those dynamics, and my power, greater than I thought, to change them and improve my mental health within them. I'm learning how, concretely, to set boundaries and reduce anxiety and feelings of helplessness/hopelessness. It's as if I'm getting some psychological vitamins and minerals I've long needed."
Eye-opener (September 03, 2021)
Rating: [4 out of 5 stars!]
"I like that I can do this in my own time and the worksheets help me consider things I hadn't before. I did have to switch therapists but found a great fit the second try. I didn't appreciate the first piece of advice I got being "it'll be good when we talk over video" when I've only signed up for the basic package. Now that I have a good fit, I've gotten a lot out of the service."
Great With The Right Therapist (September 30, 2021)
Rating: [5 out of 5 stars!]
"It's nice to have someone to talk too In the comfort of my home"
Good (September 05, 2021)
Rating: [5 out of 5 stars!]
"I know I tend to get off track and sometimes go off the rails despite knowing what I should be doing or what the better path is. This course helped me get situated again and back to thinking more clearly and gave me some more structure in my life to help avoid losing my way again."
Helped Re-align My Mental State (August 28, 2021)
Rating: [5 out of 5 stars!]
"I have been working with Melissa for a few months now and she has been so helpful, not just during out sessions but between them as well. I am able to message her and receive thorough responses between sessions. She has provided so many great external resources for me to look into. I am so thankful for her calming presence as I work thru some big life changes."
Macky (November 01, 2021)
Rating: [4 out of 5 stars!]
"Pretty good"
Gw (November 03, 2021)
Rating: [5 out of 5 stars!]
"I am really enjoying this program. I get to talk to my therapist everyday, and I am learning so much daily. This program is not easy, it makes you work hard, and it makes you think about how you have behaved in the past, and how you want to behave in the future. I would definitely recommend this program to my friends and family."
Christy (September 08, 2021)
Rating: [5 out of 5 stars!]
"Any problems have been by me not doing the work. I enjoy working with Lynn."
Good And Fair (October 12, 2021)
Rating: [5 out of 5 stars!]
"I have been working with this platform for roughly two weeks now only, and to be honest I didn't feel my initial therapist connected with me enough, until I changed therapist and chose Delphine, she is awesome, with every message I can feel she cares, she goes into depth and detail and finds the source of the emotions I'm feeling, I've only had one video session with her this far and I feel so comfortable to open up to her that I've decided to upgrade my plan to be able to have two video sessions a week as suppose to one. Delphine is definitely an asset to this platform.

Thank you Delphine"
I Needed This And Still Do! (November 18, 2021)
Rating: [4 out of 5 stars!]
"Caroline has dug deeper into my childhood than any other therapist. I don't agree with everything she advices and informs though she has helped me look deeply into the impact of my neglectful childhood."
Tamara 1 (September 27, 2021)
Sign up for online therapy today
Your therapist is ready to start the journey with you today - so what are you waiting for?
Have any questions?
Are you unsure of what program to choose or have any questions about our services? Check our FAQ to alleviate any concerns.