Overcome Your Insomnia with Online Therapy
Insomnia is the most common sleep disorder. If you are experiencing difficulty in falling asleep or maintaining a good night's sleep, or suffer many waking periods during the night, then you might be suffering from insomnia.
Many people suffer from insomnia at some point in their life, due to stress in their work or private life. However, if you experience a lack of enough recuperative sleep for long periods of time, this will most definitely lead to a reduced quality of life during your waking hours. Emotional problems may develop, including irritability and anxiety and you will likely experience cognitive difficulties.
Our therapy for insomnia is based on cognitive behavioral therapy (CBT). With the help of this insomnia online therapy program and your therapist, you will be able to identify thoughts and behaviors that negatively affect your sleeping patterns and replace them with better ones that will improve your sleep. Compared to sleeping pills that have unpleasant side effects, you will actually deal with the problems that cause your sleeping struggles (such as problems at work, in your relationship or stress about money). This will allow you to improve your sleep quality over the long-term. Your therapist will teach you how to deal with the negative thoughts that keep you awake at night. You will also learn relaxation techniques and new bedtime routines that will definitely improve your chances of getting a good night's sleep.
Sign up and start getting happier now
Your therapist is ready to start the journey with you today - so what are you waiting for?
Take our test & get instant help
Answer a few questions and get immediate results and recommendations. It only takes a few minutes, so let's get started!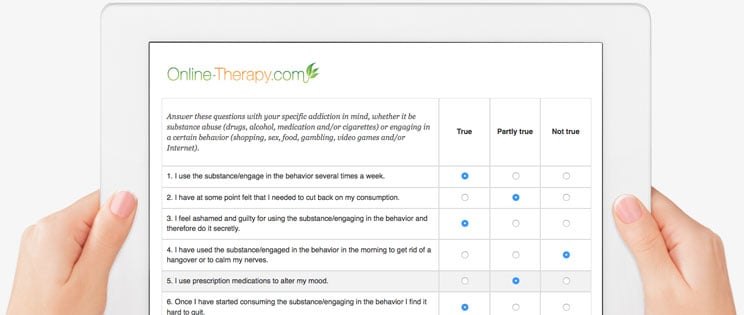 Reviews
Our online therapy services have received 491 reviews and the average rating is 4.6 out of 5 stars.
Rating: [5 out of 5 stars!]
"Surprisingly, the problems and issues coming up for me are NOT why i first joined this program. So in this, i am finding it amazingly insightful!"
New To Online Therapy (October 31, 2018)
Rating: [5 out of 5 stars!]
"I find this service very professional and helpful. There's no way I could fit in a traditional face to face therapy in my hectic life.. I like to be able to choose my pace through this healing path. Therapist answers are always emphatic and focus just on what is more relevant .
And Yoga is another very powerful tool!"
Alessandra (January 06, 2019)
Rating: [5 out of 5 stars!]
"Very responsive and engaging."
IDL (November 19, 2018)
Rating: [5 out of 5 stars!]
"I have completed the eight sessions of online cognitive behavior therapy with Maggie Sweet as my therapist. This was my first time with an online therapy. I have given the experience five stars because the program and its format met and exceeded my expectations.
One thing I did not expect was the reciprocal nature of the client/therapist interaction, as far as receiving messages on worksheets that I completed on my own time. In my previous (in person) therapy experiences, I would do my work on my own and meet with my therapist once a week or less. We didn't have much more contact than that. That frequency of service worked for me, so having quick responses to my online work was something I had to adjust to. At first it felt pushy but I used the novelty of the experience to challenge my commitment to my goals in seeking therapy. So, in that way, my experience with Maggie exceeded my expectations.
The online format has so many advantages that the inherent problems seem minimal. One thing I would change is to have a way to easily download worksheets in a .pdf format, or possibly upload them to a cloud storage, if copyright is an issue. Also regarding the internet format, I had one live chat experience that was interrupted by what appeared to be a connectivity issue. I was allowed to make up that session.
I would recommend this service for persons who have the therapeutic needs described in the organization's information."
Client (January 03, 2019)
Rating: [4 out of 5 stars!]
"I have only been a member for a couple of weeks, and have only had one therapy session. But it has already been helpful."
Rachna (December 03, 2018)
Rating: [5 out of 5 stars!]
"This has helped me huge."
Ad (December 18, 2018)
Rating: [5 out of 5 stars!]
"The frequent feedback has helped me keep moving through this process."
Tam (October 19, 2018)
Rating: [4 out of 5 stars!]
"👍👍👍"
Pat (November 08, 2018)
Rating: [5 out of 5 stars!]
"Great timing with replies, very comprehensive, easy to read and follow along therapy methods."
Mary (January 07, 2019)
Rating: [5 out of 5 stars!]
"My therapist has been excellent and the plan is easy to follow and helpful."
Happy Chappy (November 21, 2018)
Sign up for online therapy today
Your therapist is ready to start the journey with you today - so what are you waiting for?