Overcome Your Insomnia with Online Therapy
Insomnia is the most common sleep disorder. If you are experiencing difficulty in falling asleep or maintaining a good night's sleep, or suffer many waking periods during the night, then you might be suffering from insomnia.
Many people suffer from insomnia at some point in their life, due to stress in their work or private life. However, if you experience a lack of enough recuperative sleep for long periods of time, this will most definitely lead to a reduced quality of life during your waking hours. Emotional problems may develop, including irritability and anxiety and you will likely experience cognitive difficulties.
Our therapy for insomnia is based on cognitive behavioral therapy (CBT). With the help of this insomnia online therapy program and your therapist, you will be able to identify thoughts and behaviors that negatively affect your sleeping patterns and replace them with better ones that will improve your sleep. Compared to sleeping pills that have unpleasant side effects, you will actually deal with the problems that cause your sleeping struggles (such as problems at work, in your relationship or stress about money). This will allow you to improve your sleep quality over the long-term. Your therapist will teach you how to deal with the negative thoughts that keep you awake at night. You will also learn relaxation techniques and new bedtime routines that will definitely improve your chances of getting a good night's sleep.
Sign up and start getting happier now
Your therapist is ready to start the journey with you today - so what are you waiting for?
RIGHT NOW:

Free therapy due to the coronavirus pandemic

We want to help as many people as possible during these extraordinary times.
Therefore we are offering parts of our online therapy platform for free.

The free access includes our online therapy program with 8 easy-to-follow sections and 25 worksheets, yoga and meditation videos, activity plan, journal, and tests (communicating with a personal therapist is not included).
Take our test & get instant help
Answer a few questions and get immediate results and recommendations. It only takes a few minutes, so let's get started!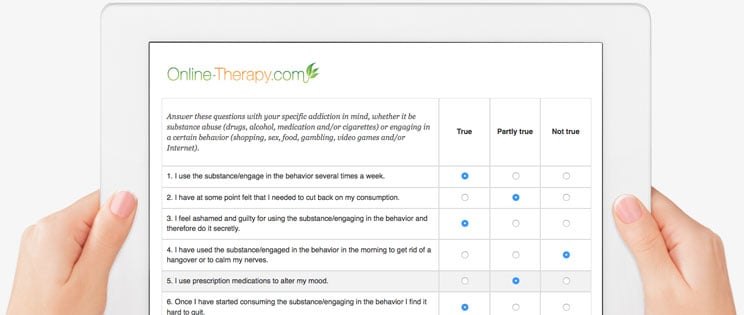 Reviews
Our online therapy services have received 754 reviews and the average rating is 4.6 out of 5 stars.
Rating: [5 out of 5 stars!]
"It's nice to talk to someone who wants to understand and listen.."
Misfit (May 15, 2020)
Rating: [3 out of 5 stars!]
"It's good to bring up the issues so you can see them. It makes it easier to stay on top of corrective actions."
Bob's Review (April 30, 2020)
Rating: [4 out of 5 stars!]
"I feel that this could be something that points me in the right direction. It is a little expensive, though. I may not be able to do this much longer do to the spread of coronavirus and the declining economy."
Richard Vitello (April 16, 2020)
Rating: [4 out of 5 stars!]
"I haven't signed up for live chat sessions yet, so I can't fully review the site, but I love the worksheets and the feedback. It's very helpful."
Worksheets (May 19, 2020)
Rating: [4 out of 5 stars!]
"When I first started this online course I was really unsure on how or if I was going to get good results from it.

I've been through a lot physically and emotionally and it's taken quite a bit on me healthwise, I thought I was really lost in a way, I had no options at all totally!

Now I see a glimmer of light growing each day. The great set of tools that they've incorporated into this anger management course in order for you to be very happy within yourself personally and to be there for your loved ones 101% in everything you do together also have a positive take in every situation with other people in general!

I've still got a lot to learn and achieve, but it's given me a good direction to go towards. Thank you to dr Lombardo and her management team!"
Northern-warrior,Nz (April 28, 2020)
Rating: [4 out of 5 stars!]
"Good alternative while I wait for an in-person therapist."
Mpier (April 06, 2020)
Rating: [4 out of 5 stars!]
"Great directed questions, helpful!
Only four stars because the UI is a bit frustrating (but I work in IT and web development so I'm quite critical!)"
Bex (April 21, 2020)
Rating: [4 out of 5 stars!]
"I've only been using this for 2 weeks, but so far I enjoy the information and therapist interaction greatly. The tools are user friendly."
Liz (February 27, 2020)
Rating: [4 out of 5 stars!]
"It's a nice way to reflect on your behaviors. Thank you guys"
Ashley (March 06, 2020)
Rating: [5 out of 5 stars!]
"very good"
Cool Lad (March 17, 2020)
Sign up for online therapy today
Your therapist is ready to start the journey with you today - so what are you waiting for?