Overcome Your Relationship Problems with Online Therapy
Do you and your partner always fight about the same things like money, whose turn it is to do the dishes or putting the kids to bed? Or do you recognize there is a problem in your relationship, but are not sure exactly what it is and how to go about fixing it? Having problems in a relationship normally stems from lack of communication, intimacy, trust or stress in your daily life.
No relationship is perfect. We all experience ups and downs. But if you feel that you need and want to reconnect with your partner, our online therapy is a great way to learn how you can work on building a strong long-term relationship with your partner.
Our relationship therapy is based on cognitive behavioral therapy (CBT). To build a healthy relationship with your partner, you most likely need to improve your coping skills, communication skills, interpersonal skills and social skills – and make sure that these skills last! The relationship online therapy uses a wide range of research-supported strategies to help you find ways to develop and nurture a long-lasting relationship. Your therapist will guide you and give you the tools that you need to be able to deal with stressful events and the challenges that occur in a relationship.
Sign up and start getting happier now
Your therapist is ready to start the journey with you today - so what are you waiting for?
Take our test & get instant help
Answer a few questions and get immediate results and recommendations. It only takes a few minutes, so let's get started!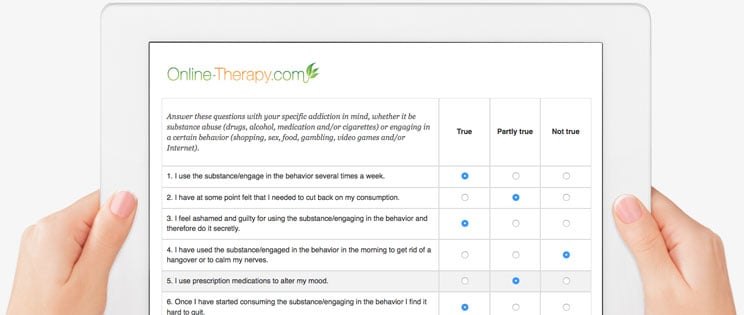 Reviews
Our online therapy services have received 1082 reviews and the average rating is 4.7 out of 5 stars.
Rating: [5 out of 5 stars!]
"I'm so grateful that I found this Online-Therapy Program. Each section has taught me the tools to use to help me overcome my problems.

As listed in my intro...I suffer from many different problems. Problems that I have been trying to cope with and understand for a very long time now but have never had the ability to overcome them.

Each section helped me work towards the next. In the end... I completed the program feeling so optimistic and proud of myself. I haven't felt this way about myself for so long now. Prior to the program I was just spiraling down hill with one problem and challenge after another. I had a difficult time sorting things out and learning to focus on one thing at a time. Well the truth is that I didn't realize how crucial it is to work with one situation at a time. I kept looking at everything at one time and it became so overwhelming that I felt like giving up.

I feel proud now of who I am. I know I'm a good person that deserves great things in life. Unfortunately in the past I used my energy and time only dwelling on the bad things. My energy was being drained to the point I felt no return and I felt helpless. I no longer believed in myself and each challenge I had to face only confirmed my life's prospective that I wasn't meant to have a happy life.

Now I have found the spirit that I have been lacking for most of my life. I'm amazed at the outcome of this program. I would have never imagined that I would come this far from an online therapy program. But I have, I can honestly say I truly have.

I would like to give my therapist, Katrina a huge thank you for making this happen for me. Katrina continued to give me the guidance needed to move forward and grow. She is very caring, understanding and her guidance has changed me in so many positive ways. I was fortunate to have her as my therapist. Her feedback always gave me hope and taught me how to view things that I was unable to. I couldn't see beyond the bad no matter how hard I tried. My focus was always on the bad things. After each section, she had me seeing things in a different light. One that I have now captured and understand. I will always continue to remember all that she has taught me and how she has made me feel better about myself.

I went from hopeless to hopeful. I'm always looking back at the previous sections and reviewing them to see why and how I have changed

Thank you Katrina. You will always be my cyber angel!

Lisa Ann"
Lisa Ann (October 28, 2020)
Rating: [5 out of 5 stars!]
"Finding this program was the best thing ever!! Talking to my therapist I felt like a huge weight fall off my shoulders. I felt relived and know I'm off to resolve my issues. I have also recommended this to my friends and they are now on the program. This is a life changer you won't retreat it I'm happy I have joined!"
Highly Recommended Program!! (October 07, 2020)
Rating: [4 out of 5 stars!]
"The overall process is quite streamlined. The worksheets and the weekly chat with the therapist does help reinforce any bad thought patterns that you might've developed. I'm early in my journey but looking forward to it.
PS - There was a hiccup in the video chat couple times. Bandwidth issues. That is the reason I reduce a star. If the pattern persists, it's quite annoying."
Month 1 Review (September 17, 2020)
Rating: [5 out of 5 stars!]
"It's very interactive and helps me to better understand my thought processes so that I can improve."
Tori (November 24, 2020)
Rating: [5 out of 5 stars!]
"An awesome set up and the materials on this site is so helpful. I highly recommend it to anyone needing some extra support."
JK (October 28, 2020)
Rating: [4 out of 5 stars!]
"I have found this therapy helpful and the therapist kind and compassionate."
Timo (September 16, 2020)
Rating: [5 out of 5 stars!]
"Things are going well so far and a lot of info is being gathered about me. I feel this is a very thorough process."
Review 1 (November 09, 2020)
Rating: [5 out of 5 stars!]
"I started out with the no-cost option (just the online material) and was impressed. The online material is very well structured. Going through the worksheets provides really helpful guidance. I was impressed enough that I added the counselor feedback and chat options, and I am glad that I did. Regular communication with a counselor is a really beneficial addition! I was feeling terribly stressed and overwhelmed, and this program has definitely helped me to sort things out."
Abby S (October 11, 2020)
Rating: [5 out of 5 stars!]
"I am using this service as a starting point - before starting my new therapist (in-network, insurance paid) which took about a month to schedule. I never took talk therapy seriously in the past. But, my On line therapist is awesome. I have made a lot of progress in a short time and I am feeling much better. I am seriously considering continuing online therapy and paying out of pocket."
Jlkennedyjr (September 30, 2020)
Rating: [4 out of 5 stars!]
"Platform is easy to use and access. It is also quick to load. Therapist replies are usually quick."
Oct2020 (October 19, 2020)
Sign up for online therapy today
Your therapist is ready to start the journey with you today - so what are you waiting for?
Have any questions?
Are you unsure of what program to choose or have any questions about our services? Check our FAQ to alleviate any concerns.