Overcome Your Relationship Problems with Online Therapy
Do you and your partner always fight about the same things like money, whose turn it is to do the dishes or putting the kids to bed? Or do you recognize there is a problem in your relationship, but are not sure exactly what it is and how to go about fixing it? Having problems in a relationship normally stems from lack of communication, intimacy, trust or stress in your daily life.
No relationship is perfect. We all experience ups and downs. But if you feel that you need and want to reconnect with your partner, our online therapy is a great way to learn how you can work on building a strong long-term relationship with your partner.
Our relationship therapy is based on cognitive behavioral therapy (CBT). To build a healthy relationship with your partner, you most likely need to improve your coping skills, communication skills, interpersonal skills and social skills – and make sure that these skills last! The relationship online therapy uses a wide range of research-supported strategies to help you find ways to develop and nurture a long-lasting relationship. Your therapist will guide you and give you the tools that you need to be able to deal with stressful events and the challenges that occur in a relationship.
Sign up and start getting happier now
Your therapist is ready to start the journey with you today - so what are you waiting for?
Take our test & get instant help
Answer a few questions and get immediate results and recommendations. It only takes a few minutes, so let's get started!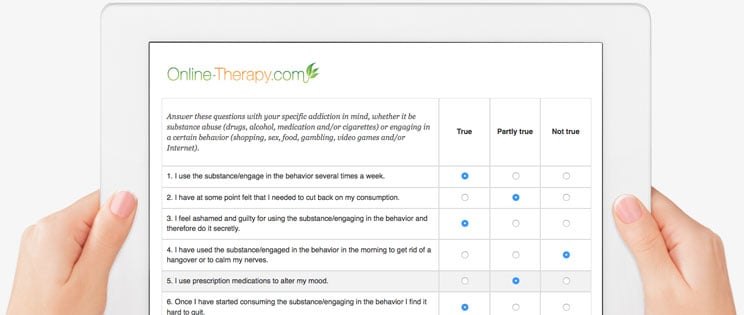 Reviews
Our online therapy services have received 2137 reviews and the average rating is 4.7 out of 5 stars.
Rating: [5 out of 5 stars!]
"My therapist is wonderful. Not only is the therapist incredible but my therapy worksheets have already done so much to help me. I have been doing online therapy for roughly 3 weeks and I already feel like I have received so many useful tips. I have such a change in my mindset already and I love it. I have done therapy in person before and it wasn't really the type of therapy I needed. With online therapy I can go at my own ace and I am not forced to do anything. I can work as fast or as slow as I need and my therapist sends me great resources that are helping me be a better person. I feel a trillion times better than I have in the past. This therapy is exactly what I needed. Thank you online therapy for making me a better person!"
INCREDIBLE!!!! (March 19, 2022)
Rating: [4 out of 5 stars!]
"Jenn has been great. She gives helpful suggestions and has great insight. Thanks Jenn! Unfortunately, I only completed the last half of the program with Jenn. My previous therapist left the program and I was asked to pick another therapist. I liked my previous therapist also, but everything worked out fine. The first therapist was TERRIBLE. After one response from her, I changed. It was a completely different time zone (continent) , communication was difficult, and I had difficulty understanding her response due to poor grammar and errors. However, it was very easy to change.

Over all, it's been a good experience and I am glad I could work out some difficulties online...

(Jenn would have five stars...but this is a review for the program as a whole.)"
Julie (May 07, 2022)
Rating: [5 out of 5 stars!]
"Very helpful and supportive therapist"
Heather (April 29, 2022)
Rating: [5 out of 5 stars!]
"li laurent is my therapist.
its my first time to ever talk to a therapist.
she was very direct with her response and quick.
i felt like it was easy for me to open up.
the worksheets help alot. it's life changing.
some things you dont really realize until you write them down and really open up."
The Power Of 3 (May 12, 2022)
Rating: [5 out of 5 stars!]
"Very helpful, convenient, counseling in the comfort of your home"
Lena (April 22, 2022)
Rating: [5 out of 5 stars!]
"I've liked it so far. Very structured and reliable."
Billy Pilgrim (April 02, 2022)
Rating: [5 out of 5 stars!]
"A am going through a divorce after 25 years and, things are not very good with my work environment. I was very skeptical of online therapy but, there was a six month wait for a therapist where I live. A friend encouraged me to try out online therapy and I am so pleased that I listened. When things get this bad, friends can only help so much before you start to become a burden that starts to destabilize their lives. I knew a trained professional was the only way to get solid guidance and improve the stability in my life without driving my friend away. My experience, so far, has been very positive. Guidance from someone that is trained and has no alliances and no dog in your personal fight has been incredibly helpful to me. My closest friend has noticed so much of a change for the positive in me that, even though I am between projects, on unemployment and fairly low on available funds, he is helping me to afford to stay in this program. It was so important to him, he has gone way out of his way to help. We are only in the beginning stages of this but, it has helped beyond belief just to know that I can speak and message with a trained professional and, that she has my back. Joining online therapy was the best choice that I made in this entire mess!"
Swaggs (May 25, 2022)
Rating: [5 out of 5 stars!]
"I've had my fair share of trauma and PTSD and learning to bottle everything up for as long as possible. Which, clearly isn't healthy. Janet made me so comfortable and gave off such an open-minded and judgement free atmosphere, making it so easy for me to share. I've only had a very few sessions, but I've already grown leaps and bounds as a person. I absolutely would recommend Janet to anyone!"
Siri (May 11, 2022)
Rating: [5 out of 5 stars!]
"I adore my therapist. I love the worksheets and the messaging options. It is super convenient to use and I feel really supported."
Colleen (April 30, 2022)
Rating: [5 out of 5 stars!]
"I like how it is my own pace and there are alot of options for me to choose from"
AJ (May 19, 2022)
Sign up for online therapy today
Your therapist is ready to start the journey with you today - so what are you waiting for?
Have any questions?
Are you unsure of what program to choose or have any questions about our services? Check our FAQ to alleviate any concerns.