Overcome Your Relationship Problems with Online Therapy
Do you and your partner always fight about the same things like money, whose turn it is to do the dishes or putting the kids to bed? Or do you recognize there is a problem in your relationship, but are not sure exactly what it is and how to go about fixing it? Having problems in a relationship normally stems from lack of communication, intimacy, trust or conflicts around daily home chores and infidelity.
No relationship is perfect and we all experience ups and downs. But if you feel that you need and want to reconnect with your partner, our online therapy is a great way to learn how you can work on building a strong long-term relationship with your partner.
Our relationship therapy is based on cognitive behavioral therapy (CBT). To build a healthy relationship with your partner you most likely need to improve your coping skills, communication skills, interrelationship skills, interpersonal skills and social skills – and make sure that these skills last! The relationship online therapy uses a wide range of cognitive developmental strategies to help you find ways to develop and nurture a long-lasting relationship. Your therapist will guide you and give you the tools you need to be able to deal with stressful events and the challenges that come along in a relationship.
Sign up and start getting happier now
Your therapist is ready to start the journey with you today - so what are you waiting for?
Take our test & get instant help
Answer a few questions and get immediate result and recommendations. It only takes a few minutes, so let's get started!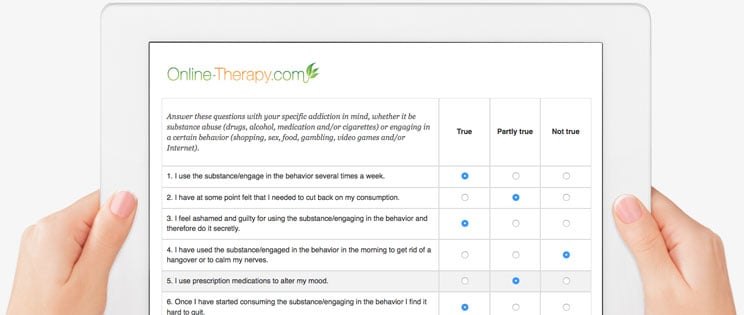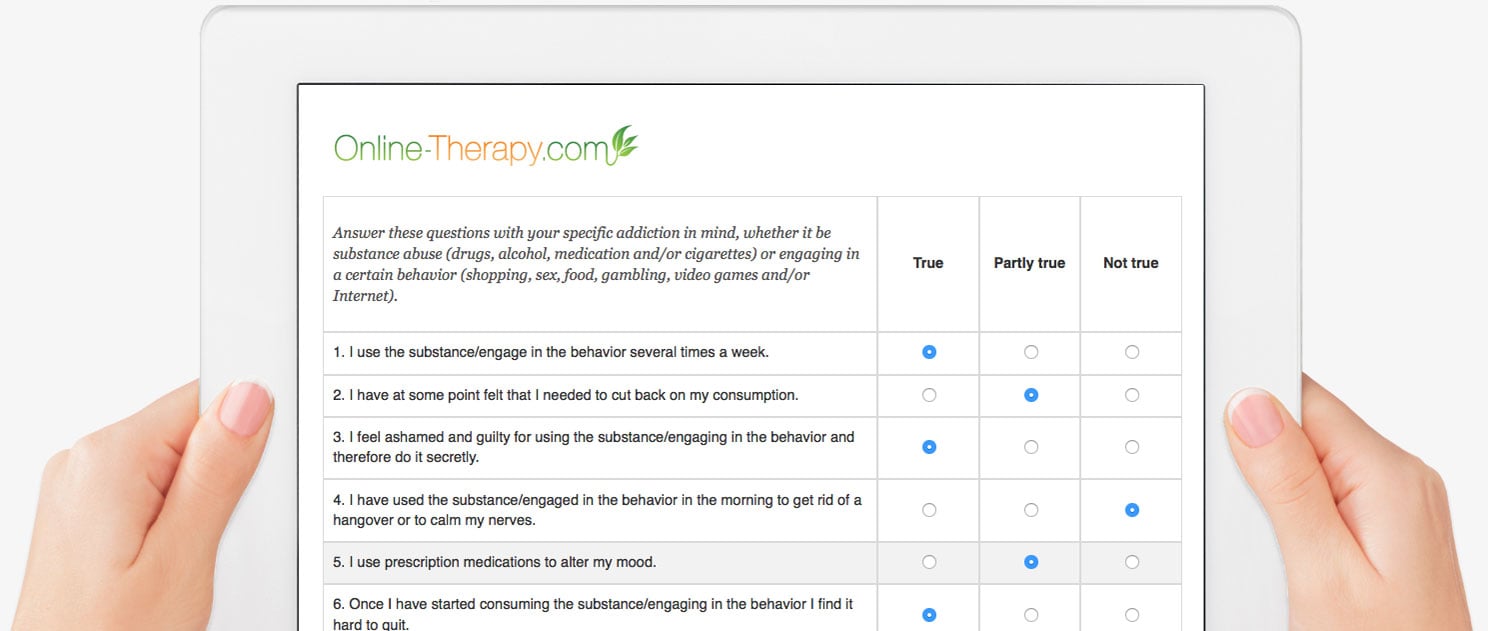 Reviews - Relationship/Marriage
This program has received 14 reviews and the average rating is 4.6 out of 5 stars.
Rating: [5 out of 5 stars!]
"The therapist talk was very satisfying and fulfilling. I have seen gradual improvements but still a long way to go."
Blessan (April 02, 2017)
Rating: [4 out of 5 stars!]
"Good service"
Kess (February 10, 2017)
Rating: [5 out of 5 stars!]
"Really helpful, easy to follow, easy to use!"
Great! (November 08, 2016)
Rating: [5 out of 5 stars!]
"Thank you so much. You have been a great councilor to talk to. I would highly recommend this site for anyone who needs help or even someone to talk to. Thank you."
Trust (January 21, 2016)
Rating: [4 out of 5 stars!]
"I found the Marriage Therapy programme very helpful and I think I got a lot out of it. The Stress Management was less relevant for me which is the reason I have cancelled.

My therapist made helpful comments on my worksheets which I found useful."
Rosemary (September 06, 2015)
Rating: [4 out of 5 stars!]
"Working with my therapist Sareeta has been great. She is very focused and aware."
Camaryllis (April 11, 2014)
Rating: [5 out of 5 stars!]
"LOVE MY THERAPIST MAGGIE SWEET! She was full of great advice and useful encouragement. I would still be working with her, but presently I do not have the time to work within the program. I may be returning in the future."
Hero (April 26, 2013)
Rating: [5 out of 5 stars!]
"I really can't rate this course highly enough and the therapist asked some difficult but necessary questions and allowed me to find answers at my own pace without any judgment or pressure.

The worksheets are fantastic and the sessions very informative and concise.

I hope that I can continue in a more positive frame of mind and challenge my negative thoughts to see if they have any foundation in fact.

I'm considering the anxiety course as I can see a lot of my problems result from stress and anxiousness."
Rose (April 07, 2013)
Rating: [4 out of 5 stars!]
"As you might know today is my last therapy day and I just wanted to say thank-you, for your time, your responses. They made me aware of things I hardly would be able to realize without your help.

I am done with my last worksheet. Please give it a check as soon as you can, so I can receive your feedback before my user expires.

I think I will come back later and enroll in another program and I will look forward to working with you again.

Thanks!"
Bennet (April 01, 2013)
Rating: [5 out of 5 stars!]
"I didn't know exactly how this would work, but after a few sessions and the worksheets I may see a better result then what I would ever expect. I realized I really do love my wife and family and will do anything to make them proud. Thanks Online-Therapy.com!!!!"
Bill (October 24, 2012)
Rating: [5 out of 5 stars!]
"I love this site. I can take care of mental health on my own time. My therapist is awesome. I was concerned that not meeting in person would be a deterrent to my therapy, but if anything, the daily interaction has been a HUGE benefit.

It would be so stressful to try to leave work in a rush to make an appointment, but I can complete my worksheets at night or early in the morning and I get feedback every day.

This a hugely beneficial service that I would highly recommend to anyone."
Kristin (October 23, 2012)
Rating: [5 out of 5 stars!]
"It has helped me immensely. I understand more about my relationship and how to manage my life. It is a lot less stressful and better for both of us. Thanks, Ed."
Ed (October 11, 2012)
Rating: [5 out of 5 stars!]
"I have been finding the online therapy very useful. The worksheets are great - designed to make me think in a very different way. The sessions have been useful too. I would like to get some more sessions but I have been unwell and have not had the chance. I hope to get back to it now.

Thanks for the service - it is very useful and enlightening."
Fran (June 05, 2011)
Rating: [4 out of 5 stars!]
"I found this website very helpful."
Danny (May 31, 2011)
Sign up for online therapy today
Your therapist is ready to start the journey with you today - so what are you waiting for?