Manage Your BPD with Online Therapy
Borderline personality disorder (BPD) is characterized by a pattern of unstable ways of seeing oneself, instability in moods and often having problematic and stormy relationships. People with BPD are often impulsive, reckless and have a strong fear of abandonment and rejection. Some will engage in self-destructive behaviors, such as drug abuse and self-harm like cutting themselves.
When suffering from BPD it is common to also experience other mental disorders like depression, eating disorders and addictions. If you recognize that you have these signs and symptoms, you might be suffering from BPD – but you can regain control of your life and emotions!
Our therapy for BPD is based on cognitive behavioral therapy (CBT). With the help of CBT, you will learn to identify and challenge the automatic negative thoughts that underlie your inaccurate perception of yourself. Your therapist will help you to improve the way you interact with others as well as to reduce your mood and anxiety symptoms and your self-harming behavior. This will make it possible for you to live a more stable and harmonious life.
Sign up and start getting happier now
Your therapist is ready to start the journey with you today - so what are you waiting for?
Take our test & get instant help
Answer a few questions and get immediate results and recommendations. It only takes a few minutes, so let's get started!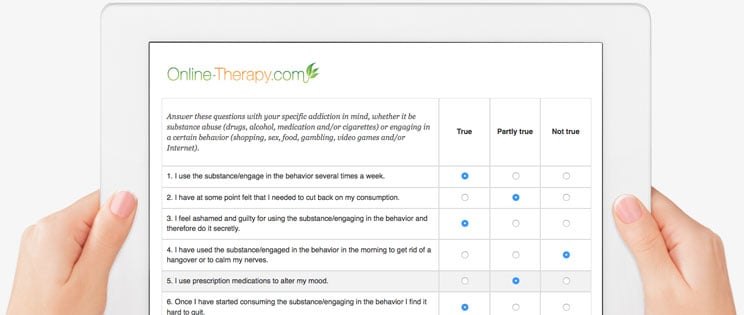 Reviews - Borderline Personality Disorder (BPD)
This program has received 18 reviews and the average rating is 4.6 out of 5 stars.
Rating: [5 out of 5 stars!]
"The format for this therapy is great. Do yourself a favor and commit yourself to this program. Do the sessions, complete the worksheets, take part in the chats, stick with it and you will thank yourself. The therapists and dedicated and truly care about their patients. BPD is tough, but with OLT you can learn to be tougher!"
Just Do It! (March 27, 2017)
Rating: [4 out of 5 stars!]
"It has helped me with face up to the issues on hand. Thanks. The counsellors really care about you."
Clara Soh (July 05, 2016)
Rating: [4 out of 5 stars!]
"I have been searching for a comprehensive online course to help me learn new skills. This is the only online therapy that seemed to have it all. I'm looking forward to all they have to offer!"
SimplyMe (June 04, 2016)
Rating: [4 out of 5 stars!]
"The approach is really appreciable. You get to work on your problem yourself since it's a self help programme. You understand your problems and get to work in a right direction with proper methods, thanks to the sessions and especially the therapist help. The therapist seemed nice and experienced and always knew the right way of looking at things. I found the programme very useful. However, it certainly needs a lot of work from our end to see and experience changes. One live chat per week is quite helpful and makes a lot of difference too."
Chetan (September 15, 2014)
Rating: [4 out of 5 stars!]
"The idea of worksheets and online treatment is really good, I think cause you get to work on your problems by taking as much time as u need. You can review your thoughts and go step by step at your own pace. There is enough time to come up with actual problems that you never realized and think for their solutions. The therapist help is wonderful. My therapist is very practical. The site is designed to make yourself independent and work for yourself by your own choice and will. The sessions are a little difficult but the knowledge in them is profound."
Will (July 17, 2014)
Rating: [5 out of 5 stars!]
"Excellent!"
Yumi (September 21, 2012)
Rating: [5 out of 5 stars!]
"Do you like the worksheets? Yes

Do you find it useful to have your own personal therapist online? Yes, most definitely. She has assisted me tremendously with my own personalized models.

Do you like the 8 sessions? Yes. There are a few I am having difficulty getting through. They are helpful, but I really like having my personal therapist the best. The feedback is what I need."
Julie (March 18, 2012)
Rating: [5 out of 5 stars!]
"I am loving this service. My therapist Maggie is helping me untangle and relieve my BPD symptoms for the first time ever. I didn't even know I had BPD before using this service; or rather, I didn't want to admit it. Maggie has convinced me that while BPD can be tough, there is hope, and I can surmount this disorder.

Lately, I'm feeling something I haven't felt in a while -- inner peace (not just happiness). I've learned so much from this program. Also, the format is kind of perfect for someone with BPD. We're interacting online, which means there's much less for me to misinterpret in our communications. Also, everything is written down, so it's easy to look back on a previous conversation and see what was really said/written (as opposed to just relying on memory, which can be biased). The worksheets are great.

This is one of the best things I've ever done for myself and for others, and I'm so grateful for this program."
Pookie (January 31, 2012)
Rating: [5 out of 5 stars!]
"I appreciate the time and thoughtfulness of your customer service and thank your for saving and changing peoples lives. Because of this service today. I was able to complete my day today."
Darner (March 05, 2011)
Rating: [4 out of 5 stars!]
"So far, this therapy is helping me. I look forward to continuing."
SM (February 07, 2011)
Rating: [5 out of 5 stars!]
"My therapist is a great listener and she really helped me identify symptoms of this disorder and where I need to heal. Thank you!"
Nicole (January 12, 2011)
Rating: [5 out of 5 stars!]
"That was very helpful indeed. I feel huge relief after chatting with my therapist Maggie. I can't quite put my finger on what happened but she was both firm and compassionate which seemed to do the trick. Thank you."
BPD (January 04, 2011)
Rating: [5 out of 5 stars!]
"This program has helped with my borderline. The therapist gave wonderful feedback and was very well spoken.

I was recently having a hard time with my ups and downs and this program is very useful to me and hope you can give let others know that this is a good site for BPD. Any ways to learn to cope with my BPD is a step in the right direction to live a good life.

Sincerely, B"
B (October 19, 2010)
Rating: [4 out of 5 stars!]
"I have borderline personality traits with cptsd. I find it difficult to know any where near how I'll feel on any given day. but your site helped me understand that i am not so much a bad person as i am reacting to my various states of feelings and depression by acting out. i guess i need to sway heavily to inputing routines that may and hopefully do change some very negative ones.

I'm actually doing some great progress thanks to this site - its difficult though."
Anonymous (August 20, 2010)
Rating: [5 out of 5 stars!]
"Ive been working with my therapist Maggie for approx 3 months now and even though lots of times the things she says upsets me because of lack of understanding I believe she has my wellness in her heart. A small part of me thinks she hates me (thats my BPD), however a large part of me knows without a shadow of a doubt that she cares about me. Thanks Maggie."
Sparky (August 02, 2010)
Rating: [5 out of 5 stars!]
"Even though I have only been working with Maggie a short while and I know that I still struggle with past experiences affecting my therapy Maggie is the best therapist I have ever had. She gives me heaps and heaps of encouragement and heaps and heaps of acceptance and love. I hope one day my behavior will show her that. If there would be more therapists like her in the world for people struggling with BPD there would be less people struggling."
Lois (April 22, 2010)
Rating: [5 out of 5 stars!]
"There should be more therapist like you around the place and there wouldn't be so many hurting people."
Client (April 15, 2010)
Rating: [4 out of 5 stars!]
"Before I couldn't stop my emotional lows and anger when I felt rejected by someone. The online therapy has helped me with this even though there is still work to do… My therapist who helps is so kind and understanding. I hope to get even more constructive help from her."
Trying (March 30, 2010)
Sign up for online therapy today
Your therapist is ready to start the journey with you today - so what are you waiting for?