Manage Your BPD with Online Therapy
Borderline personality disorder (BPD) is characterized by a pattern of unstable ways of seeing oneself, instability in moods and often having problematic and stormy relationships. People with BPD are often impulsive, reckless and have a strong fear of abandonment and rejection. Some will engage in self-destructive behaviors, such as drug abuse and self-harm like cutting themselves.
When suffering from BPD it is common to also experience other mental disorders like depression, eating disorders and addictions. If you recognize that you have these signs and symptoms, you might be suffering from BPD – but you can regain control of your life and emotions!
Our therapy for BPD is based on cognitive behavioral therapy (CBT). With the help of CBT, you will learn to identify and challenge the automatic negative thoughts that underlie your inaccurate perception of yourself. Your therapist will help you to improve the way you interact with others as well as to reduce your mood and anxiety symptoms and your self-harming behavior. This will make it possible for you to live a more stable and harmonious life.
Sign up and start getting happier now
Your therapist is ready to start the journey with you today - so what are you waiting for?
RIGHT NOW:

Free therapy due to the coronavirus pandemic

We want to help as many people as possible during these extraordinary times.
Therefore we are offering parts of our online therapy platform for free.

The free access includes our online therapy program with 8 easy-to-follow sections and 25 worksheets, yoga and meditation videos, activity plan, journal, and tests (communicating with a personal therapist is not included).
Take our test & get instant help
Answer a few questions and get immediate results and recommendations. It only takes a few minutes, so let's get started!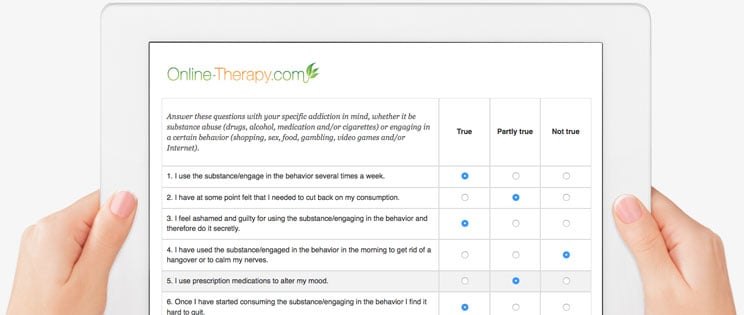 Reviews
Our online therapy services have received 973 reviews and the average rating is 4.6 out of 5 stars.
Rating: [5 out of 5 stars!]
"This program was the first step to trying to change my life for the better. The pandemic has been so extremely hard for me, but it also cause a shift in me. I want to change my life and become the person I want to be. This program has helped me. It has given me tools to help myself be the best version of myself and given me the motivation to make actual, real changes in my life. my therapist Raj has been very helpful and I thank her for her feedback and advice."
Raj (September 18, 2020)
Rating: [5 out of 5 stars!]
"I am loving this therapy site. Your therapist interacts via comments and questions on worksheets you do (at your own pace) and the pricing is very fair for appointments."
Engaging (August 17, 2020)
Rating: [5 out of 5 stars!]
"This has been nothing short of great! The format is amazing and so is my therapist! Love this platform!"
Kc (July 06, 2020)
Rating: [5 out of 5 stars!]
"Before taking this online course, I was very skeptical about therapy and I had an incorrect view of what it entails. After going through the 8 sections by myself, I found it to be eye-opening and a great resource for self-reflection. It really helped me to put things into perspective. I am now going to try and get feedback from a therapist so I can receive more objective feedback in order to improve and live a happier life. Thanks for helping me get started on the right foot!"
Insightful (June 29, 2020)
Rating: [5 out of 5 stars!]
"this is helping me so much, and I've tried a lot of online therapies. Thank you."
Dii (July 27, 2020)
Rating: [5 out of 5 stars!]
"Very skeptical as had one to one therapy before and thought on line couldn't help. All I can say is I wish I had only ever done online. I have had a drink problem for years and since starting the course have not touched one drop of alcohol. I can remember last night, lost weight and feel alive for the first time in 50 years"
Nearly Fixed (August 03, 2020)
Rating: [5 out of 5 stars!]
"It can be a bit overwhelming to navigate all the features, but talking to the therapist is a great part of this offering. If you subscribe, you should book your appointment immediately after filling out the initial worksheets.

It's worth it. And it's already helping me in my day-to-day noticeably."
Great Service (July 13, 2020)
Rating: [5 out of 5 stars!]
"I have really enjoyed this program. The therapist is extremely attentive and thoughtful in their responses."
Nh (July 07, 2020)
Rating: [5 out of 5 stars!]
"The worksheets and the feedback from them are really helpful. It helps to get the feedback, which I feel puts more context into what you're working on at the time."
1st Review (August 05, 2020)
Rating: [5 out of 5 stars!]
"Super convenient.
Practical affordable help that works on my schedule."
Mel (July 21, 2020)
Sign up for online therapy today
Your therapist is ready to start the journey with you today - so what are you waiting for?
Have any questions?
Are you unsure of what program to choose or have any questions about our services? Check our FAQ to alleviate any concerns.