Manage Your BPD with Online Therapy
Borderline personality disorder (BPD) is characterized by a pattern of unstable ways of seeing oneself, instability in moods and often having problematic and stormy relationships. People with BPD are often impulsive, reckless and have a strong fear of abandonment and rejection. Some will engage in self-destructive behaviors, such as drug abuse and self-harm like cutting themselves.
When suffering from BPD it is common to also experience other mental disorders like depression, eating disorders and addictions. If you recognize that you have these signs and symptoms, you might be suffering from BPD – but you can regain control of your life and emotions!
Our therapy for BPD is based on cognitive behavioral therapy (CBT). With the help of CBT, you will learn to identify and challenge the automatic negative thoughts that underlie your inaccurate perception of yourself. Your therapist will help you to improve the way you interact with others as well as to reduce your mood and anxiety symptoms and your self-harming behavior. This will make it possible for you to live a more stable and harmonious life.
Sign up and start getting happier now
Your therapist is ready to start the journey with you today - so what are you waiting for?
Take our test & get instant help
Answer a few questions and get immediate results and recommendations. It only takes a few minutes, so let's get started!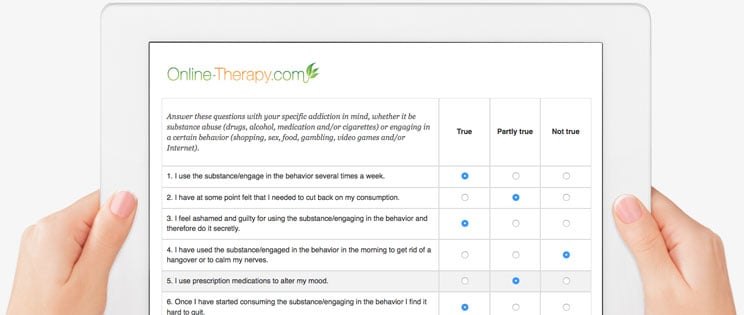 Reviews
Our online therapy services have received 1958 reviews and the average rating is 4.7 out of 5 stars.
Rating: [4 out of 5 stars!]
"I have found this service to be very helpful. I appreciated being able to switch therapists to find the best fit. The worksheets have given me ideas for positive focus in my life. Being able to message my therapist and have video calls has kept me on track. I would recommend Online-Therapy.com to anyone who needs to help redirecting negative and anxiety-provoking thoughts."
Sarah (December 28, 2021)
Rating: [5 out of 5 stars!]
"Great Service"
Alex (November 07, 2021)
Rating: [5 out of 5 stars!]
"Great and very responsive!"
Paul (November 03, 2021)
Rating: [5 out of 5 stars!]
"I found the online therapy very beneficial and interesting. I feel like I learned a lot about how the brain works and why I think the way I do which is a big step in changing my negative behaviours. The worksheets helped me to look at myself and understand my behaviour in a way that I would have never been able to without the worksheets. Although it was challenging to look at myself in such ways and it was emotional at times, I do believe that this was so beneficial to my understanding of how I can change. My therapist, Jacquie, was kind and compassionate. She made me feel valued and encouraged me to believe and have confidence in myself. When I was struggling and not logging on as normal, she would check in on me and this would encourage me to get back on track which I found to be very helpful."
Briony's Therapy (January 09, 2022)
Rating: [5 out of 5 stars!]
"I have been very pleased with the overall program. I like the worksheets and feedback- working at my own pace helps me really put action steps in place. Dr. Paula has been fantastic- her responses are well thought out, purposeful and action orientated. She has helped me so much in a short time."
Finding Peace, Finally (December 08, 2021)
Rating: [5 out of 5 stars!]
"I like that I have access to worksheets and journals all the time and that my therapist can answer. She gives me thoughts and insights I had not come to in regular in person therapy"
Rob (January 10, 2022)
Rating: [5 out of 5 stars!]
"practical therapy website that offer real life activities"
Adam Oari (November 26, 2021)
Rating: [5 out of 5 stars!]
"I really appreciate the thoughtful questions that the worksheets ask and the meaningful and direct responses from my therapist"
So Far, So Good! (January 13, 2022)
Rating: [5 out of 5 stars!]
"Brett has been very helpful and I enjoyed our first live video session. Thank you Brett. I like the structure you guys offer. The format has suited me so far. I look forward to opening up the site and doing a little work, its satisfying and insightful. Thank you"
Matthew Gonzales (November 19, 2021)
Rating: [5 out of 5 stars!]
"I did my homework! Plus it's a BRILLIANT design that helps you express yourself and develop self-awareness rapidly! With multimidia to organize your thoughts and priorities your goals either with worksheets, journal, planner, video, audio, text messaging or email! There's nothing else like it!

You matter! Hang on. Seek relief. And you do not have to do this alone. This is the only online counseling that matters."
The MOST Affordable (November 27, 2021)
Sign up for online therapy today
Your therapist is ready to start the journey with you today - so what are you waiting for?
Have any questions?
Are you unsure of what program to choose or have any questions about our services? Check our FAQ to alleviate any concerns.