Manage Your BPD with Online Therapy
Borderline personality disorder (BPD) is characterized by a pattern of unstable ways of seeing oneself, instability in moods and often having problematic and stormy relationships. People with BPD are often impulsive, reckless and have a strong fear of abandonment and rejection. Some will engage in self-destructive behaviors, such as drug abuse and self-harm like cutting themselves.
When suffering from BPD it is common to also experience other mental disorders like depression, eating disorders and addictions. If you recognize that you have these signs and symptoms, you might be suffering from BPD – but you can regain control of your life and emotions!
Our therapy for BPD is based on cognitive behavioral therapy (CBT). With the help of CBT, you will learn to identify and challenge the automatic negative thoughts that underlie your inaccurate perception of yourself. Your therapist will help you to improve the way you interact with others as well as to reduce your mood and anxiety symptoms and your self-harming behavior. This will make it possible for you to live a more stable and harmonious life.
Sign up and start getting happier now
Your therapist is ready to start the journey with you today - so what are you waiting for?
Take our test & get instant help
Answer a few questions and get immediate results and recommendations. It only takes a few minutes, so let's get started!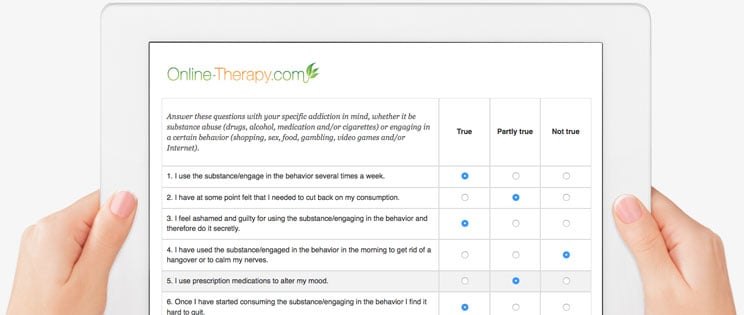 Reviews
Our online therapy services have received 516 reviews and the average rating is 4.6 out of 5 stars.
Rating: [5 out of 5 stars!]
"It is helping me a lot. Thanks!"
Luke (March 14, 2019)
Rating: [4 out of 5 stars!]
"Good"
Hh (January 16, 2019)
Rating: [5 out of 5 stars!]
"It gives me an opportunity to seek help daily rather than waiting for my next appointment with an in person therapist."
Billyboy (January 31, 2019)
Rating: [4 out of 5 stars!]
"Beautiful answers and a lot of compassion going on there. U guys are amazing."
Greekgirl (January 17, 2019)
Rating: [5 out of 5 stars!]
"So far the customer service has been outstanding! There was an issue with my initial registration and the assistance they provided was extremely unexpected. They had one representative work with me until the it was fully resolved. I received emails without any prompting from me. They handled it well, quickly and in a very personable manner."
Light At End Of Tunnel (February 22, 2019)
Rating: [5 out of 5 stars!]
"Yes very helpful"
Lucy (March 11, 2019)
Rating: [5 out of 5 stars!]
"I have completed the eight sessions of online cognitive behavior therapy with Maggie Sweet as my therapist. This was my first time with an online therapy. I have given the experience five stars because the program and its format met and exceeded my expectations.
One thing I did not expect was the reciprocal nature of the client/therapist interaction, as far as receiving messages on worksheets that I completed on my own time. In my previous (in person) therapy experiences, I would do my work on my own and meet with my therapist once a week or less. We didn't have much more contact than that. That frequency of service worked for me, so having quick responses to my online work was something I had to adjust to. At first it felt pushy but I used the novelty of the experience to challenge my commitment to my goals in seeking therapy. So, in that way, my experience with Maggie exceeded my expectations.
The online format has so many advantages that the inherent problems seem minimal. One thing I would change is to have a way to easily download worksheets in a .pdf format, or possibly upload them to a cloud storage, if copyright is an issue. Also regarding the internet format, I had one live chat experience that was interrupted by what appeared to be a connectivity issue. I was allowed to make up that session.
I would recommend this service for persons who have the therapeutic needs described in the organization's information."
Client (January 03, 2019)
Rating: [4 out of 5 stars!]
"It's good. I think I signed up for more therapist time than I need, but it's helpful knowing there is someone out there checking in. I find the exercises really helpful and the journal is a game changer. I wish there was an app for my iPhone though."
1st One (March 08, 2019)
Rating: [5 out of 5 stars!]
"Website explained aspects of three choices well."
Sleepy (January 13, 2019)
Rating: [5 out of 5 stars!]
"I had my first chat with my Therapist on Wednesday and I found it very beneficial and motivating. I'm liking the service so far, quick responses from my therapist and the material makes me think but not stress."
Review (March 15, 2019)
Sign up for online therapy today
Your therapist is ready to start the journey with you today - so what are you waiting for?