Manage Your BPD with Online Therapy
Borderline personality disorder (BPD) is characterized by a pattern of unstable ways of seeing oneself, instability in moods and often having problematic and stormy relationships. People with BPD are often impulsive, reckless and have a strong fear of abandonment and rejection. Some will engage in self-destructive behaviors, such as drug abuse and self-harm like cutting themselves.
When suffering from BPD it is common to also experience other mental disorders like depression, eating disorders and addictions. If you recognize that you have these signs and symptoms, you might be suffering from BPD – but you can regain control of your life and emotions!
Our therapy for BPD is based on cognitive behavioral therapy (CBT). With the help of CBT, you will learn to identify and challenge the automatic negative thoughts that underlie your inaccurate perception of yourself. Your therapist will help you to improve the way you interact with others as well as to reduce your mood and anxiety symptoms and your self-harming behavior. This will make it possible for you to live a more stable and harmonious life.
Sign up and start getting happier now
Your therapist is ready to start the journey with you today - so what are you waiting for?
RIGHT NOW:

Free therapy due to the coronavirus pandemic

We want to help as many people as possible during these extraordinary times.
Therefore we are offering parts of our online therapy platform for free.

The free access includes our online therapy program with 8 easy-to-follow sections and 25 worksheets, yoga and meditation videos, activity plan, journal, and tests (communicating with a personal therapist is not included).
Take our test & get instant help
Answer a few questions and get immediate results and recommendations. It only takes a few minutes, so let's get started!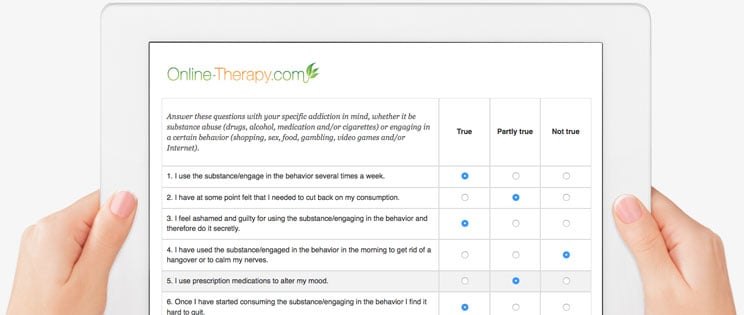 Reviews
Our online therapy services have received 909 reviews and the average rating is 4.6 out of 5 stars.
Rating: [4 out of 5 stars!]
"The site is wonderful and clear and the CBT helps me a lot. The experience would be even better if it was possible to have a videochat with the therapists.

Customer Service reply:
Thank you for your valuable feedback. Video and voice only chats are coming in June 2020!"
David (May 19, 2020)
Rating: [5 out of 5 stars!]
"Love this course. I was soo confused and stressed going in. This course unravelled so much in my life and helped me to dig right into where I needed to be to resolve deep issues. My therapist, I won't divulge her name, but want to, is wonderful. She allowed me to express my true real feelings at the time and help me to discover more about myself. In turn, this help me to see what the over overlapping issues are and caused my anxiety and how they inter-relate. I wasn't even going for that but she was able to straighten it out by me doing the work. It was a little overwhelming at first but it all goes together. I hope the next people appreciate all the course has to offer and how much better one can feel if you take the time to do the work."
Pam Saved - Nailed It! (June 15, 2020)
Rating: [4 out of 5 stars!]
"Seems great so far"
Jm (May 30, 2020)
Rating: [5 out of 5 stars!]
"Videos and papers are very helpful! Helps to pinpoint where I exactly need help."
Jasmine (May 25, 2020)
Rating: [5 out of 5 stars!]
"I've tried online therapy before and it had always stressed me out and made me feel worse.
But ever since using this site I've actually see the changes in myself. I never feel pressured and I love the worksheets that let me work at my own pace. I also love that I get feedback and I'm able to talk about it"
New Experience (May 14, 2020)
Rating: [4 out of 5 stars!]
"My experience has been eye-opening. My counselor is clear, concise and helpful."
Ct (June 30, 2020)
Rating: [5 out of 5 stars!]
"Helpful system"
Viki (July 22, 2020)
Rating: [5 out of 5 stars!]
"I have found Online Therapy.com to be extremely helpful and it has helped me work on so many different things about my personality that I never would have without their help. I am able to go online and work with my therapist Julie any time of the day and then she gets back with me the same day. I don't have to wait a week to see her (if she was an in person therapist) to talk about something that is really bothering me. I feel connected with my therapist and she is giving me tools to live a better life."
Holly (June 29, 2020)
Rating: [5 out of 5 stars!]
"Good"
Ahb (May 16, 2020)
Rating: [5 out of 5 stars!]
"Help a lot, thx"
Eva (July 30, 2020)
Sign up for online therapy today
Your therapist is ready to start the journey with you today - so what are you waiting for?
Have any questions?
Are you unsure of what program to choose or have any questions about our services? Check our FAQ to alleviate any concerns.