Overcome Your Insomnia with Online Therapy
Insomnia is the most common sleep disorder. If you are experiencing difficulty in falling asleep or maintaining a good night's sleep, or suffer many waking periods during the night, then you might be suffering from insomnia.
Many people suffer from insomnia at some point in their life, due to stress in their work or private life. However, if you experience a lack of enough recuperative sleep for long periods of time, this will most definitely lead to a reduced quality of life during your waking hours. Emotional problems may develop, including irritability and anxiety and you will likely experience cognitive difficulties.
Our therapy for insomnia is based on cognitive behavioral therapy (CBT). With the help of this insomnia online therapy program and your therapist, you will be able to identify thoughts and behaviors that negatively affect your sleeping patterns and replace them with better ones that will improve your sleep. Compared to sleeping pills that have unpleasant side effects, you will actually deal with the problems that cause your sleeping struggles (such as problems at work, in your relationship or stress about money). This will allow you to improve your sleep quality over the long-term. Your therapist will teach you how to deal with the negative thoughts that keep you awake at night. You will also learn relaxation techniques and new bedtime routines that will definitely improve your chances of getting a good night's sleep.
Sign up and start getting happier now
Your therapist is ready to start the journey with you today - so what are you waiting for?
Take our test & get instant help
Answer a few questions and get immediate results and recommendations. It only takes a few minutes, so let's get started!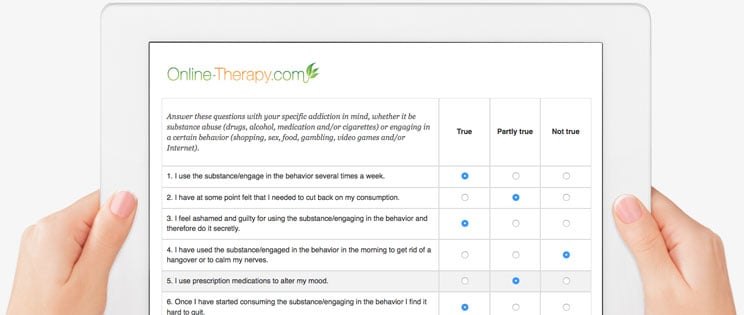 Reviews
Our online therapy services have received 520 reviews and the average rating is 4.6 out of 5 stars.
Rating: [5 out of 5 stars!]
"I really like the format of this program, because I can do my therapy at home in the evenings. I was skeptical at first, but I was in a really bad place in life, and was desperate to try something. I have been in "talk-therapy" in the past with a psychologist or social worker, but this is really different.

The worksheets have been helpful in sorting out my thoughts, and figuring out how to actually make changes in my life, instead of just talking about it. My therapist, Maggie, has been very helpful by helping me realize that if I don't have a plan and take active steps to feel better, then things will just stay the same. Then, ultimately I will just continue down the same path and remain unhappy.

She challenges me by asking tough questions, which helps me see things from a different perspective. I feel encouraged that if I stick with the program, I can break my negative patterns, and live a more balanced life. I have hope that I can use my new skills to repair the damaged relationships in my life. I can learn to reach out to people."
DRH (March 14, 2019)
Rating: [5 out of 5 stars!]
"I would really like to thank Maggie for all the help she has given me past few months, I'm not sure where I would be without her help, those were some pretty difficult times for me and I really appreciate all she has done! I often use the tools I've learned in course to help me cope in certain situations and look forward to using them in the future. I won't hesitate in the future to subscribe to your site in the future if need be.."
CT (February 08, 2019)
Rating: [5 out of 5 stars!]
"Yes very helpful"
Lucy (March 11, 2019)
Rating: [5 out of 5 stars!]
"Fantastic service."
Good Service (February 22, 2019)
Rating: [5 out of 5 stars!]
"I love the service online therapy has provided to me so far. My therapist has helped me a lot and I can see the difference so clearly."
Sweet (March 06, 2019)
Rating: [5 out of 5 stars!]
"So far the customer service has been outstanding! There was an issue with my initial registration and the assistance they provided was extremely unexpected. They had one representative work with me until the it was fully resolved. I received emails without any prompting from me. They handled it well, quickly and in a very personable manner."
Light At End Of Tunnel (February 22, 2019)
Rating: [5 out of 5 stars!]
"I have found the online therapy to be highly effective, convenient and helpful. I greatly appreciate the personalized comments from my online therapist, which help me navigate the steps and activities. I highly recommend online-therapy.com!"
DubaiGuy (March 05, 2019)
Rating: [5 out of 5 stars!]
"Love the yoga! It helps me return to a good place."
Jstlou (February 02, 2019)
Rating: [5 out of 5 stars!]
"Well, online-therapy.com was able to help me identify the fact that I have been dealing with thought traps sixty-seven percent into the program. The two main thought traps are catastrophic thinking and extreme thinking. The sad thing is that the thinking is relevant to reality. This is why I documented everything. This is why I dialogue everything. This is why I do so via online GPS coordinates attached to smart devices, audio recordings, video surveillance, and research on those who have been wrapped up with derogatory records online.

I am not the same anymore because life is not the same anymore. This world we live in is not like the way I remember during my childhood innocence. It's changed drastically and I have experienced corruption. I experienced trauma and severe degrees of stress in the midst of the corruption. In matter of fact, I was scoring myself out with the Holmes and RaHe Social Readjustment Scale. I was scoring over 700 consistently for a prolonged period of time. Now isn't that alarming?!

Maybe this will all change by moving into the country. Maybe than I can focus on thinking about the birds and the bees in the pine trees. The many seas that this land divides and a garden to provide. Maybe than I will not have to worry about the mafia attempting to conquer and divide. Maybe I'll be able to focus on skinning a deer hide."
67% (February 11, 2019)
Rating: [4 out of 5 stars!]
"I find the program very structured and easy to follow. Looking forward to seeing the improvements in myself."
Javi (January 23, 2019)
Sign up for online therapy today
Your therapist is ready to start the journey with you today - so what are you waiting for?