Overcome Your Unhealthy Stress with Online Therapy
Almost anything can cause stress in one's life. Work, family, kids, friends, school, finances and life-changing events are all stressors that can cause a person to experience elevated stress levels. Although stress is a normal part of your life, overwhelming stress can result in health issues (such as heart disease and gastrointestinal problems), relationship strain, problems at work and even an increased likelihood of depression or anxiety.
Common symptoms of too much stress in your life include problems concentrating, sleep disturbances and eating too little or too much, consistently feeling down or worried and physical problems like headache, rapid heartbeat, pain and aches in your body.
Fortunately, no matter what is happening in your life, you can learn skills to control your stress. Our stress management is based on cognitive behavioral therapy (CBT). With the help of CBT, you will learn to identify and challenge the automatic negative thoughts that, up to this point, have caused you to feel overwhelmed with stress. Your therapist will help you build skills to cope and adapt to life's stressors. You will quickly learn how to better deal with problems and to stay in control of your emotions. The result? Not only will you feel better now, but you will also have these skills to use regardless of what happens in the future.
Sign up and start getting happier now
Your therapist is ready to start the journey with you today - so what are you waiting for?
Take our test & get instant help
Answer a few questions and get immediate results and recommendations. It only takes a few minutes, so let's get started!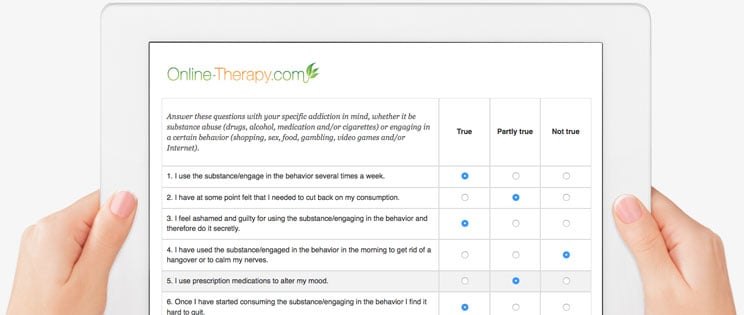 Reviews
Our online therapy services have received 506 reviews and the average rating is 4.6 out of 5 stars.
Rating: [4 out of 5 stars!]
"Each module easy to read and understand. Lots of good resources."
My (January 13, 2019)
Rating: [5 out of 5 stars!]
"I stayed with this programme for 10 months and I can highly recommend this form of therapy. The fact that you can work when you want, reread the comments or chats until your really understand gives this an enormous advantage over classic face to face therapy where you can easily forget all of what was said.
Maggie, my therapist, gave me so much help and hope over the past ten months. I will always be grateful to her for that. She helped me out of a black hole. I have been copying out some of the stuff I have written over the months and I can hardly believe the difference. It helps me remember how I was, but I have certainly changed, I can see that. It's wonderful !!"
Less Stressed (February 01, 2019)
Rating: [5 out of 5 stars!]
"I have completed the eight sessions of online cognitive behavior therapy with Maggie Sweet as my therapist. This was my first time with an online therapy. I have given the experience five stars because the program and its format met and exceeded my expectations.
One thing I did not expect was the reciprocal nature of the client/therapist interaction, as far as receiving messages on worksheets that I completed on my own time. In my previous (in person) therapy experiences, I would do my work on my own and meet with my therapist once a week or less. We didn't have much more contact than that. That frequency of service worked for me, so having quick responses to my online work was something I had to adjust to. At first it felt pushy but I used the novelty of the experience to challenge my commitment to my goals in seeking therapy. So, in that way, my experience with Maggie exceeded my expectations.
The online format has so many advantages that the inherent problems seem minimal. One thing I would change is to have a way to easily download worksheets in a .pdf format, or possibly upload them to a cloud storage, if copyright is an issue. Also regarding the internet format, I had one live chat experience that was interrupted by what appeared to be a connectivity issue. I was allowed to make up that session.
I would recommend this service for persons who have the therapeutic needs described in the organization's information."
Client (January 03, 2019)
Rating: [3 out of 5 stars!]
"I have enjoyed having therapy at my own pace."
SG (December 16, 2018)
Rating: [3 out of 5 stars!]
"It seems like this site and the tools can be helpful. I just need to dedicate more time to it."
Working On It (January 11, 2019)
Rating: [4 out of 5 stars!]
"The therapist is very quick in responding with comments to the workbook entries. I've found some very valuable advice and insight from the short time I've been here."
AC (January 14, 2019)
Rating: [5 out of 5 stars!]
"Great timing with replies, very comprehensive, easy to read and follow along therapy methods."
Mary (January 07, 2019)
Rating: [4 out of 5 stars!]
"I find the program very structured and easy to follow. Looking forward to seeing the improvements in myself."
Javi (January 23, 2019)
Rating: [4 out of 5 stars!]
"Haven't used much but looks promising."
Jd (February 20, 2019)
Rating: [5 out of 5 stars!]
"This has been amazing so far. My therapist has understood exactly what I've been saying and her guidance has really opened my mind to therapy, which I've never seen success with. I am so happy that I chose online-therapy.com because of all the other features outside of worksheets - the journaling, the consistent contact with my therapist, and just feeling like I have her on my team and we are working (hard work!) towards a common goal of overall health - mind, body, and spirit. I am grateful and I am making progress. It's everything I wanted when I came here."
My First Successful Therapy (February 05, 2019)
Sign up for online therapy today
Your therapist is ready to start the journey with you today - so what are you waiting for?