Overcome Your Unhealthy Stress with Online Therapy
Almost anything can cause stress in one's life. Work, family, kids, friends, school, finances and life-changing events are all stressors that can cause a person to experience elevated stress levels. Although stress is a normal part of your life, overwhelming stress can result in health issues (such as heart disease and gastrointestinal problems), relationship strain, problems at work and even an increased likelihood of depression or anxiety.
Common symptoms of too much stress in your life include problems concentrating, sleep disturbances and eating too little or too much, consistently feeling down or worried and physical problems like headache, rapid heartbeat, pain and aches in your body.
Fortunately, no matter what is happening in your life, you can learn skills to control your stress. Our stress management is based on cognitive behavioral therapy (CBT). With the help of CBT, you will learn to identify and challenge the automatic negative thoughts that, up to this point, have caused you to feel overwhelmed with stress. Your therapist will help you build skills to cope and adapt to life's stressors. You will quickly learn how to better deal with problems and to stay in control of your emotions. The result? Not only will you feel better now, but you will also have these skills to use regardless of what happens in the future.
Sign up and start getting happier now
Your therapist is ready to start the journey with you today - so what are you waiting for?
Take our test & get instant help
Answer a few questions and get immediate results and recommendations. It only takes a few minutes, so let's get started!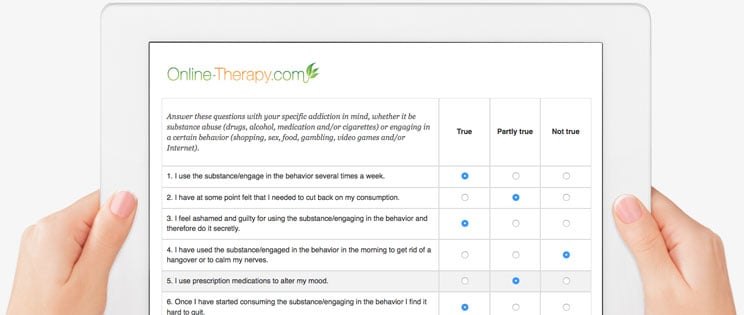 Reviews
Our online therapy services have received 520 reviews and the average rating is 4.6 out of 5 stars.
Rating: [5 out of 5 stars!]
"This has been amazing so far. My therapist has understood exactly what I've been saying and her guidance has really opened my mind to therapy, which I've never seen success with. I am so happy that I chose online-therapy.com because of all the other features outside of worksheets - the journaling, the consistent contact with my therapist, and just feeling like I have her on my team and we are working (hard work!) towards a common goal of overall health - mind, body, and spirit. I am grateful and I am making progress. It's everything I wanted when I came here."
My First Successful Therapy (February 05, 2019)
Rating: [4 out of 5 stars!]
"So far I am into just one week of the program. Have been impressed by the diligence shown by my therapist and the quality of her responses."
Gyrkin (March 04, 2019)
Rating: [5 out of 5 stars!]
"Awesome, really helped."
Jen (March 22, 2019)
Rating: [4 out of 5 stars!]
"Haven't used much but looks promising."
Jd (February 20, 2019)
Rating: [5 out of 5 stars!]
"It gives me an opportunity to seek help daily rather than waiting for my next appointment with an in person therapist."
Billyboy (January 31, 2019)
Rating: [5 out of 5 stars!]
"I love how flexible the online therapy program is. I feel like I am making progress and I highly recommend this program."
Kc (February 11, 2019)
Rating: [4 out of 5 stars!]
"I'm new to this website but so far I've had positive experiences. At the beginning you fill out a lot of (optional) information about yourself so that the therapist can personalise your therapy. The therapist usually responds within a few hours except on weekends and probably faster in different time zones (I'm in Australia). I don't really have any complaints so far apart from the forum being inactive and that there's no forum for eating disorders. I feel like the inactivity on the forum could be easily solved if the website was more popular so I hope more people try online therapy!"
EmoSeth (March 16, 2019)
Rating: [5 out of 5 stars!]
"I would really like to thank Maggie for all the help she has given me past few months, I'm not sure where I would be without her help, those were some pretty difficult times for me and I really appreciate all she has done! I often use the tools I've learned in course to help me cope in certain situations and look forward to using them in the future. I won't hesitate in the future to subscribe to your site in the future if need be.."
CT (February 08, 2019)
Rating: [5 out of 5 stars!]
"I had my first chat with my Therapist on Wednesday and I found it very beneficial and motivating. I'm liking the service so far, quick responses from my therapist and the material makes me think but not stress."
Review (March 15, 2019)
Rating: [5 out of 5 stars!]
"It's great."
Jane (January 29, 2019)
Sign up for online therapy today
Your therapist is ready to start the journey with you today - so what are you waiting for?