Overcome Your Unhealthy Stress with Online Therapy
Almost anything can cause stress in one's life. Work, family, kids, friends, school, finances and life-changing events are all stressors that can cause a person to experience elevated stress levels. Although stress is a normal part of your life, overwhelming stress can result in health issues (such as heart disease and gastrointestinal problems), relationship strain, problems at work and even an increased likelihood of depression or anxiety.
Common symptoms of too much stress in your life include problems concentrating, sleep disturbances and eating too little or too much, consistently feeling down or worried and physical problems like headache, rapid heartbeat, pain and aches in your body.
Fortunately, no matter what is happening in your life, you can learn skills to control your stress. Our stress management is based on cognitive behavioral therapy (CBT). With the help of CBT, you will learn to identify and challenge the automatic negative thoughts that, up to this point, have caused you to feel overwhelmed with stress. Your therapist will help you build skills to cope and adapt to life's stressors. You will quickly learn how to better deal with problems and to stay in control of your emotions. The result? Not only will you feel better now, but you will also have these skills to use regardless of what happens in the future.
Sign up and start getting happier now
Your therapist is ready to start the journey with you today - so what are you waiting for?
RIGHT NOW:

Free therapy due to the coronavirus pandemic

We want to help as many people as possible during these extraordinary times.
Therefore we are offering parts of our online therapy platform for free.

The free access includes our online therapy program with 8 easy-to-follow sections and 25 worksheets, yoga and meditation videos, activity plan, journal, and tests (communicating with a personal therapist is not included).
Take our test & get instant help
Answer a few questions and get immediate results and recommendations. It only takes a few minutes, so let's get started!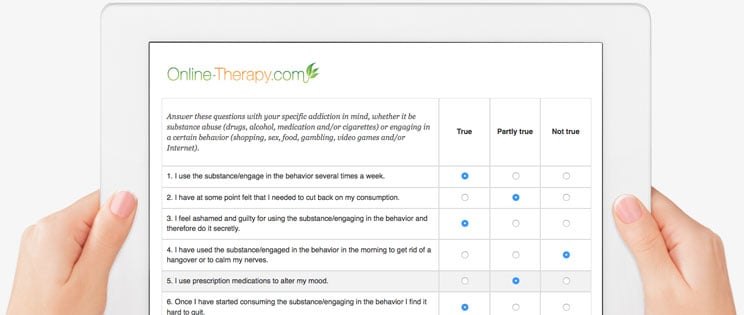 Reviews
Our online therapy services have received 835 reviews and the average rating is 4.6 out of 5 stars.
Rating: [5 out of 5 stars!]
"This program provided very good information and guidance to restructuring your thought process. My therapist, Raj, provided excellent feedback and gave me a new way of seeing some situations."
Grateful (May 15, 2020)
Rating: [5 out of 5 stars!]
"love jenn"
Yas (June 15, 2020)
Rating: [5 out of 5 stars!]
"I've tried online therapy before and it had always stressed me out and made me feel worse.
But ever since using this site I've actually see the changes in myself. I never feel pressured and I love the worksheets that let me work at my own pace. I also love that I get feedback and I'm able to talk about it"
New Experience (May 14, 2020)
Rating: [4 out of 5 stars!]
"The site is wonderful and clear and the CBT helps me a lot. The experience would be even better if it was possible to have a videochat with the therapists.

Customer Service reply:
Thank you for your valuable feedback. Video and voice only chats are coming in June 2020!"
David (May 19, 2020)
Rating: [4 out of 5 stars!]
"Using the worksheets and interacting with a therapist has helped me work through some relationship issues and helped by confidence"
Rethinking (May 20, 2020)
Rating: [5 out of 5 stars!]
"I love the worksheets because they make me think and put things in perspective and most importantly make me aware of the problem!"
HYK (July 02, 2020)
Rating: [5 out of 5 stars!]
"I have found Online Therapy.com to be extremely helpful and it has helped me work on so many different things about my personality that I never would have without their help. I am able to go online and work with my therapist Julie any time of the day and then she gets back with me the same day. I don't have to wait a week to see her (if she was an in person therapist) to talk about something that is really bothering me. I feel connected with my therapist and she is giving me tools to live a better life."
Holly (June 29, 2020)
Rating: [5 out of 5 stars!]
"Happy to learn more about controlling my anger"
New (May 15, 2020)
Rating: [5 out of 5 stars!]
"Jenn has been fantastic and opened my mind to so many things. I feel like I'm on the right track for the first time in years."
Danny (May 25, 2020)
Rating: [3 out of 5 stars!]
"I just starting out"
Getting There (May 03, 2020)
Sign up for online therapy today
Your therapist is ready to start the journey with you today - so what are you waiting for?
Have any questions?
Are you unsure of what program to choose or have any questions about our services? Check our FAQ to alleviate any concerns.