Overcome Your Anxiety with Online Therapy
Feeling anxious from time to time is just normal. But when you can't seem to shake your concerns and your daily life is a constant state of worry and fear, then anxiety has taken an unhealthy grip on your life. In addition to emotional symptoms like always anticipating the worst, feeling restless all the time or having a constant nagging concern, anxiety can also have a lot of physical symptoms including a pounding heart, sweaty palms, feeling sick in your stomach, headaches and feeling tired.
Anxiety is our body's ancient and innate response to stressful situations such as being attacked by an aggressive animal or person. While we can't stop anxiety entirely because it is a natural response, we can take back the control of our lives so that anxiety does not get in the way of daily functioning.
Cognitive behavioral therapy (CBT) can help you overcome anxiety. You see, it is not external events that trigger your anxiety; instead it is how you perceive the events that cause your anxiety. Using our online therapy for anxiety, you'll learn how to identify your negative thinking patterns that cause your anxiety and replace them with more realistic and positive thoughts. CBT will help you learn to identify the physical sensations and feelings when you're anxious. And, more importantly, you will learn coping skills to neutralize this anxiety. Using a technique called systematic desensitization, your therapist will help you to gradually and repeatedly expose yourself to the situations and fears that normally trigger your anxiety. While this may sound scary, research actually shows it helps you take control of your anxiety so that you can improve your quality of life.
Sign up and start getting happier now
Your therapist is ready to start the journey with you today - so what are you waiting for?
RIGHT NOW:

Free therapy due to the coronavirus pandemic

We want to help as many people as possible during these extraordinary times.
Therefore we are offering parts of our online therapy platform for free.

The free access includes our online therapy program with 8 easy-to-follow sections and 25 worksheets, yoga and meditation videos, activity plan, journal, and tests (communicating with a personal therapist is not included).
Take our test & get instant help
Answer a few questions and get immediate results and recommendations. It only takes a few minutes, so let's get started!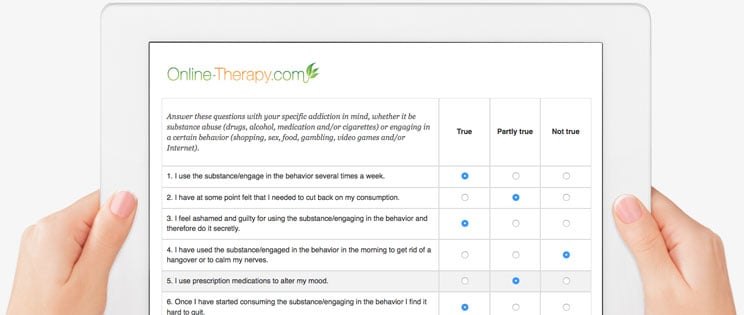 Reviews
Our online therapy services have received 754 reviews and the average rating is 4.6 out of 5 stars.
Rating: [4 out of 5 stars!]
"This is a good program. If you want to remember what you learned, I suggest using One Note or something to take notes on the sections and get screenshots of your worksheets. Also download and save the videos somewhere you've got space. This is a good first step for many people looking to better themselves. I suggest actually penciling most things you want to remember as it is scientifically proven to stick with us more than typing things out. Yoga you can pretty much find anywhere online for what's right for you, so you don't really have to use the resources here unless you really want to."
Julia (March 09, 2020)
Rating: [5 out of 5 stars!]
"Great exercises to help me maintain a strong mental attitude during difficult times. also, free :)"
Alex (May 22, 2020)
Rating: [5 out of 5 stars!]
"I'm very happy with my therapy"
Beth (May 12, 2020)
Rating: [4 out of 5 stars!]
"I am very impressed with the worksheets. I am getting a email each day to comment on worksheets. I am to the point that I need more questions in general from the information I have shared, not just a short comment on my last comments."
Sort Review (April 02, 2020)
Rating: [5 out of 5 stars!]
"I am really happy with the results. Maggie has been wonderful. She provides very insightful questions and great strategies that are helping me manage difficult situations. I know I have much more to learn and need to practice more but this program allows me to go at my own pace. No pressure. When I am busy, I just practice what I have learned and when I have time, I move ahead. I would highly recommend this site and this approach. I am happier today than a month ago when I started. That should say it all."
Celia (May 07, 2020)
Rating: [3 out of 5 stars!]
"I just starting out"
Getting There (May 03, 2020)
Rating: [5 out of 5 stars!]
"To the Online-Therapy Team,

This course has been amazing for me. I have been suffering from anger issues and minor depression and PTSD for years. The course took me about 2 weeks to complete but after just the first day I started recognizing my own negative thoughts and behaviors. After the first week I found myself steering my thoughts away from my automatic negative thinking patterns and looking at things objectively.

I think that the layout of this course was also well organized. It made me really look at each piece of the entire process in manageable steps. I was amazed at how quickly I started to notice a difference and am starting to feel like I have more control over my emotions than I ever knew I had.

Thank you for everything!"
Robin (April 16, 2020)
Rating: [5 out of 5 stars!]
"I have just started, but his service appears to be very helpful."
Jess (May 06, 2020)
Rating: [5 out of 5 stars!]
"It had been a good start"
Liz (May 16, 2020)
Rating: [4 out of 5 stars!]
"I have found that the structured nature of this online programme has made me aware of my triggers and more self-aware in general. I am glad I started this programme :)"
UN (May 08, 2020)
Sign up for online therapy today
Your therapist is ready to start the journey with you today - so what are you waiting for?