What Is Valentine's Day?
Self-Care Practices for Valentine's Day
Valentine's day originated as an early Christian festival. However, in many parts of the world February 14th has now become a yearly celebration of romance and love. As Valentine's day approaches, messages of romantic love are easy to come across. We might walk past a shop selling cards and gifts for a loved one. Or perhaps we look online and see social media posts of partners celebrating together. However, Valentine's day doesn't have to only be about romance. It can also serve as a good reminder to focus on cultivating kind and loving relationships in general. This includes the most important relationship of all: the one we have with ourselves. So, whether you're single or taken this Valentine's Day, it's a good opportunity to be mindful of self-love. Today we will be focusing on how to practice self-care for Valentine's Day.
Pursuing Self-Care For Valentine's Day
Self-care practices can seem indulgent but looking after ourselves has huge benefits.  Looking after ourselves can reduce anxiety and low mood.  For instance, it lowers our stress responses and helps us to be more resilient to the ups and downs of life. Self-care helps to calm our nervous systems and stop the 'fight or flight' response. This can make us happier and healthier, with stronger immune systems. By caring for ourselves we're also better able to care for others. Furthermore, when we model self-care practices those around us may start to look after themselves too. So, whether you're single or in a relationship self-care is important.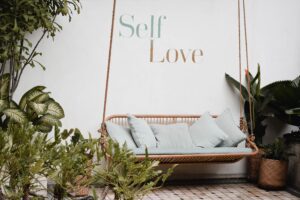 Here are Some Simple Self-care for Valentine's Day:
1. Do Something You Love
Doing something we love makes us feel happier. Prioritizing time for things we enjoy is one of the best ways to reduce anxiety and low mood. Practising something we love can also help us cope with difficult times in our lives. It doesn't matter what you choose to do, as long as it aligns with your values and goals. You might decide to make time to go for a run, play music, talk with a good friend, watch a film, have a spa day, or do anything else you enjoy. The important thing is the act of setting aside time to nourish yourself with something you love. If you're not sure what you enjoy then give a few things a go until you find what makes you happy.
2. Turn Off Notifications
Do you sometimes feel like you have a better relationship with your phone than you do with yourself? Do you need to know exactly when the next email comes through? Is your day constantly interrupted by messages? Give yourself the gift of turning off notifications for a day (or more). Instead of watching out for your phone, connect with yourself. Or connect with others in an uninterrupted way. Focus on the present moment and enjoy where you are without the distraction of work or social media.
3. Explore Your Self-Talk
We can show ourselves self-love through our self-talk. Gently become mindful of the things you say to yourself. Are you putting yourself down a lot? Do you say things to yourself like 'you're not good enough' or 'no one likes you?' We can all be unkind to ourselves sometimes but it's not usually helpful. Try to take a step back from your inner critic and talk with yourself like you'd talk to someone you love instead. Remind yourself of your positive qualities and your achievements. Celebrate your successes and focus on the good. CBT techniques can also support us in gently challenging our negative self-talk.
4. Reset Your Nervous System
Many of us are constantly 'on the go'. Or we might tend to feel stressed and overthink. This can lead our nervous system to be highly activated, which has consequences for our physical and mental health. For Valentine's day, allow yourself to reset your nervous system and invite more calm into your life. Methods for resetting our nervous system include spending time in nature, such as going for a walk in a local green space. Deep breathing is another good way to calm our nervous systems down. There are many breathing techniques available but just taking 30 seconds a couple of times a day to focus on our breath and slow it down is effective.
5. Be Kind To Others
Helping others is a win-win situation as it makes them feel good and it makes us feel good too. There are many different ways we can be kind to someone else. You could try telling someone in your life how much you appreciate them. Or writing a note to a friend or loved one. You could pay someone an unexpected compliment. Or buy a cup of coffee for a friend or colleague. Experiment with ways of helping people and being kind to them and notice how not only do they start to glow but you start to feel better too.
6. Smile or Laugh Everyday
Smiling and laughing release endorphins that make us feel good while reducing stress. Create opportunities for yourself to smile and laugh by watching funny shows, reading funny books, telling jokes or playing games with friends or family. You could also try playing with a pet. Remembering good times can also make us smile. Find things that make you smile or laugh and try to put them into your life for a small boost each day.
7. Seek Support
It's okay to acknowledge that we feel anxious, low or lonely. Valentine's day can be a difficult time of year for many reasons. Sometimes no matter how much self-love we have or how much self-care we practice we might still be down. Allow yourself to reach out to others if you're struggling. You could get in touch with a close friend or a supportive family member. Or you could reach out for professional guidance to help you through a difficult time. You don't need to go through the challenging times in your life alone.
How Can Online-Therapy.com Help with Self-Love?
If you've tried some of these strategies previously and would like to further explore more self-care practices for Valentine's day and beyond, then Online-Therapy.com can help. By signing up with our program you can choose a therapist who will work with you to develop a personalized toolkit to support you with the changes you want to make to your self-care practices and deepening your relationship with yourself. You can choose to have your therapy sessions by video, phone or text chat (couple counselling will be video only), making Online-Therapy.com a flexible and convenient option.
At Online-Therapy.com we offer an integrated and holistic package to enable you to feel at your best. Our approach includes regular sessions with your chosen therapist, unlimited messaging and worksheet support, journaling and yoga. This ongoing support means that you have the daily expert guidance you need to make progress with self-care practices and your relationship with yourself as soon as you sign up.