Overcome Your Anxiety with Online Therapy
Feeling anxious from time to time is just normal. But when you can't seem to shake your concerns and your daily life is a constant state of worry and fear, then anxiety has taken an unhealthy grip on your life. In addition to emotional symptoms like always anticipating the worst, feeling restless all the time or having a constant nagging concern, anxiety can also have a lot of physical symptoms including a pounding heart, sweaty palms, feeling sick in your stomach, headaches and feeling tired.
Anxiety is our body's ancient and innate response to stressful situations such as being attacked by an aggressive animal or person. While we can't stop anxiety entirely because it is a natural response, we can take back the control of our lives so that anxiety does not get in the way of daily functioning.
Cognitive behavioral therapy (CBT) can help you overcome anxiety. You see, it is not external events that trigger your anxiety; instead it is how you perceive the events that cause your anxiety. Using our online therapy for anxiety, you'll learn how to identify your negative thinking patterns that cause your anxiety and replace them with more realistic and positive thoughts. CBT will help you learn to identify the physical sensations and feelings when you're anxious. And, more importantly, you will learn coping skills to neutralize this anxiety. Using a technique called systematic desensitization, your therapist will help you to gradually and repeatedly expose yourself to the situations and fears that normally trigger your anxiety. While this may sound scary, research actually shows it helps you take control of your anxiety so that you can improve your quality of life.
Sign up and start getting happier now
Your therapist is ready to start the journey with you today - so what are you waiting for?
Take our test & get instant help
Answer a few questions and get immediate results and recommendations. It only takes a few minutes, so let's get started!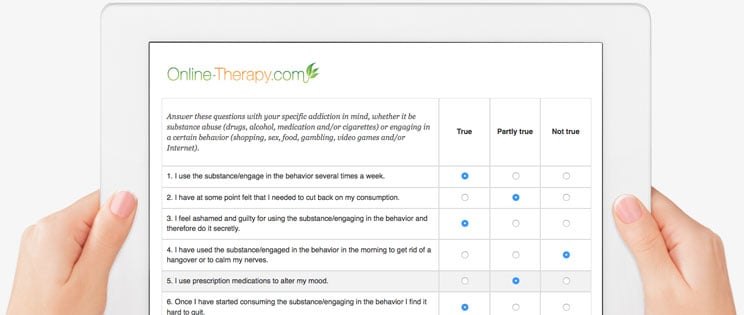 Reviews
Our online therapy services have received 649 reviews and the average rating is 4.6 out of 5 stars.
Rating: [5 out of 5 stars!]
"Katrina was wonderful. Always responsive and a great resource."
Cc (December 18, 2019)
Rating: [5 out of 5 stars!]
"I love how structured the worksheets and assignments are! It really works out the problems on hand."
Dawna (December 29, 2019)
Rating: [5 out of 5 stars!]
"Have very much learned from my experience and time with this tool."
Amy123 (February 19, 2020)
Rating: [5 out of 5 stars!]
"This program has been, and continues to be, life-changing. Sure, I still have a long way to go, as to managing bipolar mood-swings. However, there has been other areas in which improvement has been beyond my imagination. I now have hope for a happier life."
Anonymous (January 31, 2020)
Rating: [4 out of 5 stars!]
"I get quick responses from the online therapist and definitely makes me think differently."
Tabanca (December 12, 2019)
Rating: [5 out of 5 stars!]
"Finding this course really helpful and feeling a lot better in myself!"
Nik (February 21, 2020)
Rating: [5 out of 5 stars!]
"This program is a fantastic modern day approach to therapy. As a millennial with an extremely tenacious schedule, it is convenient to be able to access this at all times.

I was a little skeptical about doing this online at first, but the course, my personal therapist, the worksheets, and the journal have really made a night and day change in the way I approach my thoughts and behavior."
Wasn't Expecting That (January 22, 2020)
Rating: [5 out of 5 stars!]
"Excellent approach to therapy. Therapist will certainly challenge your thinking, and at a pace which is comfortable for you."
Bree Leave (February 11, 2020)
Rating: [5 out of 5 stars!]
"Good program. At first it seemed a bit light, but its focused on what matters and unfolded well. I'd like to see better organization around the thought traps. It seems they could be bucketed into broader types like 'perceptions' and then given more attention on how to address those as a 'class' of traps. Katrina did a great job. Very caring."
CJ (February 14, 2020)
Rating: [5 out of 5 stars!]
"I love the convenience this website offers of doing therapy online. I have a busy schedule and it helps being able to do it online rather in person. My therapist is wonderful and I feel she does truly listen and is very genuine. I love the worksheets and modules and how it challenges you to think outside the box and really improve yourself."
Addie (February 26, 2020)
Sign up for online therapy today
Your therapist is ready to start the journey with you today - so what are you waiting for?