Overcome Your Anxiety with Online Therapy
Feeling anxious from time to time is just normal. But when you can't seem to shake your concerns and your daily life is a constant state of worry and fear, then anxiety has taken an unhealthy grip on your life. In addition to emotional symptoms like always anticipating the worst, feeling restless all the time or having a constant nagging concern, anxiety can also have a lot of physical symptoms including a pounding heart, sweaty palms, feeling sick in your stomach, headaches and feeling tired.
Anxiety is our body's ancient and innate response to stressful situations such as being attacked by an aggressive animal or person. While we can't stop anxiety entirely because it is a natural response, we can take back the control of our lives so that anxiety does not get in the way of daily functioning.
Cognitive behavioral therapy (CBT) can help you overcome anxiety. You see, it is not external events that trigger your anxiety; instead it is how you perceive the events that cause your anxiety. Using our online therapy for anxiety, you'll learn how to identify your negative thinking patterns that cause your anxiety and replace them with more realistic and positive thoughts. CBT will help you learn to identify the physical sensations and feelings when you're anxious. And, more importantly, you will learn coping skills to neutralize this anxiety. Using a technique called systematic desensitization, your therapist will help you to gradually and repeatedly expose yourself to the situations and fears that normally trigger your anxiety. While this may sound scary, research actually shows it helps you take control of your anxiety so that you can improve your quality of life.
Sign up and start getting happier now
Your therapist is ready to start the journey with you today - so what are you waiting for?
Take our test & get instant help
Answer a few questions and get immediate results and recommendations. It only takes a few minutes, so let's get started!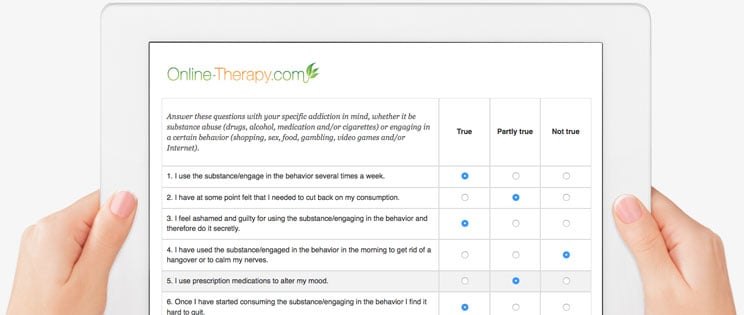 Reviews
Our online therapy services have received 2430 reviews and the average rating is 4.7 out of 5 stars.
Rating: [5 out of 5 stars!]
"I love the option to do therapy twice a week, it makes a difference in jump starting things if you've put off therapy for a while or are going through an intense situation. My therapist is a dream and I couldn't ask for a better pairing. Loving this resource."
Shar (November 07, 2022)
Rating: [5 out of 5 stars!]
"I have found this programme really helpful."
Anxiety (September 12, 2022)
Rating: [5 out of 5 stars!]
"Tommorow may never come, goals may never be reached if time doesn't happen, So we have to make it happen now, so that even if our goals are too far and cant ever seem to be reached, we can enjoy the things that matter to use most that give us the most value in our lives by making time for what matters to us most without having to wait for long term goals first. we can make the time to be happy and have peace and the love in our lives to meet our goals at the same time without feeling overwhelmed and never seeming to reach those goals.
the goals and the values are one in the same if they are in harmony and one gives them equal amount of time, because one cannot be without the other. This course has helped me re organize my values and priorities and given my life value by helping me see things I needed too. Life is a journey of learning and re learning, this course is part of that gift, and that gift of information gives you the time you need to value what matters most without giving up."
Love Peace And Happiness Now (September 23, 2022)
Rating: [4 out of 5 stars!]
"It's been a really nice experience so far. I'm able to work with my therapist to understand my issues and we work through ways that can help me around it. The communication has been easy to follow and by far it has made the more challenging aspects easier to do. There are so many useful tools that really helped me establish some markers and helped me create a good routine. It's exactly what I wanted from therapy and this format works for me. I've already been noticing small changes and it keeps getting better every day."
Pipi (November 11, 2022)
Rating: [5 out of 5 stars!]
"its been enlighting and convinent."
Tony (November 17, 2022)
Rating: [5 out of 5 stars!]
"I love the online therapy toolbox that comes with great worksheets that give one greater insight into oneself. My therapist is really great and has created a safe space for me to discuss all my concerns."
Fari (October 13, 2022)
Rating: [5 out of 5 stars!]
"I love your services"
Hi (September 24, 2022)
Rating: [5 out of 5 stars!]
"I've been with pretty much every online therapist that is available. I am throughly impressed with online-therapy.com more than any of the others. They really take the time with you so that you can understand what will be accomplished with therapy through worksheets and one on one quality time with your therapist. Highly recommended."
Tina's Review (October 04, 2022)
Rating: [5 out of 5 stars!]
"Very intensive. I am already enjoying it immensely and believing I will get the help I need."
Shelley (October 18, 2022)
Rating: [5 out of 5 stars!]
"Amazing service! I would recommend Jennifer to anyone that will listen. She's a beautiful person who cares about your individual goals and needs. Provides the perfect safe space for anyone whos worried about being judged and lets you speak and work on things at your own pace. For anyone needing help or support but are reluctant to reach out, i would 100% recommend."
Lana (November 17, 2022)
Sign up for online therapy today
Your therapist is ready to start the journey with you today - so what are you waiting for?
Have any questions?
Are you unsure of what program to choose or have any questions about our services? Check our FAQ to alleviate any concerns.