Overcome Your Anxiety with Online Therapy
Feeling anxious from time to time is just normal. But when you can't seem to shake your concerns and your daily life is a constant state of worry and fear, then anxiety has taken an unhealthy grip on your life. In addition to emotional symptoms like always anticipating the worst, feeling restless all the time or having a constant nagging concern, anxiety can also have a lot of physical symptoms including a pounding heart, sweaty palms, feeling sick in your stomach, headaches and feeling tired.
Anxiety is our body's ancient and innate response to stressful situations such as being attacked by an aggressive animal or person. While we can't stop anxiety entirely because it is a natural response, we can take back the control of our lives so that anxiety does not get in the way of daily functioning.
Cognitive behavioral therapy (CBT) can help you overcome anxiety. You see, it is not external events that trigger your anxiety; instead it is how you perceive the events that cause your anxiety. Using our online therapy for anxiety, you'll learn how to identify your negative thinking patterns that cause your anxiety and replace them with more realistic and positive thoughts. CBT will help you learn to identify the physical sensations and feelings when you're anxious. And, more importantly, you will learn coping skills to neutralize this anxiety. Using a technique called systematic desensitization, your therapist will help you to gradually and repeatedly expose yourself to the situations and fears that normally trigger your anxiety. While this may sound scary, research actually shows it helps you take control of your anxiety so that you can improve your quality of life.
Sign up and start getting happier now
Your therapist is ready to start the journey with you today - so what are you waiting for?
Take our test & get instant help
Answer a few questions and get immediate results and recommendations. It only takes a few minutes, so let's get started!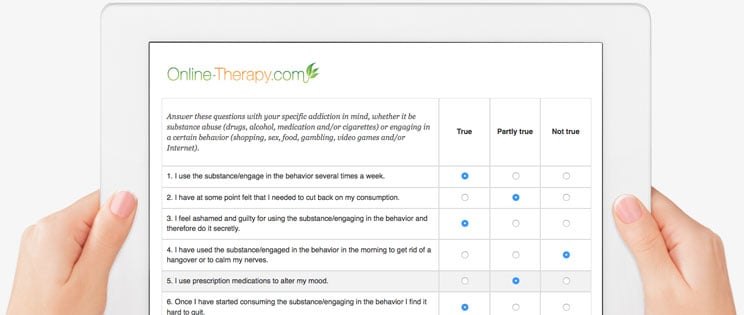 Reviews
Our online therapy services have received 1188 reviews and the average rating is 4.7 out of 5 stars.
Rating: [5 out of 5 stars!]
"I like it so far. Easy to complete the worksheets - although the digging is hard. My therapist is nice."
First Review (January 12, 2021)
Rating: [5 out of 5 stars!]
"I have really received so much support and guidance from this program. My therapist ( Ms. Lisa) was kind, understanding, an incredible listener, and I felt I could really open up during our chats. She would let me do the majority of the talking and then offer me condensed yet effective tidbits of wisdom in dealing with the OCD problem. Moving forward from this program, I have a plan in dealing with this OCD issue and I also have this website as a safety net if I start spiraling again.
Thank you Online-Therapy and Ms. Lisa.
Sincerely, Former Patient"
Helpful Program, Compassionate Therapist (November 05, 2020)
Rating: [5 out of 5 stars!]
"I really like online therapy! My therapist is amazing. I think it is really important to find a good therapist. I feel we are already making progress. I like that you can both work offline on the worksheets and have a live session once a week. It actually feels better than in-person sessions I had in the past."
Katia (January 02, 2021)
Rating: [5 out of 5 stars!]
"I prefer online therapy because I become too anxious in person and can't seem to focus as deeply as I need to. I also enjoy having daily responses and being able to type out my feelings to my therapist knowing she'll see it the next day or even later on that same day. Behavioral therapy is so much deeper than talk therapy alone, it dives into EXACTLY what thought processes are driving your negative behavior and then your therapist helps you to move past and cope in a healthy way. I find I'm very comfortable being honest and open with my therapist and have felt so welcomed and accepted by her. I really can't think of any therapy service that offers the extensive library of resources for patients while charging only $240 a month for the standard plan."
Lizzie (December 30, 2020)
Rating: [5 out of 5 stars!]
"Chelsea is a wonderful and helpful woman"
Sarah (November 12, 2020)
Rating: [2 out of 5 stars!]
"Trying to get more feedback"
Gene Munford (January 01, 2021)
Rating: [5 out of 5 stars!]
"I've tried a few different online counseling solutions and have not had great success but I've thoroughly enjoyed this solution.

Its flexible, its easy and my counselor is great. She listens, asks great questions and is able to validate my concerns and offer solutions to help me move forward and make better decisions."
Exactly What I've Been Looking For (November 02, 2020)
Rating: [4 out of 5 stars!]
"Solid stuff. Well presented."
90% There (January 01, 2021)
Rating: [5 out of 5 stars!]
"Things are going well so far and a lot of info is being gathered about me. I feel this is a very thorough process."
Review 1 (November 09, 2020)
Rating: [5 out of 5 stars!]
"I've been working with Martha for a few weeks now and it's been a tremendous help. I can't believe it took so long for me to reach out for help and how easy it was to get it"
Martha Is The Best! (December 16, 2020)
Sign up for online therapy today
Your therapist is ready to start the journey with you today - so what are you waiting for?
Have any questions?
Are you unsure of what program to choose or have any questions about our services? Check our FAQ to alleviate any concerns.