Overcome Your Anxiety with Online Therapy
Feeling anxious from time to time is just normal. But when you can't seem to shake your concerns and your daily life is a constant state of worry and fear, then anxiety has taken an unhealthy grip on your life. In addition to emotional symptoms like always anticipating the worst, feeling restless all the time or having a constant nagging concern, anxiety can also have a lot of physical symptoms including a pounding heart, sweaty palms, feeling sick in your stomach, headaches and feeling tired.
Anxiety is our body's ancient and innate response to stressful situations such as being attacked by an aggressive animal or person. While we can't stop anxiety entirely because it is a natural response, we can take back the control of our lives so that anxiety does not get in the way of daily functioning.
Cognitive behavioral therapy (CBT) can help you overcome anxiety. You see, it is not external events that trigger your anxiety; instead it is how you perceive the events that cause your anxiety. Using our online therapy for anxiety, you'll learn how to identify your negative thinking patterns that cause your anxiety and replace them with more realistic and positive thoughts. CBT will help you learn to identify the physical sensations and feelings when you're anxious. And, more importantly, you will learn coping skills to neutralize this anxiety. Using a technique called systematic desensitization, your therapist will help you to gradually and repeatedly expose yourself to the situations and fears that normally trigger your anxiety. While this may sound scary, research actually shows it helps you take control of your anxiety so that you can improve your quality of life.
Sign up and start getting happier now
Your therapist is ready to start the journey with you today - so what are you waiting for?
Take our test & get instant help
Answer a few questions and get immediate results and recommendations. It only takes a few minutes, so let's get started!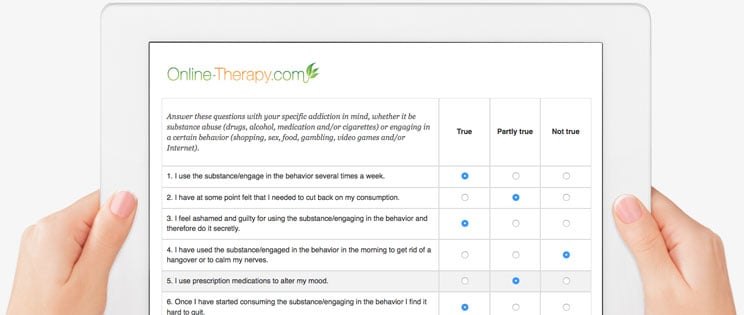 Reviews
Our online therapy services have received 2137 reviews and the average rating is 4.7 out of 5 stars.
Rating: [5 out of 5 stars!]
"I like how it is my own pace and there are alot of options for me to choose from"
AJ (May 19, 2022)
Rating: [5 out of 5 stars!]
"Changing the way you think about situations is the most helpful tool that I have learned so far."
Helpful Learning Experience (February 28, 2022)
Rating: [5 out of 5 stars!]
"I have been doing so much better in realizing behavior and fixing it. My therapist, Kimberly, is great at responding, fizzle out tough situations, and make me feel more like me in a healthy way."
AJ (May 27, 2022)
Rating: [5 out of 5 stars!]
"Very helpful, convenient, counseling in the comfort of your home"
Lena (April 22, 2022)
Rating: [5 out of 5 stars!]
"Bernadette is impressive and very helpful."
Mandokat (March 16, 2022)
Rating: [5 out of 5 stars!]
"Sherrie Kaelin (LMHC LPC) has helped me already. It's only been 3 days and alot of surpressed memories have surfaced thanks to her questions.
Sherrie Kaelin is always quick to followup with me.
I am very pleased with her and the program itself."
Alfrede (April 08, 2022)
Rating: [5 out of 5 stars!]
"Dr. Cannady has been so helpful in helping me recognize the negative responses I have to stressful situations and helping me reframe my reactions. I also find the worksheets are very helpful in making me stop to think about how I assess stressful situations and how I can better interpret and respond to what is happening. I am glad I took this step to invest in myself."
Gaby (March 01, 2022)
Rating: [5 out of 5 stars!]
"I love Online-Therapy.com because I feel that the relationship that I have with my therapist is more real as compared to professional couch sessions. There's a feeling that I am being understood on a more personal level and that is something that I really need, especially during this time of COVID-19 when almost everything is virtual. I also have to say that the CBT Curriculum is extremely enlightening and educating. Just after reading Sections 1 and 2, I was able to course correct a self-sabotaging habit just that day, which made the rest of my week smoother and filled with more joy. Thank you, Online-Therapy.com!"
Real (March 24, 2022)
Rating: [5 out of 5 stars!]
"The counselor is sincerely very caring and I trust her. Before I started this online therapy I stopped using the other services because they were not reliable. I use this online therapy for a few months already because she is very meticulous. I really appreciate it. Thanks to it I can sleep much better and it has made a huge difference in my life. Thank you very much."
Aya (May 18, 2022)
Rating: [5 out of 5 stars!]
"The therapy sessions are really great and helpful. But then there are also all the extra worksheets which you can do outside of therapy and that just makes this programme the best."
EKM (May 03, 2022)
Sign up for online therapy today
Your therapist is ready to start the journey with you today - so what are you waiting for?
Have any questions?
Are you unsure of what program to choose or have any questions about our services? Check our FAQ to alleviate any concerns.