Overcome Your GAD with Online Therapy
Feeling agitated and anxious and becoming sad and tired due to pressure and setbacks is just natural. It is something that we all encounter in life. But if you feel that you can seldom or never control your anxiety and fear and that this has had long-term negative effects on your life, then you might be suffering from generalized anxiety disorder (GAD).
GAD is characterized by chronic worrying about basically every aspect of your life, including work, money, health and relationships. This can, in turn, lead to common anxiety symptoms like insomnia, tense muscles, headache, grinding of teeth, excess sweating, dry mouth, rapid heartbeat, stomach problems and a need to urinate more often.
Our therapy for GAD is based on cognitive behavioral therapy (CBT). With the help of CBT and your therapist, you will learn how to identify the negative and irrational thoughts that cause your anxiety and replace them with positive and rational thoughts and behavior patterns. Using this GAD online therapy program you will learn relaxation techniques, problem solving strategies, ways to enhance your self-esteem and overcome your fears. Your therapist will help you to gradually expose yourself to situations that cause your worry, and eventually you will be able to do this feeling less anxious and with a greater sense of mastery. You will learn skills to take control over your worry, so you feel more empowered in life.
Sign up and start getting happier now
Your therapist is ready to start the journey with you today - so what are you waiting for?
Take our test & get instant help
Answer a few questions and get immediate results and recommendations. It only takes a few minutes, so let's get started!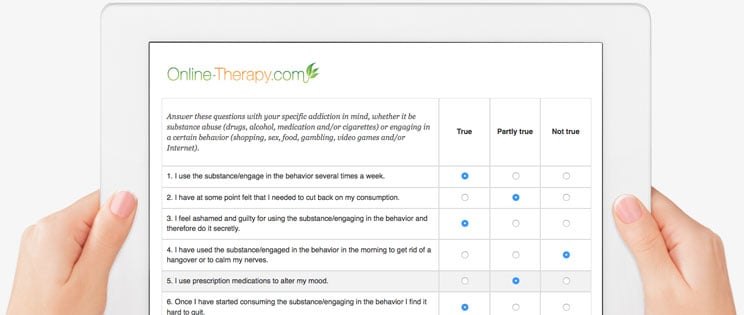 Reviews
Our online therapy services have received 2430 reviews and the average rating is 4.7 out of 5 stars.
Rating: [4 out of 5 stars!]
"I've been using the service for a month, it's not bad."
Eli (September 12, 2022)
Rating: [5 out of 5 stars!]
"Tommorow may never come, goals may never be reached if time doesn't happen, So we have to make it happen now, so that even if our goals are too far and cant ever seem to be reached, we can enjoy the things that matter to use most that give us the most value in our lives by making time for what matters to us most without having to wait for long term goals first. we can make the time to be happy and have peace and the love in our lives to meet our goals at the same time without feeling overwhelmed and never seeming to reach those goals.
the goals and the values are one in the same if they are in harmony and one gives them equal amount of time, because one cannot be without the other. This course has helped me re organize my values and priorities and given my life value by helping me see things I needed too. Life is a journey of learning and re learning, this course is part of that gift, and that gift of information gives you the time you need to value what matters most without giving up."
Love Peace And Happiness Now (September 23, 2022)
Rating: [5 out of 5 stars!]
"My therapist is great! Very insightful and yet has a playful sense of humour."
Michael (November 27, 2022)
Rating: [4 out of 5 stars!]
"It has been helpful in getting some insights."
Dargate (October 17, 2022)
Rating: [5 out of 5 stars!]
"I'm grateful to this service for connecting me with Dr. Fulivia Cannady. Working with her has helped me enormously to understand the ways I have traditionally dealt with feelings of anger -- why I have reacted in the past the way I have reacted, and what I can do about it in the future. I'm sure I'll still lose my temper in ways that I'll regret -- but I'm certain that this will happen much less often than it used to, and I'll know what to do as I feel it happening, which is wonderful. Dr. Cannady has never shamed me for having the feelings I have, nor for the ways I've handled them. She displays great understanding, compassion and humor. I highly recommend her as a therapist. Five stars!"
Dr. Cannady Is A Rare Gem (November 09, 2022)
Rating: [5 out of 5 stars!]
"Very happy so far"
Happy (October 30, 2022)
Rating: [5 out of 5 stars!]
"This is my second site and second therapist on this site. It really takes making a connection with someone you trust and has the skills to help you improve."
Hopeful (November 18, 2022)
Rating: [5 out of 5 stars!]
"I felt heard and valued and given useful perspectives and tools to understand and cope with my situation better. I immediately began to feel relieved once connecting with the therapist through text and video sessions. My confidence, quality of life, and my relationship with myself increased with this online support."
Caring And Attentive Service (November 24, 2022)
Rating: [5 out of 5 stars!]
"I'm working with an addictions coach and I feel that she cares. She's very responsive. It's not easy to find a therapist you're comfortable with. I'm going to continue working with her."
Patient In NJ (October 03, 2022)
Rating: [5 out of 5 stars!]
"The worksheets help you figure out where you're going wrong, but the most helpful thing is therapy sessions."
Emily (November 28, 2022)
Sign up for online therapy today
Your therapist is ready to start the journey with you today - so what are you waiting for?
Have any questions?
Are you unsure of what program to choose or have any questions about our services? Check our FAQ to alleviate any concerns.