Overcome Your Social Anxiety with Online Therapy
Feeling shy or nervous about holding a speech or a presentation, are feelings that most of us have experienced in life. But if you constantly fear other people's attention, always feel watched or judged and feel afraid that you will embarrass yourself, then you might be suffering from social anxiety.
People with social anxiety often do everything they can to avoid the situations that make them anxious. Just the thought of a fearful social event can give physical symptoms like tightness in the chest, pounding of the heart, blushing and dizziness.
Social anxiety can have tremendously negative effects on your life, making you miss out on work opportunities and even relationships with friends and partners.
Our therapy for social anxiety is based on cognitive behavioral therapy (CBT). With the help of CBT, you will learn to identify and challenge the automatic negative thoughts that underlie your fear of certain social situations. This might sound intimidating at first, but the key to your well-being is to stop avoiding the social situations that you find fearful. With the guidance of your therapist, you will gradually be exposed to these social situations. By doing so, you will learn how to deal with your fear and eventually you will be able to handle previously fearful situations without anxiety, allowing you to participate in your life, as you are supposed to do!
Sign up and start getting happier now
Your therapist is ready to start the journey with you today - so what are you waiting for?
Take our test & get instant help
Answer a few questions and get immediate results and recommendations. It only takes a few minutes, so let's get started!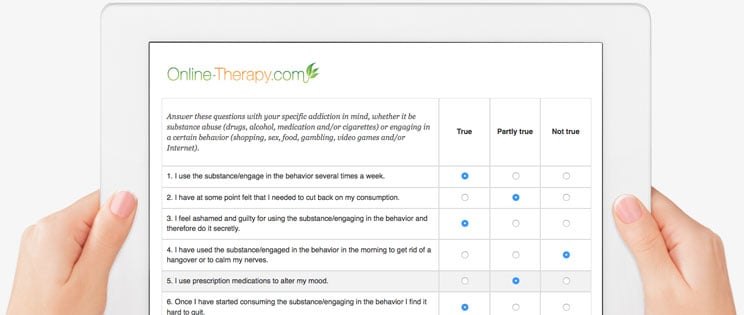 Reviews
Our online therapy services have received 2585 reviews and the average rating is 4.7 out of 5 stars.
Rating: [5 out of 5 stars!]
"I feel very good about myself since having someone to bounce things off of. Self diagnosis is the worst and the need to vent about your problems is invaluable. I find myself being more confident in my opinion even after a few weeks of letting things out on paper with my therapist. It is very liberating. I know my problems are probably minor compared to some but they are my inner demons and it feels good to let them out."
Dk612 (February 04, 2023)
Rating: [5 out of 5 stars!]
"Online Therapy has been very helpful in giving me the tools that I need in order to improve my mental health and give me a brighter tomorrow. I also appreciate talking with my therapist and always felt a sense of calm and hope after each session. I greatly appreciated this program and hope to continue using all that I have learned to truly live the life I want to live."
Lys (March 07, 2023)
Rating: [5 out of 5 stars!]
"I absolutely recommend this therapy it's an amazing tool and has helped me so much in so many ways! Shout out to Dr. Vicky she's amazing"
Shannon (March 25, 2023)
Rating: [5 out of 5 stars!]
"First worksheets and session have gone really well."
Philly (February 20, 2023)
Rating: [5 out of 5 stars!]
"This has been a great experience, Has helped my young adult daughter and myself , would recommend."
Starle (January 06, 2023)
Rating: [5 out of 5 stars!]
"I have a had a great experience so far. My match with my therapist is really great and she is incredibly response and helpful. The resources provided to do worksheets on my own are fantastic for in-between meetings with my therapist. I am very glad I came across this service and would recommend it highly!"
Judster (January 24, 2023)
Rating: [5 out of 5 stars!]
"Easy to use and very helpful!"
Py (January 25, 2023)
Rating: [5 out of 5 stars!]
"I highly recommend this program! I have had a wonderful, knowledgeable, professional, caring, engaged therapist who very effectively moved with me through the worksheets and sessions. I am very pleased and will be back in the future any time I need some help. I find the worksheets extremely helpful and as I went through them, the answers came easier and got longer. It really helps you to process thoughts thoroughly. Excellent experience that I was very nervous about starting!"
Marcy (March 16, 2023)
Rating: [5 out of 5 stars!]
"Sometimes we don't notice how powerful our mind can be and how negative thoughts affect our feelings and behaviors. This CBT program changed my mind, which in turn changed how I feel and behave. I would recommend anyone to go through this program. We all have problems and stress and this CBT information, when put into practice can be life changing. Thanks!"
Powerful (March 07, 2023)
Rating: [4 out of 5 stars!]
"This has really helped me so much. The format is convenient, the therapist is very helpful, and I am grateful for the service."
Saved My Life (February 02, 2023)
Sign up for online therapy today
Your therapist is ready to start the journey with you today - so what are you waiting for?
Have any questions?
Are you unsure of what program to choose or have any questions about our services? Check our FAQ to alleviate any concerns.