Overcome Your Relationship Problems with Online Therapy
Do you and your partner always fight about the same things like money, whose turn it is to do the dishes or putting the kids to bed? Or do you recognize there is a problem in your relationship, but are not sure exactly what it is and how to go about fixing it? Having problems in a relationship normally stems from lack of communication, intimacy, trust or stress in your daily life.
No relationship is perfect. We all experience ups and downs. But if you feel that you need and want to reconnect with your partner, our online therapy is a great way to learn how you can work on building a strong long-term relationship with your partner.
Our relationship therapy is based on cognitive behavioral therapy (CBT). To build a healthy relationship with your partner, you most likely need to improve your coping skills, communication skills, interpersonal skills and social skills – and make sure that these skills last! The relationship online therapy uses a wide range of research-supported strategies to help you find ways to develop and nurture a long-lasting relationship. Your therapist will guide you and give you the tools that you need to be able to deal with stressful events and the challenges that occur in a relationship.
Sign up and start getting happier now
Your therapist is ready to start the journey with you today - so what are you waiting for?
Take our test & get instant help
Answer a few questions and get immediate results and recommendations. It only takes a few minutes, so let's get started!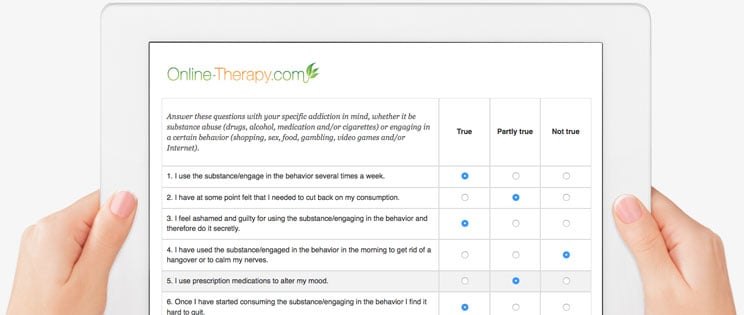 Reviews
Our online therapy services have received 2250 reviews and the average rating is 4.7 out of 5 stars.
Rating: [5 out of 5 stars!]
"This online therapy was more effective than I had expected. It has been difficult as well, as the therapy is working well. I was also lucky to find my therapist. I recommend this to anyone who is ready for the hard time that comes with it. Only if there was a painkiller for heartaches..."
Nana (June 28, 2022)
Rating: [5 out of 5 stars!]
"I feel so lucky to get matched up with Bernadette. She's been a great resource. I am new to the world of therapy, so I appreciate how she helped introduce me to what therapy is like. I benefited a lot during the 5 live sessions I had with her. I would have continued on but I was able to access therapy through my work insurance which would make it more affordable. Bernadette is great and she posed questions that really made me think."
Carol (July 21, 2022)
Rating: [5 out of 5 stars!]
"I enjoy the (worksheets) writing aspects of counseling. I process my emotions best by writing so this is just what I needed. I honestly love it! 💜😃
My therapist is so sweet and kind. Just relevant words of encouragement. Its always helpful and informative. Not preachy like most. I appreciate that."
Marion Is WONDERFUL! (July 22, 2022)
Rating: [5 out of 5 stars!]
"It's really great, and I love that I have someone who can help me process my thoughts more clearly. It's horrible that we are under such hard times that I can't afford to keep this service much longer."
Jessi (August 06, 2022)
Rating: [4 out of 5 stars!]
"I was skeptical at first- love the tools but was unsure of how the live sessions would go. I am happy to report that my experience has been GREAT I thought that this would be a short term jumpstart for my healing journey but I see this as a longer term fit now because my therapist is outstanding and I am thrilled to have someone who is very capable and qualified guiding me through this process. The only downside so far has been occasional limited availability for live sessions- understandable but one week there was a cancellation and no options for a rebooking that week."
April Ruth (July 12, 2022)
Rating: [4 out of 5 stars!]
"I am happy with the program, my therapist, and customer support. There has always been a quick response to questions and concerns. The only complaint I have is the online scheduler is not usable with my therapist.

--> Online-Therapy.com response:
Actually the online scheduler is now fully functional again!"
Terry (June 26, 2022)
Rating: [5 out of 5 stars!]
"Been very pleased with my therapist. Very helpful"
Dutch (July 24, 2022)
Rating: [5 out of 5 stars!]
"First, this website was created to help people getting through difficult time and that in itself is great.

Other website offer great therapist like yours to talk to… but they lack the organized format you offer, with exercises, steps, homework (worksheet)… that is to me essential to have a sense of accomplishment, progress and be able to track and look back on what we have learned about ourself.
This combined approach of structure and therapist is my personal favorite.
Improvements: Try to have an « article » section where people can look at article that more specifically apply to them and read more, learn."
Mat (June 01, 2022)
Rating: [5 out of 5 stars!]
"I don't have enough good things to say about this program. Even the little I've completed has helped me reflect on myself and reach my goals of having peace 🕊️"
Grateful (May 12, 2022)
Rating: [5 out of 5 stars!]
"Kriss is wonderful and insightful. A great listener"
Laura Armstrong (May 31, 2022)
Sign up for online therapy today
Your therapist is ready to start the journey with you today - so what are you waiting for?
Have any questions?
Are you unsure of what program to choose or have any questions about our services? Check our FAQ to alleviate any concerns.