Overcome Your Relationship Problems with Online Therapy
Do you and your partner always fight about the same things like money, whose turn it is to do the dishes or putting the kids to bed? Or do you recognize there is a problem in your relationship, but are not sure exactly what it is and how to go about fixing it? Having problems in a relationship normally stems from lack of communication, intimacy, trust or stress in your daily life.
No relationship is perfect. We all experience ups and downs. But if you feel that you need and want to reconnect with your partner, our online therapy is a great way to learn how you can work on building a strong long-term relationship with your partner.
Our relationship therapy is based on cognitive behavioral therapy (CBT). To build a healthy relationship with your partner, you most likely need to improve your coping skills, communication skills, interpersonal skills and social skills – and make sure that these skills last! The relationship online therapy uses a wide range of research-supported strategies to help you find ways to develop and nurture a long-lasting relationship. Your therapist will guide you and give you the tools that you need to be able to deal with stressful events and the challenges that occur in a relationship.
Sign up and start getting happier now
Your therapist is ready to start the journey with you today - so what are you waiting for?
Take our test & get instant help
Answer a few questions and get immediate results and recommendations. It only takes a few minutes, so let's get started!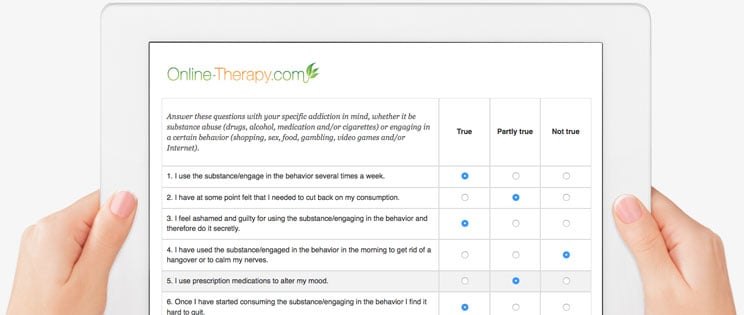 Reviews
Our online therapy services have received 2585 reviews and the average rating is 4.7 out of 5 stars.
Rating: [5 out of 5 stars!]
"It's been amazing using this website. My therapist has been super helpful and it's super convenient that I can do it anytime I want. Really glad I don't have to see anybody in person but I love having the option to video chat if I want to. I recommend this to all my friends and family who want to start therapy."
Lexi (March 14, 2023)
Rating: [5 out of 5 stars!]
"My experience so far has been very helpful.
I like that I can message at any time and go back over what me and my therapist have discussed."
Helpful (February 28, 2023)
Rating: [5 out of 5 stars!]
"It has been a great experience. It has helped me to process things that have stuck with me for a long time."
Kayla (February 01, 2023)
Rating: [4 out of 5 stars!]
"The platform initially paired me with a therapist I did not get along with well. However, the process to switch was very easy, and they were accommodating by pro-rating my fare after deciding to switch my plan. Would recommend."
CK (February 22, 2023)
Rating: [5 out of 5 stars!]
"Very good"
Monica (February 06, 2023)
Rating: [5 out of 5 stars!]
"When I first began working with Carol, we had a hard time with schedules coinciding and I wasn't sure if this was going to be a good fit. I had already postponed signing up by several months- per usual, waiting until I was in quite a desperate place unfortunately. But I continued to meet with Carol. Her voice is soothing and kind. She had a sense of humor and she very authentic in nature. I appreciated this and it helped establish trust. I continued to struggle with some emotional trauma and relationship challenges, but it was nice talking through this with someone.

Carol's main form of therapy is through hypnosis -I had never gone through hypnosis nor did I understand what it would help with. After we discussed that being in trance is not hokey like the movies portray it, she explained that although talk therapy is good and necessary as we become aware, our subconscious still needs to work through many things- that is where most of our trauma lie, deep within the subconscious.
I'll wrap this up saying that over the last 6 weeks we have worked on digging into the subconscious and those areas I find myself struggling with at present by using hypnosis. It is so therapeutic and relaxing in the moment- but the effects last. I feel relaxed after a session, more at ease & I sleep better. I now believe it is a necessary tool as part of my healing journey-
Carol, thank you for introducing me to this and for walking me through the reality of what it really is and what benefits it can provide. You are awesome!"
Stream (February 17, 2023)
Rating: [5 out of 5 stars!]
"First worksheets and session have gone really well."
Philly (February 20, 2023)
Rating: [5 out of 5 stars!]
"Have really enjoyed the services provided here by my Therapist! He has helped me a lot since I've signed up."
Ty (March 19, 2023)
Rating: [5 out of 5 stars!]
"She is an amazing therapist. She helps me realize I need to learn how to reject others and understand more my emotional needs!"
Shirley (February 28, 2023)
Rating: [5 out of 5 stars!]
"Online-Therapy is great! The info about CBT is presented clearly in the format of your choice. Worksheets are ideally placed to exercise and incorporate new learnings. The Journal and Activity Plan provide a good template for starting new habits. The yoga intro was great as a (re-)introduction to a lazy, anxious mind and stiff muscles. Meditation and mindfulness are their own journeys and this program supported my efforts. The ability to work at my own pace from wherever was critical for me. Best of all was the dedicated therapist, who provided support, feedback, insight, redirection, and the benefit of her experience.
My life changed while I was engaged with this program, in part due to outside events, but I now have the tools and understandings to continue changing and to unchain me from my soul's dark night."
Wonderful! (March 28, 2023)
Sign up for online therapy today
Your therapist is ready to start the journey with you today - so what are you waiting for?
Have any questions?
Are you unsure of what program to choose or have any questions about our services? Check our FAQ to alleviate any concerns.